Who doesn't love a Dachshund?
These little Schnauzers are always up for a good time, and they never let anything get them down.
If you're looking for the perfect gift for a Dachshund lover, look no further! We've collected the 54 most unique gifts for Dachshund dog lovers. From funny T-shirts to cozy sweaters, we've got you covered. So why not give the Dachshund lover in your life a gift they'll love?
Check out our list today!
54. Kissing Dachshunds Salt and Pepper Set
Introducing the most adorable salt and pepper shakers set on the market – Kissing Dachshunds!
This set of ceramic shakers is hand-painted and features two lovable Dachshunds smooching. The embedded magnets keep the shakers together, making it impossible for them to lose each other. Plus, the rubber plugs on the bottom make for easy filling.
Though we recommend hand washing this set, it is microwave safe. Spruce up your table setting with a little bit of doggy love. Who could resist these cuties?
53. Charcoal Companion Dog Corn Holders
Introducing the Charcoal Companion Dog Corn Holders! These nifty little devices are perfect for protecting your fingers from hot corn on the cob.
The stainless steel prongs ensure a secure grip on the cob, while the adorable Dachshund ends add a bit of whimsy to the experience. Each set comes with four holders, each with the bark end and the wag end of a Dachshund. The perfect gift for Dachshund lovers or any dog fan.
52. Bolux Dog Harness
This would be ideal for those long walks together as the Dachshund gets to enjoy the outdoors with its favorite human. The no-choke design is especially useful with these dogs for their safety.
51. EastBlue Chew toy
Dachshunds are not aggressive chewers, but they have their moments. With this toy's heavy-duty materials, the doggy can chew as hard as they want, and they will still have a toy to play with in the end.
50. Dachshund Wood Coaster Set
This fun and functional Dachshund Wood Coaster Set is perfect for the dog-lover in your life. Each set includes four coasters, each with a different Dachshund design and a matching coaster holder.
The coasters are made of durable wood with a cork backing and are available with or without magnets. They're also personalized with a Dachshund name, making them an excellent gift for any Dachshund dog lover.
49. Customized Dachshund Print Socks
These are pretty cool and are awesome for Dachshund parents, who are a bit more subtle in their expression of their love and lowkey obsession with this dog breed.
48. Petlibro Automatic Food Dispenser
Dachshunds do not respond very well to being left alone for long periods of time. However, food does make waiting for their favorite human companions to come back home, in which case this is a win.
47. Slowton Hands-Free Sling Dog carrier
Dachshunds may love the outdoors, but they are not necessarily built for long periods of exercise. This dog carrier is the perfect accessory for Dachshund parents who want to take their dogs out with them without straining the pooch.
46. Dachshund Customized Mug
Looking for a truly unique mug that celebrates your love of Dachshunds? Check out this custom Dachshund mug!
This high-quality ceramic mug is dishwasher-safe and microwave-safe, and it comes in 11-oz and 15-oz sizes. It's also printed on both sides, so you can enjoy your favorite furry friend from every angle.
Whether you're enjoying your morning coffee or tea or winding down with hot cocoa at night, our custom Dachshund mug is the perfect way to show your personality and love for these lovable pups.
45. A Complete Guide To Dachshunds
Whether it is for a first-time Dachshund owner or for someone more experienced, the information in this book is invaluable toward giving the dog the best possible home.
44. Funny Weiner Welcome Mat
This is a great way to announce to your guests that they are entering the territory of the "goodest" little pup on that side of town.
43. Freexela ODD Dachshund T-Shirt
When shopping for Dachshund parents, you can never really go wrong with a T-shirt. This funny print is particularly awesome for a dog parent with a great sense of humor.
42. Bissel Cleanview Pet Vacuum
Doxies tend to shed a lot, so a pet vacuum would come in very handy to someone with one of these doggies. This particular model includes a rolling brush attachment, effective cleaning up after the dog.
41. Salt Of The Earth Dachshund Fridge Magnets
These cute little magnets are the perfect additions to your kitchen helping to create a nice, homey, dog-friendly vibe. They can also be set up pretty much anywhere else with a metallic surface, from window sills to car bumpers.
40. BevveeCo Dachshund Engraved Wine Glass
This is perfect for dachshund moms and dads whose love for their furry best friends can only be rivaled by their love for a good glass of wine.
39. Dachshund Poop Bag Dispenser
This cute little pouch is a perfect little accessory that you could clip onto belts or even bags for those walks and potty breaks with the Dachshund.
38. Mighty Paw Potty Communication Doorbell
Dachshunds have a very small bladder, especially if not trained to hold it. This communication bell is a simple and highly effective way for them to alert their owners that they need a potty break instead of annoying barking.
37. ATCC Metal Dachshund Cookie Cutter
A cookie-cutter is a great multipurpose gift. They could use it to make their own cookies or tasty treats for the Dachshund. Whatever the case, it is a cool little touch.
36. What On Earth Toilet Paper Holder
This piece plays on the fact that Dachshunds have unusually long torsos. It is a funny gift that is also super functional and, therefore, the ideal gift for any Dachshund parent.
35. Slick Sticker Dachshund Bumper Sticker
For Dachshund owners who want to shout their love for their doggies from the rooftops, this is the perfect gift. It is also quite durable and resistant to fading and water damage.
34. Aquarius Wonderful Wieners Playing Cards
This is the perfect way to switch things up during game night. The cards feature funny and adorable illustrations of Dachshunds in different costumes and positions for a truly fun deck.
33. Blueair Blue Pure 411 Portable Air Filter
Another fantastic gift to help deal with the inevitable high shedding for a Dachshund parent is a portable air filter. This unit not only filters dander from the air but also gets rid of dog-related odors.
32. Mila Autumn Dachshund Print Scarf
A Dachshund scarf is a simple yet meaningful gift for fashionista dog moms who don't mind having their favorite pooch as a centerpiece for the whole outfit.
31. Emblems Gifts Dachshund Key Holder
This can be used not only as a key holder but also as an accessory to attach to bags, belts, or even phones.
30. Dachshund Fabric Storage Basket
Looking for a fun and functional way to organize your home?
Check out our Fabric Storage Basket Dachshund! This stylish basket is handmade from quality 100% cotton fabric and features adorable Dachshunds in golden and bronze shades on a white background.
The basket is lined in a complementary ivory-colored lining, making it perfect for storing toys, laundry, towels, toilet rolls, magazines, books, gadgets, craft items, toiletries, and cosmetics. It also makes an excellent gift for any Dachshund dog owner. So, why not add a little bit of personality to your home with our Fabric Storage Basket Dachshund?
29. Fox and Owl Designs Custom Dog Wall Art
You can also never really go wrong with a piece of art when it comes to doggy gifts. This Dachshund print, in particular, is a great way to give your home a dog-friendly vibe.
28. Streamline Porcelain Dachshund Letter Organizer
This can be set up both in home offices or at work as a cute, yet functional, reminder of the furry little buddy waiting for their owner's return.
27. Dog Seat Hammock Cover
One of the biggest challenges of traveling with a Dachshund is dealing with all the fur on the seat. With this cover, this is something doxie parents do not have to worry about at all.
26. Pet Plate Food Subscription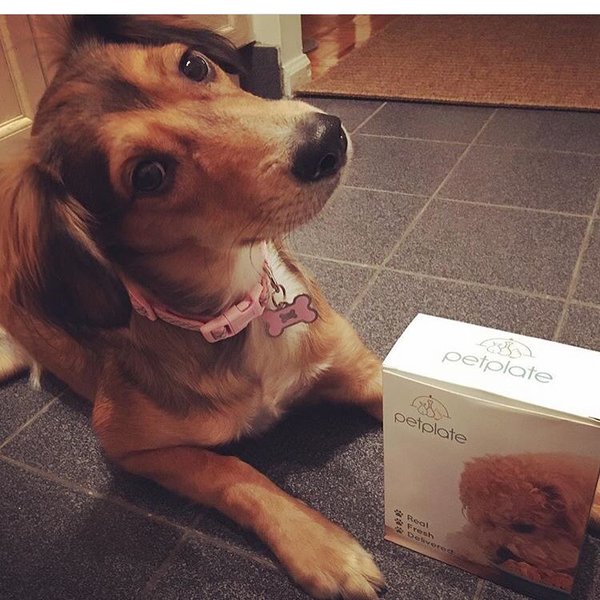 With all their health issues, Dachshunds need as much help in terms of nutrition as they can get. Pet Plate is fantastic in this case with its wide variety of naturally sourced and prepared doggy meals.
25. Bark Box Subscription Box
This is a fun little mystery gift ideal for dog adoption celebrations or birthdays. The mystery box comes with an assortment of goodies, including dog treats, cute accessories, and so much more.
24. Tabby Rabbit Dachshund Tote Bag
Dachshunds may not always be tagged along for errands, but with this bag, it will feel like the little sausage pooch is right there with their human best buddy.
23. Earth Rated Plant-Based Dog Wipes
A good pack of wipes may not seem like that grand of a gift, but it will definitely make a world of difference in the Dachshund parent's life. They can wipe off anything from dirt smudges to drool.
22. Plano Paws Hemp Calming Chews Treats
Dachshunds tend to suffer from a lot of phobias and separation anxiety. These calming soft chew treats contain calming supplements like hemp and chamomile that will help a lot.
21. HoMedics Handheld Pet Massager
This handheld massager is especially useful to Dachshund parents whose pooches have started to experience joint issues like hip or shoulder dysplasia. In these cases, it is a great source of relief.
20. Dung Shun Shark Dog Life Jacket
Dachshunds love swimming, and they are actually very good at it. However, safety is never something to compromise on, so this quirky life jacket is the way to go.
19. Sterling Silver Dachshund Pendant Necklace
This is a good gift to give a Dachshund parent who loves their dog as much as they love themselves. The sentimental gift could be for a birthday or any other celebration.
18. Trixie Mad Scientist Dog Puzzle
Dachshunds are quite smart, and with this puzzle, they will be kept sufficiently mentally stimulated. This is a great way to keep them from getting bored and eventually frustrated.
17. Dachshund Blueprints Chart
This is a beautiful and informative piece that could work very well as a pin-up or framed wall art for any Dachshund fan's home.
16. Furbo Pet Monitor With 2-Way Audio
For working Dachshund parents, few things compare to how hard it is to leave the little pooch home alone. This monitor allows them to keep an eye on the dog and even give them treats remotely.
15. Esschert Dachshund Watering Can
This is awesome for Dachshund owners who are also interested in gardening. With the Dachshund design, it ties in both these interests into a sweet little package.
14. Chuckit Fetch Ball Launcher
Dachshunds may not be the strongest or best built, but they are super energetic. This little contraption makes it easy to keep up with their energy levels when playing fetch.
13. Pet Neat Grooming Brush
This brush features thin but strong bristles that are ideal for all types of Dachshund coats, from short and smooth to long and wiry.
12. Roodie Pet Pouch Hoodie
Cuddle time is a huge deal for Dachshunds and their owners, and this hoodie is designed to satisfy that very need. It has a comfortable pouch where the dog can snuggle for warmth and bonding.
11. Zolen Slow Treat Dispenser Bath Toy
This slow treat bath accessory will help keep the restless Dachshund occupied as they get their regular washing. The best part is that they are water-resistant, even with all the inevitable chewing.
10. The Metal Peddler Dachshund Key Rack
This wall hook rack could be used to hold keys, dog leashes, or other accessories, including poop bags and collars, to name a few. The Dachshund's silhouette just makes it more sentimental in addition to the functionality.
9. Cooling Bandana
Life can get pretty difficult for Dachshunds during really hot months. This cooling bandana helps keep them comfortable while giving them a cool factor in terms of aesthetics.
8. Sol Pixie Dust Dachshund Clock
This is a uniquely designed clock that would definitely fit in perfectly in a true Dachshund fanatic's home.
7. WIWI SCU Dachshund Silverware Rests
The set comes with four cutlery holders to support anything from spoons and forks to chopsticks. Again, the long torso of the Dachshund is an inspiration for this quirky collection.
6. Fun For Friends 4-Piece Dachshund Coasters
These coasters are a subtle but adorable way to show love for the Dachshund breed. Their high quality also guarantees resilience and longevity.
5. Dachshund Ring Jewelry
Another gift that plays off the Dachshund's build is this ring which is designed to look like a Dachshund curling up around the finger.
4. Late For The Sky Dachshund-Opoly
This is a Dachshund-themed version of monopoly, including cute, little doggy references that would make for a great game night with fellow dog lovers.
3. ZTFORUS Arts Dachshund Ice Cube Tray
This is so much more than a Dachshund-shaped ice cube tray. It can also be used to mold non-frozen treats both for the dog and for its owner.
2. Charcoal Companion Dog Corn Holders
For a Dachshund owner with a sense of humor, these corn holders will be an instant hit. The 8-piece set features doxie heads and butts with pins to stick into the corn. Perfect for those dog-themed parties.
1. Adamantine Suite Dachshund Cuff Links
This cute little set is the perfect accessory for doxie dads as a way to remember their little pooches even when they are away from them.
---
Related Questions
---
What Do I Need For A New Dachshund Puppy?
Above all else, you will need a comfortable place for a Dachshund puppy to sleep. It could be a cozy dog bed or a secure crate. This is because the little doggies need a bit more time than most other puppies to get comfortable and familiar with a new space.
Are Dachshunds High Maintenance?
Dachshunds are, for the most part, only relatively high maintenance. They are quite energetic and need about 30 to 40 minutes of exercise per day. They also shed a lot and need brushing at least 2 to 3 times a day. Their affectionate and clingy nature means you also have a lot to invest emotionally.
Do Dachshunds Like To Cuddle?
Dachshunds love to cuddle. This is largely due to their affectionate nature. They are happiest being close to their favorite human companions, whether it is playtime or for a good snuggle session. However, they tend to be clingy and may suffer from separation anxiety. Therefore, training them to be somewhat independent is super important.