Is there anything better than a wagging Boxer tail greeting you at the door?
These lovable dogs are known for their playful nature and make great companions. If you're a Boxer lover yourself or know someone who is, check out our list of the best gifts to show your appreciation! From cozy bedding to fun toys, there's something for everyone on this list.
We've gathered over 20 of the best gifts for the boxer dog lover in your life. So whether you're looking for a last-minute present or just want to add some new ideas to your gift-giving arsenal, read on for tons of great options!
27. Zak George's Dog Training Revolution
The three words you should hear from Zak George: Dog Training Revolution.
If you are (or know someone who is) the proud owner of a boxer dog, then this new training guide from Zak George is a must-have! Unlike other dog training guides out there, Zak George's approach is based on positive reinforcement and mutual respect between dog and human. This makes it the perfect gift for any boxer dog owner!
26. Metal Peddler Boxer Key Rack
The Metal Peddler Boxer Key Rack Dog Leash Hanger is a great wall décor for any room, especially for those who are Boxer owners.
With 5 rounded hooks, it's perfect for hanging keys, leashes, harnesses, lanyards, cables and cords, medals, necklaces, face masks, and other small items. Plus, a magnet will stick to it, too! It's made in the USA with 16-gauge American steel, so you know it's a quality product that will last.
25. Hound Street Boxer Walking BAG
This bag makes walking with a Boxer super convenient. It has pockets for personal items like keys and phones, as well as a poop bag holder and a treat compartment.
24. Highwave Auto Dog Mug Portable Water Bottle
This portable water bottle allows Boxer owners to take their outdoorsy pooches out for adventures without having to worry about finding clean drinking water for them. They just have to carry some from home.
23. Rachael Ray Nutrish Edible Chew Toy
Boxers tend to have a lot of pent-up energy as well as a very big appetite. These dog bones are a fantastic way to satisfy both of these needs to keep the pooch happy.
22. Petmate Precision Extreme Outback Log Cabin
This is the perfect outdoor hideaway for a boxer to lounge in after a busy day playing in the yard or exploring the neighborhood.
21. West Paw Zogoflex Hurley Chew Toy
This is a long-term solution to angst in a Boxer, whether it is due to teething or general frustration. The high-quality silicone is non-toxic to the pooch while being strong and durable enough to withstand chewing.
20. Keegud Pet Feeding Reminder
This is an awesome gift for first-time Boxer owners, especially if the pooch will have multiple people taking care of them. That way, they do not miss meals or get double servings because of miscommunication.
19. Eebo Art Boxer dog Magnets
This cute little Boxer fridge magnet is a cute yet subtle way to show that a home is Boxer-friendly. They will definitely be a hit with your Boxer-fanatic friends or family.
18. Petsafe Wireless Perimeter Fence
Boxers do not like to be restricted indoors. This invisible, electric fence is an awesome compromise allowing them to go out while still restricting their movement.
17. Amazon Basics Foldable Traveling Dog Crate
Boxers can get a little over-excited in cars which is why a car crate is a great gift for their owners. This crate is built to offer safety while giving the dog enough space to feel comfortable during the drive.
16. Late For The Sky Boxer-opoly Game
This is a very unique game with a boxer-themed play on the iconic board game, Monopoly. It is awesome for boxer lovers with boxer-loving friends and would make for the ideal game night piece.
15. WOPET Automated Food Dispenser
For the busy Boxer parent, this automated food dispenser is a lifesaver. It will ensure that the big appetite of the Boxer is satisfied all day long without exceeding the daily recommended portions.
14. Gonebold Gifts Boxer Mug
There is no better start to a Boxer lover's day than a nice cup O' Joe in a Boxer-themed mug to remind them what matters in life. The best part is that you can have this cup customized to include the Boxer's name.
13. BlueIsland Rope Tug-Of-War Toy
Boxers love to play with their human companions with a little rough play every now and then. This tug-of-war toy is built to withstand the pulling and biting for lots of fun times in the future.
12. Bakerology Boxer Cookie Cutter
This is another quirky little gift that is bound to warm the heart of any Boxer fan. They can be used both for human cookies and for homemade treats for the pooch.
11. Boxer Dog PopSockets PopGrips
Popsockets are all the rage these days, and a Boxer-themed piece is ideal for dog owners who love their furry best friends just as much as they love their phones.
10. The Rustic Barn Boxer Night Light
This is a sweet little gift that is both aesthetic and functional. It can be used in the Boxer parent's room, a child's room, or even the dog's sleeping space.
9. Dogs Of Instagram Coffee Table Book
This collection of photographs is a wonderful décor piece for any Boxer lover's home, whether it is set up on a coffee table or as part of a larger, bookshelf situation. It is also quite fun to look at with all the cute little pooches, including Boxers.
8. Premium Care Calming Chews
Boxers are high-energy dogs that need a lot of exercise.
But sometimes, they can get a little too wound up. That's where the PREMIUM CARE Calming Treats come in. They have an all-natural formula that promotes relaxation and helps manage behavioral problems.
It's made with Organic Passion Flower to support normal emotional balance, L-Tryptophan to reduce hyperactivity, and Valerian Root to provide help for restless dogs. So give your boxer a treat that's good for them – and good for you!
7. Stamp And Soul Custom Boxer Dog Tag
This is both a functional piece and a cute accessory for the Boxer. You can have it engraved with anything from the dog's name to its owner's address.
6. Ollie Food Subscription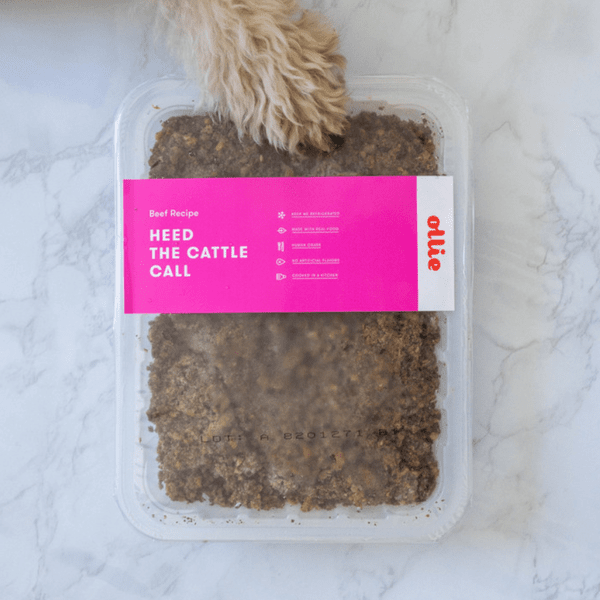 Boxers love to eat, and they love to eat good food, which is why a subscription from Ollie Food would be such a great gift for a Boxer parent as they are starting out.
5. Lavender Essential Oil
Essential oils are another effective way to help deal with a Boxer's temper tantrums and aggressive outbursts. Lavender has a particularly calming effect whether sprayed on, applied topically, or used as aromatherapy.
4. Boxer Dog Costume With Robe And Shorts
It is never too late or too early to shop for a Halloween costume for a boxer. An actual boxer costume is perfect for a pun.
3. Didog Studded Leather Leash, Collar, And Harness Set
If you have a friend who sarcastically leans into the whole aggressive stereotype of the Boxer, then this incredibly cool set would be the ideal gift to complete the aesthetic.
2. Whistle Go Explore Dog Tracker
Boxers are free spirits and will take any opportunity to go outside and explore. A dog tracker is a great source of peace of mind for Boxer fans as they always know where their dog is.
1. Dogster Magazine Subscription
Nothing screams "dog person" louder than an actual magazine subscription to a Dogster. This will help keep the Boxer owner up to date on all things awesome in the canine world.
---
Related Questions
---
What Do Boxer Dogs Love?
Boxer dogs are very energetic dogs and love to play. They are not very picky about the circumstances either. They can play alone, with other dogs, or with their humans and still have fun. They can play indoors or outdoors and still have a blast. Such dogs just need this physical outlet to avoid frustration and to keep themselves well-behaved.
Do Boxers Like To Cuddle?
Contrary to popular misconceptions about Boxers, they are actually very affectionate dogs who love to cuddle with their human companions. They can actually get quite clingy when they form very deep bonds with human handlers. They may also demonstrate some level of friendliness and affection towards strangers, with early socialization.
Do Boxer Dogs Eat A Lot?
Boxer dogs eat quite a lot to keep up with their high energy demands. Despite being medium-sized dogs, they eat like large breeds averaging 3 to 5 cups of dog food per day or even more. Fortunately, they are active and, therefore, not very likely to develop obesity as a result of their eating habits.