Nothing beats homemade treats, especially for your beloved pooch. It's healthier, tastier, and cheaper than store-bought. Even if you're a newbie cook, you can definitely make an amazing treat for your pet. And it's unbelievably easy, too!
The enticing aroma and killer flavor of Apple Cinnamon dog treats, for instance, send your pooch to dog heaven – and it only needs three simple ingredients. Or perhaps your pooch is more of a cheese fan, which is why a cheesy bone treat should be perfect. Want something more nutritious? Pumpkin Carrot bites are quick, easy, and oh-so-healthy.
There are dozens more of these homemade DIY natural dog treats that your precious pet can never resist. Have a look at these amazing recipes and whip one or a few of these soon.
26. Sweet Potato Fries For Pups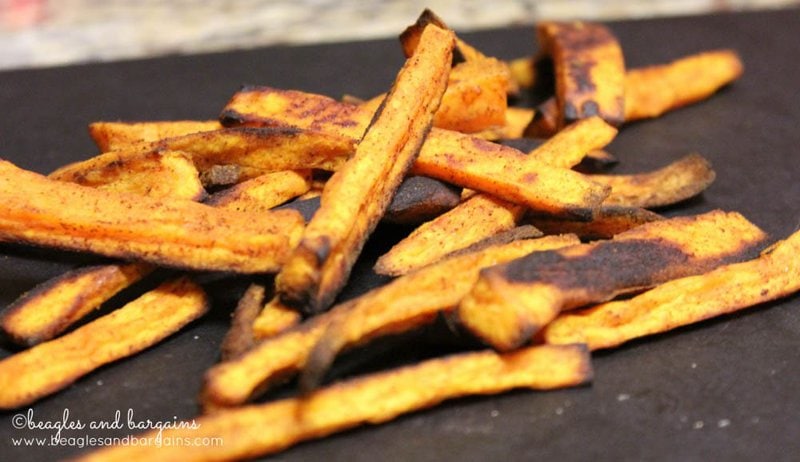 DIY Dog Treats Recipe: Beagles and Bargains
Just like you, your pet needs its veggies daily. So why not make it a fun and exciting experience to delight in nutritious food by making these zesty Sweet Potato Fries? You only need four ingredients for it – sweet potato, cinnamon, turmeric, and coconut oil. Easy-peasy!
Plus, if you're a busy fur parent, no sweat. This DIY natural dog treat recipe only takes 30 minutes to prepare and cook. Now, that's a quickie!
25. Apple Carrot Dog Treats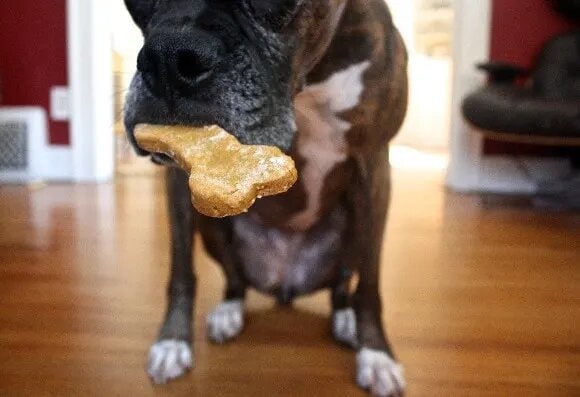 DIY Dog Treats Recipe: My Baking Addiction
Does your pup love apples and carrots? If so, combine these healthy foods into a tasty yum-yum for your canine. Apple Carrot dog treats are a way to enjoy these foods. And most of all, you can simply let your oven do most of the work. How insanely simple is that?
With only four ingredients, you can absolutely whip up this meal. No guilt, no fuss, and nothing but goodness to it.
24. Banana Apple Puppy Treats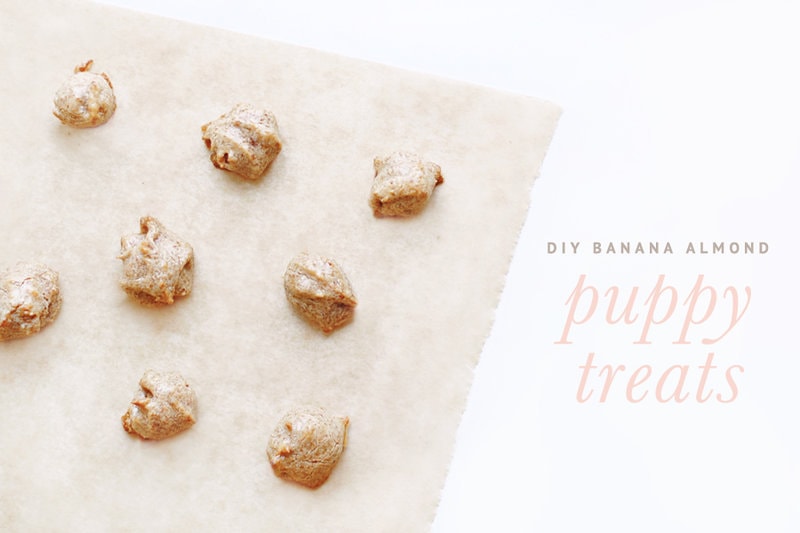 DIY Dog Treats Recipe: Pretty Fluffy
Banana and almond for your puppy's treats? Yes, please! This banana-almond puppy treat is lip-smacking good; it is bound to become an instant favorite. Don't be surprised if you see your dear Fido waiting in the kitchen – the amazing aroma is just so hard to resist!
A third of a banana, an egg, some almond butter, and cinnamon powder are all you need to prepare this dish. The wait time is not too long either. Just 10 minutes, and you'll hear the oven go ding-ding!
23. Chicken Dog Treats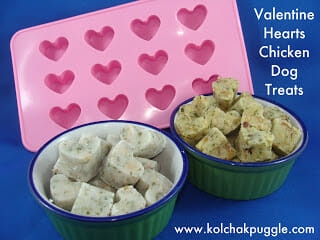 DIY Dog Treats Recipe: Kol's Notes
Chicken for treats? Why not? If your pooch is a chicken fan, you should definitely make one of these chicken doggy treats. It's super filling; you can count it as a full meal and not just a teeny tiny treat for your sweetie.
Oh, and don't worry if there's no chicken in the fridge. Any type of healthy meat will do – just mix it up with rice flour, an egg, parsley, and cooked rice, and it's good to go.
22. Ginger Apple Dog Treats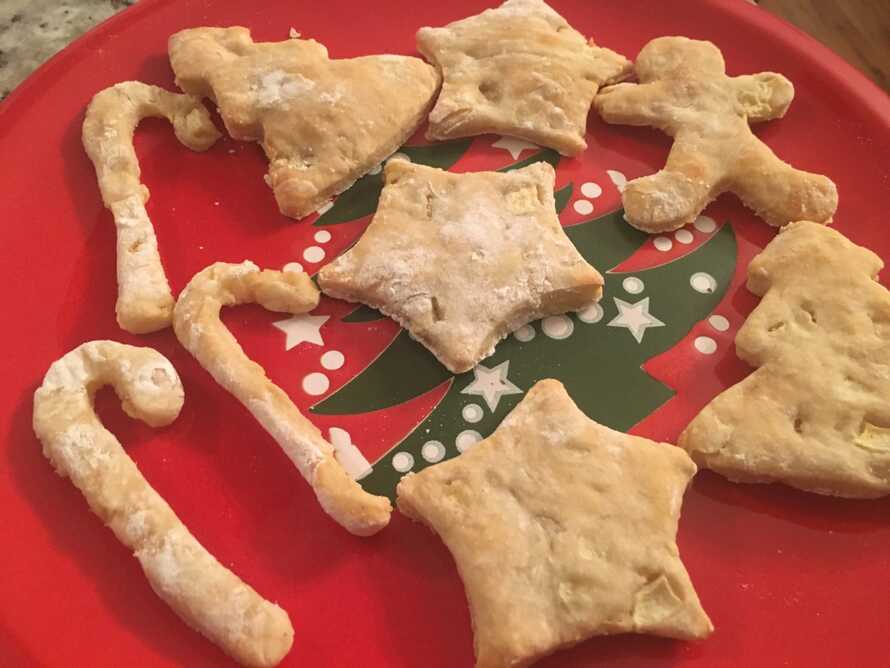 DIY Dog Treats Recipe: Recipe Zazz
Ginger with apple? While this may seem like an unlikely pair, it's surprisingly tasty and nourishing. There are only five ingredients to this recipe, and you can cook it up in 25 minutes. Plus, it's gluten-free, too!
If an easy but healthy treat is what you're looking for, this bad boy is a winner. It should earn you more points from your pup and make you an instant favorite fur mom/dad.
21. Easy Dog Treats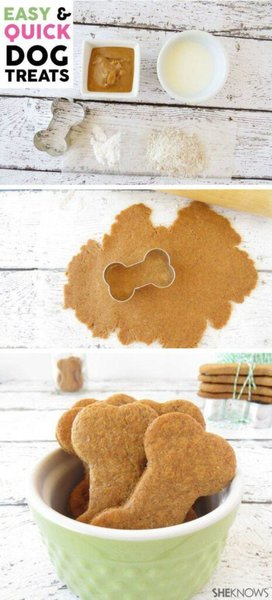 DIY Dog Treats Recipe: She Knows
The name says it – this dog treat is crazy easy. Mix up milk, wheat, and some peanut butter, and your kitchen will start to smell like heaven. The baking time is also pretty short at 15 minutes, so that's super fun.
But just an FYI before you make this treat. Please make sure that your pooch does not have any milk or wheat allergies. There's nothing wrong with checking with your vet first to make sure it's good to go from the oven to the cooling rack and into your precious fur baby's tummy.
20. Easy Dog Cookie Recipe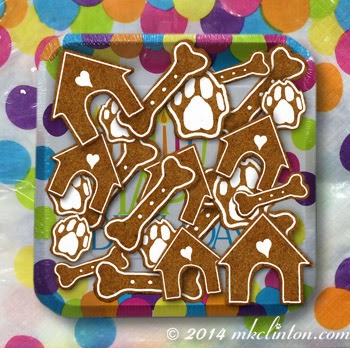 DIY Dog Treats Recipe: M.K. Clinton
Is your pup cooky for its cookies? Then this easy dog cookie recipe is a must-have. Calling this treat yummy is an understatement because it is simply mouth-watering. And yep, it's so easy to make, too.
Just five ingredients are all it takes to prepare this delectable dish. Don't worry if you've never made a dog cookie before. The step-by-step process will guide you through each step of the way!
19. Homemade Dog Biscuits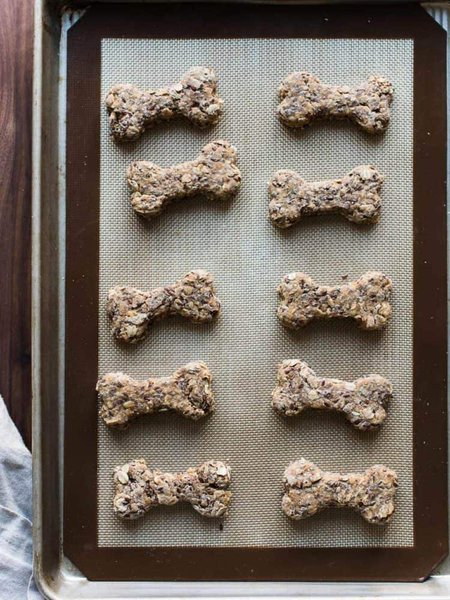 DIY Dog Treats Recipe: Kitchen Confidante
Biscuits are a quick go-to snack for pups when you're out and about. But please, forget about those store-bought ones. These homemade dog biscuits are 10x more nutritious and tastier. You can also make them in a snap.
Beef broth, peanut butter, oats, whole wheat flour, and flaxseed are all ingredients you need to make this fantastic treat. Check the recipe in the link to start baking!
18. Heart Shaped Cranberry Cookies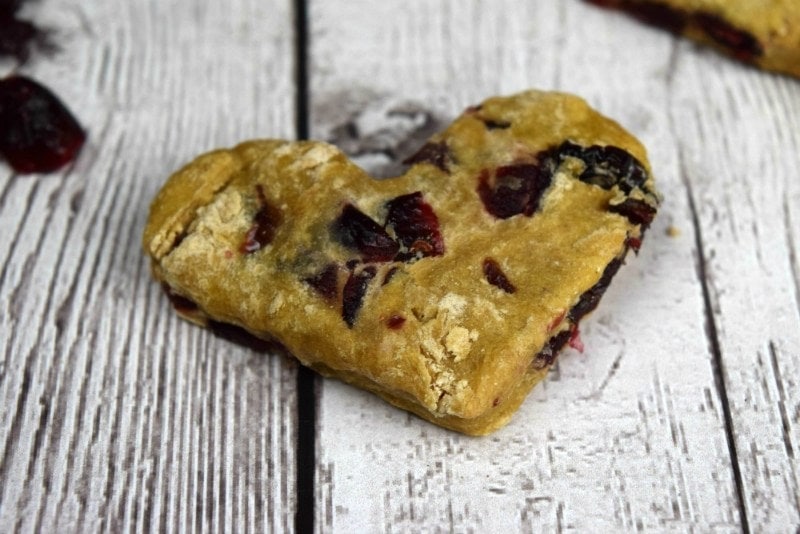 DIY Dog Treats Recipe: Everyday Dog Mom
These heart-shaped cranberry cookies are perfect not just for Valentine's Day but any day! Your pup is going to love these yummy treats any time of the week. Plus, you can quickly whip these up in the kitchen with only five basic ingredients.
Busy fur parents will love the ease of baking these cookies up. In 15 to 20 minutes, your kitchen should start smelling amazing, too!
17. Quick And Easy Peanut Butter Treats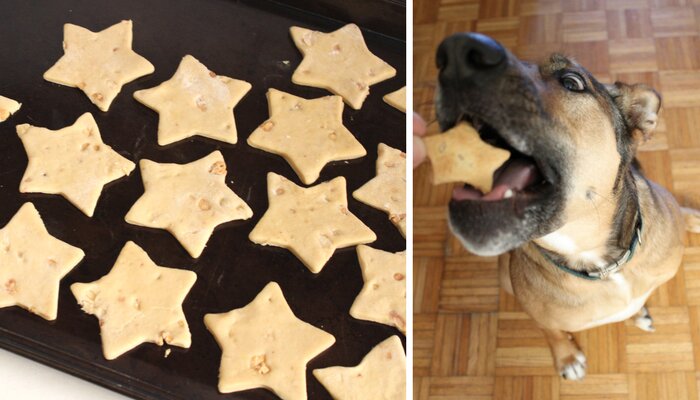 DIY Dog Treats Recipe: Puppy Leaks
Peanut butter fans, this one is for you! Make your pooch these delightful peanut butter treats that are basically a breeze to prepare. And the best part – it's only three ingredients! Flour, peanut butter, and a couple of eggs are all it takes to cook up these treats.
Nutritious, scrumptious, and easy – that's what these peanut butter treats are all about. You will absolutely love making it just as much as your pet will enjoy devouring every little crumb.
16. Best Dog Biscuits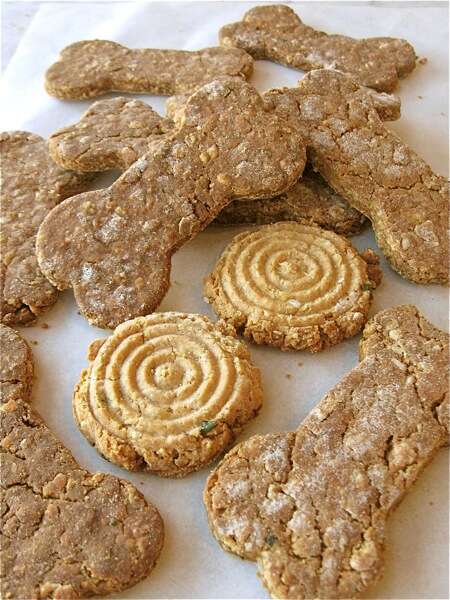 DIY Dog Treats Recipe: King Arthur Baking
Another easy dog biscuit recipe, these dog biscuits are a sure hit each time. There are only a few ingredients to get you started, such as oats, dry milk, parsley, and flour. Add a little bit of salt, and that adds to the burst of flavor.
We love how simple these treats are, yet absolutely healthy. It does take a bit of time to prepare, but this sure makes for a fun baking project to do on a lazy weekend!
15. Salmon And Sweet Potato Dog Treats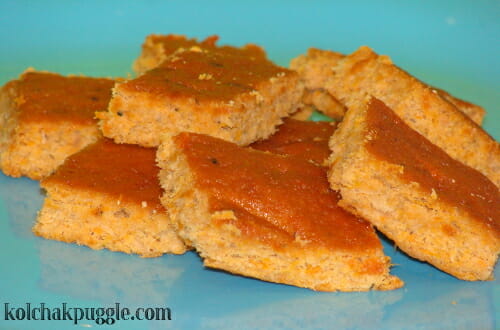 DIY Dog Treats Recipe: Kol's Notes
Soft, chewy, and tasty, these salmon and sweet potato dog treats are the bombs. They're also easy to turn into bite-sized treats, which is one of the best things about them. If you've got a senior pooch that prefers something that's easy to chew, this one's a winner.
All you need to make these treats are salmon, eggs, sweet potato, and coconut flour. It's also quite filling and can even be a meal on its own.
14. Frozen Apple Dog Treats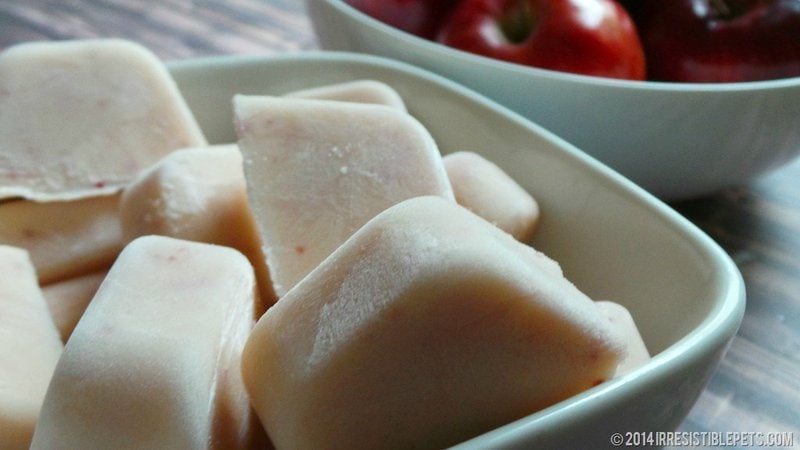 DIY Dog Treats Recipe: Irresistible Pets
Forget the cooking. These homemade DIY natural dog treats are easy as they come. Simply freeze the ingredients, and this whole thing is pretty much good to go! It's a fun treat during the summer to help your pup cool off.
Cut up some apples, dip in nonfat plain yogurt, place in ice cube trays, and that's all it takes to get your canine to enjoy this treat. It's ridiculously easy, and you'd love making it each day.
13. Peanut Butter And Pumpkin Dog Treats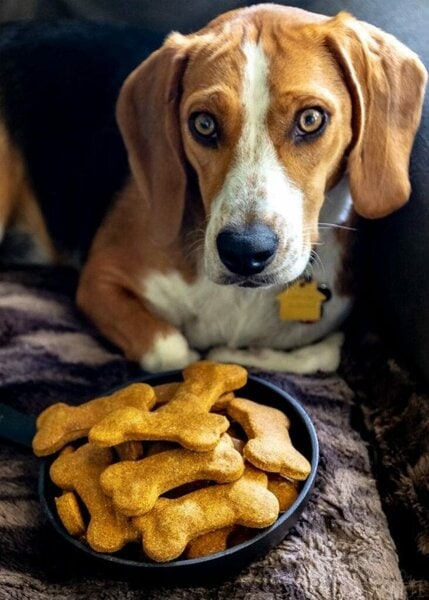 DIY Dog Treats Recipe: Mom on Timeout
Peanut butter and pumpkin for your dog treats? You bet – and it's so flavorful, too! It's a huge hit for folks who want to give their fur babies something nutritious and delectable at the same time. With just five ingredients, it's pretty much good to go.
Mix everything up in a bowl, and then start cooking in just minutes. With the fantastic flavor, texture, and aroma of this yum-yum, it's bound to be an instant favorite.
12. 2-Ingredient Dog Treats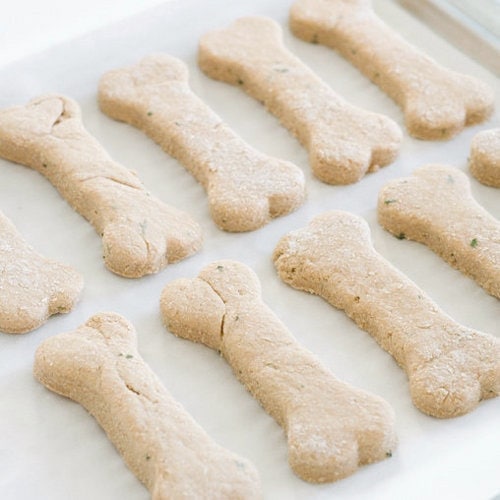 DIY Dog Treats Recipe: Design Milk
Not quite an experienced cook? Even if you're just a novice in the kitchen, don't let that stop you from making something extraordinary for your pet. This 2-ingredient pup treat is so easy, and anyone can make it.
If you've got your whole wheat flour with some pureed baby food, then you're all set. Mix them all up, and that's about it. In 20 minutes, you should have these treats fresh off the pan and into your canine's bowl – just make sure to cool it off first!
11. Peanut Butter Dog Treats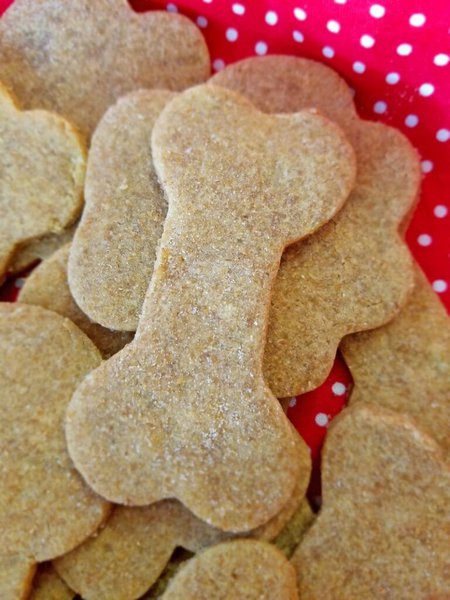 DIY Dog Treats Recipe: Dogvills
Here's another one for the peanut butter junkie. It's a simple recipe that only requires three ingredients – whole wheat flour, mashed sweet potatoes, and peanut butter. Then, bake the mixture, and it comes out so aromatic and super tasty.
Your pup will surely enjoy these treats. You can even pack it up in tiny baggies and take it to your outdoor trips for a quick pick-me-up for your pooch.
10. Birthday Bones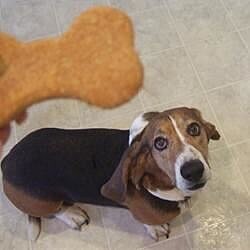 DIY Dog Treats Recipe: All Recipes
Great for your puppy's big day (or any day, even), these Birthday Bones are bursting with flavor and healthy goodness. They're not exactly made of bones but just shaped like it. With a simple cookie cutter and all the ingredients you need, you can start making this amazing recipe.
For ingredients, there are only four you'll need for this one. Just be sure to use unsalted peanut butter since you're shooting for a sweeter flavor for these homemade DIY natural dog treats.
9. Healthy Dog Treats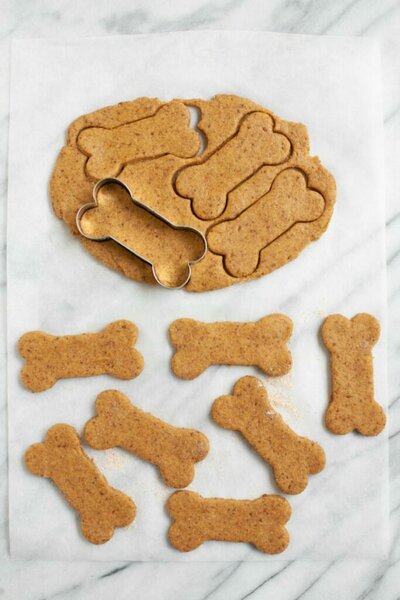 DIY Dog Treats Recipe: Wholefully
If your pup does not have any allergies to wheat and flour, then these healthy dog treats are perfect for your little baby. It uses milk, pumpkin, and applesauce, which are a powerhouse of nutrients. Oh, and don't forget protein-rich eggs, too!
Other great ingredients to this recipe include ground flaxseed and olive oil, which help to give your pup healthy fats and vitamin E for healthy skin and coat. And yes, these treats taste just as good as they are healthy.
8. Pumpkin Cookies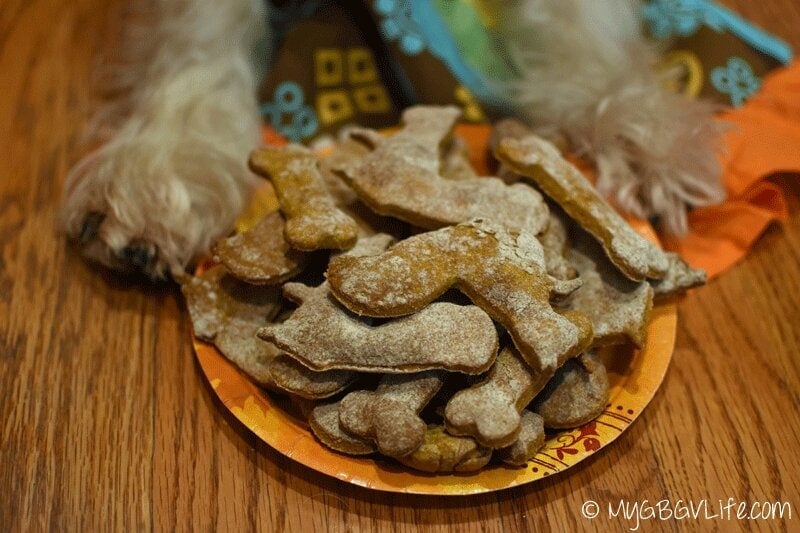 DIY Dog Treats Recipe: My GBGV Life
First-timers in dog treats-making will love how easy and simple these pumpkin cookies are. They are perfect for newbies who want to make healthy dog treats without the long wait and the fuss. Pumpkins, egg, cinnamon, and flour are all you need to whip up these cookies.
Not crazy about elaborate dog treats? That's not a problem with this recipe. It's super quick and easy, so you won't have to worry about it.
7. Pumpkin-Blueberry-Bacon Treats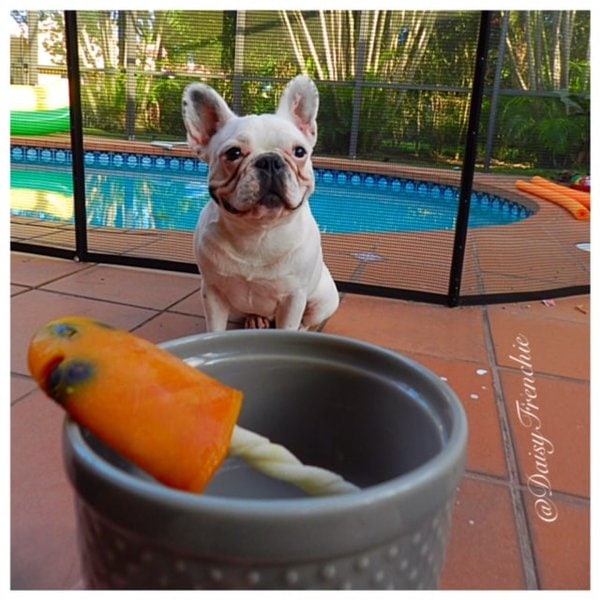 DIY Dog Treats Recipe: Daisy, the French Bulldog
Pumpkins with blueberries and bacon? Sounds like a mash-up of tasty ingredients, but it's super healthy, too! It's also a breeze to make and does not involve any cooking at all. Just freeze them up, and they're ready.
These fun treats are perfect during the sweltering hot season. So, it should be perfect for your hikes or when lounging at the pool with dear Fido.
6. Vegan And Gluten-Free Dog Treats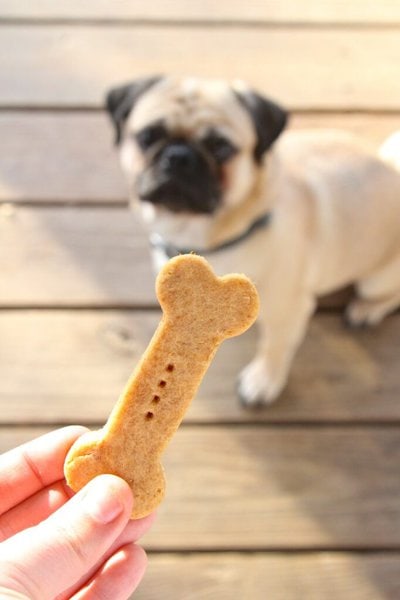 DIY Dog Treats Recipe: The Plant Philosophy
Interested in vegan dog treats for your darling pet? These vegan and gluten-free pup treats are perfect for that. It's excellent for canines with grain allergies and sensitivities. You'll only need peanut butter with rice flour, and that's pretty much it. Easy-peasy!
With only half an hour of cook time, it's perfect for fur parents with hectic schedules. And yes, it's very tasty, too.
5. Fruity Frosty Treats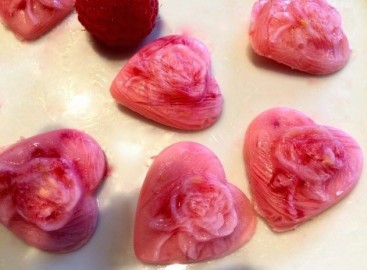 DIY Dog Treats Recipe: Talented Hounds
Fruits are always a favorite of many pups, so why not make your pet these fruity, frosty treats? This tasty dish only requires a few ingredients, such as raspberries, yogurt, and watermelon. Mix them up, freeze in an ice tray, and pop out for a quick, cooling treat.
You should easily get it ready to munch in just a couple of hours. Plus, you can use other fruits, too, whatever you have in your pantry or fridge.
3. Cheesy Bone Treats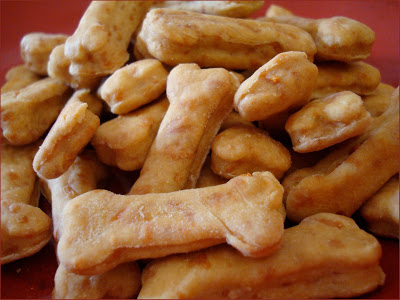 DIY Dog Treats Recipe: Sugar The Golden Retriever
To have bone treats with cheese? We guarantee this will get your pup excited about it! These cheesy bone treats are amazingly tasty, healthy, and simply cheesy. It's rich in calcium, vitamins, and other minerals to keep your pooch healthy.
Cooking time takes about three hours, though, so it's something to do on an easy weekend. Otherwise, you can store the treats in an airtight container, and it should be suitable for a few days.
2. Pumpkin Carrot Bites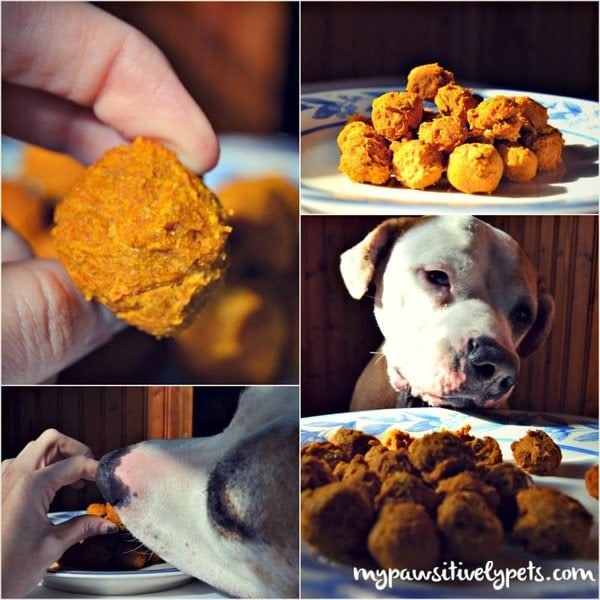 DIY Dog Treats Recipe: Pawsitively Pets
These aromatic, scrumptious pumpkin-carrot bites are great for folks who want to give something healthy and yummy for their fur babies. Use these for training rewards or just to give your pooch an unexpected tasty treat.
With just four ingredients – carrots, whole wheat flour, egg, and pumpkin – you can start mixing and baking this recipe. It's that quick and easy!
1. Apple Cinnamon Dog Treats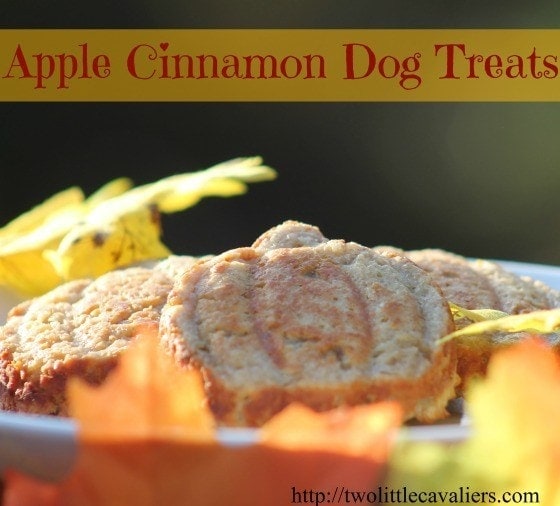 DIY Dog Treats Recipe: Two Little Cavaliers
And topping our list of homemade DIY natural dog treats is this one from Two Little Cavaliers. It's an amazing recipe that you can whip up in under half an hour. With healthy ingredients, it's definitely a guilt-free treat for your pooch.
Oatmeal, egg, and applesauce – those are all you need to create this wonderful, edible masterpiece. Your pup will love you plenty for these treats!
---
Related Questions
---
Are Homemade Dog Treats Good For Dogs? Absolutely! Homemade dog treats allow you to control the ingredients in foods you give to your pooch, so you can make sure they're healthy. Just be sure to stay away from ingredients that are not suitable for your pet, as well as those that may trigger allergic reactions.
Can You Use Regular Flour For Dog Treats? Yes, you may do so. But it still depends on what the recipe requires, as some would need whole wheat flour. You may also want to go for gluten-free flour in case your dog has allergies to grain and wheat.
How Do You Keep Homemade Dog Treats From Molding? The best way to keep homemade dog treats from molding is by wrapping them in a muslin cloth or tea towel. This can help to keep them dry and eliminate the risk of getting soggy. Also, be sure to get your dogs to consume the treats within a week.