The best cordless vacuum for pet hair is Shark ION F80 MultiFlex.
Pets are a blessing, but having one in your house comes with an inconvenience: shedding. When they shed, dogs and cats can leave their hair anywhere and everywhere, which can be a huge problem if you're one to like keeping your house tidy and clean all the time.
Thankfully, taking care of such an issue isn't that hard if you have the best cordless vacuum for pet hair.
#1 Shark ION F80 MultiFlex
Shark has been in this industry for years, so it's easy to see why one of its products tops our handheld vacuums list. The Shark ION F80 MultiFlex takes our vote as the best handheld vacuum on the pet market for several reasons, including the battery life, efficiency, and features.
Shark's cordless vacuum scores the longest runtime on the market, as it can keep going strong for 80 minutes straight when using both of its batteries. That's double the runtime offered by Shark's previous model and over an hour of vacuuming, which is more than enough to cover the majority of your house.
Keep in mind that the 80-minute runtime performance was measured in the lowest suction setting and hand-vac mode. In other words, you probably won't get to use it for that long once you use an attachment, max out the ION Boost mode, or vacuum a harsh surface.
Other features that we like in the Shark ION F80 include the MultiFlex functionality, which allows you to clean hard-to-reach spots and under the furniture. Couple that with the ION Boost mode that you can use to clean tight spots, and you've got yourself a powerful suction beast when it comes to pet hair cleaning.
For the attachments, the Shark ION F80 features a DuoClean cleaning head, which combines a soft brush roll for hard floors and a brush roll for carpets in one device. Changing the speed of the brush to match your needs is effortless thanks to the fingertip controls, which is a huge plus. The pet vacuum also comes with an eight-inch crevice tool and an upholstery tool, both of which can be used to extend usability.
Although the Shark ION F80 features three filters, none of them is up to HEPA standards, so keep that in mind if you have asthma or allergies.
The Shark ION F80 MultiFlex is an upper midrange handheld vacuum that offers plenty of cleaning power at a reasonable price. It's also backed by a five-year warranty. What else could you ask for in the best handheld vacuum for pet hair?
Pros
---
Suction power: 38 CFM (Ion Boost mode) / 24 CFM (Ion Power mode)
Runtime: Up to 80 minutes (when using both batteries).
Charging time for each battery: 3.5 hours.
Dustbin capacity: 0.32 liter
#2 Tineco A11 Master Cordless Vacuum Cleaner
Often, especially when it comes to pet vacuum cleaners, the cleaning rewards you reap for shelling out hundreds of bucks aren't always met with enhanced cleaning capabilities. The bang for your buck usually happens in the budget vacuum sphere, and the Tineco A11 Master Cordless Vacuum Cleaner is the best example on that.
Weighing only 5.5 lbs when an attachment is installed, the Tineco A11 cordless stick vacuum cleaner is lightweight and easy to move around, making it perfect for ladies.
Although this pet hair vacuuming machine can work for up to one hour when both batteries are charged, activating the MAX mode will reduce the runtime to 15 minutes, which is still quite impressive considering the suction power that mode provides. Couple that runtime with the 0.6-liter capacity of the dirt cup, and you've got yourself a cordless stick vacuum cleaner capable of nailing every floor cleaning session, no matter how much hair or fur your pet sheds.
Unlike the Shark ION F80, the Tineco A11 handheld vacuum does feature a HEPA filter, making it suitable for kids suffering from asthma or allergies.
Now, for the price, one would expect at most a single crevice tool or two to accompany the vacuum, but that's not the case for the Tineco Cordless Stick Vacuum A11. It generously comes with the most comprehensive set of tools and add-ons that you can get with a pet stick vacuum. Those attachments include a LED Multi-tasker power brush that's suitable for all floor types as well as a LED Soft-roller power brush that you can use to remove pet hair from hard floor materials and large debris.
There's also a crevice tool, mini power brush, 2-in-1 dusting brush, and a hair cleaning tool. This is a department in which the Tineco Cordless Stick Vacuum A11 obviously takes the lead.
Honestly, there is a lot to love in the Tineco A11 cordless stick vacuum, but we find the most impressive is the price and the set of attachments that come with the tool. For the budget-conscious consumer looking for the bang for their buck, this can easily be the best cordless stick vacuum for pet hair.
Pros
---
Suction power: 120W (MAW mode)
Runtime: Up to 60 minutes (when using both batteries).
Charging time for each battery: 3.5 hours.
Dustbin capacity: 0.6 liter
#3 Tineco iFLOOR3 Cordless Wet Dry Vacuum Cleaner
SALE ALERT!!
You need a vacuum kit that will clean every type of dirt and does not cause anxiety, especially in your pets. The Tineco iFLOOR3 cordless wet dry vacuum cleaner is lightweight and can clean hard floors.
This vacuum cleaner will take care of pet waste, pet hairs, dry and sticky dirt. It can be used on marble, linoleum, marble, vinyl, hardwood, stone, and laminate.
As mentioned, it works noiselessly, so your pets do not get scared. It is lightweight, cordless, and has a powerful 150W suction that offers up to 25 minutes of non-stop cleaning. It doesn't leave behind any dirt or mess streaks.
It uses a one-touch cleaning system. The cleaner also has a clear digital display. The vacuum has a self-cleaning system, so the tubes and brush will always remain odor-free and clean. For best results, use Tineco cleaning products.
The fact that Tineco iFLOOR3 cordless vacuum cleaner doesn't scare your pets or kids is a definite plus. It has no cords that you can damage and is lightweight. It cleans all types of surfaces and handles all kinds of dirt. The one-touch cleaning system makes cleaning more fun. Remember, use Tineco products for the best results and to avoid spoiling your vacuum cleaner.
Pros
---
Lightweight and cordless.
One-touch self-cleaning system.
Provides a strong 150W suction.
Clear digital display.
Cleans multiple types of surfaces.
Low noise and doesn't scare your pets.
Self-cleaning system to keep brush and tubes clean.
#4 Samsung Jet 75 Stick Vacuum Cleaner
SALE ALERT!!
The Samsung Jet 75 Stick cordless lightweight vacuum cleaner comes with a long-lasting removable battery. It has a 200W suction capability and a 180-degree swivel brush for easier cleaning.
This rechargeable cleaner lets you clean for up to 60 minutes uninterrupted. If the battery runs low, you can simply switch to a spare battery. It recharges within 3.5 hours and keeps up to 70% of its power for up to 5 years, even with frequent use.
It can also clean any type of surfaces like tile, carpets, and hardwood. It weighs about 6 lbs, so light that you can carry it around the house and clean high or low places easily.
The Jet 75 cleaner has a Turbo Brush, which can rotate up to 3,700 times in a minute. The flexible brush lets you clean all kinds of dirt in one cleaning swoop. The 5-layer jet cyclone filter system keeps the filter from accumulating dirt and pushes it into the dustbin.
Your pets will leave fur, dirt, and mud all over your house, even in hard-to-reach places. We believe that the Samsung Jet 75 Stick will clean all dirt in corners, under furniture, and even in higher places. The jet cyclone keeps the filter clean, so you don't have to worry about the cleaner getting damaged. The removable battery pack with up to one hour of cleaning time is a welcome advantage.
Pros
---
Cordless and runs for 60 minutes.
A 200 Air Watt suction to collect all types of dirt.
Cleans all types of surfaces like hardwood, upholstery, tile, and carpeting.
Very lightweight, weighing merely at 6 lbs for effortless cleaning.
Turbo brush with 180-degree swivel.
Jet cyclone keeps the filter clean.
#5 Tineco A10 Hero Cordless Stick Vacuum Cleaner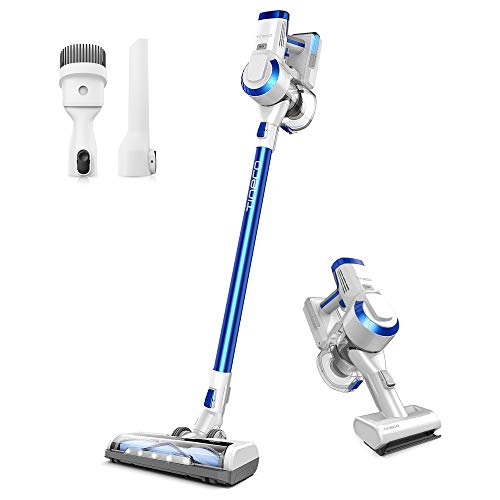 If you like the Tineco A11 cordless vacuum reviewed above but find the price a bit high, then you might want to take a look at the Tineco A10 Hero – the A11 budget-friendly counterpart.
Despite its low price, the Tineco A10 Hero pet handheld vacuum packs a powerful brushless motor that can, when paired with the company's 2000mAh detachable lithium battery, keep the vacuum going for 10 to 25 minutes of runtime performance depending on which power level you're using.
The suction power can get to 110 air watts in MAX mode, which is enough to take care of all of your pet hair problems around the house, especially when the dustbin has a 0.4-liter holding capacity before needing to be emptied. All of that, without being too noisy or annoying.
The Tineco A11 Hero cordless vacuum is an affordable, powerful, and lightweight unit that can definitely be the best cordless stick vacuum for pet hair if you're on a budget.
Pros
---
Suction power: 110 air watts.
Runtime: Up to 25 minutes.
Charging time: 3.5 hours.
Dustbin capacity: 0.4 liter
#6 Dyson V11 Torque Drive Cordless Vacuum Cleaner
Dyson V11 Torque Drive Cordless Vacuum Cleaner, Blue
Dyson's most intelligent, powerful cordless vacuum. Twice the suction of any cordless vacuum.
Dyson technology helps create a cleaner, healthier home - Our vacuums and purifiers are scientifically proven to capture...
Engineered for whole-home, deep cleaning. Suction power, run time and tools designed to deep clean your whole home.
The Dyson V11 Torque Drive Cordless Vacuum Cleaner is yet another cleaner that will keep your home free of pet dirt and fur. It has almost double the vacuum power of other cordless options.
The V11 runs for up to 60 mins uninterrupted. It uses its deep suction power for proper cleaning of your space. The cleaner head runs on high torque and can clean all types of surfaces with ease.
It is perfect for those without allergies as it traps 99.99% of particles, dust, and allergens. The cleaner can convert into a handheld option if you need to clean hard-to-reach areas or your car.
The cleaner kit comes with the head, mini motorized tool, crevice tool, multiple brushes, combination tool, docking station, wand storage clip, and charger. The kit lets you have an affordable, quick, and easy cleaning experience.
The fact that you don't need to change the head to clean different types of dirt is very convenient. The Dyson V11 cleaner converts to a handheld if you need to clean dirt and fur from your car. You can clean for up to one hour with a fully charged battery and swap its battery with ease to continue cleaning beyond 60 minutes. It also sucks up to 99% of particles and allergens, particularly useful for those with allergies.
Pros
---
Double vacuum power than other cordless options.
Runs for up to 60 minutes uninterrupted when fully charged.
A high torque cleaner head.
Traps up to 99.99% of particles, dust, and allergens.
Converts into a handheld when needed.
The kit comes with a comprehensive set of tools that are bound to meet your every need.
#7 Bissell 2252 Vacuum Cleaner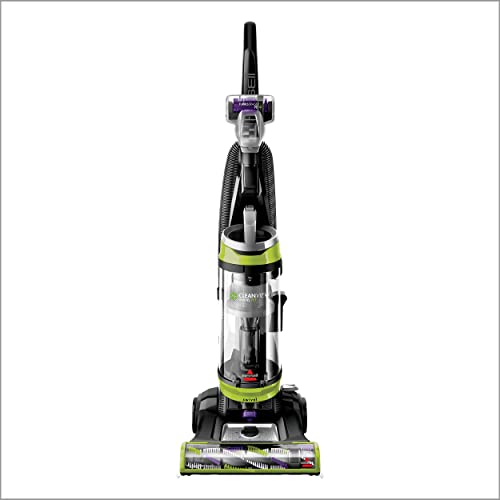 The Bissell 2252 vacuum cleaner not only looks stylish in a modern home setting, but it also performs even better.
With a plethora of convenience-focused features, such as the Multi-Cyclonic Suction System, Scatter-Free Technology and Swivel Steering, this vacuum is all you need to take care of all your dog hair problems – regardless of the surface, location, or how really tangled the hair has become.
Despite being a corded vacuum cleaner, we have included the Bissell 2252 model in this article. It's worth a mention as this cleaner comes with a powerful suction that efficiently keep your bare floors free of any dog hair.
Thanks to its Multi-Cyclonic Suction System, the cleaner is able to separate dirt away from the motor and the filter, thus making the 1-liter dirt tank easier to empty and the suction components last longer.
When it comes to efficiency, the 2252 model sports a triple action brush roll designed to dislodge embedded dirt and tangled dog hair on fabric surfaces without causing any damage. With its swivel steering capability, cleaning edge-to-edge and hard-to-reach spots along the wall and their corners has never been easier with this unique brush roll design.
The Bissell 2252 model is a feature-packed corded vacuum cleaner that focuses mainly on efficiency, and its Multi-Cyclonic Suction System is the most significant piece of evidence on that.
Pros
---
A dirt tank with a capacity of 0.26 gallon.
Features a release button to empty the dirt tank.
Filters are easily washable just by running tap water on it.
The triple action brush roll spans a width of 13.5 inches that makes cleaning large area fairly effortless.
#8 Shark IZ363HT Stick Vacuum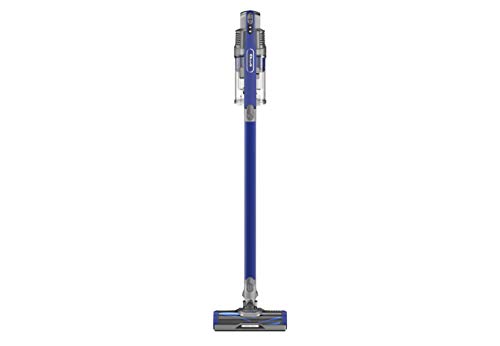 The Shark IZ363HT anti-allergen pet power cordless stick vacuum comes with a self-cleaning brush roll. It runs for up to 50 minutes when fully charged and comes with a removable battery.
The PowerFins brush roll also ensures continuous cleaning while remaining in contact with the surface. The brush roll's self-cleaning capabilities ensure that no hair-wrap accumulates.
You're assured of clean air in your home because the vacuum cleaner comes with a HEPA filtration and anti-allergen complete seal. This means that all types of allergens and dirt particles are captured.
The cleaner's streamlined design has you covered if you need to clean underneath furniture and appliances. The cleaner becomes handheld for higher surfaces. It comes with an XL removable dust cup with CleanTouch Dirt Ejector. If you need to see dark spaces while cleaning, the cleaner has LED headlights.
With this Shark Vacuum, you are safe from allergens thanks to its HEPA filtration and anti-allergen complete seal. Your pooch's hairs don't accumulate around the brush roll. In addition, you can turn it into a handheld to clean your car and higher spaces. What We also like is the LED headlights to clean those dark corners.
Pros
---
Cordless and cleans up to 50 minutes uninterrupted.
Removable battery.
Uses PowerFins brush roll to prevent hair build-up and continuous cleaning.
HEPA filtration and anti-allergen complete seal to capture allergens and dirt.
Can convert to a handheld cleaner when needed.
Streamlined design to clean underneath furniture.
XL removable dust cup.
Has LED headlights.
---
Cordless Stick Vacuum For Pet Hair Buyer's Guide
---
A pet stick cordless vacuum can be a great, convenient addition to your pet care arsenal – more so if they're cordless. Here are the main factors to consider when buying a pet cordless vacuum.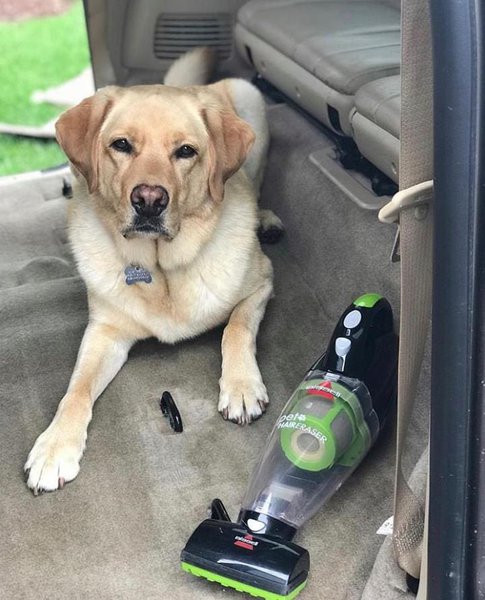 Suction Power
Just like with any cordless vacuum in the pets category, the first factor that you need to consider when looking for the best cordless stick vacuum is the suction power performance.
Not long ago, cordless pet stick vacuums weren't that powerful due to their lightweight and slim profile. That's why they were mainly used as secondary cleaning devices that clean up after their more powerful counterparts, upright vacuum cleaners. Today, pet cordless stick models pack enough power to take care of all of your dog fur removal needs.
To check the power of a stick vacuum cleaner, take a look at its specs, such as air watts and pascals, which will give you a clear idea as to how good the device will perform.
You also need to consider your flooring. Some cordless pet stick vacuums can work impeccably on any kind of flooring, while others can only remove dog hair from either carpets or hard bare floors. If you have different types of flooring around your house, make sure to look for a stick vacuum cleaner with adjustable suction.
Battery Life
As this is a comparison buying guide for the best cordless pet stick vacuum cleaners, we find discussing the battery life essential before making your final choice. There are two comparison factors on which you need to keep a close eye here: the charging time, and the runtime when the battery is fully charged.
If you're serious about your dog hair vacuuming sessions, then you ought to get a cordless vacuum that can keep you going for no less than 20 minutes after a full charge.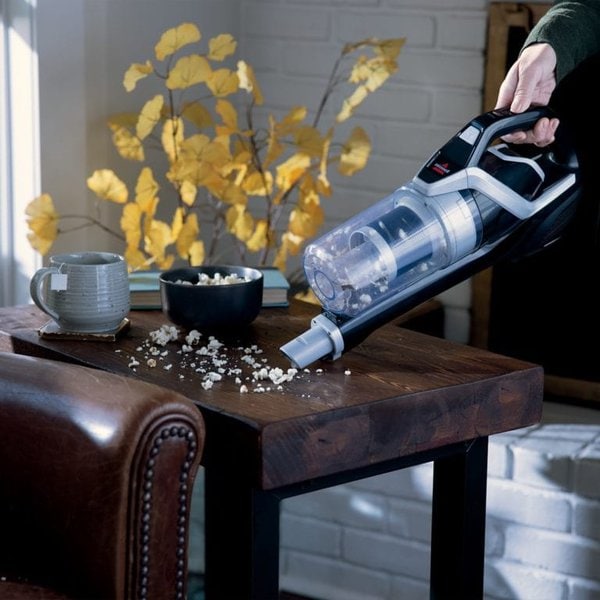 Weight
As opposed to canister or upright cordless vacuums, which you can use by pushing the unit, stick vacuum cleaners are designed to be carried by the user. That makes the weight yet another essential performance factor to consider – one that will affect the maneuverability, comfort, and convenience of each model.
The best cordless stick vacuum for you should be one that you can easily carry around. It has to be lightweight with a slim profile. You also need to pay attention to the weight distribution, as a lightweight cordless vacuum where most of the weight is mainly at the furthest end of your hand wouldn't be comfortable and easy to lift.
As a comparison, canister vacuum cleaners are generally bulkier and tend to be a tad more inconvenient as you have to drag the canister vacuum back and forth.
Dust Bag
Some stick cordless vacuums feature a bagged dustbin. Such models are easy to maintain, as all you have to do is replace the bag whenever it fills up. The problem is that such a process isn't exactly environmentally friendly, nor is it the cheapest.
Bagless models, on the other hand, come with a dirt cup, which you need to empty and wash when it fills up. Although that may seem an unnecessary endeavor, it's the cheaper approach, as you don't have to spend any extra penny on the vacuum cleanup after your initial investment. Besides, having a see-through dirt cup will allow you to asses when it needs emptying, which will help you avoid getting the cup clogged with pet fur and other particles and debris.
Now, which type should you choose as a pet owner?
Well, knowing that no day goes by without your pet shedding all over the place, getting a bagged stick vacuum can set you back a pretty penny in the long run, as you'll have to change the bag quite often. That's why we recommend going with such a model as your best cordless stick vacuum.
It's worth noting that emptying the dirt cup of a bagless vacuum cleaner is effortless, as all you have to do is release the bottom of the container or detach it from the cordless vacuum. Easy peasy.
Just be sure not to misplace the dirt cup, as finding a replacement dirt cup could be quite tricky.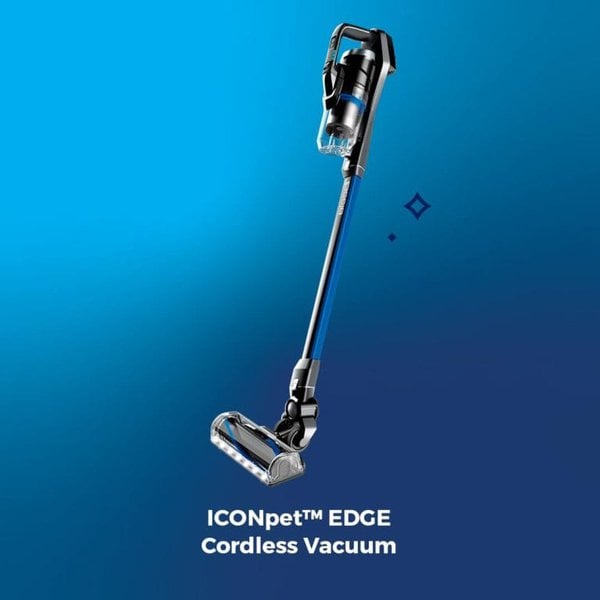 Filters
When you're looking for the best cordless stick vacuum cleaner, you ought to search for one with a HEPA filter. HEPA filters can remove over 99% of particles that are 0.3 micrometers in diameter, making such filters essential if you or one of your family members has an allergy to dust and pet dander.
Attachments
The attachment is the part that cordless vacuums use to pick up dirt, particles, and animal hair strands. While most models can comfortably handle dirt, dust, soil, and sand, dog hair can be a whole different ballgame for many of them.
Why, you ask?
Simply because short dog hair can easily cling onto all kinds of fabrics and furniture, while long hair gets tangled in the brush roll and clog up the cleaner, and you need an attachment that can tackle both issues.
So, which attachment should you get to get rid of dog hair around your house?
Your best bet would be getting a brush roll or brush tool, as it features stiff bristles that can pull up pet hair easily.
Extra Features
Some pet cordless stick vacuums boast additional features that may or may not come in handy while you're hunting pet hair around your house. These features include:
Quiet Operation
While it's nice to have a cordless stick vacuum that doesn't make too much sound, that would probably set you back a pretty penny. Besides, even the so-called "quiet" vac cleaners still produce some noise. The best solution is to acclimate your pets to the sound when you're cleaning your house.
Sealed Bags
Some cordless vacuums can seal in the dust and pet dander when you remove the bag, which is a great feature to have if you or your family members suffer from asthma or allergies.
Wet-Dry Vacuum Capability
If you're planning to use your cordless vacuum cleaner to clean up all kinds of messes created by your pet, such as fur balls, then getting a model that can handle wet-dry messes would be really convenient.
---
Final Thoughts
---
A cordless pet stick vacuum can be a handy add-on to any cleaning arsenal – especially so if you have a pet that keeps shredding everywhere it goes. Although we would suggest getting any of the above products in a heartbeat, we highly recommend going with our top pick. It's the best vacuum for getting rid of dog hair that you can get right now.
Not only does that vacuum model offer the longest runtime on the market and come with a plethora of features, but it's also affordable and comes with an impressive 5-year warranty, which should give you some ever-wanted peace of mind when purchasing the best cordless vacuums for dog hair.