The best slip lead for dogs is Friends Forever Mountain Climbing Rope Lead.
It's never easy to walk your pooch that pulls a lot. But then again, it's nothing that the best slip leads for dogs cannot solve.
Perfect for walking and training your dog, a slip lead makes life easier for every canine owner. Let's take a look at your best options and why they're great.
#1 Friends Forever Mountain Climbing Rope Lead
SALE ALERT!!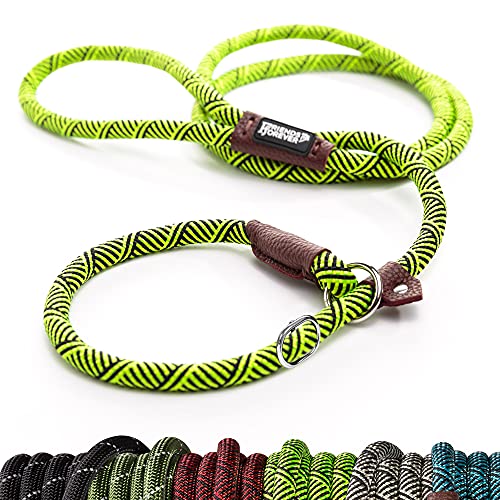 Whether you have a small or large pup, this slip lead does the job. It is a one-size-fits-all slip leash that will suit your pooch nicely. It comes with an adjustable loop, so it's a breeze to tighten or loosen as needed. This slip lead is lightweight and made of a mountain climbing rope. That's why it is solid and durable for all your outdoor adventures.
Another great thing about this slip lead is the reflective material. This safety feature enhances your pup's visibility during those night walks. The reflector also blends perfectly well with the color of the cord. Motorists can easily spot you and your canine buddy during dim light situations. Great for potty breaks, training, and walking your pet, it's a versatile slip lead you can count on anytime. Plus, you don't even have to use a harness or collar along with this slip lead.
This is hands down one of the finest – if not, the best – slip leads for an active dog. It holds up quite well because of the durable material, so you can expect it to last for a long time. Thus, it is a great value for your money.
Pros
---
Convenient to use
Adjustable and suits all breeds
Reflective threads for visibility
#2 iYoShop Slip Dog Rope Leash
SALE ALERT!!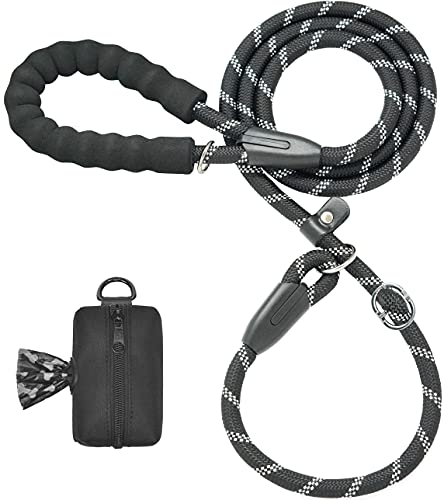 If what you need is a dependable slip leash that won't break the bank, the iYoShop meets you where you're at, budget-wise. This is why it's our pick for budget-conscious folks. But it's not just the price tag that's great about it – this slip leash actually works. It can handle up to 150 pounds of weight, even if you have a hyperactive puller pooch.
This is a two-in-one item – a collar and a leash rolled into one. There is no need to fumble with intricate collar loops and leash hooks. What's more, there is a padded handle to give you a comfortable and secure grip. You can even wrap it around your hand to make sure it does not slip away. The metal clasp also prevents the slip leash from breaking off to give you peace of mind as you walk your energetic canine pal.
This is an all-weather slip leash that's been tested to hold up to 1,000 pounds of pulling strength. Thus, you can be sure your pooch does not break loose or wander off. Most importantly, it is gentle on your hands while giving you perfect control each time.
Pros
---
Weather-resistant material
Durable and secure metal clasp
Comfortable padded handle
#3 BAAPET 6 Feet Slip Lead Dog Leash
SALE ALERT!!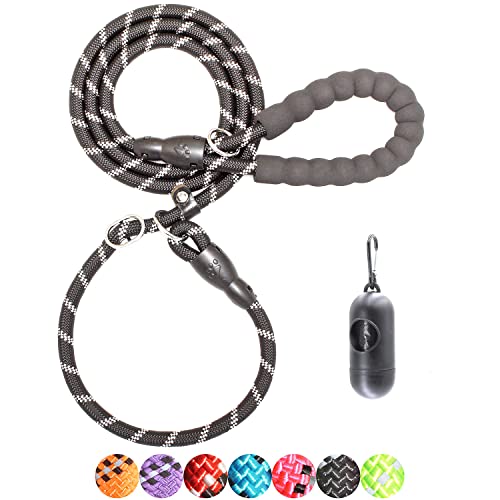 If what you need is a dependable slip leash that won't break the bank, the iYoShop meets you where
When you need a slip lead that addresses a pulling behavior without choking your pet, the Baapet is a suitable choice to consider. It comes with an anti-choking clasp that lets you adjust the tightness easily. You can loosen it as you wish, depending on your pet's neck circumference. But at the same time, it is still snug enough to discourage pulling.
Unlike inferior rope cover, this product does not use glue or other materials with a strong and harsh smell. It comes with a sturdy leather stopper and a robust rope cover that will last for a long time.
This slip leash from Baapet is a combination of a rope cover and a leather stopper to ensure optimum durability. It also comes with a metal O-ring for connecting the bag dispenser as an additional convenient feature.
Pros
---
Proprietary anti-choking design
Solid stopper and rope cover
20 free poop bags
100% moneyback guarantee
#4 Mendota Products Dog Slip Lead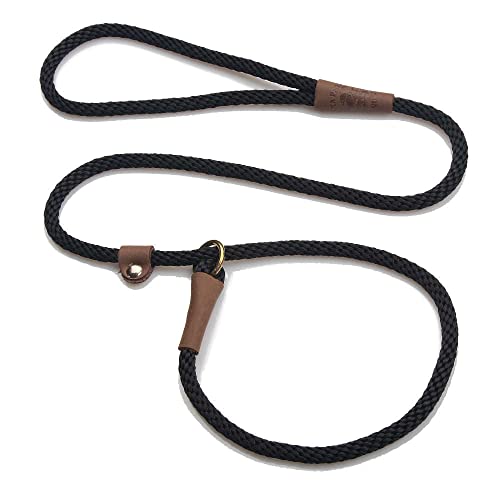 Training a pup to stop pulling is much easier to do with the Mendota slip lead. The 6-foot model is perfect for smaller dogs while the 4-foot one is ideal for large breeds to give you better control. This slip lead is adjustable, allowing you to fit it on your pooch based on the tightness you prefer. After use, simply remove in a snap and throw into the washer for a quick, hassle-free cleaning.
Pet owners will love how soft the handle is to their hands. You can even roll it up to gain better control, thanks to its pliable quality. No more burning hands from rough slip leads from now on!
The Mendota slip lead is handcrafted and durable. It works for all shapes and sizes of canines. Best of all, you can conveniently put it in the washer after use for a hassle-free clean up.
Pros
---
Machine washable slip lead
Snap material is oil-tanned leather
Wide and big stopper
#5 Wellbro Real Leather Slip Lead Dog Leash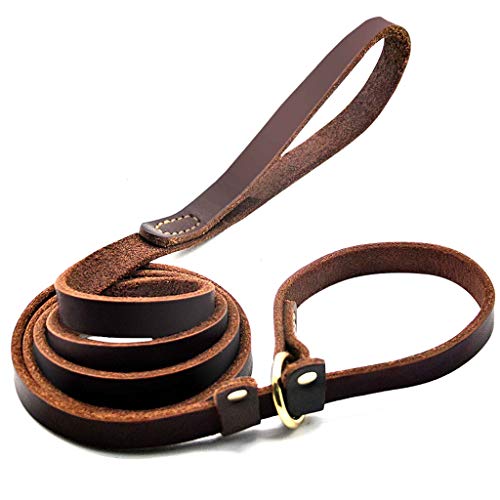 Attractive and practical, the Wellbro slip lead is leather-made. This is undeniably sturdy while providing comfort to your pet. It comes with soft, genuine leather with solid stitching to prevent it from fraying. The material also prevents it from pulling on your pet's hair. This adds comfort while discouraging your pooch from pulling during your walk.
Suitable for traveling, training, or walking, this slip lead is multi-purpose. It can also fit on your pet's neck by simply adjusting the collar loop. Easy to clean, comfortable, and durable, this slip lead lets you stay in control of your canine buddy in a humane, ethical way.
This is a multipurpose slip lead that's perfect for travel, walking and training your dog. It is also leather-made, which adds to its chic appeal and maximum durability.
Pros
---
Leather-made for maximum durability
Convenient slip on/off design
Cares for your pet's hair and skin
#6 Coastal Pet Nylon Remington Rope Slip Dog Leash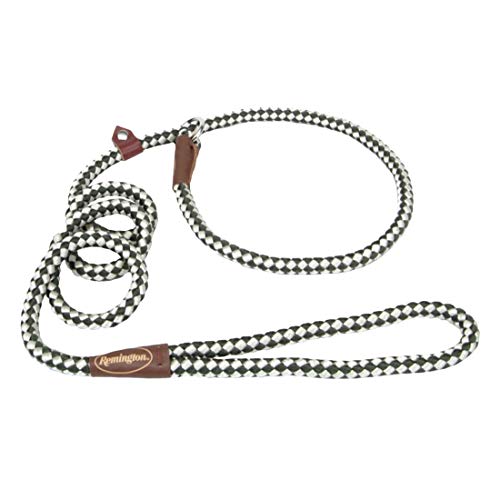 Your mighty puller pooch needs gentle correction… Not a harsh coercion. This is why the Remington slip leash is perfect for this purpose. It allows you to discourage your hyperactive Pittie from pulling in a firm, effective, yet ethical way. It works for any kind of dog breed, too – large, small, or anything in between.
This nylon slip leash is soft, tough, and versatile. You can fold it easily after use for storage purposes. Interestingly, you can cinch the slip leash higher up on your pet's neck for better control without hurting your pooch.
This is a dog-friendly slip lead that allows you to stay in control of your pet. It offers a gentle tug to prevent pulling without causing pain – a valuable dog walking and training tool for pet owners.
Pros
---
Soft and flexible design
Nylon with a leather trim
Ideal for all dog breeds
#7 Pet's Company Slip Lead Dog Leash
SALE ALERT!!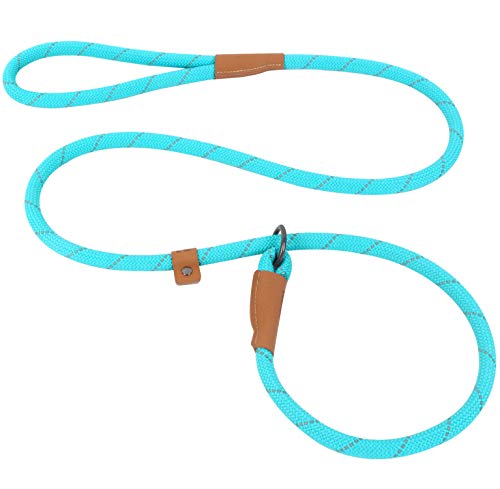 Available in fun colors, this slip lead from Pet's Company is a leash and collar in one. You can secure it on your canine's neck while ensuring comfort and ease of movement. Each time your pet tries to pull, the leash gets tighter without causing discomfort. Your pooch gets the message in a firm, yet gentle way.
There are 2 sizes to choose from, depending on the weight of your dog. Lastly, this slip lead is adjustable to provide the right fit while making sure your four-legged companion stays in the leash.
Training or walking your pet becomes much easier with this slip leash. It offers a firm correction while allowing your pooch to get the message. No more pain but just a well-behaved canine that doesn't pull.
Pros
---
Fits any neck circumference
Effortless to put on and remove
Comes in 2 sizes
#8 lynxking Dog Slip Rope Lead
SALE ALERT!!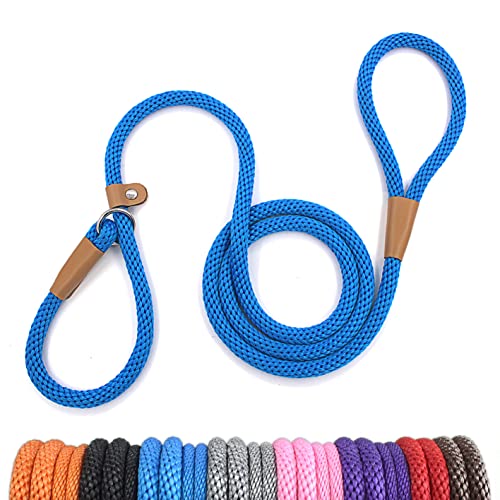 lynxking Dog Leash Slip Rope Lead Leash Strong Heavy Duty Braided Rope No Pull Training Lead Leashes...
SIMPLE AND EASY TO USE: British-style rope slip lead, leash and collar in one design, adjustable to fit any neck size,...
STRONG AND DURABLE, evolved from mountain climbing rope, a heavy duty dog leash, after testing, the tensile strength of...
SMOOTH TO TOUCH, made of high-quality Polypropylene manufacture, hand feel very comfortable and very soft, a little...
When your dog pulls a lot, this slip lead can help discourage an aggressive behavior effectively. It is a lightweight, yet heavy-duty leash that can hold up to your pet's pulling. It offers a bit of stretch for a gentle tug while teaching your pooch a lesson. You can use it for your hike, training, or walk.
As for the handle, it is smooth and secure. There is a bit of a stretch, which prevents your hand from getting scratched up. Lastly, it can hold a maximum pressure of 809 pounds. Thus, it should be perfect even for large breeds.
A perfect combination of a lightweight design and a heavy-duty quality, this slip lead lasts for a long time. It has a reasonable length of 6 feet with an adjustable fit to match your pet's particular size.
Pros
---
No-pull practical solution
Lightweight and convenient design
Measures 6 feet in length
#9 Trails + Tails Slip Lead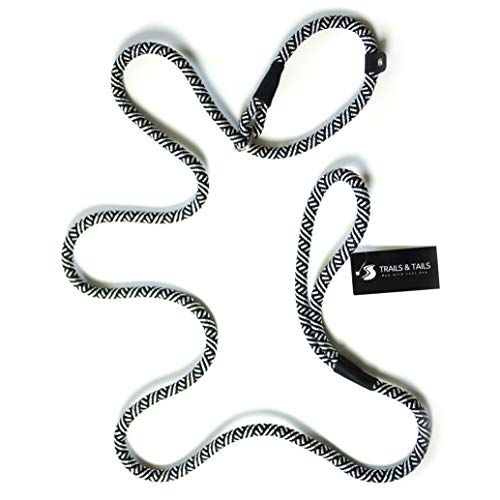 When you need a dependable slip lead for your small breed, the Trails + Tails gets things done. It is ideal for an energetic Corgi or Aussie that yanks a lot. With this slip lead, you can prevent your pooch from pulling and stop the leash form flopping around during each walk with a hyperactive canine.
This is a soft slip leash that's gentle on your pet's hair. It even has a shock-absorbing feature to eliminate discomfort that other slip leads cause toward dogs. Overall, this product works like a charm!
Owners of Corgis, Pitties, Yorkies and similar sizes of pups will love how smooth this slip lead feels while giving better control against a dog-pulling habit. It's also shock-absorbing to prevent discomfort while being an effective training tool.
Pros
---
Shock-absorbing design for comfort
Suitable for small to medium breeds
Easy to attach
---
Slip Leads For Dogs Buyer's Guide
---
A slip lead is a must-have for walking or training your dog.
But before you purchase one, keep in mind that it is not ideal for every pooch.
Read this guide before you buy to make sure a slip lead is exactly what your canine friend needs.
Does Your Pet Need A Slip Lead?
There are a few situations when your pet can benefit from a slip lead such as the following:
Walking
It is inevitable for some dogs to pull when they see other pups on the road or react to certain sounds they hear while walking.
In this case, dear Fido could use a slip lead as it does not cause damages to the throat when he pulls. You can place the slip lead behind your pet's head, which then discourages pulling due to the slight pressure felt behind the ears. As a result, this trains dogs not to pull while eliminating pain and discomfort.
Biting Issues
Some dogs simply love to bite or chew on their collar or leash.
If this is your pet, a slip lead prevents this behavior. Unlike a leash, a slip lead is further away from your pet's mouth. So, each time your canine buddy tries to bite on the lead, you can simply pull it up on the collar to tighten it a little bit. A quick and effective solution to biting issues!
One last thing – be sure to get a heavy-duty slip lead for a leash-biting pooch. Leather and sturdy rope materials are the top choices right up this alley.
Training
Are you entering your adorable little pooch to a dog show?
A slip lead helps you train your pup to ensure proper behavior. You can easily have dear Fido follow your commands without causing any physical harm. It is effective to train your pet to go a certain direction, discourage undesirable behavior such as pulling or yanking, and so on.
For dog shows, it is best to stick to a thinner slip lead with a neutral color or one that matches your pup's coat.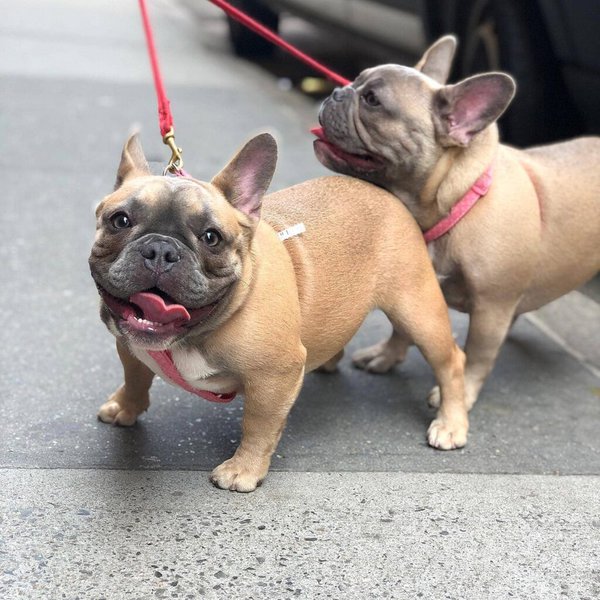 Slip Lead Safety
Some pet owners ask – are slip leads safe to use?
Yes, it is absolutely safe. But to ensure safety, you need to make sure that you are using the slip lead correctly.
Steer clear from leash corrections
It is not advisable to enforce leash corrections when training your dog with a slip lead.
Leash corrections involve pulling up a leash sharply around a canine's neck. This results in pain and discomfort, which does not help with training. Instead, you are only causing injuries to your pet's throat and other physical trauma. Moreover, it does not help establish a bond between you and your pup.
Position it correctly
The best place to secure a slip lead is behind your canine's ears. Firmly fasten the stopper, so the lead stays in place. This is the safest position that prevents a tugging on your dog's neck and throat. In case your pooch pulls during your walk, be sure to stop walking and wait for your pet to back off to loosen the grip. Then, resume walking once more.
Avoid tying a slip lead on your pet when unattended
Choking is likely to occur when you tie a slip lead on your dog and then leave for an extended period. It can also cause your dog to escape by pulling off the lead when there is zero pressure applied.
Either way, it is never a good idea to tie out a slip lead. You should only use this to your pooch during your walk or training.
Don't forget the tag
Slip leads, on their own, do not come with a space for your pet's tag.
So, once you remove the lead, (i.e. after a walk or training), you need to make sure the tag is still there in case your pooch decides to run off and escape. When this happens, it will be tough for your dog to come back to you even when picked up by a friendly stranger.
Always secure a buckle collar on your pet's neck that includes the tag. Although a slip lead does not require a collar, you should still use one for safety reasons.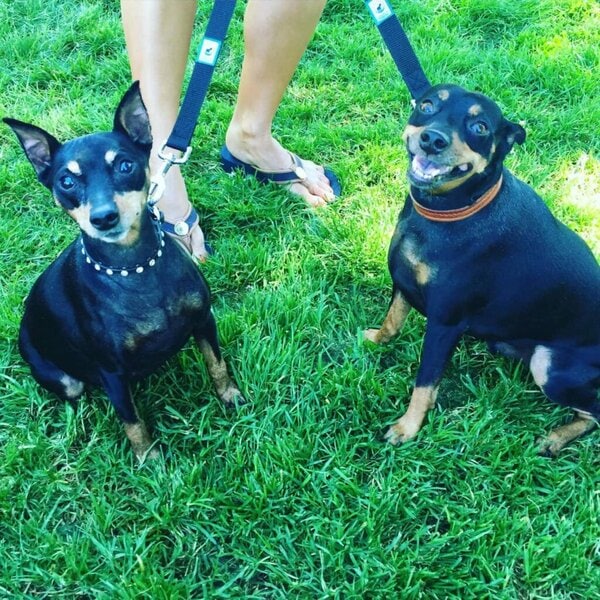 Features Of The Best Slip Leads For Dogs
Slip leads come in different sizes, designs, and lengths. Be sure to check out these features to find a slip lead that is the perfect fit for your pooch.
Material
Common materials are leather, rope, or nylon. When choosing among these available materials, consider the durability and comfort for your pet.
We recommend a lightweight material that is rugged at the same time. This is why a combination of rope and leather is perfect. These materials are smooth and will not pull on your dog's coat.
Moreover, choose a weather-resistant material. This way, your dog will not have to endure wearing a soggy lead in case there's a heavy downpour during your walk.
Length
For a small breed, 4 feet should be a good length to use. The same holds true with a medium breed that tends to pull a lot.
However, if you have a large breed that is not quite of a puller, you should be able to work well with a 6-foot long slip lead. This can give you better control without being too restrictive for your pet.
Reflective Design
If you prefer to walk your pet at night, you need to make sure your slip lead has good visibility.
Choose one that comes with a reflective thread that makes it easy for motorists to see you and your pooch easily at night. This is particularly true if you are walking your dog in a high-traffic area.
Comfortable and Secure Grip
Check the material used for the slip lead handle.
Be sure it is soft and padded to prevent your hands from burning. When your pet pulls, this can cause the handle to scratch up against your skin. Thus, you want to be sure it is smooth while allowing you to maintain a secure and firm grip.
These are among the key features you need to look for in the best slip lead for your pet. Aesthetics are also important to some dog owners, but more than the looks, a slip lead should be comfortable, secure, and supportive. This way, you can ensure the results you want without inflicting pain on your beloved pooch.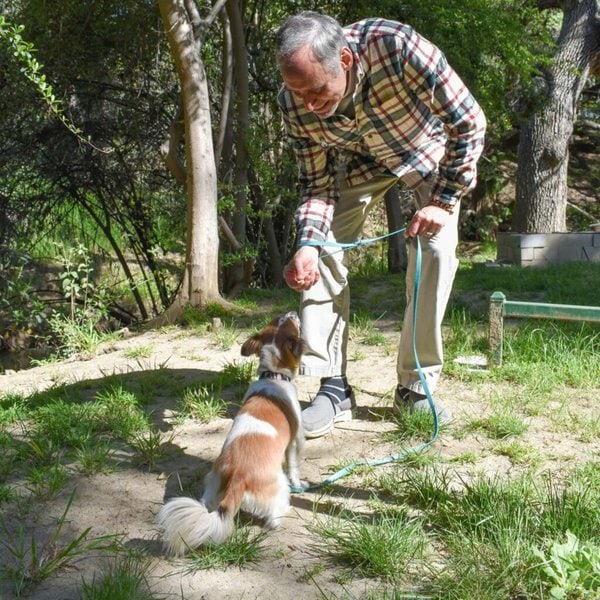 ---
Final Thoughts
---
There are dozens of slip leads out there but one thing matters the most – safety and comfort.
The Friends Forever slip lead meets both of these key requirements while ensuring the best results you want. Great for training or walking your pet, this slip lead ticks all the boxes when it comes to the best slip leads for dogs. And best of all, it helps strengthen your bond with your canine pal while establishing proper behavior and habits. It's a win-win!