A Texas couple traveling to Las Vegas over the weekend of September 26, 2021, got the surprise of their lives when their overweight luggage revealed a hidden stowaway.
Jared and Kristi Owens were checking in at the Southwest Airlines counter of the Lubbock Presto Smith International Airport when airline employee Cathy Cook informed them that their luggage is 5½ lbs overweight. Instead of paying extra charges, the couple decided to open the bag and arrange their things.
That is when they made the discovery that their Chihuahua pet, Icky, was hiding inside Jared's cowboy boot tucked inside the luggage.
Sneaky Icky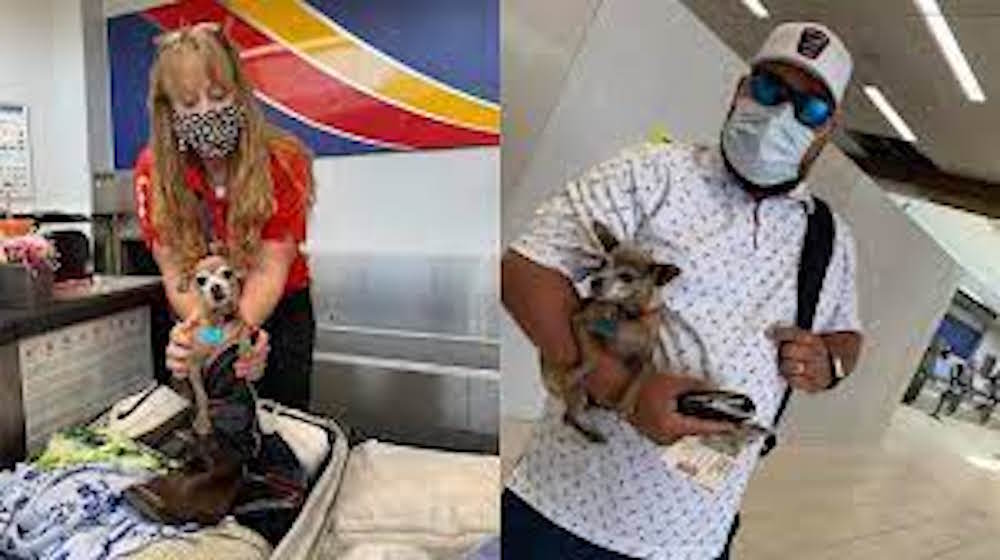 "They put it on the scale and this bag is basically like 5½ lbs overweight. Really quick we are like, 'oh, we have got to rearrange some stuff.' Opens it up and literally, there's our dog coming out of my boot with his head bopping up," Jared recalled.
The couple said that in their rush to pack their bags, they did not realize that Icky had burrowed itself indie the boot. "She's the borrower, that's what she does. She burrows in clothes, and she burrows in, obviously, suitcases now," Kristi said.
Chihuahuas are known to instinctively burrow and like enclosed spaces because they use it as a survival mechanism against predators before they were domesticated.
"She's very calm and just wants to feel safe," Kristi said of her dog whom she describes as lazy with a sweet-tempered personality.
Icky was adopted by the couple five years ago when they rescued it from the side of the road in Texas. The Chihuahua is one of three dogs the family owns aside from a rabbit and a fish.
Jared posted the picture of Icky in the luggage while being held by Cathy Cook on social media. It received a lot of reactions from netizens and was picked up by several local news stations. It eventually got featured in mainstream media from People Magazine to the Washington Post.
Trusty Employee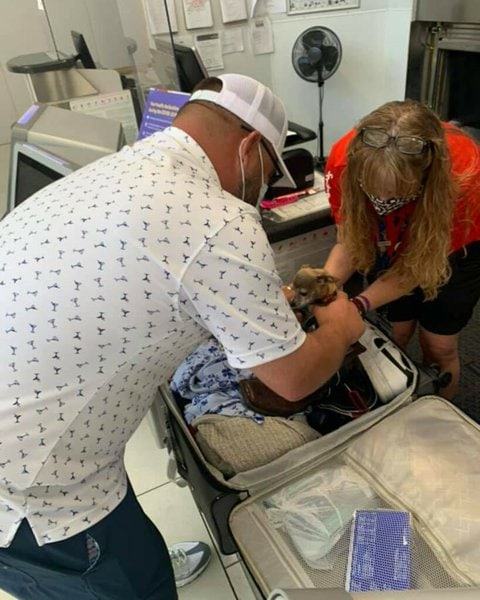 The couple was very thankful for Cathy Cook, the gate agent who made the discovery, saying Cook even offered to look after Icky while they were vacationing. The dog was picked up by Jared's uncle instead and was watched by Kristi's mother together with the children.
Jared told the news media, "they have got a heck of an employee in Cathy. She went above and beyond." He added, "they could have turned us in, saying we were trying to smuggle a dog to Vegas or something, and they never acted like that. They were extremely gracious."
The Owens were just gratified they found Icky before they boarded the plane. "Thank goodness we found this dog because you would have gotten to Vegas and you probably would have had a deceased animal in your bag," Jared said.
Some airlines allow small dogs caged in pet carriers to travel in the cabin under the seat for a fee.