The best dog backpack carrier is PetAmi Deluxe Pet Carrier Backpack.
Dog backpack carriers are the perfect accessory to bring your pup whenever you go. It can be taking long hikes, walking, camping, or even biking.
After all, dogs are highly social animals and we want them in every part of our lives as much as possible.
There are different kinds of dog carrier backpacks available. Generally, these backpacks are specially designed to help you carry your pooch anywhere and make sure your dogs are safe throughout the adventure. These backpacks are also versatile enough to be used as a regular backpack.
Without further ado, here's the list of the 12 best dog backpack carriers that are available in the market currently.
#1 PetAmi Deluxe Pet Carrier Backpack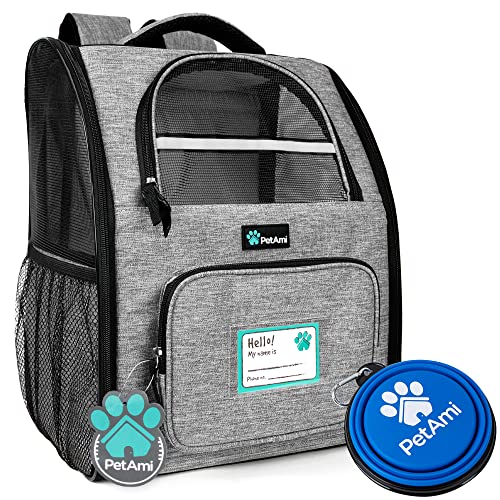 If you have plans of traveling abroad with your furry friend, the PetAmi Deluxe Carrier Backpack is what you need. It has the classic side carry bag design that can be used as a hand-held backpack carrier as well.
For proper ventilation, the bag is covered with mesh. It has Sherpa lining to provide exceptional comfort for your pet, and you can strap this backpack carrier to a car seat. Hiking, traveling, or taking your canine companion to the vet is very convenient with this doggie carrier.
This backpack carrier measures 12.5 inches long by 10.2 inches wide by 16.3 inches deep, and it can fit small dogs, cats, and other small to medium-sized pets.
The added convenience such as the front pocket for the things you need to bring and the collapsible water bowl is very helpful. The safety strap and buckle to ensure your pooch will not escape is also a good feature that we really liked. Another feature that we love about this product is its two-way entry system for easy loading of your pooch.
Pros
---
The backpack has a two-way entry for easy access.
Firm structure to provide enough room for your pet to move around.
Zip up mesh window.
Sherpa lined bed.
Two-side access point.
#2 PetAmi Premium Pet Carrier Backpack
SALE ALERT!!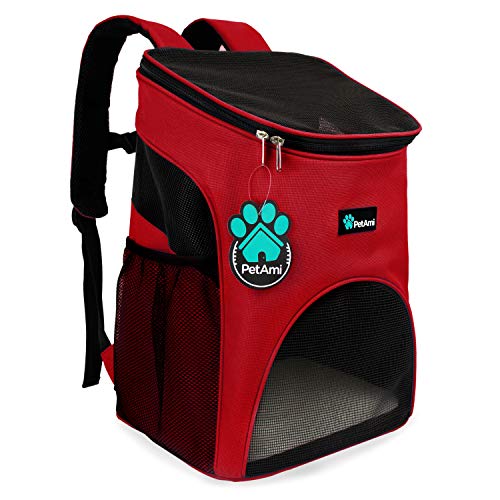 For a budget-conscious pet owner, this PetAmi Premium Backpack is an ideal choice. It is a small pet carrier bag with a front entrance. This backpack carrier is very portable while traveling for a long trip and is designed for maximum comfort for both pet and owner.
The shoulder straps are padded to make sure it is easy for you to carry the bag. Also, it has a waist strap for a better hold. The mesh top makes it easier for you to see your pet. If you are concerned about ventilation, this backpack carrier has mesh patches around its structure.
We like its soft Sherpa interior and its collapsible water bowl. This will keep your pooch hydrated throughout your adventure. Also, we get to choose the color that we want and come at an affordable price.
Pros
---
Measuring 11.5 inches long by 9 inches wide by 16 inches deep.
A weight limit of 8 lbs.
Safety buckle to secure your pet.
Made of durable 600D high-grade polyester.
Available in 7 attractive colors.
#3 Petsfit Comfort Dogs Carriers Backpack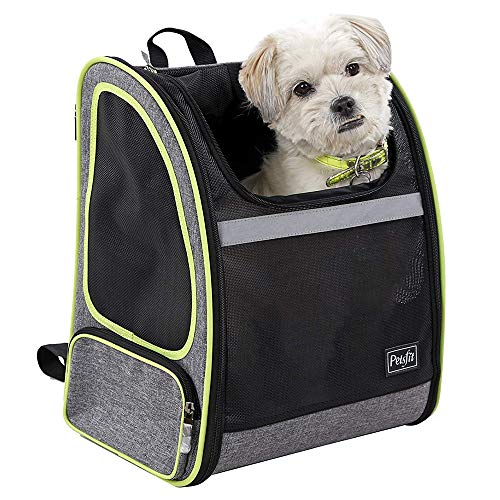 The Petsfit Comfort Carrier promises premium features at a reasonable price. Just like other dog carriers, it also has lightweight mesh windows for visibility, ample ventilation, and safety.
The backpack carrier also comes equipped with a removable safety harness and an interior drawstring to carry it with ease. Cleaning is also not a problem because it has a removable and machine-washable comfort pad.
Petsfit offers a 30-day guarantee, which is a big plus point for us. If you are not satisfied with the quality of their product, simply return for a replacement or a full refund of your money.
Pros
---
Measuring 17.3 inches long by 13 inches wide by 10.6 inches deep.
Built-in collar buckle for safety and comfort.
Made of high-quality Oxford cloth.
Metal zipper and nylon teeth.
A weight limit of 13 lbs.
#4 PAWABOO Pet Carrier Backpack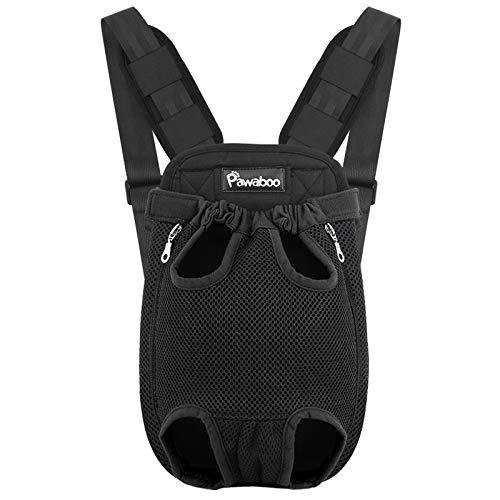 This trendy, durable and colorful pet carrier from PAWABOO can handle weights up to 22 lbs. With its inner collar, your furry friend is secured but lets its legs and tail hang free through its flexible elastic openings.
The dog front carrier has clips to lessen the pressure on your neck and shoulders. Your pet pooch gets proper ventilation with its breathable mesh and canvas.
Its hands-free transportation feature and cute design are the two things that we really like about PAWABOO. Although it is not recommended for longer trips, we still think that it is a good choice for the outdoors, especially since it is water-resistant.
Pros
---
Available in 4 different sizes and 10 different colors.
Quick-release buckle.
Made of high-quality Oxford fabric.
Waterproof lining.
Machine-washable comfort pad.
#5 Pet Gear I-GO2 Roller Backpack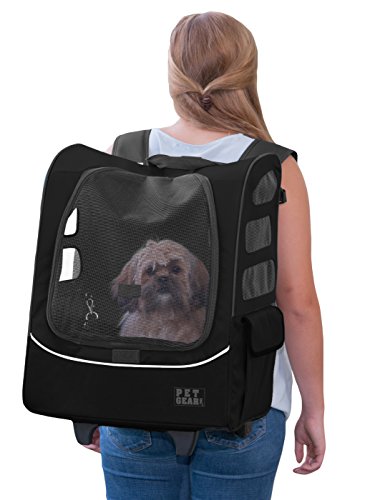 This canine carrier from Pet Gear is not just a backpack carrier but a roller as well. It can adapt to your changing needs. If you need to carry your pet, you can use it as a standard dog carrier or backpack. You can also convert it into a car seat, a tote, or roller bag.
No matter how you will use it, your pet pooch stays secure because of its interior security tether. Some of its comfort features are a telescoping handle, fleece liner, adjustable straps, pockets for your phone, and keys.
Versatility is one of the good features that we think the Pet Gear backpack has. We can use it in many different ways depending on the situations that we are in. With this product, we can carry the dog with it or use it as a car seat.
Pros
---
Available in 4 different sizes and 6 colors.
5-in-1 design.
Two side storage pouches.
With tether attached for added security.
It can carry pets that weigh 25 lbs.
#6 Petsfit Comfort Dogs Carriers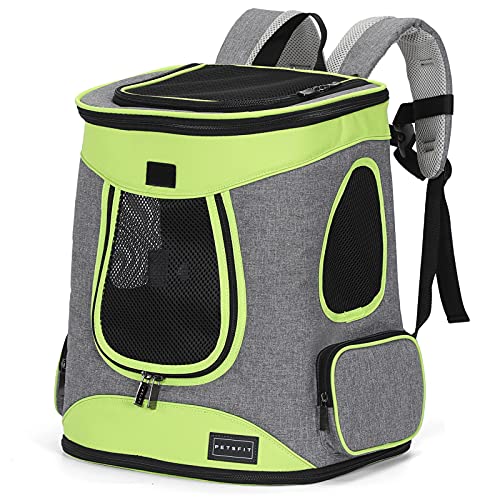 The Petsfit Comfort Carrier is perfect for long hiking and other exercises with your furry friend. Pressure on your neck or shoulders is reduced because of its thick and padded shoulder straps. It also has a chest strap to make carrying easier for you.
It has four mesh windows, to provide your pup enough ventilation and better visibility. Also, it will keep your pet pooch cool, even during hot days.
We love the removable and machine-washable pad from Petsfit, so it will be easier for us to clean the carrier after hiking or a long walk with our furry friends.
Pros
---
Measuring 13 inches long by 11 inches wide by 17 inches deep.
Can carry pets up to 15 lbs securely.
Durable and safe.
Removable bottom cover for easy cleaning.
Adjustable padded shoulder strap.
#7 CozyCabin Comfortable Backpack Carrier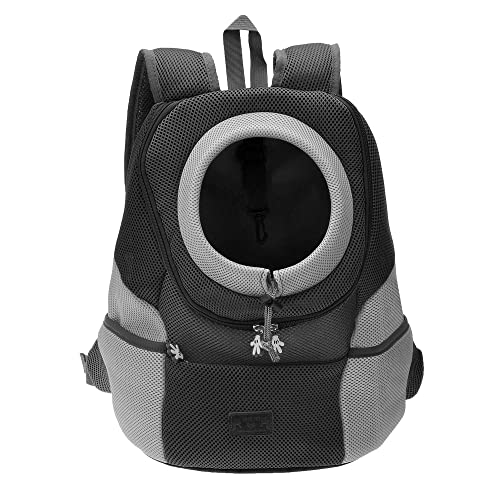 Bring along your dog during your morning walk with this CozyCabin Pet Carrier. It has a roomy and comfortable interior but ensures the safety of your pet as you travel.
This carrier has all the comfortable features that will benefit both you and your pooch. It is designed to withstand the weather, abrasions, and dog nips.
With its removable comfort pad, it is easier for us to clean the carrier after a picnic or long walk in the park. It comes with an adjustable front hole to suit your pet's size.
Pros
---
Available in 3 sizes and 5 different colors.
Can carry between 6.6 lbs to 12 lbs according to the size.
Adjustable padded straps.
Mesh windows for ample ventilation.
#8 Snoozer Wheel Around 4-In-1 Dog Carrier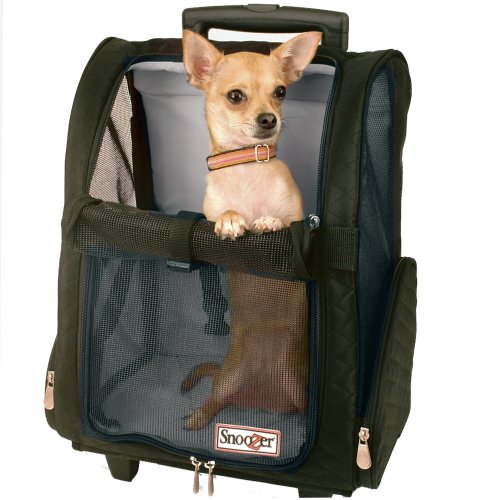 Snoozer Roll Around 4-in-1 Pet Carrier, Black, Large
Our carrier seamlessly converts into a backpack, wheeled carrier, car seat, and pet bed, so you can bring your dog or...
Features include a multi-stage telescope handle, backpack straps with a storage pocket, and mesh on three sides.
Large size information - outer dimensions: 17" H x 15" W x 12" D; inner dimensions: 14"-17" H x 13" W x 11" D
This carrier from Snoozer is recommended for a bigger breed of dogs. Carrying big dogs at your back is not an easy task. That is why the Snoozer is designed in a way that will make transporting your large breed pooch along much easier.
This highly rated and very durable wheeled pet carrier offers the benefits you can get from a dog backpack. Its roller wheels can make transporting very easy.
Only a few pet carriers can carry up to 30 lbs and this Snoozer pet carrier is one of them. Traveling abroad with your four-legged friends is also not a problem as this carrier is airline-approved.
Pros
---
Measuring 23 inches long by 15.5 inches wide by 12.25 inches deep.
Airline-approved (check airline guidelines before buying).
Can carry up to 30 lbs.
Multiple storage pockets to store accessories and treats.
Durable microfiber.
#9 Texsens Innovative Dog Backpack Carrier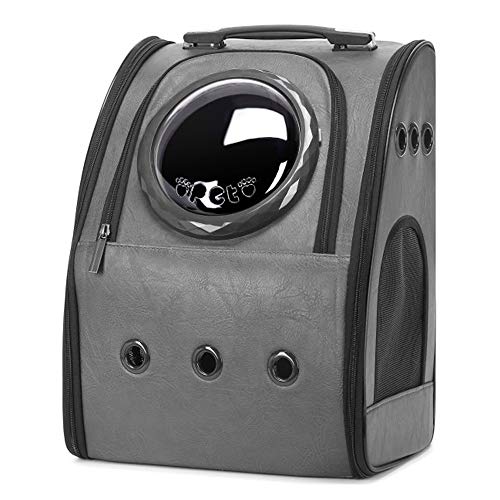 If you are looking for an innovative canine carrier that is designed to reduce pet anxiety when traveling on an airplane, Texsens Pet carrier is what you need. Your dog will have a better view of its surroundings with its semi-sphere window.
It also has enough ventilation holes and mesh panels to make sure your pooch can breathe comfortably. Your shoulders are safe with its padded straps.
The semi-sphere window is quite impressive as it can let our dog see the surroundings while traveling. It has ample ventilation to make our furry friend comfortable.
Pros
---
Measuring 13.39 inches long by 9.84 inches wide by 17.32 inches deep.
Can carry up to 10 lbs.
Available in 8 attractive colors.
Airline-approved.
Built-in security leash, ventilation holes, and mesh panels.
#10 Natuvalle 6-in-1 Pet Carrier Backpack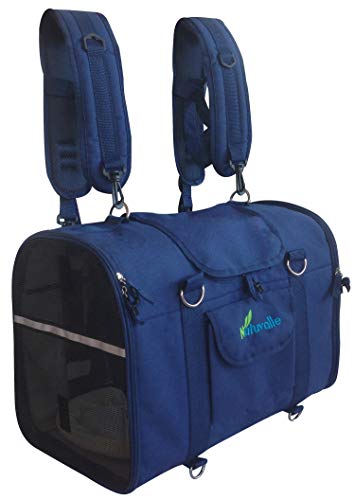 If some canine carriers have a 5-in-1 feature, the Natuvalle has 6 different features packed into 1. You can convert the carrier from backpack to front pack, as a shoulder bag, car-seat, 2-position, and handbag. It is airline-approved and can be placed under your seat.
This carrier backpack can withstand all the travels and adventures. It is made of lightweight, water-resistant and durable Oxford fabric.
This carrier has a wooden, non-bendable bottom which offers a durable surface to keep your dogs secure. Of course, its highly versatile 6-in-1 feature is very impressive and helpful.
Pros
---
A weight limit from 12 lbs up to 20 lbs.
Airline-approved and can fit under seats.
Hand washable fleece with zippered security lock.
Available in 4 different sizes.
#11 WOYYHO Pet Dog Carrier Backpack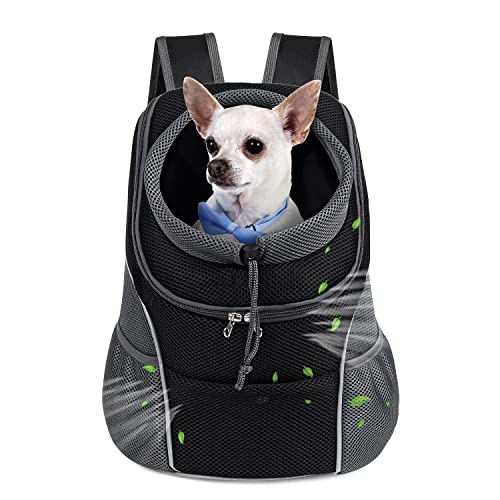 Take your small dog wherever you go with the WOYYHO Pet Dog Carrier Backpack. It carries pets of between 5 to 10 lbs.
The backpack has three main adjustable straps – the shoulder strap at 23.6 to 39.4 inches; the chest strap, which can be adjusted up to 13.8 inches; and the waist strap that can be adjusted up to 33.9 inches.
Your dog can view the scenery through the adjustable neck whole window. The backpack is made of breathable polyester and mesh fiber. The bottom plate of the front carrier backpack is heavily padded and has breathable mesh to keep the weight balanced.
To further protect your dog, there is a built-in security leash with a clamp that connects with your dog's collar. In addition, the backpack has side and front pockets for the storage of necessities for both you and your pet.
This high-quality bag is also rather stylish, as it is available in 13 different colors, one of which will definitely catch your eye.
If you have a small dog or other pet, this bag from WOYYHO will let you take them anywhere. It has removable parts that can be cleaned regularly. We like the multiple adjustable straps to firmly secure the backpack. We like that it is made of breathable mesh and polyester fabric, so it is easy to clean and maintain. The security leash adds an extra layer of security, while the pockets are perfect for your items.
Pros
---
Comes in different sizes for dogs weighing between 5 to 10 lbs.
Adjustable for varying sizes of chest, shoulder, neck, and waist.
Comes in 13 different colors.
Made of breathable mesh fiber and polyester.
The bottom of the bag is heavily padded for comfort and is removable for cleaning.
Has a built-in security leash.
Side and front pockets for necessities.
#12 Apollo Walker Pet Carrier Backpack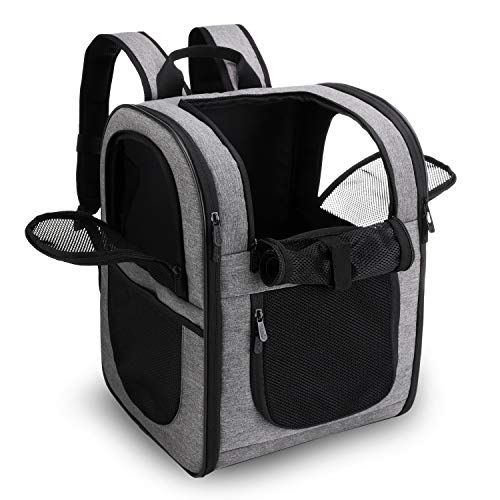 If you need to take your pet on a hike, to the vet, or for a neighborhood stroll, you need the Apollo Walker Pet Carrier Backpack. It is one of the larger backpacks in the market with dimensions of 12.6 inches long by 11.4 inches wide by 16.8 inches deep.
While it is a larger backpack, it weighs only 3.81 lbs. The inside of the backpack is covered in fleece, while the mesh window is large enough for your pet.
The bag is well-secured so that you don't have to worry about losing your pet along the way. As added security, there is an in-built leash tether to keep your pet safe. The back and shoulder straps are adequately padded. The bag also has adjustable chest and waist buckles, offering you additional support.
The bag has secure zippers which will not deform after repeated use. The backpack also has a removable plush bed for your pet to use. This bed is what makes the bottom of your bag sturdier.
We like the fact that it is larger than most pet backpacks. We like the removable plush bed for use inside and outside the bag. The padded straps and additional buckles make it easy to carry. Your pet has more headroom thanks to the mesh windows.
Pros
---
Comfortable dimensions of 12.6 inches long by 11.4 inches wide by 16.8 inches deep, and weighing only 3.81 lbs.
Has a removable plush bed that serves as a sturdy base.
Large mesh window with more headroom.
Padded shoulder and back straps.
Extra waist and chest buckles.
Uses an in-built leash tether.
---
Dog Carrier Backpack Buyer's Guide
---
The best dog carrier backpacks have features that make them comfortable for your dog. Make sure to choose the one that will benefit not just your pooch but you as a pet owner too. So, what are these features that you should be looking for?
Here are some key features that you should look out for.
Size
Choose a dog backpack carrier that will match the size of your dog. A carrier that is too big for your dog can make them uncomfortable. In case you choose the smaller one, your furry friend will feel claustrophobic. So, before purchasing, it is a must to check whether if you need a smaller or a bigger backpack carrier.
Related: Best Dog Saddle Bags
Zipper With Locking Tool
If you are looking for a backpack carrier to carry your pet dog, it is important that you focus on the safety and security of the carrier. It is essential that the dog backpack carrier has a zipper with a locking device. This will not let your dog escape from the carrier.
Durability Of Material
One of the important features you should check when buying a dog carrier backpack is the material it is made of. Make sure it is made of strong, sturdy material so it can support your canine companion without bulging at the bottom because of pressure.
On top of that, it is key to get a sport sack made of water-resistant material. It will keep your dogs clean and dry in the event of an unforeseen downpour and will last longer.
Design And Structure
Consider buying a dog backpack carrier with multiple pockets if you have plans for hiking or backpacking. These pockets can hold essential things you need to carry when traveling or hiking. Dog backpack carriers with more pockets is preferred, but it should be something that will not shift the balance of weight on it.
Easy-To-Use
A dog backpack carrier should be something that is easy to use, carry, and wash. It will be an added burden for you if you choose a carrier with complex instructions on using it. An easy-to-use pet carrier makes your hiking and traveling adventure less stressful.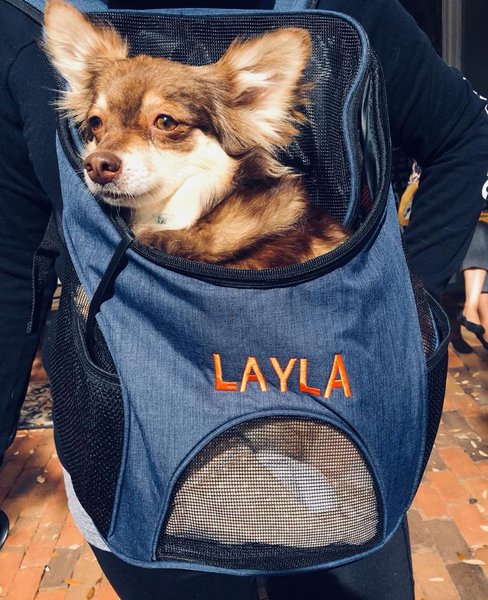 Back Or Front Facing
Dog carrier backpacks are designed differently. You can choose from a back-facing, hand-held, or front-facing carrier. Make sure to select the one that will suit your needs. For instance, if you will go biking or for a long walk, it is best to choose a back-facing dog backpack carrier. When traveling via planes, it is best to select a hand-held carrier.
You can look for a dog backpack carrier with both the front and back facing, so you don't have to purchase both types of dog carrier.
Ventilation
You would not want to suffocate your dog while hiking or traveling. Choose a carrier backpack with breathable fabric that offers ample ventilation for your pooch. A good dog backpack carrier will allow a lot of airflow for your furry friend. This helps to keep your dog from overheating.
Supports The Weight Of Your Dog
Make sure that the dog backpack carrier you are buying can support the weight of your pet dog. It is best to weigh your pooch a few days before the hiking or traveling date. If your pet is heavier than the weight of which it can carry, it will tear it out completely. This is a potential health hazard that has to be avoided.
We recommend getting a carrier backpack that is well above the recommended weight of your pooch.
Related: Best Dog Harness For Hiking
Position Of Your Dog While Being Carried
Decide whether you want your pooch lying down when in the backpack carrier or you want him to sit still while traveling with his head sticking out. This will depend on your dog's nature and your preference.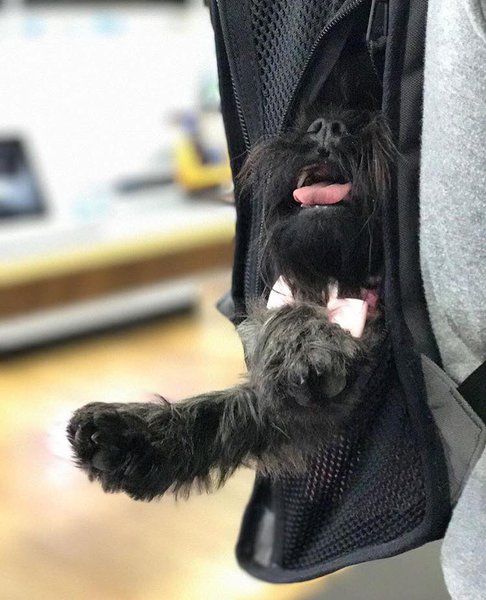 Padded Straps
Since you will be carrying the backpack carrier on your shoulders, it is essential to choose the one with padded shoulder straps. You and your pooch will feel comfortable during your hiking or backpacking adventure. Padded straps reduce pressure and weight on your shoulders which makes carrying less bothersome.
As a general guideline, the heavier the dog, the stronger padding you will require.
Related: Best Dog Boots For Hiking
Wheels
For bigger dogs, it is impossible for you to carry the dog backpack carrier for a long walk. In cases like this, you have the option to choose a dog carrier backpack with wheels. With this kind of canine carrier, you have the option to carry the backpack or drag it using the wheels.
Why You Need A Dog Carrier Backpack For Hiking?
You need a dog carrier backpack not just when you travel but also anytime you go out with your pooch. Keep in mind that it is not only your furry friend that you need to carry, you also need to bring other things like your water bottle, doggie toys, supplies, and others. You cannot carry them all with your bare hands.
To make it easier for you and your pet, get a dog carrier backpack with pockets so you can carry everything with ease. The best way to carry everything is the hands-free way, and you can carry everything on your shoulders.
---
Final Thoughts
---
So, after reading all the factors a dog carrier backpack should have, you are now ready to make a purchase. We have reviewed 12 of the best dog carriers in the market to help you make a smart decision. And we think that among the products mentioned above, our top pick is the best backpack for your pet dog.
Our top pick makes traveling and hiking comfortable for your pooch and for you. It has all the features a dog carrier backpack should have.
Using this dog carrier during hiking makes it easier for you. We assure you that our top pick is safe and comfortable not just for your furry friend but for you as well. If you find this review helpful, feel free to share this with your friends who have plans of buying a pet carrier.