Yogurt is great for the body because of the beneficial bacteria it contains, which helps with gut health. But what kind of yogurt can dogs eat? And is it safe for your pups to eat it? That's what we'll cover today!
Greek yogurt is an excellent choice because of the lower lactose content, which is suitable for pooches with lactose sensitivity. Plain yogurt without any added sweetener is good, too, as well as strawberry yogurt that contains fresh strawberries instead of artificial strawberry flavor.
So, if you are looking for yogurt options to give to your four-legged pal, here are 11 types of yogurt you can give.
11. Sheep Milk Yogurt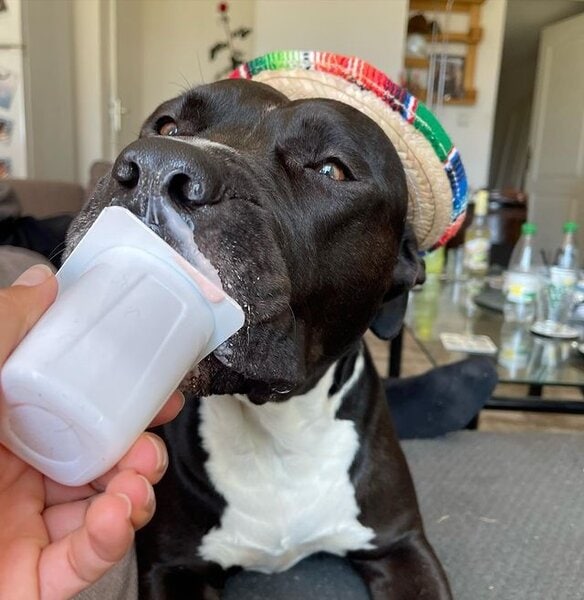 If dear Fido does not do well with cow's milk, then sheep milk yogurt should be a fine choice for him. Unlike cow's milk, sheep's milk contains less lactose, which should be safer and more suitable for your pooch.
You can add sheep milk yogurt to your pup's meals or dip some carrot sticks in it as a fun, healthy treat. Whether given as a treat, snack, or as a part of your pet's daily meal, sheep milk yogurt is a great way to give your pooch beneficial bacteria for a healthy microbiome.
10. Goat Milk Yogurt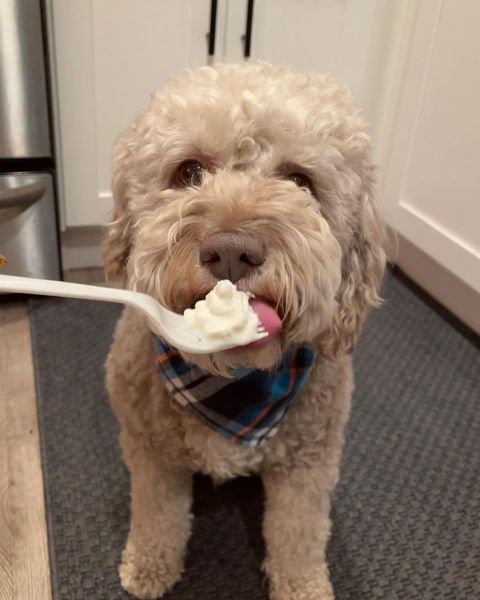 Goat milk, just like sheep milk, has a lower lactose content. This is why it should not be a problem feeding your pup with goat milk yogurt, whether it is raw goat milk or pasteurized. Just be sure that your pooch is not allergic to this type of milk.
Most dogs enjoy goat milk yogurt on its own or with a bit of sweetness from fresh fruits such as blueberries, apples, bananas, and more.
9. Soy Yogurt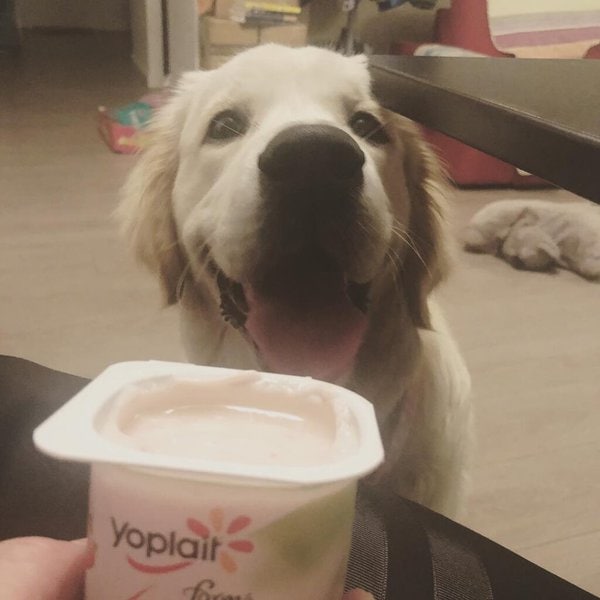 There are some dogs that may be allergic to soy, while others should be perfectly fine with it. So long as your fur baby does well with soy, then soy yogurt should be a suitable way to give him probiotics each day.
It is also good to check the ingredients since some soy yogurt may contain cow's milk. Give your pup some dog-friendly soy yogurt that does not contain artificial color, flavor, or sweetener.
8. Mango Yogurt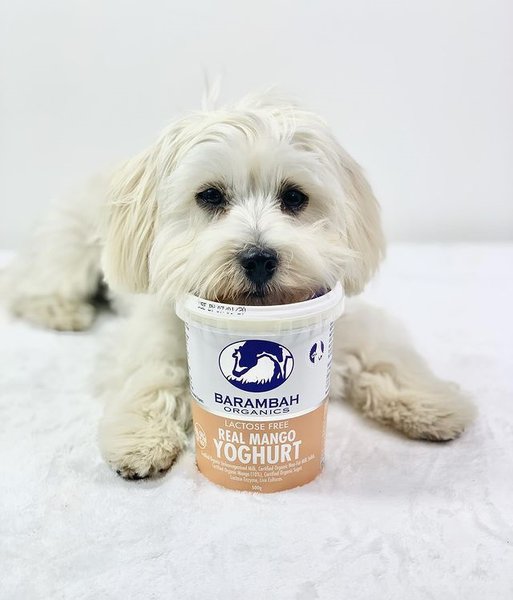 It's perfectly safe for dogs to eat yogurt, as long as it is the right kind – and mango yogurt that's made of all-natural ingredients is a fine choice to consider. For pups that cannot handle lactose, it is best to choose lactose-free yogurt that would be easier for canines to digest.
Mango yogurt is a delectable treat, especially during the warmer months. Your pooch will enjoy the naturally sweet taste of this yogurt, whether eaten plain or used as a dip to his favorite meal.
7. Non-Fat Yogurt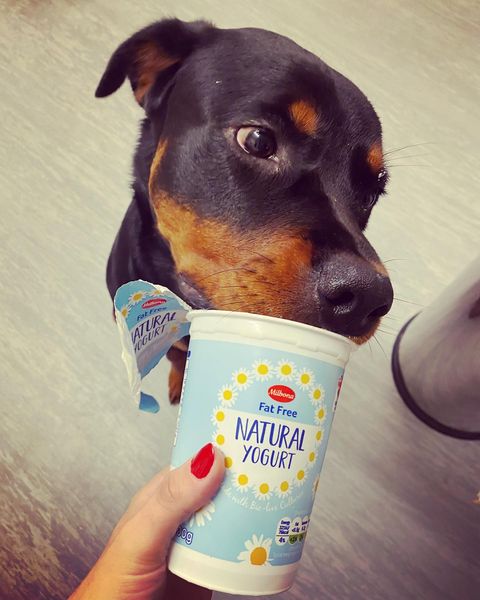 Non-fat yogurt is a good choice to consider when you prefer giving fat-free treats to your pet. This type of yogurt contains probiotics, calcium, and protein that will help build strong bones and muscles.
However, when buying non-fat yogurt, be sure to always read the labels carefully. Some non-fat yogurts, such as flavored ones, contain loads of sugar. So, it is best to avoid these ones and go for plain, non-fat for your furry pal.
6. Vanilla Yogurt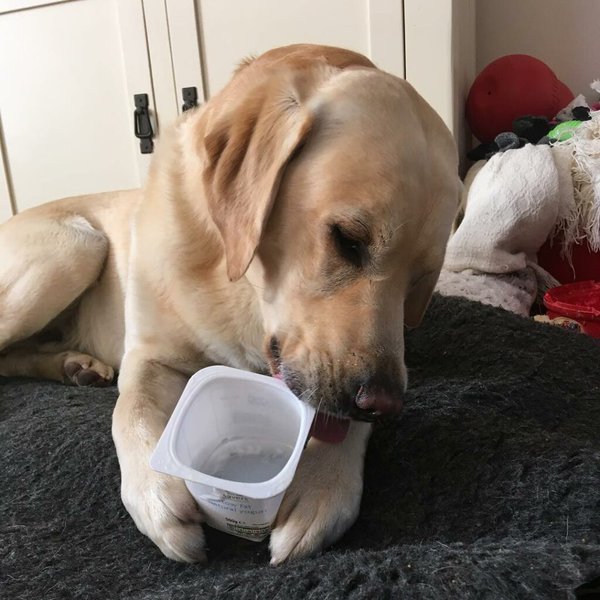 For a hint of sweetness and flavor, it is worth considering giving your dog some vanilla yogurt as a treat. A little bit of vanilla should not upset your pup's tummy, as long as there are no allergens in it.
Most importantly, you should avoid yogurts with xylitol, a sweetener that is toxic to canines. If you prefer to add more sweetness to the vanilla yogurt, then you can throw in some fresh fruits such as bananas or blueberries.
5. Frozen Yogurt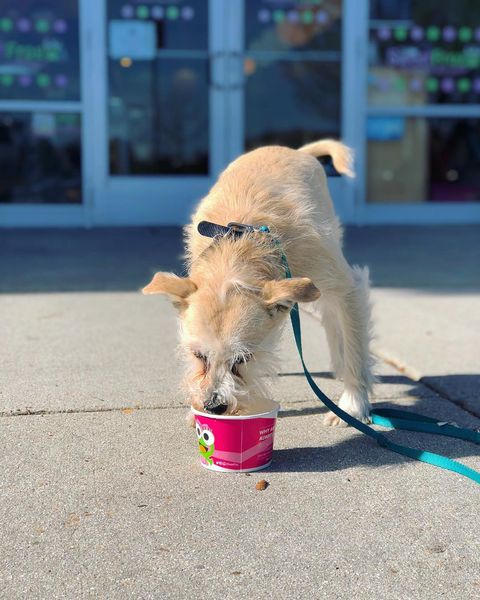 Generally, commercial frozen yogurt is not ideal for dogs because of its high sugar content. This is why pups who are fed with these store-bought frozen yogurts develop some kind of stomach upset.
A healthier alternative to these commercial frozen yogurts is by making one yourself. It's easy with a blender or a food processor. Simply make a "nice cream" by blending up frozen bananas and some avocado to make it creamy – and you've got an all-natural, tasty, and healthy pup treat!
4. Coconut Yogurt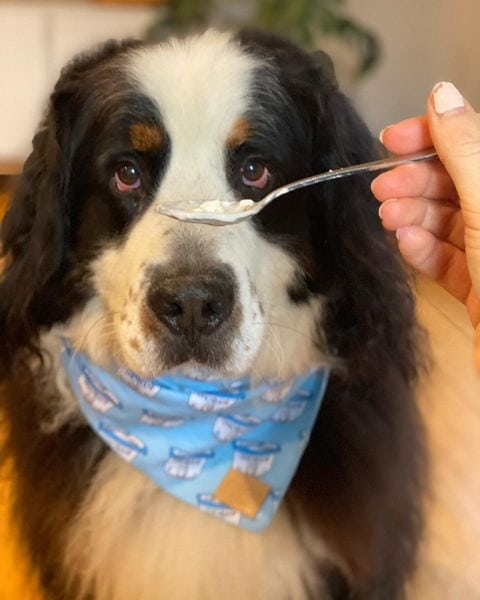 As long as homemade, coconut yogurt is a good choice for pooches. Sadly, commercial yogurts that contain artificial coconut flavoring and preservatives are not the safest bet for your pet.
This is why it should be better to make your own coconut yogurt by adding some raw tiny coconut bits to Greek or plain, natural yogurt. Adding some coconut oil also works as it helps your pooch to digest it better.
3. Plain Yogurt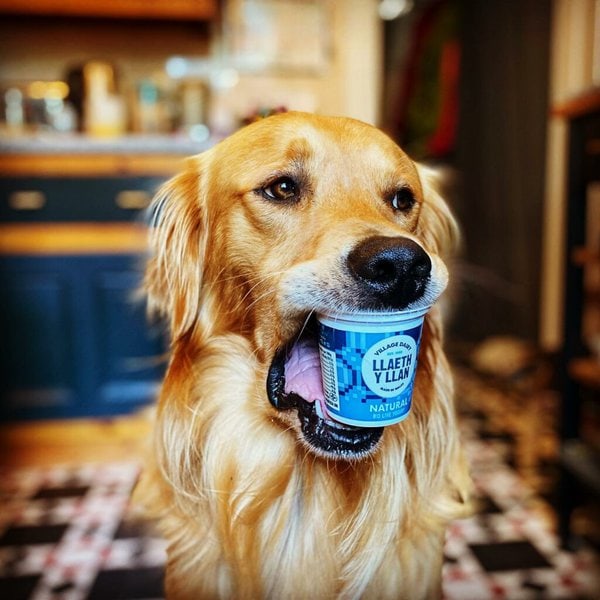 One of the best yogurts for dogs is plain yogurt. What's good about it is that there is no artificial sweetener or preservative added, making it a healthier choice for canines. You should steer clear of plain yogurt with xylitol, which is known to cause liver failure in dogs.
In case you prefer to add some fruity flavor to the yogurt, you should throw in bits of fruits such as berries and mangoes. But your pup will enjoy plain yogurt, too, because of its creamy goodness.
2. Strawberry Yogurt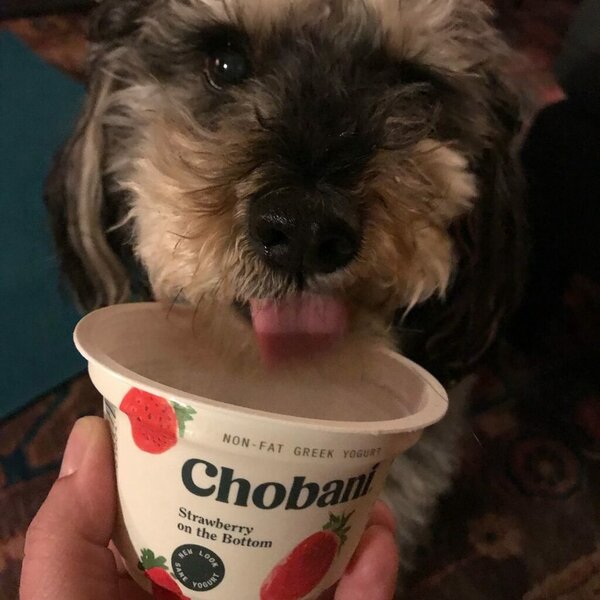 As long as it is made of real strawberries and not artificial flavor, strawberry yogurt is safe for dogs to eat. But if you could find an all-natural strawberry yogurt, then it is a good choice for your pup.
However, the safer choice is homemade strawberry yogurt. You can make one at home by blending up some plain yogurt with fresh strawberries. Not only is it tasty but healthy and gentle to your pet's tummy.
1. Greek Yogurt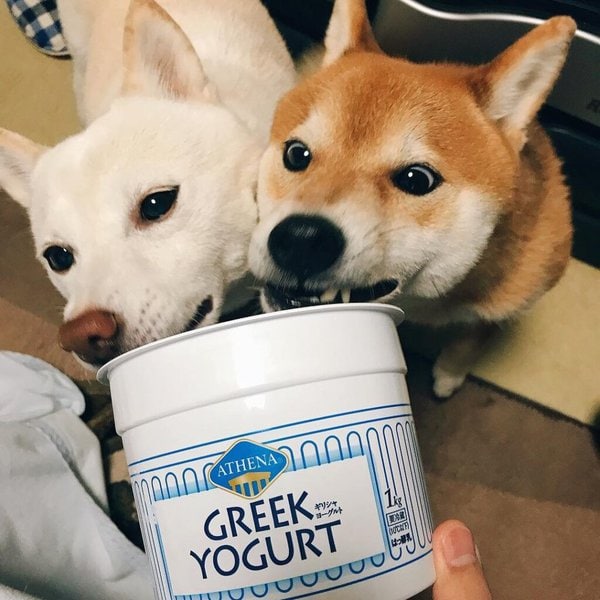 Greek yogurt, when plain and sugar-free, is excellent for canines. As much as possible, you should avoid artificial flavoring in Greek yogurt when feeding it to your pet. With the low lactose level in this type of yogurt, it should be great for pooches that suffer from lactose sensitivities.
The best Greek yogurt to feed your dog is plain and natural. Avoid sugar-laden Greek yogurt since it will not do anything good to your pooch. For some added flavor, fresh fruits are always best.
---
Related Questions
---
How Much Yogurt Can I Give My Dog? One spoonful of yogurt is a good serving for small dogs. As for medium-sized pups, two spoonfuls of natural Greek yogurt is good, while for even larger pooches, up to three spoonfuls should be adequate.
Can I Mix Yogurt With My Dog's Food? Yes, you absolutely can. You can add a spoonful of plain or fruity yogurt to your pup's regular kibble. Not only will this help to keep your dog full, but yogurt also offers beneficial bacteria to promote gut health.
Why Do Dogs Love Yogurt? Yogurt is creamy and cooling, which is just some of the reasons why pups like it. And when flavored with chunks and bits of their favorite fruit, such as strawberry, mango, and blueberries, it is the perfect snack and go-to treat with a high nutritional value.