With their long and silky smooth fur, Yorkies are a lot of fun to style. No wonder there are so many options for Yorkie haircuts to highlight your pup's best features. If you think your pooch needs a makeover, these styles might be worth a try!
Pixie cuts are very popular among Yorkies because of their delicate, refined features. There's also the layered cut that adds an edgy look to your pooch. But if easy and effortlessly chic are what you like, then the classic cut is a no-brainer choice.
Ready to explore our comprehensive list of Yorkie haircuts? From trendy to timeless favorites, here are 52 haircuts best suited to your darling pet!
52. Uncombed & Just Out Of Bed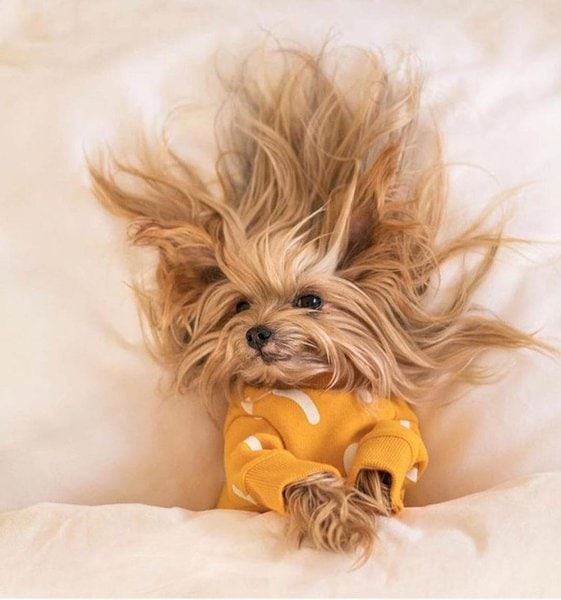 If you're a huge fan of #wokeuplikethis looks, then the Uncombed & Just Out Of Bed style works perfect for your Yorkie. It's an easy look to recreate since you just need to grow your puppy's hair and brush it any way you want.
But just one thing to note about this style – it's not the easiest to maintain. While it may seem too simple and without intricate styling, the explosive look can be a tricky one to achieve.
51. Round Cut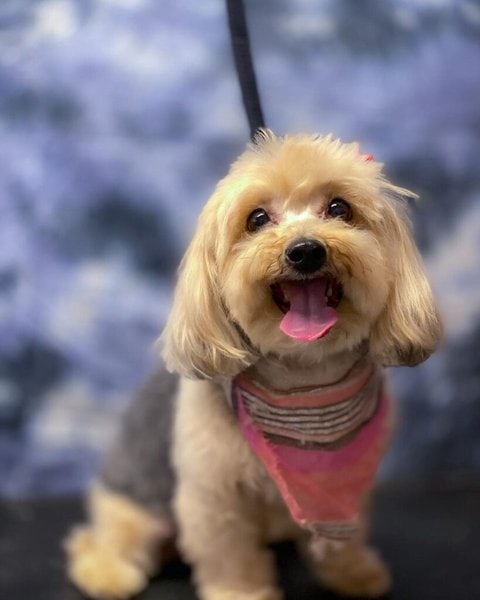 The Round Cut is all about giving your pup a plush toy vibe. It's not too difficult to create this look, thankfully, since Yorkies are naturally toy-like, anyway!
Short and rounded all around, these are the key highlights of this Yorkie haircut. Just keep the overall length to a couple of inches, keep the edges rounded by trimming with scissors, and it's easy-peasy.
50. Colored Layers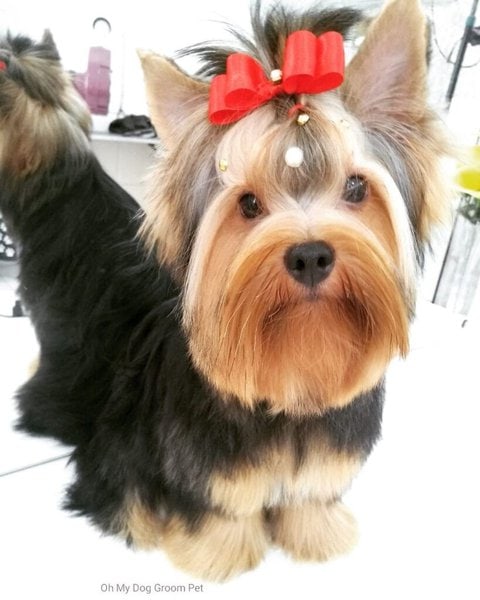 Yorkies come in an array of colors – so this style is absolutely perfect. If your pooch has multiple coat colors, you can achieve the Colored Layers cut easily. The goal is simply to make the colored sections stand out by varying the lengths.
Let your pup's fur grow long then snip the colored sections in layers with different lengths. This style does not only add some serious style but also a good amount of volume to your dog's fur.
49. Wild Cut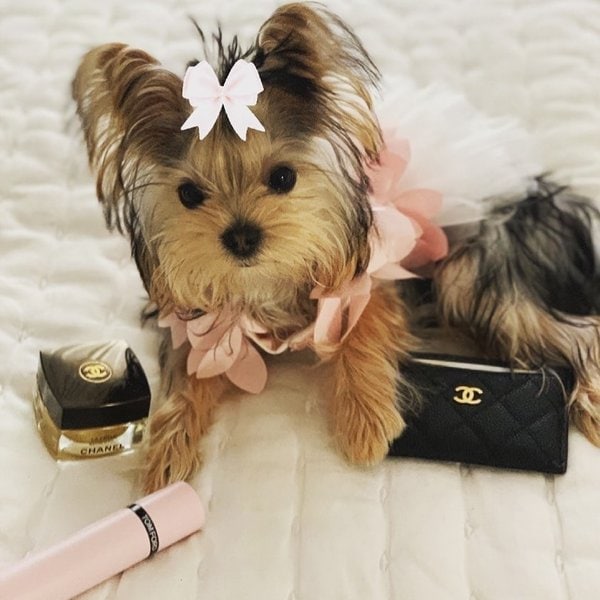 If you don't like to settle with a conventional look for your Yorkie, then a Wild Cut is a great option. It may seem too complex to achieve but it's really just all about letting the imagination run wild as you snip away the fur and create a whole new look for your pup.
One thing to remember about the Wild Cut – you can go from outrageous (just like in the photo) or something more subtle but definitely unique in every way. Just be sure the cut will not make your pooch uncomfortable, and it's all good.
48. Groomed Face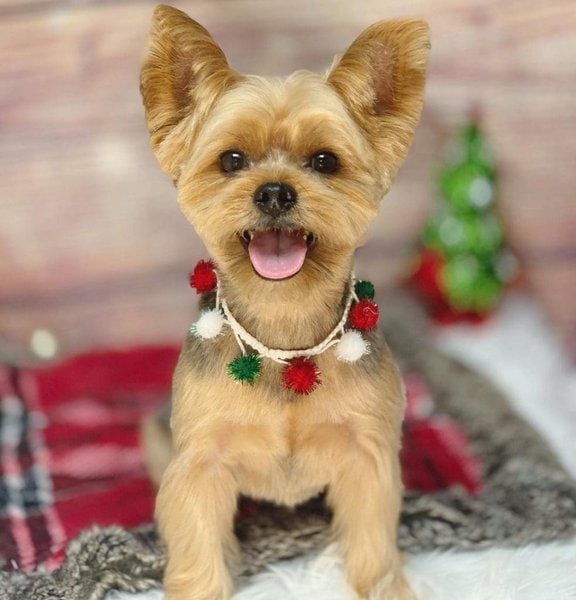 Yorkies have the cutest round eyes that are often buried in a dense coat. If you prefer to see your doggo's peepers easily, then the Groomed Face cut is worth a try.
As the name implies, it's all about trimming the facial hair short to reveal your pup's adorable features. Keep the mustache short, trim the hair to a couple of inches, and voila – neat and tidy look achieved!
47. Ear Ponytails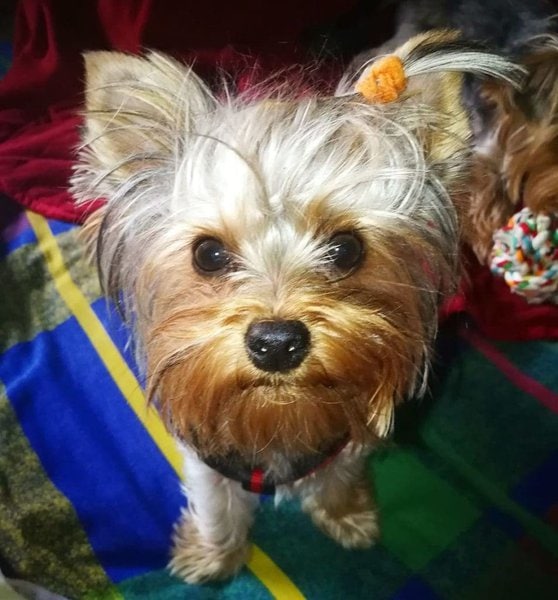 When grown long, Yorkies have furry ears that almost look like ponytails. This also adds to their cuteness factor while making the ears too irresistible not to touch.
You can easily achieve the Ear Ponytails look by pinning some bright clips and accessories near your puppy's ears. Clips with rhinestones are a perfect choice as these add some bling to those ear ponytails.
46. Oval Face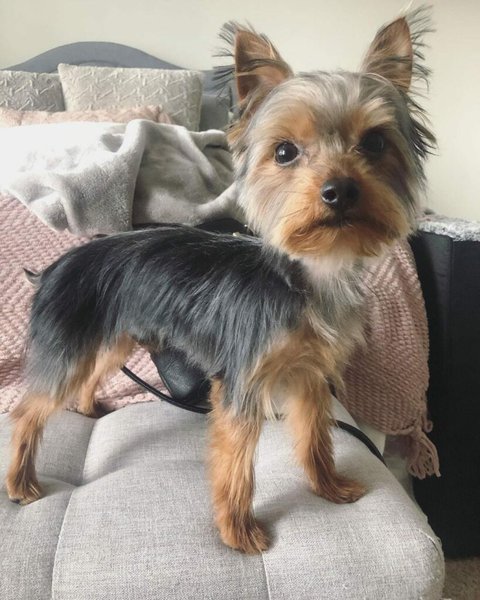 The Oval Face cut is more suitable for a long Yorkie haircut. If this is the look you are going after, then you only need to shape the facial hair like an oval – shorter on the sides and longer at the bottom.
This look goes perfectly well with a layered cut, too. Just be sure to keep long hairs away from your dog's eyes, so it won't cause any irritation or discomfort.
45. Layered Variation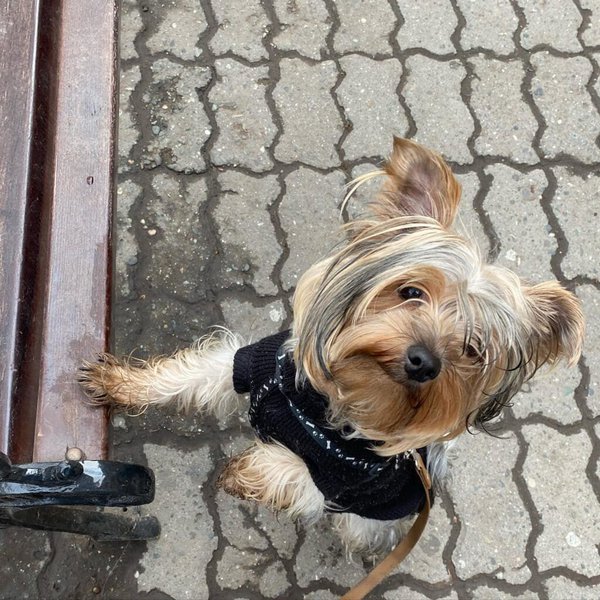 Layered Yorkie haircuts come in different styles and lengths. If you want something unique for your pooch, then the Layered Variation is another thing to consider. You can cut it in a length that suits your pup more.
But if you can't decide between short and long layers… Then why not have both? Make the layers longer for the face and shorter on the middle part! This allows you to pull your Yorkie's hair up for a ponytail while adding some style to the rest of his body.
44. Long And Flowing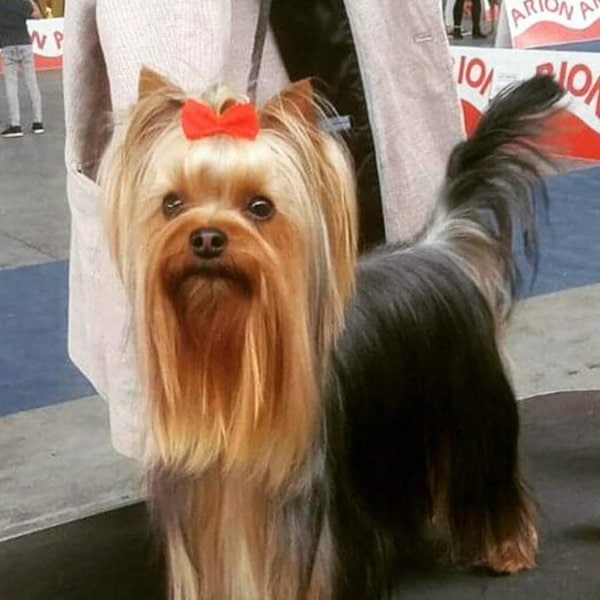 A classic Yorkie look, the Long And Flowing is what you want for a show dog vibe. It's also very easy to achieve since you're basically just allowing the hair to grow out.
But be warned – it's a super high maintenance style for your pup. Daily brushing is a must, which can be a bit too much for owners with a very busy lifestyle.
43. Eyelashes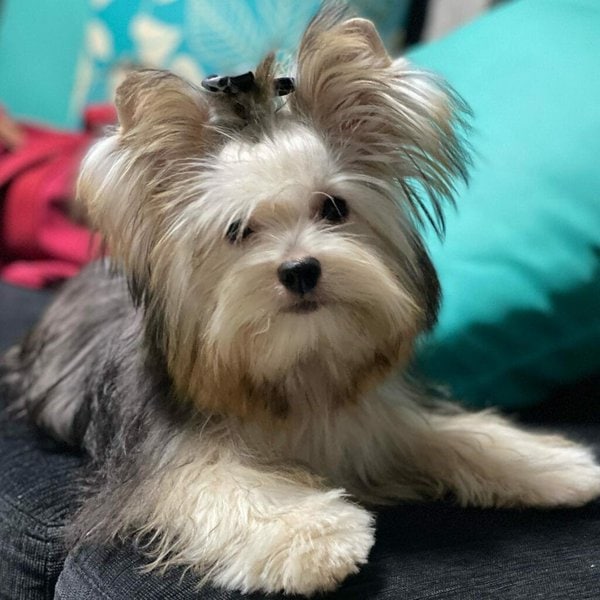 Give your pooch those adorable eyelashes with this gorgeous style. The Eyelashes haircut works best if your pup has long facial hair.
To create the look, leave a couple of hair strands long, right above your dog's eyes. The length should give the hair a spiked up look and resemble eyelashes. But be sure they're not long enough to obstruct your Yorkie's vision.
42. Accessorize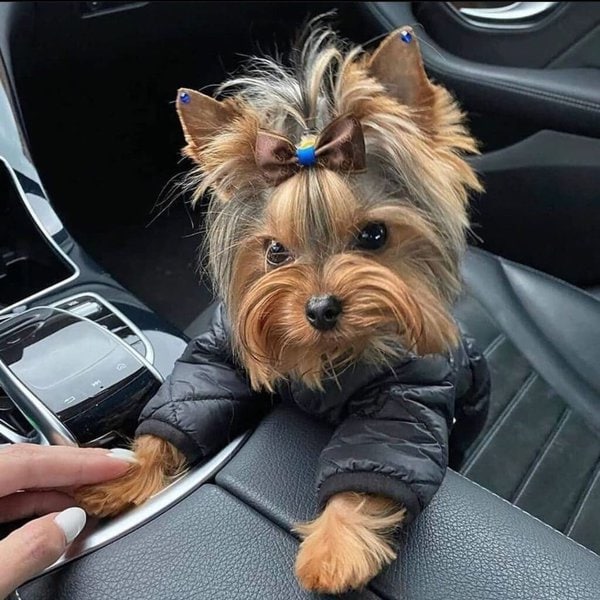 The coolest part about a Yorkie's long hair is that you can accessorize as much as you want. From girly to chic, you can achieve the look you prefer for your pup with bright accessories.
Another benefit to accessorizing is that it helps to keep all that hair away from the eyes. Your little guy or gal can see better while looking super cute with accessories of all kinds – bows, rhinestone clips, and so on.
41. Ponytails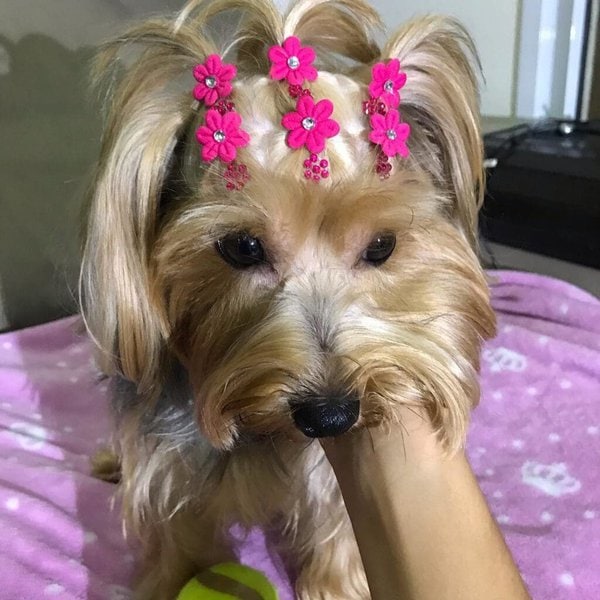 Yorkies and ponytails go well together. After all, with all that long hair, it's completely very easy to pull up into a nice ponytail. It gives your pooch a neat and tidy look while serving a purpose of having zero obstruction to his vision.
Ponytails also come in different styles. You can go for a basic ponytail or with multiple braids, a single braid per ponytail… The options are endless!
40. Dog Show Variation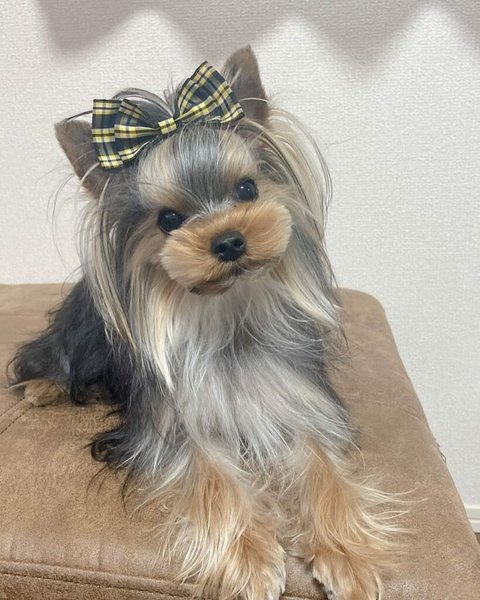 Owners who are a big fan of dog shows will find this Yorkie haircut a fantastic choice for their pup's makeover. It's sleek, stylish, and simply elegant. A fine hairstyle for a darling female Yorkie!
But unlike the classic dog show cut, this variation includes keeping the hair an inch off the ground. Then, the facial hair is shorter than the body to reveal that adorable face.
39. Round Face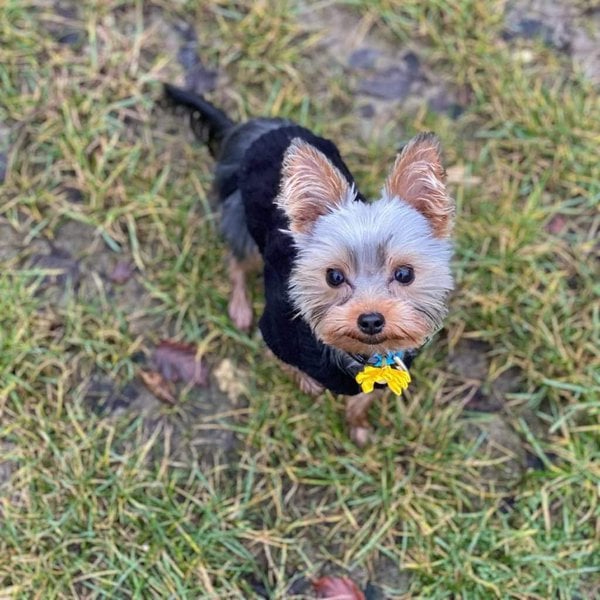 The Round Face is a bit similar to the Round Cut but only limited to the facial hair. The rest of the hair can go at various lengths, yet the face is perfectly rounded.
It also gives a youthful vibe to your pooch, which looks great for pups and older Yorkies alike. Keep the facial hair short, about an inch in length, and be sure to get the edges rounded with scissors.
38. Extra Long And Flowy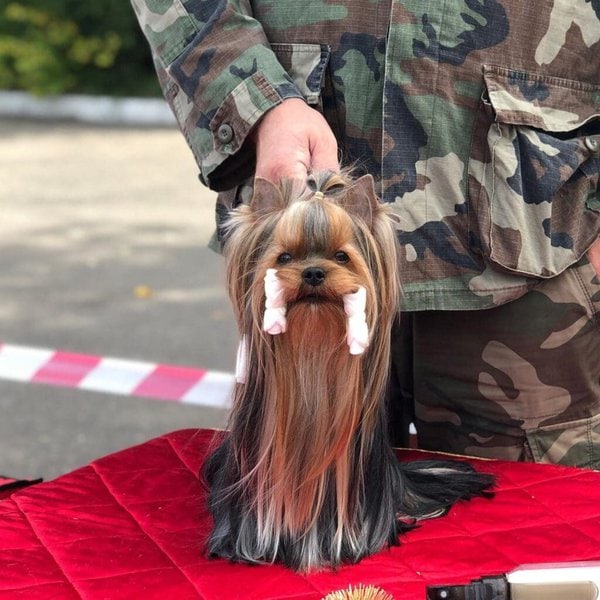 If ordinary long and flowy does not suffice for you, then why not go for the Extra Long And Flowy style? It's a floor-length hairstyle for your Yorkie, which makes it completely picture-perfect and ready for a dog show!
Gorgeous as it may be, this hairstyle involves a significant amount of work. Daily brushing, untangling, and other grooming techniques are a must. If you have the time and patience to do all these, your pooch can most certainly rock this look.
37. Yorkie Mustache Cut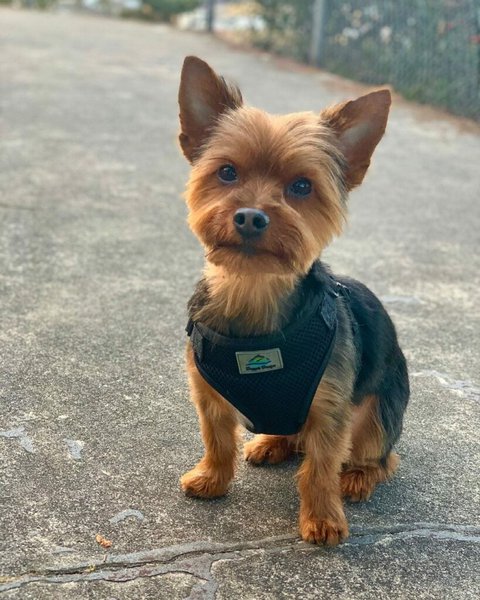 Just like every Terrier, a Yorkie naturally has a long mustache that adds to his charm. If you're a mustache fan for your pooch, then this is a fun haircut to create.
But instead of growing the mustache nice and long, you're cutting it shorter than the rest of the hair on the nose and mouth. The contrast with the length still makes the mustache stand out without being too difficult to maintain.
36. A-Line Bob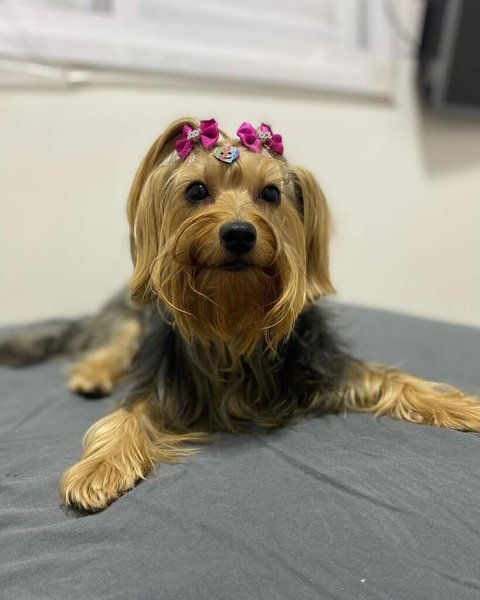 Who says humans are the only ones who can wear a bob? The A-Line Bob Cut is a fantastic look for Yorkies of all sizes, shapes, and genders!
To achieve the A-Line Bob, the sides are a little longer than the middle part. This is a low-maintenance haircut because of the shorter length, while adding some style to your pooch.
35. Floor-Length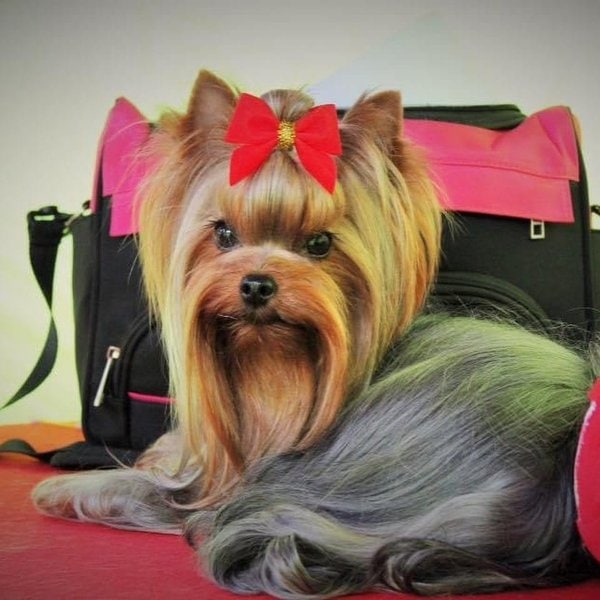 Smooth, silky, and sleek, this is what the Floor-Length cut is all about. This works for Yorkies whether solid-colored or not. Just let the hair keep growing long, add some styles of the ends of the hair such as waves and fly-aways, and it's all set!
The best thing about a floor-length Yorkie hair is that you can never run out of style to create – ponytails, braids, or simply sleek and flowy. But be sure to make brushing a part of your dog's daily routine to keep mats and tangles at bay.
34. Redheads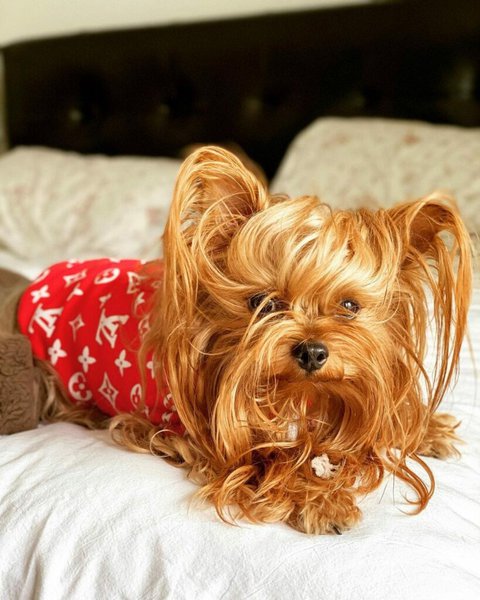 If you've always dreamed of having a redhead Yorkie for a pet, then why not create this look with a bottle of natural hair dye? It adds some fun color to your pup's hair, which is the easiest thing to do for a makeover.
Just a word of advice when using hair dye – be sure it is designed for dogs and with natural ingredients. Avoid getting any of the dye into your pet's eyes to prevent discomfort and potential health issues.
33. Short Classics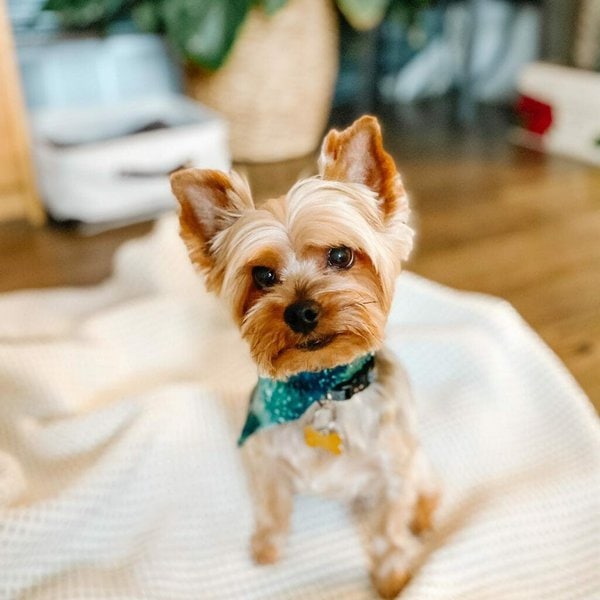 Nothing beats short hair when all you want is a low-maintenance Yorkie haircut. It keeps all that hair away from the eyes while highlighting your pet's amazing features.
But unlike the kennel cut that's very short, the Short Classics has a bit more length to it. About a couple of inches all around should be perfect – making it easy to maintain while still allowing you to accessorize your pooch.
32. Peek-A-Boo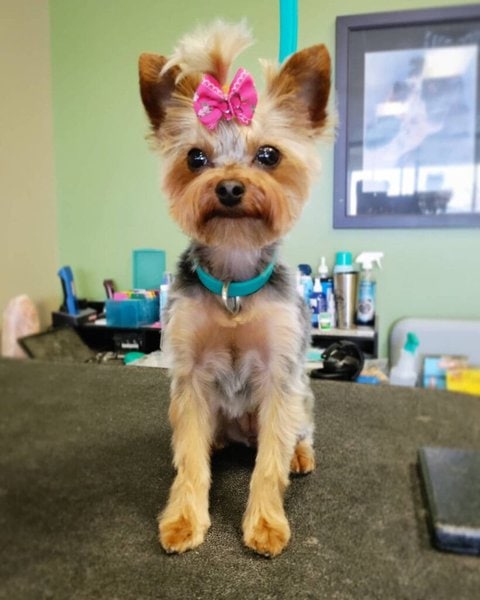 Fancy hairstyles are always fun. But then again, you want to be certain that your puppy's eyes are not getting a lot of hair on them. Otherwise, this can be very uncomfortable for your pooch.
The Peek-A-Boo style is all about keeping the eyes free from long hair that obstructs your pet's vision. You can either pull that hair up to a neat ponytail or trim the hair short to reveal your Yorkie's charming peepers.
31. Color Separation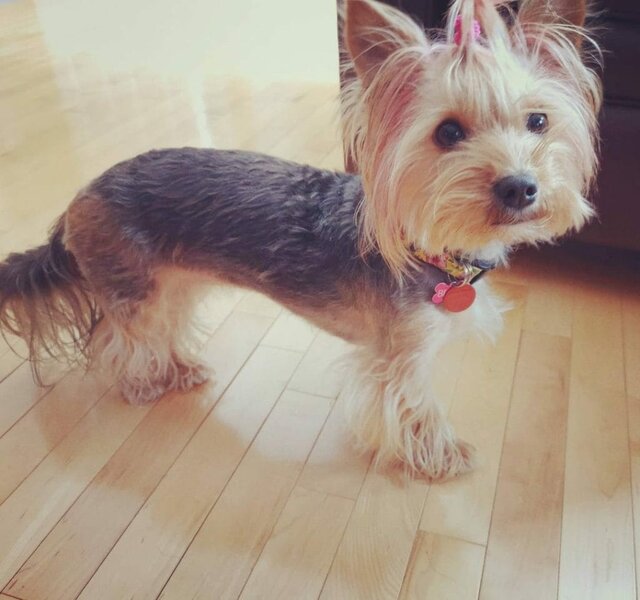 Got a bi-colored Yorkie? Then this Yorkie haircut is a fantastic choice for that much-desired makeover.
It's a unique look as it emphasizes each color by keeping them at different lengths. One color is kept long while the other is short. The result? A show-stopper style for your doggo!
30. Bell Bottom Cut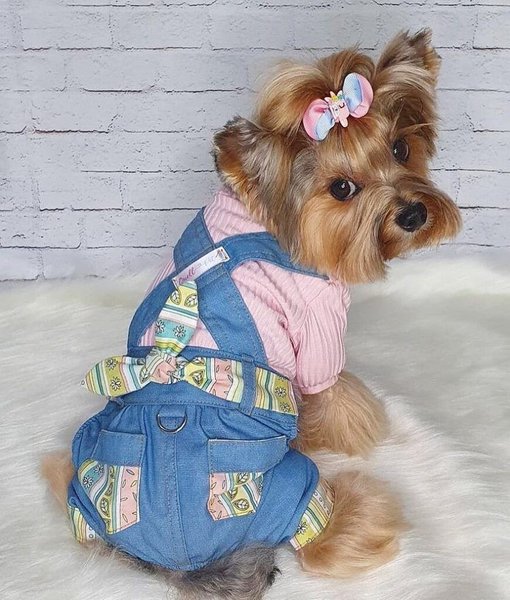 Bell Bottoms may be a big hit back in the 70s but any era is perfect for the Bell Bottom Yorkie haircut! It's also easy to create this look, which adds to its appeal.
There are two key points to this look – long, furry paws and super short body hair. Keep the paws long and flared like those bell-bottom jeans, and that's what this haircut is all about.
29. Ascetic Cut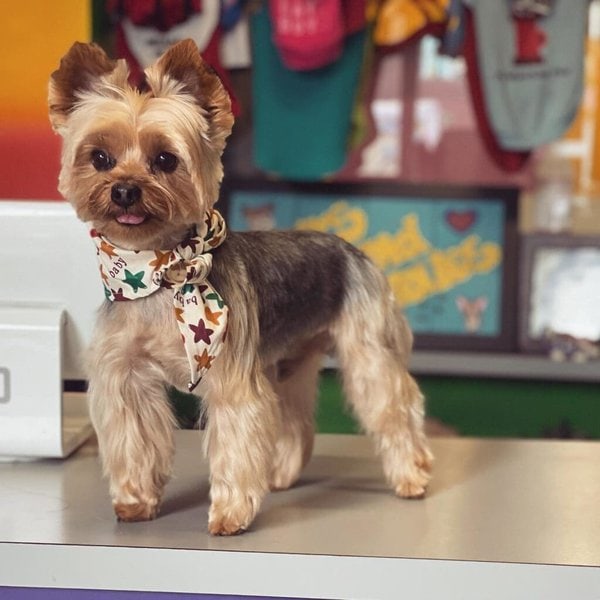 The Ascetic cut is not only stylish but practical, as well. It's not too short, yet just the right length to make it as low-maintenance as possible.
Not sure how to achieve this cut? The picture above gives an excellent visual idea on how to create this look and have your pooch rock it out!
28. Shaggy Cut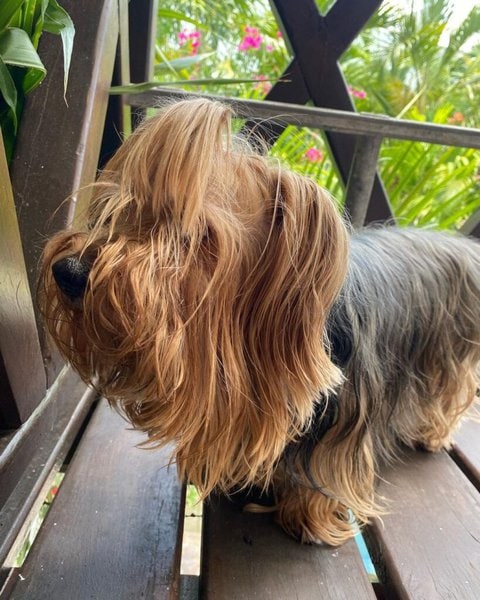 Add some volume and style to your Yorkie's hair with the Shaggy Cut. It's a go-to haircut when you simply don't know what style to give your pooch.
Not too long and not too short, the Shaggy Cut is great for an in-between length. If you like to make it easier to maintain, then you can snip the hair a bit longer. Just make sure there is still a considerable length, so it retains the shaggy style.
27. Show Cut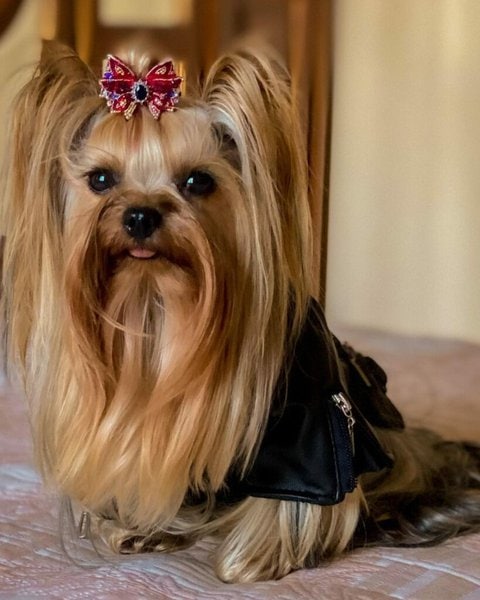 Yorkies that love to be a part of a dog show should definitely get this cut. It is quite difficult to achieve without the help of an expert groomer, so make sure you head over to a pro to nail this style.
The Show Cut is one of the most complex styles because of the varied lengths of the hair on different parts of the body and face. But with a groomer's expertise, this cut will perfectly flatter your pup's stunning features.
26. Messy Stains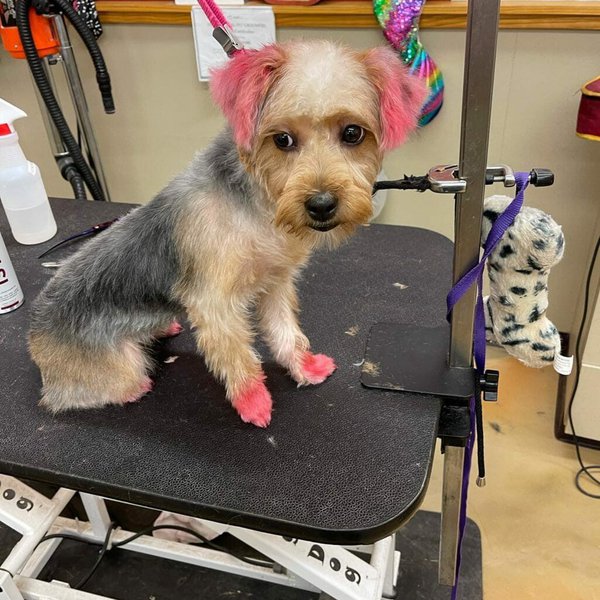 If you like a Yorkie haircut that exudes a rockstar vibe, then the Messy Stains is one to consider. It's a combination of different hair color plus lengths that add to its unique appeal.
Basically, it's a perfect mixture of a homey and messy vibe. With multicolored hair dyes and a combo of long and short lengths, your pooch will definitely stand out from the crowd with this cut.
25. Contrasting Cut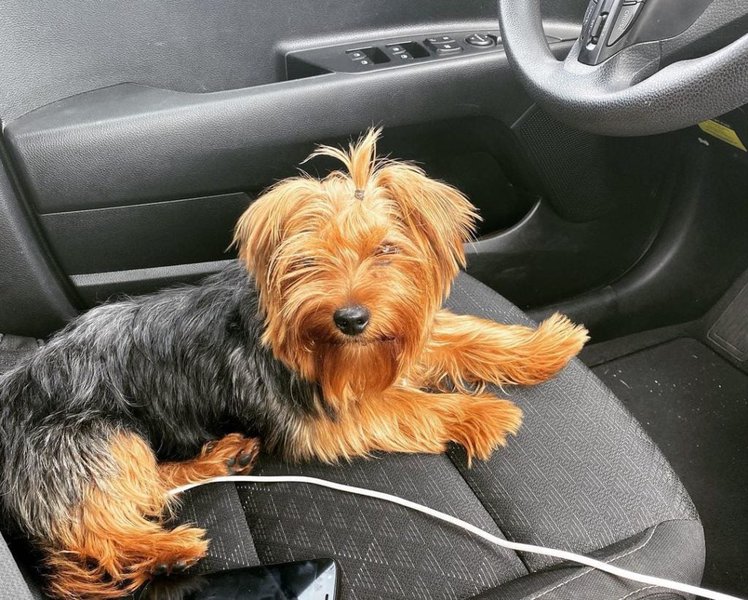 When it comes to a Yorkie hairstyle, contrasts make things more interesting. Whether it's a contrast of colors or lengths, you can easily achieve this amazing look for your dog.
The Contrasting Cut includes a longer facial hair and a nearly-shaved body. With some length for the hair, you can also add some fun accessories to complete the look.
24. Short Beard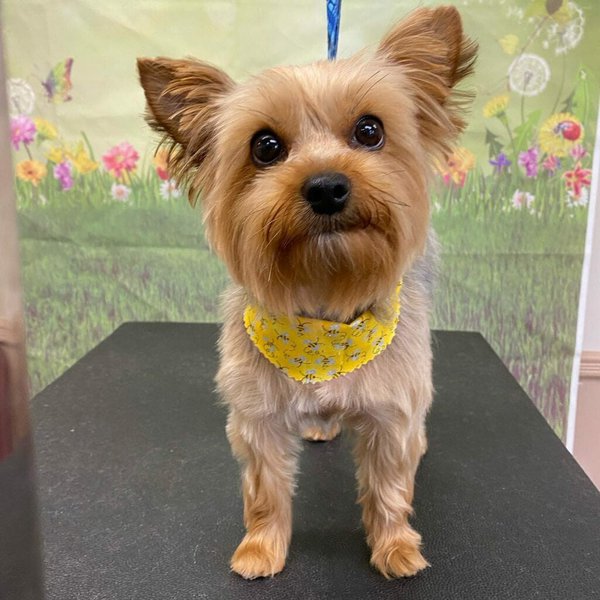 Among the key hallmarks of a Yorkie are its beard and mustache. But if you like to keep the beard to a minimum length, then it shouldn't be a problem snipping it a bit short.
With a short beard, this makes the hair easier to maintain overall. Plus, it helps to keep your pooch neater, too, which is pretty much a win-win for the both of you!
23. Blonde Strands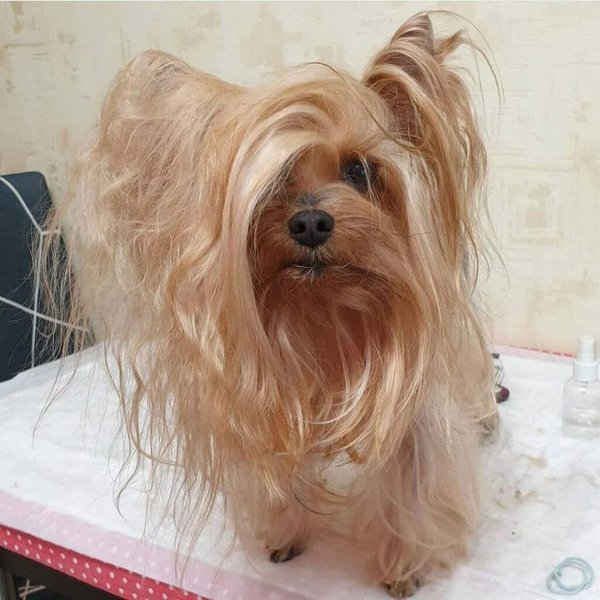 This is a great haircut for Yorkies with a blonde strand of hair on their facial hair. So, if this happens to be true for your pup, then why not give him this edgy look?
The goal is to make the blonde hair stand out, which you can achieve by keeping the rest of the hair shorter. Just leave the blonde one longer, and there you go – blonde strand style unlocked!
22. Teddy Bear Cut
As Yorkies are naturally cuddly dogs, the Teddy Bear cut is simply a no-brainer choice for this breed. It's also easy to maintain and gives your pup some extra snuggle-worthy looks.
It's also pretty simple to create this look. Just trim the body hair to the same length while giving the face and ears a rounded look.
21. Trimmed Ears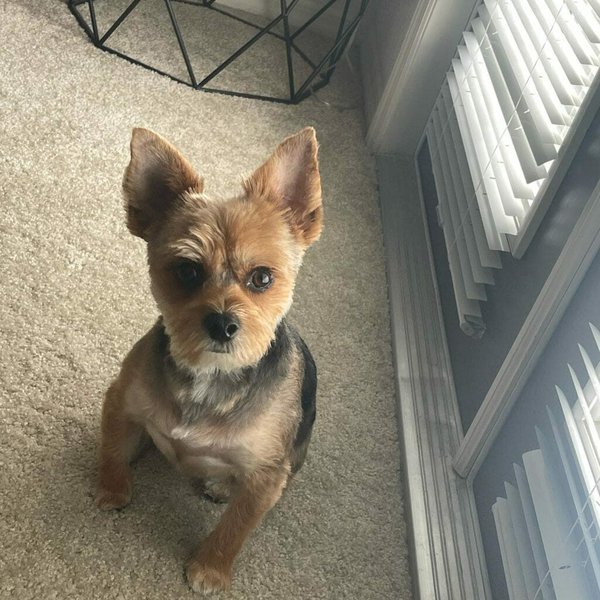 While the rest of the body and facial hair can be relatively easy to groom, the ears tend to be a bit of a challenge to trim. A pair of short scissors with a rounded edge, however, should do the job well.
Trimmed ears are great for different Yorkie haircuts such as the Teddy Bear Cut, Puppy Cut and Rounded Cut. It also keeps mites and ticks at bay since the hair is shorter and will have barely any room for these creatures to thrive.
20. Long Mustache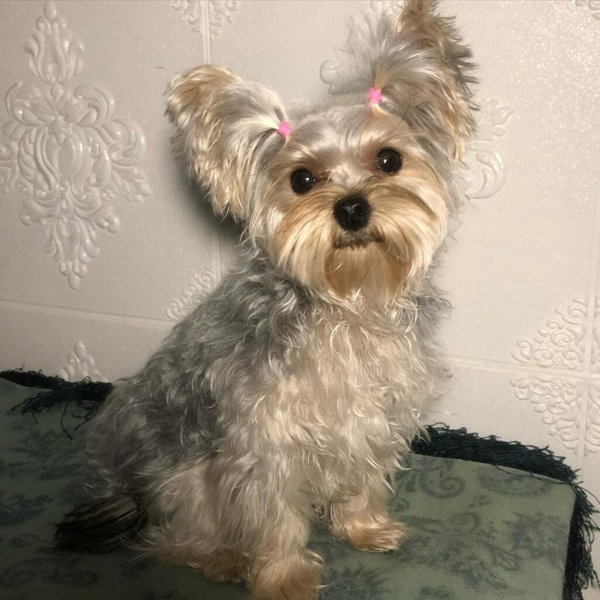 Aiming for a long mustache look? Then this hairstyle is just what you need for your pooch. It's a very easy look to achieve while giving your pup an adorable style.
To highlight the long mustache, keep the length as it is. But as for the rest of the facial hair, cut it short to about an inch. You can either keep the body hair short or long – it's all up to you!
19. Princess Cut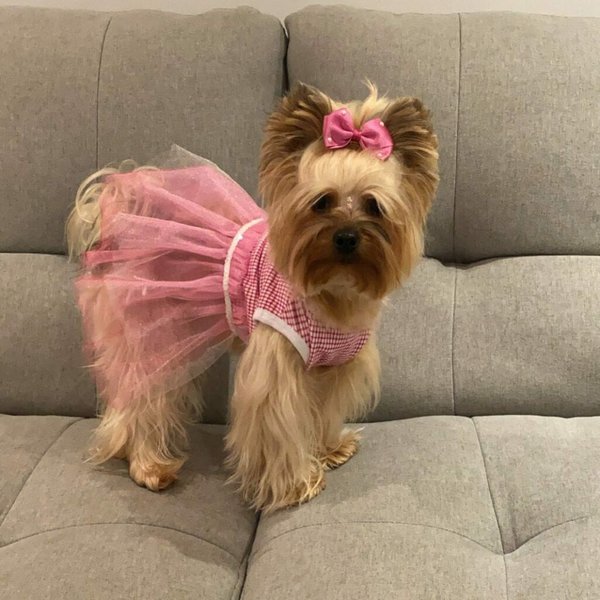 This is a chic variation of the popular Dog Show Cut. Not only is this a bit easier to maintain but it also keeps your pup's hair smooth and sleek.
But then again, it's a style that requires you to stay on top of your dog's coat maintenance routine. Regular brushing and bathing are a must to prevent tangles and mats from destroying this otherwise lovely look.
18. Puppy Cut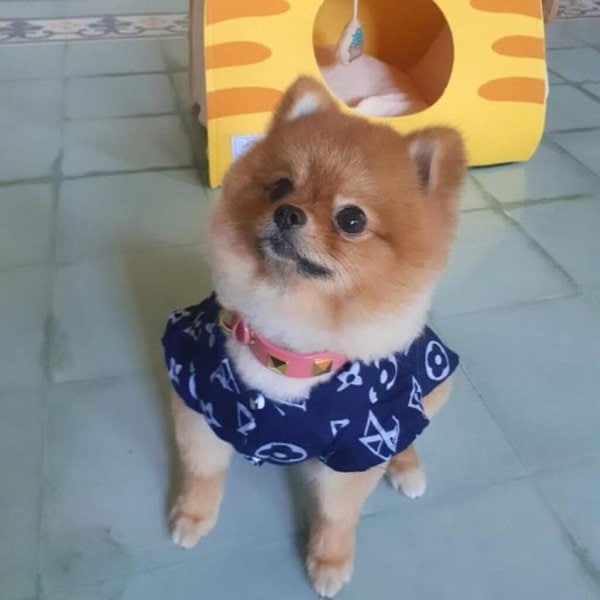 Even if your Yorkie is no longer a puppy, he can always get the Puppy Cut that adds a youthful vibe to your doggo. Most of all, it is a low-maintenance style because much of the lengths are snipped away.
It's a great cut for active Yorkies that love to run around and play all day. This also eliminates the need for a daily brushing, which works for busy owners, too.
17. Medium Cut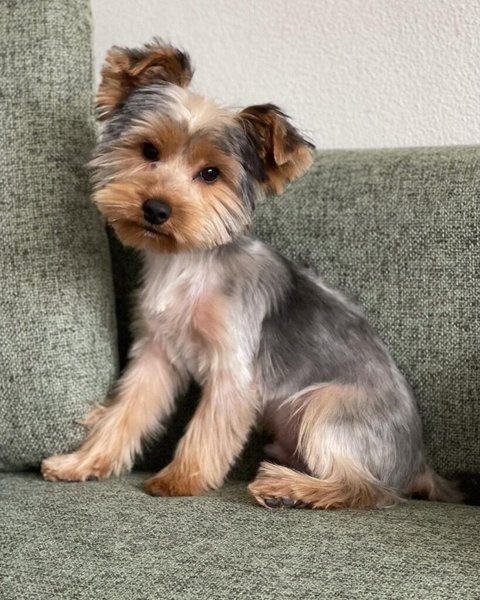 If the weather is at that odd time of the year where it's not too hot nor too cold, then the Medium Cut is a good choice to consider. It keeps your pooch warm enough during the occasional cold weather, yet comfortable during a sunny day.
Simply leave your pet's coat at about 3 inches long max to achieve this look. Then, brush regularly, so you can keep the mats away while maintaining a tidy, wavy hair for your pup.
16. Special Cut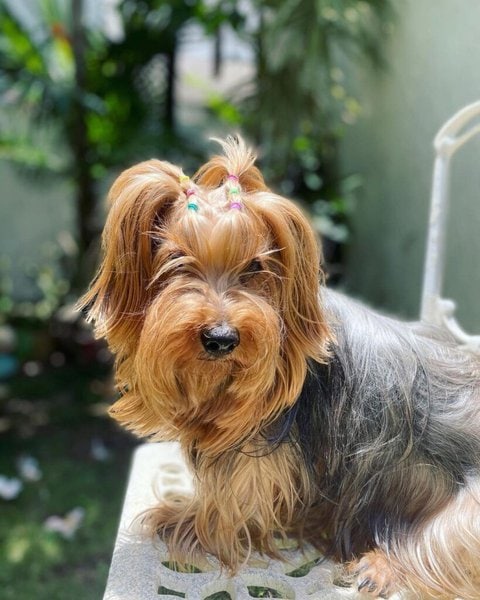 Because your pup is one-of-a-kind, then a Special Cut is a perfect pick for your dear old pooch. It sounds like a vague cut, but as you look at the photo above, it's pretty simple to create.
The idea is to keep certain parts of the hair long, depending on what style you want to do with it. If you like to create a high ponytail, then the hair around the ears and forehead should be longer. Play around different styles to achieve the right look you desire.
15. Mane Cut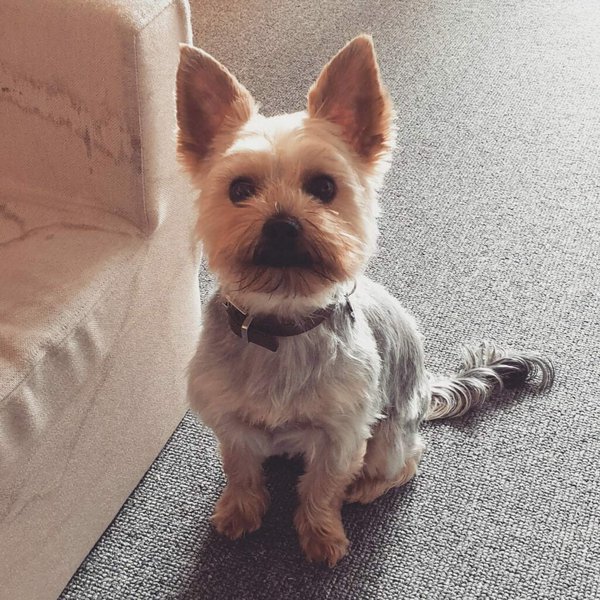 The Mane Cut aims to give your pooch a reasonable length of hair that's soft and fluffy. It also keeps the style classy since it is long enough to braid or pull up in a tidy ponytail.
What's great about the Mane Cut is it's all about comfort just as much as it is for style purposes. The eye area is also free from long hair that tends to irritate the eyes and obstruct your pet's vision.
14. Lion Cut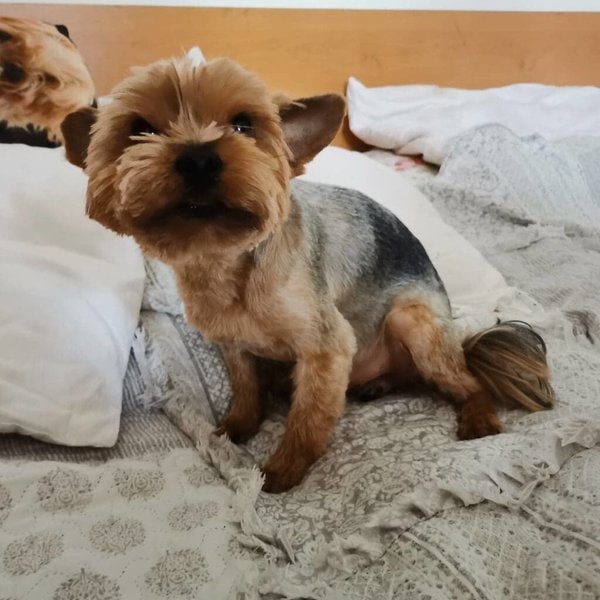 Lion Cut is a popular haircut for Yorkies because of how easy it is to achieve while keeping the coat low-maintenance. It's also a typical option for pups with long hair, especially on the face area.
The inspiration behind this cut is… Well, a lion! Keep the hair on the face and chest long while the rest of the body short – about an inch. The paws are long and the tip of the tail is bushy.
13. Kennel Cut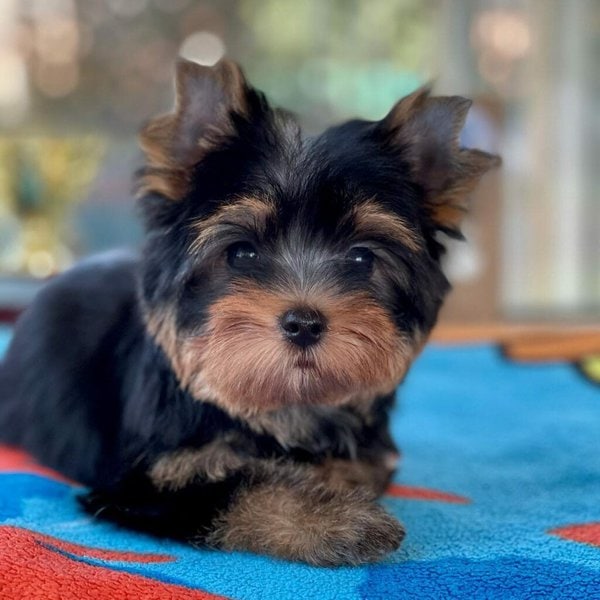 When the temperature rises, the Kennel Cut is an excellent option for a Yorkie. It's a super short cut that's nearly zero-maintenance while keeping your pooch nice and cool during the summer months.
The body hair is about an inch short while the rest is a tad longer. Trim the ears and the paws, as well, so they're not prone to dirt and debris when your pup romps around.
12. Tail Haircut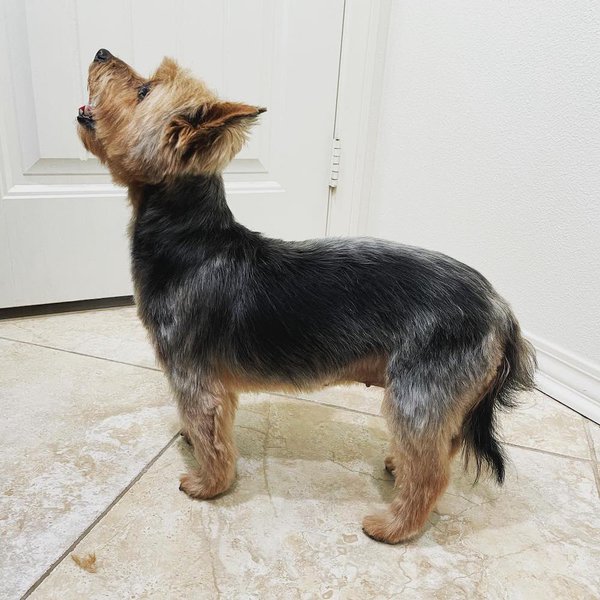 This is one of those haircuts that focus on a specific body part, and in this case, the tail. It's all about keeping the tail nice and furry – even more than the rest of the body.

To nail this Yorkie haircut, keep the tail hair at a reasonable length, so it is furry and bushy. You can also add layers to it, which should match the layered cut on the rest of the body.
11. Short Face, Long Paws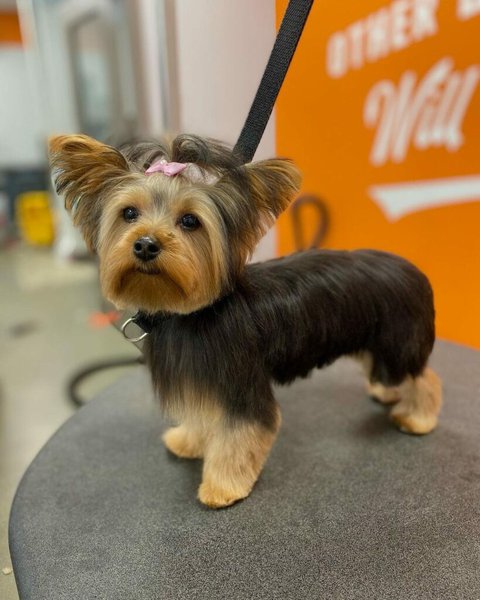 This Yorkie haircut is pretty simple – keep the paws long and the face short. As for the body? It can be a medium length, so there's some fluff to it.
With the reasonable length of this cut, it's perfect for all seasons. You can also mix it up with the Bell Bottom Cut, which adds serious style to your pup.
10. Simple And Clean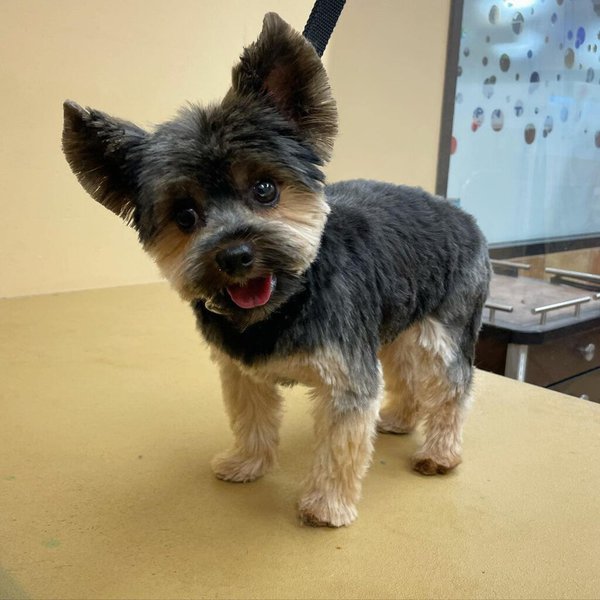 Yorkies are naturally cute, so they look good no matter what haircut you give them. This is why the Simple And Clean is a fine option when you want to stick to the classics while keeping it relatively maintenance-free.
It's pretty much a short haircut, which keeps the look neat and tidy. Not a lot of grooming is necessary, either, except for weekly bathing and brushing.
9. Short And Sweet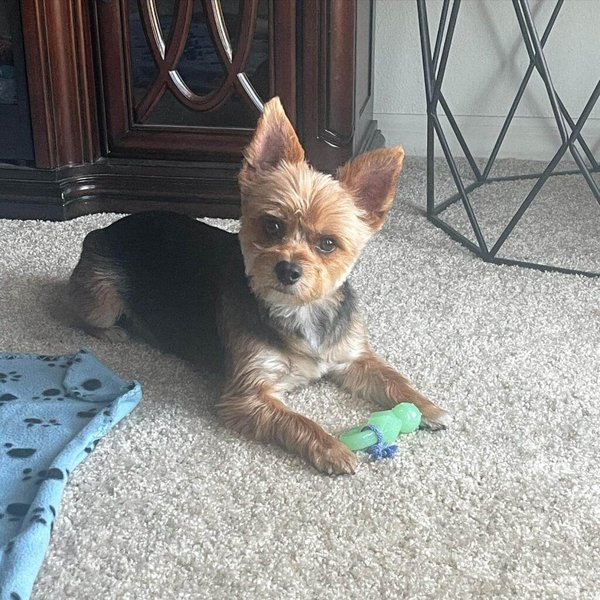 Summer months can be tough for Yorkies with long and dense coats. So, if it's hot and humid outside, the Short And Sweet cut is worth a try.
Just as the name suggests, it's a short haircut. You can keep the ear hair just a bit longer than the rest, as well as the tail. Other than these, snip the rest to about an inch.
8. Schnauzer Cut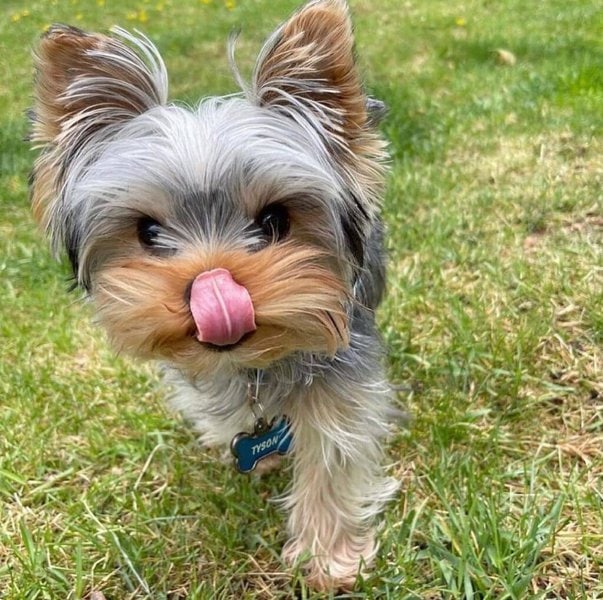 A Yorkie that looks like a Schnauzer? Why not? This is what the haircut is all about, which is pretty much simple to achieve, considering your pup's naturally long mustache.
Create this look by trimming the ears and mustache but not too short. The upper half of the body is about an inch short while the chest is long. It's a dignified look that should be perfect for any Yorkie.
7. Blunt Cut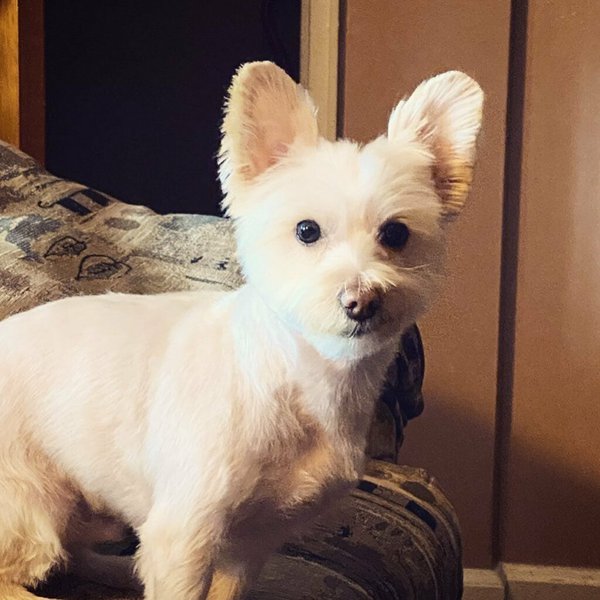 The Blunt Cut is kind of like the Lion Cut's cousin but without a whole lot of long hair and fluff on the face. It's just as easy to maintain and without the need for complex grooming, either.
The head gets a blunt cut while the body is kept at a medium length. Or, you can go for shorter, which is just as adorable!
6. Simply Short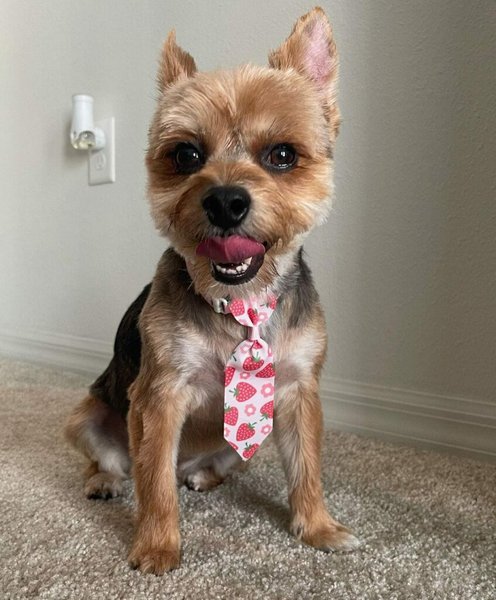 This is a variation of the Short And Sweet Yorkie haircut. It's still short, for the most part, yet there are some medium-length areas for a unique look.
If you have a not-so-hairy Yorkie, then the facial hair can be kept shorter than the paws and the body. You can still accessorize, if you wish, especially if there is still some length to use those bright clips and barrettes.
5. Patchy Cut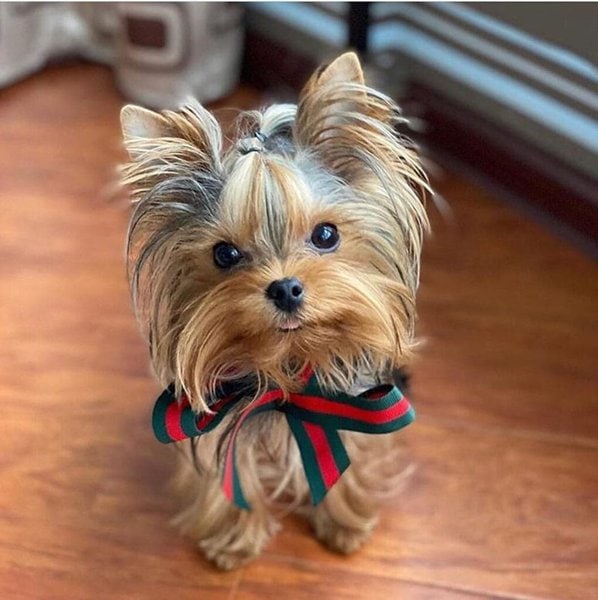 Asymmetrical is the name of the game for the Patchy Cut. It's about making a unique statement, so your pup stands out from the crowd.
You can model your pup's hair to the photo above, or have your own version to make it completely one of a kind. Either way, it's sure to turn a few heads your dog's way
4. Quick And Simple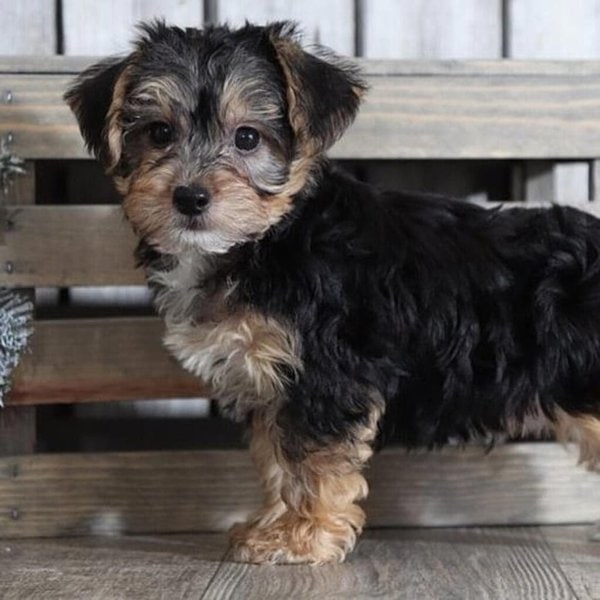 Looking for a minimalist hairstyle for your Yorkie? Then the Quick And Simple does not disappoint. It's actually just what it is – quick to achieve and simple to maintain. Easy!
Trim the hair to uniform lengths, about a couple of inches all over. This way, the fur grows at the same time, which also makes it hassle-free to trim when grooming is needed.
3. Classic Cut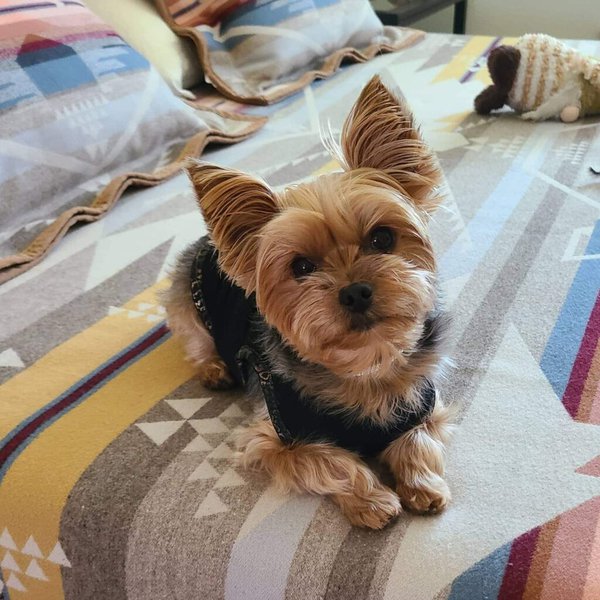 And of course, we have the Classic Cut. It's the look that easily comes to mind when you think of a Yorkie – a couple of inches for the facial hair and a tad shorter for the body.
It's a perfect look for puppies and adult Yorkies alike. The maintenance process is not complex, as well, since you only need to brush the hair a few times a week to keep it tangle-free.
2. Layered Cut
A fantastic option for male or female Yorkie, the Layered cut adds some texture and body to your puppy's fur. This is a comfortable haircut, as well, since it minimizes the density of the coat, so it's not too hot for your pooch.
Want a layered cut that's easier to maintain? Then go for shorter layers. If you want to accessorize, give your pup longer layers for those cute ponytails and braids.
1. Pixie Cut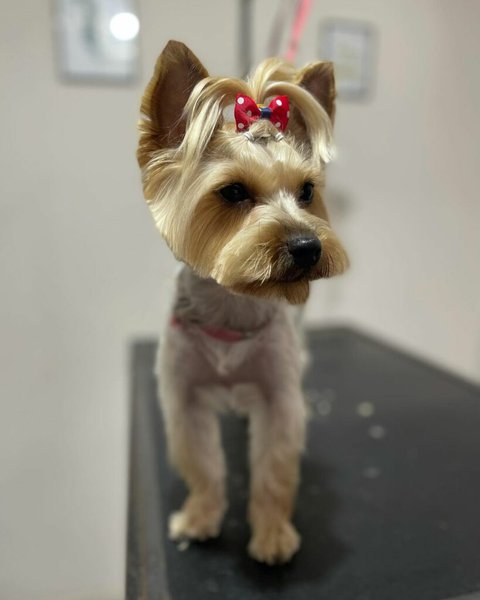 The overall vibe of the Pixie cut is simple – delicate, refined, and yes, pixie-like. It reduces the volume on your pup's face, so it's not too round or too large.
Keep the top portion of the head about 2 to 3 inches in length while the chin and cheeks are shorter. As for the body, you can follow the same length as the top of the head. And voila – a Yorkie-pixie look!
---
Related Questions
---
When Should Yorkie Puppies Get Haircuts? Once your Yorkie is about 4 months young, it should be time for your puppy's first haircut. Keep the ears, mouth, and face trimmed, as well as the rest of the body. Be sure to consult an expert groomer, so it will be a pleasant first haircut experience for your pet.
How Often Should I Bathe My Yorkie? Yorkies should be fine with a bi-monthly or monthly bathing session. But in the case of a more active Yorkie or those with long hair, a weekly bath is necessary to keep your pooch clean.
Should A Yorkie Be Shaved? Yes, Yorkies can be shaved, only when there is a need to do so. Yorkshire Terriers are single-coated dog breeds with coats that resemble a human's hair. It is okay to trim and cut the hair short but certainly not fully shaved. The shortest possible length should be an inch long, which is ideal in the summer but not during the colder months of the year.