When the 12-year-old Pitbull named Lloyd was found wandering around the streets of Niagara Falls by police and brought to the Niagara SPCA, he didn't know that he would become a local celebrity of sorts.
Lloyd was picked up as a stray on July 5, 2022, and was immediately given a medical examination by veterinarians. He was found to be suffering from end-stage renal failure, including a tumor on the back of his leg. His prognosis was not good, and it would only be a matter of time before he passed away.
Amy Lewis, executive director of the Niagara SPCA, described Lloyd as having sad eyes, and she can only surmise what the dog went through with his life.
But, in spite of that, Lloyd managed to get up on his feet and show affection towards Lewis. "His creaky, old body got up and gave me a little kiss," she said.
Bucket List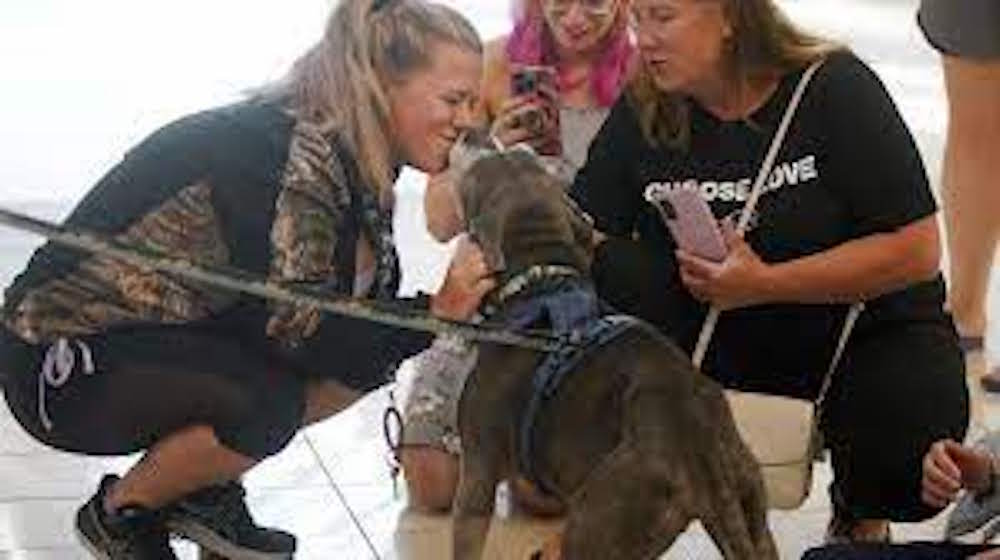 This indomitable spirit gave Lewis the idea that instead of euthanizing the dog, why not give Lloyd the opportunity to spend the remaining time of his life, which the vets said could be anywhere between 3 weeks to 3 months, just enjoying being a dog.
Lewis began posting about Lloyd on SPCA's social media page and created a series of "bucket list" adventures that the dog would love.
It didn't take long for the community of Niagara Falls to jump at the opportunity to spend time with Lloyd. "He is booked up through August," Lewis announced.
One of the first to sign-up was Rachel Stepien, who immediately fell in love with Lloyd. "It's really unfortunate that there are dogs in his situation," she said. She was so smitten with the dog that she booked another time with Lloyd.
Soon, more calls were received by the shelter for an opportunity to spend time with Lloyd and also helped the center. "We were actually blown away. Within a day, our email had over 100 inquiries about Lloyd," Liz Marshall said, who is SPCA's director of marketing and events.
Lloyd's busy schedule since then includes a local TV appearance, a visit to Niagara's and Buffalo's tourist spots, a swimming session, a lunch at the Lloyd Taco Factory, a meeting with the mayor, and a visit from one of Buffalo Bills' players who gave him a special jersey.
Since then, Lloyd has been dubbed "the most famous dog in Niagara County," with the county legislature declaring August 3 as "Lloyd Day."
Pilot Program
Because of the overwhelming response from the community, the Niagara SPCA is pondering if this could be made permanent. "We anticipate that this will be a pilot for a program where the public gets to do this with many of our shelter animals," Lewis stated.
The Niagara SPCA has since created a program called "Make a Shelter Dog's Day," which Lloyd has piloted. The program not only hopes to raise awareness about shelter animals but also about elderly rescue dogs.
As for Lloyd, the veterinarians have given him a new lease on life because of his transformation. While he still suffers from chronic symptoms, the vets say that Lloyd is "going nowhere."