The best automatic fetch machine for dogs is iFetch Interactive Ball Launcher for Dogs.
Any vet or pet specialist would advise you to make time to play with your dogs and you know how much dogs love playing fetch. Having time to play fetch with your dog is an important factor that improves their growth and social development, it's just as important as their health and hygiene.
Your dog should never miss playtime. Experts would recommend a couple of hours a week of fun time to help your dog with its development. There might be situations where you won't have that much time to spend playing around, but who says you can't get some work done while simultaneously letting your pet get its fair share of fun.
Also, Throwing a ball around for your dog to play fetch with might get problematic for your shoulders, especially if you have an injury history. That's exactly where these best automatic fetch machines for dogs come into play. They offer you an alternate option that's fun and a lot less stressful and we're here to review 7 of them. You'll want to read every bit of this.
#1 iFetch Interactive Ball Launcher for Dogs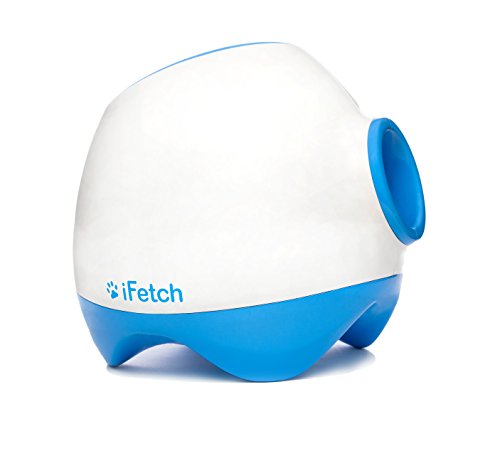 In a simple sentence, I'll tell you why you're going to like this product – it's dynamic. With this machine, you can teach your dog to play on its own or you can be there to make the experience more memorable. It comes in two different sizes; one for small dogs and the other for medium and big dogs. It can also be used with the standard tennis balls and even comes with three free branded tennis-sized balls of its own.
This product can be used both indoors and outdoors. It has three setting that determine the range with which the ball will be projected into the air. The first setting ensures that it can be used in the house without causing any damage. It's rechargeable and on a full charge will launch the ball about 300 times, which means your dog can play for hours. The smaller version of the machine also comes with the option of dry cell battery use.
This brand of fetch machine was the first to revolutionalise the way dog owners played fetch with their pets. And this machine is a product of years of research and improvements made on previously existing ones, which makes it a great product for you and your dog to use.
Pros
---
Can be used indoors and outdoors
Both variants come with three different settings
Comes with three free tennis balls
Easy to use
#2 iFetch Frenzy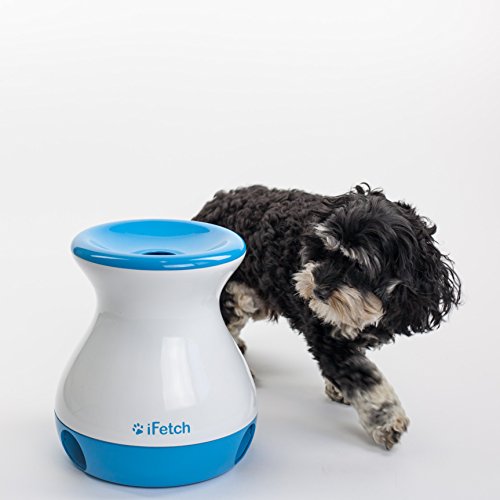 This brand will be perfect for you if you have a small dog that loves playing around your home. The iFetch comes with three branded small sized tennis balls that can be conveniently stored under the machine itself. It has one inlet where the tennis ball goes in and three different outlets where the ball may come out of. This fetch machine is designed to provide much more fun for your furry friends with an increase in suspense.
Because of the way this product is made to function, it is best used in the house within an area of tiled or wooden flooring. When you slide a ball into this toy, it rolls out of one of the three outlets with just enough speed to have your little pooch excited enough to run after it. With proper training, you can have your dog playing fetch on its own while you spend your time doing other important thing. Best part, this 3-pound toy comes at a very affordable price less than $50.
This product is not only ideal because of its price. It doesn't come with batteries, which means it can be used at any time without have to worry about a source of power. It's a contraption that will keep your small-sized dogs engaged for hours on end and give you the chance to do whatever you want.
Pros
---
It's a non-electric fetch machine
3 outlets to induce more fun
Hidden ball storage compartment
#3 Franklin Sports MLB Electronic Baseball Pitching Machine
SALE ALERT!!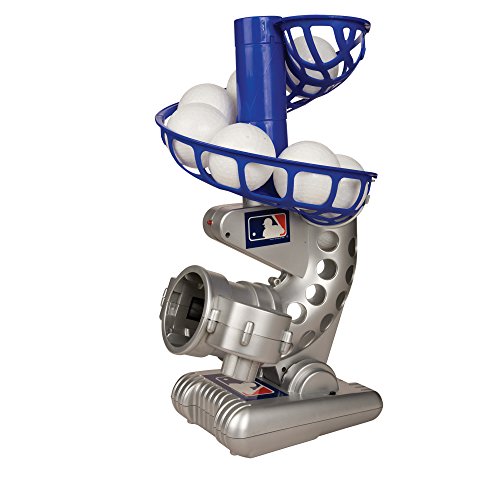 I know what you're thinking. "But this is a baseball pitching machine, what's it doing on this list"? But here's the deal, why limit the use of such a wonderful machine when it can serve the same purpose you want it to? This machine comes with 6 plastic balls, more than enough for your dog to play with.
It has a dimension of 7.75×9.5×9.87inches, making it a portable choice, something that can be easily moved around for comfort. It's best suited for use outdoors and can project balls long distances for your dog's maximum enjoyment. Its height can be adjusted, so can the speed and angles with which the balls can be projected. It even has a light indicator so you will know when the balls are about to come out.
This machine is an excellent choice for your dog. The way it's designed to work, it shoots out each ball at intervals of 7 seconds. This gives your pooch the chance to have fun and stay occupied.
Pros
---
It comes with 6 balls
It has an adjustable height
It has a light indicator for safety
#4 IDOGMATE Interactive Ball Launchers for Dogs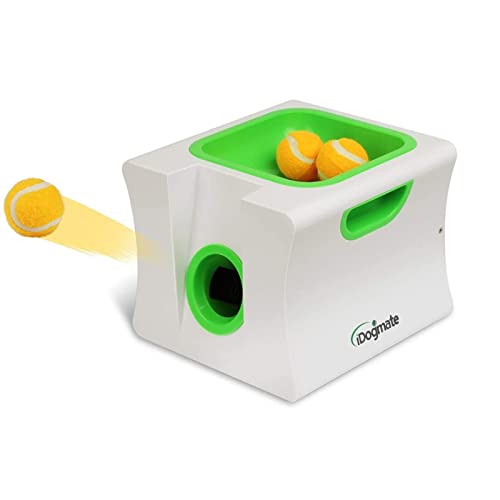 This brand of dog fetch machine comes in two different variants; one for the 1.5inch tennis balls and the other one for the 2.5inch tennis balls. Both the versions can project the tennis balls in any of the four distances set to. It also has an extra setting which lets it picks at random any of the distances to propel the ball. This product is suitable for use both indoors and outdoors.
The small version of this product comes with the 1.5inch balls while the larger one comes with two types of balls, the small-sized and regular-sized tennis balls for small, medium and large-sized dogs respectively. The machine even comes with a remote control for convenience purpose. So you can sit inside your home and still use the machine outside if you want.
It has varieties that are suitable for any size of dogs you might have. It's very easy and safe to use and because of that, it encourages a fun time with your furry friend whether you're inside or outside.
Pros
---
Comes with battery protection system
Comes with a remote control for convenience
Has a rechargeable lithium-ion battery
Comes with four distance settings
#5 Franklin Pet Supply Ready Set Fetch Launcher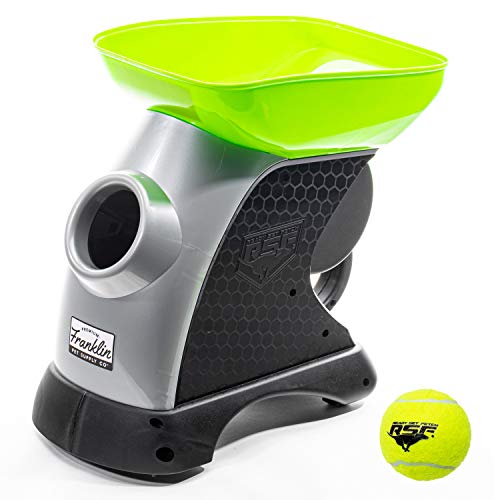 One thing I ensure you will enjoy about this brand of dog launchers is its simplicity. It's designed is such a way that makes it simple and efficient in ensuring your pooch gets the best playing experience. It has retractable legs that help set the height of the machine and hence the height the balls can reach in the air.
With a knob on its side, you have the flexibility of setting the distance you want the ball to get to, up to 40 feet. It's a rechargeable set but also has the option to be used with 8 D-cell batteries so a power source is the least of your worries.
The way this brand of machine is setup makes it really easy to be operated. It can even be used with all types of standard-sized tennis balls. You can also set the angle at which the ball comes out of the machine.
Pros
---
It comes with a standard-sized tennis ball
Can be used indoors or outdoors
Versatile distance setting
#6 PetSafe Automatic Ball Launcher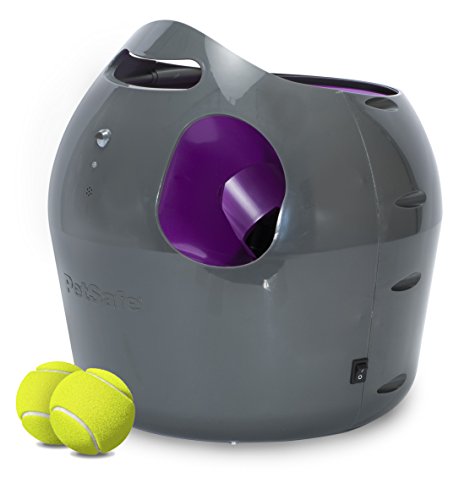 PetSafe Automatic Ball Launcher
Automatic Ball Launcher plays fetch with your dog; interactive features aid in training
Pet receives plenty of exercise chasing launches between 8-30 feet; 9 settings; 6 angle settings
Multiple safety sensors keep people and pets safe; MOTION SENSOR on the front protects dogs and people from launched...
Like other machines, this one has the capability of allowing you set the distance and angle with which the ball is propelled. However, it has some unique features you will definitely like. For safety purposes, it has a sensor in front of it which prevents the launch of the ball when it notices an "obstacle" in the ball's path.
This machine is setup to create a rest period for your dog. After 15minutes of functioning, it goes into sleep mode to allow your dog rest and recoup its energy. It comes with a rechargeable battery and also has the option of use with dry cell batteries.
This brand of fetch machines is particular about safety and this product is one of the few on the market that is designed with a sensor. This dog toy also fosters easier machine-dog communication with the tones it produces when your dog plays with it.
Pros
---
Has various tones for easier communication
Has sensors to encourage safe fun time
It comes with two free tennis balls
---
Best Automatic Fetch Machines Buyer's Guide
---
You know how important it is for your dog to have an automatic fetch machine. Now you're interested in getting one because you're aware of the benefits it brings you and your furry friend. But you can't just go to the nearest pet supply store and pick one up. There are certain things you need to be informed about before making the right choice. We're here to talk about those things so you won't have any regrets later.
The Size of Your Dog
Not a lot of people know this but it's a very important factor to consider, especially for safety reasons. A lot of fetch machines are usually small sized and they function with the mini sized golf balls which are about 1.5inches in diameter. If you have, for example, a German Shepherd like what the 46th POTUS has, you may want to stay away from any type of machine that works only with small ball sizings, as these ball sizes can seriously pose a choking hazard for your big dog.
As a contrast, if you have a small dog and buy a fetch machine that works only with big balls, you little Chihuahua will find it relatively hard to have a fun time grabbing a 2.5inch tennis ball with its mouth.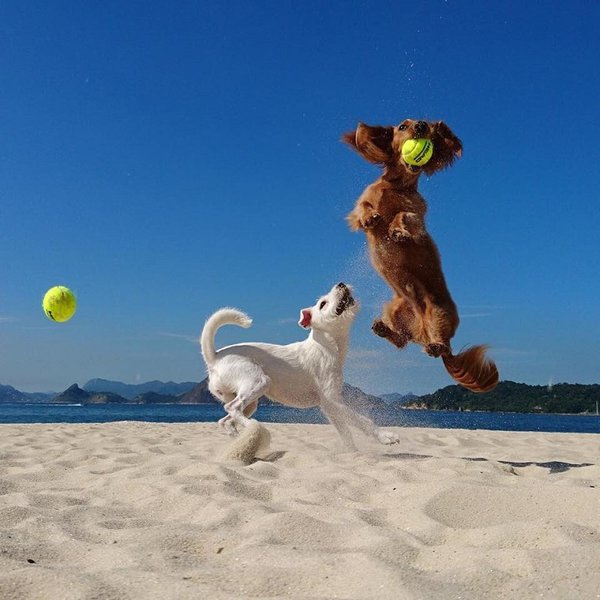 Multi Distance and Angle Settings
I'm sure you want your dog to have as much fun as possible while playing fetch, right? So you will definitely want to buy a product that makes the experience a lot more dynamic. One of the best ways to do this is by choosing a product that has a multiple range of options when it comes to propelling the ball. There are products which have a range of angles, distance and height the ball can go. These are the options you should be looking at.
Safety
Nobody wants to get hurt while having fun, and I'm sure you don't want that for your dogs as well. That's why you can do your best to prevent accidents from happening by choosing a product that will ensure the safety of anyone who uses it. There are fetch machines that have sensors to prevent accidents from happening while playing. If you're particularly concerned about the state of your pooch, getting one of these types will be of the greatest benefit.
Ease of Use
Getting your dog used to playing with a machine isn't so easy. It takes a lot of practice for your furry friends to finally wrap their heads around its functionality. But the good news is, some of these machines take into consideration this factor and help make the job easier. Some of these toys have features such as various sounds they make or the design of their hopper to make your dog's experience easier.
---
Final Thoughts
---
You want the best for your dog because you love it. You want to ensure that when you pick out a fetch machine, you pick one that suits its every need. With all the options you have to choose from, it can become very confusing but that's why we have the buyer's guide to put you through in making the right choice. However, I'd like to recommend the iFetch Interactive Ball Launcher as this is best option available in the market right now.