The best dog belly band is Pet Parents Premium Washable Dog Diapers.
Belly bands for dogs are the perfect solution for male dogs that are unable to prevent themselves from soiling inside your house due to incontinence or other conditions.
So if you're having challenges in-house training your male dog, the belly band is the best solution to your problem.
When it comes to getting a belly band for your pooch, it's important that you choose something that you can make full use of. It should be made of a high-quality and absorbent material that's easy for you to clean. If this is the first time that you are buying a belly band, you may need some help in determining the right one for your pet.
To give you an idea, here's our list of the best dog belly bands, along with reviews to help you make the right decision.
#1 Pet Parents Premium Washable Dog Diapers
Our top choice is the Pet Parents Premium Washable dog diapers because it's comfortable for your pet to wear and it's truly effective. As a matter of fact, it's a top-rated product online, which means that customers also agree with our choice.
This product comes in a pack of three and it's available in different sizes, from extra small, small, medium, large, and extra-large. Thus, it can fit on all kinds of dogs, regardless of their breed.
This dog belly band is very easy to put on your pet. You just need to slip it over your dog's rear and secure it with Velcro fasteners.
We like the Pet Parents Premium dog belly bands because it comes with a sewn-in diaper that offers excellent absorption ability and comes with a waterproof layer that effectively stops leaks to escape into your furniture or floor.
Pros
---
Easy to clean as the diapers are made of waterproof material, such that rinsing them under running water will suffice.
They are environmentally and economically friendly because each pack comes with three differently colored dog diapers.
Suitable for both small and large doggies as it comes in five waist sizes between 11 to 34 inches.
Comfortable for your pup as it is made of a leak-proof outer shell and double & triple stitched interior non-abrasive fabric.
It is used for many purposes, such as pregnancy prevention, UTI infection, incontinence, training, and also protection of medical wounds.
Cons
---
As the diaper wears out, it will leak, meaning that your pups cannot go through the night wearing one.
If not properly washed, the diaper is said to shrink and not fit your pup.
#2 Paw Legend Washable Belly Bands Dog Diapers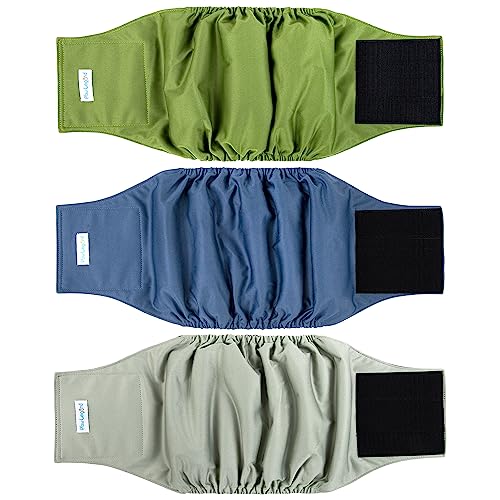 If you're a budget-conscious shopper and would like a product that can give you the best value for your money, the Paw Legend Washable Belly Bands is what we would recommend. It's soft and comfortable enough for your pet to wear even for a longer period.
These belly bands for dogs are available in three different colors that are bright and attractive.
You also get to choose from different sizes for a more comfortable fit. Above all, these belly bands are machine washable which makes them very practical so there's no need to throw them after every use. Indeed, it's a great choice for budget shoppers.
We like this belly band from Paw Legend because it gives you the best value for your money. It's very effective and offers excellent absorbent power.
Pros
---
Made of absorbent material that is sewn directly onto the band and this will protect your rugs and their sleeping areas free of leakage.
The product should fit most doggie waists, as it comes in seven sizes between XXS and XXL.
These dog diapers are pocket-friendly and environmentally safe as they come in packs of three and are also washable.
They are comfortable as they are made of non-abrasive inside fabric and can easily be fastened using the hook & loop closures.
They are useful to any pup suffering from incontinence due to age and illness or recovering from a medical procedure.
Cons
---
It can end up being a waste of money as they shrink if improperly washed, and this means they will not fit anymore.
The Velcro fastener weakens over time, and this means it will not fit properly.
#3 Grecle Premium Male Dog Wraps
Diapers are not just for humans, and we can protect our pets from making a mess all over with these Grecle Premium Male Dog Wraps.
These are washable male dog diapers that come in packs of three. The waistband is washable and is perfect for training puppies and dogs suffering from incontinence. The wrap is made with mesh and a leak-proof PUL layer.
Each diaper in the pack has a different design, and they are washable. This means that you have zero waste, and both you and your dog play a part in caring for the environment.
The waistbands are also very comfortable for dogs so they can sleep and walk around with them. They are fastened using hook and loop closures. At the same time, the band is elastic and should fit most dog sizes.
These wraps make your cleaning work easier for pets with incontinence or in training. We love Grecle Premium Male Dog Wraps and their unique designs. In fact, you can wash and reuse them. They are comfortable and adjustable. Make sure you put it on a relaxed dog to avoid any mishaps.
Pros
---
Reusable and washable and also comes in different colors and designs in a pack of 3 diapers.
They are made of highly absorbent and breathable inner material, which is comfortable for your pups.
It stays on easily thanks to the hook & loop closures.
The dog diaper is comfortable and easy to fit as it has highly elastic edges.
Will fit small and large pup waists of between 7 to 33 inches.
Cons
---
It is too bulky on smaller dog breeds and can be uncomfortable for them.
The Velcro stops fastening after some time, so you may have a hard time keeping it on your pup.
#4 Mkono Male Dog Belly Bands
The Mkono Male Dog Belly Band is a cost-effective and reliable option when it comes to preventing your dog from urinating inside your home.
It's made from soft cotton fabric that ensures a nice and comfortable fit for your pet. At the center of this belly band is a breathable mesh fabric that offers added comfort to your pet and you can also choose to add another absorption pad in this area to further enhance fluid retention.
We like these belly bands for dogs because they are machine washable and can last longer without having to replace them from time to time. You also get to choose from small to extra large size, which ensures a more comfortable fit for your pet.
Pros
---
Perfect for small and medium doggie breeds and comes in three waist sizes between 9 to 21 inches.
It is absorbent yet does not leak easily, as it is made of well-sewn inner material and a leak-proof outer material.
It is comfortable and acceptable to most pups as it is not made of crinkly or bulky material.
They are washable and come in packs of three colored diapers.
Made of a wider base for extra comfort and stays in place using a Velcro fastener.
Cons
---
Some pups may experience leakages, and owners sometimes have to use disposable pads by lining them onto the band.
The stitching on the Velcro fastener can loosen, and the Velcro can also weaken over time.
#5 Pet Magasin Luxury Dog Belly Bands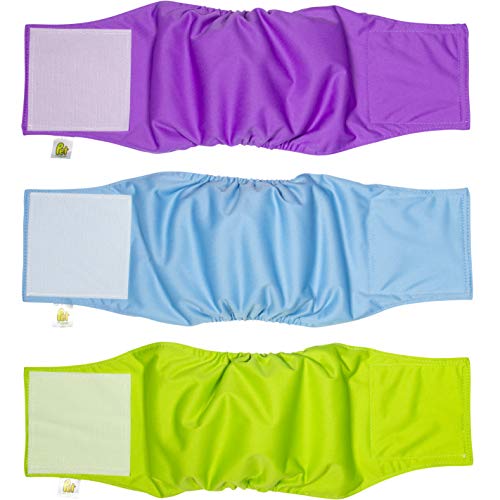 The Pet Magasin Luxury Dog Belly Bands is a set of colorful and high-quality dog belly bands that offer a luxury feel to your pooch. These belly bands are fully washable, which is why they have a much longer lifespan compared to other dog belly bands in the market.
In each pack, you'll get 3 dog belly bands and each has a different color. You also get to choose the size, from small to the extra-large size and can accommodate most dog breeds. The belly bands are easy to adjust and fitted with a Velcro fastener that stays secure until it's time to remove it again for washing.
We like the Pet Magasin Luxury Dog Belly Bands because they are easy to clean using a washing machine. Plus, it has a soft and comfortable design, which is convenient for your dog to wear even for a much longer time.
Pros
---
The band comes in three patterns which are original, camo, or solid, and it also comes in 3 waist sizes varying between 13 to 31 inches, and this is perfect for most pup sizes.
Made of washable polyester fabric, meaning that it has enhanced durability and can withstand several washes over time.
Has a waterproof and absorbent outer material that protects from leakages.
It is easy to wear and fasten thanks to the wide Velcro fastener.
It is perfect for pups who need home training and also those suffering from incontinence or needing to protect a wound.
Cons
---
The Velcro fastener's rough side can catch dirt and hair, and it may eventually stop functioning due to wear and tear.
Leaking is possible if it is not the right size or well fastened.
#6 Teamoy Reusable Belly Band Dog Diapers
SALE ALERT!!
Another popular option for dog belly bands is the Teamoy Reusable Belly Band Dog Diapers. Made specifically for male dogs, these belly bands are available in different sizes suitable for most dog breeds.
The belly bands are padded well to ensure comfort to your pet and are equipped with effective leak protection, courtesy of two layers made of microfiber. These belly bands do a good job at absorbing your pet's urine for the entire day!
Unlike the usual dog belly bands, these dog belly bands have a much wider Velcro closure, which makes it easier to fit into your dog. This design also helps to prevent the belly bands from sliding down or getting off completely.
We like the Teamoy Reusable Belly Bands since they are specially designed for male dogs. Regardless of the body size of your dog, there's always a size that will fit it.
Pros
---
The product comes in a pack of three washable diapers, and such packaging makes it both environmentally friendly and pocket-friendly.
It is easy to wear thanks to the unique large square Magic Tape that helps to keep the diaper in place.
Suitable for most pup breeds as it comes in 8 different sizes.
The product is absorbent yet does not leak easily, as it is made with dual layers of microfiber and a waterproof outer layer.
It is breathable and comfortable, and it fits your pup easily, thanks to the mesh lining and the cotton layer, as well as the elastic edges.
Cons
---
Its available sizings will not fit all doggie types, and an improperly sized diaper can result in leakage or having it slip off with ease.
The Magic Tape loses its gripping properties after some time.
---
Dog Belly Bands Buyer's Guide
---
When it comes to buying a belly band for dog, you don't just buy the first thing that you see online. You need to do your research to make sure that you are getting the right one for your dog.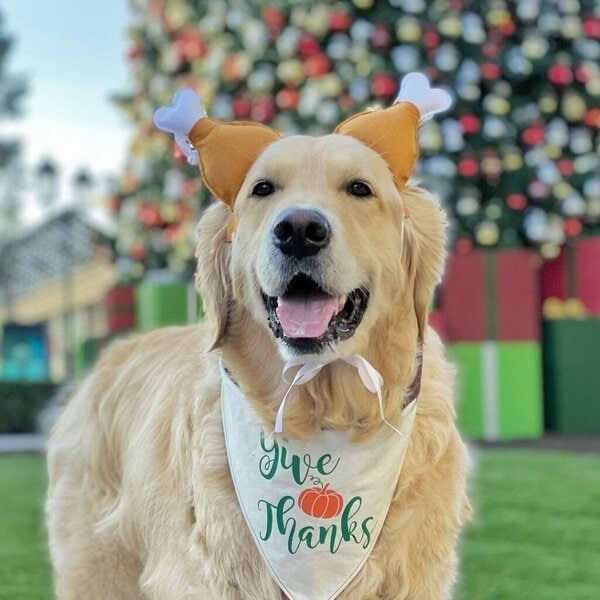 Here are the main factors to consider when buying a belly band for your dog:
Fabric
Remember that the belly band will be in close contact with your pet's body, especially the most sensitive parts. Therefore, you need to find something that's made from high-quality fabric and is comfortable and soft on your pet's skin. When it comes to this, bands that are made of 100% cotton and polyester might be a great choice since they offer extra comfort to your pet.
Design
The design of the belly band is an important factor in ensuring that your pet will be comfortable with the belly band on. Remember, this thing will be on your pet's body for a long period and if it's not designed properly, it can cause discomfort to your pet. If possible, choose something that comes with an absorbent pad that can wick moisture away from your dog's skin.
Fitting
It's very important that you choose something that fits your dog well. Otherwise, it will be uncomfortable for your pet to wear and might even fall as they walk. Therefore, take time to measure your dog's body properly before you start shopping for a belly band.
Machine Washable
If you don't want to go through the hassle of hand washing the belly band after every use, then choose a model that's machine washable. Remember that you need to wash this band after every use to make it more hygienic for your pet. Also, choose a belly band that can stand up to the frequent machine washing.
Patterns
Of course, you also want your pooch to look presentable despite having a belly band. While this may not be an important factor for some people, getting a belly band with attractive colors and patterns can make your dog look even cuter.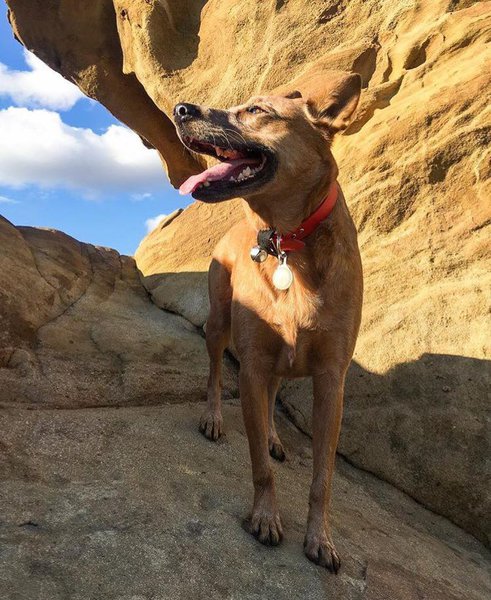 Why Use Dog Belly Bands?
So what exactly can a dog belly band do for your pet? Is it really worth it?
Here's how your dog can benefit from the belly band.
Helps With Housebreaking
There are certain breeds of dogs that are just too difficult to housebreak compared to others. While you still need to ensure that your pup gets proper training, having a belly band can help you during this challenging moment.
Discourages Marking
Sometimes, your male dog will be too determined to claim its territory in your house and will end up urinating in it. Although training and neutering can end this annoying practice, sometimes it just won't work. When it comes to this, getting your dog to wear a belly band could be a great temporary solution.
Shields For Sprinklers
The main purpose of dog belly bands is to help pooches suffering from incontinence that can't control their leak. It's also an effective solution for pets that are housebroken and can't contain themselves during certain situations. If your dog is urinating more than the usual, make sure you take it to the vet immediately.
Prevents Accidental Leaking
Just like people, dogs are prone to several illnesses, especially when they get older. One of the conditions that your pet will most likely suffer from with age is incontinence. In this case, the band can help to prevent accidental leaking inside your house.
Prevents Mess In Unaltered Females
Female dogs require a different kind of belly band than the males but certain models can work for both males and females. These belly bands are very useful in preventing mess resulting from your female dog's cycle.
Helps With High-Stakes Situations
Even though your dog may have been trained to pee only on the right places, there are situations where you cannot prevent them to take a leak. This could happen while you're out in the mall, at a pet's store, or anywhere else. To avoid these awkward situations, you should consider getting your pets high-quality belly bands.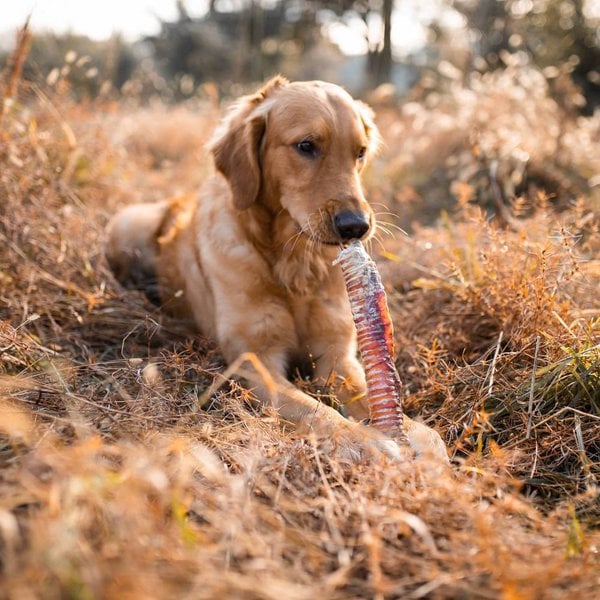 How To Put A Belly Band On Your Dog
To put the belly band on, start by placing it in front of your dog. Allow your pooch to sniff it while giving it its favorite treat. Next, place the belly band on its back area and continue to feed it with treats. Finally, start putting the band on it. If you're lucky, your dog might just allow you to put it without any fuss.
The key is to not associate the band with something negative and your dog shouldn't think that it's being punished. Remember that belly bands are only used as a temporary measure to prevent accidental messes in your home while you train your pooch where it should urinate. To make it easier for you to encourage your dog to wear the band, choose something that fits it perfectly so it will feel comfortable with it.
---
Final Thoughts
---
We like our top pick a lot, which is why it's our top choice out of all the other dog belly bands in this list. This product is just comfortable for your pet, which makes it easier for you to put this on.
Furthermore, it's available in different sizes so you can be sure that you will be getting something that will fit your dog well. But what makes this product stand out is that it's so easy to fit into your dog and comes with secure Velcro fasteners that will not cause the band to easily fall off.