The best dog food for huskies is Purina Pro Plan SAVOR Dry Dog Food For Huskies.
Huskies are a little different from your traditional family dog.
They have unique eating habits and are known to self-regulate how much food they will eat. Huskies (or also known as Siberian Huskies) can also be very stubborn and will simply refuse to eat certain foods if they dislike them.
With regards to nutrition, Huskies require holistic, organic, and human-grade certified high-quality dog food. Most importantly, they need a diet that will help keep their skin and coat healthy. These dogs have a double coat with a thick undercoat, and a hard outer coat. They require a diet that will help maintain a shiny and healthy coat.
Here is our list of the best foods for huskies.
#1 Purina Pro Plan SAVOR Dry Dog Food
With juicy cuts of lamb and teeth-cleaning kibble, this dog food is hands down the best formula for your Siberian Husky according to us. It has a well-balanced formula of protein-to-fat ratio that keeps your pal lean and strong. Lamb is the #1 ingredient with rice as a source of carbohydrates, creating a super-premium dog food that doesn't compromise on flavor or nutrition.
The tasty flavor with crunchy teeth-cleaning kibble and tender, meaty pieces makes it hard even for the fussiest eaters to wait till mealtime. This dog food is accompanied by a healthy dose of linoleic acid, Vitamin A, and omega-6 fatty acid to promote healthy skin and a shiny coat.
The natural prebiotic fiber sourced from wheat bran will keep your adult husky's digestive tract healthy. It is also a great source of glucosamine which is especially important for adult dogs suffering from joint problems.
Overall it offers a 100% complete diet formulated to provide a healthy, active life for your Siberian Husky puppies and adults.
With lamb as its first ingredient, it delivers outstanding nutrition and provides all the essential amino acids that your Husky needs. This Siberian Husky food is our top pick because it uses some of the highest quality ingredients that can't be found in other similar dog foods, while providing optimal palatability and flavor.
Pros
---
Available in a 35-lb bag containing dry kibble and moist morsels that are made of shredded blend lamb and rice formula and this will feed your Husky for a while and offer a meal with a cocktail of tastes and textures.
Made of a high-protein formula as real lamb is the first ingredient, and this helps to give your Husky lean muscle support.
Contains live probiotics and prebiotics, and their main role is to promote gut health while helping your Husky to properly digest their food.
It is rich in vitamin A and omega-6 fatty acids, which helps your Husky's smooth skin and shiny coat.
The rice in the dog food is a good source of carbohydrates, and this gives your pups the energy to play or train.
Cons
---
Some pups had loose stool or diarrhea after eating this dog food due to having a sensitive stomach.
Some doggies find the kibble too hard to enjoy and will not eat the food.
#2 Purina One SmartBlend Dog Food
Purina ONE Dry Dog Food Lamb and Rice Formula - 40 lb. Bag
One (1) 40 lb. Bag - Purina ONE Dry Dog Food Lamb and Rice Formula
Natural dog food with added vitamins, minerals, and nutrients has a Purina ONE SmartBlend of high-quality ingredients,...
Is Purina ONE good for dogs? Real lamb is the first ingredient in this high protein dog food kibble, helping supply...
Huskies need the best quality nutrition, and it's not very often that we come across high-quality ingredients at an affordable price. Purina One SmartBlend makes itself stand out because of its affordable price. They also offer a 28-day challenge whereby customers can claim a refund if they are not happy with the product during the first 28 days. If you are on a budget but want to try out something new for your Husky, this one is a great choice.
The main ingredient is real lamb presented in shredded blends for a meaty morsel. The rice formula which is a high source of carbohydrates supplies the required energy to your active Husky. It has a dual defense antioxidant blend of Vitamins and minerals that promote a strong immune system.
This dog food's formula is highly digestible and has a blend of crunchy kibble and meaty morsels rich in protein for a palatable meal your dog will not resist.
As far as affordable Siberian Husky foods go, this one is a winner. It's nice to see that they are using real meats as the source of protein. It would've been nice if they named the source of the animal fat but overall, the balance of fat and protein is pretty good, and it's a great and affordable choice for anyone on a budget.
Pros
---
Comes in a 40-lb bag that will give your Husky many meals to enjoy and comes in a mix of dry kibble and moist bits in lamb and rice formula to offer them a flavorful meal.
This is a protein-rich dog food formula that has real lamb, which offers your Husky lean muscle, and this helps with weight management.
Contains vitamins, minerals, and omega-6 fatty acids, and these work together to give your pup bright eyes, smooth skin, and a healthy coat.
Contains prebiotics in this microbiome-balanced formula, and these help with gut health, immunity, and digestion.
This dog food contains antioxidants, which are key in fighting free radicals as well as offer immune support for your Husky, while glucosamine helps with joint health.
Cons
---
Some Husky owners noted that the dog food was moldy, and this can happen due to the moist bits in the food.
This product can sometimes cause vomiting and diarrhea, especially in pups that have sensitive stomachs.
#3 Iams Proactive Dog Food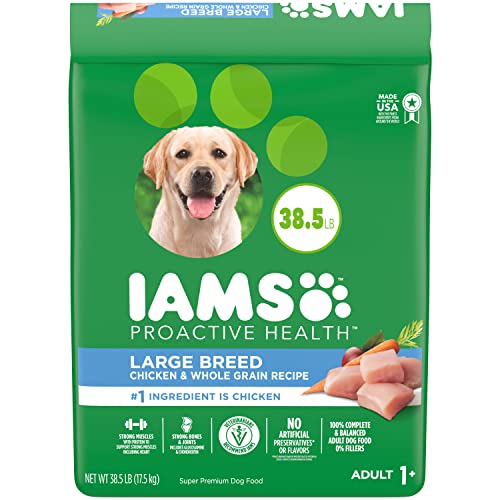 Iams Proactive Health is especially for large breeds like Huskies. The proteins in this recipe are high-quality and sourced from hearty, real chicken and egg to help maintain lean muscles in your dog. To enhance the nutritional value of chicken, it has additional nutrients, fat-burning ingredients, and fatty acids to cover all the bases of a strong and healthy dog.
Large breed dogs like Huskies can be prone to weak joints, so Iams has added naturally sourced chondroitin and glucosamine that promotes healthy bones to support their active lifestyle. This dog food is also enriched with omega-6 fatty acids and flaxseed (omega-3 fatty acid) that takes care of their skin and gives a soft, shiny coat.
What is notable about this Iams Proactive Health formula is that all the by-products and meat meals are sourced from a single, identified species.
This Siberian Husky food provides a great-tasting formula that caters to your Husky's specific nutritional needs. Every bowl you feed your dog will provide a wholesome dose of 100% balanced and complete nutrition.
Pros
---
This dog food comes in a 38.5-lb bag, which contains small kibble for easy chewing, and it is suitable for larger dog breeds like Huskies.
This is a complete and balanced dog food as it only contains natural ingredients and no fillers, with proteins with chicken being the primary ingredient, and this helps your Husky with lean muscle support and strong heart health.
It contains glucosamine and chondroitin, which are responsible for stronger bones and joints that your Husky needs for playing or training.
It is rich in probiotics and wholesome fibers like whole grains, which help with gut health, immunity, and digestion.
It contains no preservatives or artificial flavors, and this is suitable for pups with sensitive digestive tracts.
Cons
---
Some dogs do not like the smell or taste of this dog food kibble, depending on their taste preference.
Some Huskies have experienced stomach upsets and lethargy after eating this dog food.
#4 Blue Buffalo Wilderness Dog Food
SALE ALERT!!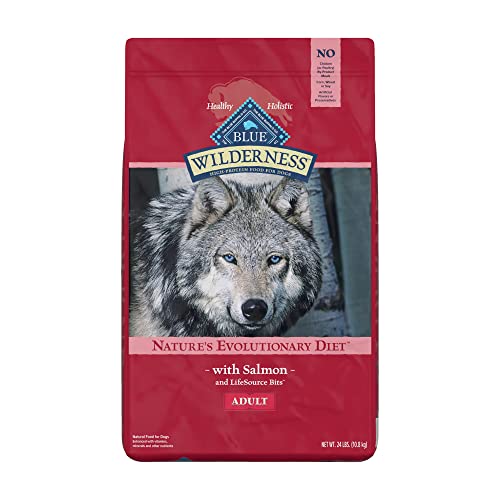 Blue Buffalo Wilderness High Protein, Natural Adult Dry Dog Food, Salmon 24-lb
MORE SALMON IS COMING: An evolution of your dog's formula with more salmon than ever, plus wholesome grains
PACKED WITH REAL SALMON: A recipe made to satisfy your dog's natural love for meat, this high protein dog food...
HEALTHY INGREDIENTS: BLUE Wilderness grain free dog food, made with healthy carbohydrates including sweet potatoes and...
Bigger breeds like Huskies have nutritional needs different from their smaller brethren. The grain-free formula from Blue Buffalo Wilderness is designed specifically for large breeds. It is made from deboned salmon, fish meal, and chicken meal for optimal protein supply. This dog food is also loaded with wholesome veggies and fruits.
The recipe contains chondroitin and glucosamine which are essential for maintaining healthy bones and joints. The formula is 100% free from wheat, soy, corn, poultry by-product meals, and artificial flavors and preservatives. This grain-free option and high protein content will help to reduce upset stomachs and food allergies in your Siberian Huskies.
This dry dog food is made with more meat to satisfy the wolf in your Husky. The deboned salmon, fish meal, and chicken meal offers a protein-rich, flavorful meal that your large, active dog will love.
Pros
---
It is available in a 24-lb bag of adult dry dog food, which has been certified as 'climate pledge friendly' and this means this brand is committed to preserving the natural world.
Comes with a blend of protein and carbohydrates from the real salmon, potatoes, and peas in the formula, and these ingredients help your Husky with lean muscle support, energy, and heart health.
Contains minerals like phosphorus and calcium, and these promote healthy teeth and bones that your Husky needs in their everyday activities.
This dog food contains antioxidant Lifesource bits, and this is a blend of vitamins and minerals that support all life-stage needs and promotes your doggie's immunity.
This dog food contains natural ingredients and has omega-3 and omega-6 fatty acids perfect for a Husky's skin and coat health.
Cons
---
Some pups experienced cysts and rashes after an allergic reaction to the dog food.
Diarrhea was experienced by some Huskies, and this could be due to having a sensitive stomach.
#5 Nutro Ultra Dog Food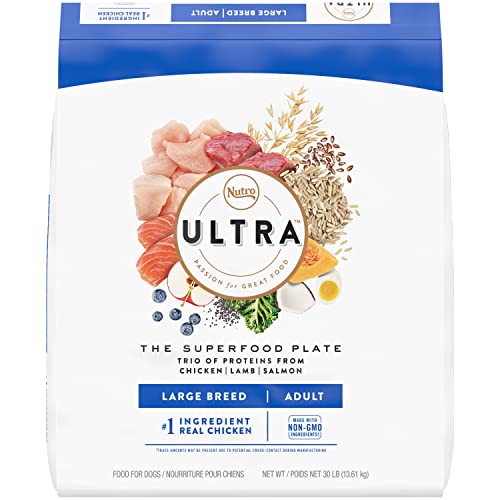 Huskies have big nutritional needs. They need wholesome ingredients to satisfy their appetite and nourish their athletic body. This Nutro Ultra dry dog food is a smart choice as it features a trio of protein from lamb, salmon, and chicken. The #1 ingredient here is chicken. The amount of protein isn't exactly outrageous, but the 23% (min) content is fairly hefty.
Of course, they have absolutely no poultry by-product meal, wheat, soy, corn, or any artificial colors, flavors, or preservatives. If your Husky suffers from weak digestive health and food-related allergies, this canine food could be the answer for you.
Another highlight is the blend of 15 superfoods like chia, coconut, blueberries, kale, and other high-quality ingredients.
The trio protein sources and 15 vibrant superfoods make for an unbeatable combination. Your Husky will enjoy a delicious and nutritious diet that will meet his specific nutritional needs every day.
Pros
---
This 30 lbs of dog food comes in pellet form, and it is rich with proteins like real salmon, chicken, and lamb, which help your Husky obtain lean muscle and a healthy heart.
This dog food contains up to 15 types of superfoods, including coconut, blueberries, chia, and kale, and they help with your immunity and overall health.
It is made of natural ingredients and does not contain GMO ingredients, fillers, or artificial ingredients, and this means your Husky gets full nutritional value from this food.
Contains carbohydrates, such as rice bran, and whole brown rice, and they give your Husky the energy to run around.
It is rich in fibers and probiotics like oatmeal and flaxseed, which help with digestion and gut health.
Cons
---
Some pups experience a running stomach, especially after their first few times eating this dog food, and this could be a result of changing dog food brands.
Some pups sometimes experience lethargy after eating this dog food.
#6 Royal Canin Maxi Adult Dog Food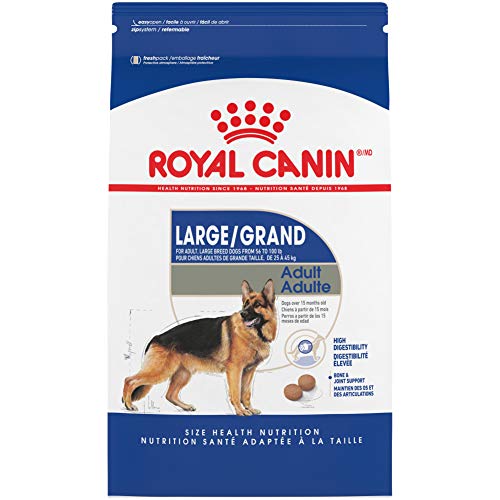 Royal Canin Large Breed Adult Dry Dog Food, 35 lb bag
LARGE BREED DOG FOOD: Royal Canin Large Breed Adult Dry Dog Food is precise nutrition specifically made for large dogs...
BONE AND JOINT HEALTH: Mature dog food helps support bones and large breed joint health in older dogs
HEALTHY DIGESTION: Easy-to-digest, high-quality proteins and a balanced supply of fiber promote dog digestive health
Royal Canin Maxi Health Nutrition with its all-natural, grain-free, holistic formula is a great choice for finicky Huskies. The carefully selected aromas and texture are guaranteed to satisfy your dog's appetite.
This Siberian Husky dog food has an exclusive formula with a balanced dietary fiber and high-quality protein to help dogs suffering from poor digestion.
Since large dog breeds are commonly known to put a lot of stress on their joints and bones, it has key nutrients to help support healthy bones and joints. The Omega 3 fatty acids, DHA and EPA, promote healthy skin and a shiny coat.
This dog food stands out for the aroma and texture designed to induce even the fussiest Husky eaters to enjoy mealtime.
Pros
---
This dog food is available in a 30-lb bag of large dry kibble, which is suitable for large Huskies weighing 56 lbs to 100 lbs between the ages of 15 months to 5 years.
Contains a range of proteins, and this helps to give your Husky lean muscle support as well as healthy heart muscles.
Contains prebiotics and probiotics, which are responsible for your pup's gut health, which in turn boosts immunity, while at the same time aiding digestion and bowel movement.
It contains a blend of antioxidants, which help to fight free radicals as well as boost your Husky's immunity.
This dog food contains omega-3 fatty acids, EPA, and DHA, and they work together to give your pup healthy skin and coat.
Cons
---
Some pups felt unusually thirsty after eating this dog food, making them urinate more often than usual.
Some pups with sensitive tummies experienced vomiting and lethargy after eating this food.
#7 Eukanuba Adult Dog Food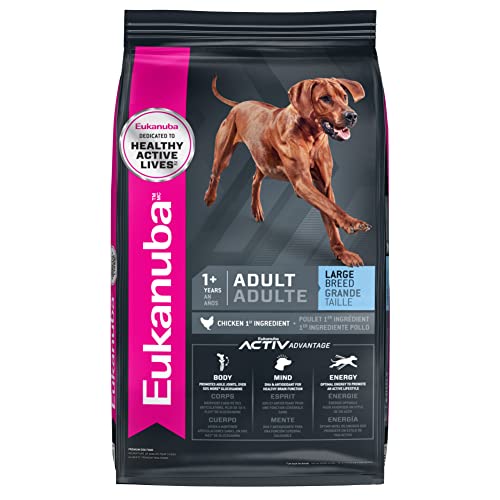 Eukanuba Adult Large Breed Dry Dog Food, 30 lb
FOR ADULT LARGE BREED DOGS: Eukanuba Adult Large Breed Dry Dog Food is complete and balanced nutrition for large breed...
MUSCLE & JOINT SUPPORT: A combination of animal protein, glucosamine, and chondroitin sulfate promotes lean muscle...
HEALTHY BRAIN FUNCTION: DHA and vitamin E support healthy brain function and help keep dogs sharp
If your Husky is gaining a lot of weight, you might want to try out the Eukanuba Adult Large Breed formula. This dry dog food has chicken as its first ingredient, and it helps to maintain lean muscles. Your Siberian Husky's nutrient absorption and healthy digestion will be at an optimum thanks to a system of specialized fiber made from prebiotics and natural beet pulp.
This dog food is proven to eliminate tartar build-up and promote healthy bones and joints with chondroitin and glucosamine. Your high-performance Husky will have healthy skin and coat with Omega 3 & 6 fatty acids. This recipe has zero artificial coloring or flavors.
The Eukanuba Adult Large Breed formula is a great choice for Huskies suffering from weak digestion. It also works effectively to reduce any tartar build-up in your pet Husky for a healthy dental state.
Pros
---
It comes in a 33-lb bag containing pellets that are palatable for adult Huskies over the age of one year.
It contains about 50% extra glucosamine whose main role is to boost joint health and promote agility as well as chondroitin sulfate, which work together for lean muscle support for your Husky.
It is rich in DHA and vitamin E, both of which help to boost mental activity and overall brain health.
It is rich in fats and carbohydrates, all of which promote healthier skin and softer coats and provide your Husky with much-needed energy for its daily needs.
The bag has a resealable opening, which helps to keep the entire bag of dog food dry and fresh.
Cons
---
Some pups had loose stool and vomiting due to having a sensitive stomach.
The smell can sometimes put off pups the first few times they try this dog food and it is just a matter of taste and preference.
---
Dog Food For Huskies Buying Guide
---
Buying the right dog food for Siberian Huskies can be overwhelming because there are so many choices in the market.
Here are some factors to look for in a kibble in order to know which the best canine food for your Siberian Husky puppies and adults.
Meat & Protein
As a Husky owner, the first thing you need to look for in dog food for Siberian Huskies is the meat content. Huskies are high-energy, active dogs. In order to keep up with their incredibly active lifestyle, Huskies need a premium quality kibble with high animal protein to keep them charged. Always make sure the first ingredient is a meat product followed by a meat meal. Sometimes, the meat meal dog foods have higher stored protein compared to fresh meat.
Related: 28 Colors & Patterns of Siberian Huskies
Healthy Skin & Coat
Siberian Husky owners know that this breed sheds massive amounts of hair. So be sure to brush them often with a de-shedding brush.
This shedding process generally happens two times a year and feeding them the right nutrients can give them healthy skin and coat and reduce hair-fall visibly. A good piece of advice is to start when they are still young as Husky puppies. Their daily diet should include omega 3 & 6 fatty acids, and fish oils which are great supplements for healthy skin and a shiny coat.
Vitamins & minerals also contribute a lot to healthy skin and coat.
Glucosamine & Chondroitin
These are important for healthy, strong bones and joints. It will also serve to keep them strong as they grow older. Some pet parents give them supplements, but you can save a lot of money by simply buying dry dog food that is infused with natural sources of Glucosamine & Chondroitin.
The two supplements may be commonly considered more relevant for older Huskies because their natural production decreases with age, but it is also a good idea to start early because some Huskies suffer from weak bones from a very young age.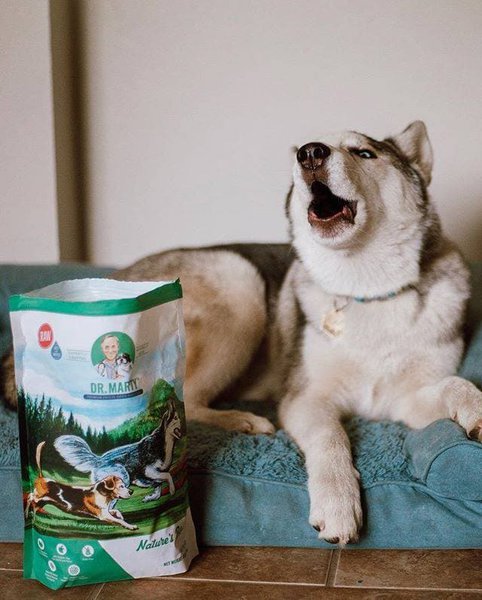 Understand The Eating Habits Of Your Husky
How Often To Feed Your Huskies?
How often your Siberian Husky eats will depend on what they are used to and what works for them. It will also partly depend on what is convenient for Husky owners. Some Huskies eat just once a day while some will even nauseate and throw up if they are not fed for an extended period of time.
The recommended routine is to feed them a minimum of two times a day. This will help to avoid the risk of eating too much at a time because it increases bloating and other life-threatening conditions.
However, keep in mind that it is more important to consider the quantity of food you feed your Siberian Husky as opposed to how often you feed them in a day.
How Much Food Should You Feed Your Siberian Husky Puppy?
Once you have chosen the right dog food for Siberian Huskies, it is time for you to check out the feeding instructions that come with every product. The amount of dog food you feed your Siberian Husky puppy will depend on what ingredients are there in the Kibble like nutrition, energy content, etc. Make it a point to follow the instructions that come with each packet.
Best Dog Food for Mixed Breed Huskies
Unless your Siberian Husky is mixed with a particular breed with specific dietary requirements, you can basically feed the same dog food as you would normally feed a full-bred Husky.
If your dog is not as active as a normal Siberian Husky, you might want to hold back a little on the amount of kibble you feed them because dog food for Siberian Huskies is normally high on animal protein. However, feeding this mixed breed a high-protein diet will also not harm their health. Just feed the dog food that you would normally feed your Husky.
Related: High Protein Dog Food
What To Feed Your Huskies?
Siberian Huskies have a lot of stored up energy, and they can be incredibly active. They are generally not picky eaters, but their unique feeding habits may complicate things. For example, they will not eat if they feel full, they can get bored of a certain type of food, and they will eat only when they want to eat.
This is why you need to look at the quality of dog food for Siberian Huskies that you buy them and make sure it has the right supply of protein, carbohydrates, fats, minerals, and vitamins that the body needs of a large breed like the husky.
Proteins
Like most large breeds, Huskies have so much energy. They need a high amount of protein in their body depending on their body type, age, etc. It helps to build their bones and muscles while also supplying the energy they need to lead an active life. You will get high-quality protein in whole meat or fish ingredients.
Carbohydrates
Domestic dogs during ancient times would have fed solely on meat which is also a source of fats. There is very little chance for them to have fed on carbohydrates like rice, potato, and wheat.
Siberian Huskies really do not need to eat carbohydrates, but most manufacturers use it as a cheaper source of filler.
Fats
High-quality fatty acids for a dog's diet include Omega-3 & 6 which is found in sunflower oils, flaxseeds, poultry fat, and salmon oil. It will help produce hormones, strengthen the immune system, build nerves, muscles, tissues, and cells in your Siberian Husky. Good fats can also help to reduce inflammation effectively.
Minerals And Vitamins
Vegetables and fruits are good sources of minerals, vitamins, and antioxidants. Vitamin A provides healthy skin and coat and also gives healthy vision as Huskies commonly suffer from corneal issues. Vitamin B9 protects against calcium and anemia which is sourced from eggs. Pea, sweet potato, and potato are good sources of fiber.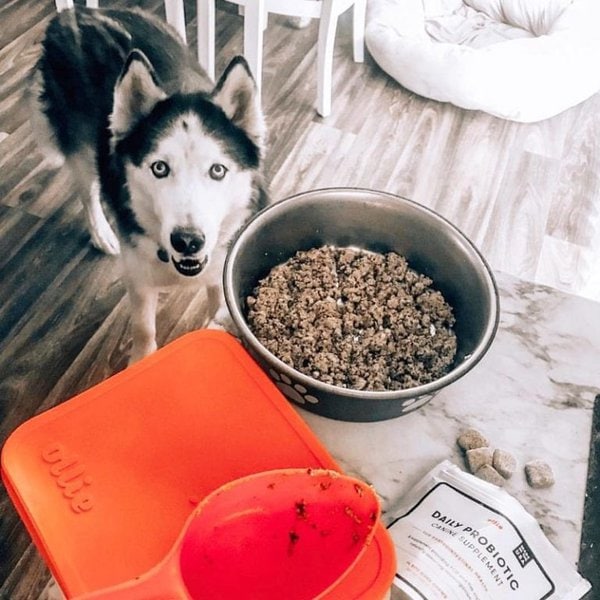 Common Health Problems In Huskies
Huskies are one of the most loving and loyal breeds of dogs. However, they can be prone to some health problems and conditions that other dog breeds might not have to deal with.
One common problem for huskies is canine hip dysplasia which occurs when the ball-and-socket joint becomes loose in the hips or when it doesn't form properly from birth. This condition often leads to pain, lameness, and difficulty walking as well as arthritis over time.
Possible Health Issues To Keep An Eye Out For
Huskies commonly suffer from cataracts, and it can develop in their eyes as young as 6 months old. They can also get allergic reactions which may lead to skin disorders and even discoloration of pigments on their nose. On the bright side, this is a very strong and healthy breed and does not normally suffer from joint problems and hip dysplasia.
Food Allergies
It is common in all dog breeds to have intolerance and allergies to certain types of foods. Red meat is a common culprit along with gluten in grains which may cause irritations. Dogs have a short digestive tract, and it often faces issues when trying to digest tough fibers found in grains.
They will pass their stool frequently, making it impossible to absorb the nutrition from the food. Many canine food manufacturers are now making gluten-free dog foods to help avoid allergies.
There are many factors that can cause unpleasant reactions, and the only way to find out is through experience. However, you can reduce this likelihood by trying to avoid commonly problematic ingredients.
Unhealthy Foods To Avoid
It is a good idea to avoid dog foods that have meal (or known as 'by-product') as their main ingredient. According to PetMD, meals are made from carcasses and bones of animals, and it adds little to no nutritional value. Siberian Huskies are large breed dogs and need protein sourced from whole meat.
No matter what breed your husky is, you should altogether avoid feeding them grapes, coffee, raisins, and chocolates. Grains like soy, corn, and wheat are fillers and difficult for huskies to digest. It often causes allergies and poor digestion.
When a product lists an ingredient as meat, it could be anything from dead rats to roadkill. It sounds terrible, but you should not risk feeding such low-quality food to your Husky.
---
Final Thoughts
---
Choosing the best dog food for huskies is ultimately up to you. As a pet owner, you will know whether or not your dog is healthy, or if he has any food allergies, digestive issues, etc.
Purina Pro Plan SAVOR Dry Dog Food works wonderfully well for most of the large, active breeds like Huskies. The first ingredient (lamb) is a good source of protein known for effectively increasing muscle mass. If your Husky constantly suffers from diarrhea or an upset stomach, the rice and wheat bran in the recipe will be gentle on their digestive tract and stomach.