The best dog ID tag is If It Barks Pet ID Tag.
It's common to hear stories of missing pets, most especially dogs. These adorable canines are curious by nature. Whenever they see something interesting during your outdoor walks, you cannot stop them from venturing far from you. Thus, the best thing that you can do as a pet owner is to get the best dog ID tag for your pet.
The dog ID tags can be attached securely to the pet's collars. It will include important details like your name, contact information, phone number, home address, and other details that can help people locate you if your pet gets lost. The tag serves as your pet's ID card, just like our own identification cards.
If you believe you need an ID tag for your dog, here are some of the best dog ID tags that we recommend.
#1 If It Barks Pet ID Tag
Of all the ID tags online, our top choice is the If It Barks ID card. What's great about this ID tag is that it allows you to add a touch of humor to your pet's collar since these personalized tags are available in a wide range of designs.
Manufactured in the United States, these tags are made from a durable stainless steel material with a smooth texture and well-polished look. The details are inscribed using fiber laser technology, which makes them easy to read.
When buying this dog ID tag, you'll have a wide range of illustrations to choose from. Most of these illustrations have a sense of humor to them, which makes them look even more interesting on your pet's neck. The illustrations are attached on one side of the tag and feature funny illustrations of dogs doing different funny activities like holding a phone, sleeping in a bed, etc.
We like the If It Barks ID tags because they come in two different sizes – large and medium. If you've got large dog breeds, the large size would work best. Otherwise, go for the medium size.
Pros
---
This pet ID tag gives you over 25 personalized designs for you to choose from based on your pup's preference and personality for easy identification wherever they go.
The tags are engraved with quality laser engraving techniques, and this means that they will last for years.
Manufactured here in North Carolina, they are made of heavy-duty double-sided premium stainless steel material that makes them durable, which means your pup will have a hard time trying to destroy the tag.
The tags can be customized with up to 4 lines of 15 characters each engraved, and you can put details, such as your pup's name, your home address, and emergency contacts, should your doggie be stranded.
You have two size options to choose from, namely, Medium (1 inch) or Large (1.25 inch), and it also comes with a slip ring for easy attachment to your pup's collar.
Cons
---
The engraving is sometimes hard to read from a distance and requires the right amount of light to view the details.
Some customers did not get their preferred personalized tag from the available ones.
#2 Funny Dog And Cat Tags Personalized Collar ID Tags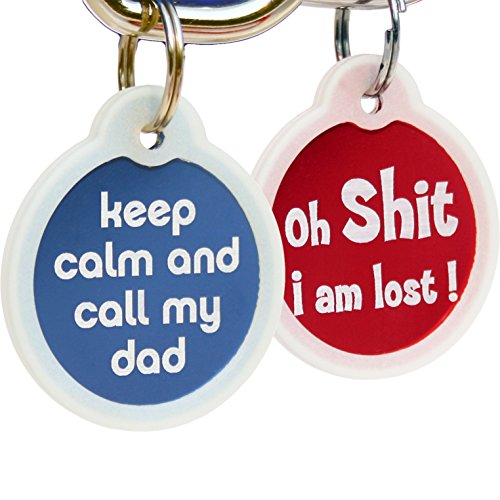 For budget-conscious pet owners, the Funny Dog and Cat Personalized Tags are what we would recommend. These tags are very durable and will not get broken easily despite the daily wear and tear.
Therefore, the money you'll spend on buying these tags for your pet will be worth it. The tags can accommodate up to four lines of laser engraved text so that you can include plenty of essential details in it.
What's more, these tags come with a glow-in-the-dark silencer, which eliminates the annoying noise created by the tag and keeps the engraving fully protected.
If you order the tag, you can get to choose from different designs and colors. The text that you want to include in the tag will be engraved using high-powered lasers that will vaporize the material. This will leave you with an engraving that's very clear and easy to read.
So, in the event that your dog accidentally gets lost as you take it for a walk outdoors, anyone who will find your dog will easily identify your contact details from the text that's written on the ID tag.
We like the Funny Dog and Cat Personalized Collar ID tags for pets because it's very durable and doesn't cost a lot of money. It's made from premium quality material and the engraving is written using a high-powered laser.
Pros
---
Made of anodized aluminum and comes in a shiny stainless steel color, which makes the tag durable and able to serve your pup for a long time.
The tags can be personalized with a funny, unique phrase on the front of the tag and up to 4 lines of crucial information at the back, which makes it easy for anyone to contact you if your pup runs away.
The tag has a glow-in-the-dark silencer, which protects the tag and its engravings, and this helps to absorb the tag noise.
The engraving is clear and long-lasting as it is done with high-powered lasers, and this keeps your information readable for a long time.
The tag size is about 1.4 by 1.2 inches, comes with a slip ring for a dog collar, and is made and shipped within two business days after ordering so that you can tag your pup as soon as possible.
Cons
---
The engraving is done on the painted section of the collar, and this means it can come off after some time.
The tag is thin and can be destroyed, especially by larger or more active doggies.
#3 GoTags Stainless Steel Pet ID Tags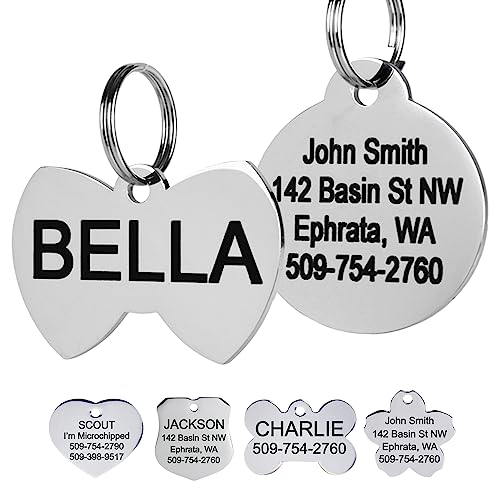 Created by a company based in Washington, USA, GoTags Pet ID tags are suitable for all dog breeds. These tags are made from stainless steel that's both long-lasting and durable. Investing in these durable ID tags for your pet is indeed worth it. It's guaranteed to last long so you won't have to keep on buying a new one for replacement.
With the GoTags ID tags, you can get to choose from nine different shapes that include a flower, ranger badge, bow tie, etc. The smooth surface is as clear as a mirror, and there's enough room to engrave plenty of information. In fact, you can write up to 8 lines of text on it to include all of your dog's identifiable details.
GoTags ID tags for pets are premium quality products made in the United States. They are available in two different sizes ideal for both large and small dog breeds.
Pros
---
The tags are made of strong, durable stainless steel and aluminum, which means they will not break or rust with ease.
These tags come in about 9 different shapes to suit your pup's personality, such as bow-tie, bone, flower, and many others that you can choose from.
You enjoy up to 8 lines of engraving as you can engrave the collar on both sides with information like the pup's name, your address, and contact details in case they get lost.
The tags come in two sizes, and they are 1.3 inches in diameter for larger doggies and 1 inch in diameter for smaller pups and also have a slip ring to easily attach a dog collar.
The permanent engraving is done with high-quality laser machines, and this helps the engraved information last and not rub off.
Cons
---
Depending on how many characters your information contains, the engraving may be smaller or have fewer words than desired.
The hole on the tag slip ring might not fit all collar sizes, such that you may have to spend extra to change it.
#4 Providence Engraving Pet ID Tags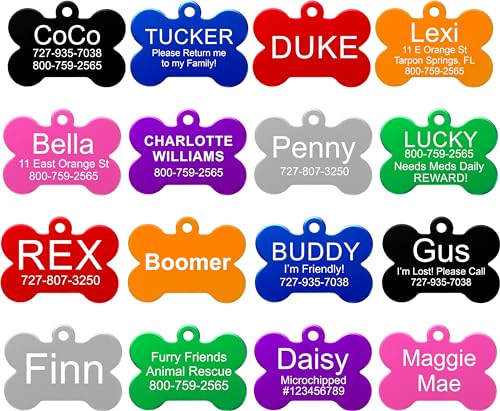 Made by a company that's been in the industry for decades, the Providence pet ID tags genuinely deserve to be on this list of the best dog ID tags. The product is made from a durable anodized aluminum material that can resist breakage and rusting. By attaching this ID tag to your dog's collar, you can be certain that your pooch will be returned back to you in case it gets lost accidentally.
Pet owners will also love the fact that they get to choose from eight different colors for the Providence Pet ID tags. The ID tags are available in different sizes and are suitable for different breeds. If you've got a small dog, then the small tags would be ideal. You can have some of your important details engraved on the tags, such as your complete name, contact number, and address.
Another great thing about the Providence Pet ID tags is that they are available in different quirky designs, such as paw, bone, or shape. There are also basic designs if you want a classic look for your pet. When you order the tag, you'll get a free clip ring, allowing you to easily attach it to your dog's collar.
We like the quirky designs and shapes of the Providence Pet ID tags. You get to choose from the paw, bone, stars, or simple designs.
Pros
---
The tag design comes in 8 colors and 8 shapes that you can choose from to match your pup's hair color, preference, and even gender.
Made of high-quality, aircraft-grade, and domestically sourced aluminum, which makes the collar durable and easy to maintain.
Available in two sizes, which are 1 inch for medium or large pups and 1.3 inches for medium and small doggies.
The tag lets you get up to 8 lines of white letters on each side and it is engraved using a precision carbon dioxide laser.
You can get easy-to-read custom text engraved on the collar so you can have your pup's name and your information clearly visible on the collar and also has a complimentary slip ring for the collar.
Cons
---
Some collar colors like silver and gray are hard to read as they match the engraved text colors.
The metal hole on the top of the collar can sometimes break after some time, which means you need to replace it with another collar.
#5 GoTags Pet ID Personalized Pet Tags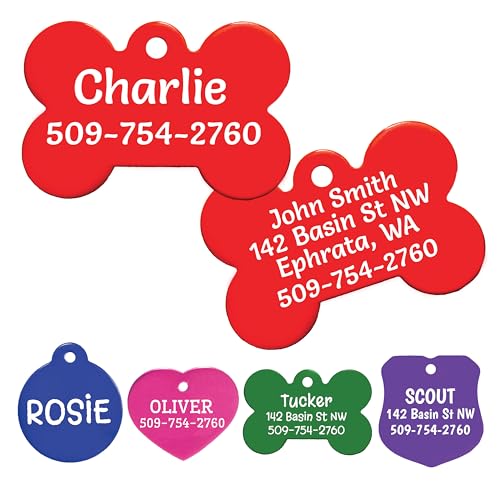 GoTags Dog Tags, Personalized Engraved Dog and Cat ID Tags for Pets, Custom Engraved on Both Sides,...
Premium Quality Anodized Aluminum Pet ID Tags for Dogs and Cats
Customize your tags with 2-sided engraving and up to 8 lines of personalized text with 4 lines on front and 4 lines on...
CHOOSE SHAPE: Bone, Round, Heart, Bow Tie, Badge, Star, Flower, or Rectangle
Another premium quality pet ID tag from GoTags is the personalized pet tags, which comes in the shape of a dog bone with personalized text engraved on both sides. This tag is ideal for homeowners who need a stylish tag to attach to their pet's neck. You also get to choose from two different sizes, regular and small.
When getting the regular tags, you can consider opting for small tags that are approximately an inch in diameter. On the other hand, large tags are approximately 1.4 inches in diameter. Your details will be engraved on the smooth and polished surface using laser technology.
Besides the dog bone shape, there are seven other design options to choose from. We particularly like the bow tie design, as any dog will look smart wearing it.
We like the GoTags ID tags because they are made from premium quality anodized aluminum that can accommodate up to 4 lines of text on each side.
Pros
---
The tags are strong and durable as they are made of anodized aluminum, which means your doggie will use them for a long time.
It is available in 8 shapes and multiple colors that you can choose from depending on your doggie's favorite color and design.
The tag is fully customizable and can have up to 8 lines of information with 4 lines on each side, and you can put as much vital information as possible in case your pup is in trouble or lost.
The tags come in two sizes, and they are Regular (1.4 inches in diameter) for larger furry friends or Small (1 inch in diameter) for smaller pups or cats.
The tag is round in shape and comes with a complimentary slip ring that can be used to attach your pet's collar.
Cons
---
Active doggies can easily break the tag or separate it from the collar ring.
The engraving on the back side can rub off after some time as it is in constant contact with your pup's skin or hair.
#6 GoTags Slide-On Pet ID Tags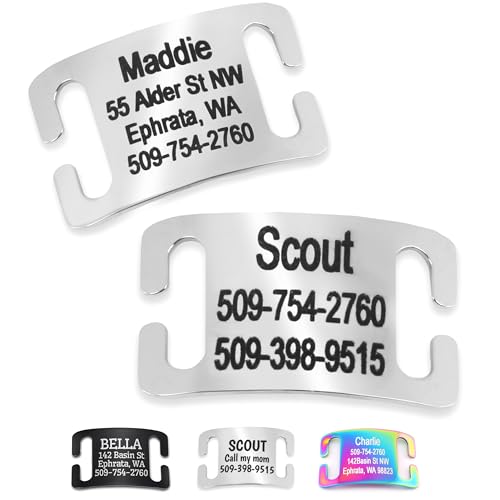 Another great product from GoTags is the slide-on pet ID tags. As the name implies, this tag is designed to slide into your dog's collar. This design comes in four different sizes, which are all suitable for both small and large pets, regardless of their breed. You get to choose from two different options, depending on the type of collar that you have for your pooch.
The first option comes with two open ends, and you can attach it to your dog using adjustable snap collars, while the other option includes closed ends that you can attach using buckle closure collars made of metal. The tags are made from premium quality stainless steel, which attaches easily to the nylon collars.
We like these tags because they attach securely into the pet's collar and are great for very active dogs that like playing around.
Pros
---
The tag comes with two designs to choose from, and they are open on both sides for snap closure collars or solid designs for buckle closure collars.
It comes in 4 sizes depending on your doggie's size and collar width, namely, Large (1 inch wide), Medium (¾ inch), Small (⅝ inch), and X-Small (⅜ inch).
The tags come in a curved shape, which can easily fit on your pup's neck, which means you do not have to worry about noisy or dangling tags.
Easy to personalize as the top curved part of the collar gives you up to 4 lines to add your information.
It is made of stainless steel, which makes it durable and long-lasting, and it will not react to your pup's skin.
Cons
---
Some buyers have been cut or injured by the sharp edges while trying to put the newly purchased tags on their doggies.
Depending on your pup's size, the tag might be uncomfortable on them due to the curved design.
#7 GoTags Personalized Dog Tags
GoTags is truly the number one brand for premium quality pet tags, and another product they have created is its personalized dog tags. Made from durable stainless steel material, you can engrave up to 8 lines of text on this ID tag. Indeed, there's enough space in the tag to write all of your dog's information, including your contact details.
These stainless steel personalized dog tags are ideal for both cats and dogs. They are guaranteed to last longer, thanks to the stainless steel design. You will be able to customize both sides of the tags with a personalized engraving of up to 8 lines of text.
Each dog tag comes with a glow-in-the-dark silencer that you can attach along its edges. It also glows in the dark, which provides additional lighting under low light conditions. Another of the silencer is to keep your dog from barking while walking on the streets.
We like these personalized ID tags because of their durability. The tags can hold up well to the regular use and will attach securely on your dog's neck, even the most active ones. Its glow-in-the-dark silencer can be a nifty feature while bring your dog out for a walk on a busy street.
Pros
---
Available in 4 shapes or designs, and they are round, rectangular, bone, or heart shapes that you can choose based on your pup's personality.
All designs come with a glow-in-the-dark tag silencer whose purpose is to reduce the noise from the tag and also protect the design and engraving all around the edge.
You can have your pup's tags personalized as they can be engraved with up to 4 lines on each side.
Made of stainless steel with a polished mirror finish, which makes the tag durable and attractive.
The permanent laser engraving is done with high-quality equipment, which means the information will not fade or rub off for a long time.
Cons
---
The glow-in-the-dark silencer can break or come off if your pup tugs or plays with it too much.
Pups allergic to stainless steel or aluminum can experience some irritant reactions to the skin.
---
Dog ID Tags Buyer's Guide
---
When choosing the best dog ID tags, your decision should depend upon your pet's needs.
Here are some of the most important factors to consider when shopping for the best ID tags for pets.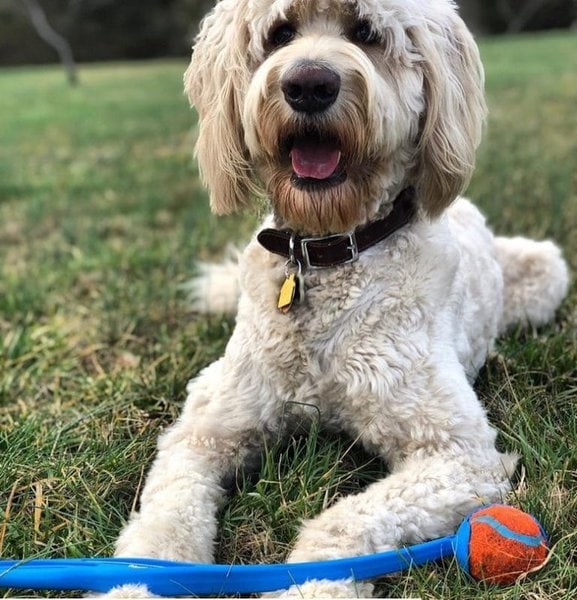 Durability
Of course, you need to choose something that will last for a long time so you won't need to keep on buying a new replacement. This is especially important if you're going to use it every day. Keep in mind that dogs are very active, so the tags should be able to handle pressure.
To find out the quality of the tag, take the time to read customer reviews. Of course, the material used for the tags will also be a factor in its durability, so you better consider that.
Style
Most of the ID tags for pets come in the form of a flat piece of metal that you can attach to your pet's collar through a split ring. These types of tags are easy to attach and are usually durable.
But if your pets love to wander around in the jungle, the boomerang tag might be a much better choice. Traditional tags could get snagged in the trees and bushes, which may not be a great choice for adventurous pets.
Also, if your pup is scared by the jingling sound that the traditional dog tags make, the boomerang tag will make for a better alternative.
Engraving
The main purpose of the tag is to help people find you in the event that your pet goes missing. Therefore, you should look for something that will allow you to include your personal details through laser engraving.
That way, your information will remain in the tag for a longer time. Although most of these tags use laser engraving, others are embossed. These tags are a bit more expensive, but they are definitely worth it.
Appearance
Of course, you need to have a dog tag that will look good on your pet. So if you're concerned about the style and the design, then appearance is an important factor to consider.
You also need to think of the shape, color, styles, etc. This factor is mainly a personal choice. If you want your dog to stand out as you take it for a walk, then think of the tag's appearance.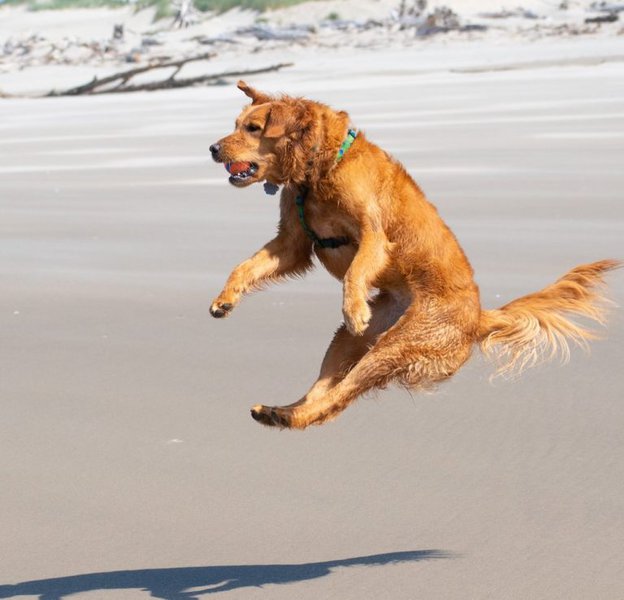 Should You Attach Tags On Microchipped Dogs?
Microchipping is another way to secure your pet. Compared to dog tags, it's a more reliable method of storing your personal details in your pet since it won't get lost no matter what. But microchipping is not really an alternative to an ID tag. If you want your pet to be safer and more secure, then you need to have both.
Having an ID tag on your dog is a great way to display your latest contact information and a faster way for people to find you if your dog ever gets lost somewhere. Also, strangers won't really know if a dog is microchipped the moment they find it unless they take it to a vet.
Dog ID Tags Materials
One important factor to consider when choosing an ID tag for your dog is the material. Here are some of the most recommended materials for dog ID tags.
Aluminum
Aluminum is a popular material used for dog tags. Compared to steel, it's usually much cheaper. However, it's more reactive, so it should be coated or anodized with nickel or simply by painting. This is to ensure that the material will not rust. It's also to engrave details on aluminum and is very light as well.
Stainless Steel
Stainless steel is the most popular material used for ID tags since it's durable. It will not rust and is definitely cost-effective. Furthermore, it's easy to engrave information on a stainless steel tag. And since the steel is lighter compared to other metals, your pooch will feel comfortable having a stainless steel tag on its neck.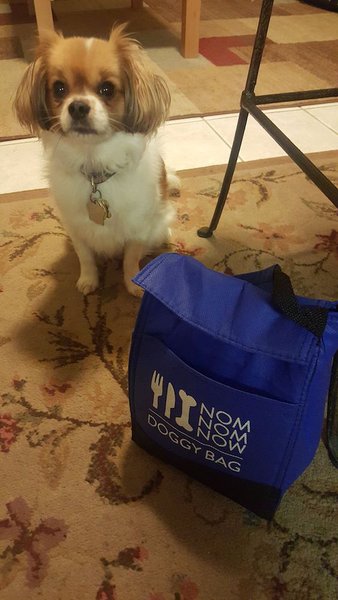 How Many Lines Can You Engrave On The Dog ID Tags?
It's important that you choose an ID tag that can accommodate all the personal details that you want to be added to it. Most of the good-quality tags can take up to 4 lines of text, and some of them allow you to engrave text on both sides.
When buying a dog ID tag, make sure you double-check the text for engraving before you finalize your order. This is especially important if you are buying online because any changes might require that you pay for sending the item back. Others might not even allow any modification.
Attaching Dog ID Tag To The Collar
Most of the dog ID tags can be attached to your pet's collar using a split ring. The ring has to be threaded into the hole right above the top portion of the tag and into the metal loop that most of the dog collars usually have. If the collar of your pet doesn't have this loop, simply thread the fabric into the split ring.
The Boomerang tags are attached by threading them in the dog's collar just like a bead. Manufacturers of these tags will usually include a user manual that includes information on how you can attach these tags to your pet's collar.
---
Final Thoughts
---
You'll never go wrong with our top choice, simply because we believe it has everything that you need in a dog ID tag. It's durable, polished, and stylish.
Furthermore, the details can be added to the tags through laser engraving so the information will be easy to read. Once engraved, the text should remain visible on the tag for a much longer time, despite regular use. Above all, these ID tags are available in medium and large sizes, so you can choose whatever it is that's suitable for your pet.