The best splash-proof dog water bowl is Slopper Stopper Dripless Water Bowl.
Dogs need a considerable amount of water daily to stay hydrated. But watering your canine several times a day can leave your home messy with splashes and spills all over. If you have no clue about what the best splash-proof dog water bowl should look like, purchasing the right one can be tricky.
This article helps you choose the ideal splash-proof dog water bowl; one that lets your dog drink comfortably without splashing water on the floor.
#1 Slopper Stopper Dripless Water Bowl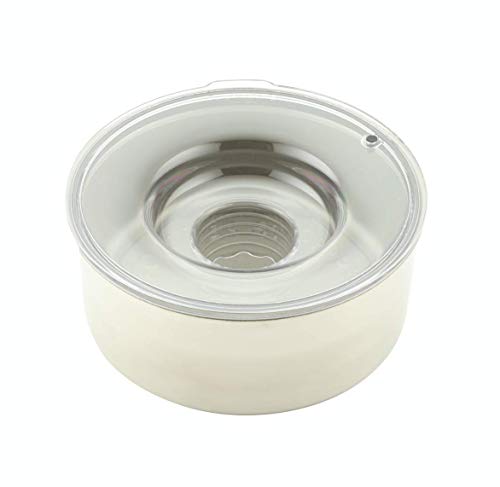 A dripping muzzle can be annoying when you've just finished your day's mopping. A dog water bowl that reduces spills and splashes by 85% will save you the frustration of having to mop all over again.
The Slopper Stopper Dripless Water Bowl has a standard 1-gal capacity. But you can choose the lid to suit your dog size, between 0 to 20 lbs for small dogs to 131 lbs and above for giant dog breeds.
The lid keeps the splashing from your dog's lapping within the bowl. The paws, ears, and muzzle are all kept away from the water by the lid. All this guarantees a dry floor, avoiding any accidental slips and falls. The dog's drinking speed is equally controlled, protecting your pet from choking.
Fitted with a top lid, the deep Slopper Stopper Dripless Water Bowl is your ideal choice for a healthy dog and a dry floor. You will not need to chase after a pet with a dripping muzzle and your dog is protected from choking due to fast drinking.
Pros
---
Reduces spillage and splashing by 85%.
Adequate holding capacity of 1 gallon.
A lid that suits dog size.
No paws, ears or muzzles in water.
#2 Petmate No Spill Bowl
SALE ALERT!!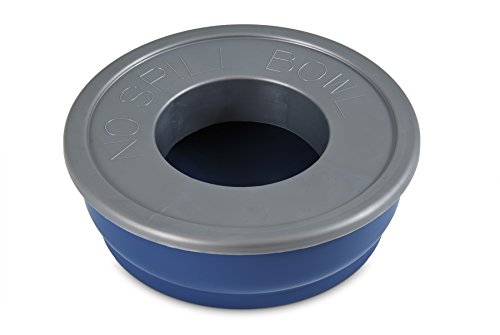 Petmate No Spill Bowl
Splash-proof design to keep floor neat and clean
Constructed of sturdy plastic, made for long-lasting use
Great for travel or at home
It may look simple at first glance, but the Petmate No Spill Bowl is made from durable plastic, so your dog does not break it easily, and you don't have to keep purchasing one every time. 
You can buy this bowl at a pocket-friendly price (below $10.0) and use it with your dog at home or when you travel. The bowl holds 6 cups, equivalent to 48 oz of water, which saves you from consistent refilling.
Any splashes from your pet's water lapping will be blocked by the bowl's deep-extending cover. That means your floor always stays dry. You can lift the lid for easy cleaning or safely put it in the dishwasher.
If you are looking for quality but have a tight budget, Petmate No Spill Bowl is perfect for you. You can water your dog, keep your floor dry, and use the same bowl at home and when you travel. And all that for a pocket-friendly price.
Pros
---
Made from sturdy plastic.
Pocket-friendly price.
Splashes are contained within the bowl.
Easy to clean.
#3 Neater Feeder Deluxe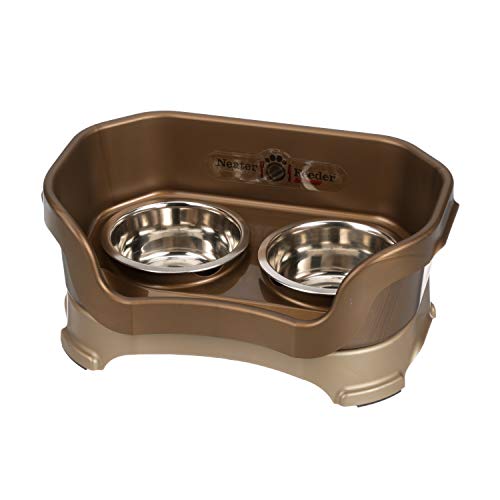 The Neater Feeder Deluxe offers your pal a 'one-stop' feeding and drinking space. The deluxe has stainless feeding and drinking bowls fitted on the same plastic stand with a spill-proof surface and splash-proof wall. The elevated stand renders the deluxe kick-proof.
Spilled water drains to the stand tank below, and the spilled food is left on the surface for disposal. Its sizes range from small to large, and you can choose from a range of six colors.
The Deluxe can be disassembled for easy cleaning, and the bowls can be cleaned in the dishwasher.
Nothing works better than having your dog's food and water bowls fitted in the same space. And if the two bowls are fitted on an anti-splash and spill-proof stand, the deal gets even better. That's why the Neater Feeder Deluxe is an ideal choice.
Pros
---
Feeding and drinking bowls in one space.
Spill and splash-proof surface and wall
Varied options for dog size.
Can be disassembled for easy cleaning.
#4 Kurgo No Spill Dog Travel Bowl
SALE ALERT!!
The Kurgo No Spill Dog Travel Bowl is a dual-purpose bowl that can be used with both water and food. Made from food-grade silicone, the bowl is unique because it has a tempered lip, a feature that keeps your dog from spilling water all over.
As if all that did not make it special, the bowl is collapsible and can be folded to fit into a bag when you and your canine pal travel. The angled-shape at the bottom keeps your dog's water vessel flat on the car seat.
You can get a blue or red Kurgo bowl with a lifetime warranty against manufacturer defects.
A dog water bowl that is easy to pack and safe to use without messy spills in your car when traveling is no doubt a perfect choice. If this is what you are looking for, the Kurgo bowl is your best option.
Pros
---
Bowl material is safe for your dog.
Collapsible for easy packing.
Designed to sit safely on any surface.
Non-spill tempered lip.
#5 UPSKY Dog Bowl
SALE ALERT!!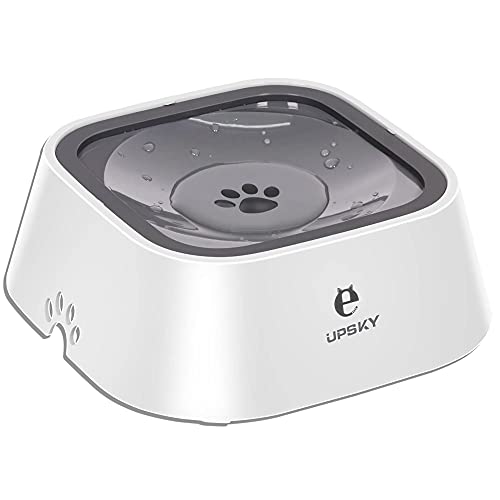 UPSKY dog bowl holds a maximum of 35 oz of water. This saves you the trouble of multiple refills during the day. The high-tech bowl releases water from the bottom to a floating lid each time the dog laps. That controls your pet's drinking speed and prevents choking.
Since there is only a little amount of water on the lid at any given time, your dog can drink slowly without splashing water all over the place. Besides, the muzzle and ears are kept dry, so the dog does not spill water on the floor.
The lid protects the water from contaminating, and the elevated design keeps your pet's paws out of the water. The bottom has four non-slip mats.
Apart from its attractive design, the UPSKY dog bowl releases little amounts of water at a time, protecting your dog from choking. Little water on the lid means no splashes and spills.
Pros
---
Holds enough water for a day.
Anti-splash floating lid.
Lid keeps water clean.
Elevated design with non-slip mats.
#6 PET WEIGHTER Bowl
This mountable bowl has a hollow base that can be filled with water or sand before attaching the drinking water bowl. The weight and the non-slip mats at the bottom keep the bowl from sliding while your pet drinks.
PET WEIGHTER bowl is a great choice for health reasons. Its design gives your dog a comfortable elevated eating position, healthy for its joints and neck, and suitable for good digestion.
You can detach the bowl from the base for easy cleaning, and both parts can be cleaned in the dishwasher. 
If you are conscious about your dog's health, the PET WEIGHTER bowl is a healthy choice for your dog. Your dog eats from an elevated position which is ideal for proper digestion and healthy joints.
Pros
---
Easily mounted.
Additional weight for firmness.
Healthy eating position.
Easy to clean.
#7 LumoLeaf Dog Water Bowl
SALE ALERT!!
With the help of a floating disk and an anti-slip base, LumoLeaf dog water bowl limits your pooch from gulping down all the water at once. Thanks to the great design, water is limited to a small area making your pooch drink the water slowly.
The anti-slip base has a wide footing that prevents tipping and spilling over. The water bowl is dishwasher safe, but you will need to take apart the floating disk and put it on the top rack of your dishwasher.
The LumoLeaf bowl has a holding capacity of 35 oz, an amount that is deemed to be insufficient for large dogs. However, it will work perfectly for smaller dogs who don't consume as much water per serving as larger dogs do.
This will work perfectly for any dog owner shopping for a no-spill dog water bowl at home or on the go. Thanks to the anti-slip base and a splash-free rim, water will not overflow or splash, so you will have a mess-free floor or surface.
Pros
---
Floating disk with an anti-slip base.
Reliable food-grade materials.
Suitable for SUV and R.V. use.
Splash-free.
Dishwasher safe.
---
Splash-Proof Dog Water Bowls Buying Guide
---
Keeping your dog hydrated is paramount. Dogs lose body fluids through natural ways, such as peeing, panting, and sweating.
According to the American Kennel Club, a dehydrated dog can have serious health issues, including kidney and other organ failures. In extreme cases, dehydration can be fatal. So, your dog must stay hydrated!
While drinking a regular water bowl can cause your dog to spill and splash water all over the place. A consistently wet and messy floor poses the risk of slipping. You definitely need a splash-proof water bowl.
So, how do you decide that a dog water bowl is the ideal one? Simple! Ensure that the bowl is anti-splash and spill-proof. The bowl should release water slowly, be made of high-quality material, and with high hygiene standards. Keep reading to understand how these features make the ideal dog water bowl.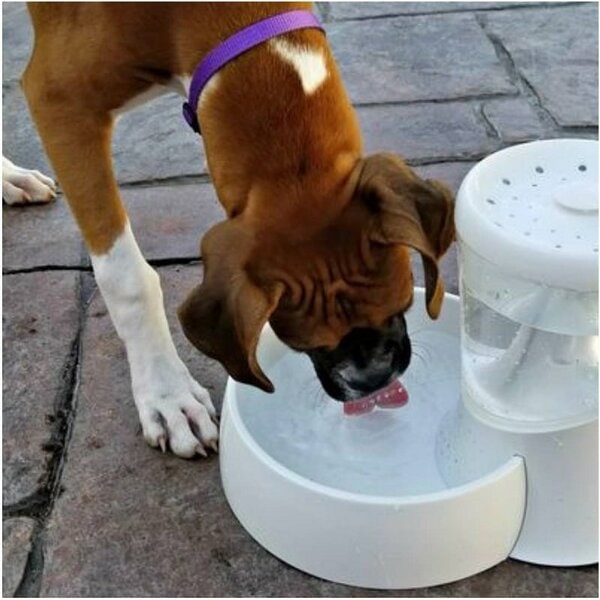 Splash-Proof And Spill-Proof In One Utensil
Anti-splash dog water bowls prevent your dog from sending water on the floor and other surfaces when the water is agitated by the dog's lapping. Spill-proof dog water bowls keep your dog's muzzle and ears dry while drinking so that no water goes to the floor and leaves a mess.
Splash and spill can be minimized by the depth of the bowl and the use of non-slip mats at the bottom. Take our top pick, for example, the Slopper Stopper Dripless Water Bowl, the lid prevents spilling since only the tongue reaches the water, and the ears and muzzle are blocked by the deep-extending lid.
Once your dog is done drinking and wants to show satisfaction by shaking his head, no water is sent flying all over the place. The lid keeps any splashes within the bowl.
Slow Water Release
There are two key reasons you should choose a slow water release bowl: your dog's health and your efforts for neat and dry floors and surfaces.
Dogs have a natural tendency to gulp their food and water. This means that they can drink or eat too much in a single helping, and that predisposes your dog to the killer dog bloat. Information on the International Boarding & Pet Services Association (IBPSA) website shows that overfeeding and drinking too much water in a short period is one of the causes of bloating in dogs.
Don't wait to turn the well-intended hydrating routine for your dog into a health risk. When a dog is thirsty and gulps down the water, there is the risk of drinking too much, which may cause choking, vomiting from overindulgence, and gastrointestinal discomfort. A slow-release water bowl like the UPSKY Dog Bowl makes your dog drink slowly without overindulging.
Slow-release dog water bowls will save you from having to mop up every time your dog drinks. There is just enough water for the dog to send to the mouth, a sip at a time, and no extra for spillage. That means you and your family are safe from slipping on wet floors.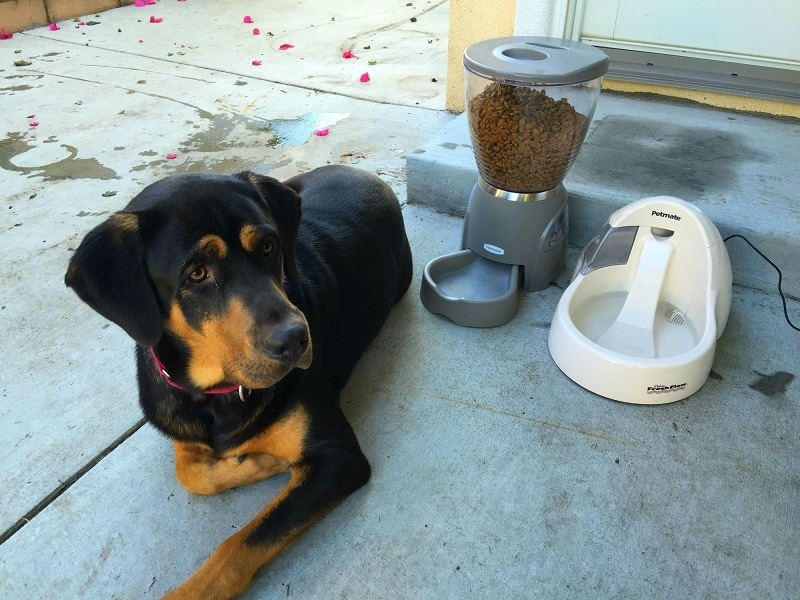 Bowl Material That Is Safe For Your Dog
Dog water and feeding bowls are made from three basic materials: plastic, metal (stainless steel), and ceramic. The quality of each depends on some features.
Plastic
Cheap compared to steel and ceramic
Easy to clean
Safe for your dog's health (ensure it's made from food-grade plastic or the HDPE category)
Easily portable when traveling
To ensure a plastic bowl is safe for your dog, buy one that is certified free of Bisphenol A (BPA) and other toxic compounds. Discard aging bowls since degraded plastic becomes toxic and is hard to clean, making room for bacteria.
Metal (Stainless Steel)
Non-porous, rust-resistant, and easily cleaned by hand or in the dishwasher.
Exposed to fewer chemicals when compared to plastic
Durable and can resist any accidental falls
In 2012, Illinois had reported low-level radiation found on certain stainless steel dog bowls from Petco stores due to trace quantities of Cobalt-60. While this was an isolated case, it is always better to ensure that the manufacturer has ascertained the safety of the metal from which your dog's bowl is made.
Ceramic
Esthetically appealing with colorful patterns
Heavy and, therefore, hard to drag around
Easy to clean
Durable when high quality
Ceramic deteriorates with time and tends to break or chip, thereby creating fragments that are harmful to your dog. Purchase ceramic bowls that have been certified as food-safe. 
In comparison, ceramic is the least preferred of the three common materials. Stainless bowls are the safest as long as they are free of toxic metals.
High Hygiene Standards
A study by the Hartpury University in the UK in 2018 revealed that plastic dog water bowls are potential breeding space for Salmonella, E.coli, and MRSA, which may be easily passed to dog owners. But this need not happen with splash-proof dog water bowls. Proper and regular cleaning can keep away bacteria from your dog's drinking container.
Most splash-proof and spill-proof dog water bowls are made of different parts that can be disassembled for easy cleaning and refill. Take as an example our top pick, the UPSKY Dog Bowl, the Pet WEIGHTER bowl, and the Misyue Dogs No Spill Proof Dog Water Bowl. All these can be disassembled, and each piece cleaned thoroughly. They are safe to clean in the dishwasher, and that means they get disinfected while being rid of dirt.
Hygienic dog water bowls are fitted with a floating rid to keep your dog's water from contamination. You can fill your dog's water bowl in the morning and be certain that the water will be clean and safe by the time your dog sips the last drop.
---
Final Thoughts
---
The best splash-proof dog water bowls allow your dog to drink comfortably while saving your floor and other surfaces from spills and splashes. To be sure you are purchasing the best, assess the bowl on these four features:
A design that can let your dog drink while shielding its muzzle and ears from plunging into the water to prevent spilling.
A slow water release principle so your dog drinks calmly and does not choke or overindulge and, at the same time, keep ears and muzzle dry.
Safe material that does not risk your dog by harboring disease-breeding bacteria.
Easy to clean bowl that can be disassembled to allow thorough cleaning by hand or in the dishwasher.
Rest assured that our top pick has all these features, which makes it your best dog water bowl.