The best soft dog crate is EliteField 3-Door Folding Soft Crate.
Traveling with your dogs can be tricky. You will need a crate to carry and bring them around.
Traditional dog crates are heavy, cumbersome and bulky.
What you need instead is a soft dog crate – which has soft sides and is foldable or collapsible at the same time.
With this type of crate, your dog will feel safe, secure, and comfortable. Plus, a soft-sided dog crate is extremely portable too.
So how do you choose the best soft dog crate to buy? Read on as we share our list, along with reviews that we hope will help you make an informed decision.
#1 EliteField 3-Door Folding Soft Crates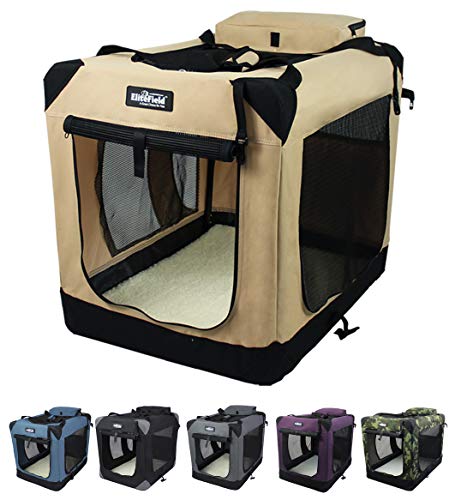 Our top choice in this list is the EliteField 3-Door Folding Soft Dog Crate and that's because we believe that it's the perfect foldable crate that can help make your pooch feel comfortable and safe.
We're certain that other customers agree with us too since this product is getting lots of praises. In fact, it's one of the best-rated collapsible dog crates online.
First of all, this soft-sided crate is very easy to set up. It only takes just a few seconds to assemble it and that's because the frame is extremely lightweight. The cover is made from a durable mesh and thick canvas that's pretty easy to take off and wash.
Furthermore, the rounded and reinforced corners enhance the safety features of the crate.
What we really like about this soft-sided dog crate is that it comes with both front and side entry doors. There's also a partial mesh window at the rear portion and at the opposite side is a full-length mesh window.
As such, the crate is well ventilated because the mesh windows allow for the easy circulation of air. If you live in warmer climates, then this is an excellent choice for your canine companion.
This foldable dog crate also comes with some added features, such as a mat, carrying case, and some storage pockets. Above all, this product includes built-in handles, which make transporting it extremely easy!
We like this crate a lot due to many reasons, but perhaps it's because of its high-quality and durable fabric, which includes a mesh. This offers enough ventilation on the crate and makes it look even more stylish as well.
Pros
---
This soft crate measures 36 x 24 x 28 inches and is slightly larger than others in the market, which makes it suitable for most doggie sizes and needs no complex setup.
The crate has a steel tube to make it durable while in use and has a crate cover made of 600D fabric that is scratch resistant and easy to clean.
It has three mesh doors made of hex mesh fabric, which provides adequate ventilation and visibility for your pups.
It has accessory pockets on the top and side to store your doggie's essentials like toys and a removable fleece bed for comfort.
It is easy to fold and store or pack for travel as it comes with a free bag, and you also enjoy a 2-year manufacturer's warranty.
Cons
---
The mesh doesn't prevent insects from entering the crate, which can be uncomfortable for your pup.
The metal connectors are considered weak by some pup owners and can easily bend or break.
#2 2PET Foldable Soft Crates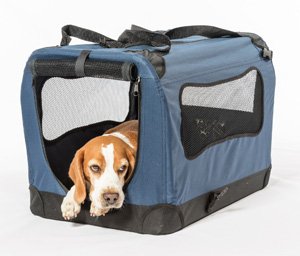 For dog owners who are budget conscious, the 2PET Foldable Soft Sided Dog Crate is what we would highly recommend. This soft-sided crate is available in a wide range of sizes so depending on the breed of the dog that you own, you can always find something that can comfortably accommodate your pooch.
This collapsible and soft-sided dog crate folds down very easily, thanks to its lightweight steel frame. In just a few short seconds, you will be able to transform the crate into a carrying crate.
It comes with a handle for easy transportation. Furthermore, this foldable crate is designed with the comfort of your dog in mind. The soft sides will make your pooch feel at ease, and eventually, this soft crate will become your dog's favorite hang-out place!
What's great about this budget-friendly collapsible crate is that it's machine washable. The fleece blanket and the canvas cover can all be machine washed, so washing this soft crate will be effortless.
Remember, cleanliness and freshness are important in keeping your furry friend comfortable. This is especially true if you plan on taking your pooch on your trip.
The best part is that this soft-sided crate comes with a waterproof pad!
Pros
---
This soft crate measures 28 x 20 x 20 inches, is available in four colors, and is mostly built for small and medium doggie breeds weighing up to 35 lbs.
It is made of a strong yet lightweight steel tube and top handle, which makes it easy to set up and fold down for storage or travel.
The cover is made of 600D nylon fabric, which makes it water-resistant and easy to clean.
It has uniquely designed mesh window panels for ventilation, with the front one coming with a full zipper for your doggie's security.
It has a waterproof floor mat and a reversible fleece cushion pad for your doggie's comfort.
Cons
---
Some pup owners received crates with steel bars that did not fit together, making the crate unusable.
Some pups could easily rip the mesh fabric.
#3 Amazon Basics Folding Soft Dog Crate
Another soft sided collapsible soft sided dog crate that offers good value for money is the Amazon Basics Folding Soft Dog crate, which can be used both indoors and outdoors.
The Amazon Basics Premium Soft Dog Crate features a high-quality canvas cover made of polyester and mounted on a durable and lightweight PVC pipe frame. And thanks to the lightweight pipe, transporting this soft crate is quite manageable. The largest size, which is at 42 inches, weighs only 13 lbs.
Furthermore, the crate's corners have been double reinforced, which allows for added durability.
The foldable crate features a folding suitcase style design and the frame attaches securely into a 3-inch carrying size. It includes a securing latch, a handle, and shoulder straps that make transporting the crate extremely easy.
This product is a great soft-sided carrier for both small and large dog breeds, as you can choose from 5 different sizes.
Pros
---
This crate measures 30.1 x 21.3 x 21.3 inches, which can fit medium doggies weighing between 26 and 75 lbs.
It is an easy-to-assemble and fold PVC frame and polyester fabric crate, which is durable, scratch-proof, and easy to clean.
It has mesh windows on all sides for lighting and proper ventilation, as well as a top and front door for access.
The crate has zipper fasteners to keep it tightly closed during use and also straps that hold the flaps in place when open.
This tan-colored crate comes with a one-year limited warranty by Amazon Basics.
Cons
---
Doggies can easily rip through the mesh and break out.
As it is not reinforced, some doggies can tear into the PVC frame.
#4 Petsfit Travel Collapsible Dog Crate
SALE ALERT!!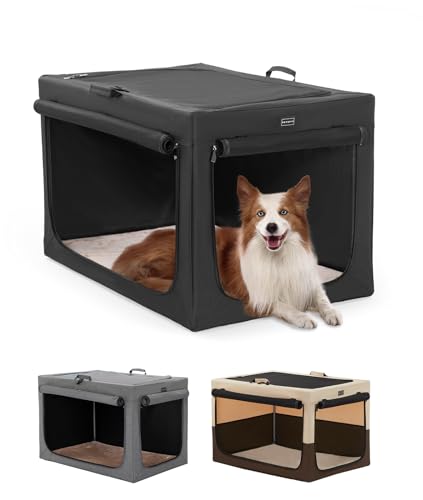 This collapsible soft sided dog crate from Petsfit is another travel crate that we would highly recommend. It comes with everything you need in a reliable dog crate. Petsfit has created several different models of dog crates, but this particular model is one of the best.
It's available in several different dimensions, and it is dual purpose. You can use it as a carrying case or as a cage to confine your canine safely for when you need to leave your pooch alone in your house.
What's great about the Petsfit Travel Foldable Home Soft Dog crate is that it's made from durable materials and comes with a secure fastening. Thus, it would be pretty difficult for your pooch to get out of this soft-sided dog crate alone.
Furthermore, its sides are made from a 600Dx600D Oxford cloth (nylon variant) that is durable enough to secure your pooch while making your pet feel comfortable as well.
Your pooch will surely enjoy the comfort of sleeping in this soft-sided collapsible crate, whether during your travels or while at home.
Pros
---
This is a large crate measuring 36 x 24 x 23 inches, is available in black or gray colors, and fits large doggie breeds like a Labrador Retriever or Border Collie.
This collapsible dog crate has a whole pipe support system, which keeps it standing firmly and safe for your pup while using it.
It is covered with a double-stitched Oxford fabric, which can be tightened using the spiral pipe for a sturdier and thick plush bottom mat for warmth and comfort.
It has three mesh doors with zippers for access, ventilation, and to allow light into the crate during use.
The crate is easy to transport when assembled with a top handle and is easy to store and transport once folded.
Cons
---
The zippers can get stuck or break if mishandled.
Some doggies feel anxious and scared to use the crate the first few times.
#5 Noz2Noz Soft-Krater Indoor And Outdoor Crate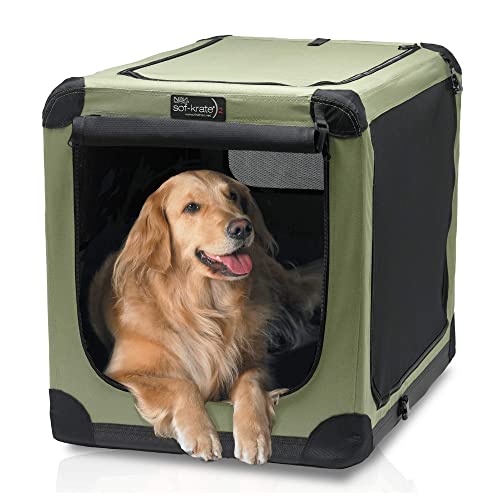 Noz2Noz Soft-Krater crate provides utmost safety for your home, dog, and car decor, thanks to its rounded corners. It is a well-ventilated unit with three large windows, and the windows have flaps that you can use to create a den-like feeling at bedtime.
A crate is a versatile unit with two doors, including a top door, making it suitable for both indoors and outdoors. The crate uses a new heavy-duty tight-weave mesh fabric made of a water-resistant base. Also, it is fitted with a steel frame to keep the crate sturdy to the ground.
It is lightweight at a bit over 8 lbs for easy transportation and includes a handle meaning it will be comfortable to carry even with your pooch inside it. In addition, it is easy to fold, set up, and quite easy to clean.
Noz2Noz Soft-Krater is the best solution for any dog owner who wants to bring their pooch on an extended trip. You will never have to leave your dog alone at home with this portable and lightweight crate.
Pros
---
This crate measures 42 x 28 x 32 inches, is available in green, and is built for doggies weighing up to 100 lbs.
It has a durable steel frame that is easy to assemble, as well as rounded corners around the cage to prevent injury and damage to interior décor.
Has a fully washable vinyl cover, as well as a water-resistant and scratch-proof bottom to keep your doggie well-contained and safe.
It has top, front, and side mesh fabric doors with zippers, which provide lighting, visibility, and ventilation for your pup while inside the crate.
It is foldable and easy to store or take with you while traveling.
Cons
---
It is not suitable for aggressive or untrained doggies, as they can rip apart the crate or injure themselves.
It requires regular cleaning, especially if your doggie vomits or spills anything on it.
#6 Arf Pets Dog Soft Crate Kennel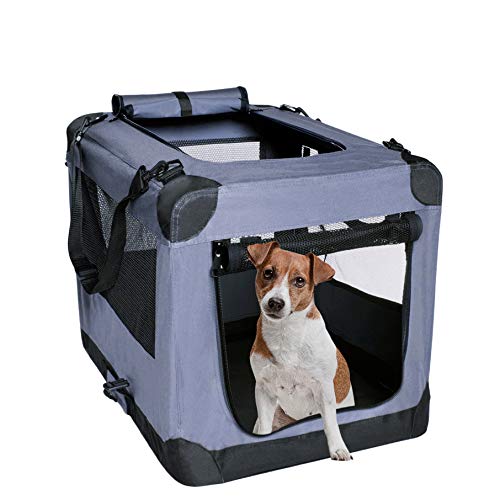 The Arf Pets Dog soft crate is available in two different sizes and the cost will vary depending on the size that you need. Large sizes cost more while the small sizes are understandably cheaper. If you need a budget dog foldable crate, this is the brand that you should go for.
And although this soft crate is very affordable, the quality of this dog crate hasn't been compromised.
In fact, it's still one of the best-rated collapsible soft sided dog crates in the market in terms of quality. Furthermore, this soft crate comes with a lightweight but durable framing structure and has a water-resistant pad that's easy to clean and wash.
Aside from having excellent functionality, this collapsible dog crate includes a carrying strap for easy portability. Thus, you'd be able to carry your canine buddy in this soft-sided crate wherever you need to.
We like this fully collapsible soft sided dog crate because of its soft mesh cover that's well ventilated. It's heavy-duty but lightweight. Furthermore, it folds up very easily for effortless setup and storage.
Pros
---
This is a soft crate kennel that measures 36 x 27 x 24 inches and is suitable for indoor and outdoor use for doggie breeds of up to 75 lbs in weight.
Comes with a heavy-duty steel frame that makes your crate durable and sturdy while in use.
It is easy to set up and store away, thanks to its collapsible bars, the retractable springs, and a carrying strap.
Made of a washer-friendly cover, as well as a water-resistant base to keep your doggie contained and dry while in the crate.
It has a top, side, and front mesh fabric opening for improved ventilation and visibility.
Cons
---
Some doggies can tear through the mesh fabric.
Patience is required as some pups are anxious or afraid of the kennel the first few times.
#7 Zampa Pet Portable Crate
SALE ALERT!!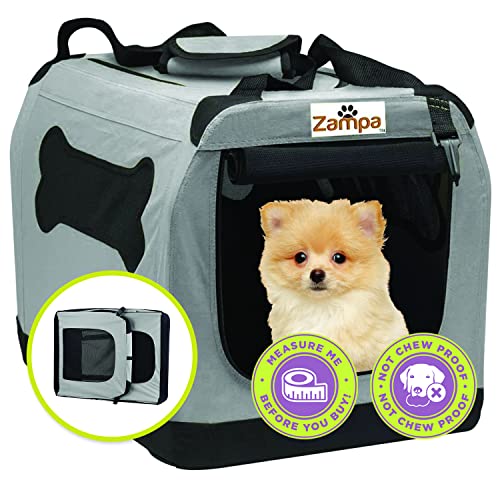 With no assembly needed, the Zampa Pet Portable Crate pops up in seconds and offers plenty of soft space for your pooch to play. Thanks to its sturdy construction, it is designed to sustain everyday wear and tears.
The crate features a canvas made of durable materials which are easy to clean, and it covers a one-piece steel frame making it perfect for long-term use. It has a single entrance but has two bone-shaped windows and a large square window at the back to ensure maximum ventilation.
It can be used for training, travel, indoors and outdoor purposes. In addition, it comes with a carrying case and an easy transport handle for easy portability.
Zampa Pet Portable Crate is suitable for puppies in the process of crate training as it ensures that they familiarize themselves with the kennel being a safe place. In addition, the increased feeling of security will help teach your puppies better behaviors and ensure that untrained dogs don't ruin your floor until they are fully trained.
Pros
---
You can get this portable crate in 8 sizes and four colors you can choose from, one of which measures 24.02 x 16.54 x 16.54 inches and suiting medium dog breeds.
This crate has a comfortable and spacious interior when set up, a washable heavy-duty cover, and a waterproof bottom to keep your doggie dry during use.
It has thicker mesh windows for visibility and ventilation, as well as a front mesh door with a zipper for accessibility.
The crate is portable and easy to store as it has a collapsible solid steel frame.
It comes with a carry bag that is perfect for travel or storage.
Cons
---
Returns can be a hassle in case of any complaints, as you must disassemble the crate and pack it into a large box to be readied for shipping.
Some pups can tear through the cover stitches and mesh fabric, making the crate unusable.
---
Soft Dog Crates Buyer's Guide
---
Dog owners understand the value of crate training their furry friends, which is why these foldable dog crates are in high demand right now. But given the many different options in the market, deciding which of them is right for your pooch can be difficult. All the soft-sided dog crates that we've listed above are worth checking out.
There are many benefits to crate training your dog. According to the Texas A&M College of Veterinary Medicine & Biomedical Sciences, crate training can reduce household stress, help with housebreaking a puppy, and improve overall dog behavior.
If you want to choose the best soft-sided dog crates among them, here's a guide to help you out.
Size
It's essential to choose a collapsible travel carrier that can accommodate the size of your pooch comfortably. It should be large or tall enough to contain your pet's body size. That way, your dog will feel comfortable and not cramped.
Here's a great tip to follow when it comes deciding the size of the crate – let your dog step inside the crate and see if your dog can stand on its own without hitting the wall or the crate. You just basically need to put yourself in the position of your dog – you don't want to stay in a cramped surface that's difficult for you to move, right?
It's crucial that your dog will be able to move around freely while inside the soft-sided crate. Also, don't buy a crate that's too big for their needs because this could agitate them. The most appropriate size is one that has just the right amount of space for your pooch to move around with ease.
There are also other types of dog crates, such as:
Storage
It's a good idea to look for a soft-sided crate that offers easy storage options. Soft crates are mainly used for outdoor purposes, such as for travel. Therefore, you need something that offers seamless transportation, portability, and storage. When it comes to this, look for a soft sided dog crate that can be folded easily and is made from soft fabric. It should still have reliable and strong wiring despite it being foldable.
After usage, you should be able to fold the crate in only a few seconds for storage. Although carrying bag and handles are not necessary, having these features can make carrying the foldable crate even more convenient.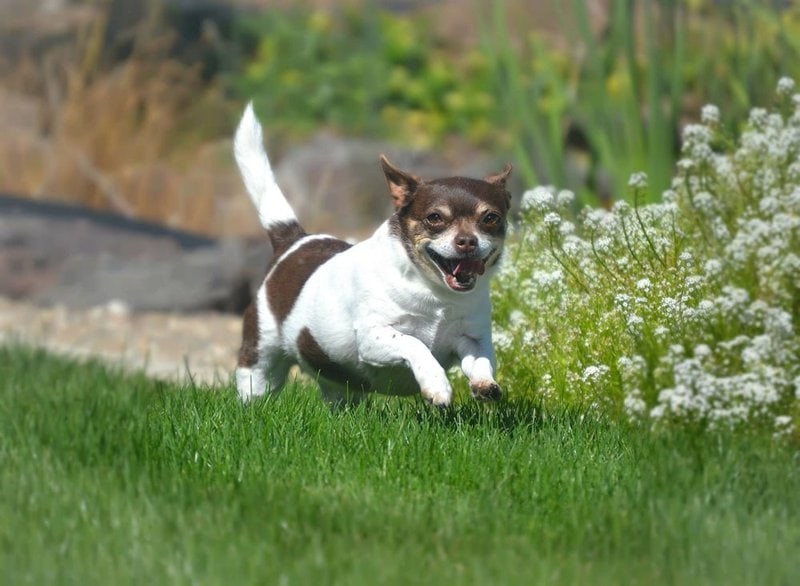 Ventilation
Ventilation is an important factor. Therefore, the openings and ventilation are two factors that must be kept in mind when looking for a soft-sided crate to buy, especially if you plan on taking your pooch with you on long distance trips. The more openings the collapsible crate has, the better the flow of air will be, and the more comfortable your dog will feel.
This is also true for other canine products such as a dog bike stroller.
Durability
The best collapsible dog crates are those that are made from high-quality materials and are guaranteed to last for a long time. If you don't want your money to go to waste, choose something durable and sturdy. As a dog owner, you need to evaluate the nature of your pet so you can gauge the sturdiness of the crate that you need to purchase.
Soft-sided crates can work best for small dogs that are calmer than active adult dogs. For dogs that are active and have a tendency to be destructive, the soft-sided crates might not be the right choice. It's best to opt for a heavy duty crate that can withstand frequent wear and tear.
Soft-sided crates offer little resistance from very determined dogs so better avoid these. In fact, soft-sided crates are not really recommended for keeping dogs unsupervised for several hours. They are mainly intended for securing your pet pooch during your travels.
---
Final Thoughts
---
In terms of the necessary features when it comes to buying a soft dog crate, our top choice from among this list of soft-sided collapsible crates has it all. That's because we know that your canine companion will feel comfortable and safe when kept inside this soft crate. It has two entry doors and has two mesh windows as well, which provide excellent ventilation.
Not only that but the cover is made of durable mesh and thick canvas that's easy to clean and wash. You won't have a hard time containing your pooch in this soft crate because it's straightforward to assemble, thanks to its lightweight frame.