The best heavy duty dog crate is Haige Pet Your Pet Heavy Duty Dog Crate.
If your big dog is something of a Houdini, then you may need a heavy-duty dog crate. When you leave the home, placing your canine buddy in any dog crate should provide them with a space that will keep them out of trouble.
A heavy-duty dog crate is a dog crate strong enough to make sure that your dog cannot escape it. These crates are designed to provide an area where you can keep your dog safe and secure. Heavy-duty dog crates are stronger than traditional dog crates, and they also provide more space for your dog to move around.
In this post, we're going to take a look at the best heavy-duty dog crates available right now.
#1 Haige Pet Your Pet Heavy Duty Dog Crate
This heavy-duty dog crate from Haige Pet really does everything that you could want from a place to keep your dog. This is extremely heavy duty, made from rust and corrosion resistant steel, that won't deteriorate over time. The thickness of the bars also ensures that the dog crate will be suitable for medium to large dogs – even those with the strongest teeth and jaws (practically indestructible)!
The single door has been designed smartly to be impossible for a dog to pick. Another great feature is the inclusion of wheels, which make it easy to move your dog around – this can also be used as a crate for transporting other pets. Similarly well thought-out is the slide-out plastic tray which makes it very easy to clean and prevents your dog from being trapped with its own excrement.
The dog crate is easy to assemble and is spacious for your dogs.
To summarize, this is a textbook heavy-duty dog crate. It is well made and has a few thoughtful features that set it apart from the crowd. It comes highly recommended and really there's nothing else that you are likely to need from a crate. The only possible downside is that the design is not terribly welcoming for your pets.
Pros
---
Highly durable and rust resistant.
Convenient wheels.
Smart lock design.
42″ in size that can accommodate most large dog breeds.
#2 SMONTER Heavy Duty Dog Crate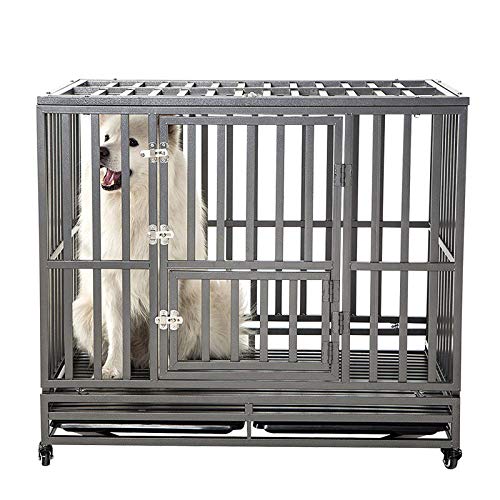 For those that can't shell out for a high-end expensive dog crate, the SMONTER Heavy-Duty Dog Crate is a wallet-friendly option that you can consider.
The heavy-duty steel frame is just as strong as the top pick, while the three-door design means you can open up from the top or from the side, or feed through the smaller door at the front. Once again, you get wheels, and you'll also find that assembly is very quick and easy here too. The only real omission, other than the slightly slimmer build quality, is the missing tray.
Considering the lower budget, this strong metal dog crate is a surprisingly capable offering that competes with the top-of-the-range options!
The SMONTER Heavy Duty Dog Crate comes partially assembled – you can get it up and running in less than 5 minutes. Comes with a 3-year aftersales warranty service too.
Pros
---
Heavy-duty steel frame.
Convenient wheels.
Excellent three-door design.
Rust and corrosion-resistant.
#3 ProSelect Empire Dog Cage
SALE ALERT!!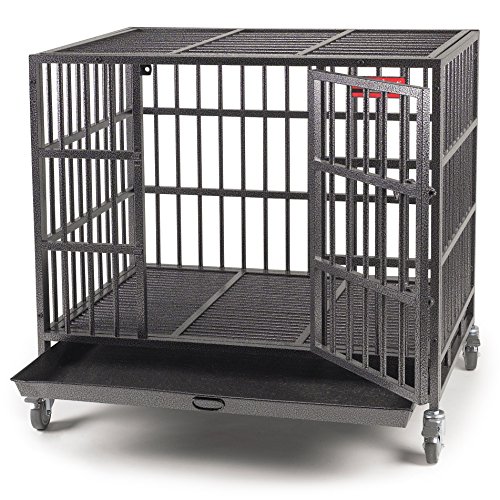 ProSelect Empire Cages - Medium
Dimensions: 33.75" H x 37" W x 25.13" L | Bar Spacing: 2.25''
20-Gauge Steel Cage – This ProSelect Empire dog cage is extremely strong with reinforced 0.5-inch diameter steel tubes...
Medium-Sized Cage – (26 - 40 lbs)
The ProSelect Empire Dog Cage is another of our favorite picks and has most of what any buyer will be looking for. The 20-gauge steel used here for instance is incredibly durable – which makes it an escape-proof dog crate. Likewise, the design that uses reinforced steel tubes is enough to hold even the unruliest of pets.
The floor grate and tray once again help to prevent your dog from having to be trapped with its own excrement and make it easy to clean later. There are wheels but they are removable. Perhaps the only downside is the size, which is only just large enough to fit medium-sized dogs comfortably.
This is a great heavy-duty dog crate that ticks a lot of important boxes. However, it might not be suitable for larger-sized dogs – so always check on the dimensions and measurements first.
Pros
---
Very durable – made with reinforced 0.5-inch diameter steel tubes and 20-gauge steel.
Useful floor grate and tray.
Removable casters.
#4 Homey Pet Open Top Heavy Duty Dog Cage
SALE ALERT!!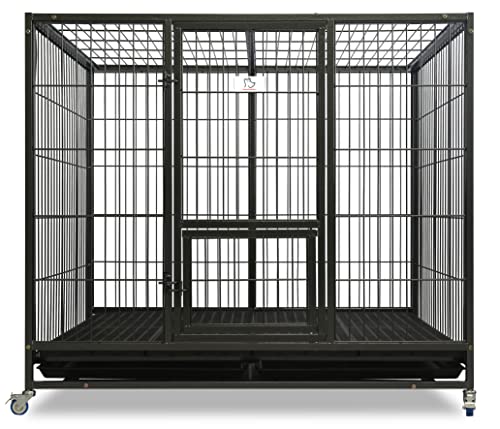 At this point, you're probably starting to recognize the key features that set apart a top-quality dog crate. In this case, you're getting most of those things from the Homey Pet Open Top Heavy Duty Dog Cage.
Here we have lockable casters for moving your pet around, easy assembly, a plastic floor grid with holes to improve comfort, a grill and a tray, a handy feeding door, a double chain lock, and more than enough space for even larger dogs. It also uses a non-toxic finish for your peace of mind.
Among all the heavy-duty dog crates listed here, this is the biggest (49″ x 37″ x 44″) and could fit most large breed dogs comfortably.
Pros
---
Non-toxic.
Easy to clean.
Feeding door – for convenient feeding.
#5 WALCUT Heavy Duty Dog Crate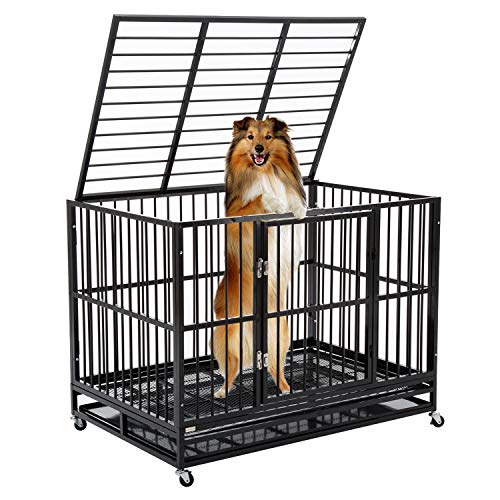 This is a good-sized, virtually indestructible heavy-duty dog crate from WALCUT that comes with a lot of well-thought-out features. It is easy to clean thanks to two removable bottom trays, and easy to move thanks to the caster wheels. The double door latch is able to keep even the canniest canine at bay, while the steel frame is also up to the task.
That steel isn't reinforced or stainless like some of the others, however. This is why the price is a little lower, despite the large size. Still, it's going to be a cut above the majority of dog crates and is of great value. For most pet owners, this is more than enough durability.
This is a somewhat mid-range offering then, but will still be strong enough for the vast majority of dogs. It once again comes with some of the best features too, making this a great choice.
Pros
---
2 removable bottom trays for easy cleaning & washing.
Wheel casters.
Double lock latch design for added security.
#6 SmithBuilt Heavy Duty Dog Crate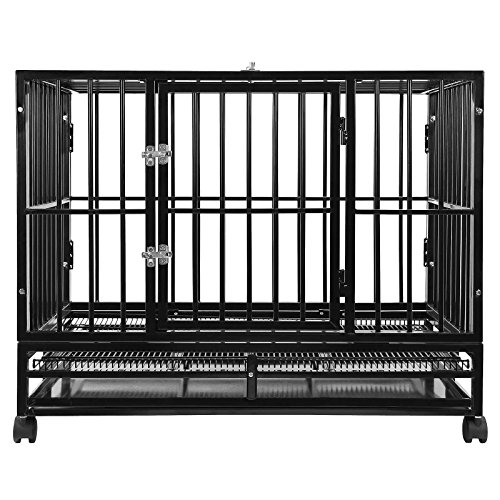 The SmithBuilt Heavy-Duty Dog Crate is large, sturdily constructed, and comes in two colors (black and grey).
What's more, is that we again see many of the great features that help some of the other cages to stand out. For instance, you have a two-door design once again that allows access through the top. It has rolling, locking wheels, rust and corrosion resistance, and a removable pan.
The only drawback is that some of the bars are a little thinner than others, and this might be a problem for the most extremely large dogs.
The slightly weak points on this cage mean that we can't give it our highest recommendation. Nevertheless, it is still a great dog crate on the whole.
Pros
---
Extremely durable – made from commercial grade steel.
Caster wheels.
Grated flooring for easy cleaning.
---
Heavy-Duty Dog Crates Buyer's Guide
---
Being told which heavy-duty dog crates are the best around is great, but being able to tell for yourself what makes them so, and how to tell a great one from a mediocre one, is even greater.
In this guide, we'll be taking a look at some of the features of a proper heavy dog crate, what to be on the lookout for, and some commonly asked questions you should always consider to make sure you make the best decisions in this regard.
Heavy Duty Dog Crate – What To Look Out For?
Durability
One of the very purposes of getting a heavy-duty dog crate is to find something strong and sturdy to handle the extra demands that a regular, lightweight crate can't. And it is for this reason that durability should be one of the key properties on your mind when making a decision of which heavy-duty dog crate to go with.
Also, as it happens, the best and strongest heavy-duty crates are also the ones that last longer, so finding a durable crate almost always ensures the quality of other properties, too.
Accessibility
By accessibility, we mean that a great heavy-duty dog crate should be secure enough to keep dogs in, and easy enough to access when there's a need to bring them out or put them back in the crate.
For easy accessibility, various heavy-duty crates employ various features, such as multi-door design, wider space, and even smaller entries within a larger door.
We talk more about this in the next section.
Mobility
Depending on your routine or even the purpose of employing a dog crate in the first place, there may be a need for the constant movement of your crate, and, thanks to their implied "heavy" nature, this may be a problem – if you don't go for an optimized crate.
An optimized heavy-duty dog crate would have a moving mechanism installed that will make the constant movement as convenient and hassle-free as possible.
Space And Comfortability
Perhaps the most important property of heavy-duty crate, space, and comfortability are so important in a crate because, well, without them every other feature and property is pretty much useless.
There is no point in having a heavy-duty crate with fancy doors and efficient trays that cannot fulfill the basic function of a crate – which is to accommodate your doggie and make your furry companion feel as comfortable and at home as possible.
Maintenance And Cleaning
Lastly, another property you should place emphasis on when getting a heavy dog crate for your pooch is the ease of cleaning. To make this easier, state-of-the-art crates employ different tactics, the most common and most efficient of which is the use of a tray, which we discuss further in the section below.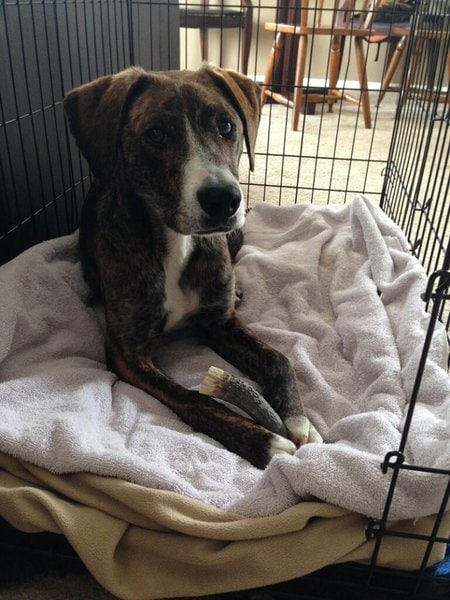 Features Of Heavy-Duty Dog Crates
Now that we've taken a look at some of the most important properties that a proper heavy dog crate must have to be considered high quality, the next thing to do is examine the individual features responsible for these properties, and how to tell which ones give the most desirable results.
Dimensions
One of the most important features of a heavy-duty crate that you should be on the lookout for is the dimension of the crate (and your dog's size) itself.
A proper heavy-duty frame, and most of the entries on our list, should be no less than 36 inches long and 24 inches wide, with the most desirable size being in the range of 48 inches long and 33 inches wide, with a 37 inches height.
Floor Tray
To determine ease of maintenance and cleaning of a heavy-duty dog crate, it helps to be on the lookout for the presence of a floor tray.
A floor tray makes it easier to collect wastes and keeps the upper part free from soiling. Also, an ideal floor tray doesn't retain pet odor and is rust-resistant.
Metal Type
To determine strength and durability, it is important to consider the material from which the heavy-duty crate in question is made.
A proper, sturdy heavy-duty crate generally makes use of heavy-duty steel frames of different dimensions, depending on your preference.
An ideal metal for a proper heavy-duty crate is also corrosion-resistant and rust-resistant.
Door Design
For ease of accessibility, as mentioned earlier, the presence of multiple doors is important. Now, this isn't a deal-breaker by any means but is nonetheless a feature that should be very appreciated as it comes in handy in numerous scenarios.
Some heavy-duty crates offer as much as three doors, with two being the bare minimum you should settle for, and some offering as much as four.
Casters
For easy mobility, rolling casters are very important in a heavy-duty crate. Proper rolling casters should also have wheels that are capable of being locked in place to prevent accidental movement, or able to be completely detached and reattached when the need for mobility arises.
Floor Type
For comfortability, the floor of an ideal heavy-duty crate should be as smooth and accommodating as possible. Sometimes manufacturers take care of this by making use of porous plastic or other friendly materials, while sometimes they do it by making the metal as smooth and easy as possible.
Other times, though, it may fall on you to increase the comfort level for your doggie by fashioning a bed or a cushion at the base of the crate.
Related: Best Large Dog Beds
FAQ
Is it Possible to Get All of These Features in One?
Ideally, you should be on the lookout for a heavy-duty dog crate that offers as many of the most important features at a high level. Some features are obviously more important than some, and when you can't get all of them, you should always place emphasis on the most important ones.
Does Purpose Matter?
Yes, to determine which features are more important, you should always consider the purpose of the crate in the first place. For instance, to find a permanent place for your doggie to stay, comfort is important. If what you want is a crate for constant movement, wheels are important, and so on.
How Long Should a Heavy Duty Dog Crate Last Before Replacement?
A typical high-quality heavy-duty crate should last for at least three good years if properly used and maintained.
---
Final Thoughts
---
As you can see then, there are a lot of factors to consider when choosing the right dog crate for your pooch. With that said, any of the top 6 dog crates on our list should be more than capable of providing you with the durability and convenience you need.
We believe in our top pick because it had all of the most important features, and a truly superior build quality. Whatever you choose, you'll find that having a high-quality, heavy-duty dog crate can make your life significantly easier as a dog owner.