The best elevated dog bed is Kuranda Dog Bed.
With an elevated dog bed, you can rest assured (mind the pun, we couldn't resist), that your canine companion is just as comfortable as you are while asleep. Not only will an elevated dog bed keep your pooch warm and comfortable, but it'll also protect it from insects and disease-ridden creepy crawlies.
Plus, it's so much easier to maintain an elevated bed and the space around it. Just switch on your vacuum cleaner and clean under the bed without lifting it.
If all this sounds like the ideal dog bed for your furry best friend, you'll enjoy our review. Here's a list of the best-elevated dog beds on the market and a buying guide to help you make an informed purchasing decision.
#1 Kuranda Dog Bed
Kuranda Chewproof Bed - Silver Aluminum - 50" x 36" - Vinyl - Smoke
ORIGINAL CHEWPROOF BED AND STILL THE BEST - Designed in Maryland in 1995. Patent #US5992348. Still the best. Best...
BEST DESIGN - Oversize rails (larger than all competitors) protect fabric in frame. Orthopedic design provides long...
BEST MATERIALS - Aircraft grade aluminum and high strength PVC won't rust. Premium fabric are abrasion resistant,...
Unlike most brands that make elevated dog beds with a steel frame, Kuranda has opted for PVC instead, making this elevated dog bed one of the most durable in the market. As for the sleeping surface, it's made from comfortable Cordura. This material isn't just comfy to lie on, but it's also resistant to abrasions, tears, and scuffs. This makes it ideal for aggressive chewers because it's scratch-proof and chew-proof.
Kuranda didn't stop there, however, as this pet bed boasts a flexible sleeping surface which makes it less uncomfortable for the bony prominences of your dog's body. Due to its construction, this pet bed is mostly suited for indoor use, but an aluminum version is available for outdoor use.
Although a bit pricey, this Kuranda dog bed is worth every penny. It's made tough and highly resistant, plus it's easy to maintain. What more could you ask for?
Thanks to its elevated height and durable materials, this dog bed is perfect for large dogs that are aggressive chewers.
Pros
---
The aircraft-grade aluminum material and high-strength PVC used to produce the frame of Kuranda's elevated dog bed don't rust easily, thereby making this a product that pooches can continue to use for a considerable period.
The use of oversized rails on this Kuranda dog bed product helps to protect the fabric from damage, and the fabric is easy to maintain by wiping clean.
The orthopedic design of this elevated canine bed provides great relief and support for pooches with weak joints and bones.
The heavy-duty nylon material used to manufacture the Kuranda elevated dog bed is strong and durable enough to withstand damage from pooches that are aggressive chewers.
This elevated canine bed product is available in six size options to ensure that it can be comfortably used by pooches of different sizes.
Cons
---
Several customers have remarked that they found it difficult to assemble this elevated dog bed, with some sides of the bed reportedly failing to line up for screwing together.
The fabric of this canine bed product tends to fade and lose quality when frequently used outdoors.
#2 K&H PET PRODUCTS Original Bolster Pet Cot Elevated Dog Bed
SALE ALERT!!
This elevated dog bed from K&H PET PRODUCTS is built for comfort. It comes with features like a cushioned bolster to keep your dog safe and comfy, while the 600 Denier fabric is not only easy to clean but waterproof as well. All you need to clean this low-maintenance bed is a wet cloth, and you're good to go!
To minimize the risk of dogs falling from this raised bed, K&H has designed it to include anti-skid rubber feet. So, you can confidently leave your dog to sleep on this bed without supervision and without worrying that it's going to fall.
It's so comfortable that your dog will want to take regular afternoon naps on it. Thanks to the breathable mesh fabric, this dog bed is comfortable in any climate.
This sprawling elevated dog bed recreates the experience of sleeping on your bed for your dog. The plush bolster and Denier nylon fabric guarantee both strength and durability.
Pros
---
This elevated dog bed features removable bolsters that provide a cozy and comfortable surface for pooches to nestle and use as a headrest when sleeping.
This bed's bolsters are covered with waterproof 600 Denier nylon material for protection against moisture damage, thereby ensuring the longevity of the product.
This dog bed from K&H Pet Products comes with straps and non-skid rubber feet that secure and prevent the bed from moving around when it is being used by a pooch.
The mesh center and the elevated design of this product ensure maximum airflow for cooling by keeping an air gap above the ground surface, thereby giving a pooch the comfort it needs.
Customers can conveniently assemble and disassemble this elevated dog bed without needing tools, and the lightweight design of the product makes it easy to transport from one place to another.
Cons
---
The durability and quality control of this dog bed product are questionable, as several customers have reported the seams of the bed coming apart after being used for only a short time.
Multiple customers have received K&H packages with some missing components needed for assembly.
#3 K9 Ballistics Chew-Proof Elevated Dog Bed
The K9 Ballistics elevated dog bed is built tough to withstand even the strongest chewers. It's virtually chew-proof and a testament to K9 Ballistic's commitment to creating durable, long-lasting, and high-quality elevated beds.
Although there are a few reviews of unsatisfied customers who say their dogs were able to chew through some of the materials of this dog bed, they didn't make it out of chunks that are big enough to swallow. Sure, this bed may suffer a bit of damage from constant scratching and chewing, but it's relatively safe for any dog to use.
This dog bed can take a lot of abuse thanks to its ripstop nylon Ballistic construction. It's also easy to clean because you can just pop it into the washing machine while following the provided care instructions.
Pros
---
The K9 Ballistics chew-proof bed is designed to fit in most standard crate sizes, ensuring that pooches can continue to feel comfortable when contained in a crate.
This dog bed comes nearly preassembled with customers just needing to screw in the bed's four legs for the product to be ready.
The densely woven nylon material used to craft this canine elevated bed includes a waterproof membrane that prevents moisture – from doggy accidents or spills – seeping through and wetting the floor.
For cleaning and maintenance, customers can hose down this elevated dog bed or wipe the fabric with a damp cloth.
The aluminum frame of this K9 Ballistics elevated bed covers all the edges of the bed's fabric, thereby making it considerably difficult for pooches to chew the product.
Cons
---
The absence of non-slip rubber feet usually results in this elevated canine bed slipping and sliding around a lot when it is climbed by a pooch.
#4 Coolaroo The Original Cooling Elevated Dog Bed
SALE ALERT!!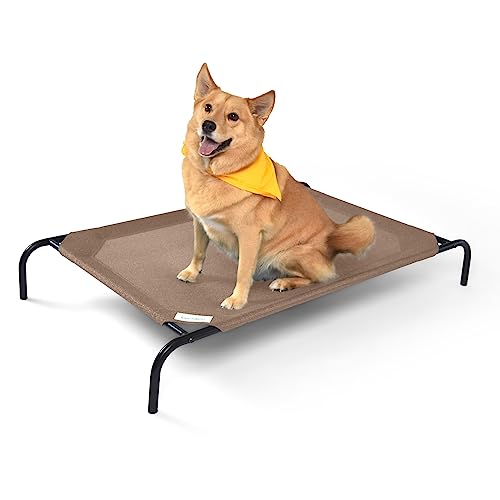 Coolaroo The Original Cooling Elevated Dog Bed, Indoor and Outdoor, Large, Nutmeg
COOLING DOG BED – Coolaroo's signature breathable fabric promotes air circulation on all sides of the bed, keeping...
RELIEVES JOINT PRESSURE POINTS - Raised dog bed design helps to eliminate hot spots and fabric flexibility creates...
EASY TO CLEAN - washable pet bed with removable cover makes it easy to clean, simply hose off with water or wash with a...
Coolaroo from Gale Pacific is one of the most well-known manufacturers of premium pet products. This is a precision-crafted elevated dog bed that offers a combination of safety, comfort, and durability. It's made with comfy knitted fabric that'll make your pooch feel like it's sleeping on a cloud.
It's supported by a sturdy frame that's made from powder black coated steel. The coating makes it skid-proof and protects the surface of the bed from critters like mites and fleas, as well as mold and mildew. Since the bed is elevated at a height of 7 inches from the ground, there's no chance of creepy crawlies ever reaching the bed's surface and irritating your dog.
You'll be glad to know that this dog bed is made from chemical-free materials. Your dog can lie on this bed all day during the summer without worrying about any chemicals leaching from it. The great thing is that all of this is available at a very affordable price tag.
With an elevation of 7 inches above the ground, this dog bed from Coolaroo guarantees a peaceful night's sleep. Your dog will feel as though it's taking a nap on your bed, and the best part is that this model is made from eco-friendly, recyclable materials, fantastic for environmentally-conscious dog owners.
Pros
---
The elevated, off-the-ground design of this Coolaroo product facilitates optimal airflow and ensures that pooches remain cool and don't overheat when lying on the bed.
In addition to enhancing airflow, the elevated design of this canine bed product, coupled with the flexible fabric, prevents the hard floor from putting unhealthy pressure on a pooch's joints.
The lightweight, portable design of this elevated canine bed makes it convenient for customers to transport the product for both indoor and outdoor use.
The powder-coated steel frame of this elevated dog bed product can withstand damage from elements such as moisture, wind, and sunlight, thereby making the bed suitable for use outside the house.
Customers can conveniently wipe this bed with a damp towel or wash the bed to carry out maintenance activities; Mild cleansers can also be safely used to carry out deep cleaning activities on this elevated bed.
Cons
---
Some customers have reportedly received Coolaroo packages with missing components, thereby making it impossible to assemble the bed.
Several customers have also commented that it is difficult to assemble this elevated dog bed product, as the bed's parts and pre-drilled holes usually don't line up for screwing together.
#5 Bedsure Elevated Dog Bed
SALE ALERT!!
The Bedsure elevated dog bed features a durable and breathable Teslin mesh design that ensures proper airflow, thereby keeping dogs cool. The bed's surface is designed to resist tears from canine claws, and the soft nature of the Bedsure bed helps relieve joint pain and stress.
This Bedsure dog bed supports canine weights ranging between 40 lbs to 85 lbs, making it ideal for households with large-sized pooches. And if you're worried about using this bed outside on rainy days, the elevated, no-slip feet help ensure that your canine buddy remains dry and clean.
Dirt and pet hair don't cling to the Bedsure bed mesh, thereby making this product easy to maintain, and the bed can easily be assembled and disassembled for easy transportation and storage. Users can also place a softer dog pad on the Bedsure mesh to provide even more comfort for their canine buddies.
The Bedsure elevated dog bed is perfect for outdoor use, and its portable size also makes it ideal for use inside the house. With the comfort provided by this bed, dogs will have no difficulty relaxing, and its durable, sturdy build ensures that this product is durable.
Pros
---
The durable Teslin mesh material used to produce this elevated dog product allows air to flow in from the bed's underside and keep pooches cool during hot weather.
The fabric of the Bedsure elevated bed doesn't retain dog hair, dirt, and grime, thereby making it possible for customers to conveniently clean the bed by hosing the surface or washing it with mild soap and air drying.
The inclusion of non-skid rubber feet on this Bedsure product provides firm footing and prevents the bed from needlessly sliding around when being used on considerably smooth surfaces.
The 0.04-inch thick steel frame used to manufacture the Bedsure elevated dog bed is sturdy and doesn't deform easily, with powder coating used to ensure that these frames don't rust.
The mesh material used for the sleeping surface of this elevated dog bed product from Bedsure is strong enough to resist damage from a pooch's claws.
Cons
---
Some customers claim that the pieces of this dog bed don't easily fit together, thereby making it difficult to assemble the bed.
The sleeping surface of this bed tends to sag too low towards the floor even when being used by dogs within the recommended weight limit, and this can be an uncomfortable experience for the pooch in question.
#6 Amazon Basics Cooling Elevated Dog Bed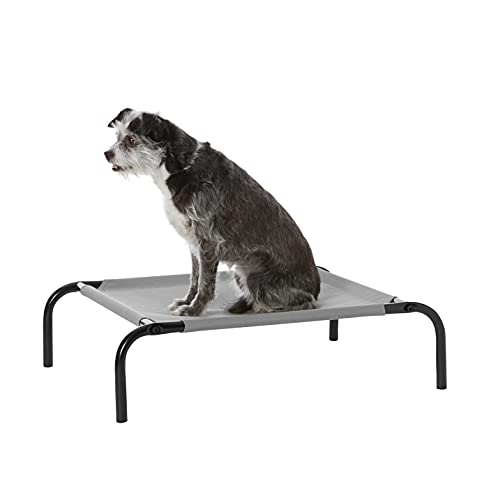 Not to be outdone, Amazon has created its version of the elevated dog bed. This model has a very similar design to the Coolaroo, hence the distinction as a cooling dog bed. Although it has almost identical features to the Coolaroo, this bed is $30 cheaper.
You'll be glad to know that it's easy to assemble and comes with all the tools and instructions you need. It's also effortless to clean and maintain.
Thanks to the mesh fabric, your dog will stay cool and comfortable in any weather condition, and it's super easy to clean as well. All you have to do is hose it down and you're done. Amazon Basics has taken it to the next level with a higher weight capacity of up to 150 lbs. Plus, you can rest assured that this dog bed is covered by the Amazon guarantee.
This comfortable elevated dog bed is great for all seasons. It's made from cool breathable mesh material and it's available in two different colors to suit different personalities.
Pros
---
The Amazon Basics elevated dog bed product utilizes breathable mesh fabric to provide quality airflow and keep pooches cool while they are either lying or sleeping on the bed.
This cooling elevated dog bed is available in sizes ranging from extra-small to large, to ensure compatibility with pooches that fall into various weight categories.
This elevated dog bed product is easy to assemble, and the package comes with everything, including screws and a hex tool, that customers need to set up the bed.
The lightweight design of this Amazon Basics product makes it possible for customers to transport the bed for use in various locations around the home.
The use of gently curved corners to produce this elevated dog bed eliminates the risk of injury that typically accompanies the use of sharp corners.
Cons
---
The middle bar underneath this canine bed tends to come off easily, which causes the bed to become unstable, and it can be rather inconvenient to constantly readjust this bar.
Several customers have claimed that the directions contained in the instruction manual that comes with this elevated dog bed product are confusing.
#7 Veehoo Cooling Elevated Dog Bed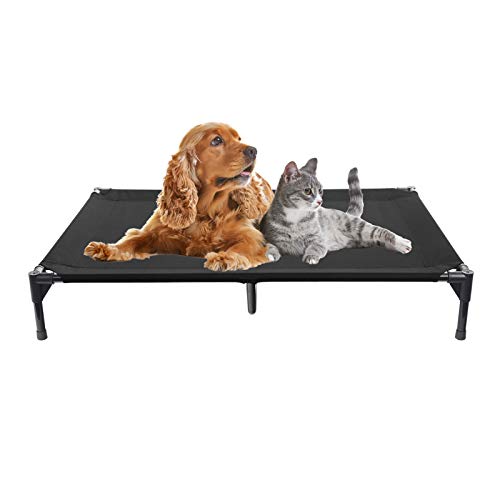 Give your pooch the best with this Veehoo cooling elevated dog bed. It's designed with your canine buddy's comfort in mind and can help to relieve joint pain. You can place this dog bed pretty much anywhere around your house, and it's suitable for outdoor use as well.
That's because it's made of rust-resistant 600 Denier oxford fabric that's backed by a plastic-coated steel frame. It's also portable, so you can take it with you as a resting surface for your dog in between playing fetch at the park.
The anti-collapse design of this dog bed means that it won't fall apart no matter how much your dog moves around while asleep. The sleeping surface is resistant to mites, fleas, and odors, plus it's waterproof and durable enough to withstand constant chewing and biting from aggressive chewers.
The surface is machine washable, while the rest of it just requires a spray and brush to get the mud off after a rainy spell. You'll also be glad to know that this dog bed is easy to assemble with no need to use a screw and wrench. Simply plug it in and use it either indoors or outdoors, depending on your preferences.
This dog bed from Veehoo is one of the few that comes in eight exciting colors, but not limited to orange, brown, and black. It's also available in different sizes to suit various dog breeds.
Pros
---
Veehoo's elevated dog bed features non-slip rubber feet to prevent the bed from being displaced when it is used on smooth surfaces and when a pooch either jumps onto the bed or climbs down from it.
The Textilene mesh fabric material used in manufacturing Veehoo's elevated dog bed is sturdy, breathable, and doesn't heat up, thereby guaranteeing a pooch's comfort.
This elevated canine bed product features a powder-coated steel frame that is rust-resistant, thereby ensuring durability and a long period of use.
The plug-in design of this Veehoo product makes it possible for customers to assemble the bed without needing to use screws or wrenches.
This elevated dog bed product from Veehoo utilizes non-sharp edges to ensure that pooches can't injure themselves.
Cons
---
The fabric of this dog bed product isn't chew-proof and can be easily damaged by pooches that are aggressive chewers.
The bed tends to tip when the dog rolls over and lays on the edges of the bed, and in some instances, the pooch is thrown over.
---
Elevated Dog Beds Buyer's Guide
---
Dogs are simple. All they want is some food, buddies to play with, a few toys, and a roof to hide under when it's raining outside. Now, as a dog parent, you want to give your pet the best you can, and that includes making sure its surroundings and lodgings are as comfortable as possible.
Apart from letting your dog sleep on your bed, an elevated dog bed is the next most comfortable place for your furry baby to sleep for the night. The great thing about elevated beds is that they put some space between your dog and the floor, unlike traditional dog beds. It's like they're regular, human beds but come in sizes suitable to dogs.
As with any purchase, you have to keep a few essential considerations in mind when shopping around for an elevated dog bed, such as: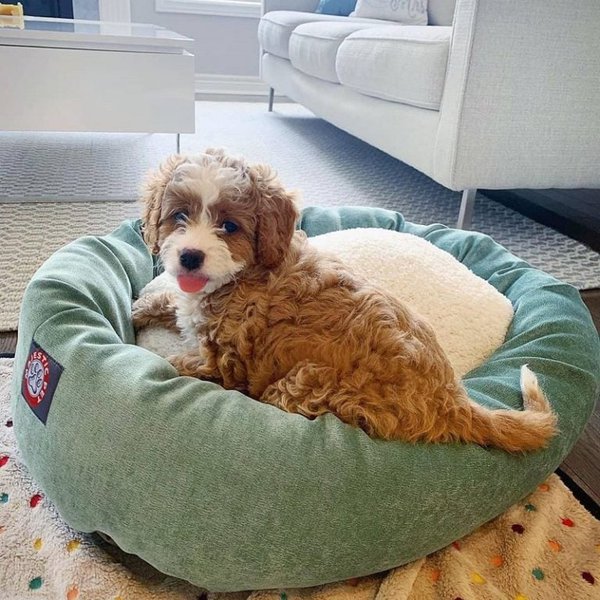 Material
Some of the great elevated dog beds have sturdy frames made from durable steel or aluminum frame. Some models are made from PVC, but it doesn't have the same level of durability as metal. The latter is better for small to medium-sized dogs, while steel frame dog beds work great for large, heavy dogs.
Be sure to check the maximum weight requirement for your dog's bed to make sure that it can handle your dog's weight.
Fabric
A good quality elevated dog bed should have a mesh fabric surface that is breathable and resistant to scratches and chewing. Make sure the mesh is strong enough to support your dog adequately as it sleeps.
Quality
Your dog should always feel comfortable when climbing onto his elevated bed, and a strong metal frame will provide it with ample support to keep it happy. To achieve this, you need to pick an elevated dog bed that's made from durable materials like canvas mesh and a metal frame.
If you are looking for indestructible dog beds that can withstand aggressive chewers, here are a few options that you can consider.
Dimensions
The size and height of the elevated bed play a huge role in how comfortable your dog will be while sleeping on it. Ideally, you want a dog bed that's large enough to feel like a bed, and your dog's limbs shouldn't be hanging off the edge. It should also be a comfortable height that makes it easy for your dog to get on and off.
This is similar to other canine accessories such as large dog crates and outdoor dog houses.
Portability
If you and your dog lead an active lifestyle, then you should definitely consider elevated dog beds that are portable and suitable for outdoor use. They should also be suitable for use between the seasons and compatible with activities like camping, hiking, and boating.
That way, your furry friend can sleep on a comfortable surface no matter where you travel to.
Durability
Again, durability is a must because it contributes to the bed's comfort level and support. You also want an elevated dog bed that's made to last. Otherwise, you'll be purchasing a new model every year.
Look out for durable construction like steel and aluminum in the frame and Denier oxford fabric or canvas that's thick enough to withstand aggressive chewing.
Ease Of Cleaning
The last thing you want is a high-maintenance dog bed that requires constant cleaning. Luckily, there are plenty of elevated models out there that are easy to clean that only require that you put the cover in the washer and wipe the frame with a damp cloth. There are even waterproof and weatherproof models to choose from.
Other machine-washable canine accessories include dog SUV cargo liners and dog couch covers.
Corner Holes
Corner holes on an elevated bed are dangerous, especially for active dogs that love playing around. As much as possible, try to avoid beds that come with corner holes.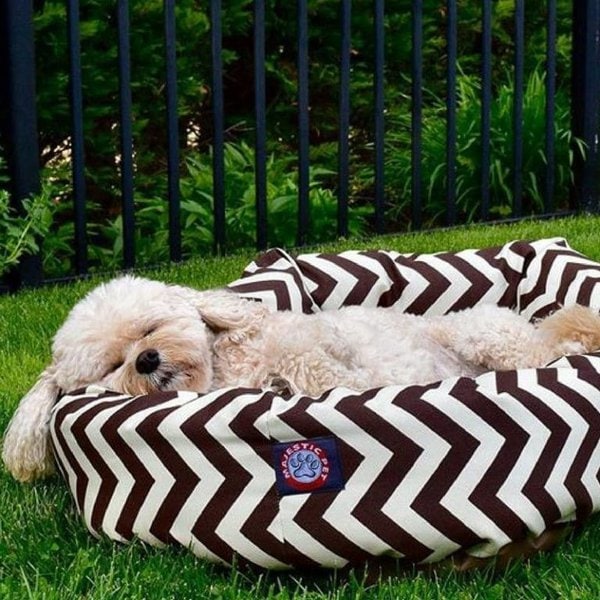 What Dog Breeds Need An Elevated Dog Bed?
The answer to this question depends on the dog. If you are unsure of your dog's breed, you make use of a dog DNA test kit to determine its breed.
For aggressive chewers that have destroyed a bed before, they will most likely do it once again. Dog owners in this situation should opt for durable elevated dog beds that are made from chew-proof materials.
It's worth noting here that there's no such thing as an indestructible bed, and if a dog is determined enough to chew its way through a dog bed, it will eventually disintegrate it no matter how tough it is. But this doesn't mean that you should just buy any of the elevated dog beds on the market. You should still opt for a chew-resistant bed and consider investing in a training program to condition your dog better.
Young puppies are often very aggressive at chewing everything around them, and they have very sharp teeth. That's because the puppies are teething.
So, if you have a puppy, then you should get him a chew-proof dog bed just to ward off bad chewing habits from the get-go. Encourage your canine buddy to use chew toys instead.
---
Final Thoughts
---
For your pet pooch, sleeping on an elevated dog bed is like sleeping on your bed. It has the same raised height, level of support, and comfort. If we were to pick one option from the elevated dog beds reviewed, it would have to be our top pick.
Our top pick comes highly recommended because it's made tough but comfy. It is resistant to chewing with a flexible sleeping surface that'll help your dog enjoy sweet dreams. However, it is a bit more expensive than most models. With such wonderful features, its price tag is totally justifiable.