The best yard leash for dogs is Leashboss Free Range Long Dog Leash.
It can be a little difficult to find the best yard leashes for dogs with all the options available on the market. To help you out, we have rounded up 9 of the best with a lot to offer both you and your pooch. That way, you know where to start your search.
#1 Leashboss Free-Range Long Dog Leash
Top on our list is one of the strongest options on the market. This is thanks to the use of nylon material. The Leashboss free-range long dog leash is strong enough to weather all that your yard and other outdoor spaces have to throw at it, ranging from water exposure to friction.
Despite this impressive strength, it is still a very comfortable material for your dog in case of contact as they run around and enjoy time outside.
The leash also stands out with its long reach. It allows your dog to go exploring up to 50 feet away from you. This makes it ideal for yard setups where you get to lounge on your patio or by your pool while still having firm control over your little furry troublemaker.
You also have a very comfortable handle to look forward to. In addition to the ergonomic design, it includes foam padding. This offers firm grip while also helping to prevent incidences of friction burns on your hands.
This Leashboss leash is easily one of the best-constructed dog leashes with high-quality materials and an effective stitching techniques used. It is also a very versatile leash and fantastic for both fun in the yard and anywhere else you might want to take your pooch, including hiking and park visits.
Pros
---
This long dog leash product can be used in a variety of settings, including yards, parks, and campsites, with its versatile design ensuring that it can be used either for backyard or recall training, hiking, and outdoor activities in general.
The Leashboss free-range leash is available in multiple length options – 20", 30", 50", and 100" – to enable customers to make purchases based on their yard sizes and specific needs.
Leashboss' long dog leash comes with a drawstring backpack that customers can conveniently use to store and transport the leash when it isn't being used.
The durable nylon material used to manufacture this yard leash for dogs is devoid of sharp edges that tend to scrape customers' hands when handling similar products.
The Leashboss free-range leash comes with a padded handle that provides customers with a firm and sturdy grip to retain control over their canine buddies.
Cons
---
Some users have reported that this Leashboss product is difficult for them to clean, as the leash tends to retain a considerable amount of dirt and debris.
Multiple users have also reported that this Leashboss yard leash has a tendency to twist and tangle, with attempts to untangle the leash tending to be frustrating.
#2 CHERPET Reflective Yard Long Leash
SALE ALERT!!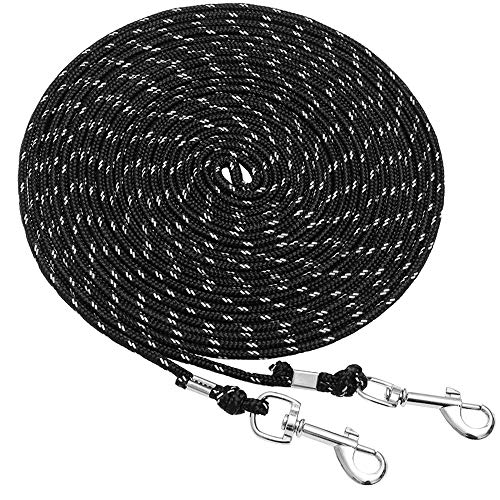 This alternative is designed as a tie-out leash. This means that you set it up by wrapping it around something like a tree or fence post. It is ideal if you want to give your doggy the freedom to run around the yard while still keeping them grounded. And the best part is that you don't have to be outside all the time keeping an eye on the little one.
The leash comes with a spring snap fastening tool on either end. One is meant to attach to the collar or harness and the mechanism makes it very easy to do this while ensuring secure, escape-proof fastening.
Another feature worth mentioning when it comes to the spring snap is the fact that it has a swivel design. This is a big deal especially when tethering your dog in place for their own safety and comfort. This is because it allows twisting and turning of the leash rope for flexibility as they explore their circle of freedom.
This is a pretty decent option for a yard leash particularly with the thick cord design that ensures not only firm control but also durability. The best part is that it is an incredibly affordable alternative with just as much to offer as many other top tier brands. So if you are shopping on a budget it might just be for you.
Pros
---
CHERPET's yard leash for dogs is manufactured and suitable for a variety of purposes, including hiking, camping, canine training activities, dog tethering, and outdoor play activities.
The reflective material used to produce this CHERPET yard leash glows when exposed to light in the dark, thereby making it ideal for customers to use in safely taking their pooches on walks at night or low visibility conditions.
The 360° swivel clasp design of the CHERPET leash ensures that dogs can freely move around and from side to side without tangling the leash.
The spring hooks that come with this canine yard leash provide a way of securely attaching the leash to a dog's harness or collar.
Additionally, the dual spring hook design of the CHERPET yard leash ensures that the product can be used to restrain two dogs at the same time.
Cons
---
The long length of this canine leash product isn't suitable for use in small yards, as it makes it possible for pooches to reach the end of the leash and possibly escape the yard.
The absence of a handle on either end of this dog yard leash makes it difficult for some customers to get a firm grip when controlling their pooches with the leash.
#3 Justzon Cotton Web Dog Training Lead
The Justzon Cotton has one major thing in common with our top pick, which is the long range offered by the 50 ft. of leash rope. One of the main differences is the fact that this one uses cotton material. More specifically, it has a 100% cotton webbing design. This makes it stronger than ordinary cotton and therefore more durable for an investment that is actually worth it.
Cotton is particularly handy for yard use as it makes the leash very sturdy. As a result, you do not have to worry about things like frayi
Pros
---
The durable construction of the Justzon training lead, which is backed by the use of weather-resistant material, ensures that this product can be conveniently used outdoors without depreciating in quality.
The Justzon dog lead can be used in a variety of ways including for canine recall training, as a pulling rope for walks or games, as well as for outdoor activities such as hiking and hunting.
This dog yard leash product comes with a stainless snap hook that provides a way for customers to conveniently wear and remove the leash for their canine buddies.
Additionally, the stainless snap hook of the Justzon lead features a swivel design that ensures that pooches can conveniently twist and turn without tangling the leash.
Jutzon's dog lead product is available in a variety of length options – 15", 20", 30", 50", 100", and ¾" – to enable customers to make purchases based on specific needs and the size of their yards.
Cons
---
Some customers claim to have experienced difficulty and stiffness when trying to fully retract the leash.
This canine training lead may not be suitable for use with smaller dogs, as they may be able to slip through the leash opening and escape.
#4 lynxking Check Cord Long Dog Leash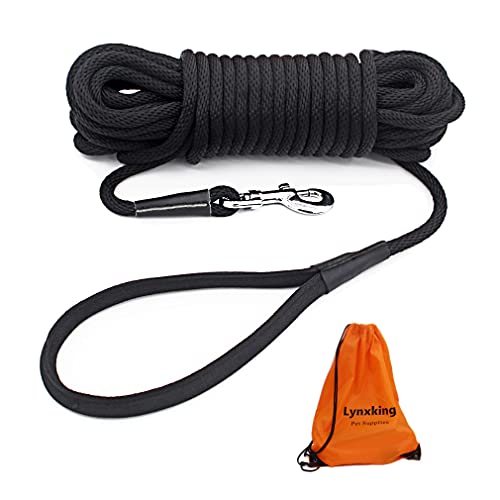 This leash is on our list because of its unique relationship with water. It is one of the few on the market that is completely waterproof. This makes it ideal for use in your yard as you do not have to worry about it getting damaged by the rain, your sprinklers or even the dew on the grass.
It is also fantastic for use in other outdoor spaces especially when it comes to hiking. In addition to being water-resistant, the chord's lightweight material allows it to float on water. As such, if your pooch decides to go frolicking in some pond or stream and you lose your grip you can easily retrieve it.
If you are looking for something versatile that you can use both in your backyard and on your other outdoor adventures then this alternative is definitely worth looking into.
Pros
---
The durable build of the lynxking long dog leash makes it suitable for a variety of uses including dog restraint, training activities, dog walking and exercises.
The double-layered, soft padded handle of the lynxking check cord provides users with a soft and comfortable handle to hold onto when taking their canine buddy on a walk.
The heavy-duty, 360° rotatable swivel hook that comes with the lynxking check cord ensures that pooches can comfortably turn around without getting tangled in the leash.
This dog yard leash product from lynxking comes with a portable backpack that makes it convenient for customers to transport the cord and store it away when not in use.
The lightweight and non-absorbent material used to manufacture this canine leash product ensures that the leash can be safely used in water without it increasing in weight and causing a pooch to drown.
Cons
---
This leash may not be suitable for larger dogs or pooches that are strong pullers, as it may not be strong enough to hold up under these conditions.
Multiple users have commented that this leash's handle easily slips through their hands, thereby causing rope burns in the process.
#5 Hi Kiss Dog Agility Leash
The Hi Kiss leash stands out on our list when it comes to the variety in terms of style. It is available in eight different colors. In addition to the aesthetic value you get to enjoy, this variety offers the benefit of visibility. This will come in particularly handy when you go on adventures with your dog.
However, it is also a major bonus when it comes to use on your yard especially with the range offered. That way if your little one decides to play hide and seek or go exploring in odd corners of your property, the sight of the brightly colored leash will put you back at ease.
You can never underestimate the value of aesthetics with yard leashes and this option is the best example of what you have to look forward to with all the style options.
Pros
---
The Hi Kiss Agility leash is available in multiple size options – 15", 20", 30", 50", and 100" –which makes it suitable for a variety of purposes and uses.
This canine yard leash features a heavy-duty bolt snap that provides a convenient way for customers to attach the leash to their dog's collar or harness.
Additionally, the bolt snap of the Hi Kiss leash features a special swivel design that resists and makes it difficult for pooches to twist and tangle themselves in the leash.
Multiple customers have commended the build quality of the Agility leash and the ability of the product to withstand the wear and tear of consistent use.
The Hi Kiss leashes are available in bright color options to enhance visibility when the product is in use.
Cons
---
This canine leash product isn't suitable for consistent outdoor use as its material tends to easily weaken under continuous exposure to sunlight and rain.
The absence of padding on this leash's handle has resulted in several customers suffering cuts and rope burns when their canine buddies suddenly pull on the leash.
#6 YOOGAO Pet Long Dog Leash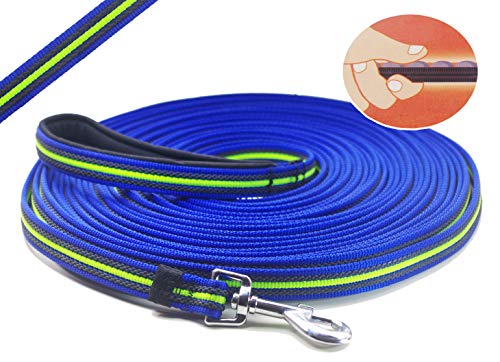 One thing you have to look forward to with this alternative is the handle design. It features padding which makes it comfortable to hold on to for long periods of time. And if you have handled a leash you can appreciate how big of a deal that extra padding can be.
The handle is also made from comfortable and breathable neoprene material. And as if all this isn't awesome enough, it includes special rubber strips. These are meant to help you get a firmer grip. It is particularly handy when training your overexcited pooch how to stay put within your yard.
This is a really good alternative if you want something that is not only effective in restraining your dog for yard discipline but also comfortable to handle during the entire process.
Pros
---
YOOGAO's long dog leash comes with a reflective strip in the middle to improve visibility in low-light conditions and prevent the occurrence of accidents in such conditions.
The neoprene-padded handle of the YOOGAO dog leash features woven-in rubber strips that provide customers with a firm and comfortable grip when handling the leash.
The twist-resistant design of the YOOGAO canine leash makes it possible for pooches to turn and run in circles without creating big knots and tangles.
The multifunctional design of this long dog leash product ensures that it can be conveniently used for a variety of outdoor activities such as hunting, hiking, and training recall commands.
The lightweight design of the YOOGAO leash ensures that it can be used on a dog without the pooch in question having to contend with the extra weight from a leash.
Cons
---
Several customers have bemoaned the quality of this leash's metal clip, with there being multiple claims of the clip snapping and breaking when in use.
There are several reports of this leash's fabric fraying and coming undone after just a short period of use.
#7 Pettom Dog Training Leash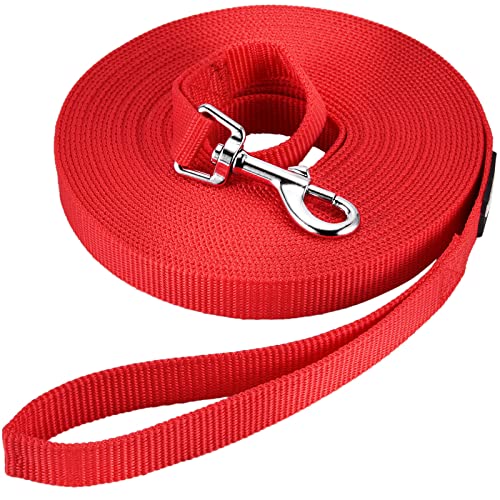 This particular Pettom Dog Training Leash is one of the longest you will get on the market and measures 65 feet. It is ideal for use on large yards as your doggy gets to truly explore a lot more of the space. It is also really useful for hiking and walks as your dog gets to go ahead and explore without having to literally drag you around.
The yard leash is also unique in terms of the material used as it is made from 100% nylon material. In addition to being resistant to mechanical damage, it is weather-proof so you can leave it outside when you're not using it.
This is excellent if you want your dog to enjoy a little more freedom by offering them a wider range to explore whether you are in your yard, at the park or on a walk.
Pros
---
The long length of the Pettom training leash provides pooches with more room to roam and wander freely, thereby making this product ideal for outdoor use.
The lightweight build of this Pettom leash ensures that it can be conveniently worn by a dog for extended periods without weighing down on the pooch in question.
The heavy-duty nylon build of the Pettom leash provides durability and ensures that the product can be used on large dogs without easily getting damaged.
The swivel clasp of the Pettom leash guarantees smooth movements and prevents the leash from tangling or twisting when it is worn by playful and active pooches.
The customized handle design of this yard leash product is designed to provide customers with a firm grip to maintain control of their canine buddies.
Cons
---
This yard leash product for dogs isn't chew-proof as several customers have remarked that their pooches were able to bite through the leash with relative ease.
Multiple customers have commented that this Pettom product is too thin and that the leash tends to leave rope burns if it is firmly gripped.
#8 Lynxking Check Cord Dog Leash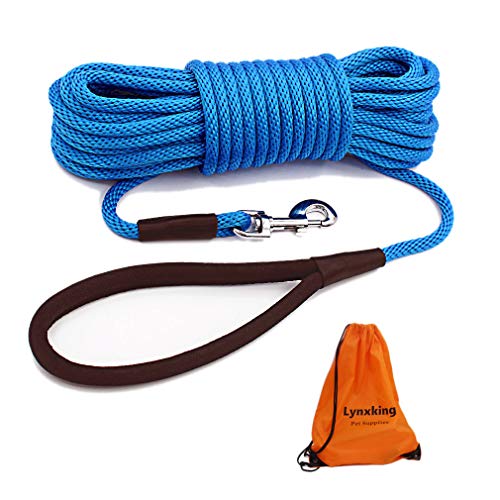 What you have here is one of the most versatile options from Lynxking when it comes to dog leashes. You can use this check cord dog leash for anything from yard training to tethering while out camping or on a hiking trip.
Its 0.38-inch thickness and heavy-duty braided rope construction grant the leash high strength. It can withstand tugging from dogs over 80 lbs. Moreover, its non-absorbent material allows the leash to float on water for easy retrieval.
Another outstanding feature the leash has is its 360° rotating clasp design. This gives the leash a tangle-free and twist-resistant experience for dog owners who have highly active dogs.
If you want to get full value for your money then this dog leash for yards is a great place to start considering all the many different uses you can put it to.
Pros
---
The Lynxking check cord is manufactured with non-absorbent material, which ensures that the leash doesn't soak and become heavier when it is used in water.
The soft padded handle of this Lynxking yard leash is designed to provide customers with a comfortable grip and prevent the occurrence of rope burns.
The tangle-free hook of the Lynxking check cord provides a convenient way for customers to attach and remove the leash from their dogs' collars and harnesses.
This yard leash product for dogs comes with a complementary storage bag that also makes it easier for customers to transport the leash when the need arises.
The Lynxking dog leash product is available in multiple size options that can be used in various ways, including for daily walking, hiking, recall training, and safety control.
Cons
---
Multiple customers have claimed that their Lynxking leashes began to fray after being used just a few times.
There have been several reports of this leash's clips getting stuck and subsequently becoming difficult to open and use.
#9 MANDAO Nylon Training Dog Leash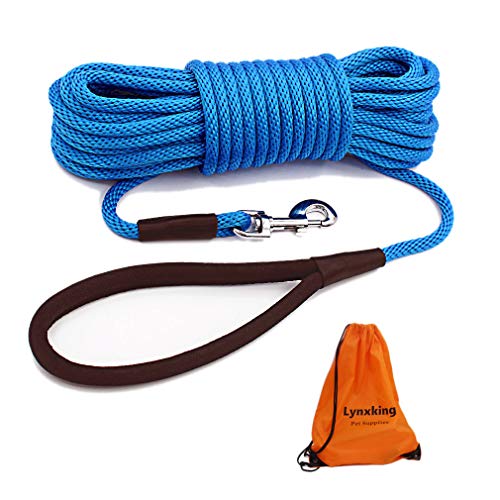 MANDAO nylon training dog leash is a simple leash that is definitely worth considering if you want something that though not fussy, gets the job done. It features heavy-duty nylon construction. This makes it both strong and durable. It is also waterproof which will come in handy both in your backyard and on your other fun outdoor trips together.
Another thing to look forward to is its wide loop handle. In addition to being comfortable for you to hold, this leash offers versatility in terms of application. It allows you to tether your dog to a variety of items on your yard from fence posts to outdoor furniture so you can have a leash-free moment for yourself.
There is no better way to round up our list than with an alternative with construction just as good as our number one option with aesthetic variety as a bonus.
Pros
---
The MANDAO nylon leash comes in a variety of length and color options to provide customers with an opportunity to make purchases based on their specific needs.
The long length and swivel clasp of the MANDAO leash provides pooches with greater freedom and wandering area even when they remain tethered.
Several customers have commended the durability of the MANDAO leash, with the product receiving praise for its ability to resist breakage when pulled by a pooch.
This yard leash product is easy to wipe or hose clean and the leash's material also doesn't retain unpleasant odors.
The length of the MANDAO canine leash makes it ideal for teaching pooches the recall command and also incorporating obedience skills.
Cons
---
The material of the MANDAO leash isn't weather-resistant and it will quickly depreciate in quality if left outdoors for significant periods.
Customers that own the colored variants of this yard leash product have claimed that the leash tends to bleed its color and leave stains on the fabric.
---
Yard Leashes For Dogs Buyer's Guide
---
While shopping for yard leashes, there are several special considerations you need to make. In a lot of ways, it is different from shopping for leashes for other typical uses. You, therefore, cannot just get the very first option you come across when out looking.
To help you out, let's delve into a few crucial factors to consider when considering your options. Understanding what each of them means for you will give you a better perspective for a more informed decision. Here is what really matters when shopping for a dog leash for yard use: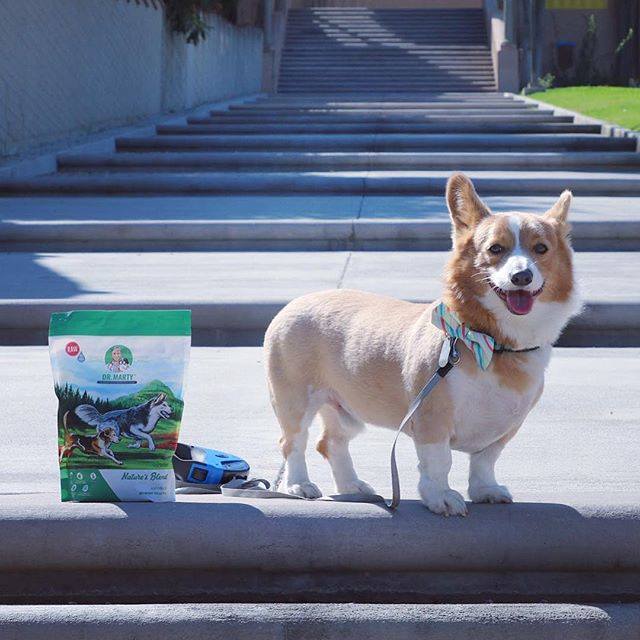 The Materials Used
This should be one of your top priorities, especially because of what the leash will be exposed to in your outdoor space. This includes extremes of weather, mechanical friction as well as your dog's constant tugging and pulling as they reach for freedom.
It is therefore crucial that you find a leash that can actually handle all that is going to be thrown at it. In this case, Nylon is the best option. It is strong enough to handle the dog's pulling and biting as well as the friction from things like the grass. It is also waterproof meaning you can leave it out in the rain and on wet surfaces.
Other options like cotton though strong are not always the most durable. However, if you want something soft and easy to handle then these leashes are great to consider.
The Length Of The Leash
How much freedom are you willing and able to give your dog in your yard? If you have a lot of space, there is no reason why your pooch should be confined to a tiny depressing corner of the property. It is therefore always best to go with longer leashes in which case anything over 50 feet is pretty decent.
Longer leashes are also amazing as they offer versatility. With all the range offered, you could easily and comfortably use the leash not only in your yard but other outdoor spaces including parks and hiking trails. This allows the pooch to run around and explore without making things uncomfortable for you.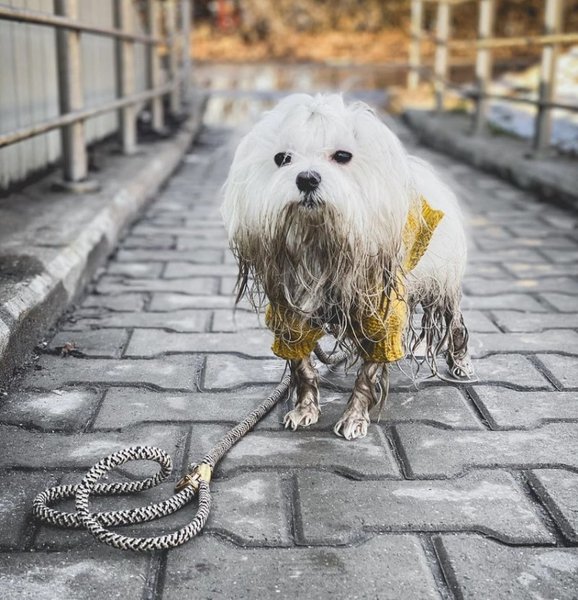 The Handle Design
If you plan on getting a yard dog leash for active training on your outdoor space, then your comfort should always be a priority. In this case, make sure you go for something with a good handle design.
One of the main features to look for is ergonomic design. Our top pick stands out in this regard as it is so much more than just an extension of the rest of the leash. It is designed for comfortable handling with the thick curved handle. Options with any form of padding in this case are always the better option to work with.
Aesthetics And Visibility
It might not seem like that big of a deal but aesthetics do matter when it comes for yard dog leashes. In addition to getting a color that you actually like, it sometimes helps a lot to have something visible. This makes it easier to keep track of your dog as they run around on the property.
Visibility at night is particularly handy if your dog sleeps outside. Again, you can very easily just pop outside and spot your beloved pooch in case you feel the need to keep an eye out for them. In this case, reflective threading is a fantastic feature to have.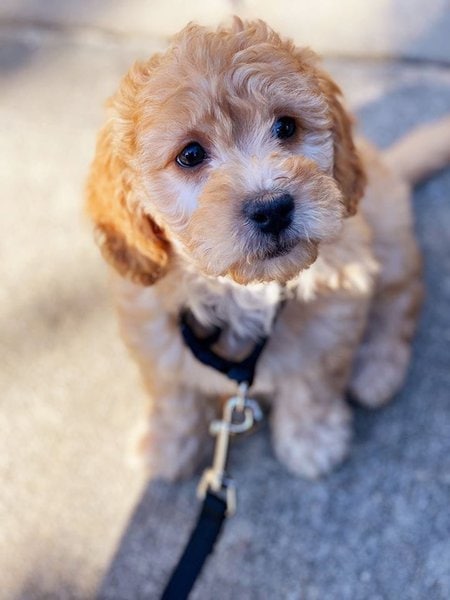 There are very many different fastening mechanisms to connect your leash to the dog collar or harness. The choice you make matters a lot with use on yards as it determines how easy or hard it will be for the freedom-hungry dog to escape.
Spring snap bolts are easily the best option for use in this case. In addition to being very secure, they are incredibly easy to attach to leash D rings on collars.
In addition to the actual mechanism, when it comes to use on backyard spaces, the flexibility offered at the ends matters a lot. As you will notice, all our top picks have a swivel design. This helps to ensure that the leash does not get tangled up as the pooch plays on your property by offering 360° of free rotation.
Hand-Held VS Tie-Out
This is particularly important as it determines how active your role will be in keeping your dog in check while they are on your outdoor property. With hand-held designs, you need to be there to actually restrict your dog's movement around the yard. This is very useful when it comes to training as you try to teach your dog how to stay within your set boundaries.
With tie-out designs on the other hand, you really do not have to be there all the time. Just find something on your space to attach the leash to whether it is a tree, the gate or even fixed outdoor furniture. This is a fantastic alternative for keeping your dog outdoors outside for long periods of time, including overnight.
---
Final Thoughts
---
With all this information from the reviews and buyer's guide, you should have all the information that you need to make the best possible decision for a dog leash you can use in your yard. In a nutshell, durability and strength should be your main priority. And you now know how to identify what can and can't offer you these benefits.
Our top pick should be high on your radar for options that will satisfy all the must-have qualities of a good yard leash. It is constructed from high-quality material with special reinforcements to ensure you have something sturdy to work with. So, if you are stuck, you should definitely check it out.