The importance of taking our dogs for regular grooming sessions cannot be understated or neglected, and in addition to keeping our canine buddies clean, consistent grooming also ensures that our pooches remain healthy.
The dog grooming industry is growing by the day, and as such, it has become even easier for you, as a dog owner, to locate grooming establishments in your locality. It is also for this reason that you need to take your time to find a quality grooming facility to ensure that your puppy gets the best treatment possible.
This article explores how you can start the search for groomers near you, how you can identify the local groomer that is best suited to give your canine buddy a sparkling look, along with a host of other vital information. However, before we go into all this, let's start by looking at how you can locate dog groomers in your area.
Where Do I Begin The Search For Dog Grooming Near Me?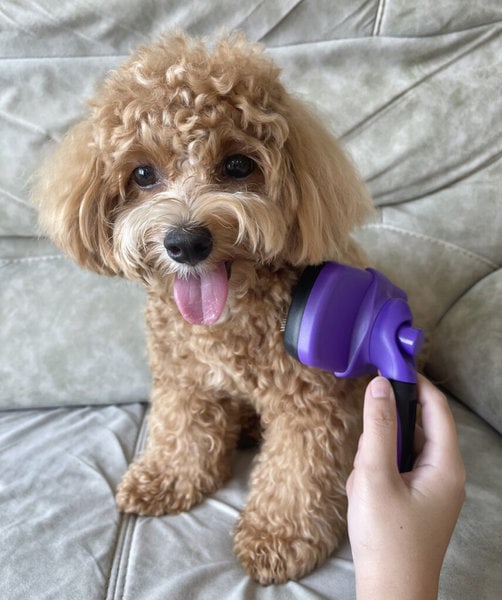 When it comes to seeking out quality grooming services for your canine buddy, there's a host of valuable resources that you, as a dog owner, can make use of to get quality and professional services for your pooch.
That said, below are just some of the ways by which you can get information about professional dog groomers near you.
Ask Friends And Family
Most times, you don't need to look far before discovering quality dog grooming services near you, as this information can be easily retrieved from people close to you who own pooches.
You can ask for grooming recommendations from trusted family members and friends. And if you have a neighbor with a dog whose haircut you admire, you can walk up to them and ask where they got their pooch's hair trimmed.
Ask Your Vet
Different dogs require different grooming services. And with the knowledge gained from attending to your canine buddy, your vet is in a good position to recommend suitable professional groomers in your locality based on your pooch's specific grooming needs.
Check For Ads At Your Local Pet Store
When visiting your local pet store for supplies, you should be on the lookout for business cards, brochures, and flyers advertising local groomers in your area. You can equally ask employees at the pet store for recommendations of good local dog groomers.
Additionally, some chain pet stores offer in-house grooming services for dogs, and you can enquire at your local store to verify if this service is available.
Search Engines
The internet is home to all kinds of resources, and information on local groomers in your area is just one of the numerous pieces of data you can retrieve from the internet.
By typing a simple query into your preferred search engine, such as Google or Bing, you can collect information on numerous local groomers near you before making a decision on which establishment is right for you.
Similarly, online database directories, such as Yelp, Yellow Pages, and Loc8NearMe, also provide a list of grooming services available in requested locations.
How Do I Know My Local Groomer Is Right For My Dog?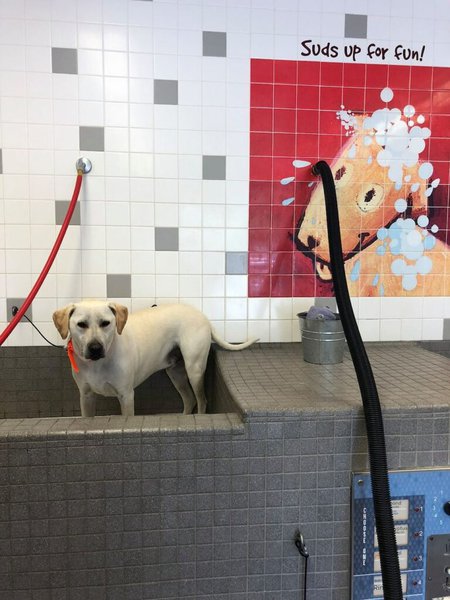 After getting a list of dog groomers operating in your locality and narrowing down your options, the next thing is to ensure that whatever establishment you'll be trusting with your dog's baths and nail clipping has what it takes to provide quality services for the pooch.
And it is to that effect that we've outlined some of the indices that can help you determine whether a local groomer is right for your pooch.
Obtain Basic Information About The Grooming Establishment
Information you should be on the lookout for, either when going through a groomer's website or calling for inquiries, includes:
Years Of Operation
This may not necessarily be an overall indicator of quality but grooming establishments with years of working experience are usually in a good position to handle certain unique situations that may arise while grooming dogs.
Staff Strength
The staff strength of a grooming establishment indicates the capacity of the groomer to handle multiple grooming appointments in a day and how quickly the groomer can attend to your canine buddy.
Certifications
Although this isn't mandated by law, local groomers that have undergone vocational and certificate programs are usually better equipped to carry out safe grooming practices. They also check for skin disorders and health issues in dogs.
Some of the certifications are indicators of a groomer's quality to watch out for when researching your local groomer. They can include certifications or accreditations from the National Dog Groomers Association of America (NDGAA) and the American Kennel Club (AKC).
Style Of Operation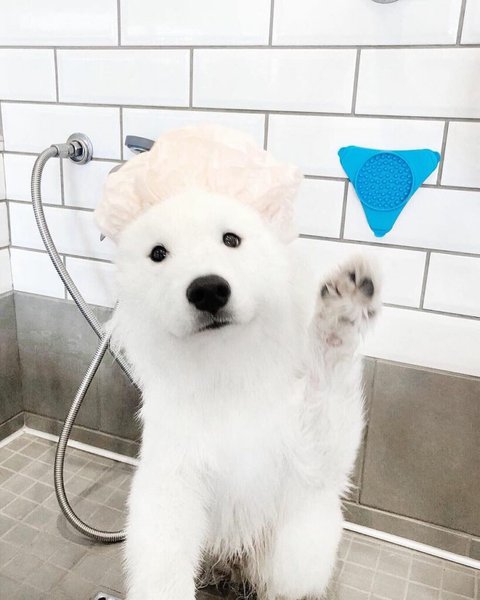 When it comes to finding out your local groomer's style of operation, the information you should look out for can include the following:
Working hours – Does the groomer operate at late working hours? Can you bring your pooch in to be groomed during weekends?
Does the establishment offer mobile or home grooming services?
Are the grooming sessions curbside, drop-off appointments, or do customers have to be physically present while their dogs are being groomed?
Services Provided
Grooming services vary widely, and as such, it is only normal for the services provided by a groomer to differ, albeit slightly, from those provided by another establishment. Generally, most groomers will offer dog baths, nail clipping, and hair trimming as their basic grooming services.
Owners of dogs with sensitive skin, however, can make inquiries on the type of shampoos and conditioners that the groomer will use to bathe their canine buddies. In the same vein, if you own a dog whose hair needs to be cut in a specific way, you should also ask your local groomer if there are provisions for breed-specific haircuts.
If you prefer a more hands-on approach to grooming your canine buddy but lack the equipment needed at home, you can also find out if your local groomer has a self-wash service for bathing dogs.
Available Equipment
After determining that your local groomer provides the grooming services required by your pooch, it is also imperative that you determine whether the establishment has the equipment needed to perform these grooming tasks.
FURminator tools, dog clippers, grooming tables, and dog nail grinders are some of the equipment commonly used by professional dog groomers in the United States. And these are a good place to start when looking out for equipment owned by your local groomer.
Ease Of Accessibility
Before settling on a local groomer, you should find out what transport modes are available to reach the establishment. Is the groomer located in a place that can be easily reached by either bus, bike, car, or will you have to walk to reach the groomer?
Availability Of Parking Lots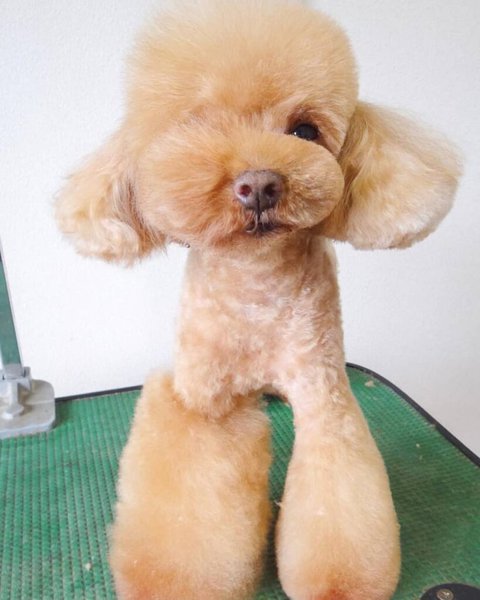 For convenience, the availability of parking lots for customers who intend to park their vehicles is another factor that shouldn't be overlooked when picking out a local groomer. Many would certainly prefer groomers that come with free parking when they intend to drive their pets down to the establishment.
Reading Online Reviews
Online reviews are a treasure trove of real, firsthand experiences of people that have patronized whatever grooming establishment you have your eyes on. And in addition to gauging the quality of local groomers, skimming through customer reviews can help you and your canine buddy avoid bad grooming experiences.
Some of the best places to fish for reviews about local groomers near you include Yelp and Trustpilot. Local business directories, such as the Yellow Pages and Loc8NearMe, are equally valuable resources when it comes to getting authentic customer reviews on the services provided by a local groomer.
Additionally, a quick Google search of a verified grooming establishment also brings up reviews, and you can look into these to get a secondhand opinion about the establishment in question.
Physically Visiting The Establishment
In cases where the establishment's website contains insufficient information, or you can't seem to find enough customer reviews online, you can simply visit groomers close to you to have a feel of the services provided by the establishments before bringing your dog in for a grooming session.
You can even engage in a quick chat with the staff of the establishment to gauge their level of knowledge regarding dog grooming.
What Do I Need To Take Along When Taking My Dog To A Groomer Near Me?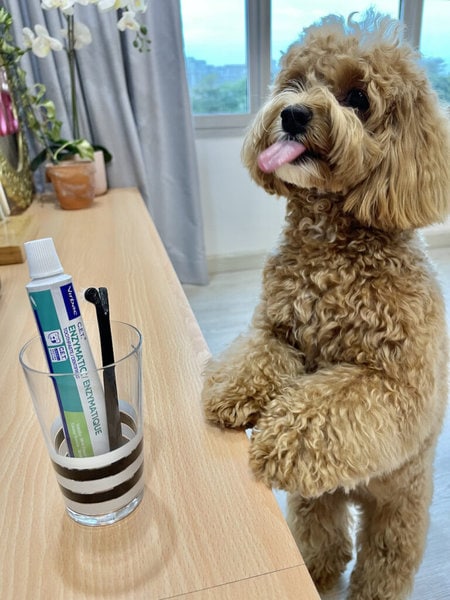 Here's a list of things you can bring on the day of your grooming appointment. It can include but is not limited to:
Vaccination Records
To ensure staff safety and the welfare of other dogs present for grooming sessions, most grooming establishments are legally mandated to request vaccination records before attending to customers.
That said, some of the commonly demanded vaccinations for grooming include:
DHPP (Distemper, parvovirus, parainfluenza, and adenovirus) shots
Rabies vaccine
Bordetella (kennel cough) shots
Favorite Dog Treats
It is normal for a dog to become stressed when visiting a new groomer for the first time; hence, to ensure your pooch remains calm during grooming sessions, you can introduce the pooch to basic grooming operations at home and reward good behavior with treats and praise.
And when the time comes for an actual visit to your local groomer, you can pack some of your pooch's favorite treats to reward good behavior while at the groomer's.
Things To Ask Your Dog Groomer Before Handing Them Your Pet Dog
Before handing your pooch over to the local groomer of your choice, it is imperative that you have an in-person conversation with the groomer and ask some questions as a final assurance that your canine buddy will be getting the best treatment possible.
Grooming Cost
Grooming prices are typically available on the groomer's website. But the final cost of grooming services is usually influenced by factors such as the dog's size, coat type, and the nature of services provided, hence resulting in price variations.
Consequently, to avoid rude shocks, you should verify with your local groomer exactly how much it will cost to groom your Fido. Professional groomers can provide you with a fixed rate once they have properly assessed your canine buddy's individual grooming needs.
Pet Insurance
It is also worth noting that not every dog groomer accepts pet insurance plans as payment for grooming dogs. Hence, if you plan to pay for your canine buddy's grooming service with pet insurance, it is important that you ask beforehand if this is allowed and seek alternatives if this is not accepted.
Sedation Practices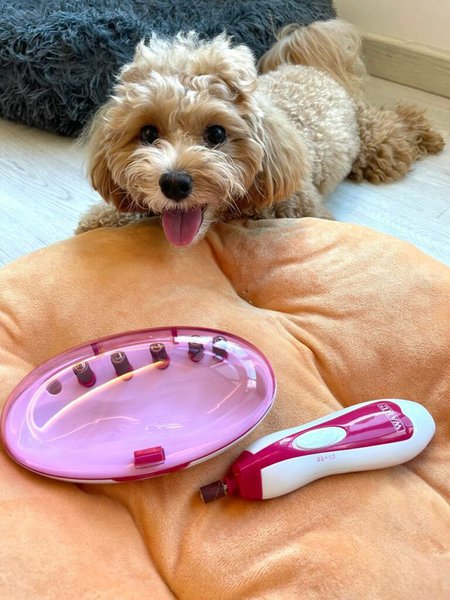 Some grooming establishments mandate the use of sedatives on aggressive or stubborn dogs to ensure groomer safety during grooming sessions.
If your local groomer suggests that aggressive dogs will be sedated before being groomed, and you're not comfortable with this, you can take your canine buddy elsewhere to seek a second opinion.
Alternatives to outright sedation include the use of nozzles and restraints, and you can also enquire about the availability of these methods.
Housing Arrangements
If you'll be dropping off your pooch for a grooming session, then it is vital that you find out how your pooch will be housed while you both are separated.
The safe grooming requirements, as specified by AKC, dictate that dogs not being groomed should be housed in crates or contained within designated play areas (with the owner's approval).
To ensure your canine buddy's comfort, it is therefore important that you find out the housing system provided by your local groomer. And questions to be asked include whether your canine buddy will be assigned an individual crate with toys and treats or be made for sharing a designated play area with other dogs.
Provision For Injuries And Emergencies
Grooming staff isn't infallible, and there's every possibility that your canine buddy mistakenly gets injured while being groomed.
Consequently, it is important to know the arrangements – including equipment – that are in place to treat pooches that are injured during grooming sessions. You can also request to see the first aid kit that is used to treat dogs that get injured.
To further ensure your dog's safety, you can also ask the groomer about the evacuation procedures that are in place in the event of accidents such as fire outbreaks and other emergencies.
Experience With Grooming Your Dog Breed
Some dog breeds have special grooming needs, and if your canine buddy falls under this category, it can be beneficial to ask your local groomer if they have experience catering to the needs of such dogs.
While most highly-trained professional groomers will have no issues with grooming different dog types, there is a sense of security that comes with knowing that your local groomer has experience grooming pooches that are the same breed as yours.