A man and his dog were recently reunited after it got lost during the Caldor Fire in early September 2021.
After four months of being separated, the dog owner, Ricardo Rodriguez, received a surprise phone call one day in December, telling him that his dog, Russ, a three-year-old Black Pitbull mix, had been found.
The two were reunited on December 26, 2021.
Through Fire And Ice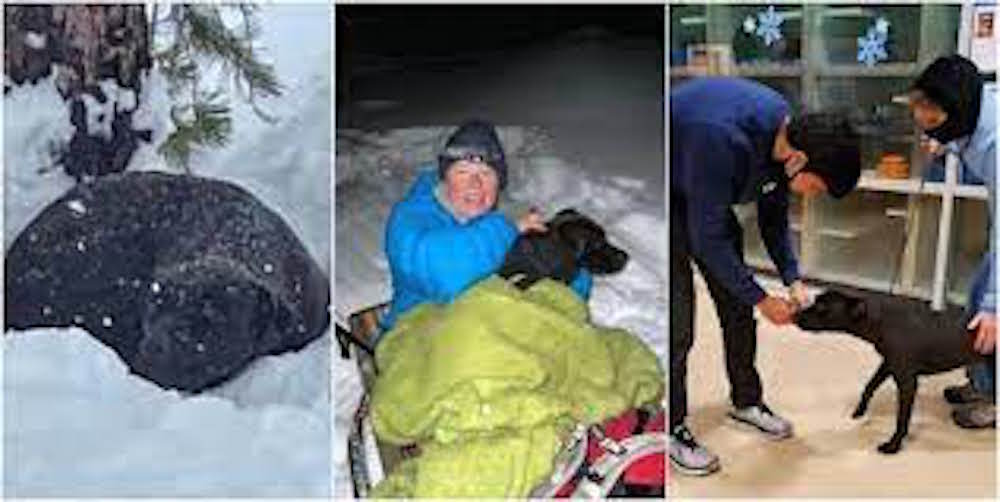 The stunning survival story began in late August 2021 when Rodriguez, his four friends, and his dog Russ were on a camping trip around Lake Tahoe. One day, Russ suddenly got spooked or was startled by something and bolted into the wilderness.
Rodriguez and his friends spent several hours looking for Russ but to no avail. Russ never returned to their campsite. He reported his dog missing to the authorities and posted fliers in the area in case someone found his dog.
At this time, the Caldor Fire started spreading rapidly in the Sierra Nevada Mountains in California. The area where Rodriguez lived started the mandatory evacuation. The fires covered an area of more than 220,000 acres and burned around 1,000 structures over 67 days that began in the middle of August 2021.
Rodriguez moved to Riverside County in Southern California, where he continued his nursing practice.
In late December, the Lake Tahoe region was inundated with heavy snow as thick as two feet due to an unlikely winter storm. At this point, Rodriguez thought he would never see Russ again. But, he remained hopeful, saying, "after months of not hearing back from anyone, I assumed he was in good hands with a different owner."
To The Rescue
On December 16, 2021, a skier alerted animal services of a dog bundled up under a tree on a hill near Twin Peaks, west of South Lake Tahoe. The dog appeared to be unable to move and was growling at people who came near it.
The executive director of the Tahoe PAWS & TLC 4 Furry Friends, Wendy Jones, was notified by the animal services since they could not attend to the rescue at the time. She then sought the help of two volunteers, Leona Allen and Elsa Gaule.
The two women braved the sub-zero temperatures and the steep climb to rescue the dog. Upon noticing a dark shape near a fir tree, the rescuers closed in on the black Pitbull mix and slowly approached it.
It was not moving at first but eventually lifted its head and opened its eyes. They lured it with treats because the dog was growling, not because of aggression but because of fear. They finally succeeded in gaining the trust of Russ and brought him down the steep hill with the help of a sled.
Russ was checked by a veterinarian and deemed healthy despite its harrowing experience. "Dogs go into survival mode, and they're super strong and super smart. It's like a light switch goes off in their brain and survival mode kicks in," Jones said.
After staying several days in the shelter, they finally located Russ's owner through a microchip embedded inside the dog.
"I was ecstatic," Rodriguez said, "This guy is something else right here. He's been through it all." The dog and the owner were finally reunited on December 26, 2021.
Jones said that this is a great reminder of the importance of microchipping and maintaining your dog's registration in your name. She added that it is also essential that you report your missing dog to the local animal services.