The Extreme Dog Fence is a highly efficient, electric outdoor containment system. This standard kit comes with everything you need to get started including the underground wire system, a collar, a controller, and much more. That way you can set up a safe perimeter within which your dog can enjoy outdoor time even without supervision.
The Extreme Fence Standard kit includes the following components:
A digital transmitter with a power supply
One waterproof collar with an attached receiver
500 feet of 20 Gauge boundary wire
Long and short contact probes
Conductive rubber comfort covers
One 6V collar receiver battery
Training flags
Two waterproof splice kits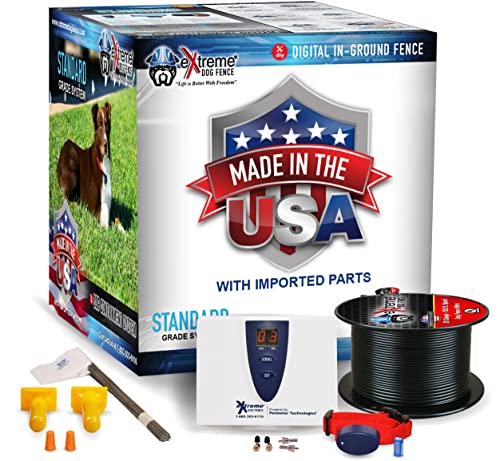 The Extreme Dog Fence is considered one of the best containment systems of its kind and we agree. Here is more about the features that make it a winner so you know what you and your furry best buddy have to look forward to.
We will also share a few imperfections that we have found so you get an objective perspective for a more informed decision should you decide to get the electric fence system. So let's get right into it.
Why We Like The Extreme Dog Fence
It Offers Invisible Containment
The Extreme Dog Fence is the true definition of an invisible fence. It is ideal if you want to contain your pooch in your outdoor space without interfering with the aesthetic by having unsightly traditional fences around your property.
This is made possible by the underground installation system. In this case, all you have to do is dig a trench that is about 3 inches deep and 1 to 2 inches wide. This will barely be noticeable when you are done and the yard is used for a few days.
So, no more blocked street views or citations from your homeowner's association (HOA).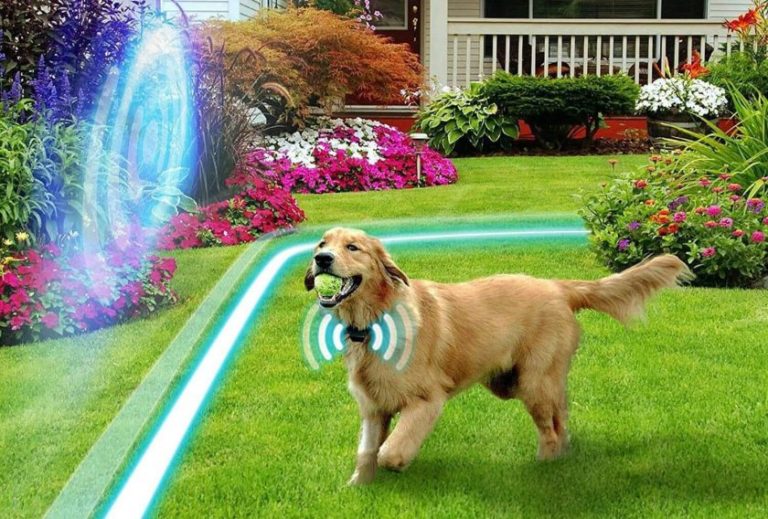 Very Easy To Set Up
Setting up traditional dog fences can be quite tiresome and expensive. From digging pole holes to setting up the wiring, it is more trouble than it may be worth.
This is not the case with the Extreme Dog Fence. It is a lot easier to set up in terms of effort and resources needed as everything required to make it work is included in the kit. In fact, you could be done in just a couple of hours as opposed to spending days on above-ground types of fences.
The best part is that you can turn it into a do-it-yourself project. Here is a quick tutorial that should definitely come in handy to give you an idea of how to set everything up. This works perfectly with the provided guide.
Covers A Whopping 6 Acres Of Space
The boundary wire itself is very long, measuring 500 feet. This is enough to cover a space of up to 6 acres of area. This is something you will definitely appreciate if you have a lot of outdoor space and would like for your furry best buddy to enjoy every single inch of it.
The long cable also gives you enough flexibility to maneuver around obstacles in your outdoor space without having to worry about running out or pulling it too tight.
The Receiver On The Collar Is Waterproof
Another fantastic feature worth celebrating with this system is the fact that the transmitter on the collar is waterproof. Unlike water-resistant options, the Extreme Dog Fence is actually totally impervious to penetration by water up to a depth of 10 feet underwater.
This means if you have a doggy pool in your yard or the pooch decides to run through the sprinklers, the receiver will still be functional. More importantly, you do not have to worry about the doggy getting shocked because they are wet.
It Offers Safe Correction In Multiple Levels
The collar offers deterrence by emitting a static-like shock through some probes in the collar. We will get into more detail about how all this works. For now, let's take the time to appreciate the multiple-level features offered by this system.
This allows you to adjust the amount of static used to correct your pooch when they get too close to the fence. This will inevitably come in handy with dogs that need a bit more time to train as the little static becomes bearable with time.
Watch this video for more on how to program the main transmitter to different static levels.
The Contact Probes Are Built For Comfort
The collar comes with a set of conducting contact probes that are designed for installation on the side of the collar that touches your dog's skin. Here is a pictorial representation of how to connect the probes to the collar.
The best part is that the inner part of the probes is lined by soft rubber with blunt, rounded tips. This is designed for the comfort of your dog. that way it doesn't feel like they are being jabbed by uncomfortable metal spikes that also happen to slightly shock them.

The Collar Is Adjustable And Easy To Use
We also love the fact that the collar is adjustable. You could therefore use it on any dog breed or size. This is accompanied by a simple click buckle that is very easy to put on and take off the dog while being secure as they play around the yard.
It Can Be Expanded To Accommodate Multiple Dogs
This kit is available in 1-dog to 5-dog system packages. For the most part, the main components including the 500-ft wire and the main transmitter are exactly the same. The only difference is that the higher packages come with extra collars for more dogs.
It Comes With 50 Flags For Visual Warnings
In addition to the static and auditory warnings your dog will get, you have the option of using visual cues by posting flags on the perimeter or before it. What we love about this kit is that you have 50 of the flags to set up as you please whether you want to put them all up or a few here and there.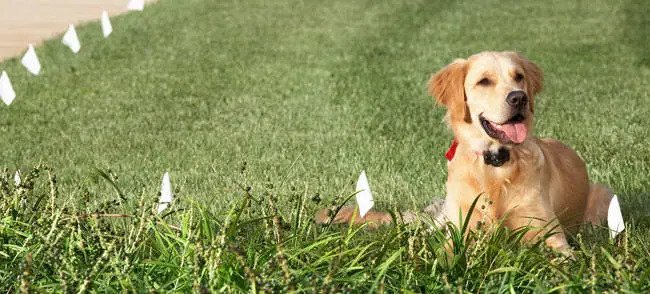 Very Long Battery Life On The Battery-Powered Units
The collar receiver is powered using a single lithium-ion battery. You will definitely enjoy the long life on this one as you can use it for up to 4 months before you have to replace it again. This definitely minimizes the cost of maintenance.
Long Warranty
To cap it all off, you get a five-year warranty on the entire set and different parts. This covers conditional repairs and replacements. With such a long warranty, you can pretty much rest assured that you are getting a good quality set.
Follow this link to read more about the terms and conditions of coverage by the warranty agreement.
Setbacks, But Not Deal Breakers
With a 4.3 star rating from more than 900 people who bought it on Amazon, the Extreme Dog Fence kit is clearly perfect but not without its flaws. The good news is that if the reviews are anything to go by, these cons are nothing more than slight inconveniences and are not worthy of deal-breaker status, especially at its price point.
Without further ado, here are a few things you may have to miss out on with the Extreme Dog Fence standard kit.
The Collars Run On Proprietary Batteries
Like the rest of the fence, the sensor and correctors on the dog collar component run on non-rechargeable batteries. Unfortunately, you cannot replace them with just any other old batteries and you have to get those provided by the brand. Fortunately, they are high-quality batteries with long battery lives.
No External Surge Protector
These are designed to protect both the fence in cases of power surges or even lightning strikes. You may have to buy a protector separately. However, given the low 6V rating of the batteries running the fence, there are rarely any surge issues. It also has a built-in protector that is enough for most surges just in case.
No Twisted Wire Dead Zone
The dead zone in this case refers to a zone where the dog can cross back and forth across the fence without any correction. This is created when specific wires are crossed and essentially cancel out each other's signals to some extent.
This setup is absent in the Extreme Dog Fence and limits your dog's freedom to some extent as shown in the illustration below. However, if you just want to keep your pooch in one end of the house such as the backyard, this should not be a big deal.

Does The Extreme Dog Fence Actually Keep The Dog In?
We have more or less exhausted the pros and cons of the Extreme Dog Fence. Above all this, what matters the most is whether or not it actually works. The answer is a resounding yes. And you can take the word of the more than 900 users who vouch for it.
It works using simple feedback. If the dog gets too close to the cable, the sensor on the collar picks up the signal and sends out a warning beep. If the pooch continues moving closer they get a painless but noticeable static shock.
You control all this feedback system using the very handy digital transmitter. In addition to letting you use the system on and off, it allows you to choose the degree of static discharged for the correction. It is also unique in that it allows you to switch frequencies in case nearby invisible fences or other signals are causing interference. This is something you will not find with many underground containment systems.
With time, the dog will learn where to go and where to avoid. The flag markers also come in very handy. In no time, you will be able to let your dog out to play or just soak up the sun without having to morph into the hovering puppy parent. This is fantastic for both you and your pooch.
---
Final Thoughts
---
After all that is said and done, the Extreme Dog Fence truly lives up to all the hype. It is well constructed, safe, and effective. It is also a lot easier to set up and much easier on the eyes than above-ground fences.
With its high sensitivity wires and doggy-friendly deterrence method, you will have a good containment system for your pooch's much-needed freedom and independence.
In a nutshell, even with the few cons here and there, it is definitely worth considering if you are in the market for a good underground containment system.
So, check it out for yourself. You will not be disappointed with its purchase.