Go Pet Club Pet Dog Grooming Table
SALE ALERT!!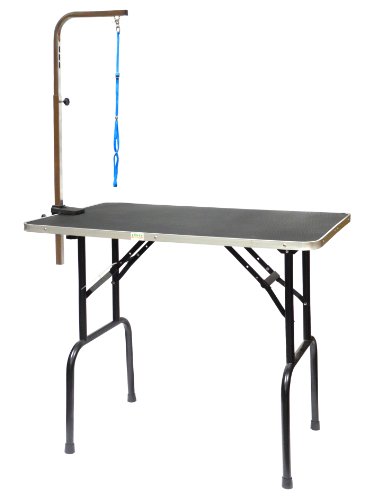 Pros
---
The grooming table has durable goal post legs with rubber feet.
Comes with easy to adjust grooming arm, capable of adjusting up to 40-inches high.
The legs can be folded easily allowing for easy storage and transport.
Made from rust-proof materials.
Cons
---
Some screws could get rusted after some time.
To ensure a convenient grooming experience for your pet, the Go Pet Club Dog Grooming table could help you. This table allows you to have full control over your pet as you groom it. Made from high-quality steel and aluminum material, you can be assured of durability and strength when using this grooming table.
What's great about the Go Pet Club Pet Dog Grooming table is that it's available in a wide variety of designs and sizes for you to choose from. Featuring a sleek and beautiful black finish that looks really attractive, this grooming table is definitely a great product to buy for your pet. Furthermore, the grooming arm of the table attaches with ease with the help of a reliable clamp. The edging of the table is made from deluxe aluminum alloy and the top surface is made from a waterproof material.
For busy pet owners who don't want to spend a lot of time cleaning the grooming table, this product is worth giving a try. It doesn't require a lot of cleaning and maintenance, which is why it's totally worth investing in. With this table, you'll get an adjustable grooming loop made of nylon. You can adjust the loop easily so it fits snugly in your dog, making it stay calm and comfortable as you do the grooming.
To ensure the safety of your pet during washing, the table's top surface is made from a skid-free material. Not only that but the table itself is mold-resistant, preventing mold infestations. Manufactured by Go Pet Club, one of the leading providers of high-quality pet furniture in the US, this grooming table for dogs is definitely worth every penny.
The Go Pet Club dog grooming table is truly a great product to invest in, which is why you'll find plenty of great reviews written about this product. But the only thing that bothered the customers is that it doesn't come with pedals for the table's electric lift which would have improved its usability.
---
Final Thoughts
---
The Go Pet Club Pet dog grooming table is definitely one of the best dog grooming tables out there and busy pet owners should get this table if they want a convenient and easy way to groom their beloved pooch. Sure, it might cost a lot compared to other grooming tables, but it's certainly worth the money!