Flying Pig Heavy Duty Dog Grooming Table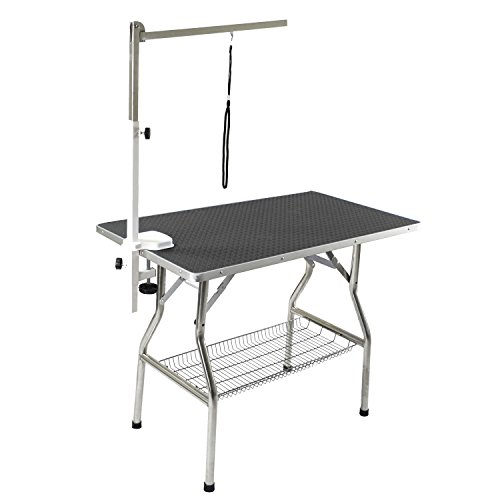 Pros
---
Comes with extra features that make grooming your pet more convenient
Features a spacious and secure table top
The strong and sturdy frame is foldable
Padded securely
Made from thick metal
Cons
---
The grooming arm has a somewhat tacky design
The legs are said to be less stable
One of the most popular dog grooming tables online is the Flying Pig Heavy Duty grooming table. Customers love this product for various reasons. First of all, it's very tough and has an ample size that allows for the easy grooming of several pets. This product is also a great choice for pet owners that need to groom large dog breeds.
Upon looking at the table, you can easily tell that it's built to last longer, thanks to its durable, sturdy, and heavy-duty construction. Furthermore, it comes with several added features that help to make grooming your pet easier and more comfortable for you and your dog.
The Flying Pig grooming table appeals to pet owners with large breeds of dogs. It's capable enough to handle the heavy weight and ample body size of the pet. Its tabletop surface is made from durable materials that are guaranteed to last despite the daily wear and tear. Above all, the stainless steel material is rust-resistant and has a maximum weight allowance of 330 pounds.
Despite being one of the most spacious dog grooming tables in the market, this product is still very portable and it folds very easily. Some customers question the strength and stability of the table, but most pet owners are quite satisfied with the table's durability.
The only thing that's lacking in this table is the adjustable leg extension that can be very useful for pet owners. This table comes with several other benefits that are truly worth mentioning. For instance, it comes with plenty of accessories that help make grooming your pet so much easier. It comes with a noose, arm, and loop restraint so you'll have full control over your pet during the grooming process. The table also comes with a storage basket underneath it where you can store grooming accessories.
Final Thoughts
---
There are certainly many things to love about the Flying Pig Heavy Duty Grooming table, which is why it's not surprising to see that this product is well-loved by customers. The table is durable and strong enough to handle multiple pets including large breeds.
Furthermore, the table comes with added features, such as the folding frame, noose restraint, and basket that improve its usability. So if you're looking for a reliable grooming table that's spacious enough, the Flying Pig is highly recommended!