As the swelting heat swept through much of southwestern and central United States on June 14, 2022, a dog shelter in Ohio has sought help from the community for some much-needed ice to cool the shelter.
The request came about due to a power outage in the Columbus area where the Franklin County Dog Shelter and Adoption Center was located due to the ongoing heatwave.
"We need your help. The power is out here at the shelter, and our pups need ice to keep cool in this blazing heat," the social media post of the shelter pleaded.
To The Rescue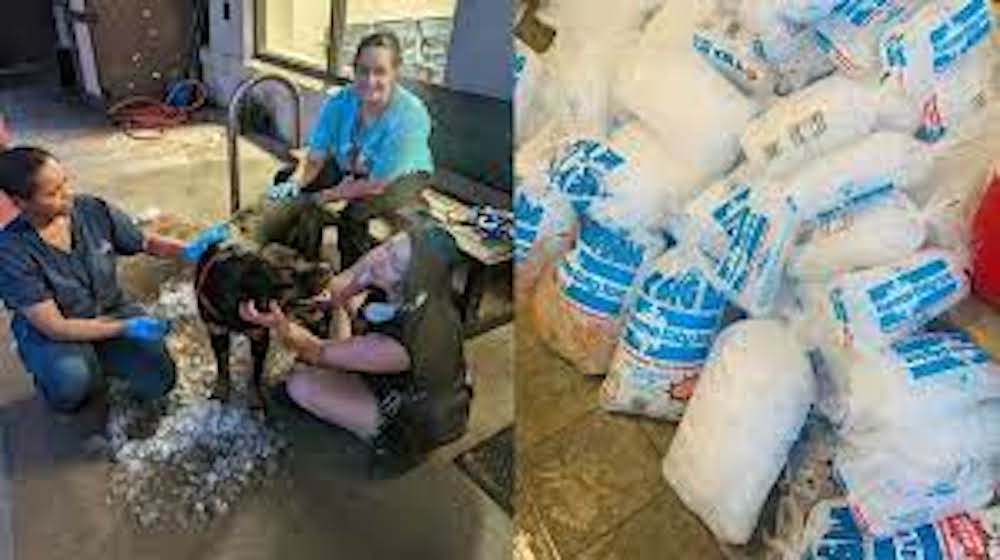 Not long after, dozens of animal lovers in their cars flocked to the center with hundreds of bags of ice. Some donated through delivery apps from across town.
"You are all amazing! The community donated hundreds of bags of ice to the shelter, and we now have peace of mind that our shelter pups will be cool tonight, with the supervision of our overnight staff. Thank you all!" wrote the staff.
The community also donated water, pizza, and snacks for the staff and volunteers who are working round the clock to care for the dogs.
Veterinary students from the Ohio State University helped as well, taking the dogs for a potty break and giving them ice baths in kiddie pools to cool them down.
As the power situation returned to normal the next day, the center still needed much help with the beddings as the laundry got backed up. They have also asked for more donations for large towels, kiddie pools, and frozen peanut butter dog treats while the summer season is starting this June.
One of the happy and grateful dogs in the shelter is Umma, who was pictured smiling in their social media posts.
"Umma is thrilled to see the power back on at the shelter. Yesterday, we were truly inspired by the line of cars of selfless dog lovers willing to donate for the betterment of the shelter dogs," they posted.
Keeping Pets Safe During Summer
As summers are getting warmer and warmer every year due to climate change, it is important to learn about the things we can do for our pets to keep them comfortable during the warm months.
The Humane Society of the United States has some advice on how to keep our pets cool. The first is to limit their exercise during the summer and stick to the early morning or early evening walk schedule.
Next, provide your pets with lots of fresh and clean water to drink. During a heatwave, serving some ice or frozen popsicles as treats are preferable. You can also wrap their bodies with a cooling mat or vest.
Avoid letting your dogs stay in the doghouse, and it is much better to keep them inside your house where there is air conditioning.
Finally, check for any signs of heatstroke, including rapid heartbeats, heavy panting, breathing difficulties, lack of coordination, and excessive salivation.