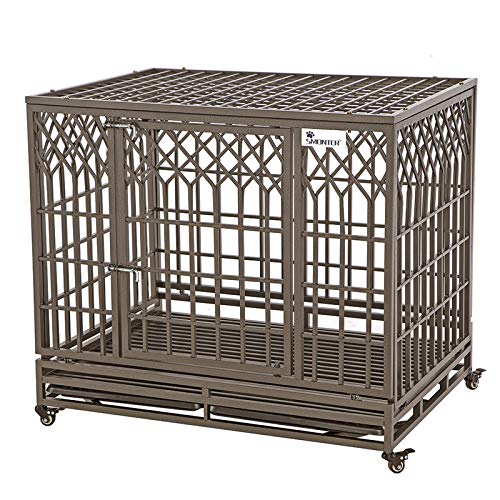 Crate training is one of the most effective ways to housebreak a dog. It is also great when dealing with dog anxiety issues or general misbehaving. The success of crate training relies heavily on the quality of crate you choose. It has to be something comfortable for the dog yet convenient and effective when it comes to your intended purpose for the unit.
One of the best heavy-duty dog crates on the market in this case is the Smonter Heavy Duty Dog Crate. It is built for large dogs and designed to be escape proof while still offering the pooch maximum comfort and some degree of freedom. It also has awesome features like the wheels for mobility and a tray that make it super convenient for you as the dog owner to use.
Let's take a closer look at these perks and many others that make the Smonter Heavy Duty Dog Crate worth considering.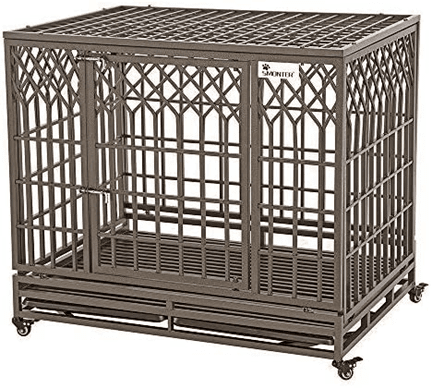 Here's Why We Recommend This Dog Crate
It Is Very Spacious
Crates can feel very confining for a dog especially with the big breeds. This may defeat the purpose of crate training and leave them more of an anxious mess than they were going in. This is why you need to invest in something spacious enough for your dog's comfort and peace of mind.
With its dimensions, this dog crate is ideal for medium to large dog breeds. They will have enough space to sit up, stretch out, and move about without too much trouble. It could also be used for two small dogs very comfortably.
Escape-Proof Build
There is no doubt that your dog will do absolutely anything to escape before they get used to being confined within the crate. They will bite at it in which case the Y pattern grid comes in handy protecting both the pooch and the crate.
They will try to claw at and push the door open. Here, it is the sturdy frame and the anti-escape locks that you will have to thank for keeping the pooch in.
Non-Toxic Finishing
Dogs will put anything in their mouth if they can get away with it. They will definitely chew on and lick on the dog crate whether it is out of boredom or during their escape attempts. Fortunately, the Smonter crate is coated with a non-toxic finishing product.
In addition to being safe for your pooch, the coating also promotes the longevity on the already very durable frame. It comes in especially handy for units set up outdoors due to the sun and moisture exposure.
It Is Set On Wheels
Having a crate on wheels may not seem like a big deal to most people. However, given how heavy this steel dog crate is, the wheels are definitely a welcomed convenience. The best part is that they can rotate 360 degrees which comes in handy when maneuvering tight spots to get it where you want it.
You also do not have to worry about the doggy rolling away as they move about in the crate or rock it in their escape attempts. This is because the wheels feature a lock mechanism that is very easy to use.
It Has A Waste Tray
One of the key benefits of crate training is that it also helps with potty training. The rationale is that dogs are not comfortable pooping or peeing where they sleep. However, some dogs may not be able to hold their bowels even with the crate. It could be due to anxiety or maybe they were left in there for very long.
Whatever the case, the Smonter Heavy Duty dog crate features a handy design with 2 plastic waste trays under the base. That way, if the doggy has an unfortunate accident while in their crate it collects neatly below them for you to clear out.
It Is Built To Last
Most dog crates are made either out of wire or plastic. While they are more affordable and lighter, they do not last very long. They are also very easy to break out of.
The Smonter dog crate stands out with its thick stainless steel frame design. This is built for longevity ensuring that you have a strong and secure crate for your pooch to use for a very long time.
Anything To Be Concerned About?
The main setback with this dog crate is the fact that it is quite pricey. This is due to its high quality construction. However, given all the perks highlighted above that you have to look forward to, there is no denying the fact that this dog crate is more than worth looking into.
It is also quite heavy, again, due to its construction and the materials used. This makes it especially hard to move around with the pooch inside even with the wheels on. Regardless, this is a small price to pay for the durability and escape-proof nature of the unit.
Another minor inconvenience you will have to deal with is the fact that it comes in separate parts. However, it is easy to assemble with very few parts and detailed guides to make your life easier.CONCLUSION
This dog crate really does live up to its heavy-duty name with its expert construction and use of durable, high quality materials.
All its features make it perfect for dog owners starting crate training whether it is for a gentle giant or for a tiny firecracker of a dog. Although there are a few setbacks, none of them qualify as dealbreakers.
Having considered both the good and the not-so-awesome, the Smonter Heavy Duty Dog Crate is definitely worth all the hype. It is therefore more than worth considering if you are on the market for your first dog crate or for a replacement for a growing pooch.