A Chinese-Crested Chihuahua Mix, named Mr. Happy Face, has been awarded the World's Ugliest Dog on June 24, 2022, at the Sonoma Marin Fair in Petaluma, California.
The balding 17-year-old dog pooch, sporting a tuft of silver hair on its head and a tongue that sticks out off the left side of its mouth, bested eight other dogs from different parts of the US, Mexico, and South Korea. As a prize, the senior dog will receive $1,500 and an appearance on NBC's Today Show.
Janeda Banelly, the owner of Mr. Happy Face, adopted the dog in August 2021 from a shelter in Arizona. "I believe that this humble soul is also being an example, in subtle ways, to help humans realize that even old dogs need love and a family too," she said.
Second Lease In Life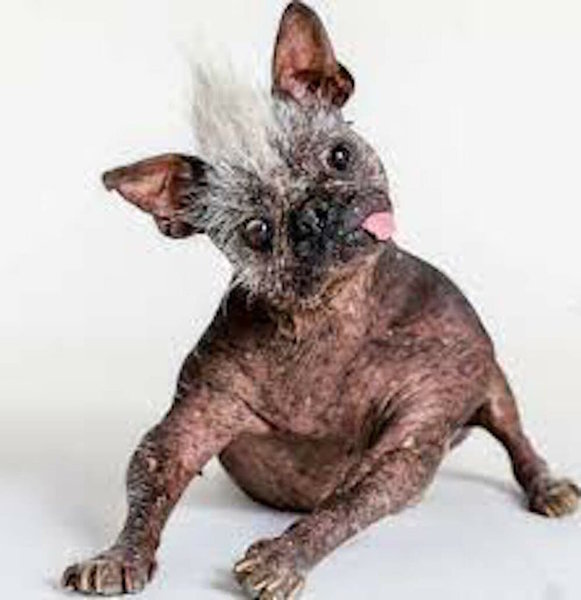 When Banelly adopted Mr. Happy Face, she was told that he would only have a few weeks to live because of his age with a slew of health problems including a tumor.
"The shelter staff tried to prepare me for what I was about to see. I saw a creature that was indeed old, needed a second chance, and deserved to be loved," Banelly said.
Mr. Happy Face was rescued from a hoarder's house where he lived in deplorable conditions and suffered from abuse. Upon adopting the neglected dog, Banelly vowed to take care of him and give him all the love the dog deserved.
And, indeed, after 10 months, Mr. Happy Face is still going strong. The elderly dog has adjusted to his new life in Arizona with Banelly's family and other pets. She describes him as being adorable whose main activity is "sleeping, snoring, woofing in his sleep, and making odd sounds when he is happy."
"He sounds just like a Dodge Ram diesel truck reviving an engine when he is elated," Banelly added.
Beauty From Within
The other dogs vying for the top honor include a Pekingese, a Mexican hairless dog, a pair of Pugs, and a couple of mixed breeds. Most came from shelters and puppy mills.
The second-place winner is a Pekingese named Wild Thang. He caught a distemper at a young age and has since lived with a handicap and has no teeth. This is his third try to win the competition, but sadly, lost out to Mr. Happy Face. One of the judges though took a liking to him since he resembles the fictional furry Tribble species in the Star Trek series.
A 12-year-old Blue Factor Brussels Griffon, named Monkey, won third place. She gets plenty of attention from passersby who want to take pictures with her because of her unique back and legs which are completely hairless.
Organizers of the competition said that "this world-renowned event celebrates the imperfections that make all dogs special and unique." The contest has been held in Petaluma since the 1970s, and this year marks its return after a two-year absence because of the pandemic.