A woman from Albany, New York, found the surprise of her life when an Oscar-winning actor rescued her lost dog on June 6, 2022.
Chelsea Blackwell recounted that one of her pets, a 15-year-old Dachshund Terrier Chihuahua Mix named Blue, suddenly bolted to chase something out of her backyard and didn't return for hours.
She said her other dog, Ladybug, also ran out with Blue but returned when called back.
Film Set Location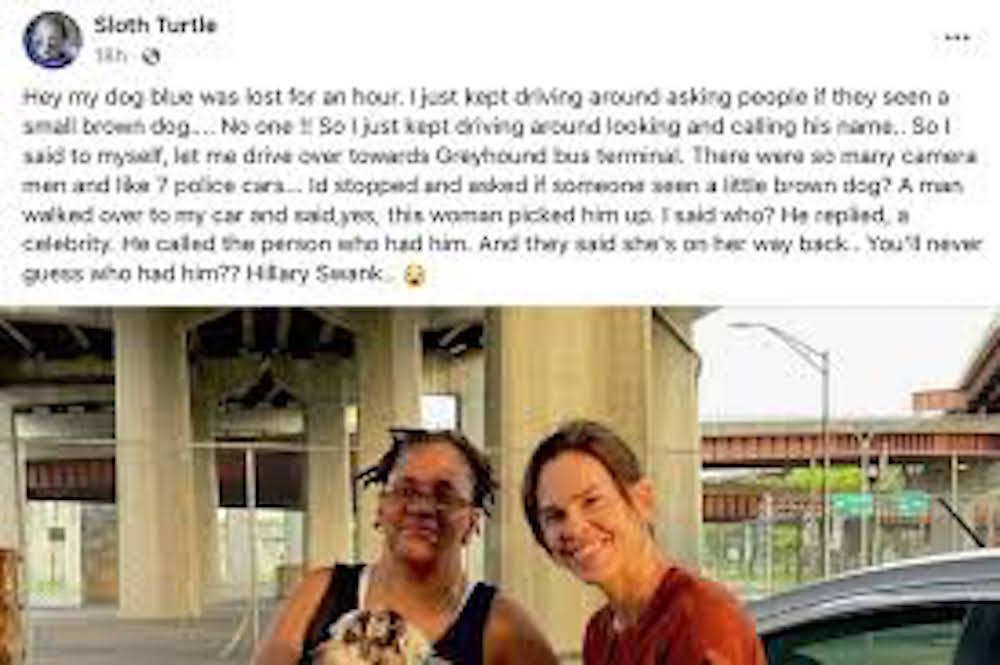 Blackwell searched for her dog and drove around her neighborhood for an hour, calling her name. She stopped her search for a moment when she came upon an area near the Greyhound bus terminal where a number of police cars were parked.
"I pulled over and thought, oh man, did someone get shot? What's going on? I mean, there were like eight police cars. There were like all these people with cameras," she said.
When she asked if something was wrong, it turned out that it was just a film crew shooting a scene.
Then Blackwell asked the crew if they had seen a little brown dog. And as luck would have it, one of the crew members said that, indeed, they found a dog that fits Blue's description, and it is being cared for by the film's star, Hilary Swank.
"I didn't believe it 'cause you know anybody would tell you anything," she said. But, an hour later, she was proven wrong when a gray car pulled up, and she saw her beloved dog in it. "I was just like, oh, thank you, thank you! And, I looked to the left, and who was holding him? And I was like – no way," she recounted.
Blackwell said she immediately kissed Blue and thanked the actress for her kindness. The two-time Oscar winner said to her that they found Blue while they were driving and that they almost hit him.
The three posed for a picture, and Blackwell posted it on her social media account, which went viral soon after and received many praises.
Animal Advocate
"To find out that this celebrity has such a beautiful soul, she just glowed. She's not the type of person who's going to blow the horn telling people what she did," Blackwell said of the actress.
Hilary Swank is an animal advocate herself. She launched the Hilaroo Foundation to connect rescued dogs with struggling children.
The idea to start the foundation began when she lost Karoo, a dog she rescued in South Africa while filming a movie. She thought that the way a dog like Karoo touched her life so profoundly could have the same impact on other people.
"If this is how I felt, I can't imagine how this could really change the path of a soul for the better," she wrote on her foundation's website.
The nonprofit foundation partners with youths who have been given up on, and animals, which have been abandoned, to help heal one another through the Rescue, Rehabilitation, and Responsibility Training.