Do you have a dog that needs to eat a chicken-free diet? Fret not, and you're not alone. Many dog owners are looking for the best chicken-free dog food to feed their furry friends. The good news is that there are several such products on the market today.
One primary consideration when it comes to picking the right product is to figure out what ingredients are in the food. Next, you'll also want to consider your dog's age and health condition to avoid any mishaps with potential food allergies. Once you've narrowed it down to a few options, seek your vet for their opinion. They'll be able to tell you which food is best for your pup.
It can be quite daunting to pick one product out of hundreds you see on the shelves at your nearby store. To figure out what available one is best for your dog, we've done the research for you. Happy feeding!
#1 Natural Balance Vegetarian Dry Dog Food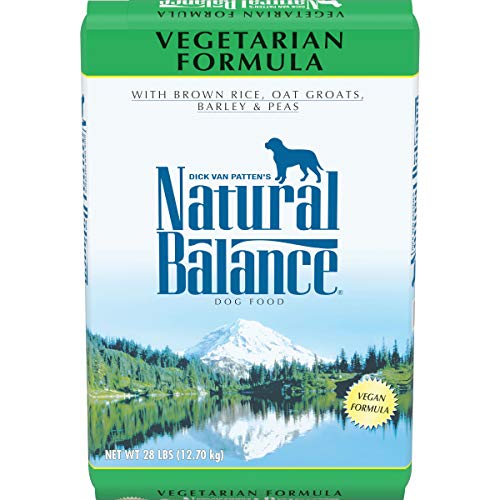 This Natural Balance dog food is not only free from chicken, but it is vegetarian, appealing to those who feel conflicted about feeding their furry friends meat or who have dogs that are allergic to most meats. This formula manages to provide all of the necessary nutrients for canines while remaining vegetarian. You will not find any artificial colors or flavors.
The balanced essential fatty acids in the formula encourage your dog to have a shiny coat with healthy skin underneath. The sources of natural fiber ensure your dog's digestive system continues to remain healthy.
Dogs who consume this Natural Balance food will feel energized thanks to the highly-digestible potatoes, oatmeal, and brown rice. Meanwhile, green peas provide complex protein and carbohydrates. For added confidence, every batch of Natural Balance food undergoes nine safety tests.
This food's vegetarian formula will appeal to owners of canines with allergies to chicken, beef, or other common protein sources. It provides protein, complex carbohydrates, and essential fatty acids via vegan sources for a balanced diet. The formula promotes overall health, including specific ingredients for digestion, fur, and skin, and undergoes rigorous quality control.
Pros
---
Natural Balance dog food doesn't contain artificial flavors, preservatives, or colors that can be harmful to dogs when ingested.
Nine safety tests have been carried out on each batch of dog treats and food products by highly qualified microbiologists and chemists to ensure that the products are safe for dogs to consume.
The lack of meat in this dog food product's ingredient list is ideal for pooches that tend to develop allergic reactions after eating meat.
The low protein formulation of the Natural Balance diet is ideal for dogs suffering from kidney disease.
Several dog parents have commended the improvement of their pooch's skin and coat quality that happens when they start feeding their fur babies with the Natural Balance dry dog food.
Cons
---
The absence of proteins in the Natural Balance dog food can cause perfectly healthy pooches, without any form of protein allergies, to suffer risks from certain health challenges, like the development of stronger muscles.
Several customers have reported that consumption of this dog food product causes their fur babies to pass out loose stools.
#2 Purina Dog Chow Real Beef Adult Dry Dog Food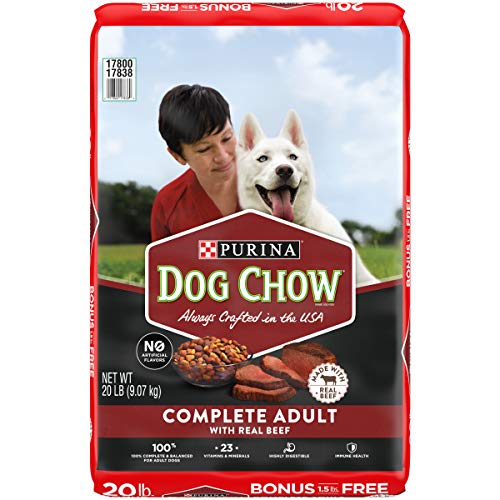 For those who are on a budget, this Purina Dog Chow offers complete nutrition with real beef as the primary protein source. The recipe also features 23 essential minerals and vitamins to ensure your pooch receives all the required nutrition. The formula is 100 percent balanced for adult dogs.
The ingredients also provide immune system support. The food is made in the United States and features quality ingredients that you can count on. This is one of the rare options at its price point that feature real beef instead of just meat meal or other by-products. The presence of high-quality beef protein helps your dog stay active by maintaining his strong muscles.
As your dog chews, the crunchy texture of the kibble will help keep teeth clean. Your furry friend will also appreciate the flavor.
This Purina food makes it possible to feed your dog without chicken while on a budget. It uses real beef as the primary protein source and contains 23 essential minerals and vitamins for all the nutrition that your four-legged friend needs.
Pros
---
The Purina Dog Chow diet contains over 23 essential vitamins and minerals that help fortify a pooch's immune system.
The inclusion of beef in this diet's ingredient list ensures that dogs should continue to enjoy the health benefits associated with consuming proteins.
Constant chewing of the crunchy Purina Dog Chow helps keep a pooch's mouth clean, thereby promoting canine dental health.
The Purina dry dog food recipe is crafted in the United States with high-quality ingredients that are equally sourced from the USA.
This dry dog food product is formulated to be suitable and perfectly healthy for all dog breeds and sizes.
Cons
---
The inclusion of corn as this dog food product's first ingredient doesn't have any major health benefits for pooches.
Some customers claim that consumption of the Purina Dog Chow causes vomiting in their pooches.
#3 Purina Beyond Simply – Pasture Raised Lamb & Whole Barley Recipe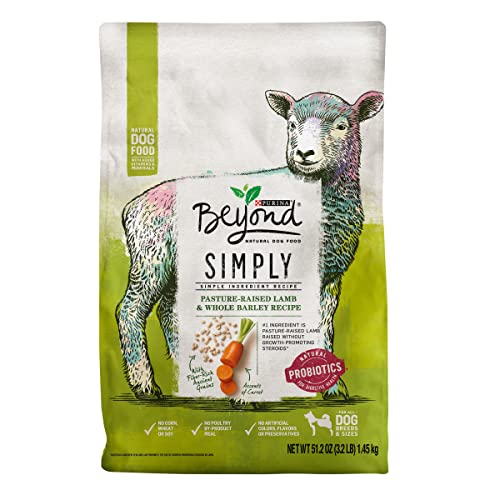 Purina Beyond Simply's primary ingredient features real lamb, with no chicken in the recipe. This ingredient is sourced from lambs raised on a pasture, a choice that means the lamb was likely treated better during its life and may have fewer chemicals in its system.
As part of the brand's Limited Ingredient line, this dog food only contains the nutrients that your canine needs. As such, you will not find any soy, wheat, corn, or other fillers that have no nutritional value. There are also no artificial flavors, preservatives, or colors.
This Pasture Raised Lamb & Whole Barley Recipe gives your furry friend a delicious combination of ranch-raised lamb and whole barley without any artificial flavors or preservatives and without soy, wheat, or corn.
Pros
---
Customers have the option to mix Purina Beyond Simply wet dog foods, mixers, and toppers with this Natural Limited Ingredient diet to provide more variety, flavor, and nutrition for their canine buddies.
This dog food product doesn't contain corn, wheat, artificial colors, preservatives, and other fillers that don't have any nutritional benefits for pooches.
The Purina Limited Ingredient diet is crafted in U.S facilities to ensure that standards regarding the quality of canine food products are adhered to.
The formulation of this dog food product is limited to nine real and recognizable ingredients, which makes it suitable for pooches with sensitive stomachs and allergies.
The Purina Natural Limited Ingredient diet is formulated for and can be safely eaten by all dog breed sizes.
Cons
---
The Beyond Simply's ingredient list contains chicken meal, even though it is advertised as being free of poultry and meal by-products.
Its larger product variants, 14.5 and 27 lbs bags, are often unavailable due to low stock, much to the disappointment of those who are looking to buy in bulk.
#4 NUTRO Limited Ingredient Diet Adult Dry Dog Food
There is no chicken in this NUTRO Limited Ingredient food, with venison meal providing the main source of protein instead. This is the main ingredient. The recipe contains ten key ingredients or less, just like all of the other dog foods in this NUTRO product line. There are also natural nutrients, flavors, minerals, and vitamins. All ingredients are non-GMO, including sweet potatoes, which are the other main ingredient.
The exclusion of chicken, dairy protein, beef, soy, wheat, and corn is deliberate in this recipe, as those are the most common food sensitivities in canines. The recipe was also formulated to help nourish sensitive skin.
As a limited ingredient diet, this dog food does not contain the most common ingredients that cause allergies or sensitivities in dogs. The main ingredients are venison meal and real sweet potatoes.
Pros
---
This NUTRO product comes in a variety of flavors and sizes to cater to the needs of different dog breed sizes.
The NUTRO Limited Diet is formulated with ten or fewer key ingredients, thereby making it the ideal food product for pooches with allergies and food sensitivities.
Regular consumption of this dry dog food product promotes the development of healthy skin and coats on pooches.
This dog food product is devoid of filler ingredients, like wheat and corn, that have no nutritional value for dogs.
Cons
---
The NUTRO Limited Ingredient diet is relatively more expensive than other dry dog food diets available on the market.
Some customers claim that this kibble is too hard for their dogs to chew.
#5 AvoDerm Natural Duck Recipe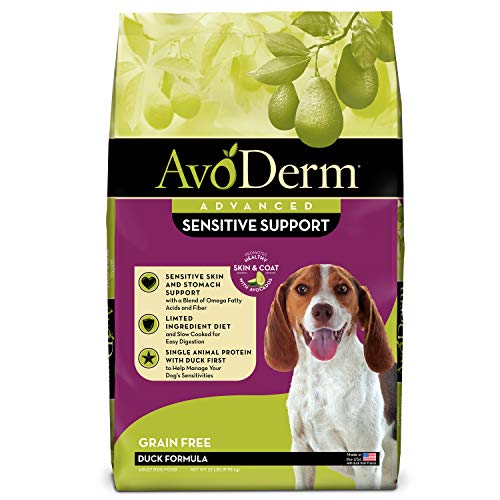 Dogs that are sensitive to chicken can enjoy this duck recipe that is fully chicken-free. Duck is the main ingredient, and it is real duck protein from a single source, reducing the risk of food sensitivities. It is also designed to allow you to switch this food with other recipes in the line without stomach irritation.
This AvoDerm chicken-free dog food contains avocados to help your canine's overall health as well as that of the immune system, skin, and coat in particular. There are no grains, soy, corn, by-product meals, or artificial preservatives and flavors.
As a grain-free recipe, this food is unlikely to irritate your four-legged friend's tummy. It features real duck as the main ingredient, and its formula lets you swap your dog to another recipe in the line without stomach problems.
Pros
---
The AvoDerm recipe is formulated with a unique blend of fiber that facilitates easy digestion.
This dog food product features vitamins and minerals made with omega-rich avocados that are known to promote healthy skin and coat development.
The AvoDerm Duck recipe is devoid of ingredients such as wheat, corn, soy, artificial flavors, colors, and preservatives that are not beneficial to dogs.
Ingredients used in formulating the AvoDerm Duck Recipe are primarily sourced from the United States, and the dog food itself is formulated in the company's California plant.
This dog food product is prepared with a slow-cooking process that ensures the retention of the majority of the essential nutrients and minerals.
Cons
---
Although this dry food recipe is formulated for all dog breeds, several customers have reported that their pooches refuse to eat this food product.
#6 Zignature Trout And Salmon Meal Formula Dry Dog Food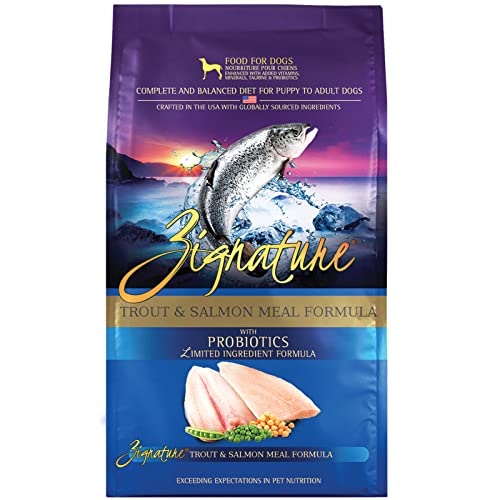 This dog food is free from chicken meat, as well as grains. Instead, it features protein from trout and salmon meal from the northwestern United States. This food is appropriate for all life stages, including puppies and those with common dog food allergies.
Zignature prioritizes healthy ingredients in this canine food, including low-glycemic carbohydrates, antioxidants, and no grains. Not only is there no chicken, but you also will not find any chicken by-products or eggs in this food, making it appropriate for dogs with chicken allergies. There is also no dairy, soy, wheat, or corn.
Due to the use of salmon and trout meal as the main source of protein, this dog food is good for puppies to adults, offering convenience for households with multiple pooches.
Pros
---
The limited ingredient formulation of this Zignature dry dog food is devoid of allergenic ingredients such as chicken, corn, wheat, and soy, which makes it good for pooches with sensitive stomachs and allergies.
The Zignature recipe incorporates a rotational diet that allows dog owners to easily switch between select Zignature formulas for their canine buddies.
Zignature Trout and Salmon dry dog food contains low-glycemic legumes, such as whole chickpeas, that help stabilize blood sugar levels.
The use of limited ingredients in formulating this dog food product makes it easily digestible for dogs.
Cons
---
Customers claim that this product's kibbles, apart from being too small, are too hard and dry for their pooches to chew easily.
Scientific reports published by the FDA have linked the grain-free formulation of Zignature dry dog food products to the development of heart-related conditions in dogs.
#7 Taste Of The Wild High Prairie Bison And Venison
The combination of roasted venison and roasted bison makes this a one-of-a-kind food that your furry friend is bound to love. Protein makes up 32% of the formula for highly digestible energy. The formula also ingredients fruits, vegetables, and legumes for powerful antioxidants.
The food also contains K9 Strain Probiotics, which gives your furry friend live cultures to boost the immune system and digestive health. There are also essential fatty acids to encourage healthy coat and skin in Fido. Extra prebiotic fiber comes from the dried chicory root.
Your canine companion will get a unique recipe with the combination of venison and bison. The formula provides complete nutrition with essential fatty acids, probiotics, and antioxidants.
Pros
---
Taste of The Wild contains prebiotics and breed-specific probiotics that provide a pooch with live, active cultures that ensure easy digestion.
Recipes of Taste of The Wild contain chelated minerals that help a dog's body absorb all the beneficial nutrients contained in this food product.
This dry dog food product contains marine-sourced omega-3 and plant-based omega-6 that work together to promote a pooch's skin and coat health.
This roasted bison recipe is crafted with real meat as the major ingredient and this, along with the absence of fillers and preservatives, makes this food product suitable for pooches with allergies.
Food products from Taste of The Wild are formulated in the USA with quality ingredients carefully sourced from both trusted domestic and international sources.
Cons
---
Several customers claim that the dog food sizes they receive don't look like what is advertised, even though the dog food bag was sealed on delivery.
There have been several reports of pooches getting sick and vomiting after eating this Taste of The Wild food product.
#8 Supreme Source Grain-Free Dry Dog Food
SALE ALERT!!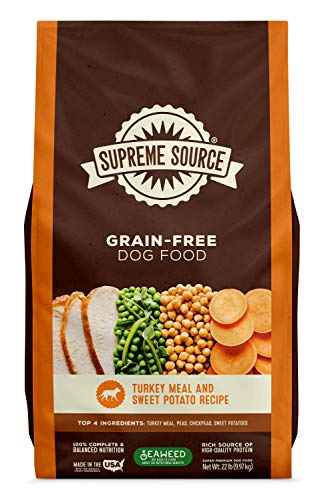 Supreme Source Grain Free Dry Dog Food, Turkey Meal & Sweet Potato Recipe, 22 Pound Bag
GOURMET DOG FOOD: For dogs who deserve best, this dry dog food is made with real ingredients that provide unique...
DOG NUTRITION: From kibble to dog treats, our gluten free recipes are packed with protein & antioxidants that help...
WHY SEAWEED: Delivering a powerful prebiotic punch in every bite, seaweed helps promote healthy digestion in pets, may...
The protein in this grain-free dog food from Supreme Source comes from a turkey meal, which offers more protein in each ounce compared to fresh turkey.
A grain-free recipe, it uses sweet potatoes for its department of complex carbohydrates.
Fruits and vegetables are also included to boost Fido's longevity and health. Chickpeas and peas provide manganese for brain function and bone health, along with natural fiber.
There are prebiotics and organic seaweed to help with digestion. You will not find any grain, soy, wheat, or corn. The company behind this canine food is also family-owned and makes it a priority to exceed industry standards.
The turkey meal in this grain-free dog food offers a delicious alternative to chicken. The formula has specific ingredients to boost brain function, bone health, digestion, immune system health, and the overall health of your furry friend.
Pros
---
This product from Supreme Source is completely grain-free, and it is also devoid of soy, artificial flavors, and artificial colors that may be detrimental to a pooch's health.
Seaweed, which is the major ingredient used in formulating this dry dog food recipe, contains prebiotics that promotes healthy digestion in pooches.
This recipe includes omega-6 and omega-3 fatty acids, which are both beneficial for the high-quality development of a pooch's skin and coat.
Supreme Source Premium dry dog food is formulated to meet the nutritional levels established by the AAFCO Dog Food Nutrient Profiles for the proper development of all canine life stages.
Cons
---
This dry dog food from Supreme Source costs a lot more compared to other dog food products available on the market.
Customers have reported the products' incompatibility with their pet bulldogs, who showed signs of allergic reactions, such as coughing and ear infections.
#9 CRAVE Grain-Free Adult Dry Dog Food With Protein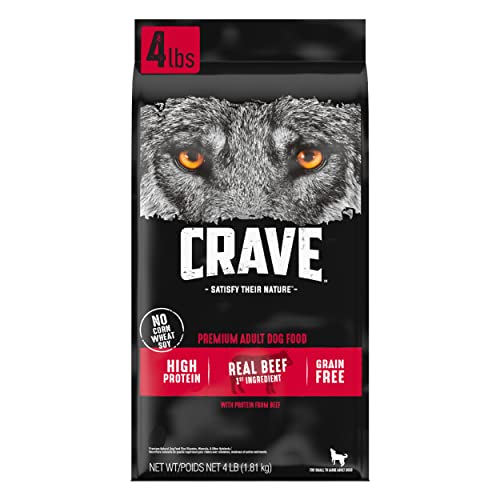 CRAVE Grain Free High Protein Adult Dry Dog Food, Beef, 4 lb. Bag
Contains one (1) 4 lb. bag of CRAVE Grain Free Adult Dry Dog Food with Protein from Beef—for any size dog
CRAVE recipes are always crafted with real, high-quality animal protein, no grain, and the full meaty flavor that dogs...
Made with 34% high protein, to support a strong, lean body
Real beef is the first ingredient in this grain-free dog food from CRAVE, providing your canine with high-quality protein. This formula prioritizes high protein content at 34%, a decision that the brand says is inspired by the ancestors of your furry friend.
The recipe contains only high-quality ingredients without any chicken by-product meal. There is also no soy protein, corn, or wheat to live up to its name as a grain-free recipe.
It does not contain any artificial preservatives, colors, or flavors whatsoever.
Instead of those additives, you will find vitamins, minerals, and other nutrients your four-legged friend needs to thrive.
This high-protein formula provides 34% protein thanks to its use of real beef, which your dog will love. The formula is designed to maximize Fido's health and energy thanks to that high-quality protein.
Pros
---
This dry dog food from CRAVE has a desirable texture and flavor, both of which appeal to pooches who happen to be picky eaters.
CRAVE Grain-Free dry dog food can be served to pooches on its own, and for variety, it can also be mixed with a suitable Crave wet dog food product.
This premium food product is produced without artificial flavors, colors, and preservatives that don't add any nutritional value.
The inclusion of real beef as the first ingredient of this dry dog food satisfies a pooch's natural urge to consume animal proteins.
It is available in 4, 12, and 22 lbs bag sizes that cater to small to large-sized pooches.
Cons
---
This dry dog food is formulated for adult dogs that are over a year old; hence, it isn't suitable for puppies.
Several customers have remarked that the CRAVE dry dog food kibble sizes are too small for their large-sized pooches to eat.
#10 Lucy Pet Formulas For Life Grain-Free Limited Ingredient Dry Dog Food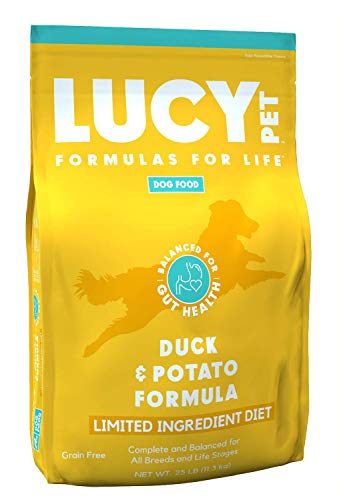 Lucy Pet Products Lucy Pet Limited Ingredient Diet – Duck & Potato 25LB
LIMITED INGREDIENT DIET: Carefully formulated for Gut health, digestive health and sensitive stomachs. These are key to...
SKIN & COAT: All-natural Duck meat with absolutely no duck by-products, sourced from France and the USA. An excellent...
ALL BREEDS & LIFE STAGES: Every kibble is designed for puppies, adult dogs and senior dogs of small & large breeds to...
This limited ingredient grain-free dog food from Lucy Pet was formulated to do well for dogs who are allergic to chicken or who have sensitive stomachs.
It is grain-free and uses all-natural duck meat without any duck by-products. The ducks all come from the USA and France, and their protein encourages your canine's coat, skin, and muscles to be healthy.
The mouth-watering grain-free formula is the result of 40 years of veterinary research and is appropriate for all breeds and life stages. As such, you do not need to buy multiple dog foods, even if you have several dogs in your family.
This chicken-free dog food appeals to those who want veterinarian-designed food with high-quality duck as the primary ingredient. The limited ingredient formula promotes gut health and is good for dogs with sensitivities.
Pros
---
Lucy Pet features Prebiotic Balanced Fiber and antioxidant nutrients that work together to promote a pooch's gut health.
This dry dog food recipe is suitable for all dog breeds and life stages.
The all-natural duck content of the Lucy Pet Formula provides an excellent source of protein that is needed for the healthy development of a pooch's muscles, skin, and coat.
The limited ingredient formulation of this dry dog food, which is devoid of corn, wheat, soy, artificial preservatives, and coloring, is perfect for pooches with sensitive stomachs and allergies.
Cons
---
Customers claim that the Lucy Pet Formulas dry dog food has an unpleasant smell that doesn't appeal to both dogs and humans alike.
The pricing for this dog food product is on the high side when compared with other available products.
#11 Natural Balance L.I.D. Limited Ingredient Diets Dry Dog Food With Grains
The lamb meal in this Natural Balance food comes from a single animal protein source, helping to ensure quality and be tolerated by dogs with food allergies or sensitivities. The use of lamb meal gives your canine essential amino acids which help to maintain strong muscles.
The inclusion of brown rice provides Fido with fiber, encouraging healthy digestion. The fatty acids boost the health of your canine's skin as well as the coat appearance. You will not find any artificial colors or flavors, soy, corn, or wheat in this food.
Thanks to its limited ingredient formula, this lamb meal formula will appeal to owners of dogs with food sensitivities or allergies to chicken. The inclusion of high-quality carbohydrate and protein sources boosts digestion while the essential fatty acids help your dog's fur and coat.
Pros
---
This dry dog food product is available in numerous bag sizes and flavors to cater to a wide variety of canine breeds and sizes.
The limited ingredient formulation of this Natural Balance dry dog food helps minimize the number of ingredients that dogs are exposed to, which is good for pooches with a history of food allergies.
The inclusion of fibers and whole grain brown rice in this dry dog food product's ingredient list is good for the improvement of a pooch's digestive health.
Natural Balance dry dog food is a limited ingredient diet that doesn't contain peas, chickpeas, and lentils that have been linked with the development of heart conditions in pooches.
Cons
---
Customers have expressed disappointment over inconsistencies in the color, sizing, and smell of this dog food product with different deliveries.
Customers also claim that the Natural Balance dry dog food gives their Fidos bad breath.
---
Chicken-Free Dog Food Buyer's Guide
---
As you search for the best chicken-free dog food, you will want to keep a few important factors in mind.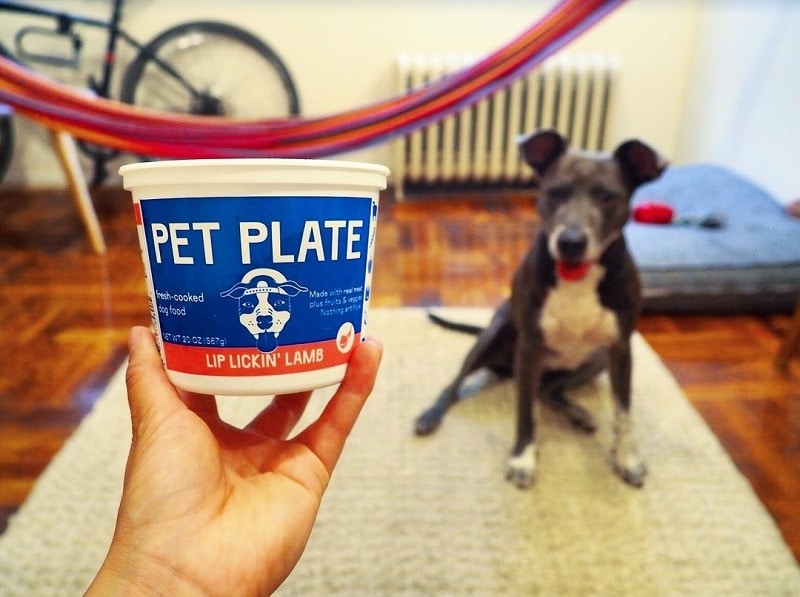 Source Of Protein
Dogs require plenty of protein to remain healthy and have enough energy. If your dog is allergic or sensitive to chicken, then the food must contain a different source of protein.
Look for protein sources that are unambiguous. If a food refers to a protein source as a type of "meat," be aware that this can include gristle, meat, heart, esophagus tissue, and more, in addition to the type of meat that humans typically consume. "Meat meal" is a rendered product, and "by-products" are non-rendered animal parts without meat.
The best dog foods will be clear about the protein source, using terms such as "real" or "all-natural." However, some companies may use these terms without them being true, so take a quick glance at the product's website or reviews before buying.
Choosing a product with a meat versus a meat meal is your decision. Meat will not be processed, but it contains a great deal of water weight, so your canine will not end up with that full amount of protein. By contrast, a meat meal has more meat per gram without water weight, so your dog will receive all of the meat and protein.
If your decision to give Fido chicken-free dog food is due to food sensitivities or allergies, then it would be wise to stick to dog foods with a single protein source. This reduces the allergy risk of your furry friend to one of the proteins in the chosen food as well. Additionally, if your canine is allergic to the protein, you will instantly know which protein it is so you can avoid it in the future.
Although rare, it is possible to find vegetarian dog foods that provide sufficient protein. Depending on your pooch's allergies and sensitivities, this may be a necessary decision.
Avoid Filler Ingredients
As you read the ingredient list on the dog food you are considering, look out for various filler ingredients that do not provide nutritional value. Most dogs are not allergic or sensitive to grains, but they provide no to minimal nutritional value. If you want Fido to have the best food, then it is best to go for grain-free dog foods.
In the case of dogs with sensitive stomachs, you should all the more make it a priority to get your hands on these grain-free dog foods. Because these grains are not as common in the natural diet of dogs, they are more likely to be tough on your pooch's sensitive stomach.
For these four-legged friends with sensitive stomachs, consider one of the limited ingredients dog foods, and grain-free if possible. These are more likely to have proteins that are not chicken. Additionally, there will be fewer ingredients that could potentially irritate Fido's stomach. Limited ingredient grain-free dog foods also make it much easier to pinpoint which ingredient, if any, causes digestive issues and which are fine for your pooch.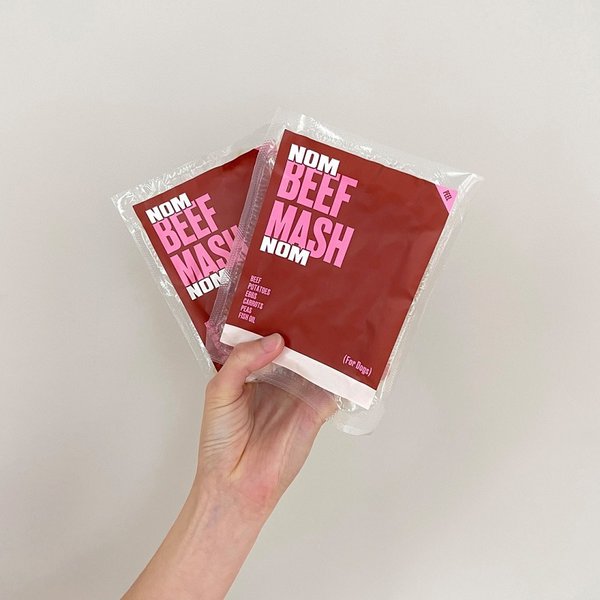 Check For Balanced Nutrition
All of the dog foods on our list of the best chicken-free dog foods meet the AAFCO requirements, and so should any other food you ever buy your canine. The Association of American Feed Control Officials enforces strict requirements, and it will not allow its stamp of approval on dog foods that fail to meet those requirements.
In other words, if a food has a statement that it was formulated to meet the AAFCO nutritional levels, you know that it has the proper balance of nutrients that your canine needs.
To further confirm that chicken-free food has balanced nutrition, look at the guaranteed analysis. When looking at chicken-free formulas, pay particular attention to the protein section, as it is harder to reach sufficient protein without chicken.
Most chicken-free dog foods will make it clear that they offer balanced nutrition by listing some of the key ingredients and their benefits for your canine. It is always a positive sign if you notice a description that mentions specific ingredients and their purpose, such as "fatty acids for skin and coat health." The right balanced food will support your canine's overall health, including that of the digestive and immune systems, coat and skin, and joints.
Think About Your Canine Companion
The best chicken-free dog food for your canine may also be different than that for your neighbor's pooch. Nutritional requirements vary based on activity level, age, and breed. When thinking about your canine's nutritional needs, pay careful attention to the protein content in these chicken-free dog foods, as this lets you ensure that there is not a lack of protein due to the lack of chicken. High-quality dog foods will use an alternative protein source to ensure your canine still receives enough.
Some of the dog foods on this list are formulated to meet the nutritional requirements for all breeds and life stages. Others will work best for specific dogs. For example, if your furry friend is very active, you should opt for a formula with plenty of fat and protein. Consider a formula that uses a protein source that is fattier than chicken or one that includes extra fat from other sources. By contrast, an inactive dog would do best with lean protein sources.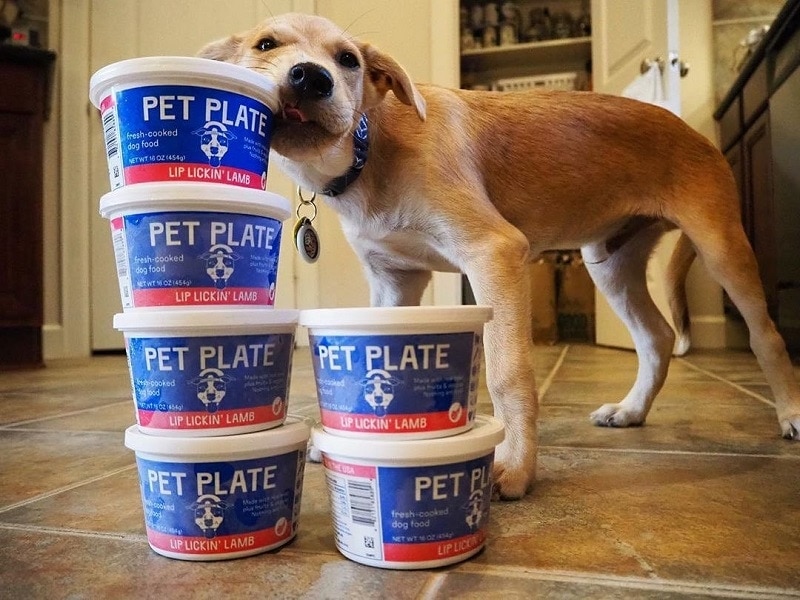 Confirm That It Is Chicken-Free
It is also wise to take at least a few minutes to read about the brand of chicken-free dog food you are considering and check the ingredient list.
Remember that chicken is a very common ingredient in dog food. As such, just because a food advertises that its main ingredient is a different protein, that does not mean it does not contain chicken. Avoid this problem by making sure you actually read the ingredient list.
Additionally, spend a few minutes researching the brand and its ingredient-selection process. This will further let you confirm that they will not use any chicken by-products or related products in their chicken-free formulas. That is particularly crucial for those who are making the switch to chicken-free because of their dog's sensitive stomach.
In the case of a switch due to extreme stomach sensitivities or allergies, you may even need to check if the company produces any chicken products. Although this level of sensitivity is rare, your canine could theoretically have some mild stomach irritation or an allergic response to cross-contamination.
You should not usually have to worry about that unless your furry friend has a severe problem. In those cases, consider a brand that has separate product areas for various protein sources or does not have any chicken-based products.
---
Final Thoughts
---
The best chicken-free dog foods feature alternative high-quality protein sources with a lower risk of allergies. For dogs with sensitivities to most proteins, a vegetarian option that remains well-balanced will be ideal.
As with dog foods that do include chicken, chicken-free dog food must include all of the nutrients that your canine needs, including protein, complex carbohydrates, and fats. The right formula will also have ingredients designed to support your furry friend's immune system, digestive health, fur and coat, muscles, and overall health.