If you're the proud owner of a large or stubborn dog, you know that traditional collars often don't do the trick when it comes to keeping your pet under control. That's why choke & prong collars can be such a life-saver, allowing owners to effectively train and manage their dogs without resorting to harsher methods or punishment.
A prong collar is often referred to as a pinch collar, made from metal and designed especially with adjustable links and inner prongs to fit dogs of different breeds and sizes. On the other hand, a choke collar works in a similar fashion and tightens when pulled, except without the inner prongs. According to the latest research evidence, many dog owners prefer to avoid these collars because they're perceived as dangerous or cruel to dogs, even though they've been in use for decades, especially by experienced dog trainers.
To help you out, we've put together a comprehensive guide on the best choke & prong dog collars, as well as helpful tips on how to use them safely and effectively.
#1 Keeper 1-Inch Wide Collar Hidden Prong With Snap
The Keeper Collar Hidden Prong Collar from Leerburg offers the best of both worlds with a functional design and durable quality. Although it looks more like a prong collar cover, this is an all-in-one unit that comes with a built-in prong. But, you won't see it because it's hidden beneath the stealthy camouflage cover.
Even if you consider yourself a clumsy individual, this prong collar will work for you. All you have to do is measure your dog to make sure you're getting the right fit, starting from behind the ear to the area just beneath the jaw.
For the best results, go for a form-fitting measurement; not too tight but not too loose, either. A good example would be to get a 14-inch collar for a large size dog that measures 15.5 inches.
Thanks to the molded snap, it's easy for anyone to take this collar on and off. It's the best tool to use when training strong and large breed dogs, and it's easy on the eye too! What's not to like?
Pros
---
This product is available in different sizing options to provide an appropriate fit for a wide variety of dog neck sizes.
The collar comes with a molded snap that makes it easy and convenient to put it on and equally take it off a pooch's neck.
The collar's prongs don't have sharp edges that can potentially cause neck injuries to a pooch.
The Keeper collar comes with hidden prongs to prevent strangers that are unfamiliar with the product's use from passing negative remarks.
This collar is reported to be highly effective in making dogs of medium to large sizes, especially German Shepherds, to be well-behaved.
Cons
---
This wide collar doesn't slip as smoothly as a traditional prong and loosens when needed, thereby making corrective actions less effective.
The support staff of Keeper rarely responds to email inquiries regarding collar sizing, which makes picking the right collar size somewhat challenging if you are purchasing this item for the very first time.
#2 Herm SPRENGER Ultra-Plus Prong Dog Training Collar
This budget-friendly prong chain from Herm Sprenger is one of the safest models on the market. It has a size range of up to 18 inches, and it's made from a durable steel chrome material. That means it'll work for even the largest and most aggressive dogs.
Its practical design is accentuated by a dedicated safety end on each link. This protects your dog's neck from injury whenever you yank its collar, and you can rest assured that it's secure thanks to the steel chromium plate closure.
All told, this one's easy to use, even for beginners, and it works great for pet owners with adult dogs when used properly.
Engineered and manufactured in Germany, this classic Herm Sprenger prong chain is durable, tough, and easy to use. All you have to do is remove or add links for a comfortable fit. The prong is placed according to a symmetrical positioning for ease of communication between you and your dog.
Pros
---
This training collar is effective for walking dogs that pull strongly, large pooches, as well as for behavior correction and obedience training.
The collar's blunt prong design doesn't cause pain or harm to dogs wearing the collar.
The collar comes with a patented center plate construction, along with symmetrical prong placement, to provide natural contact for optimal communication when in use.
The collar has a solid fastener plate that provides a strong and secure connection.
Users of this product can add or remove individual links to adjust the training collar to fit their pooch's neck.
Cons
---
Some customers claim that this dog training collar isn't quick-release and that it is difficult to pull it off a pooch's neck.
Customer feedback suggests that this collar easily rubs off and leaves distinctive black or gray stains on pooches with white fur.
#3 StarMark Training Collar
SALE ALERT!!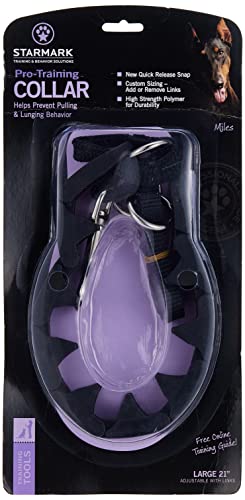 Due to its plastic construction, this pinch collar from StarMark promises never to break or yank your dog painfully.
It's designed to minimize aggressive behavior in overly-energetic pets, thus making it easier for you to take your dog out for walks. You'll find that contact with your dog is seamless with this collar, and this probably has something to do with the fact that this design is inspired by certified training and behavior specialists.
This choke collar is available in different sizes, including extra small. But since it's adjustable, you can continue to use it as your dog gets bigger. Just add or remove some of the links to change their size, and Bob's your uncle!
There's a round ring included in the design of this collar so you can attach your dog's leash whenever you need to use it on the go. The leash ring is the only part of the collar that's made out of metal, as the rest of the ring is made of plastic. But, you'll be glad to know that this metal is resistant to rust so your dog can still wear the collar when it's raining out.
In addition to a durable and comfortable plastic frame, this choke & prong collar features a metal round ring that you can use to attach a leash.
Pros
---
The training collar's linked 'watch band' design makes it possible for customers to make sizing adjustments according to their pooch's specifications.
The StarMark training collar is suitable for pooches of different ages and dogs at different stages of life.
This training collar tightens around a dog's neck when strained against a leash, which works effectively to discourage pooches from pulling while on walks.
Unlike regular metal prong collars, the plastic Starmark training collar doesn't cause fur discoloration on dogs.
The collar's plastic build doesn't hurt or injure pooches when pulled at.
Cons
---
Some customers claim that this training collar tends to break easily, even with the slightest pull.
Customers also claim that it is extremely challenging to reassemble this training collar after initially getting it apart for whatever reason.
#4 Coastal Pet Training Dog Collar
SALE ALERT!!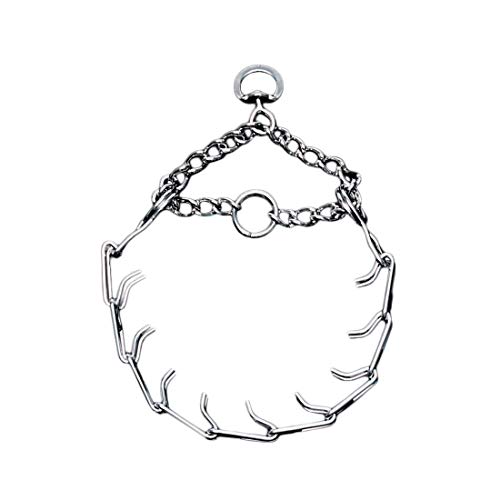 For the meanest dog on the block, nothing but the best will do. The Coastal Pet Training Dog Collar is designed to train and tame aggressive and large breed dogs.
It's welded from argon and coated with chrome, with a rust-resistant titan chain with metal spikes. Although strong and durable, this collar is ultra-lightweight. It measures 20 inches with adjustable 3.3 mm heavy links.
This is a high-quality chain from Coastal Pet, and it's made to withstand any environment thanks to its durable composition.
Pros
---
This training collar's prongs are spread out to evenly distribute the pressure around the pooch's neck, rather than concentrating in specific areas and causing great pain to the dog.
The prong's edges feature a blunt design that does not cause injury to a dog's neck when pulled at.
This dog collar features electric welding and chrome plating, both of which combine to provide extra strength and increased durability.
This collar tightens up and pinches a dog when pulled, which helps to discourage a pooch from pulling at its leash while on walks.
Cons
---
Several customers claim that it is very difficult to fit and adjust this training collar around a dog's neck.
This training dog collar tends to leave a stain on the coat of pooches with white fur.
#5 JANNIK Herm Sprenger Stainless Steel Pinch Training Collar
This is yet another class act of a training collar from Herm Sprenger. This time, the JANNIK Stainless Steel Pinch Training Collar is made in an assembly-style design for maximum comfort and effectiveness. This means it has five-prong links that are connected through a center plate with nicely polished and beveled prong ends.
To put it on and take it off, all you have to do is pinch one of the prongs. Although it's recommended for dogs whose neck measures up to 18 inches, this collar is adjustable for up to 20 inches, making it one of the widest units on this list. You can add or remove one of the links to adjust the fit according to your dog's size.
Herm Sprenger sells additional prong links for this model, making it even more adjustable. Just make sure you have the right size prong link when you order.
Pros
---
This training collar comes with links that can either be added or removed at will to provide an appropriate fit on a pooch's neck.
This training collar model comes equipped with a swivel that provides easy attachment to the dog's leash.
The stainless steel material used in producing this training collar doesn't rust easily, thereby guaranteeing a considerable period of use.
This product's middle plate connector provides a symmetric configuration for the training collar's middle link, thereby ensuring that the collar's prongs all tighten in the same direction.
The blunt edges of this training collar are non-harmful to a dog, and the design of the collar is such that it doesn't apply direct pressure to a pooch's trachea.
Cons
---
The black finishing on this training collar is paint that comes off easily and stains a pooch's fur in the process.
Customers claim that it is a bit difficult to remove the links on this training collar.
#6 Coastal Pet Products 05592 BLK22 Titan Prong Dog Training Collar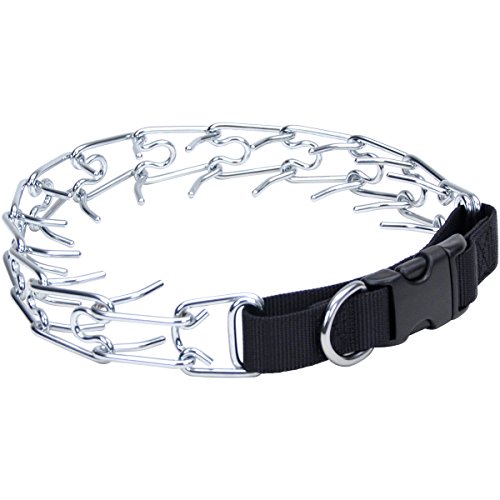 Introducing another dog training collar from Coastal Pet, this prong collar is designed for ease of use and for comfort during dog training. It's made from 100% soy fiber which is soft, comfy, and eco-friendly. If there's one thing you can be sure of with this collar is that it won't hurt your dog in the least.
The durable buckle is easy to remove and is designed to minimize neck strain. At the top of the collar is a nylon loop with a side-release buckle. That means it's super easy to put on and take off.
This collar has many positive reviews online from dog parents who say it's chic, comfortable, and effective at training their pups with zero pain or cruelty.
Pros
---
This product comes with a side-release buckle that makes it easy to put on and take off this dog training collar.
This training collar is effective at reducing a dog's tendency to pull at its leash due to the presence of prongs that tighten around a pooch's neck when its leash is pulled at.
The collar's prongs are smoothly rounded so that they don't cause pain or injure a dog's neck when pulling on a leash.
The Coastal Pet training collar has several equally applied pressure points designed to enable the pooch to feel and respond to the stimulus of the prongs quickly.
Cons
---
This dog training collar's metal hooks tend to come apart quite easily, thereby posing a safety hazard to pooches.
Several customers claim that this dog training collar is too large and heavy-duty to be used effectively on small-sized pooches.
#7 Supet Dog Prong Collar
SALE ALERT!!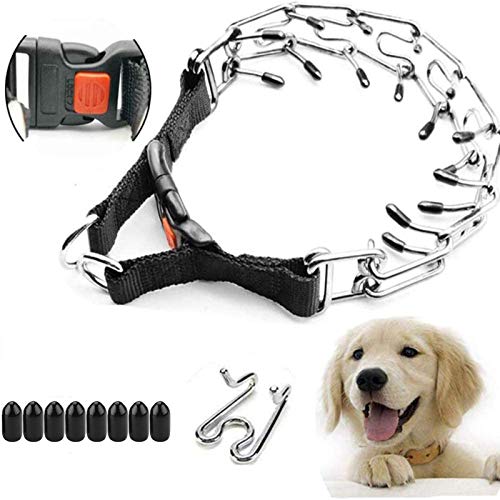 The Supet Dog Prong Collar is a metallic, stainless steel buckle with is comfortable for your dog. It helps to offer proper training to your pups because the chain links protect the airway and neck. This prong collar is smooth and well-rounded so that it doesn't hurt your dog.
This collar unravels quickly and has a quick-release snap. It comes in 4 sizes, depending on your dog's neck circumference – Small (2.5 mm in diameter and a length of 14 inches, Medium (3.0 mm diameter and a length of 16 inches), Large (3.5 mm in diameter and a length of 18 inches) and X-Large (4.0 mm diameter and a length of 20 inches).
You can use pliers to add and remove links per your dog's size. The collar comes with an extra set of links. Supet offers its customers a 100% satisfaction guarantee, but you can contact them to address any issue you have.
A major concern that pet owners have is if the items they buy are humane and safe. This prong collar protects your dog's airway and neck. The variety of sizes suits most types of dogs. The prongs are smooth and rounded, so you don't have to worry about injuries.
Pros
---
This dog prong collar comes in four different sizes options – small, medium, large and extra-large – to provide better fits for various dog neck sizes.
The Supet collar's prongs are well-rounded, and they come with smooth rubber caps to ensure that no harm comes to pooches when the collar is in use.
This dog prong collar has a quick-release snap, made of quality plastic material, that makes it easy to quickly loosen and remove, as well as wear the collar on a dog's neck.
This product's size can be adjusted by removing or adding links from the dog prong collar.
The 3.5mm chrome-plated design of this dog prong collar provides significant strength and ensures that this product can last for a considerable period.
Cons
---
The inclusion of a clasp on this dog prong collar provides an uneven pressure distribution of the prongs when pulled, which is very unsafe for pooches.
Customer feedback suggests that the plastic tips that cover the prongs tend to come off fairly easily.
---
Choke & Prong Collars Buyer's Guide
---
The difference between pinch collars and choke collars is that the interior of the former contains spikes that "pinch" the dog in tandem with yanking its leash. All you have to do is fasten a leash to the back of the collar so that you can use it to control your dog when walking with him.
Your dog will only feel pressure from the prongs of the collar when you pull at the leash. The more your dog resists, the more pressure is applied through the prongs, and that's why prong collars are so effective. They punish the dog according to its behavior.
On the other hand, a pinch collar fits like a regular collar and looks like an attractive jewelry piece. It's expertly crafted with the different prongs fitting together in overlapping loops. Each collar also comes with a tiny metal ring that makes it easy for you to attach a leash for walks.
But any dedicated dog owner can learn to use a choke & prong dog collar safely, effectively, and ethically. The key is to get proper training on how to use the collar first, and then buy a good quality collar that fits comfortably and works efficiently.
How To Fit A Choke & Prong Collar
It's important to only put on a choke & prong collar during training hours and take it off as soon as you're done. Unfortunately, a lot of dog owners tend to leave prong collars on long after they've finished training their dog. This confuses the dog and prevents him from making an association between the collar and its training routine. Also, be sure to fit the collar properly before you start using it.
This means the collar should fit comfortably around the neck and be positioned beneath the jawline. A collar that's too loose could cause difficulty for your dog when walking because it will drop down.
Avoid putting on the collar by slipping it onto your dog's neck, as some owners like to do. Instead, a training collar should be worn and removed by hooking and unhooking the included links, which should be positioned at the back of the dog's neck. The great thing about these links is that they're easy to unhook. All you need to do is pinch it, and it should come apart. If your dog is wearing a leather dog collar, you have to remove that prior to putting on the prong collars.
For the best results, place the links behind the dog's ears for easy access when you need to hook and unhook them. The rings that attach the leash shouldn't be positioned beneath the dog's chin and should be rotated to fit in the appropriate position.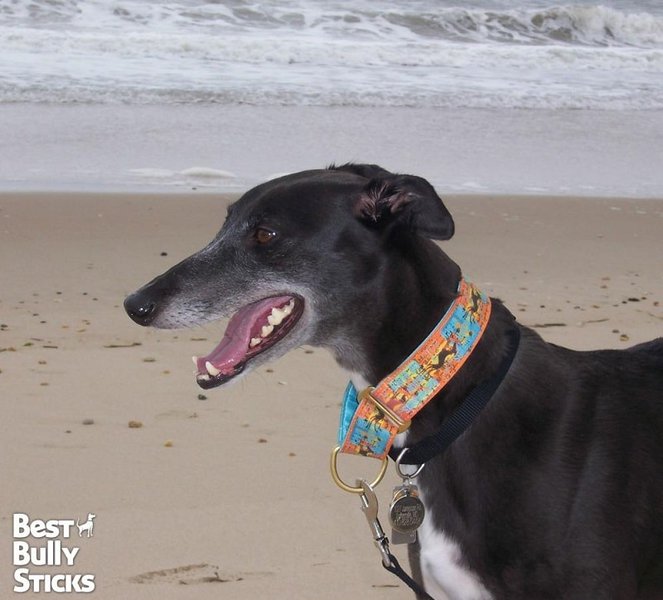 What You Should Know Before Buying a Prong Collar
Mechanism
At first glance, prong collars look quite dangerous and even harmful to dogs, which is why most dog owners don't like to use them. But prong collars are a very effective training tool. that helps you to communicate more effectively with your dog during training. Because it distributes pressure equally around the dog's neck, there's no chance of harming the dog's neck or his trachea, granted that it's positioned properly.
Fit
Also, it's important to ensure a secure fit by positioning the training collar beneath the ears. To ensure successful communication with your pup during training, be sure to place the collar at the upper part of the neck.
Always measure your dog's neck size and check with the manufacturer's prong collar size guides to ensure that the collar fits well.
A loose collar can easily slip down and injure your dog's neck, and this is a common problem with prong collars. It's not that they're intrinsically harmful, but people often put them on in the wrong way.
Use
We're sure you probably didn't consider this, but a dog collar can potentially save your dog's life. You see, a lot of dog owners are hesitant to take their dog for outdoor walks and hikes out of fear that they will misbehave and run amok. A choke & prong dog collar can help you avoid all that and still take your dog out for regular walks and outdoor excursions without experiencing any undesirable behaviors.
Plus, taking your dog out for walks frequently will prevent it from chewing on furniture or barking incessantly from being bored. A choke & prong collar can help you build a stronger and better relationship with your pet by creating positive memories and doing more of the activities that your pet enjoys.
Risk
It's sad to say, but dog owners are the ones that give choke & prong collars a bad name. Through misuse and improper wearing, these collars can be dangerous and harmful. It's important to note that training collars are useful for more than just yanking at your dog every time he misbehaves. They're designed to facilitate better communication between you and your dog while establishing your authority as a leader in your pet's mind.
It's not recommended to keep the collar on after training hours, and you should only practice the pinch when you're actively training your dog in situations such as walking or hiking outdoors.
As long as you use the collar ethically, there's no reason for you or your dog to experience any side effects from it. Be sure to follow the provided instructions as well for the best results.
This goes the same for other controversial canine products, such as a dog bark collar and a dog shock collar.
---
Final Thoughts
---
Well, there you have it! That's how you use a choke & prong collar to get the most out of it. As long as you follow the guidelines provided with the collar and consult with a professional dog trainer to help you out, a dog collar could be the best way to form a peaceful, lifelong friendship between you and your dog.
Now, if we were to pick just one option from the choke & prong collars reviewed on this list, it would be our top pick. What makes this collar so unique is the fact that it's molded for easy wearing and removal. It's made from durable, high-quality materials, and it's perfect for training large and aggressive dogs, although it's adjustable enough to fit different sizes.