The best dog food for Dobermans is Purina Pro Plan Dry Dog Sport Formula.
Doberman Pincher is a loyal German canine developed in the 19th century that is famous for its incredible intelligence, unquestionable loyalty, stubborn personality, and above all, robust appearance.
Due to their slender physique and energetic nature, these dogs often seem to work alongside the military and police forces around the world.
To maintain a constant supply of energy and save it from inherited health problems, you need to provide him with food saturated with nutrients like proteins, healthy fats, carbs, vitamins, and minerals.
Take a look at the following tested and compared products and pick the best dog food for Dobermans.
#1 Purina Pro Plan Dry Dog Sport Formula
SALE ALERT!!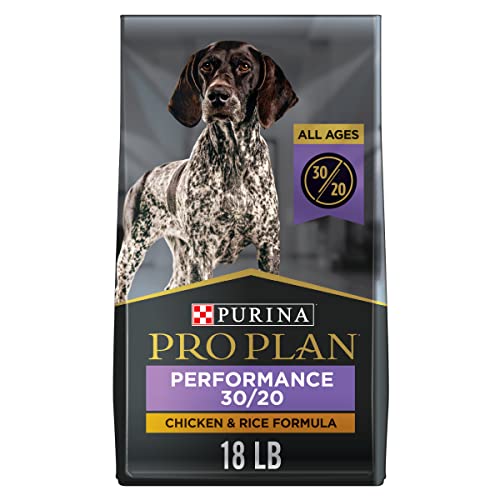 Purina Pro Plan is ideal for the military and police dogs or those Dobermans that have to perform security duties overnight. Its 30/20 formula provides a high level of 30% protein and 20% fat ideal for working or playing dogs. The protein contents of this food help Dobermans build muscles even if they are not much active and hardworking.
The performance blend in this Sport formula enables dogs to perform at a high capacity for considerably more extended periods. Amino acids in the Purina Pro Plan help to nourish muscles during crucial times. EPA and glucosamine are also useful for joints and movement that watchdogs need.
Purina Pro Plan is a blessing for lactating female dogs because it helps them to maintain health. It ensures the supply of extra protein required for metabolic activities in female dogs and their nursing puppies. Puppies, young and senior adults equally like this food formula because of real chicken as the top ingredient.
Purina Pro Sport Formula should always be your first choice if your Doberman performs tough jobs for hours. The high protein content helps to maintain high muscle composition. Moreover, it is ideal for puppies because of the chicken as a top ingredient.
Pros
---
Dobermans will certainly enjoy enhanced endurance, thanks to its concentrated nutrition that optimizes oxygen metabolism (VO2 MAX).
Pup will enjoy all-around nutrition value from this high-calorie sport formula made from real chicken and rice as its key ingredients, all of which help to maintain muscle and metabolism.
Rich in EPA, such as omega-3 fatty acids and glucosamine, both of which boost mobility and joint health.
Your furry friend's brain and vision development are taken care of thanks to DHA in this formula.
Available in seven bag sizes, namely 4, 6, 16, 18, 24, 37.5, and 48 lbs, to suit your budget and feeding schedules.
Cons
---
Some Dobermans may pass loose stool as they may have a sensitive digestive system that cannot handle this dog food formula.
Some pups may not like the pungent smell this product comes with and may take some time to get used to it.
#2 Purina Beneful Dry Dog Food For Dobermans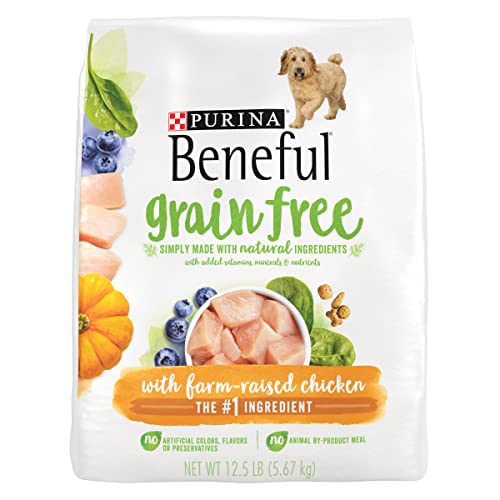 If you want to give your Doberman a food that features real farm-raised chicken, Purina Beneful should always be your first choice because it has farm-raised chicken as a top ingredient. The accents of blueberries, pumpkin, and spinach not only increase its nutritious benefits but also add taste.
You need not worry about your pooch's health while giving this food at mealtime because it is grain-free. The presence of high-quality protein, 23 essential vitamins, and minerals make it a completely balanced diet for Dobermans that are performing strenuous tasks.
Your best friend will like to sink its teeth into the crunchy texture of this dry dog food, which is free of fillers. Protein contents in it help to maintain muscular health without increasing weight. You can also feed your adult lactating females because it is 100% balanced and nutritious for all adults. Being free of animal by-products, it is also suitable for young pups.
The crunchy structure of this dog food makes it favorite for Dobermans because they have strong muscles and enjoy sinking their teeth in it. Being grain and gluten-free, it saves dogs from health issues. Accents of vegetables increase its taste and nutritious value.
Pros
---
Perfect for pups with allergies as it is grain-free and made without any corn, wheat, or gluten.
This product provides a 100% nutritionally balanced dog food formula as it contains 23 essential vitamins and minerals.
Comes in a money-saving 12.5 lbs bag of food made of tasty farm-raised chicken with accents of spinach, pumpkin, and blueberries.
Safe for pups as it does not contain fillers, preservatives, or artificial flavors.
Safe to purchase in most US states as it is made from ingredients that meet or exceed both state and federal requirements.
Cons
---
Can cause itching, skin breakouts, and skin thinning in some pups that may be allergic to some of the ingredients.
May cause diarrhea in pups with a sensitive digestive tract.
#3 IAMS Dry Dog Food For Large Breeds
SALE ALERT!!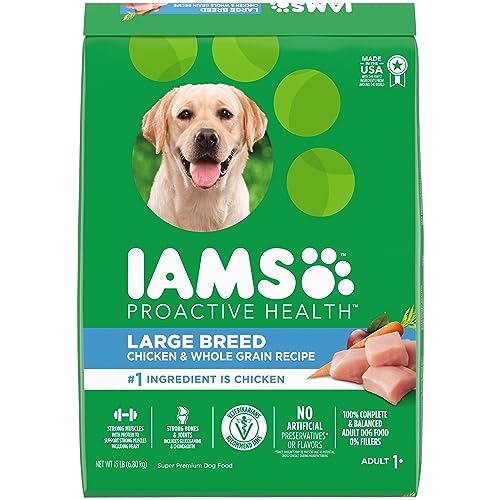 This dry dog food product offers premium ingredients to meet the unique needs of Dobermans. Veterinarians recommend it as the best food for joints health. Extra protein content sourced from chicken and egg builds muscles of the dogs and enables it to perform difficult tasks. The seven essential nutrients present in this dog food are vital for heart health.
IAMS dry dog food is also rich in antioxidants that support the immune system. This food has crunchy kibbles that reduce plaque with every bite. The teeth of your Doberman will always remain tartar free and clean to reduce the risk of bad breath. Prebiotics in the food promote healthy digestion.
This dog food is ideal for large breed dogs above one year of age and giant breed dogs above two years of age. The protein, prebiotics, essential vitamins, and minerals ensure your Doberman will maintain good health.
Pros
---
Depending on your Doberman's size, or the number of pups you have, there are four bag sizes to choose from, ranging between 15 lbs to 40 lbs.
Helps with digestion and overall immunity thanks to the blend of wholesome fibers and prebiotics.
Comes in a small kibble size and is made of real farm-raised chicken.
Made of a nutritious formula that promotes bone, muscle, and joint health.
It is a 100% complete formula that is free of fillers, or preservatives and is recommended by veterinarians.
Cons
---
Sensitive Dobermans may experience lethargy, vomiting, and tummy upsets after eating this dog food.
Some customers may notice they received molding, or spoilt food if the delivery company does not handle it properly.
#4 Purina One SmartBlend Grain-Free Formula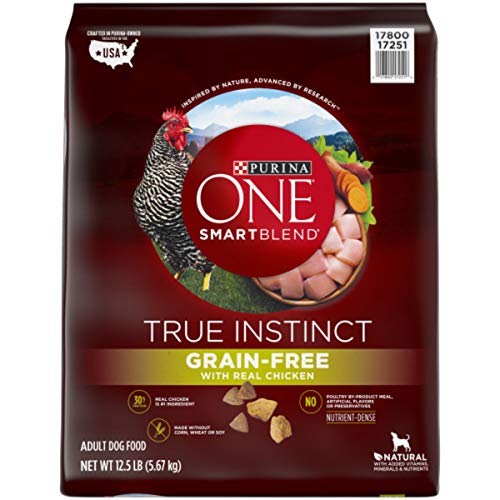 Dobermans often crave a nutrient-dense taste, and Purina One SmartBlend grain-free formula satisfies this taste. It contains real chicken as the top ingredient with sweet potatoes for healthy carbohydrates. This dog food formula also features 30% protein content to build muscles and help it adopt an active lifestyle. Purina One SmartBlend contains antioxidants that come from four sources to strengthen the immune system.
Glucosamine also helps pets to perform adventures because of healthy joints. The high-digestible formula improves digestion and saves Dobermans from specific stomach issues. You can serve this grain-free formula as a full-time meal.
Purina One SmartBlend guarantees the good health of dogs because it is free of animal by-products, artificial flavors, and preservatives. Omega 6 in it makes skin radiant and healthy.
Pros
---
Comes in a convenient 12.5 lbs bag containing Smartblend True Instinct real chicken.
It is grain-free, filler-free, and free of artificial flavors, meaning that pups with allergies can enjoy this formula.
Made of a high-protein nutritious recipe that helps pups with an active lifestyle by supporting strong muscles.
The vitamin and minerals contained in this formula help give pups a shiny, soft coat.
The product is tasty and easy to digest as it comes in tender morsels.
Cons
---
The formula may contain trace amounts of soy, which can leave Dobermans listless and dull after consumption.
It may affect pups with sensitive digestion as they may experience tummy aches and vomiting the first few times they try it out.
#5 Purina Beyond Dry Food Formula For Adult Dogs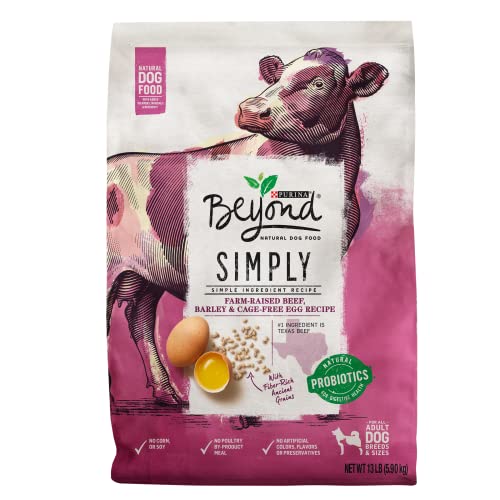 If you want to keep your Doberman healthy without the addition of supplements, go for Purina Beyond dry food because it provides complete nutrition. Real beef and eggs make it a protein-rich food that is essential for dogs performing hard tasks. This food formula is also free of animal by-products, artificial colors, and preservatives and delivers a balanced diet full of natural ingredients.
High-quality pea starch and cassava route flour make it an energy-rich food, which is an essential requirement of large breed dogs like Doberman. Fatty acids in the eggs make skin shiny and healthy. The fiber found in peas also plays a crucial role in the digestive system.
Given that it is made up of all-natural ingredients, veterinarians recommend this dog food for large breeds. Your pet will like eating this food because of its tender, protein-rich shred textures. Beef content makes it ideal for adult dogs.
Pros
---
You can order a sizeable 13 lbs bag that contains farm-raised beef, cage-free egg and barley mix.
Contains probiotics in the formula, which is perfect for boosting immunity and promoting proper digestion.
Tasty and safe dog food formula that does not contain soy, wheat, corn, by-products, preservatives, or artificial flavors.
Nutritious recipe that is high protein, which offers pups energy, muscle and joint health.
Formula contains high-quality pea starch and cassava flour, which makes it a high energy meal.
Cons
---
The small-sized kernels, or kibble may be a choking hazard especially for large pup breeds.
Not ideal for pups with a barley allergy as it may cause digestive problems like diarrhea and vomiting.
#6 Merrick Grain-Free Dry Dog Food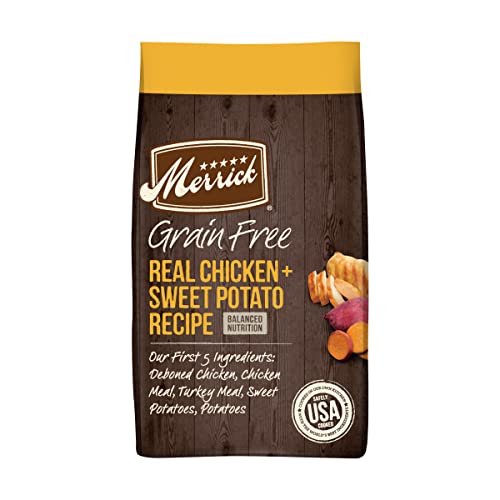 Merrick Grain Free Dry Dog Food Real Chicken & Sweet Potato Recipe - 10 lb Bag
#1 ingredient: deboned meat, Fish or poultry: Merrick Grain free dog food recipes contain leading levels of high quality...
Healthy skin and coat, hips and joints: these grain free dog food recipes contain leading levels of omega-3 and 6 fatty...
Real WHOLE foods for optimal natural nutrition: Merrick Grain free dog food recipes include real, WHOLE foods like sweet...
Merrick's grain-free dog food is a unique blend of beneficial fruits and veggies that provide necessary vitamins and minerals for the overall health of your Doberman. Blueberries, apples, peas, and sweet potatoes tickle the taste buds of your pet. Protein obtained from buffaloes is the most focused content because it provides enough energy to these hardworking dogs.
Glucosamine and chondroitin in this dog formula are vital for hips and joints health. It also contains Omega-3 and omega-6 fatty acids that are beneficial for skin and fur. Being free of grains and gluten, it is also the best food for sensitive dogs.
This food contains 70% protein content and is ideal for performance dogs. It focuses on digestion and shines the skin and fur. The 30% fruit and vegetable contents give it a unique taste that Dobermans like the most.
Pros
---
This dog food is made of great-tasting ingredients like deboned real chicken, sweet potatoes, potatoes, chicken meal, and turkey meal.
You can get a dog food back that suits your pup as you can choose from varying bag sizes between 4 lbs to 30 lbs pack.
Rich in high-quality proteins, which help to build muscle and boost energy levels.
It is perfect for dogs with allergies as it is free of soy, gluten, corn, fillers, or preservatives.
It offers all-around nutrition, such as omega-3 and omega-6 fatty acids for healthy skin and coat, as well as glucosamine and chondroitin that help with your pup's joints and hip motion.
Cons
---
Dobermans with sensitive digestion systems may experience watery diarrhea and stomach upset.
At first, some pups may reject the food due to the smell.
#7 Purina Beyond Simply 9 Natural Ingredient Dog Food For Adult Dogs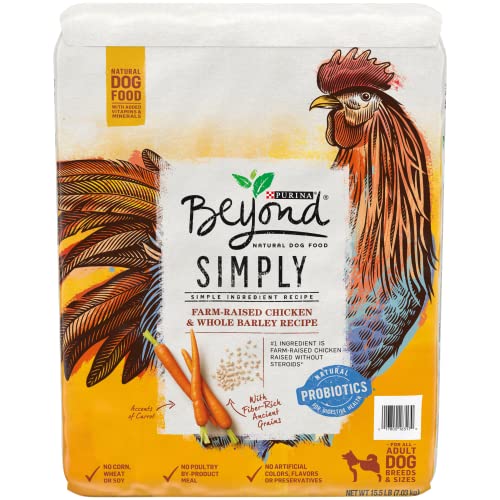 This white chicken meat and barley recipe is the first choice of owners who want to give their pets balanced and wholesome food. As the name suggests, it features carefully sourced nine natural ingredients that are rich with essential vitamins and minerals.
White meat chicken is the first ingredient, while flavor accents of egg, barley, and carrots add to the taste. It relieves you of the worries of artificial and harmful components.
Your dog will surely love this savory recipe in the form of crunchy kibbles. It is a 100% balanced formula for large breed dogs and helps to maintain a healthy digestive tract.
The blend of 9 natural ingredients with real chicken makes it the primary choice of Doberman owners. This protein-based and fiber-rich food help to maintain the health of your athletic dog.
Pros
---
Comes in a 15.5 lbs pack that is suitable for all doggy breeds.
Natural dry food formula that contains whole barley and farm-raised chicken.
It is safe for consumption by pups with allergies as it does not contain gluten, soy, artificial colors, flavors, or preservatives.
It is nutritious as it contains high levels of protein, naturally occurring collagen, and probiotics, which help with energy, muscle, smooth coat, soft skin, and a functioning digestive tract.
Comes in bite-sized crunchy kibble, which is easy to digest.
Cons
---
Some Dobermans may not enjoy the food's organic taste and take some time to get used to it.
Sensitive pups may suffer diarrhea if they are allergic to ingredients like barley.
---
Dog Food For Dobermans Buying Guide
---
Usually, pet owners feel committed to providing their dogs with the best food. Doberman owners are especially conscious of their pet's diet because it is an active and energetic dog breed that requires quality and energy-rich food. Therefore, buying food that is an appropriate blend of proteins, carbohydrates, vitamins, and minerals is always a wise decision.
Have you ever come across such foods? If your answer is no, it means that you do not know the nutritional requirements of your pet. This buying guide will tell you everything about Dobermans and their dietary needs, which will make it easy for you to arrive at an informed decision.
Dietary Requirements Of Dobermans
The Doberman Pinscher is a large breed of dog that has unique nutritional needs. It usually needs extra protein to develop and maintain muscular health. This breed also needs a moderate level of energy that should come from animal meat. Some organic sources of quality carbs are vegetables, beans, whole grains, and legumes. The dietary requirements of the dogs vary with age.
Experts suggest that the Doberman's diet must contain 22% to 32% of proteins along with 8% of fat content for puppies. This extra protein and fats help dogs to develop strong muscles.
It is always wise to change the diet plan of your Doberman with increasing age. An adult dog needs 15% to 30% of proteins, along with other organic components. It is also worth mentioning that Dobermans are prone to kidney diseases, and continuous usage of extra protein may cause this disease.
There comes a stage in a dog's life when the metabolic activities of the body begin to slow down. Change the diet plan at once to save your Doberman from obesity.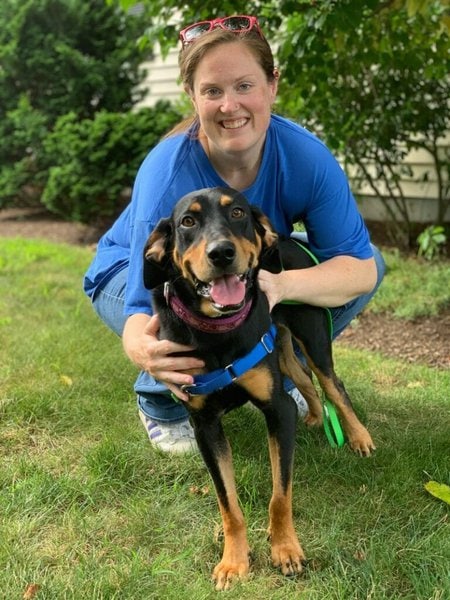 Health Issues Common In Dobermans
Along with being athletic and energetic, Dobermans are prone to diseases. Thus, as an owner, it is our duty to take care of its diet. The following are some of the common diseases Dobermans suffer:
Hypothyroidism
Dobermans suffer from hypothyroidism, like human beings. However, this condition is not considered to be dangerous, but it needs attention to be properly managed. It is always wise to feed the Doberman the right food. Dry skin, depression, lethargy, and sensitivity to cold, are some of the common symptoms of this disease.
Wobbler Syndrome
Dogs of large and giant breeds are prone to this disease, where the spinal cord compresses at the neck and causes various neurological disorders. Dobermans typically suffer from this disease at a young age and may experience untypical gait, neck pain, and partial or full paralysis. Most experts agree that excessive protein, calcium, and potassium in food are the causes of this disease.
Bloat
It is one of those diseases that become life-threatening if left unattended. Dobermans suffer from this disease when the owners provide dense and indigestible food or the dog is in the habit of eating fast. It appears in the form of gagging, abdominal pain, and excessive slobber.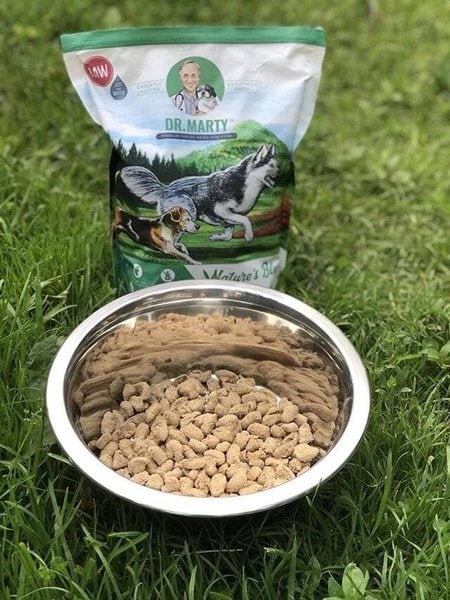 Diet And Nutrition Guidelines For Doberman Pinscher To Maintain Protein Level
Feeding your best companion with a calorie-dense and nutrient-rich diet can keep it healthy and the best fit for vigorous muscular activities. Your nutrition plan for Doberman should always satisfy the needs of the dog. It should contain animal protein from reliable resources and amino acids.
However, always keep in mind that excessive protein intake may cause kidney problems. Some of the standard food requirements are:
Fats
Dobermans usually have short and brisk hair and, therefore, require more fat content as a substantial source of energy. Salmon and flaxseed oils are the most significant sources of these beneficial fats.
Carbs
Carbohydrates are another vital ingredient of Dobermans' food because these provide sufficient energy. However, always keep in mind that the number of carbs should never exceed 25% of all other components. Usually, feed manufacturing companies use complex carbohydrates because these do not disturb the sugar level.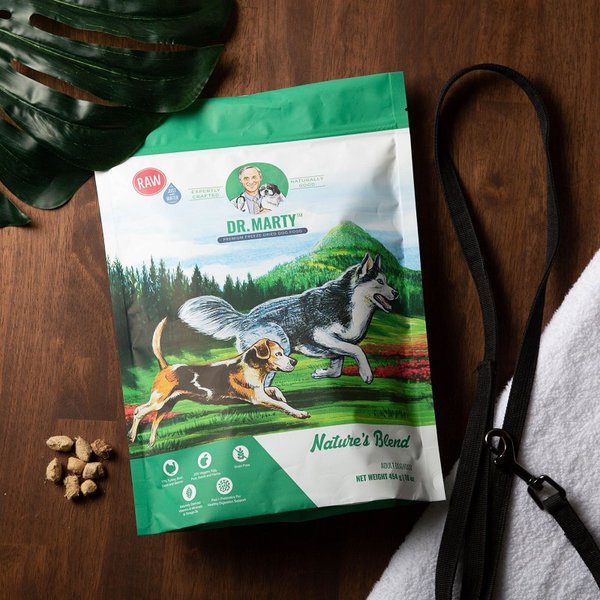 Ingredients To Avoid In Doberman Pinscher Food
There are many ingredients that the owners should always avoid feeding their Dobermans. Some of these are:
Meat By-Products
Avoid those foods that contain meat by-products as an ingredient. Dobermans are a susceptible breed and require only quality food to perform at their best. Meat by-products may, however, contain animal remains, chicken feet, intestines, brains, blood, and other such components.
Artificial Flavors And Colors
Although artificial flavors make food tasty, but can also cause specific allergic issues because Dobermans are sensitive to food allergies. Therefore, avoid using these flavors and colors. Instead, give them wholesome natural food.
Preservatives
Fresh food is an essential requirement for all dogs, but this does not mean that it should contain preservatives like BHT and Ethoxyquin. Foods preserved with these artificial preservatives cause stomach issues and weaken the immune system of Dobermans.
Doberman food should never contain low-quality fillers, such as wheat, corn, and gluten. Using these grains will add calories and increase weight.
---
Final Thoughts
---
After reading the comparison of some of the best Doberman foods, we highly recommend the top pick for Dobermans because of its unique blend of all the essential ingredients. Its proprietary formula provides enough proteins and fats that are necessary for active and performing dogs. The added EPA and glucosamine components are vital for movement and the immune system.
Moreover, the amino acids in this food formula nourish the muscles. Its compatibility with Dobermans of all ages is another great selling proposition of this food formula.