The best dog food for German Shepherds is Royal Canin German Shepherd Dog Food.
You want to give your German Shepherd food that makes him thrive, allowing him to continue protecting you every day. The right food will keep your German Shepherd satisfied with a full tummy, even with high activity levels, and reward him for his loyalty. We've searched high and low to find the best dog food for German Shepherds so your canine always gets the nutrition he needs and flavor he deserves.
#1 Royal Canin German Shepherd Dog Food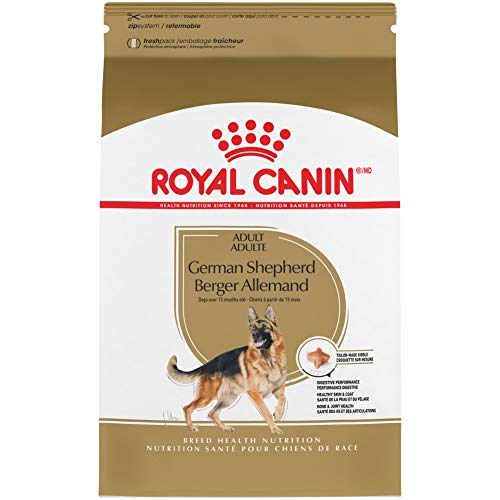 Royal Canin German Shepherd Adult Dry Dog Food, 30 lb bag
FORMULATED FOR PUREBRED GERMAN SHEPHERDS: Royal Canin German Shepherd Adult Dry Dog Food is designed to meet the...
SPECIALIZED KIBBLE: Unique kibble shape is designed for a German Shepherd's long, strong muzzle to encourage chewing
HEALTHY DIGESTION: Highly digestible proteins and specific fibers promote healthy digestion and promote optimal stool...
The Royal Canin German Shepherd Dog Food was specifically designed with German Shepherds in mind, fitting their nutritional needs starting at 15 months of age. Even the kibble shape was made for the breed, with it encouraging the long, strong muzzle of the breed to chew.
The ingredients of the food are designed to help German Shepherds with all aspects of their health. The use of specific fibers and highly digestible proteins boosts digestive health by optimizing the stool quality of your dog. The DHA and EPA from fish oil boost the health of your German Shepherd's coat and skin. At the same time, essential nutrients reinforce the skin barrier.
The inclusion of chondroitin and glucosamine support joint and bone health, something which is particularly important given the strong, large bodies of German Shepherds. As a dry food, the concentrated nutrients combined with the texture give your dog a brushing effect.
This Royal Canin German Shepherd Dog Food is designed for the breed, with ingredients to support their large, athletic build and a shape that encourages chewing with the long muzzle. The food protects the double-layered coats and is good for adults over 15 months. We love the unique shape and texture of the kibble plus the ingredients.
Pros
---
Royal Canin's food for German Shepherd dogs is designed with a breed-specific shape, texture and size to encourage chewing, in accordance with the long and strong nozzle that is characteristic with this breed.
This dog food contains glucosamine and chondroitin to provide support for the bone and joint health of German Shepherd dogs.
EPA and DHA – both obtained from fish oil – that are contained in this Royal Canin product work to ensure that the skin and coat of GSDs maintains a polished look.
This dog food product is suitable for a dog's digestive system, thanks to the use of highly digestible protein ingredients and fibers that promote the production of healthy stool.
Dog parents can mix this kibble with the Royal Canin wet dog food to create a meal that is even more appealing to their canine buddy.
Cons
---
This Royal Canin dog food product contains some ingredients that are of questionable nutritional value.
Royal Canin German Shepherd dog food is expensively priced.
#2 VICTOR Purpose Grain Free Hero Canine Dog Food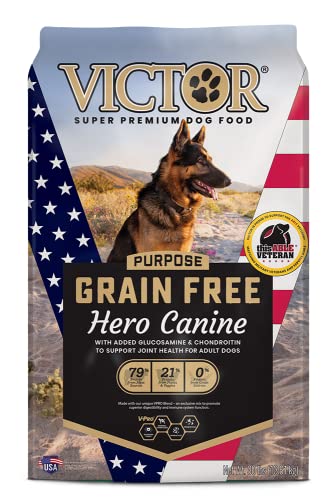 For those on a budget, this is a great food with premium-quality ingredients, including fish, pork, and beef meals to provide dense nutrients. The grain free nature of this food makes it ideal even for German Shepherds with grain sensitivities or allergies.
This specific formula, the Hero Canine, contains chondroitin and glucosamine, which boost long-term joint health. That is particularly important for German Shepherds given their large, athletic size and high levels of activity, as those factors boost the risk of joint issues. The food is also fortified with amino acids, protein, minerals, vitamins, and essential fatty acids. You will not find any artificial preservatives, flavors, or colors that are bad for your German Shepherd.
Victor Hero Canine also features the VICTOR Core ingredients that boost digestive and immune systems, including selenium yeast, mineral complexes, probiotics, and prebiotics. As a bonus, this food is produced in the company's Texas-based facility, helping to support the US economy.
Victor Hero Canine Dog Food will help you stick to your budget, even with the large appetite of your German Shepherd. The ingredients support joint and bone health to minimize future problems caused by your German Shepherd's high activity levels. It also boosts digestive and immune systems.
Pros
---
This dog food product contains a proprietary VPRO blend of supplements, vitamins, and minerals that is formulated to keep German Shepherds in peak physical condition.
The grain-free formulation of the VICTOR Purpose dog food is ideal for German Shepherd dogs that have allergies to grain and related ingredients.
The nutrient-dense recipe of the VICTOR Purpose dog food contains glucosamine and chondroitin, both of which are essential for ensuring the long-term joint health of GSDs.
VICTOR Purpose dog food is manufactured in their facility located in Texas to ensure compliance with safe manufacturing practices and high-quality nutrition for German Shepherds.
This dog food product is available in different size bags – 5 lbs, 30 lbs, and 50 lbs – to help customers keep to their budgets.
Cons
---
This grain-free dog food lacks ingredients such as taurine and L-carnitine that are beneficial for a pooch's heart health.
There are multiple reports of dogs throwing up after consuming this food product from VICTOR.
#3 Best Breed German Dog Diet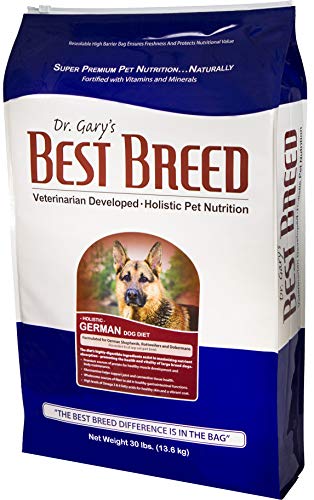 Best Breed German Dog Diet Made in USA [Natural Dry Dog Food]- 30lbs
VETERINARIAN DEVELOPED HOLISTIC NUTRITION - Founded in 1994 by Dr. Gary Cotton, a veterinarian who was inspired to...
FORMULATED FOR A PURPOSE - Developed by Dr. Gary after he repeatedly saw German Shepherds come to his clinic with bad GI...
SPECIALLY FORMULATED FOR DIGESTIVE HEALTH – synergistic blend of soluble and insoluble fiber does an excellent job of...
Vet-developed Best Breed German dog diet is a food product that is specifically developed to promote gastrointestinal and skin health, mainly in German Shepherds, Rottweilers, Dobermans, and other large breed dogs at different stages of their lives.
The Best Breed food formulas are handcrafted, and each meal is slow-cooked to ensure easy digestion and optimal nutrient use for dogs. Ingredients used in preparing these meals are human-grade, featuring chicken meat, brown rice, eggs, and green-lipped sea mussels, all of which meets the high-protein requirements.
The blend of both soluble and insoluble fiber in the Best Breed German dog diet helps keep a pooch's digestive system active, improving gut health. The additional glucosamine and taurine supplements help promote better joint and heart health.
This dog food for German Shepherds has ingredients to support healthy joints and hips, an essential for the large bodies and active lifestyles of the breed. It also your German Shepherd's intelligent mind and boosts his coat.
Pros
---
This German Dog diet is prepared by slow cooking to ensure the retention of the majority of the nutrients that are beneficial to dogs and also to make sure that ingredients are properly conditioned for convenient digestion by the pooch.
Best Breed diet contains quality fiber ingredients that not only ensure easy digestion of the kibble but also strengthen a GSD's digestive system in the long run.
This Best Breed diet contains a balanced proportion of omega-3 and omega-6 fatty acids to leave a German Shepherd's coat looking shiny and polished at all times.
The use of chicken and menhaden fish as the main sources of protein in this Best Breed diet provides sufficient energy for active dog breeds like German Shepherds to go about their daily activities.
This diet for German dogs contains taurine, which is notable for strengthening the canine heart.
Cons
---
The Best Breed German diet has a sharp smell that is unappealing to some dogs.
This dog food product is quite expensive compared to other products available on the market.
#4 IAMS Large Breed Dog Food
The first ingredient in this IAMS dog food is real chicken, giving your German Shepherd the protein your pooch needs. The use of quality lean protein promotes strong muscles, so your dog can always protect and serve.
The formula was designed to boost healthy joints and bones in large breeds like German Shepherds. It even includes chondroitin sulfate and glucosamine, which are used for treating osteoarthritis. This gives your German Shepherd a head-start on healthy bones later in life.
The combination of prebiotics and fiber boost the immune system and healthy digestion. The ingredients are also easily digested and boost metabolism, coat, and skin.
The IAMS Large Breed Dog Food uses farm-raised chicken along with wholesome veggies and grains. The inclusion of chondroitin sulfate and glucosamine support healthy joints. There are no fillers or artificial preservatives.
Pros
---
IAMS' dog food has premium protein, which is obtained from farm-raised chicken, as its first ingredient to promote the formation of strong muscles in German Shepherds.
The tailored blend of probiotics and fiber contained in this large breed dog food is beneficial to a GSD's digestive and immune systems.
This dog food from IAMS contains ingredients, such as glucosamine, that provide the nutrition that is essential for the formation of healthy bones and joints in large dogs such as GSDs.
Dog parents can mix this dry dog food product with IAMS' wet food to produce a meal that is both appealing to and nutritious for their furbabies.
To ensure its production quality, this IAMS recipe is manufactured right here in the United States, with ingredients gotten from reputable sources around the world.
Cons
---
Multiple dogs developed symptoms, such as vomiting and diarrhea, that are typically linked with food sensitivities after consuming IAMS' dog food.
Some large-sized pooches may find this product's kibble size to be too big for them to comfortably chew and swallow.
#5 Wellness Complete Health Dog Food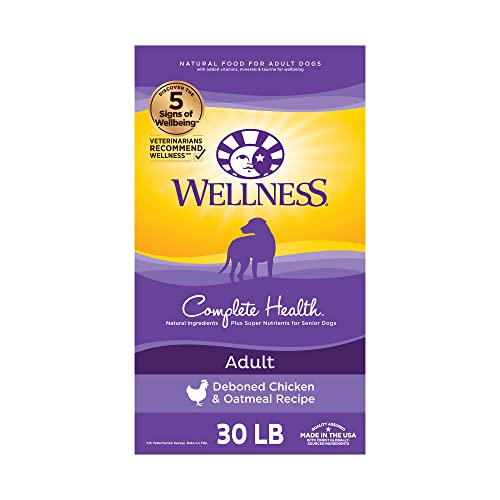 Wellness Complete Health's formula is all-natural without any soy, meat by-products, preservatives, colors, wheat, corn, or artificial flavors. The inclusion of omega-3 fatty acids from flaxseed and other sources ensures your German Shepherd's double-coat is always healthy.
The vitamins and minerals in the food support immune system health. The perfect combination of carbohydrates, fats, and proteins help boost energy, fitting in perfect with your German Shepherd's active lifestyle. The food also supports joint and bone health, which is especially important in large breeds like German Shepherds.
The formula of this dog food also encourages a healthy body mass for your large German Shepherd while providing a great taste thanks to the natural ingredients.
Wellness Complete Health Dog Food supports the high energy nature of German Shepherds as well as the unique joint and bone concerns from their large size. It is also delicious and American-made.
Pros
---
The use of chicken as this dog food product's main ingredient ensures that the energy requirement of high-energy dogs, especially German Shepherds, has been met.
The crunchy texture of this kibble can help clean a GSD's mouth and also prevent plaque and tartar buildup in the pooch's mouth when chewed regularly over a considerable period.
Wellness' Complete dog food is prepared without GMOs, meat by-products, fillers, and artificial preservatives to ensure compatibility with pooches that have food sensitivities.
The Wellness Complete dog food package contains a blend of omega fatty acids, antioxidants, probiotics, and taurine, all of which work together to provide whole-body nutrition for GSDs.
This dog food product is manufactured in U.S.-based facilities with expertly selected ingredients that are gotten from quality sources worldwide.
Cons
---
There are doubts over this product's quality control, as several customers have reportedly received food bags filled with mold.
This dog food product usually comes with a sharp smell that several pooches have found to be unappealing.
#6 Diamond Naturals Large Breed Adult Dog Food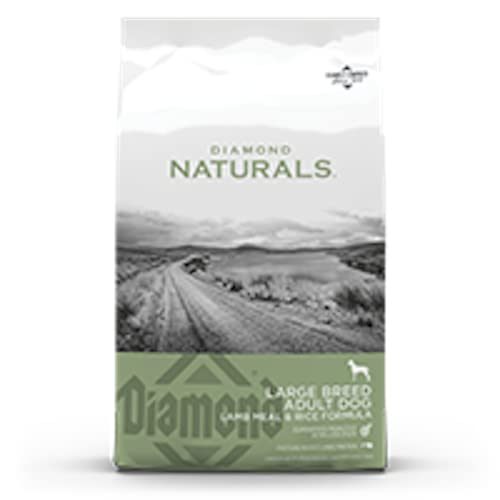 Diamond Naturals Large Breed Adult Dog Food features pasture-raised lamb for high-quality protein that your dog will love. The formula features the optimal profile of amino acids for your German Shepherd to maintain the strong, lean muscles that the breed is known for.
The guaranteed levels of chondroitin and glucosamine ensure your German Shepherd maintains healthy joints and bones, even with his large size. You will also find superfoods for antioxidants and fatty acids for the skin and coat.
The formula is highly digestible and includes proprietary probiotics that thrive in the GI tract for overall digestive health. It comes from a family owned and run company.
This dog food from Diamond Naturals contains chondroitin and glucosamine for joint health and high-quality protein for lean and strong muscles, both of which are key for your large and strong German Shepherd.
Pros
---
Diamond Naturals' dog food utilizes pasture-raised lamb as the first ingredient and major source of protein to meet the nutritional needs of GSDs for proper growth and development.
This dog kibble contains significant amounts of omega fatty acids to promote the formation of a shiny coat and healthy skin.
This adult dog food is produced without corn, wheat, or artificial flavors to protect dogs with food sensitivities and prevent the development of allergic reactions.
This large-breed dog food contains superfood ingredients such as blueberries and oranges that provide considerable amounts of vitamins and minerals that are beneficial to GSDs.
Diamond Naturals dog food also contains glucosamine and chondroitin that work to strengthen the bones and joints of large dogs like German Shepherds.
Cons
---
Several dogs reportedly developed gastrointestinal issues after consuming this dry dog food.
Multiple dogs with no previous history of food pickiness have reportedly refused to eat the Diamond Naturals dog food because the flavor is unappealing to them.
#7 NUTRO Wholesome Essentials Large Breed Adult Dog Food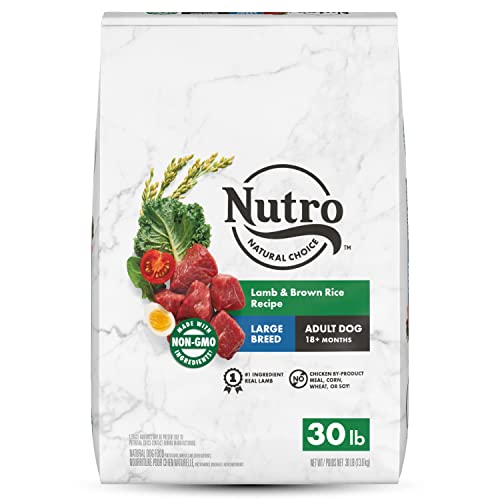 The primary ingredient in NUTRO Wholesome Essentials Large Breed Adult Dog Food is lamb, delivering high-quality protein to give your German Shepherd energy and nourishment. The food also includes natural sources of chondroitin and glucosamine to boost healthy joints for your large dog.
The formula also has other high points, including essential antioxidants that boost your German Shepherd's immune systems and various vitamins, minerals, and nutrients.
You will not find any wheat, soy protein, corn, chicken by-product meal, or other ingredients without nutritional value. Every bite gives you German Shepherd nutrients he needs.
The high-quality protein promotes energy while the natural chondroitin and glucosamine boost bone and joint health. The food is flavorful so your German Shepherd will enjoy it.
Pros
---
The use of real lamb as the main protein source in the NUTRO Wholesome dog food provides the nutrition that ensures German Shepherds remain physically fit and healthy.
NUTRO Essentials contains natural sources of glucosamine and chondroitin to strengthen GSDs' joints and bones.
The inclusion of essential antioxidants in this adult dog food's recipe provides the much-needed support for a German Shepherd's immune system.
NUTRO's adult dog food is produced without non-GMO ingredients, corn, wheat, soy, chicken by-product meal and other ingredients that typically cause adverse reactions in pooches.
Several customers have reported a marked improvement in their dogs' coat and skin health and texture after consistently feeding their canine buddies with NUTRO's dog food.
Cons
---
Some dogs are reported to have fallen ill while exhibiting symptoms, such as vomiting and diarrhea, upon consuming this product.
Multiple customers have received food bags filled with mold.
---
Dog Foods For German Shepherds Buyer's Guide
---
As you look at the above best dog foods for German Shepherds and explore other options, be sure to keep the following considerations in mind.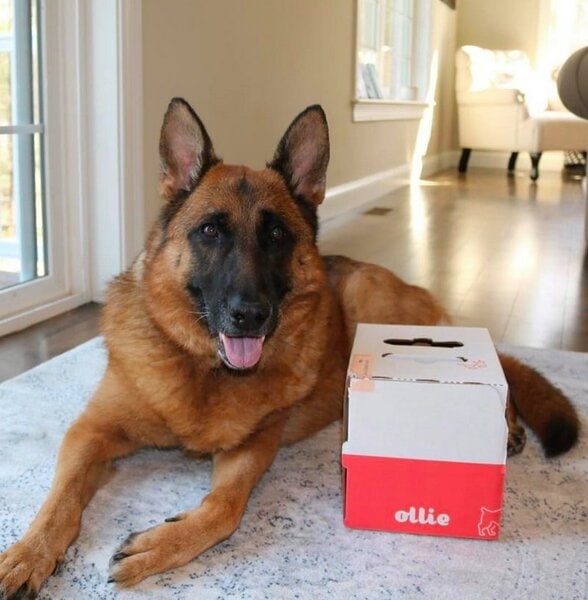 Joint And Bone Health
Because German Shepherds are large dogs, they can put a lot of stress on their joints and bones, especially over time and as they age. This is only enhanced by their typically active lifestyles. As such, you should look for dog food that has been specially formulated to boost the health of your dog's joints and bones.
For most dog foods, this will come via the inclusion of chondroitin and glucosamine. Don't settle for just any dog food that contains those nutrients. Instead, make sure that your chosen dog food actually has them in sufficient quantities.
Without these nutrients, your German Shepherd will have a higher risk of joint and bone diseases in the future, such as hip dysplasia or arthritis. Including them in your dog's diet serves as a preventative measure that helps boost his overall health later in life.
Coat Health
German Shepherds are known for their gorgeous thick coats in that combination of tan and black. You want to find a dog food that will allow your dog to maintain that coat throughout his life, so look for ingredients that support the overall health of coats. Ingredients like fish oil contain EPA and DHA that will boost the health of your dog's coat, helping him maintain the protective thickness and beauty for years to come.
Essential fatty acids are also a good ingredient to look for as a way to support the coat health of your German Shepherd.
Size And Shape Of The Pieces
Because German Shepherds are large breeds, they require larger pieces of dog food. Otherwise, your dog would waste too much effort picking up and chewing the dog food. German Shepherds are also more likely to appreciate the larger pieces compared to smaller ones. This should not be a problem, as most dog foods for large-breed dogs contain bigger pieces.
Some of the best dog foods go a step above and have unique shapes that work best with the mouth shape of a German Shepherd. They have long muzzles, which require a slightly different shape of the dog food than other large dogs with wide short muzzles. Choosing the right shape of the dog food will not only make it easier for your dog to eat the food, but also boost oral health. Chewing dry dog food helps clean your dog's teeth via the texture and the right shape of food will encourage this chewing action.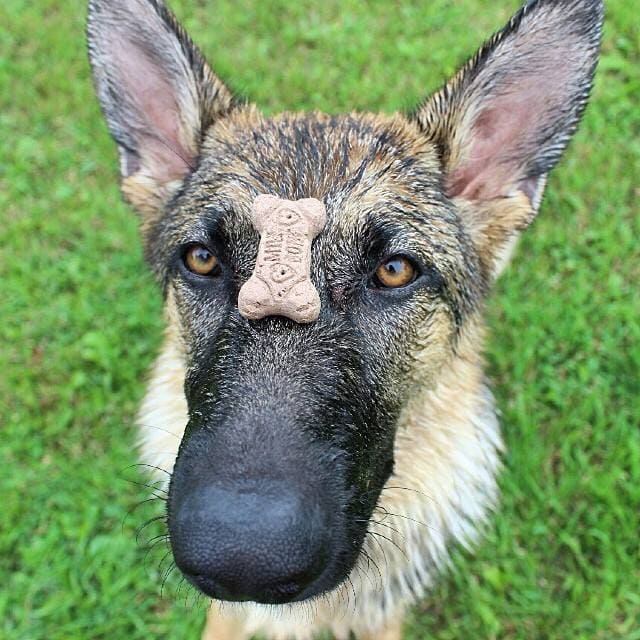 Ingredient Sources
Pay close attention to the ingredient list as you browse dog foods for your German Shepherd. You want to avoid fillers, as they provide no nutritional value and your large breed needs all the nutrition he can get. Avoid artificial flavors and preservatives for the same reason. Additionally, some artificial preservatives have been linked to health problems, giving you another reason to avoid them.
Look for high-quality protein sources, with a focus on the actual meat instead of meals made from meat by-products. Many low-quality dog foods will use those by-product meals as a cost-saving measure, but they are not as healthy and are not as strong of protein sources. Choosing dog food with high-quality protein sources will help ensure your German Shepherds muscles remain strong and lean. Avoid products that rely on plant-based protein sources, as those are harder for your German Shepherd to put to use and less effective for his needs.
Check that the dog food contains vegetables and fruits to provide essential vitamins and minerals in a natural way. These natural sources are a much better choice than artificial ones.
Energy Levels
German Shepherds are known for having a good amount of energy. Therefore, grain free dog foods do not always make the cut as the best dog food for german shepherds. Grain free dog foods lack the ingredients that provide energy for these pooches to go about their active lifestyle.
While you cannot do away with grain free dog foods for german shepherds, you can opt for low-glycemic carbohydrates instead of grain-based carbs. Some grain-based carbs are perfectly fine for more German Shepherds, but your dog will appreciate it more if you opt for low-glycemic sources, such as sweet potatoes. You should also avoid those grain-based carbs if your German Shepherd has any allergies and wheat, soy, and other grains are all common allergens.
These low-glycemic sources are easier for your dog to convert into a constant state of energy and help maintain steady blood sugar levels.
You will also want to pay attention to overall brand quality and reputation as a way to ensure you choose a high-quality food that supports your German Shepherd's activity levels.
---
Final Thoughts
---
The best dog foods for German Shepherds will support bone and joint health while providing energy and quality sources of protein. The large size and high activity levels of German Shepherds make joint health a priority.
Look for food containing chondroitin and glucosamine. Your dog will appreciate foods without fillers and artificial preservatives or flavors as these hold no nutritional value. The best foods are even shaped to optimize your German Shepherd's chewing experience based on his long muzzle and will also contain other natural ingredients.
That said, we would like to once again recommend our top pick for your German Shepherd. Its formula encompasses all the necessary dietary requirement that a German Shepherd will ever need.