The best dog shampoo for odor is PetAg Fresh 'N Clean Scented Dog Shampoo.
Even the most enthusiastic dog lover cannot deny that these furry little pooches are not so fun to cuddle with when they start to stink.
The good news is that some of the best dog shampoos for odor in the market have proven formulations that are specially developed to deal with such foul smells. Here are 8 popular choices that we have shortlisted for you, and what each has to offer.
#1 PetAg Fresh 'N Clean Scented Dog Shampoo
PetAg scented dog shampoo is a product created with a dog's needs in mind. It is mild and contains conditioners and soothing aloe leaf juice. This is perfect because it helps to protect your pet against tangled or matted fur. This shampoo contains ingredients that are all plant-based.
PetAg scented dog shampoo helps to clean and moisturize your dog, thanks to vitamin E. The fresh floral fragrance gives your dog coat an amazing scent that lasts for two weeks. This helps keep your pet odor-free. The shampoo works best with warm water.
Anything that keeps your dog's hair matt-free and tangle-free is a win in our books. We love the fragrance and that it keeps your dog smelling fresh for up to 2 weeks. We also like plant-based ingredients like soothing aloe leaf juice, so you don't have to worry about allergic reactions. Keep your dog clean and shiny with PetAg dog shampoo.
Pros
---
Available in either 18 or 32 fl oz bottles.
Plant-based ingredients.
Contains soothing aloe leaf juice and conditioners for a tangle-free coat.
Has vitamin E to gently clean and moisturize dog hair.
A fresh, floral scent that lasts for up to 2 weeks.
#2 Isle of Dogs Deep Cleaning Pet Shampoo
SALE ALERT!!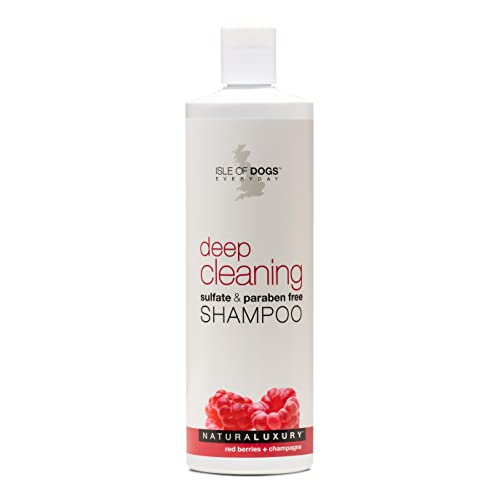 Isle of Dogs Deep Cleaning Shampoo, Sulfate Free, 16 Ounce (822-16)
DEEP CLEANING DOG SHAMPOO: This gentle yet thorough cleansing shampoo removes dirt, grime, & odor without being harsh on...
ODOR NEUTRALIZING: This gentle & deep cleaning dog shampoo features our signature red berries and champagne fragrance...
CLEAN PUPS: A clean, shiny & fresh coat is a good indicator of a healthy, well-loved pup & a necessity for extended...
The Isle of Dogs Deep Cleaning shampoo has one of the most unique scents on the market. It is a mellow yet assertive blend of red berry and champagne notes. This is a fantastic way to have your dog smelling like a million bucks while staying within budget. The best part is that the fragrances are pet friendly so you do not have to deal with skin irritation due to sensitive skin or a case of dog sniffles because of strong chemicals.
If you want your dog's hair to be bouncy, shiny, and generally healthy, this is one shampoo you should look into. This is because of the volumizing conditioner formula. It is particularly awesome for dogs that have naturally porous fur. The formula allows moisturization and gives the hair a full-body look making it look and feel healthier. This means that your dog not only smells nice but they look really good just from one wash.
This is the ideal pick if you are shopping for dog shampoo for odor on a very tight budget. Despite its pocket-friendly price point, you do not miss out on awesome perks as the formula offers a combination of deodorizing effects and coat conditioning for a healthy-looking and healthy-smelling pooch.
Pros
---
Infused with vitamins A, D, and E for improving skin health and making the coat shine.
Uses a tearless formula that is also free of parabens and sulfates.
Is pH-balanced.
#3 OLIVER'S CHOICE Pet Shampoo
Some dogs have very sensitive skin. It could be anything from consequences of a flea infestation to low moisture resulting in flaking and dandruff. Whatever the case, the OLIVER'S CHOICE Pet Shampoo is an excellent alternative if you want a dog shampoo for odors that will also help you keep your pooch's sensitive skin taken care of.
The formula includes ingredients known for soothing sensitive, dry itchy skin and promoting repair in case of damage. These include oatmeal aloe vera and shea butter. The latter has the additional effect of giving your dog a mild but very tasteful scent. Your dog will basically smell like a tasty pastry just waiting to be loved.
The natural formula that this shampoo from OLIVER'S CHOICE definitely stands out, especially if you are dealing with problematic skin in addition to the odor. The last thing you want is to irritate your dog's skin further in the pursuit of freshness so this is a really good pick.
Pros
---
Tearless formula.
Parabens-free.
Hypoallergenic.
Oatmeal and aloe vera ingredients for healing effect.
#4 Mika Pets Dog Shampoo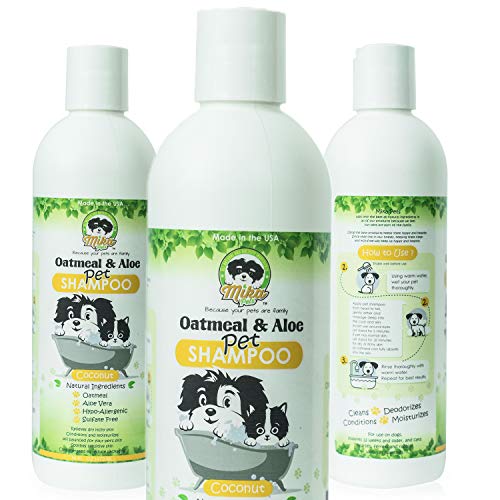 For sensitive skin, this is yet another all-natural option for anti-odor dog shampoo from Mika Pets. What is unique about the formula is the use of colloidal oatmeal. This is more effective than the extracts when it comes to promoting healing and reducing inflammation. Therefore, it is a wonderful choice if the odor is related to irritated and itchy skin, including dandruff.
Furthermore, your dog gets to enjoy the multiple benefits of aloe vera including antibacterial action. This helps keep the bacteria that take advantage of the damaged skin at bay. The effect in a way contributes to the odor reduction as a lot of the stink from your dog can be traced back to bacteria setting up camp in their coats.
With this alternative, it is the use of high-quality, natural ingredients that won us over and will give you and your dog great value. So consider this a worthy alternative if you want something mild on your dog but relentless on the odor.
Pros
---
Free of sulfates and phosphates.
Animal cruelty-free production.
Soap-based formula.
Is pH-balanced.
#5 Critter Concepts Natural Dog Shampoo
SALE ALERT!!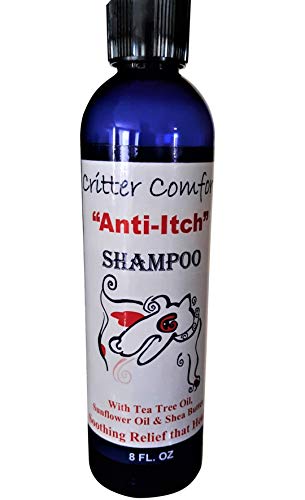 A lot of times, dog odor is associated with some sort of skin irritation. Common culprits, in this case, include fleas, dandruff, and general dryness. These all cause itching which in turn introduces odor-forming germs to the skin. The Critter Concepts natural dog shampoo helps with odor control by offering relief to the itchiness.
This is due to the use of ingredients, such as tea tree oil, sunflower oil, shea butter, vitamins E and B5. They help to keep the skin soft and hydrated which means no more itching and no more germs and debris stinking up your pooch. The shea butter also adds a nice natural scent for a much-needed boost for your dog.
This shampoo from Critter Concepts is awesome when it comes to ensuring that your dog has smooth and shiny skin, as well as healthy, bouncy hair. Moreover, the natural scents in the tea tree oil and sunflower oil help keep away fleas so your dog can enjoy the results for much longer.
Pros
---
Uses a soap-free formulation.
No added artificial colors, fragrances, or preservatives.
All-natural ingredients.
#6 HONEYDEW Oatmeal Pet Shampoo
Colloidal oatmeal is a mild yet effective ingredient that soothes itchy skin and brings instant relief. This is the primary component found in the HONEYDEW dog shampoo, making it absolutely ideal for skin-related issues in dogs.
It is also interesting to note that this shampoo has hydrolyzed corn, soy, and wheat proteins. These ingredients further nourish the coat's health and make it softer, and less prone to matting. And with Jojoba oil as its special conditioning agent, this shampoo detangles the coat to keep it smooth and healthy.
HONEYDEW is the only colloidal oatmeal shampoo for dogs with its maximum dosage for immediate itch relief. This option has all the strength of a really good deodorizing dog shampoo without any of the nasty ingredients. It is, therefore, worth looking into if you want an organic alternative for your furry bestie.
Pros
---
Infused with nourishing paraben-free ingredients.
Maximum dosage of anti-itch colloidal oatmeal.
Detangles and smoothens the coat.
#7 Pawfume Dog Shampoo And Conditioner
SALE ALERT!!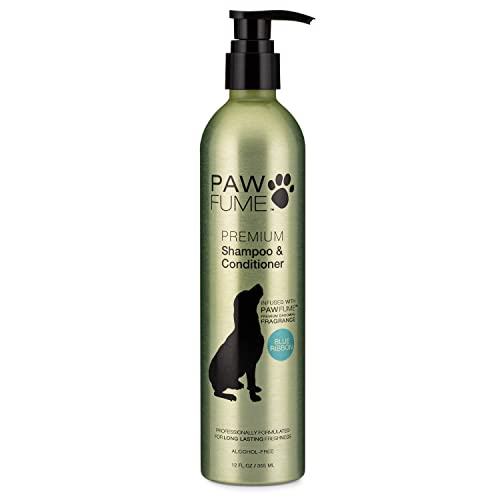 Pawfume dog shampoo and conditioner is a 2-in-1 product that is a must-have to protect your dog from bad odor. Its vet-certified formula helps to give your dog a soft and healthy coat. It is hypoallergenic, so you don't have to worry about allergic reactions.
It has a detangling, pH-balanced formula to soothe skin, combat bad odor and help with fur detangling. This Pawfume product is not only alcohol-free but also sulfate-free and paraben-free.
This shampoo works on all types of dogs, including puppies. Pawfume's signature fragrance lasts over five times longer than most dog shampoos. This is thanks to premium conditioners and fine botanicals.
With this shampoo, you can say goodbye to bad pet odor. We love that it is hypoallergenic, which means your dog is protected from allergic reactions. It helps to detangle your dog's coat and is vet-certified.
Pros
---
Comes in a 12 fl oz bottle.
2-in-1 vet-certified formula.
Hypoallergenic.
Detangling, pH-balanced formula.
Alcohol-free, sulfate-free, paraben-free.
Helps to beat bad odor.
Perfect for all types of dogs.
Signature fragrance made of premium conditioners and fine botanicals.
Fragrance lasts five times longer.
#8 Arf Arf Oatmeal Pet Shampoo & Conditioner
This brand offers dog shampoos and conditioners in different formulations for different types of dogs. You have options based on the dog's age, coat color range, and your intended purpose which can either be coat restoration, shampooing or conditioning.
This particular option is meant for dark-colored dogs. The range covers pooches with brown, red, and dark yellow coat color ranges. For the most part, it serves as a simple shampoo and conditioner with a special formulation to help enhance to coat color.
However, it is superbly effective in getting rid of odors from everyday grime and dirt that your dog may have collected from its daily activities. And with the combined effects on their skin and coat and on your nose, you will be one happy dog owner.
This is a really good pick if you are not too fussy about fancy fragrances for your dog. This product from Arf Arf gets the job done in a pretty straightforward way.
Pros
---
Includes wheat germ oil and oat protein extracts for healthy skin.
Uses a non-irritating, tear-free formula.
Available only in an 18 fl oz bottle.
---
Dog Shampoo For Odor Buyer's Guide
---
Anti-Odor Dog Shampoo 101: What Makes A Shampoo Perfect For The Job?
There are all sorts of dog shampoos on the market today. Some are designed to help with your dog's coat health. Others are formulated to deal with medical issues like fungal infections. The options are seemingly endless.
While most are pretty good at their job, not all are great when it comes to dealing with dog odors. In the sections below, you will learn all you need to know about what factors make a dog shampoo fantastic for dealing with your smelly pooch. With this information, you will be able to actually pick something that will work really well not only for your sake but also for your dog's safety and comfort.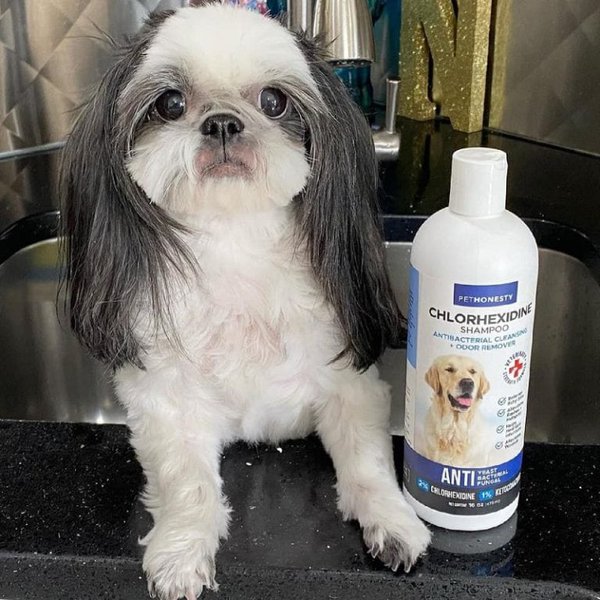 Multifunctionality And Special Formulations
All shampoos have a specific function. Some are designed for basic purposes like cleansing and conditioning the skin and coat. Others offer special benefits including antifungal cover, coat color enhancement, and anti-itch skin soothing.
When picking a dog shampoo for odors, it is always wise to go for one that offers multiple functions. Preferably those dog shampoos that give you the basic cleaning and conditioning plus a little extra, whether it is soothing the skin, reducing inflammation, or managing itchiness.
This is because many causes of odors are a result of more than just dirt buildup on the dog. Having the extra coverage helps you not only deal with the odor but also the source.
Deodorizing Effect
How the anti-odor shampoo works against the musk is also very telling of the quality and its efficiency. One way they work is by binding the particles to form a neutral, odorless complex. This is very effective with these kinds of shampoo as once you rinse off the shampoo all the particles are washed away in a compact state and any survivors are essentially stripped of all their power.
Another way the dog shampoos work is by simply masking the odor with a stronger pleasant scent. This alone is not always effective, especially with really strong odors. It is basically like spraying perfume on dirty clothes. It only works for a while then it joins the dark side and just makes the stench worse. With this effect, it is always best to have it paired up with something else like the odor-binding or skin-soothing.
Finally, you have options that deal with the odor by taking care of the cause. This includes anti-itch, soothing, and skin-repair formulations. They take a little longer to work and often leave your dog with only a neutral scent.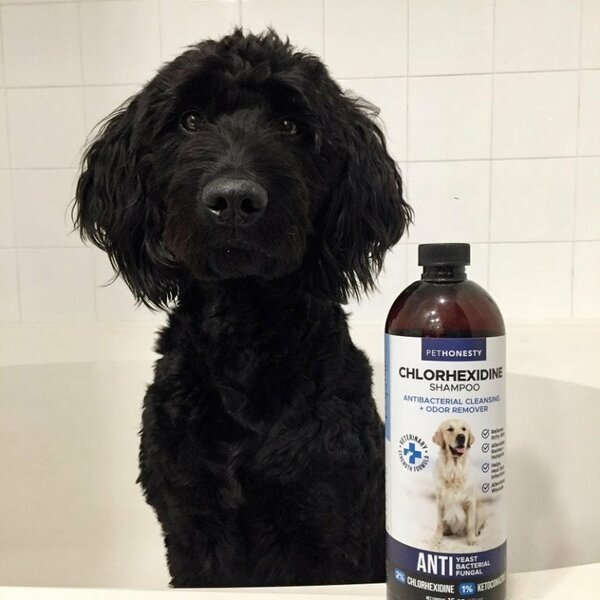 Source Of The Scents
It is not always just enough to get rid of the bad dog odor. Sometimes you actually want your dog to smell a little nice. It could be anything from bright scents to mellow tones. For the most part, it is your personal preferences that will help you decide what exactly you go for. After all, it is you who will actually be smelling the dog.
However, you also need to have your pooch's safety and comfort in mind when making your decision. This is the case particularly when it comes to choosing between chemical fragrances and natural extract scents.
Chemical fragrances typically tend to be stronger and more effective at masking the odor. However, they can be very harsh on your dog's skin and end up causing more trouble than they are worth. If at all you must go for something with chemical fragrances, make sure it is something mild and that it won't hurt your best buddy.
Natural scents, on the other hand, are often a little more subtle yet still noticeable. The good thing is that they tend to be dog-friendly and do not cause skin or respiratory irritation.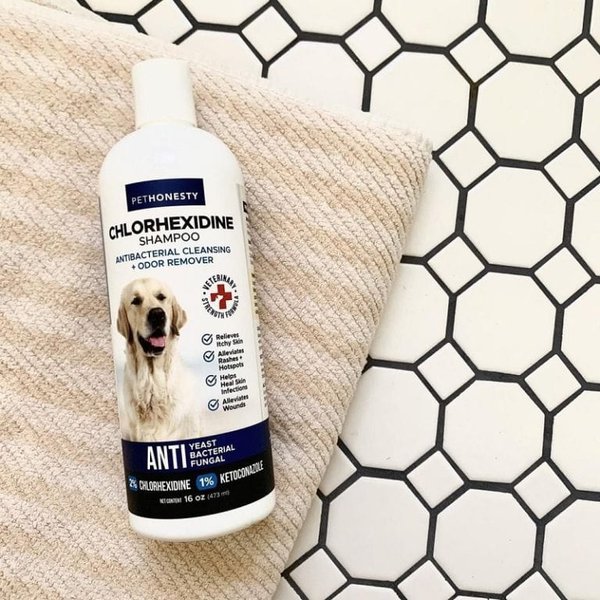 Skin-Friendly Ingredients
The ideal dog shampoo for your dog is one that uses natural ingredients. The most common in this case are oatmeal, aloe vera, shea butter, and numerous natural oil extracts. In addition to deodorizing, these natural ingredients are very gentle on both the skin and coat and help keep the coat healthy and soothed.
Some anti-odor dog shampoo options on the other hand feature chemical additives, such as alcohol, surfactants, and parabens. Some of these chemicals like mild surfactants are not always bad as long as they are kept within reasonable proportions in the formula. However, other additives tend to be harsh on the dog's skin and may even cause irritation or thinning of the coat.
It is therefore always best to just go with the skin-friendly options in which case natural ingredients are your safest bet.
Tear-Free Formulation
This goes for all dog shampoos and not just those that help with odor reduction. It is important that you get something that will not put your beloved pooch in actual physical pain during bath time. Tearless formulations are not only kinder to your pet but also easier for you to work with. This is because you will not have to deal with an irritated dog trying to fight its way free. It is a small detail but it makes all the difference.
---
Final Thoughts
---
It is wonderful to know that you don't have to keep pushing your pooch away or holding your breath every time they come in for a hug. It is amazing that you don't have to keep apologizing to your guests for the weird dog smell in your home. With the right choice of odor-eliminating dog shampoos, you get to enjoy the best of being a dog owner without some of the stinky shenanigans.
Our top pick is a great example of what a good dog shampoo for odor control has to offer. In addition to having your pooch smell nice, you can rest assured that their skin and fur will be well taken care of. The 8 alternatives are also pretty awesome depending on your specific needs. Whatever the case, just use our buyer's guide to help you make an informed decision.