The best dog winter coat is Hurtta Extreme Warmer Dog Winter Coat.
The great thing about winter dog coats is that they allow you to continue comfortably walking your canine buddy during the winter. That's because they usually have a warm inner lining and a weatherproof and waterproof exterior that protects your dog from the weather elements. They also come in different designs to suit different personalities.
To make it easier for you to find a good quality dog winter coat, we decided to do some research to bring you a list of the best dog winter coats on the market.
We took into consideration important factors such as size and price, and we have listed a wide variety of options to suit different dog breeds.
#1 Hurtta Extreme Warmer Dog Winter Coat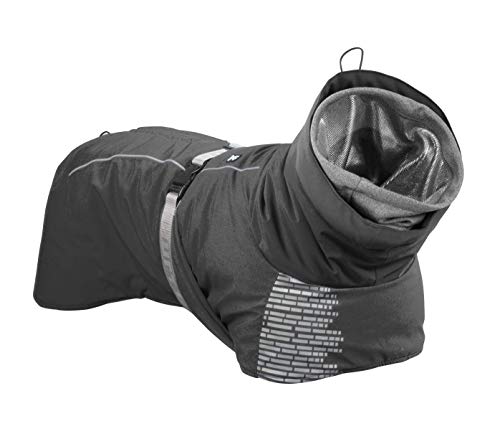 Hurtta Extreme Warmer, Dog Winter Jacket, Granite, 26 in
NO TWO DOGS ARE THE SAME - Don't guess on the size. Use the size chart along with the "Measuring Your Dog" size...
HEAT REFLECTIVE - The unique foil lining material of the extreme warmer reflects the dog's Heat and thus stimulates its...
FUNCTIONAL - The jacket protects the most important muscle groups for the dog's Heat production as well as its neck and...
These Hurtta dog winter coats are made for cold weather in winter, as it's made with thick padding to offer "extreme warmth." It comes with two adjustments around the tummy and toward the neck area. That way, you can easily customize the fit to suit your dog perfectly and this guarantees comfort. Plus, this dog coat is notably well-made from durable materials, which is great.
It's worth noting here that this dog coat is perfect for dogs with short hair or a super smooth coat, but it might be too warm for long-haired dogs that also lead active lifestyles. It's definitely worth the investment if you live in a really cold climate, due to its durability and super warm material.
The Hurtta Extreme is more than just a regular winter dog coat. It's a purposefully engineered garment that's designed to keep your dog warm and comfortable but not too hot. It will definitely allow you and your furry best friend to have fun during those cold winter days.
Pros
---
Fully adjustable length from the waist and neck areas.
Comes with a super warm tricot hood.
Promises to keep your dog warm in the coldest weather.
Features foil lining to provide warmth that reflects the dog's natural temperature.
#2 MIGOHI Dog Coats For Winter
SALE ALERT!!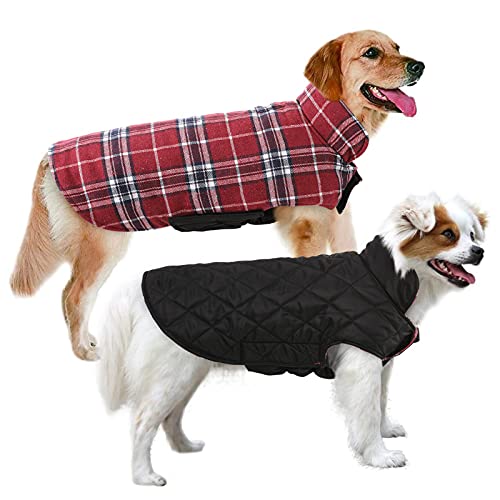 MIGOHI Dog Jackets for Winter Windproof Reversible Dog Coat for Cold Weather British Style Plaid...
British Style Reversible Dog Coat- With soft and Warm Inner Layer, Water Resistant Outer Layer, this Stylish Plaid Dog...
Material- High Quality Polyester + TC ( Terylene / Cotton ) Fabric and Polyester Fiber Filling. It's Thick, Durable,...
7 Sizes - XS, S, M, L, XL, XXL, XXXL. Please Measure Your Dog And Compare to Our Size Chart or Contact Us Before...
This versatile and nicely designed dog coat from MIGOHI offers a nice combination between style and function. It's completely reversible which means you get two styles in one dog winter coat. The external layer is water-resistant while the internal lining is made from warm plaid material. The collar is designed to complement the adjustable closures around the tummy area as well.
On top of that, these dog coats is backed by a 100% satisfaction guarantee from MIGOHI which means you can always return the winter coat if you're not happy with it – no questions asked.
Reversible clothing is still one of the hottest trends right now because it allows your dog to wear the same outfit in several different styles. This MIHOGI jacket is a 2-in-1 high-value purchase that is warm, comfortable and rain-proof!
Pros
---
Lightweight but warm.
Adjustable.
Reversible design that provides two styles in one dog winter coat.
Comes with Velcro closures.
Water-resistant exterior.
#3 PetBoBo Dog Coats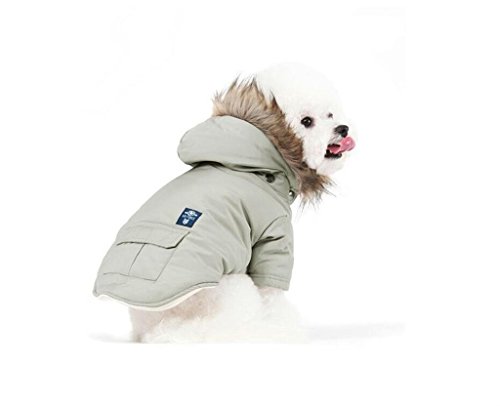 The PetBoBo dog coats are so adorable that we love them! They look like our down jackets that we wear for the cold weather in the winter, but it's a smaller version that's designed to keep pups comfortable and warm.
These dog coats are made with down stuffing with a fur-lined hood that takes the cuteness factor to a whole other level! Thanks to their chic design, these dog coats are the perfect purchase for a dog parent that likes to wear matching outfits with their pup.
These dog coats are made from soft and comfortable down material that feels good to wear. It should be an easy task for you to find a human-sized version of this winter jacket so you and your pup can wear matching outfits when going out for winter walks.
Pros
---
Fits comfortably.
Made from soft down material that's guaranteed to keep your pup warm in the cold.
Fur-lined hood to keep your pup's head and ears warm.
#4 Kailian Dog Winter Coat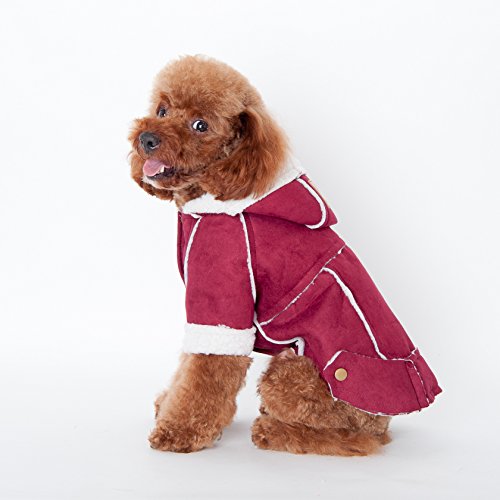 Kailian ® Dog Winter Jacket Puppy Hooded Coat, Dog Apparel,Dog Snowsuit, Faux Shearling Fabric Coat...
Size 4: Chest: 19", Neck:14.5", Back Length:14", Fits dogs 11-15 lbs.
Material: Made of soft and warm fleece lining,faux suede fabric, keep your furry friend warme and protect her in cold...
Design Creative: Exquisite stitching, snap-on button closure, easily put on and take off. Fashion and lovely design to...
These chic dog winter coats from Kailian have a unique vintage design made for fashionable pooches. They are perfect for pups that live in areas with moderate cold weather in the winter because it only comes with front legs, which means the hind legs are still exposed.
The warm fleece lining combined with faux leather outer material makes for the perfect combination to provide optimal comfort and warmth. There's a bit of fleece at the seams for added panache and the hood will come in handy on those nippy winter mornings with light showers.
The Kailian coat is made for ease of use because it features a convenient snap closure so that you can quickly put it on and take it off. It's available in four different sizes and two different colors, plus it's compatible with dogs that weigh anything from 5 to 20 lbs.
Pros
---
Made from comfortable yet durable materials.
Features faux suede exterior and warm inner fleece lining.
Comes with beautiful details like beautiful stitching.
Convenience snap-on button closure.
#5 MIGOHI Reflective Waterproof Windproof Dog Coat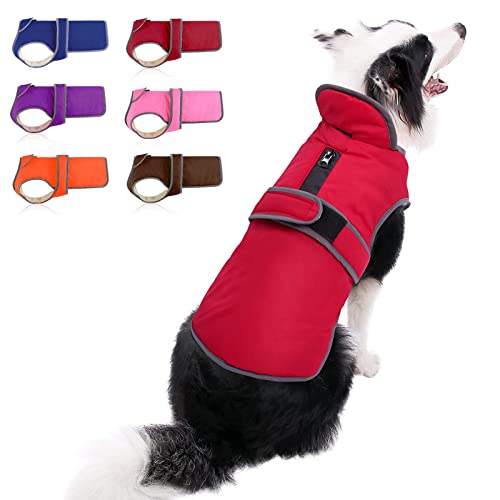 This cute and snug dog coat from MIHOGI is a function piece of weatherproof apparel. It features a reversible storm guard design and it's made from durable, windproof and waterproof terylene material. Meanwhile, the inner layer is super warm and comfy as it's made of soft fleece and cotton.
This coat is designed for active pups, with a dedicated zipper opening to attach a harness or collar. You'll also be pleased to know that this weatherproof dog coat is suitable for small, mid-sized and large breed dogs and it has elastic leg straps as well as magic sticker fastening for adjustable wearing.
This comfortable and weatherproof MIGOHI dog coat is easy to clean, tumble-dry and machine-washable. It's also backed by a 100% satisfaction guarantee. We love that it's suitable for all weather conditions including snow, rain, and wind.
Pros
---
Available in sizes XS to XXXL.
Made from weatherproof terylene with warm fleece and cotton interior.
Comes with a lead attachment slit and a dedicated opening to attach harness and collar.
#6 PETCEE Waterproof Dog Coats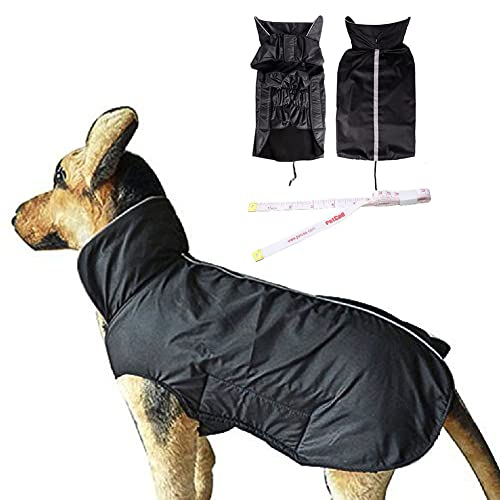 The uniquely designed PETCEE water-resistant dog coat is available in nine different sizes from XS for small breed dogs to XXXL dogs that like to move around and play.
This dog winter coat has a cushy fleece interior that's complemented by a waterproof shell so it's guaranteed to keep your pet warm and dry at all times. It also comes with a collar to trap heat and prevent the cold from getting in through the neck. Plus, it's available in four different colors.
These dog winter coats are designed to be worn all day, as they come with reflective strips that will keep your pups visible even when walking at night in the cold weather.
Pros
---
Designed for warmth and color in cold weather.
Comes with a dedicated collar to trap heat.
Waterproof exterior.
Available in nine different colors and four colors.
#7 Metallic Fashion Pet Dog Coats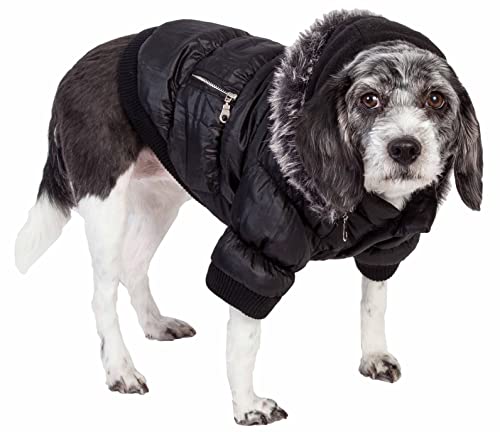 Pet Life ® Metallic Fashion Pet Parka Coat
The Classic Metallic Winter Dog Coats features High-Grade 3M Thinsulate Insulation Technology for exceptional Warmth and...
This Dog Jacket features a Water-Resistant Polyester Exterior Shell and Inner-Lined with Polar Fleece for added warmth...
Zippered Faux-Fur Removable Hood, track zippers roll off smoothly and effortlessly in a matter of seconds
Pet Life is known as one of the best dog apparel design companies and for a good reason. They sure know how to adapt human clothing design to dog-friendly apparel that looks stylish and fits perfectly.
These snug little parka coats look like proper bomber dog winter coats and they feature 3M Thinsulate insulation inner linings to keep your dog warm even when trekking through snow in the cold weather. They have removable hoods with faux-fur lining for a dramatic effect. Plus, it's available in sizes X-small to X-large and comes in six different colors as well.
The Pet Life Classic Pet Parka coat is the ultimate winter staple for pups that like to stay active during the winter. It's warm, stylish and it's functional, thanks to the weatherproof design.
Pros
---
Made with 3M Thinsulate insulation inner lining.
Available in six distinct colors and five different sizes.
Comes with a removable zippered hood.
#8 CBBPET Furry Collar Dog Cold-Weather Coat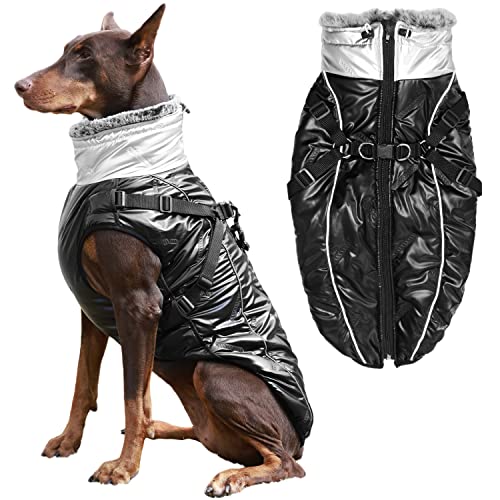 Your dog will feel the effects of cold weather. The CBBPET furry collar dog cold-weather coat is windproof, waterproof, and snowproof with a fluorescent edge night lining. It is, therefore, a great solution to this problem.
This winter coat comes in two sizes to suit medium-sized dogs or larger ones. Only available in a single black color, it has a nice glossy finish similar to that of a down jacket you typically wear. Its four-legged design ensures that this jacket does not slip off the dog when worn.
The cold-weather coat from CBBPET comes with a furry collar to keep your dog extremely comfortable and shield it from the cold. The inner padding is also soft and warm when worn. The coat uses a zipper design for increased ease of putting it on your dog and comes with a double D-ring with a strong buckle for your leash.
We love that there is a product like the CBBPET furry collar dog cold-weather coat. It keeps your dog warm during chilly weather conditions. It is easy to wear and resistant to many weather conditions. Now you can take your pet for a walk in the winter without worry.
Pros
---
Uses a zipper design so that your dog is able to wear the coat with ease.
Warm inner padding with a furry collar.
Comes only in two sizes.
Only available in black.
Waterproof, windproof, and snowproof.
Adopts a four-legged design.
#9 Bwealth Small Dog Coats
The Bwealth dog sweater is made for the hip and happening pup-around-town who likes to be comfortable when going shopping with their owner. It's made from plush wool and comes in beautiful pastel colors as well as six different sizes.
The soft colors of this dog sweater make for a lighthearted and playful design that brings life to dreary winter weather. This sweater is conveniently machine-washable and it has a nice and comfortable fit.
This dog winter coat is available in 13 different colors and it looks and feels more like a comfy sweater than an actual jacket. It comes in stylish colors too, and it's machine washable!
Pros
---
Backed by a lifetime warranty.
Easy to maintain and wear.
Made from comfortable, warm and durable materials.
Available in 13 different colors.
#10 ThinkPet Outdoor Cotton Winter Dog Coats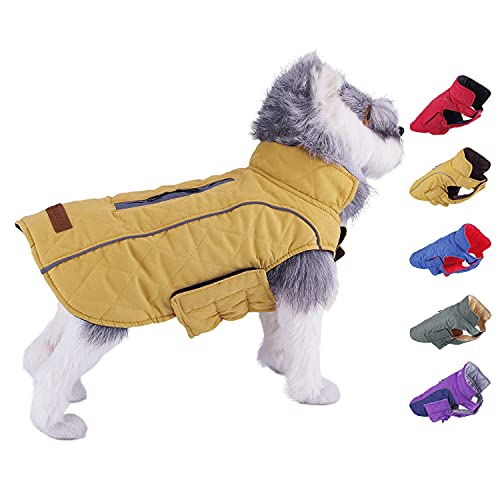 The ThinkPet cotton winter dog coat is specially designed for when you go on winter outings with your dog and it features a reversible design that gives you two coats for the price of one. The lining is cotton padded for comfort and warmth and it's perfect for moderate winter temperatures.
Your dog will love the elastic chest strap that's designed to fit comfortably on dogs of all sizes. The only downside is that this jacket is not exactly waterproof, but it's reflective and suitable to wear in low light conditions.
This is a reversible jacket that gives you a two-in-one deal, plus its cotton-padded for extra comfort.
Pros
---
Features fluorescent visibility straps.
Made from breathable material.
Comes with adjustable hook and loop fastener and zipper pull.
Features cotton padded interior layer that is both smooth and cozy.
#11 PET ARTIST Winter Puppy Dog Coat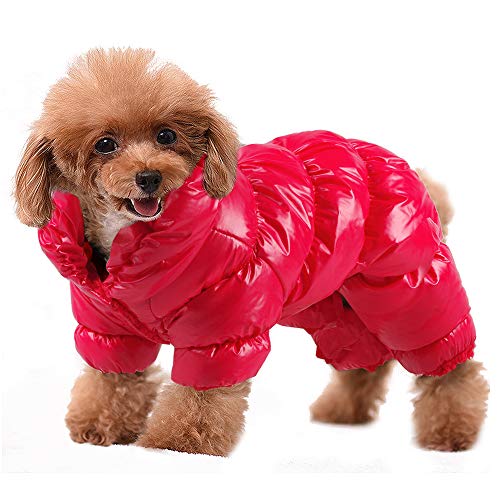 This puffy dog coat from PET ARTIST is the perfect addition to your dog's winter wardrobe. It's made from water-resistant exterior fabric with a warm fleece interior lining. It's ideal for super cold winter climates because it's designed to keep your dog warm and comfortable.
The unique feature about this dog coat is the fact that it has a unique turtleneck design to trap in the warmth while protecting your dog from nippy wind currents. This coat also features snappy button-style closures and an elastic band around the waist area which makes it easy to put this coat on and ensure that your dog can move around easily while wearing it.
This stylish dog coat comes in two different colors and sizes, with chest measurements that go from 16 inches to 22 inches. It comes with a 100% quality guarantee as well so you can rest assured that it's made to last.
Pros
---
Made with elastic waist and button closure for a secure yet comfortable fit.
Comes with an adorable pattern design.
Made from splash-proof and high-quality exterior.
#12 Kuoser Cozy Waterproof Windproof Reversible British Style Plaid Dog Coats
SALE ALERT!!
The Kuoser Cozy waterproof and reversible dog winter coats are available in seven different sizes from XS to 3XL and made for dogs of all breeds and sizes. They are one of the most popular dog winter coats, thanks to its stylish reversible design.
On one side of the dog coat is a solid black waterproof fabric which feels warm and comfortable on the skin, while the other side is made from plaid pattern fabric. Aside from its fashionable design, it so happens that this dog vest is also weatherproof, which means it will protect your dog from snow, wind, and rain.
Plus, the Velcro closure makes it super easy to put it on and take it off.
This Kuoser coat is as elegant as it is durable. It's fully reversible, with weatherproof side and plaid pattern for pizzazz on the other side. This coat is available in different sizes and colors, and comes with an easy-to-use harness clip.
Pros
---
Reversible design features a stylish plaid pattern.
Waterproof and windproof.
Comes in seven different sizes and seven distinct colors.
---
Best Dog Winter Coats Buyer's Guide
---
Although domesticated, most dogs enjoy going outside and running around in the rain – even when it's cold! The best way to protect them as a pet owner is not to force them to stay indoors, but to make sure that they're warm and comfortable with a durable and well-made winter coat.
You'll be glad to know that we used rigorous criteria when choosing these coats. We looked at different options from raincoats, doggie parkas and coats that are designed to keep your pup warm, protect them from the rain and allow them to look stylish at the same time.
To find a good quality winter coat for your dog, you need to look out for a few important considerations, including: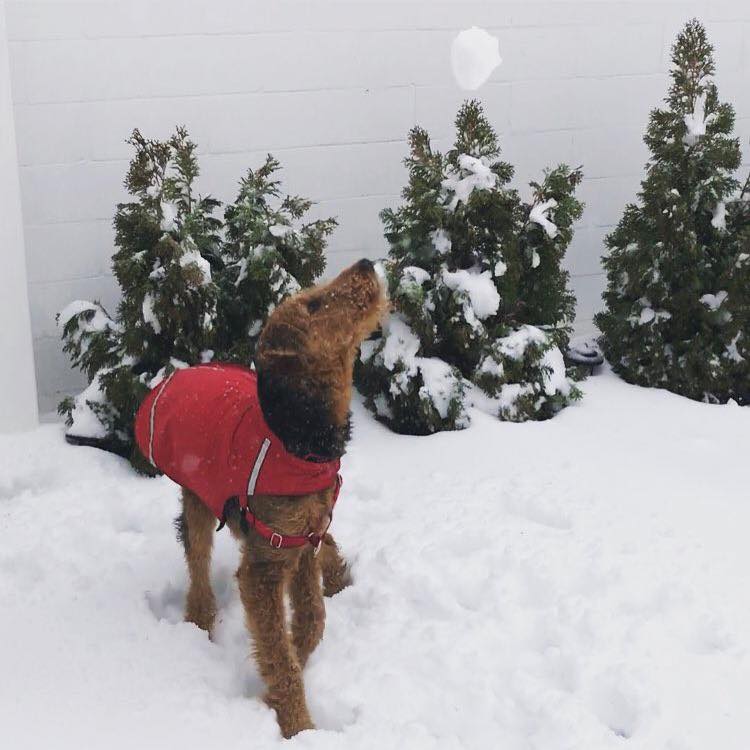 Insulation
The type of dog coat you buy will largely depend on the climate and weather conditions that you live in. This is characterized by the amount of rainfall, precipitation, wind and temperature levels experienced in your region each year.
For example, dog owners in tropical to semi-tropical climates that don't get super cold would do well to purchase a fleece jacket. But if you reside in an area that's prone to extreme wind conditions, then you'll do well to invest in a windbreaker.
For a frigid climate, we recommend a well-insulated and multilayered jacket that will keep out the cold in freezing temperatures.
Be sure to take your pooch out of its outdoor kennel and dog houses during winter.
Waterproof
There are certain areas which experience a fair amount of rain and even snow during the winter months. If that sounds like your home then you'll do well to invest in a waterproof dog winter coat that'll keep your dog dry even when it's raining cats and dogs outside (mind the pun!)
But if your area only experiences a few centimeters of rain per year, then you can get away with purchasing a wool or cotton coat.
As your canine buddy will probably spend most winter indoors, it's time to dog-proof your house with a dog-proof trash can and a dog-proof litter box too.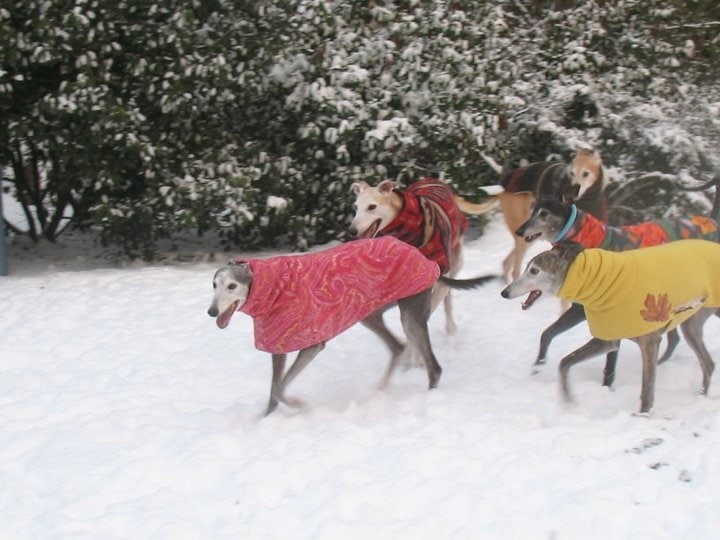 Attachment
Another critical consideration to make when looking for a dog winter coat is the durability and quality of construction. You should also consider details like zippers, which may not be a good idea for long-haired pets as they tend to get snagged in all the wrong places. This is also true for other canine accessories such as a dog backpack carrier and a dog carrier purse.
Velcro snaps and attachments are a good alternative in such situations. We also recommend you stay away from snaps and buckles because these small pieces might get caught in your dog's teeth while it chews at it out of curiosity.
Reflective Strips
There are plenty of dog winter coats with reflective strips and this helps to ensure that your dog stays visible under low light conditions. This is especially helpful to dogs that live in high traffic areas because it'll make them more visible to drivers while walking along the street.
For added safety, there's always an option of getting a dog LED collar to bring your dog for walks during winter nights.
Reflective strips will come in handy when walking your dog at night and they're perfect for pet owners that only have a chance to walk their dogs after work.
---
Final Thoughts
---
Well, there you have it! A comprehensive guide that'll help you find the best dog winter coats for your pup in record time! We've covered all the bases including features to look out for and reviews of the top options available on the market.
But if we were to choose just one option from this list, it would have to be our top pick. What makes it so special? Well, it's fully adjustable, warm, durable and it comes with a comfy tricot hood. It's made to keep your dog comfortable in cold temperatures so that there's no difference in the amount of play that you pet can enjoy in winter and summer.