A four-year-old Bloodhound named Trumpet, was awarded the Best In Show during the 146th Westminster Kennel Club Dog Show held in Tarrytown, New York, on June 22, 2022.
Trumpet is the only Bloodhound that won the top prize in the dog show's history. He bested a French Bulldog, a Maltese, a German Shepherd, an English Setter, a Lakeland Terrier, and a Samoyed to get the crown.
The Best In Show is chosen from the seven winners from each group of purebred dogs: the Hound, Toy, Sporting, Non-Sporting, Working, Herding, and Terrier.
Trumpet, The Bloodhound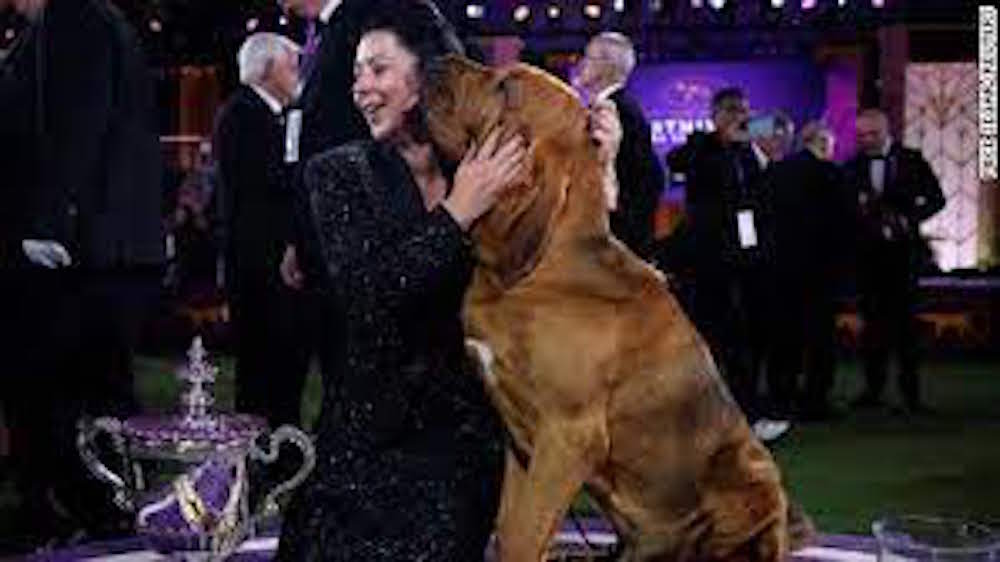 Trumpet, with a show name GCHB CH Flessner's Toot My Own Horn, hails from Saint Joseph, Illinois, and is owned by Chris and Bryan Flessner, Tina Kocar, and his handler, Heather Buehner.
"I was shocked. Sometimes I feel the Bloodhound is a bit of an underdog," Buehner said. Bloodhounds have competed in the event since 1878.
Trumpet came from a brood of champions with his father, Nathan, winning the 2014 National Dog Show of the Kennel Club of Philadelphia held every Thanksgiving. And his great-grandfather, Tigger, once made it on the list of the Guinness Book of World Records for having the longest ears among dogs.
Speaking on ABC's Good Morning America, Gail Miller Bisher, the communications director of the dog show, said of Trumpet, "he is in perfect physical condition. He really just floated around that ring. He is strong, such a powerful dog."
According to Buehner, Trumpet is just your everyday dog. "He likes to dig holes. He has a lot of dog friends that he loves playing with, and he has a lot of character," she said while being lovingly licked by Trumpet.
Reserve Best In Show
The Reserve Best In Show, or the 2nd placer, went to Winston, a French Bulldog. He won in the Non-Sporting Group of the competition.
NFL defensive lineman Morgan Fox is one of the owners of Winston. "I'm just so proud of him and the whole team," he said. Fox grew up with Frenchies because his grandmother is a breeder of the small, bat-eared dogs and has participated in numerous dog shows.
Before the show, Fox was confident that Winston would do well because of his appearance and character. "He's a joy to be around. He always walks around with as much of a smile on his face as a dog can have… he's basically a superstar," he said.
One of the crowd favorites in the show is a Samoyed named Striker, who won in the Working Group. He received the most cheers of the evening with his confident smiling face and strikingly thick, white coat.
Striker, who comes from Toronto, advanced to the Best In Show judging for the second year in a row.
Almost 3,500 dogs competed in the second-oldest continuous sporting event in the United States. It held its first dog show back in 1877 in Madison Square Garden in Manhattan.