A Good Samaritan and New York City firefighters saved a two-year-old Pitbull from drowning when it was thrown off a bridge by an unidentified person into the Harlem River on July 19, 2022, at around noon.
The man who rescued the dog, who goes by the user name slimshady0321 on his social media account, said that he spotted the Pitbull on the water and came in to help. "I was at work today, and I was looking down, and there was a dog swimming in the water," he said.
The rescuer said that he was able to tie a rope around the dog's leash and tried to calm the dog and keep it afloat but had some difficulty bringing the 62-pound dog out of the ledge it was trying to cling to at the foot of the bridge.
He was then able to contact his friend at the FDNY for help. "I called my buddy, Mike, and they came quick," he said.
Dog Rescued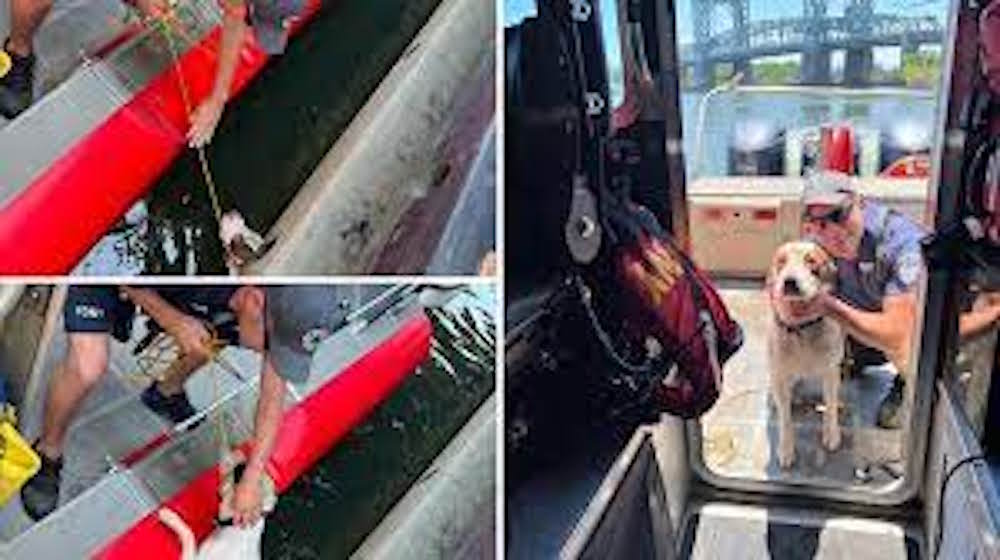 Firefighters patrolling the river heeded the call and hopped on the Marine 4 rescue boat to rescue the dog.
On their social media account, the FDNY recounted what happened. "Upon arrival, Marine 4, led by Lieutenant Sodano, saw a civilian clinging to the dog from shore, attempting to keep him afloat. Members of Marine 4 were able to bring the dog on board the vessel and take him to shore, where he could receive the necessary care," they wrote.
It continued that without the help of the Good Samaritan and the firefighters, the dog would have met different aftermath.
The man who first helped the Pitbull remained unnamed, except for his social media handle. He has shared pictures and videos of the rescue on his account page and hopes "the person and persons responsible for this heinous crime get what's coming to them."
He has received several hundred likes with lots of thanks, while some hail him as a hero. "Humans suck except for those that save them. My heart and my hero," one wrote.
Aquaman
The White Pitbull with brown marks around his eyes was then handed over to the Animal Care Centers of NYC, who later nicknamed the dog Aquaman.
The spokeswoman of the center said that Aquaman suffered only minimal cuts and bruises and remained friendly throughout his stay at the center. "His tail wags; he takes treats and readily gives kisses," she said.
At the moment, several people have shown interest in adopting Aquaman. "Three of the FDNY involved in the rescue want to adopt," the spokeswoman said. The person who threw the Pitbull into the water still remains unknown.