A Pitbull won the 2022 American Rescue Dog Show held on May 25, 2022. The annual show aims to show the personalities and talents of dogs adopted from rescue shelters across the nation.
This event is not one of those fancy conformation competitions but rather a celebration of the lovable nature of shelter dogs, from puppies to senior pooches.
Capone bested 50 other competitors to win the top prize. The winner received a $100,000 grant from Petco Love, which will be donated to the San Diego Humane Society, which Capone represented.
The 2-hour show aired over ABC and was hosted by Rob Riggle and Joe Tessitore with celebrity judges Paula Abdul, Leslie Jordan, and Yvette Nicole Brown. Petco Love, a nonprofit group dedicated to finding homes for animals, donated $200,000 in grants to various organizations represented in the show.
Best In Snoring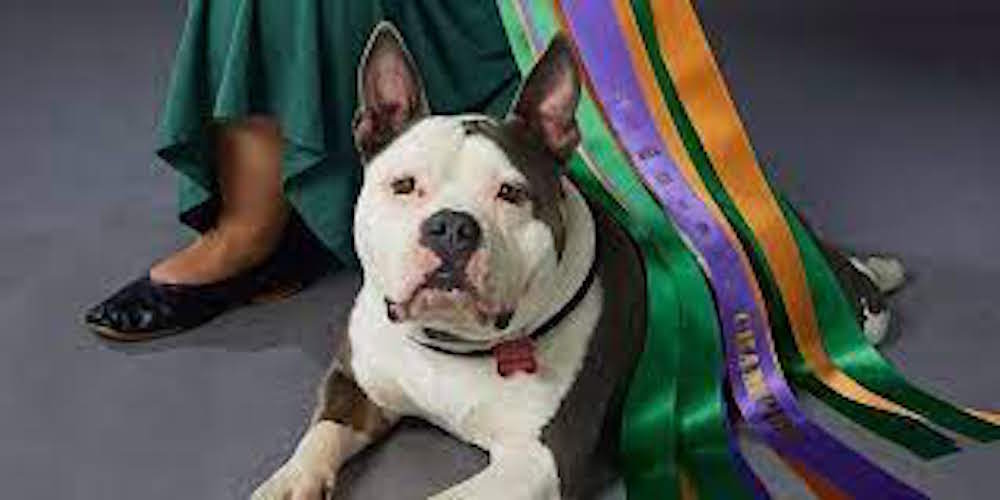 The competition separated dogs into seven "Best in" categories, namely Underbite, Belly Rubs, Snoring, Talking, Fetching, Ears, and Couch Potato. Each winner in the category gets to receive $10,000. The main prize, "Best in Rescue," is chosen from the winners of the seven categories.
Capone first won in his category of "Best in Snoring." Six other dogs competed for this sleepy category. He won over the judges with his friendly and outgoing personality and, of course, his snoring capabilities.
The Pitbull was rescued from the streets and was adopted by Elisha. The delight in Elisha's face was very evident when the top prize was announced, with her dog, Capone, equally surprised with his tail wagging enthusiastically.
According to the official biography of the show, Capone enjoys having a nap in the sun, meeting new people, and delighting his family with his yodeling.
Myth-Buster
The co-creator and executive producer of the show, Michael Levitt, hopes that Capone's win will dispel the negative myths about Pitbulls.
"If our show inspires more people to adopt Pitbulls, like Capone, from shelters, or any dog in need, it will be a dream come true. Shelter pet adopters are true champions," Levitt said, who is himself the owner of three senior rescue Pitbulls.
Dog adopters often are not keen on Pitbulls because of the stereotypes. Negative views about the breed abound because of their strength and size, together with the not so uncommon reports of someone getting mauled by a Pitbull.
The number one misconception is that Pitbulls are dangerous. Many Pitbull owners would contradict this notion and, in fact, claim that they are lovable dogs because of their affection, loyalty, and intelligence.
Another negative misconception is that they are prone to bite and can lock their jaws tightly. While it is true that it can show aggression, Pitbulls are no different from any other breed of dogs when it comes to biting. Other breeds, like the Great Dane and Malamute, actually rank higher when it comes to fatal dog bites.
It is estimated that over 10 million dogs and cats are euthanized each year in the United States due to pet overpopulation.