A new German Shepherd puppy was introduced by President Joe Biden on December 20, 2021, on his social media account with a tag, "Meet the newest Biden."
It was seen playing a game of fetch with a handler on December 24, 2021, by White House reporters and is a probable replacement to another German Shepherd, Major, who was involved in several biting incidents in the past year.
It is the third dog to move into the White House since the start of Biden's Presidency. It made its debut after Press Secretary, Jen Psaki, joked that an announcement of a new dog moving into 1600 Pennsylvania Avenue may coincide with bad news.
The bad news came in the form of Democratic Senator Joe Manchin's vote of "no" to Biden's Build Back Better Act which aims to expand the country's social safety net. It also came on the heels of the news that the Omicron variant of COVID-19 is fast-spreading in the US.
Master And Commander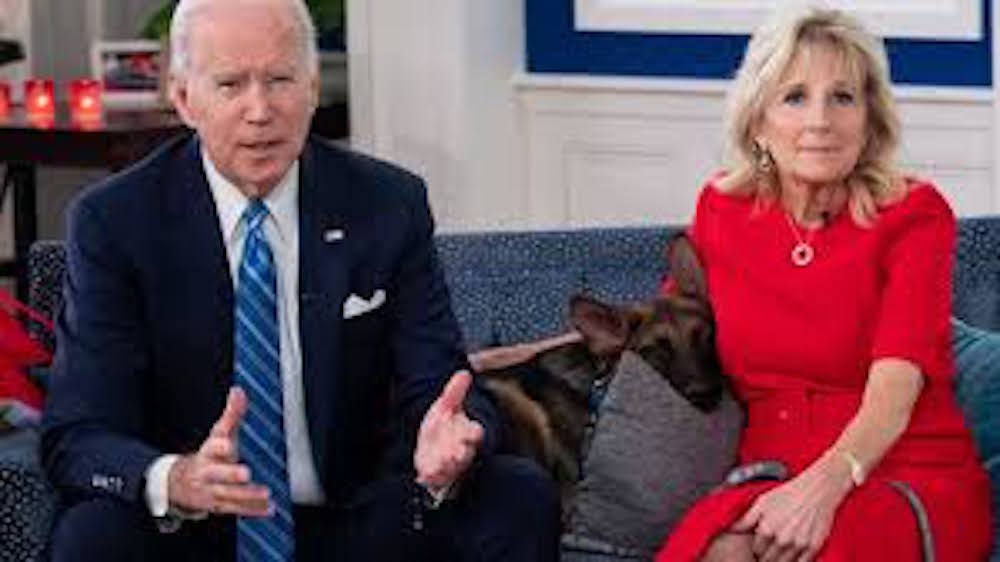 The new puppy is a welcome sight, though, for the President who lost his longtime pet, Champ, in June 2021. A short video accompanying his introduction of the new pup on his social media account shows him playing fetch and greeting the dog, 'Hey, pal. How're you doing? How are you?' with a title, "Welcome Home, Commander!"
Commander is a male, three-month-old pure-bred German Shepherd and was given as a gift to the President for his 79th birthday in November by his brother and sister-in-law, James and Sara Biden.
Commander was born on September 1, according to the First Lady's spokesman, Michael La Rosa.
The name "Commander" seems to be a playful dig on Biden's role as Commander-In-Chief of the US Armed Forces.
From their choice of dogs, it is pretty apparent that the Bidens prefer German Shepherd over other breeds, with two of their previous pet dogs, Champ and Major, belonging to the breed. German Shepherds are known for their intelligence and watchful demeanor and are ideal for active households.
Major Incident
Commander would not be joining with the President's other living dog, though.
Major, the two-year-old German Shepherd who bit a member of the Secret Service and a National Park Service worker, was given additional training in Wilmington, Delaware, earlier in the year to correct its aggressive behavior.
It was announced subsequently by La Rosa that Major would not be returning to the White House and would be re-homed to a family friend.
Major was adopted by the Bidens back in 2018 from the Delaware Humane Association and was the first rescue dog to live in the White House.
In a statement, La Rosa said that the First Family consulted with dog trainers, animal behaviorists, and veterinarians and decided that Major would be more well-suited to a quieter environment.
"This is not in reaction to any new or specific incident, but rather a decision reached after several months of deliberation as a family and discussions with experts," he said.
Commander, however, would not be the only pet in the White House for long. The Bidens will be welcoming a new one in January 2022. This time, it's a cat.