A homeless dog that a US soldier befriended in Kosovo would be reunited with him in the United States after a long wait.
The dog, named Duke, will land stateside in April 2022 after the organization, Paws of War, arranged to bring the dog into a new life in the United States.
Duke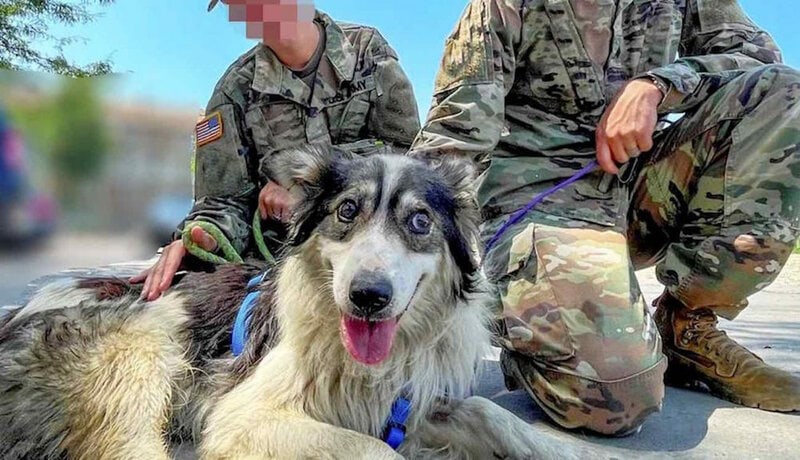 Sergeant Kelsey was stationed in the US Army base in Kosovo in 2021 when he bonded with a dog that was loitering around the base searching for food. The dog, whom they later named Duke, would visit the base every day.
Duke is a three-year-old mixed breed who keeps Kelsey and his fellow troops feeling less homesick in the southeastern European country. NATO troops have been present in Kosovo since a war ended there in 1999 between Serbian forces and ethnic Albanian separatists.
After getting close to the dog, Kelsey decided to adopt the dog and save it from living in the streets. He asked the help of Paws of War to facilitate the process of bringing Duke with him back home.
But, before any of that could happen, Duke stopped appearing around the base.
Kelsey and his fellow soldiers then searched for the dog around the vicinity of the area. They feared that Duke might have died after failing to find the dog for several days.
Thankfully, they finally spotted Duke crouching under a table. The sad part is that the dog was wounded with a bullet wound in the leg and was severely dehydrated.
A team of emergency veterinarians was sent to render immediate medical assistance to Duke. They operated on the leg's shattered bone and treated him for a specific skin condition.
For the next six months, Duke spent trying to recover from his injuries and rebuild the muscle strength he lost until he could normally walk again. He was under the care of the Alamal Foundation, which is a partner of Paws of War overseas.
A Reunion
After waiting for several months, Sgt. Kelsey finally received the good news he was waiting for.
Dereck Cartright, a disabled veteran and logistics coordinator from Paws of War, wrote to him, "We are thrilled to be able to tell you that after months of healing and rehabilitation, Duke has made a tremendous recovery. He is ready for the next part of his journey."
Kelsey and his fellow soldiers are all excited and looking forward to Duke's arrival.
Paws of War has started a campaign to raise money for Duke's plane fare and other medical expenses. He is expected to arrive before the end of April.
"We absolutely want to put a smile on their faces and ensure they don't have to worry about Duke surviving," Cartright said. "We are happy to help them with this mission and hope that many people in the community will want to support it as well. We can't do it without their support."
Paws of War is a New York-based organization that runs a program reuniting soldiers and veterans with animals they have rescued and bonded with while serving overseas.