The best dog cone alternative is BiteNot Collar.
Skin diseases, surgeries, and injuries cause lots of inconvenience and pain to dogs.
Help them by skipping the use of the traditional Elizabethan collar a.k.a. the 'cone of shame'. Instead, use the best alternatives to the plastic cone.
The best dog cone alternatives are those that provide your dog with the comfort and freedom required after surgery or an injury. (Because we all know how much our four-legged friends hate wearing the traditional dog cone.)
Here are the best dog cone alternatives that you can consider purchasing.
#1 BiteNot Collar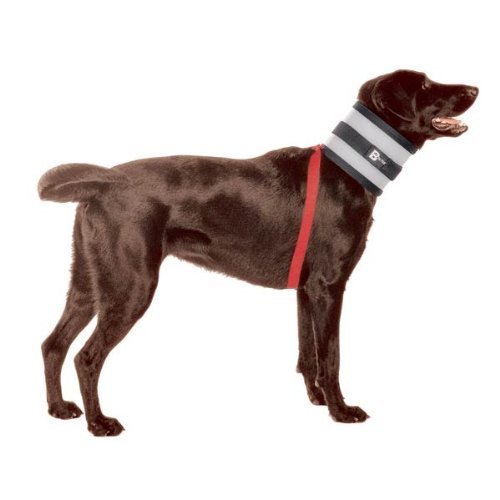 BiteNot Collar, 6" W x 27" L
The Bitenot collars are an excellent alternative to the traditional Elizabethan collar
These collars are not recommended for protecting eyes or ears
These collars are made of flexible plastic and foam
Designed to mimic a cervical collar or neck brace for humans, the BiteNot collar limits a dog's neck movement and the reach of its head which may stall healing. This neck control collar is the best cone of shame alternative as it doesn't interfere at all with your pet's peripheral vision or its ability to drink and eat.
This means the collar offers your dog a bit more comfort. It also won't let the dog run into things.
Still, the neck collar can be uncomfortable compared to when it's without as it will restrict some activities. It's best used when your dog is recovering from an injury or problem with its upper extremities. Also, it's important that you know the collar doesn't keep a dog from biting its legs, tail, or paws.
Apart from the fact that it doesn't interfere with a dog's vision as well as its eating and drinking, the reason why it's the best traditional dog cone alternative is that it comes with a harness strap that goes underneath the front legs of the dog and buckles all the way to the back of its neck. This makes subduing the dog easier, ensuring a faster recovery.
Pros
---
Machine washable.
Speeds recovery.
Has a Velcro-like closure.
Includes a harness strap.
#2 All Four Paws The Original Comfy Cone
What sold us on the Original Comfy Cone of All Four Paws is the fact that it's shaped like a cone but it's more comfortable for a dog than the usual Elizabethan collar, which is a mere plastic cone. This is all because of the pad that's added to this comfy cone.
Another thing that we love about this product is the fact that it can be folded back so it's easier for a dog to eat and drink. It also comes with several loops so your dog will be able to wear its regular collar. Simply pass the collar through them.
The common issue of dog owners with the typical cone of shame is that it leaves a dog feeling uncomfortable the entire time it's using its neck collar.
With the Comfy Cone, that's not the case as it's specifically made to be light and flexible apart from comfortable so your dog will be able to have a good night's rest even with the collar on, fostering a faster recovery for the animal.
The Original Comfy Cone is very affordable so if you're on a tight budget but your dog is in need of an excellent medical collar, it's the best option. Aside from being affordable, it is also super easy to clean. It only needs wiping as it's made of a water-resistant material.
Pros
---
Comes in two colors, Black and Tan, and also several size options.
Strong padded nylon construction.
Water-resistant.
Has added loops for regular collar.
#3 ZenPet Pro Comfy Cone Recovery Collar
SALE ALERT!!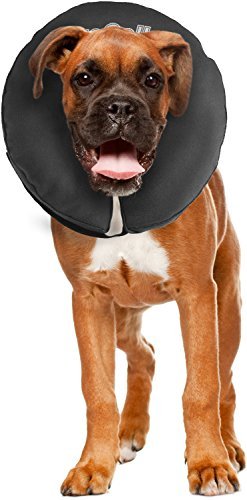 With its unique pillow-like design, the ZenPet Pro Comfy Cone gives your dog comfortable neck support while still retaining a 180° vision of its surroundings. If your dog is afraid of the dark or hates the feeling of being isolated, this is a good option for you to purchase.
Putting the inflatable collar on a dog is easy. But you'd still have to inflate it just like a beach float. Once it's set up, you can leave it on your dog for hours and not have to worry about it as it only has soft edges plus it's made of an anti-scratch and bite-resistant material.
The inflatable Pro Collar by ZenPet is inflatable so it promotes a dog's stress-free recovery from the fact that it doesn't block little Fido's vision or muzzle. As it's one of the best alternatives to the Elizabethan collar, it prevents a dog from reaching its rashes, injuries, and surgical wounds.
Pros
---
Inflatable neck collar.
Has built-in collar rings.
Anti-scratch and bite-resistant.
Machine washable.
#4 Suitical Recovery Suit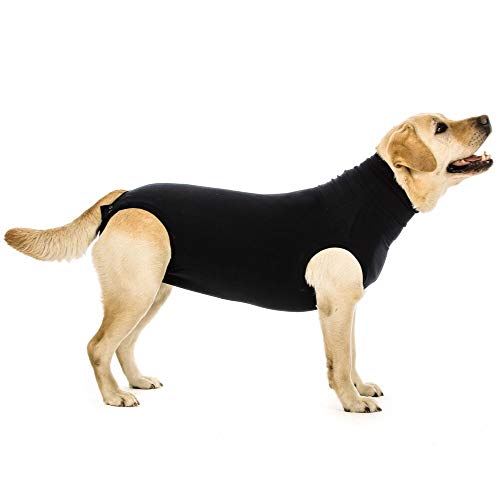 Suitical Recovery Suit Dog, Medium, Black
The Suitical Recovery Suit for dogs is a professional alternative to the medical cone and, as a full-body shirt, also...
The patented design is based on the body shape and anatomy of your dog, so it adapts perfectly to the animal and...
The light and breathable fabric made of cotton and lycra gives your dog plenty of freedom of movement, The shirt is...
If you want full protection of your dog's injuries, then this romper-like Recovery Suit is worth your consideration. It's made of lightweight and breathable fabric with the entire suit easy to wear, which makes it a good alternative to a traditional dog cone collar.
Most dog parents fear this type of dog collar alternative, thinking that it might not be able to give enough airflow for the wound to heal. This is not the case with Suitical's suit as it'll remain dry from the breathable material. It's also the best option if your dog's skin-related issues are caused by biting or scratching.
The suit has press studs added at the tail's base. If it's used for estrus or incontinence, it's possible to add a pad or panty liner inside the Recovery Suit.
Although it might look uncomfortable for a dog to wear, it's actually the exact opposite. We've found that it has the perfect construction as it isn't too tight around a dog's belly. Its interior is also light blue so you can easily tell if there's any fluid leakage.
Pros
---
For first-aid purposes.
Lightweight and breathable.
Several sizes available.
Reduces stress and anxiety in dogs.
#5 E-KONG Protective Inflatable Collar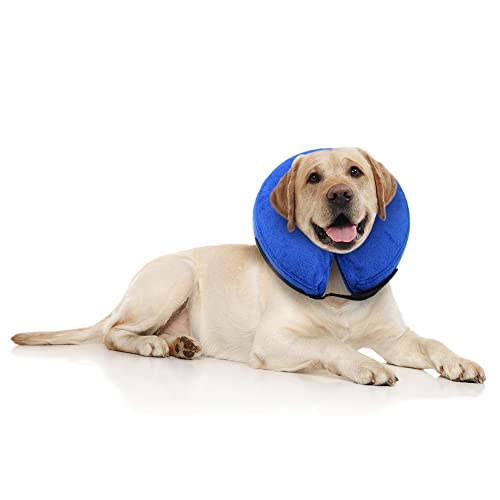 E-KONG Protective Inflatable Collar is just like ZenPet's Pro Collar as it's air-filled and flexible, but quicker to inflate.
Just like all inflatable neck collars, it's suitable for dogs with stubby bodies that can't handle a traditional cone's mass and weight. If your pal's brachycephalic or if it has trouble using a much longer cone, this is a great option for it.
As it has a slightly lesser thickness, it makes it easy for a dog to avoid obstacles. This pet recovery collar is also machine washable and chew-, bite-, and scratch-resistant. Also, it won't scuff furniture as it only has soft edges.
Most dogs don't like to have anything around their neck. But we didn't have any issues with the E-Kong inflatable collar because of the fact that it's lightweight and comfortable while still doing its job of restricting a dog's reach.
Pros
---
Easy to inflate.
Has Velcro strap for enclosure.
Comfortable inflatable for dogs.
Available in four sizes.
#6 Alfie Pet Noah Recovery Collar
The cutest option from Alfie, so far, this lion motif recovery collar comes with a lion's mane as well as two cute ears. It resembles the typical plastic cone shape, only that material consist of soft and flexible fabric with a frilly material around the collar, as well as a pair of cute ears. For the record, we truly believe this also makes for a super adorable costume for your little pooch!
The collar makes use of a Velcro closure to give it a snug fit around your dog's neck. It also makes putting it on and off quick and easy. Although it is made of plush fabric which is soft and gentle to the touch, it is still easy to clean as it is machine washable.
Apart from the fact that it's absolutely adorable, we were also impressed as to how easy the product was to clean and keep looking brand new. Not to mention its ability to prevent our pup from touching the wounds.
Pros
---
Cute design.
Has Velcro closure.
Effective at hastening recovery time.
#7 Stay Rite Inflatable Recovery Collar Remedy
Next is an inflatable recovery collar, which is the best dog cone alternative if you have a rowdy dog – the Stay Rite Inflatable Collar of Remedy. It's designed to be a recovery collar that will 'stay rite' as its name suggests.
The reason why it landed a spot on our list of the best alternatives of the cone of shame for dogs is that it can withstand biting, chewing, and scratching. It's made of a puncture-resistant material added with an ultra-strong closure.
What's more, it boasts double-welded inside seams for added strength. As if that's not enough for a recovery cone, this comfy cone also easy to clean and won't block a dog's vision. It's available in five different sizes, so you'll surely find the right size for your dog.
Perfect after surgery, the Remedy + Recovery Inflatable Protective Collar will help heal wounds and bites of a strong dog that has the tendency to destroy its comfy cone.
Pros
---
Double welded inside seams.
Puncture-resistant.
Has an ultra-strong closure.
#8 ZenPet ProCone Dog Recovery Collar
SALE ALERT!!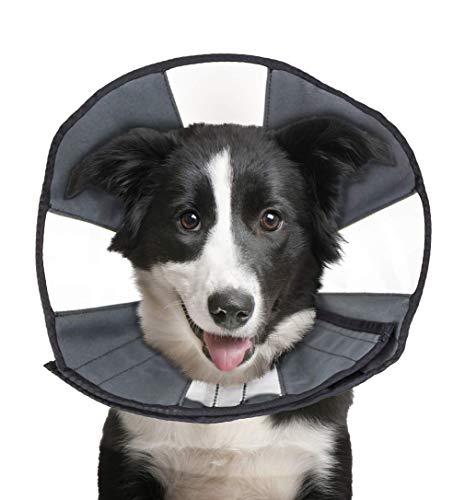 A convenient and practical option, the ZenPet ProCone recovery collar comes in four different sizes which all promise dogs maximum visibility. What made us include the product on our list of the best dog cone alternatives is the fact that it sports a hybrid design.
It's shaped like a cone but it's more comfortable and it opens and closes like a fan. This design creates a soothing and healing environment for any dog's post-surgery recovery. Furthermore, it works with a regular collar. Just fit it around its neck with the fuzzy fastener strap that's adjustable.
There are many aspects to be liked about this stylish dog cone alternative but what we liked the most is that it's proven and tested by veterinarians for 12 years now. It also comes in several different sizes to ensure your pal's build has the perfect match.
Pros
---
Unique collar design.
Made with soft canvas.
Offers maximum visibility.
#9 POPforPETS Dog Post Operation Protection Shirt
Depending on where your pooch's injury or wound is, this post-operation protection shirt from POPforPETS can be more effective, secure, and convenient compared to the use of a traditional dog cone. As it looks and feels like just about any other dog shirt, it helps reduce stress and anxiety in dogs. What's great about this recovery shirt is that it's designed for a dog's specific needs and, of course, its body shape as well.
The shirt is made of a stretch fabric that's both breathable and lightweight. Apart from giving good protection, it also allows a dog to enjoy the warmth, which is what it most definitely needs after an operation.
This post-operation protection shirt prevents dogs from reaching their wounds but still gives them the freedom of movement. It's also made of a soft, absorbent fabric that's machine washable!
Pros
---
Offers excellent protection to surgical sites.
Made with soft lightweight fabric.
Machine washable.
---
Dog 'Cone of Shame' Alternatives Buyer's Guide
---
We know that you hate seeing your pet with the classic cones as they make life difficult for dogs. The problem is that they actually help dogs heal faster. Luckily for us, there are now many alternatives that don't just give the ultimate comfort to dogs but also give them enough support while they sleep, eat, and drink.
As you're looking for the best alternatives to dog cones, you already know that there's a need for a dog to deter it from chewing or licking its wounds. If it just had surgery, the licking or chewing can result in loose stitches, ingestion of topical medications, or infection! Without a dog cone alternative or even the classic Elizabethan collar, the chances of re-injury are increased.
If you choose to use any of the products we featured above, you get the guarantee that obsessive licking is prevented. The best cone of shame alternatives also speeds up the healing process of dogs as they provide a protective barrier that stops them from accessing their wounds.
When in doubt, it is always best to consult a licensed veterinarian near you.
Different Alternative Types Of Cone Of Shame
Keeping in mind the health of the dog, it's best to get the most comfortable and effective dog cone alternative. As you may have noticed from the list of the best e-collars above, different types are available apart from the typical plastic cone.
Here are the categories that offer dogs the best options:
Soft Cone/Collar
This type is the fabric version of the traditional Elizabethan collar. Although it retains the approximate size and shape of a typical recovery collar, it's made of soft fabric with a bit of plastic for reinforcement. Lots of dogs find this type of cone alternative comfortable because of its covering. If you have a small dog, make sure that you pick one that isn't too heavy for it.
If possible, skip a padded collar for toy breeds. The reason why dog parents prefer soft collars to classic cones is that they're washable and they're adjustable to fit several different neck sizes.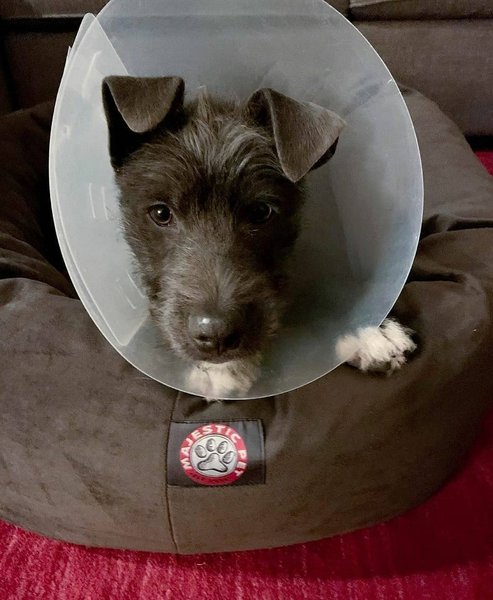 Inflatable Neck Pillow
The circular pillows we use to snooze on airplanes are similar to the inflatable neck pillows that help dogs recover from surgeries and injuries. As mentioned earlier, they're available in different sizes and they offer comfort to dogs. To use an inflatable neck pillow, simply inflate it and place it around the neck of your dog. It often comes with Velcro for its closure. The pillow will be enough to prevent a dog from scratching, biting, and licking without blocking its vision.
This type of dog recovery collar is also the most lightweight. The only problem with it is that it can get punctured easily, especially if a dog has sharp and strong teeth. Don't worry as the inflatable neck pillows or balloons we featured above are puncture-resistant, most especially the Stay Rite Inflatable Recovery Collar Remedy + Recovery which is heavy-duty.
Neck Brace Recovery Collar
This type of canine cone alternative is just like a human's neck brace. It's designed to prevent dogs from bending their neck enough to bite, chew, or lick an affected area. This recovery collar is often made of a combination of materials like foam and flexible plastic. It can also be adjusted so that it fits different neck sizes.
We love this type of plastic cone as it doesn't obstruct a dog's view at all. It's unwieldy as well but may cause some discomfort in dogs that have short necks.
Recovery Suit Or Dog "Onesie"
This is a more creative alternative to a dog recovery cone. With this option, you simply need to put it on a dog-like shirt and close it around its rear. It's a solution that's great at preventing dogs from touching their stitches or wounds. The problem is that they can chew or scratch through the fabric. If you simply need to prevent your pooch from licking a topical application, then it's an option worth considering.
Related: Pet Plate Review (For your recovering pooch!)
---
Final Thoughts
---
You're now made aware of everything there's to know about the alternatives to the elizabethan collar. The best one creates a comfortable and effective barrier, inhibiting a dog from aggravating its wounds.
We've found that our top pick is indeed the best 'cone of shame' alternative with its unobtrusive design and the ability to help dogs heal faster and comfortably.
Still, any of the products we mentioned above are all tested and proven by us to aid in a dog's recovery. This means you can't go wrong with any of the products featured in this review so don't hesitate to give them a try.