Do you have a furry friend who has battled an injury or surgery? It is heart-wrenching to see when your beloved pup gets injured or has to undergo surgery. As a dog parent, you fret and worry about your four-legged friend, especially during the postoperative recovery period as some dogs just do not leave their wounds alone, making healing a real challenge.
Here's why an e-collar or a dog cone is so important. Also known as an Elizabethan collar, it is a flexible piece of plastic shaped into a cone that is placed around your dog's neck. Despite feeling uncomfortable when worn, the cone will ensure that your dog doesn't lick or cause any further damage to its stitches. This helps to shorten your dog's recovery time and prevents infection from setting in, especially due to excessive licking.
Given the wide variety of cones available on the market, it can be a daunting task to pick the right cone for your dog. So, which is the best dog cone? Check out our comprehensive list of product recommendations below.
#1 Sungrow Soft Dog Cone
The soft, flexible material of this recovery collar, SunGrow Soft Dog Cone, made us choose it as our favorite recovery cone of all time. Its material construction ensures that any dog is as comfortable as it can be while it is healing from surgery or an injury.
This is our top pick also because it is resistant to odor, bacteria, scratch, tear, and water, so it is definitely the best option if your dog is prone to making messes regardless of what it is doing. Even if your pet makes a mess while it is eating, the collar will remain clean after you wipe it down. It's also machine-washable!
Take note that you can use this recovery collar in two different ways; as a lampshade-style collar that helps a dog recover after a procedure or surgery or as a neck brace when it's reversed, which is useful when the dog needs an upper back or shoulder support.
This fabric neck cone for recovering dogs is highly rated among dog parents because of its ability to provide support, comfort, and flexibility. This soft polyester blend e-collar filled with cotton works incredibly well for dogs that won't test a cone's limits. It is also an excellent choice if your dog doesn't settle down or misbehaves if it's wearing a hard cone.
Pros
---
Employs a comfortable design made using a soft polyester blend and stuffed with plush cotton.
It is created to adjust and fit different pup neck sizes between 10 to 12 inches.
Easy to adjust and keep in place with three hook-and-pile fastener strips.
It is multifunctional as it is used for recovery after procedures or skin irritation, and it can also be reversed and used as a neck brace for shoulder and upper back injuries.
It is durable and easy to clean as it is machine washable.
Cons
---
It is not suitable for large dog breeds due to the collar's small neck size.
Active dogs who are pullers can easily fold the collar back and access an injury or itchy spot.
#2 Original Comfy Cone By All Four Paws
Another great option is the Original Comfy Cone by All Four Paws, especially for those who are budget conscious. Just like our top pick, this one is a fabric e-collar for dog recovery. What we love about it the most is its nylon padding, which is why it is comfortable for a dog to wear around its neck.
Apart from being soft and comfortable, this cone collar is also water-resistant, making cleaning very easy. The product comes with a plastic that's removable so if your pet has a sprained or broken neck, you can choose not to remove the plastic to give it structure.
If your goal is to keep the dog from scratching or pawing an infected spot that's on its neck and head area, then you can remove the plastic. Basically, you get two medical collars with this product and you only pay for a single cone's price!
As mentioned earlier, it offers flexibility in terms of use. You can also use the collar to protect your dog's upper torso and shoulders by simply turning it inside out. There are clasps on both sides of the cone, so you can turn it from the front to the back, and it will still work properly.
Pros
---
Comes in 2 colors and is easily adjustable, and this is perfect for different pup breeds.
Easy to clean and maintain thanks to the water-resistant material, which can easily be cleaned with soap and water.
Comfortable for your pup because it is made with foam-backed padded nylon and also has a reflective binding for easier visibility of your pet.
Easy to put off and on as well as adjust neck size thanks to the Velcro closures.
The plastic stays on this collar help to retain its conical structure as your pup wears it.
Cons
---
It is not ideal for anxious pups due to the noise the collar material makes when in use.
Larger dogs can pull off the collar with ease using their paws.
#3 Total Pet Health Elizabethan E-Collar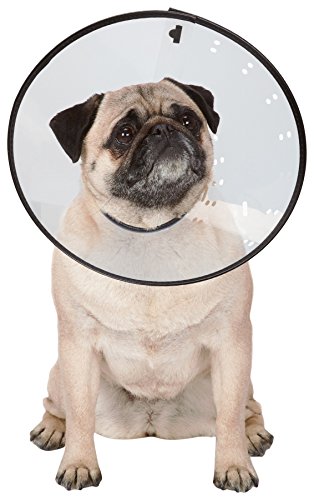 This recovery is an excellent choice if you want something that is simple, works as intended, and affordable. It features a button system for adjustments. With this e-collar, each adjustment comes with two buttons. Obviously, it's more secure compared to e-collars with one button.
This recovery collar features an opaque white color with black trimmings. While it's affordable, it doesn't look cheap. The opaque color also allows some visibility and does not entirely block your dog's field of vision.
The two-button system allows you to securely lock the e-collar into place. Also, it's challenging to find faults with this one when you consider the price.
Pros
---
This product is made primarily with polypropylene plastic, a material that is very easy to clean with a piece of moist cloth.
This collar is flexible and prevents your pup from licking wounded spots on its skin.
Comes in five sizes and comfortably fits pups with neck sizes between 5.5 to 23.5 inches.
Comes with plastic snaps and coordinating holes, which help to keep the collar in place on your furry friend.
There is a separately sold loop gauze or string that can be attached to your pet's regular collar, so you don't have to take it off.
Cons
---
Doggies who are pullers can easily take off the collar, which makes it ineffective for them.
The clips sometimes fall off, which means the collar is not secured when needed.
#4 PETBABA Recovery Collar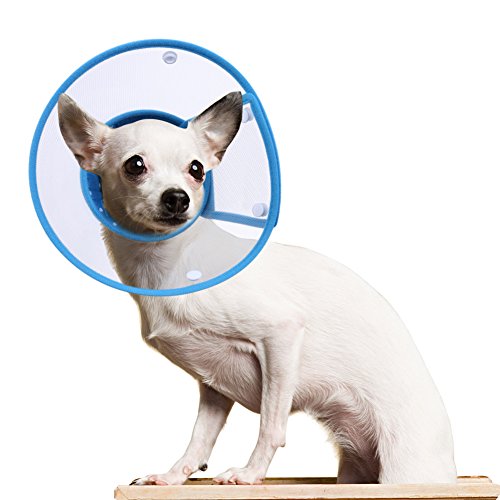 This recovery collar is about 6 to 9 inches in the neck and 5 inches in width. From the dimensions, it's clearly designed for small dogs and puppies. Another thing that's worth mentioning is the soft collar area.
Having a soft cone is beneficial for your dog as it minimizes the stress during the recovery time. This e-collar is manufactured from lightweight PVC. Such a feature is significant for small dogs or puppies as they don't have a lot of strength and heavier recovery collar may become a cause for too much stress.
This e-collar is specially designed for small puppies and dogs, which means it has a clear purpose or use. The padded collar and lightweight material make it very suitable for your small dog or puppy.
Pros
---
The collar is adjustable and is perfect for small pup breeds with neck sizes between 5 to 9 inches.
Comfortable for your pup thanks to the soft padded neckline.
Light and easy to maintain as it is made of lightweight PVC, which you can easily clean with soap and water.
Cozy and ideal for pups who have undergone medical procedures and can also be used during grooming sessions.
Simple design, which is easy to put on, take off, and secure, thanks to the snaps.
Cons
---
The snaps do not close all the way, which means the collar is not fully secure on your healing pup.
Some pups and cats can easily take off the collar, which makes it ineffective.
#5 Remedy + Recovery E-Collar
SALE ALERT!!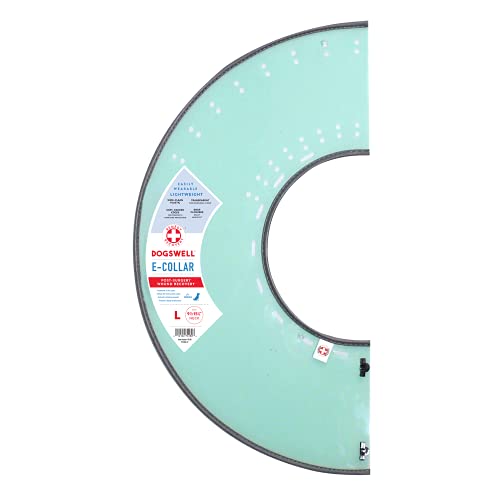 If you want an e-collar with plenty of padding, then this one is an excellent candidate. Having ample amounts of padding is always a good thing as you'd want your dog to stay as comfortable as possible during the recovery period.
This recovery collar is also lightweight and features a see-through design. You have plenty of options when it comes to size adjustments. This allows you to find a better fit for your dog.
The adjustment locks are plentiful, which is something that's very nice as it allows you to have a better fit. It also has a lightweight design.
Pros
---
Made of lightweight PVC material, which means your pup will be comfortable wearing it.
The see-through design of the collar will not hinder your pup's line of vision and is available in multiple colors.
Comes with padding around the area that fits on the neck and some padding on the collar rims to prevent injury to your pup if they run into objects around the home.
It can fit many pup breeds as it fits necks between 12¼ to 21 inches.
It is easy to clean with some soap, water, and a cloth if your furry friend spills anything on the collar.
Cons
---
Your pup will not sleep in a comfortable manner while wearing the collar because of the rigid plastic.
Takes some extra effort to snap the collar into place when putting it on your pup.
#6 ZenPet ProCone Pet E-Collar
The first thing that's noticeable with this e-collar is the unique design. It features an alternating gray and white color, which is different from the more common all-opaque design.
This e-collar makes use of Velcro for the adjustments. This is a lot better than fixed buttons as it's easier to get that perfect fit for your dog.
The Velcro locking system from ZenPet is the best thing about this e-collar, as this helps to ensure a good fit for your recovering dog.
Pros
---
Your pup's visibility is not compromised thanks to the windows on the canvas cone as they recover from medical procedures.
Adjustable and fits different doggie sizes as it comes in 4 sizes and a Velcro fastening.
It can easily be fitted on your pup's regular collar, so there is no need to remove it each time you need to use the cone.
Can be safely secured around your pup's neck with a hook & loop mechanism.
Flexible material, which allows your furry friend to keep it on even while sleeping.
Cons
---
Pups with sensitive noses will not like the smell of chemicals on the collar while wearing it for the first time.
Extremely small pups and cats will find the collar too cumbersome during activities like eating or drinking.
#7 Felicey Adjustable Dog Elizabeth Collar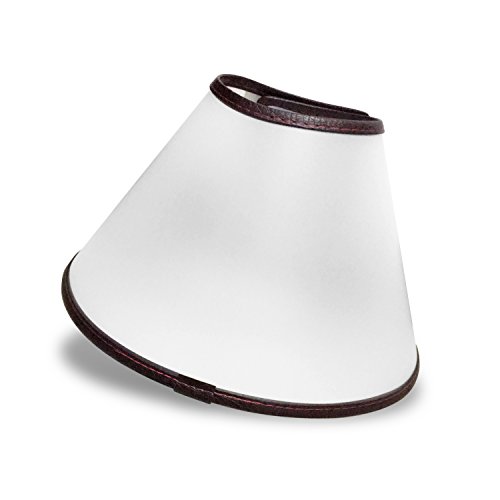 The first thing that's worth mentioning about this e-collar is the use of high-quality PVC. Such kind of feature is very much welcomed as it extends the use of the e-collar, especially if you have an energetic dog.
It also features soft edges to ensure that it won't cause inconvenience for your dog and minimizes the damages caused to furniture. The white color and the trimmings give off a clean and sophisticated vibe.
The stylish clean and sophisticated design makes it a desirable choice. Also, the padding on the edges is both an aesthetic and functional feature.
Pros
---
Made of lightweight and high-quality PVC material, which does not cause skin irritability to your pup's skin.
Made of soft material around the collar area, which makes it comfortable as your pups wear it.
Suitable for most doggie neck sizes and is available in 10 sizes.
Easy to adjust, wear and remove thanks to the Velcro fastening.
Attractive design that keeps your furry friends from licking or scratching while healing.
Cons
---
Not made of see-through material, so your pups can see while wearing it.
Active pups or pullers will easily be able to take off the collar.
#8 Supet Adjustable Dog Cone
A versatile dog cone that comes in 6 different sizes, the Supet Adjustable E-Collar is suitable for small, medium, and even large dog breeds.
Made from an enhanced PVC material, this dog cone is highly resistant to your dog's bites or scratches. The extra soft fabric edge also makes the dog cone comfortable for wearing, as it wouldn't irritate your pooch's neck.
The lifetime assurance guarantee makes the Supet Adjustable Dog Cone one of our top picks!
The thing we like most about this e-collar is that it provides the most comfort for your dog thanks to its soft fabric covering. Easy storage also makes it an excellent choice if you have limited space.
Pros
---
Comfortable because it is made of high-quality cotton flannel and PVC material, which is not irritable to your doggie's skin.
Lightweight, durable, and easy to fit and secure with the hook & loop design.
Easy to clean and maintain.
Comes in 4 different colors and can fit many dog breeds thanks to the six available neck sizes between 9.8 to 20.5 inches.
Dedicated customer support and offers lifetime assurance.
Cons
---
The smell that a newly purchased collar emits can put off some dogs.
Some customers have sizing issues, despite following the measurement chart closely.
#9 Mangostyle Dog E-Collar Protection Cone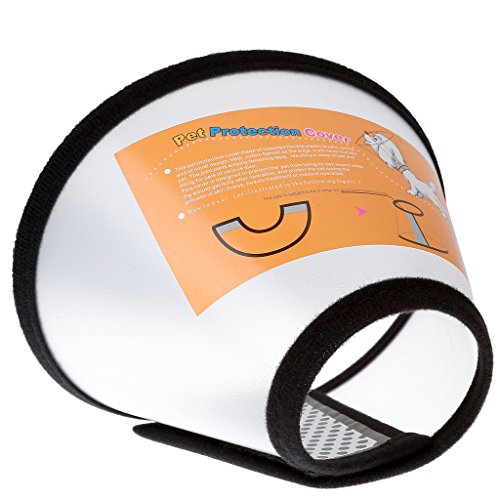 If you are looking for a very affordable option, then this e-collar may be the right one for you. It's crafted from a combination of flannel and plastic. It also features a design comprising polka dots, making it a stylish choice.
The locking mechanism makes use of Velcro to offer a better fitting or minor adjustments when necessary. The soft padded neck area indicates that it will be comfortable for your dog.
The combination of flannel, plastic, and polka dots makes it visually appealing. Furthermore, it features a durable build. However, the beauty of this recovery collar is that you are getting all that for a relatively low price.
Pros
---
Made of durable and lightweight cotton flannel and plastic, thereby translating into improved durability.
Suitable for small and medium dog breeds with neck sizes between 7.5 to 16.1 inches.
Easy to secure hook & loop for fast opening and closing as well as comfortable to the doggie's neck thanks to the padded inside and outside edge.
The comfortable depth of the cone keeps your pup from scratching or irritating a wound or injury.
Easy to clean with soap and water.
Cons
---
Your dog's line of vision is obstructed because the material is not see-through, plausibly causing issues with mobility.
The Velcro can weaken and lose its adhesiveness upon wear and tear, allowing the collar to easily be removed by a pup.
---
Dog Cones And E-Collars Buyer's Guide
---
There are dog parents that dread the idea of the Elizabethan collar (e-collar), but it shouldn't be confused with an electric shock collar, as a recovery collar simply encircles a dog's head to create a protective barrier. This barrier is meant to stop the animal from licking or biting its wound, lesion, or incision site. It also protects head lesions as well as the eyes and ears.
As you know by now, from our list of the top dog cones and e-collars above, there are different varieties of the cone from clear or shaded plastic to fabric ones. Some have pre-cut sizes that snap together while others can be custom fitted using Velcro strips.
Related: Best Dog Cone Alternatives
Great Fit Is Crucial
Take note that a cone that has a good fit is snug around a dog's neck. It's loose enough that it gets one or two of your fingers in between the neck and the collar but also tight enough that your dog can't remove its e-collar.
Any hard edges shouldn't apply pressure to a dog's neck. It should also extend up to the tip of the animal's nose, depending on the part of the dog's body that needs protection. For instance, a wound that's near the tip of the tail may need a long cone so the animal can't access the area with its mouth.
For a head wound or lesion, the cone will protect the eyes, ears, and entire face from being pawed or scratched. It will also deter a dog from rubbing its face against surfaces like the floor, walls, and furniture; therefore, the cone can be slightly shorter.
Dog Cones Are Meant For Recovery
It's important for you to understand that a dog cone is not a torture device or a tool for punishment. Instead, it's a protective device that's extremely necessary. A dog may object to its use at first. It may even use passive measures like hanging its head down or smashing its gigantic head into walls or furniture. There are dogs that pretend that they can't drink or eat with cones on. Be strong as these are just theatrics! Little Fido is merely trying to manipulate you or make you feel guilty.
When your dog has to recover, it needs "tough love." The cone MUST stay on until it's fully healed or when sutures are removed. For additional post-surgery recovery tips, here's a great resource guide on it.
Have you decided on a specific product already? Maybe you're torn between two excellent options. This section of the article will help you narrow your choices further.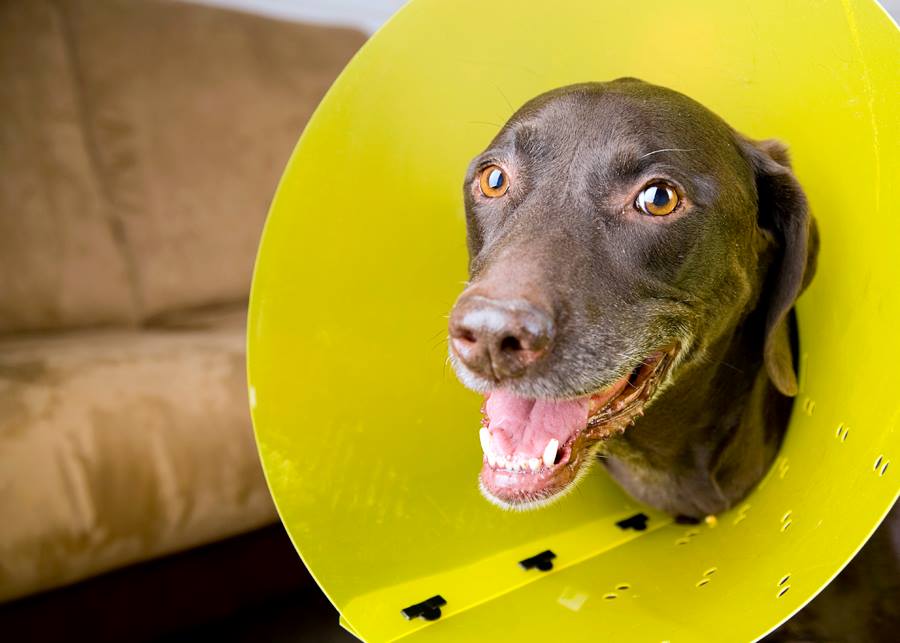 Choosing The Right Type Of Elizabethan Collar
Traditional Plastic Cone
This type of cone is the most common. Vets often have this type given for free after surgeries. It is great if the affected site is on the animal's head as this style offers a bigger "protection area," so it makes it hard for a dog to scratch its wound. It is also great for a dog with ear hematoma as it prevents blood from splattering if it opens up. This type is easy to clean, but it also has its downside. It's not the most comfortable option for a dog.
Fabric Collar
The second type of recovery collar is one that has a fabric construction. It bends easier so a dog can easily lie down, eat, and move around with it. There are styles that come with a Velcro and drawstring to make size adjustments better and easier compared to traditional cones. However, if the material is not water-resistant, a fabric cone can be difficult to clean.
Inflatable Cone
This one looks like a donut or cushion. It's like the fabric type as it's comfortable and makes it easy for a dog to get around. For a brachycephalic dog, it is easier to wear and harder for it to take off. However, if your dog has a tail injury, it can reach its tail with the cone on.
Related: Best Dog Orthopedic Beds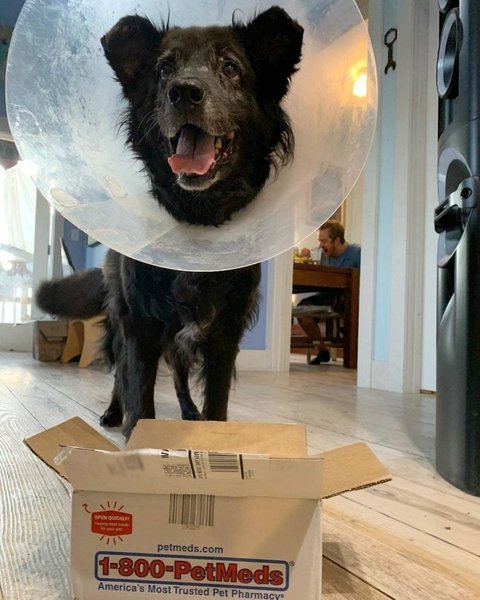 Features To Look For When Buying Dog Cones And E-Collars
Ease Of Cleaning
A lot of dogs throw up after having surgery or getting injured. There may also be accidents, especially if the dog is on some sort of medication. By having a collar that is easy to clean, you will be able to prevent messes. Most importantly, you can avoid foul smells and infections.
There are collars that come with outside covers, which come off for quick and easy cleaning. Whatever medical collar you choose, make sure that it can be wiped down or it's machine-washable.
Adjustability
Most e-collars can be used for several sizes of dogs. Still, it is a good idea if you purchase the dog recovery collar that has the perfect fit for your dog, or your canine will manage to take off its collar on its own. If you get the wrong size, your dog may also hurt its stitches or wound accidentally. Some collars connect to the usual collar of dogs, which helps a lot in fitting more accurately.
Unrestrictive
This might seem to you as counter-intuitive as you want a collar to keep your dog from biting and licking its wound; however, you don't want the medical collar to restrict the animal from sleeping, eating, and drinking. After injury or surgery, the dog must eat, drink, and sleep as much as it possibly can. The collar that lets it do all these things without strain is what we highly recommend.
Comfort
One of the reasons why we made sure that we listed all the reliable dog cones and e-collars currently available in the market is that not all cones offer canine comfort, which is absolutely necessary. Your dog is in pain or at least uncomfortable after sustaining an injury, which means ensuring its comfort while it's recovering will go a long way.
Durability
Your dog will wear its collar for days or even weeks. If your pet has a nasty rash or wound or it tends to pick and lick in general, then it has to wear the cone for even longer. You want your purchase to last long, which is why it's necessary for you to get a durable collar. The products we listed above are all long-lasting and will prevent your dog from destroying or ripping its collar.
The last thing that you want to see when you come home is your pet hurting itself because its medical collar has broken down or got ripped into pieces. To get a collar that you can rely on completely, choose any of our picks or check customer reviews.
Storability
Your dog doesn't have to wear its e-collar forever. As soon as it has healed, you would want to store the collar away in case you need it later. A collar that can be rolled or deflated (for an inflatable collar) is easier to store compared to the ones that are bulky.
Related: Best Dog Stairs & Steps (Post-Recovery)
---
Final Thoughts
---
After reviewing most of the available medical Elizabethan collars sold online, we can genuinely say that our top pick is the best option. It is comfortable, scratch and bite-resistant, among other things. The collar does not affect the ability of the dog to play, sleep, eat, and drink.