The best dog cooling mat is Arf Pets Pet Dog Self Cooling Pad.
As dog owners, we all know the reason why our dog pants on a hot day. They are trying to keep themselves cool.
But did you know that dogs have thick-coat and don't sweat that much? So, it can be difficult for them to remain comfortable when the temperature rises.
Luckily, that's where having the best dog cooling mat will come in handy. It helps to cool down and provides your canine companion with some much-needed relief.
We've selected a wide variety of dog cooling mats to give you plenty of options, depending on your dog's size, needs, and budget. We've also looked at cooling mats that are self-cooling, thick, comfortable, waterproof, and more!
#1 Arf Pets Dog Self Cooling Pad
Arf Pets Self Cooling Mat can give your dog a cool retreat during hot days. This mat is filled with a cooling gel. It is a self-changing mat, and we personally feel that it is the best cooling pad to keep your furry friends healthy and comfortable when the temperature rises.
The mat absorbs and regulates temperature for up to three straight hours. It does not require batteries, electricity, water, or refrigeration, which makes it perfect for dog crates, beds, the backseat of the car, or anywhere.
The cooling pad can provide three hours of continuous comfort, during which the pad will absorb and regulate your dog's body temperature. After three hours of usage, it automatically recharges in 15 to 20 minutes of non-use.
With the Arf Pets Self Cooling Pad, you don't have to worry about recharging it after three hours, as it will automatically recharge. It requires no refrigeration, no water, and doesn't require any batteries to recharge.
Pros
---
The cooling pad is large enough at 35 inches by 55 inches and can fit furry friends of up to 80 lbs.
The product keeps your pup cool without wasting any water or electricity, thanks to its solid gel interior.
It is comfortable and easy to use for your doggie, and they only need to lie on this self-cooling mat for up to 3 hours to cool off and only require 15 minutes to recharge when not in use.
Safe for pups, as it is made of 100% non-toxic material and has been lab tested.
You can use it anywhere, whether it is indoors, outdoors or when traveling.
Cons
---
The exterior material is prone to tearing, especially if your pup's nails claw at it.
The pad can be dangerous for your pups, especially if the gel interior gets exposed because while it is made of non-toxic materials, ingesting the artificial gel can pose health problems in dogs.
#2 TheGreenPetShop Dog Cooling Mat
SALE ALERT!!
If you are looking for a dog cooling pad that is very effective but does not cost that much, then this Green Pet Shop Dog Cooling Bed is what you need. Just like other mats in the list, it applies the same technology. It automatically activates its cooling effect once your pooch lays on the panel.
The best thing about this cooling pad is that it reduces the temperature and can last up to three hours of continuous usage. Keep in mind that the longer the cooling effect a mat can provide, the better it is in giving comfort to your dog.
Use a clean piece of cloth dipped in a solution of water and mild soap to clean the mat. The mat is also machine washable.
One thing that we like about this product is its versatility at a lower price. Most dog owners can afford this pad. One can use it in a crate, on a sofa, in a car, or even outdoors.
Pros
---
Soft and cool, thanks to the patented activated gel mat, which can keep your pup cool for up to 3 hours at one time.
It is easy to use because you do not need to refrigerate, use water or charge with electricity, as all it needs is 15 to 20 minutes of recharge time during non-use.
It is portable and can be used anywhere like in a car, outdoors, in their kennel, or indoors.
It fits medium pups between 9 to 20 lbs thanks to its dimensions of 15.7 inches by 19.7 inches.
It is easy to clean and maintain because you only need a damp cloth to wipe it down.
Cons
---
It cannot be used under direct sunlight as the heat will destroy the cooling pad.
Over time, the gel interior becomes hard and uncomfortable for your pup to lie on.
#3 K&H Pet Cool Bed III
SALE ALERT!!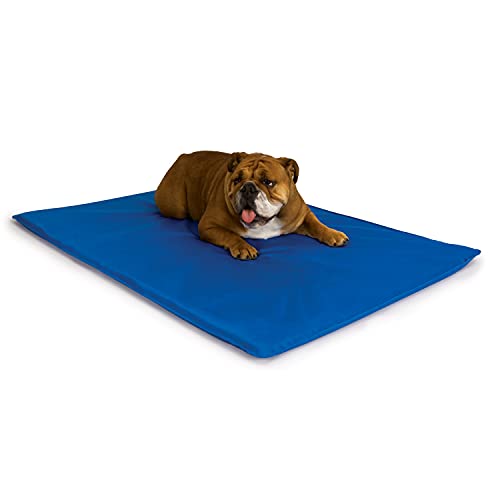 As compared to other cooling pads that use cooling gel, this one is different. It uses water to keep your canine cool when the temperature rises. All you need to do is to fill the bed with water and make your dog lay on it.
This cool bed is made of durable nylon and vinyl exterior that is designed to last longer and offers a 2-year limited warranty. The K&H Canine Cool Bed is available in three different sizes, namely Small with 1 to 1.5 gallons of water, Medium with 2 to 4 gallons of water, and Large with 4 to 6 gallons of water.
This K&H Pet Cool Bed does not require electricity to cool down, thereby eliminating the need for battery replacement. Moreover, the bed can be used outdoors and indoors, making it highly versatile.
Pros
---
It is suitable for most doggie sizes as there are three mat sizes to choose from.
To get the cooling effect, you only need to add water through an easy-to-fill cap opening.
You can adjust the mat's comfort using an easy air valve to adjust the mat after adding water into the mat.
It is suitable for use indoors and outdoors.
Comes with a two-year limited warranty from the manufacturer.
Cons
---
Leaks can be expected, especially around the seams, since it uses water for its cooling effect.
Soaking up the cooling water, the sponge inside the mat may detach to form massive lumps, resulting in some level of discomfort while your doggie lies.
#4 Coleman Pet Indoor Outdoor Cooling Mat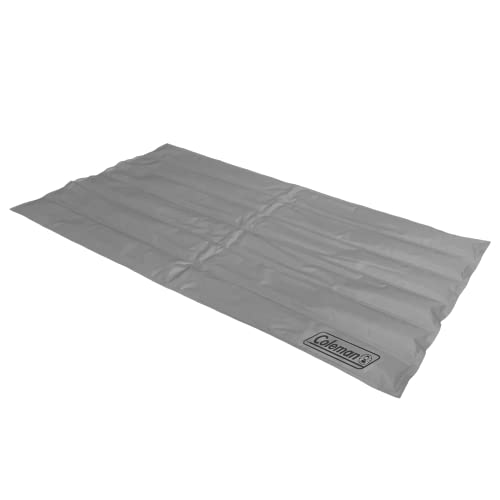 Consumers love it because of its generous size. It includes two size options; Large, measuring 20 inches long by 36 inches wide by 1 inch thick, and Small, measuring 12 inches long by 16 inches wide by 0.5 inch thick. The product is available in four colors, namely, Blue, Green, Red, and Silver.
This mat uses a cooling gel to achieve proper heat transfer. It is, therefore, not recommended to be used in the car because when the car gets hot, the bed gets hot too. Cooling gels typically perform best when positioned in cool shady areas.
You can use Coleman cooling mat both indoors and outdoors since it is always cooler than its surrounding. You can also choose from two color options.
Pros
---
There are four colors to choose from, namely silver, red, blue, and green.
It is suitable for small and medium pups as it comes in two sizes, which are small and large.
The cooling effect comes from the cooling gel interior and does not need water or electricity.
It can be used during travel, indoors and outdoors, so your pup can cool off wherever you go.
The cooling gel is made of non-toxic material, which means it is safe for your pups.
Cons
---
The gel can pop out after frequent use, which is dangerous for your pets if they eat it.
Instead of cool or shaded places, the mat loses its cooling effect if used under direct sunlight or in hot vehicles.
#5 MICROCOSMOS Chillz Dog Cooling Mat
SALE ALERT!!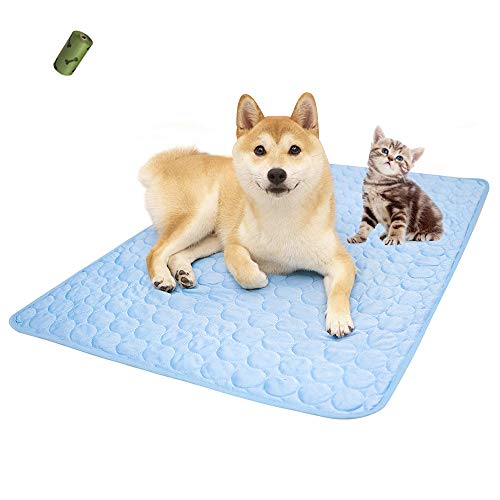 These pressure-activated gel pads by MICROCOSMOS do not require refrigeration or the need to cool down the mat before use. The pad can stay cool for up to three hours. This is a versatile mat as you can use it anywhere – in the car, crate, on the floor, and even outdoors.
The MICROCOSMOS cooling pad is handy and ideal for travel. It can provide relief to your pooch's muscle and joint pain. It's perfect for senior dogs. You can also use it for cats.
Pros
---
The design helps with cooling and breathability, with the inner layer containing thin fluffy material and the bottom layer made of knitted knitting fabric.
It is made of safe, non-irritating, chemical-free fibers and does not need electricity or water for the cooling effect.
The fabric used to make this mat is easy to clean, especially in a washing machine.
Comes in four rectangular sizes, and there is also a round shape option available to fit most doggie sizes.
It has a waterproof rubber bottom to help with moisture absorption and protect your surfaces from leaks.
Cons
---
The thin fabric design means that it can be uncomfortable for some pets as they may feel like they are lying on hard ground.
Under extremely hot temperatures, especially during the summer, the fabric may not help with cooling and will instead heat up.
#6 URIJK Cooling Dog Bed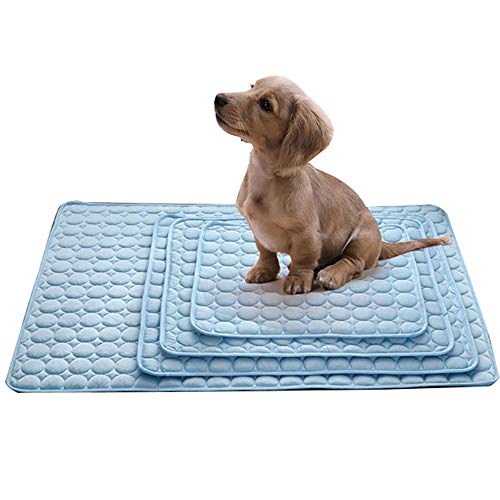 This soft, breathable cooling mat is non-toxic and skin-friendly. It is recommended for small, medium, and large dogs as it is available in four sizes. It is made with soft fabric with a comfortable design.
This bed is also ideal for sick dogs and dogs with mobility problems. You can position it in the car, on the floor, on the bed even outdoors.
This dog bed from URIJK does not deform easily. It protects your couch, chair, bed, carpet, or floor. It is portable and lightweight for you to take it anywhere.
Pros
---
It is soft and helps cool your pup instantly, thanks to the silky smooth exterior of the mat.
It offers breathability and ventilation during hot weather as it has mesh fabric.
It is easy to clean either by hand or by a washing machine.
Comes in two colors and four sizes to fit most pup breeds.
You can use it in a pet crate, indoors, outdoors, and even in vehicles during travel.
Cons
---
The cloth exterior will not exhibit the desired cooling effect under extremely high temperatures.
Pet claws can destroy the mat material, which means you need to replace it often.
#7 CoolerDog Dog Cooling Pad
CoolerDog Dog Cooling Pad Dog Cooling Products Hydro Cooling Mat 2 Pack for Large Dogs
HELP YOUR PET STAY COOL: The Cooler Dog Hydro Cooling Mat is an innovative pet cooling solution designed to help your...
COMFORT AND PERFORMANCE: The Hydro Cooling Mat combines a waterbed cushion, a FlexiFreeze Ice Sheet with 88 ice cubes,...
VETERINARIAN APPROVED: The Cooler Dog Hydro Cooling Mat is made with non-toxic, veterinarian-approved materials and...
Unlike other cooling pads that use gel, the CoolerDog Cooling Pad uses a re-freezable ice sheet as it is able to draw heat from your dog ten times better. Also, you don't have to worry about your pooch ingesting it. It is made of durable material, so your dog will not be able to tear it easily.
This is a good option if you are looking for a non-gel-based cooling mat.
We like the idea that it is not made of gel which can be potentially toxic when ingested.
Pros
---
The cooling effect is made possible by the waterbed cushion, the FlexiFreeze Ice Sheet that holds up to 88 ice cubes, plus an insulation layer.
Made of non-toxic materials, which means it is safe for your pups.
The mat's size can be increased thanks to snaps on three sides to help connect multiple mats.
The durable exterior material helps to minimize ripping and is also easy to clean using a washing machine.
The pad can be used in transit, outdoors, or indoors because it is easy to fold and store.
Cons
---
It can get thick and uncomfortable when the ice cubes are inserted.
The mat can start leaking during use, especially when the ice cubes start melting, causing an increase in the volume of water the mat carries.
#8 Dora Bridal Pets Self Cooling Mat
Looking for a cooling mat with an innovative design? This Dora Bridal Pets Cooling Mat is the one you are looking for. It is made of puncture-resistant material that does not need refrigeration to keep it cool.
Your pooch will be very comfortable with its solid gel construction that provides relief during hot days. It can also help relieve muscle and joint pains.
Only a few brands of cooling mats that are available in various sizes. This mat is available up to an extra-large size which is what we like about Dora Bridal Pets.
Pros
---
It is quick cooling thanks to the Solid Gel Construction, which helps to absorb your doggie's body heat.
Made of a no-puncture, lightweight exterior material, which is comfortable against your pup's body.
There are two sizes available, namely Small and X-Large, and can comfortably fit a furry friend of up to 110 lbs.
Easy to clean and is also durable as you can easily hand wash the mat, and this helps to retain its shape for a long time.
Has anti-slip latex bottom, which can be used on seats, floors, the outdoors, and in vehicles, which makes it easy to use anywhere.
Cons
---
The interior padding gets loose and bunches up, which makes it uncomfortable for pups to use.
Doggies who are chewers, or clawers, can destroy the mat with ease.
---
Dog Cooling Mats Buyer's Guide
---
According to experts and veterinarians, dog owners should be very vigilant when the temperature starts to rise. The high temperature can cause serious problems for your dogs.
The reason is that dogs cannot sweat, which makes them less effective at cooling down themselves on hot days.
They might suffer from heatstroke, which can be deadly for dogs. Canines are at a higher risk if they are not given the right cooling pad or other means of cooling them down. Many dog owners are not aware of this and are unaware of the dangers.
Related: Best Dog Summer Shoes
Types Of Cooling Pads
The primary purpose of this mat is designed for your pooch to lower its body temperature. There are two types of cooling pads available in the market. They are:
Water Beds
These types of mats are almost similar to a water dog bed. It is filled with water which serves as the heat-absorbing substance of the product. However, this is less popular as compared to the other option.
The reason for this is that it is dependent on the quality of the fabric that contains that water. With a small puncture, the pad will be unusable. A water dog bed cooling mat will be quite susceptible to punctures from your canine's nails.
Gel Pads
You will notice that most of the cooling pads on the market today use gel to absorb heat. Some of the reasons are it is much easier to clean, and it requires less maintenance.
Also, the gel pads are more flexible and easier to carry around. You can also store it in any space. These cooling gel pads are similar to the anti-fever patches that are usually placed on the kid's forehead if they have a high fever.
Related: Best Dog Pools
Factors To Consider In Choosing The Best Cooling Dog Pad
You don't just buy the first cooling mat that you see on any retailer. There are factors that you need to consider when deciding which product to buy, and some of them are as follows:
Thermal Efficiency
The thermal efficiency of a dog cooling mat can be affected by various factors like the temperature gradient between the mat and the dog, the physical properties of the substrate used in the pad, and the cross-section of the product.
This is the reason why cooling pads are different, even if they have the same features. Some mats can cool down your dogs for 2 hours, while others can do it up to 5 hours. It is best to choose the one with a longer cooling effect.
Durability
Choose a product that is durable enough to last longer. Sad to say, there are lots of cooling mats that are not able to survive the tenacious chewer. Generally, look out for a dog cooling mat that is made from nylon – this material is known to be a durable material, even for heavy chewers.
Ease Of Cleaning
Choose a cooling mat that is easy to clean. Good thing that most of the cooling pad manufacturers use waterproof material that you can easily wipe.
Keep in mind these items are still made of fabric materials. Never use chemicals or harsh cleaning solutions that can affect the integrity of these materials.
Automatic Dog Gel
Most dog owners prefer this kind of mat because it is known to be very effective in cooling your dogs and is the most expensive mat. This pad is pre-filled with a cooling gel that is usually lower than the temperature outside by five to ten degrees. It provides a longer cooling effect for your dogs.
Portability
There are other things that you can use to help cool down your furry friends. Some dog owners prefer cooling having a dog bed, but for some, it is not the best choice because they are more concerned about the bulkiness of the item.
The best cooling pads should be easily foldable or rollable for easy storage and transport on trips.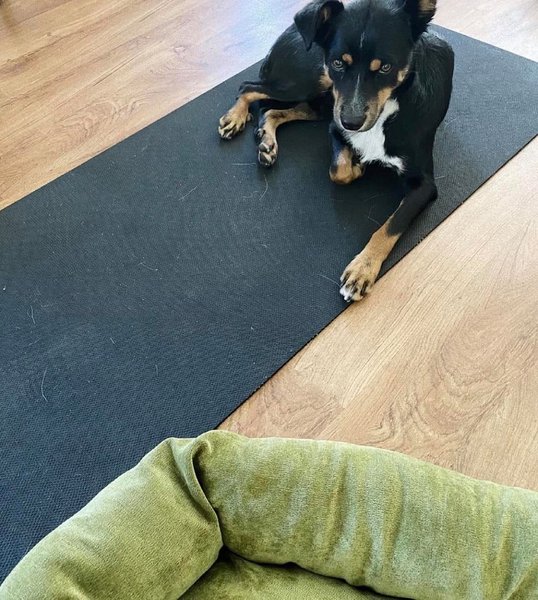 Size
It is essential that the cooling pad you choose is big enough for your dog. The purpose of choosing a bigger size is to maximize the rate at which your canine's temperature drops.
If the cooling mat is too small, your dog won't fit on it completely, and parts of its body will be outside of the cooling surface. Ideally, it is best to choose a bigger mat as possible so your pooch can move around when some parts become warm.
Safety
The manufacturers of cooling mats make sure that the gels inside the pads are 100% non-toxic and will not put your dog's life at risk when they accidentally consume it.
Even if they are safe, it is still best to keep an eye on them and stop them if they start biting the mat. If you have a curious four-legged friend that scratches and chews at things, it is best to choose the aluminum version rather than the gel-based. They are safe for your pooches.
How Do Cooling Pet Mats Work?
To understand how cooling mats work, it is important to know how thermal energy is being transferred from one object to another. This is what is happening in a cooling pad.
If you place the mat on the kitchen floor, which is cooler than your dog, the heat will flow from his body into the floor until they both have the same temperature.
This is what happens when your dog lays on the cooling pad. The pad is cooler than your pet dog, so it attracts heat from its body and cools it down.
---
Final Thoughts
---
What makes a dog happy is a cooler dog with a cooling pet mat! After reviewing the list of cooling mats above, we find our top pick as the best dog cooling mat. This product has satisfied the needs of many customers and performs well as compared to others.
Although it is one of the most expensive cooling pads, it is also one of the most durable mats. It does not only provide greater value, but it is also a safer option since your dog is less likely to consume the gel inside. We do hope that our article was able to help you decide on the best cooling mat for your furry friend.