The best elevated dog bowl is Pet Zone Designer Diner Adjustable Elevated Dog Bowl.
For dog owners who have back problems, arthritis, or other physical disabilities that make bending down to give your pup a drink difficult, an elevated dog bowl is an excellent solution. Elevated dog bowls provide you with the convenience of always having your pup's water dish at eye level and within arm's reach!
They also prevent dogs from gulping down air which can lead to bloating.
The best elevated dog bowls are made of stainless steel or ceramic. They can be dishwasher safe, which is a huge plus! The bowl should have rubber pads on the bottom to prevent sliding and scratching your flooring.
We'll go over some advantages and disadvantages of using an elevated bowl, as well as what type of bowls are the best elevated dog bowls for your pup!
#1 Pet Zone Designer Diner Adjustable Elevated Dog Bowl
Out of every pick on this list, it's hard to find one that can offer you better value for money than the Pet Zone Designer Diner. This elevated dog bowl features superior build quality and a few features that help put it a step above the competition. Unlike other models, this one features three levels of adjustability so that it can grow with your dog.
You also won't have to worry about storing legs of different lengths without losing them, as this raised dog bowl uses the same legs for the highest and second-highest settings. If you want to keep the elevated dog bowl low for puppies, you can simply remove the legs altogether, making the design as simple as possible.
Due to its lack of complexity, this raised dog bowl has fewer parts that can go wrong, ensuring that it can last for as long as possible. The Designer Diner elevated dog bowl even comes available in black, blue, and pink, so that you can get a product that matches your decor and your pet's personality.
They are made of stainless steel to ensure that they don't rust, and they're also easy to clean. When you're not using the legs, they fold up under the feeder so that they don't get lost, so this product has everything covered.
We think that the adjustable height is the best feature of this elevated dog bowl. You can change the height to tailor it to your dog, which makes it really versatile.
Pros
---
This elevated dog bowl from Pet Zone is available in black and can be adjusted to three heights, which are 2.75, 8, and 12 inches, to suit different dogs of any size.
It is easy to store away as you can remove the legs and tuck them away into any space, which also makes it great for travel.
It comes with two stainless steel feeding bowls which are easy to clean and hygienic for your doggies.
The legs of this elevated dog bowl are fitted with non-slip pads that keep the feeder in place and avoid moving or skidding.
The feeder has a spill ridge that will catch any spilled food or drinking water, and this keeps the floor area clean.
Cons
---
When configured to its maximum elevation, the feeder's legs become much narrower than the feeder base, and this may cause it to topple with a bump.
The stand can get wobbly, as it does not come with fittings to be secured onto the floor or wall.
#2 IRIS Elevated Dog Bowl
SALE ALERT!!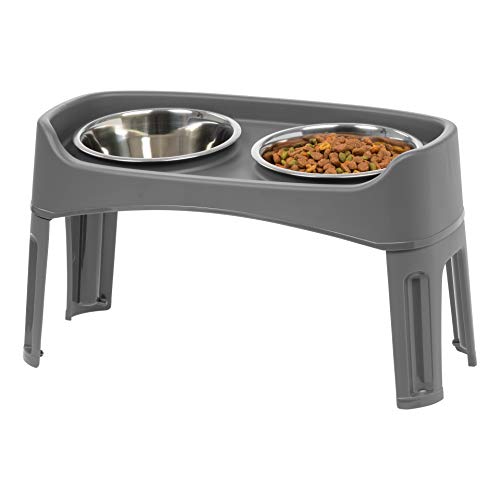 The elevated dog bowl from IRIS is a little more affordable than some of the other choices we've included, and it has a few things that set it apart from other budget feeders. The first thing you'll notice about this model is the size, as it's about 12 inches high and 21 inches across, giving your pet pooch plenty of room.
One more key distinction from other elevated dog bowls is that this model comes equipped with removable dog bowls that help ensure that you can clean them with ease. The integrated dog bowls are made out of stainless steel, which is resistant to corrosion, and they are both dishwashers safe.
Around this elevated dog bowl model, you'll find a rim that helps ensure that particularly aggressive eaters don't end up causing a mess. While the body of this dog bowl is made out of plastic, it's far more durable than other products, which helps ensure that it can last for a longer time.
We also loved that this elevated dog bowl is a lot easier to put together than competing models, as you just have to snap on the two legs without tools and slide the dog bowls in. There is also sufficient distance between the two dog bowls to ensure that water doesn't end up getting into your dog's food, or vice versa.
This elevated dog bowl from IRIS comes with a few features that you would never expect to see in a budget product. Along with its excellent degree of durability and its affordable price point, you can find this model available in a variety of unique colors.
Pros
---
This12-inch tall dog feeder station from IRIS is made of durable plastics, which are safe and easy to clean.
It comes with two stainless steel feeding bowls which are rust-proof, hygienic, and easy to clean.
The legs can easily be removed to cater to smaller pets and pups, as well as for the purpose of easy storage.
The plastic stand has a raised outer rim that holds spilled food and water, and this keeps the surface around the feeder clean.
It is available in four colors that you can choose from, namely Dark Grey, Almond, Black, and Red.
Cons
---
The screws do not align well, and this makes the legs uneven.
As it is not fastened to the floor or wall, your doggie can easily topple over the feeder.
#3 FOREYY Raised Dog Bowl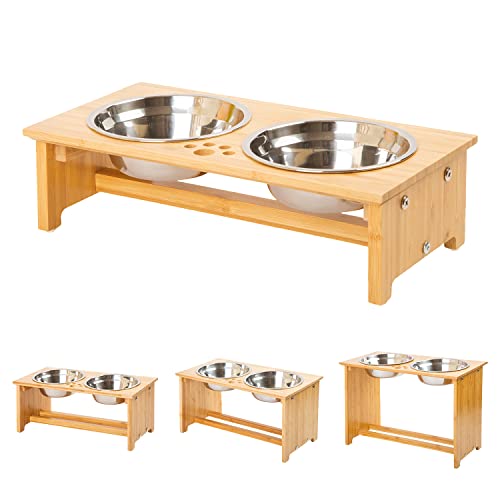 FOREYY's entry on our list is a little more stylish than the other options available. Their elevated dog bowls feature a bamboo wood frame that will look good in any home. If you want to add a touch of class to your dog's feeder, then a few options will match this one. To ensure that the wooden frame stays in place, it features anti-slip feet.
Thanks to bamboo being one of the most durable woods in the world, this elevated dog bowl not only looks good, but will also last for a longer time than a wooden raised dog bowl. The frame and the stainless steel bowls are water-resistant, helping ensure that this raised dog bowl can endure for as long as possible.
The inclined bowl insets on this elevated dog bowl also help prevent them from moving around while your dog eats, which can help ensure that you have less cleanup work to deal with. This model comes available in three different sizes and lacks any form of adjustability, which is the only complaint we have with it.
For those of you that want your dog's raised dog bowl to contribute to the overall decor of your home, this is the best choice on this list. As a bonus, this dog feeder is much more durable than other wooden models thanks to its use of bamboo.
Pros
---
This raised dog bowl from FOREYY is available in four height options – 4, 7, 10, and 14 inches – all of which cater to both small and large dog breeds.
These raised dog bowls help with proper food digestion for your pup and also protect them from strained necks or legs as they can comfortably stand while feeding.
Comes with two steel feeding bowls which are easy to clean and long-lasting.
This stand is made of natural bamboo, which makes it attractive to the eye and is easy to maintain.
Comes with anti-slip feet, which prevent the stand from skidding and spilling food or water.
Cons
---
If left unattended, the bamboo stand can gather mold and weaken over time.
It comes with many screws, and this takes time to assemble.
#4 OurPets Comfort Elevated Dog Bowl
SALE ALERT!!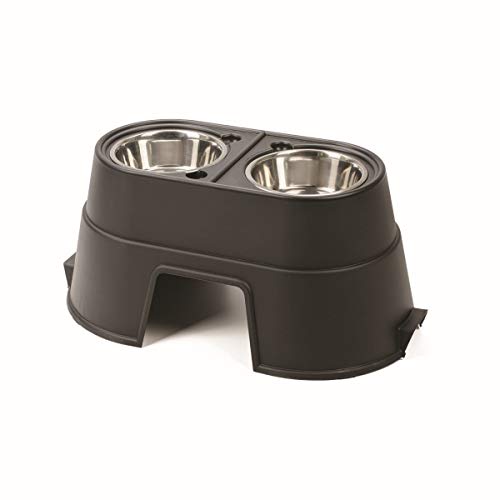 OurPet's Comfort Dog Feeder features a different design when you compare it to the other choices available, as it's distinctly conical. As with most high-quality dog feeders, this one includes two stainless steel bowls that are fully resistant to corrosion, meaning they're ideal for both food and water.
A unique feature of this dog feeder is that it comes equipped with a constant water supply. All you have to do is place an inverted bottle filled with water in the feeder, and your dog will have something to drink all day long. This elevated dog bowl is also larger than some of the alternatives, making it a great choice for big dogs.
The inclusion of a ridge helps ensure that nothing spills over the edge of the feeder, particularly water, though it also helps with food. Due to the bowls' resistance to corrosion, they can also be thrown in the dishwasher for quicker cleaning, making them far more convenient for you.
The Comfort Dog Feeder from OurPets is larger than many competing models, and the inclusion of a spill ridge and dishwasher-safe design help make it one of the best when it comes to ease of cleaning.
Pros
---
This elevated dog bowl from OurPets is available in Black and comes in heights of 4, 8, and 12 inches.
Each purchase comes with two stainless steel bowls to hold dog food and water such that you do not have to worry about them staying hungry and thirsty.
The bowls and stand are easy to clean and maintain.
The elevated feeder is perfect for aiding in proper food digestion for your pup as they can comfortably stand while feeding.
The design also serves as an auto-fill pet bowl so you can place extra water for your pets to stay hydrated.
Cons
---
Water can accumulate under the water dish after spilling, and this needs constant draining or drying with a cloth.
It is not stable and can skid or topple over if an overactive pet bumps into it by accident.
#5 Petmate Easy Reach Elevated Dog Bowl
SALE ALERT!!
Petmate has created the Easy Reach Elevated Dog Bowl as their contribution to the elevated dog bowl market, and this product is similar to the last one in that it's easy to clean. The removable dog bowls help ensure that you can thoroughly clean them by getting to hard-to-reach places, and they are dishwasher safe.
It also comes equipped with bone cutouts that make it easier to reposition the feeder, making it perfect for storing away when guests arrive. Another similarity to the previous product is that the EZ Reach Diner features a rim around the edge that will prevent food and water from spilling out.
The stand is made of resilient plastic which is designed to last longer than the material used on other elevated dog bowls, but it also helps keep the EZ Reach Diner stable. Since the plastic doesn't flex, you won't have to worry about your dog moving it around or possibly knocking it over.
If you want a dog feeder that combines durability with stability and ease of cleaning, this is the perfect option, as it is also priced far more reasonably than other products with the same capabilities.
Pros
---
This plastic feeder from Petmate comes in a pearl/black tan and is available in medium and large sizes to cater to pets at all life stages.
This feeder comes with two feeder bowls made of stainless steel and can hold up to 12 cups of food to comfortably fit your pet.
The BPA-free plastic stand and food bowls are dishwasher-safe and easy to clean.
The raised bowl rims help to prevent spillage to the floor or surface the stand is on.
It helps to prevent neck straining and also aids proper digestion as your pup does not have to painfully bend over to feed.
Cons
---
The feeder causes large leaks, which can be a hazard both for doggies and their owners.
Some owners noted that the bowls have cracked and corroded after some time.
#6 Dogit Elevated Dog Bowl
SALE ALERT!!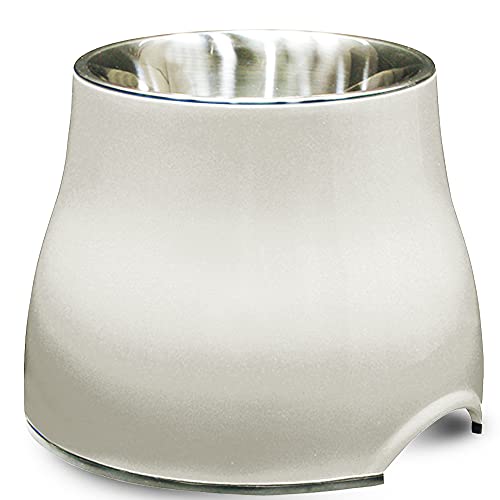 This raised dog bowl from Dogit is a great option for puppies, as the four-inch variant is lower to the ground than some of the competing models. This is also ideal for small dogs, as it will allow them to eat healthily without having the feeder be too far out of reach for them.
As with many of our favorite options, this one has an integrated spill ridge that will prevent food and water from ending up on the floor. This elevated dog bowl also features a sleek, modern design to help ensure that it will fit in with everything else in your home.
The non-skid foot pads on the legs of this raised dog bowl ensure that your dog won't accidentally jostle it around as they eat. If you have larger dogs, you can also find this elevated bowl available in 8-inch, 12-inch, and 16-inch sizes.
Since we reviewed the 4-inch model of these elevated dog bowls, we'd highly recommend them for smaller dogs, and also greatly appreciate its sleek design that can fit in nearly any home. It does come with a larger version, at 7-inch in height.
Pros
---
It is available in small and large sizes and comes in four different colors, which include Black, Blue, Pink, and Off-White.
It is perfect for small doggie breeds and other pets and measures 4.875 x 4.875 x 6 inches.
It comes with a feeding bowl whose capacity is 10.1 fl oz or 1.25 cups of food, which can comfortably feed your pet.
The bowl is removable, which makes both the stand and bowl easy to clean and maintain.
Has anti-skid feet, which keep the feeder in place as your pup is feeding.
Cons
---
This dog bowl from Dogit is too low for some pups, especially for taller dogs, causing further strain to the neck and poorer digestion.
Some pup owners noticed dark silver discoloration after cleaning the bowl, which can be unsafe for pets to drink from.
#7 Bergan Elevated Double Bowl Feeder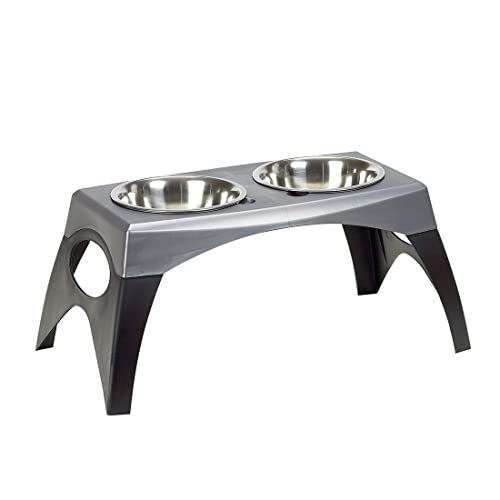 Bergan Elevated Double Bowl Feeder
The Bergan Elevated Double Bowl Feeder, Large, combines form with function for the ultimate in convenience for you and...
Removable legs make the Elevated Feeder adjustable, and the stainless steel bowls are easy to remove for cleaning
Great or large dogs and for aging dogs who might have trouble bending down to eat from bowls placed on the floor
The final option that we reviewed is the Elevated Double Bowl Feeder from Bergan, and this product is also one of the better-looking options at your disposal. With its metallic finish and black legs, this dog feeder looks great, and since the legs can be removed, it will grow with your canine companion.
This model is available in three sizes ranging from medium to extra-large, and we reviewed the large option, which is between the two that we just mentioned. Due to the larger size of this elevated dog bowl, it will work better for dog breeds that are a bit taller.
The plastic in this double bowl feeder is BPA-free for the safety of your pet dog, and it's injection molded, which helps improve its durability. The only thing that left us disappointed was that it's harder to assemble this dog bowl than with other products.
If you need an adjustable dog feeder that looks great, you'll love this Bergan model, just keep in mind that you'll have to put a little more effort into assembling it, as the pieces don't connect easily. It comes with 2 stainless steel dog bowls too!
Pros
---
This bowl feeder from Bergan is made of injection molded plastic and measures 13 x 11.1 x 24 inches.
It comes with two 1-quart/6-cup bowls that can feed and hydrate your pets.
You can adjust the feeder by removing the legs, and this can cater to shorter doggie breeds and other pets.
The bowls are removable, and this makes both the stand and the bowls easy to clean and take care of to prevent your pet from taking contaminated food or water.
It is ideal for elderly doggies that have a hard time bending and helps them to properly digest their meals.
Cons
---
As it is made of plastic, it can easily crack or break, which will prompt you to get a replacement feeder.
The feeder can easily topple over if overactive pets try to feed from it.
---
Elevated Dog Bowls Buyer's Guide
---
Dogs are always hungry, and often eat too quickly. This can lead to many health issues such as bloat, hairballs, and other digestive illnesses. Elevated dog bowls help slow down eating which in turn helps prevent these illnesses from happening!
The elevated bowl is made of durable plastic that will not rust or corrode over time as metal does. It features rubberized feet that keep it from slipping on the floor so your pup can enjoy their food without any worries about spills or accidents at mealtime.
The pet owner's needs are also looked after with this product because the elevated feeder keeps water away from food so there's no chance for contamination between what they're drinking and what they're eating – an all-around win-win solution.
Related: Best Slow Feeding Dog Bowl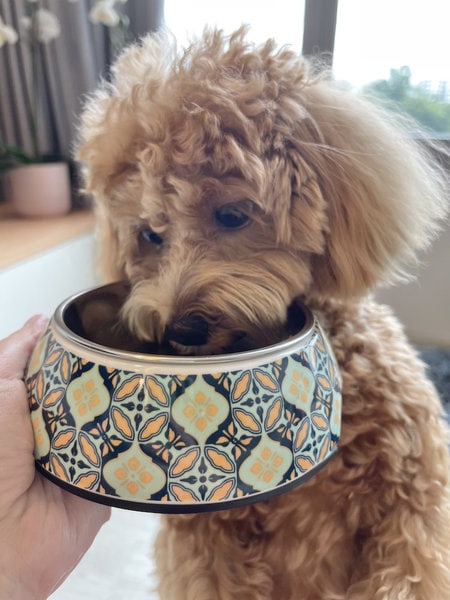 Adjustability
The first thing to check for is whether or not your elevated dog bowls are adjustable. One with replaceable legs can often grow with your pooch, ensuring that it's always at the correct height for them. Other models will feature versatile legs that can be positioned in various ways for different heights, making them much more convenient.
Related: Best Automatic Dog Water Dispenser
Material
The material that your dog feeder is made out of can help ensure that it lasts for a longer time, but it can also determine whether it's safe for your furry friend to eat from. For example, if there are plastic components to your feeder, you'll typically want to be sure that they are BPA-free, as plastics with them can contain harmful toxins.
Food Storage
Whether or not your dog's elevated dog bowl comes included with food storage will determine how convenient it is for you to prepare it for supper time. A lot of products will feature sealed food storage that can help prevent your dog's food from spoiling as it sits there. Many products have storage as an optional accessory.
Related: Best Dog Food Storage Containers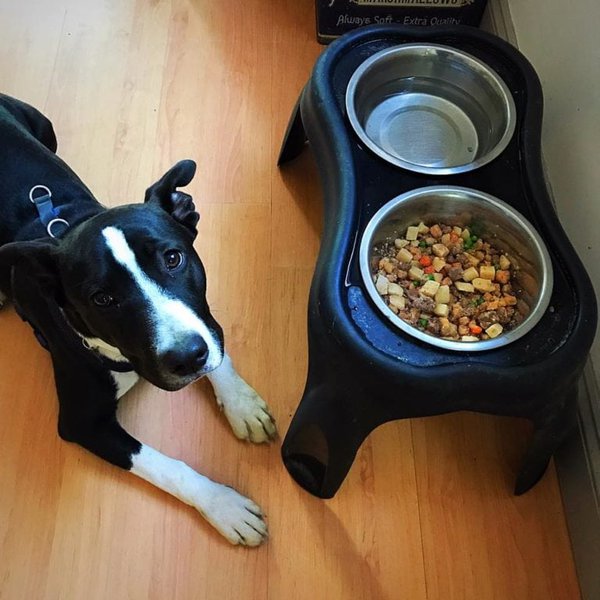 Ease Of Cleaning
Whether or not it's easy to clean up your dog's elevated feeder will determine how likely you are to use it, as nobody wants to deal with something that's a hassle to clean up. The best options will come equipped with removable stainless steel bowls in which you can clean all of the nooks and crannies, where food will tend to fall and get stuck.
Size
When choosing the right sized dog food bowl, you'll want to consider whether your dog is growing, how big they are when fully developed, and if there are other dogs in the house. If you have two dogs of varying sizes, you may be better off getting each one an individual elevated dog feeder to ensure that they are both comfortable.
Build Quality
The final aspect to account for is the build quality of your elevated dog bowls, as a well-made one will likely never need to be replaced. If you don't have to buy a replacement feeder, you can save some money in the long run. You also won't have to wait for the new feeder to arrive if the old one never breaks.
---
Final Thoughts
---
Now that we've covered our seven favorite products in this category, you're probably wondering what put the Designer Diner from Pet Zone at the top of our list. To put it simply, the bowl offers the best value for money, as it features a similar price point to the competition, but it also has vastly superior build quality.
The option to choose between three different colors is just the icing on the cake for this excellent product. An elevated bowl can help promote better digestion and ease the stress on your dog's joints. We hope that this guide has made it easier for you to find the right elevated dog food bowl or feeder for your canine companion.