The best dog muzzle is The Company of Animals Baskerville 5-Inch Rubber Ultra Muzzle.
A dog muzzle is a device that covers the mouth of a dog to prevent it from biting or eating things it shouldn't. Muzzles are either made of plastic, wire, metal, or cloth and can be used for different purposes such as training or protection.
Muzzles can also be helpful for situations such as vet visits, exercise times, training sessions, and grooming. Dog owners have found them useful for preventing their pets from chewing on furniture legs, digging holes in the yard, and consuming toxic substances like antifreeze.
For some dog lovers, the thought of having your precious pooch attached with a dog muzzle can be scary. However, it's for the safety of your furry companion and their immediate surroundings.
We will go through in detail why you might need a dog muzzle, the pros and cons of having one, and a well-researched buyer's guide. Read on for the list of the best dog muzzles!
#1 Baskerville Ultra Dog Muzzle
SALE ALERT!!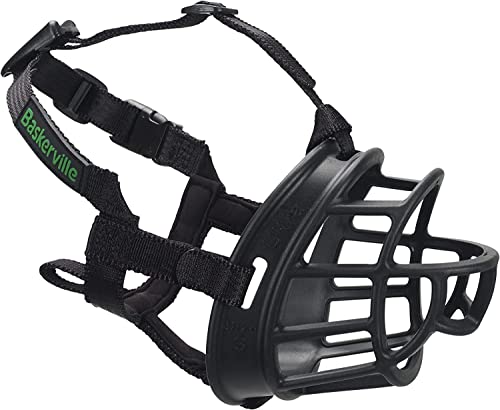 Having pants looking for an ideal dog muzzle? Breathe easy with Baskerville 5-inch Rubber Ultra Muzzle. This product is proclaimed the world's best muzzle due to its ergonomic design in providing your beloved pooch with the ultimate comfort, and yet serving its full purpose in the prevention of unwanted bites, wound licking, and aggressive barks.
The product's secure strapping is because it has additional attachment points at the dog's collar and a removable over-head safety strap. In addition, neoprene padded lining with fully adjustable neck and head straps with pre-holed webbing further enhances the comfort level of your furry companion.
This lightweight adjustable dog muzzle is soft yet immensely durable and tough to ensure your pooch is at ease and well-protected while going about their daily routines. Be completely at ease just as how your precious pooch will be with this top-quality dog muzzle. What are you waiting for? Get one today!
We really like the patented ergonomic design by Dr. Roger Mugford, Britain's leading animal psychologist as it provides excellent comfort to our furry companions. It allows them to go about their daily routines freely without sacrificing the essential functionality of a muzzle.
Pros
---
The Baskerville Ultra dog muzzle features an ergonomically designed safety strap that is intended to keep the muzzle securely in place.
The neoprene padded lining of this Baskerville product ensures that the muzzle is comfortable for pooches to wear.
This Baskerville muzzle is designed in a way that customers can feed their dogs treats, while wearing the muzzle, to reward good behavior.
The malleable thermal plastic material used to manufacture this dog muzzle can be heated with hot water and reshaped to provide a customized and more appropriate fit for a pooch.
The Baskerville canine muzzle comes with neck and optional overhead straps that can be fully adjusted to provide a secure fit for dogs.
Cons
---
Several customers have remarked that it was considerably easy for their canine buddies to remove this Baskerville muzzle.
There are several reports of this muzzle not fitting well, despite measurements carried out according to provided instructions, and the Baskerville brand operates a no-return policy for non-fitting muzzles.
#2 Dog Muzzles Suit by CooZero
SALE ALERT!!
The dog muzzles suit from CooZero is recommended for the dog owners who are tight in the wallet. It comes in 7 different sets with varying sizes that will ensure a perfect fit for your pet.
Made from waterproof oxford cloth, you can be assured of the comfort for your pet due to its lightweight and material quality properties. It is resistant to both water and dirt and can be reused with minimal cleaning.
What's more, you are guaranteed free replacement or 100% money back in the event you are dissatisfied with this product.
It is always satisfying to know that the supplier has displayed such great confidence in their product quality − Good value without compromising quality. This has earned it our best value pick amongst the rest.
Pros
---
This canine muzzle product comes with a fully adjustable strap and buckle system that makes the muzzle easy to fit and use on a dog.
The inclusion of quick-release buckles in this product's design ensures that customers can promptly and conveniently remove and wear the muzzle on their dogs as needed.
The premium nylon material used to produce this CooZero canine muzzle is soft and breathable to ensure the comfort of the dog wearing the muzzle.
The dirt-proof material used to manufacture Dog Muzzles Suit can be conveniently cleaned with a washing machine when there is a need to do that.
This canine muzzle package from CooZero contains 7 differently sized muzzles to ensure an appropriate fit and compatibility with dogs of all sizes and ages.
Cons
---
There are several claims that this dog muzzle is made with non-durable material that tends to tear easily, especially when used with large or aggressive dogs.
Multiple customers have also bemoaned the short straps that reportedly came with their CooZero dog muzzles.
#3 Lepark Nylon Dog Muzzle
SALE ALERT!!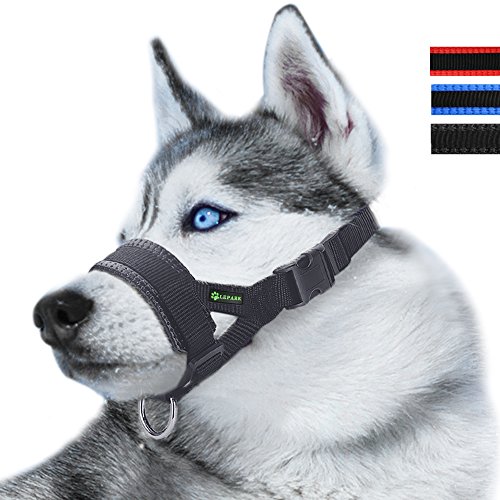 Lepark Nylon Dog Muzzle for Small,Medium,Large Dogs Prevent from Biting,Barking and...
Please check the 7th image in the left side of the product web page and product description part,which will teach you...
NOTICE: Place your forefinger under the tape muasure to ensure enough space for your dog to be comfortable.Your dog must...
MEASURMENT:Measure circumference of dog'mouth and dog neck.Please check the size map and choose suiable size .Please...
If you prefer a basic and fuss-free design, the Lepark Nylon Dog Muzzle will be just about right for you. As with the simplistic visual aesthetics, adjusting and taking on/off the muzzle for your little companion will be an absolute breeze.
However, it might not be that effective in the inhibition of barking and biting for larger and more energetic breeds as the single stitched nylon muzzle might loosen up, and eventually be undone by the paws of your doggie.
The basic functional design presents a more humane approach to restraint your dog from barking and biting while ensuring your dog doesn't feel indifferent wearing it.
Pros
---
The premium material padded layer of this canine muzzle, which is made of soft cotton lining, ensures that dogs can wear the muzzle for a considerable period without harming their skin.
This nylon dog muzzle is available in 6 different size options, ranging from small to extra-large, to ensure a comfortable fit for pooches of different ages and sizes.
The inclusion of quick-release buckles on this Lepark product makes it possible for customers to remove and wear the muzzle on their dogs effortlessly.
The Lepark dog muzzle comes with a metal D-ring for the attachment of a leash to provide even more control over a pooch.
The adjustment buckle that comes with this canine muzzle can either be loosened to provide comfort or tightened to exercise more restraint over an aggressive dog.
Cons
---
Some customers claim that their pooches can take off this muzzle, simply by pawing at the buckle and strap.
#4 BARKLESS Silicone Basket Dog Muzzle
Fretting over your dog's habit of chewing away your furniture, incessant barking, or eating trash food? The BARKLESS Silicone Basket Muzzle might just be the solution for you. It provides firm attachments with the overhead straps and to the dog's collar – keeping the muzzle firmly in place to prevent unwanted incidents from happening.
The silicone basket is soft and flexible, and the area around the basket muzzle is well-ventilated to allow your pooch to drink, eat and pant at its own comfort and pace. In addition, the neck and face safety straps are neoprene padded for extra comfort.
We love the fact that the basket design allows the dog to be well-ventilated with unrestricted access to drinking, panting, and, last but not least, dog treats!
Pros
---
The basket design of the BARKLESS canine muzzle is effective at preventing dogs from barking and chewing dirt, furniture, and upholstery, while also ensuring that pooches can breathe properly while wearing the muzzle.
The safety strap that comes with this BARKLESS product ensures that the dog muzzle stays securely in place after it has been worn.
The reflective stripes feature on this silicone basket muzzle glow in the dark, thereby improving visibility and reducing the risk of accidents in low-light conditions.
The soft padded cotton layer of this canine dog muzzle is comfortable to wear for a pooch, and it also ensures that no damage is inflicted on the Fido's skin.
The inclusion of a safety buckle on this dog muzzle makes it easy to adjust and fasten the neck strap to provide a good fit for pooches.
Cons
---
There are some reports of highly anxious and agitated dogs still being able to bite through this muzzle.
According to customer reports, it is easy for some pooches to chew through the soft plastic material used to manufacture this basket dog muzzle.
#5 CollarDirect Dog Muzzle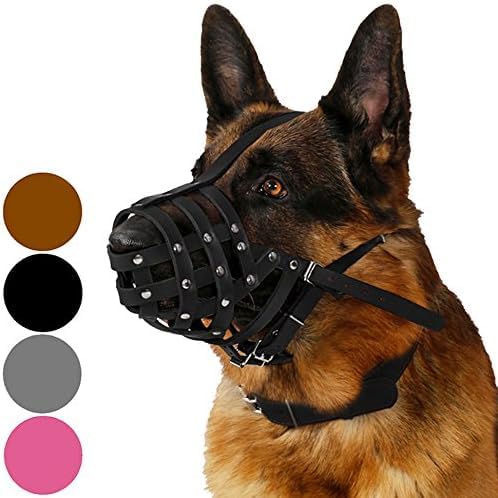 The CollarDirect Dog Muzzle is an absolute top draw for medium to large breeds like the German Shepherd – the very same breed the 46th POTUS has, Dobermann, Setter, and Dalmatian. This product is available in two sizes:
Size M – Circumference is 11″, length of dog snout is 4″
Size L – Circumference is 13″, length of dog snout is 4″
Like many other muzzles, this dog muzzle has adjustable straps to keep it secure and fitted to your dog. While it is slightly pricier as compared to other dog muzzles in the marketplace, it justifies the price tag with a handmade genuine leather muzzle complemented with high-quality craftsmanship.
We were particularly impressed with the top-notch craftsmanship and the great attention to detail put into the making of this product. Fashionable, functional, and comfortable – the three words to describe it all!
Pros
---
The basket design of the CollarDirect leather muzzle makes it possible for dogs to breathe properly and enjoy unrestricted ventilation while wearing the muzzle.
The CollarDirect canine muzzle is designed for, and effective at keeping dogs from barking and biting impulsively.
The two adjustable straps that come with this canine muzzle product can be utilized to provide a secure fit over a dog's snout.
This canine muzzle product is available in various color options to give customers a greater degree of customization when choosing.
This product is specifically designed for use on medium and large-sized dog breeds.
Cons
---
This CollarDirect canine muzzle isn't available in sizes that are compatible for use with small dogs.
This product comes with a considerable amount of buckles that make it difficult to put on quickly and with ease, especially when dealing with an agitated dog.
#6 Canine Friendly Short Snout Muzzle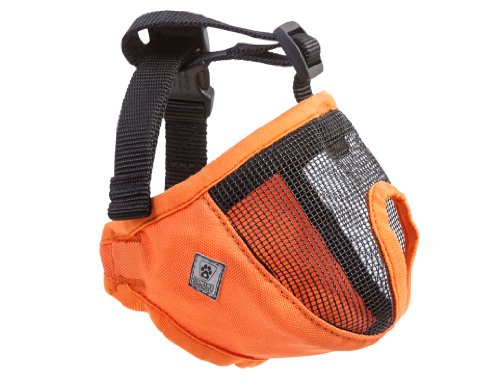 As the name implies, this is a muzzle designed for canines like French Bulldogs or breeds with shorter snouts. Muzzling is made easy for canines with short snouts by the product's adjustable slider, side release buckle, and soft padded bumper.
The breathable mesh front allows unrestricted breathing while still providing a good visual range for your little ones. Although the mesh dog muzzle restricts eating and biting, you will still be able to give your little ones a treat through the small opening located at the front of the muzzle, across your dog's snout.
The Canine Friendly Short Snout Muzzle is a popular choice for providing product functionality and comfort to canine with short snouts.
Pros
---
This Canine Friendly product comes with a breathable mesh that provides good ventilation and makes it easy for pooches to breathe while wearing the muzzle.
The design of the Canine Friendly muzzle is perfectly suited for use with dogs that have a short snout.
The inclusion of soft bumpers on this Canine Friendly product prevents the edges of the muzzle from rubbing on and irritating a dog's eyes.
The adjustable slider system and quick-release buckles incorporated in this product ensure that customers can conveniently and quickly muzzle their pooches.
The Canine Friendly muzzle features a front opening that allows customers to feed their dogs treats to reward and reinforce good behavior.
Cons
---
The design of this muzzle doesn't allow dogs to open their mouths to pant and keep their body temperature down, which can be dangerous for brachycephalic dog breeds.
The lack of a neck strap on this short snout muzzle makes it easier for dogs to pull the product off.
#7 BARKLESS Dog Muzzle Leather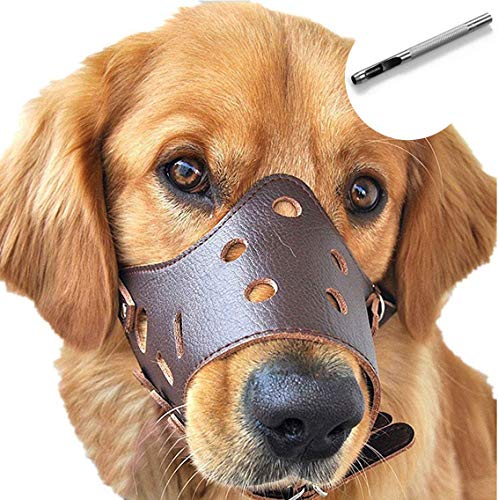 The BARKLESS Dog Muzzle Leather is specifically designed for canines with long snouts, preferably in the range of 7 inches to 15.7 inches. It is available in 4 size variations, and the leather construction is suitable for canines with sensitive skin.
The side and bottom straps can be adjusted to ensure there is sufficient room for your dog to eat, drink and pant while preventing it to open its mouth wide enough to bark or bite. The holes in the muzzle provide enhance the breathability of the muzzle, which results in increased comfort for your lovely pooch.
The anti-slip loop attached to the dog's collar is one of the features we like most. It helps to keep the muzzle firmly intact.
Pros
---
The BARKLESS canine muzzle features air holes that are designed to improve breathability and ensure that the muzzle doesn't get too stuffy for a dog.
This BARKLESS product comes with a metal rivet whose sole purpose is to help keep the muzzle securely in place after it has been worn on a pooch.
Customers can alter and make new holes in this leather muzzle's neck strap to provide a convenient and comfortable fit for their pooches.
The anti-slip loop that comes with this leather muzzle can be connected to a dog's collar to ensure that the muzzle stays firmly in place.
The humane design of the BARKLESS muzzle makes it possible for pooches to drink and eat while putting on the muzzle.
Cons
---
Several customers have bemoaned the cheap quality of the leather material used to manufacture the BARKLESS dog muzzle.
There are also reports of this muzzle sliding upwards to obstruct a pooch's vision.
#8 Gentle Muzzle Guard Dogs
Worried about muzzle chafing on your furry companion? This gentle dog muzzle from Good Boy is fitted with neoprene padding all-around your dog's snout, which minimizes hot spots for muzzle chafing. It is equipped with superior buckles and collar and connection straps, keeping the dog muzzle firmly secured.
The dog muzzle is unobtrusive and does not constrict your pup's ability to drink and receive small treats, but it is effective in the mitigation of the risk of bites. Interestingly, this product is available in two fun-loving colors, pink and blue.
Without a doubt, the all-around neoprene padding around the snout of our lovely companions is the best feature we like, as it eliminates chafing and ensures maximum comfort.
Pros
---
The comfortable neoprene padding utilized in manufacturing this muzzle guard prevents chafing that is typically caused by the interior of the muzzle rubbing against the pooch's skin.
This muzzle guard comes with an additional connection strap that can be wrapped over a pooch's head to provide a more secure fit.
The inclusion of a hook and loop fastener makes it possible for customers to secure loose ends and give the muzzle an overall neat appearance.
The high-quality sliders featured on this muzzle guard make it difficult for pooches to remove the muzzle after it has been worn.
The design of this muzzle guard provides an allowance for dogs to drink water and pant while putting on the muzzle.
Cons
---
Despite the inclusion of sliders for a secure fit, some customers have claimed that their pooches can take off this product simply by pawing at the muzzle.
The loud snapping buckles of the Gentle muzzle guard may scare some dogs.
---
Dog Muzzle Buyer's Guide
---
Dog muzzles are a dog safety device that is often misunderstood. The main purpose of the muzzle is to protect your dog from biting someone, or themselves in case they have accidentally gotten into something toxic. Muzzles can also be used as a training tool by putting them on and then removing them when your pup obeys commands like "sit" and "leave it."
For most dog owners, the notion of having a muzzle on your furry companion is always going to be thought-provoking. While it tends to result in an emotional predicament, it is important to rationalize and address the various circumstances that call for such restraint.
Muzzles come in many shapes and sizes depending on what you're looking for – from a full muzzle covering the nose and mouth, which is perfect for aggressive breeds like Pit Bulls, Rottweilers & German Shepherds; to just covering the snout which works well with smaller dogs who tend more towards being playful but still need some guidance.
Related: Best Dog Training Books
Why & When A Dog Muzzle Has To Be Used?
Often, it is for the safety well-being of your beloved pal and their immediate surroundings. Then, what are the various situations that necessitate the muzzling of your precious pooch?
During An Emergency
Certain unfortunate incidents or accidents may cause your pooch to be hurt and wounded, resulting in mild discomfort or even severe pain.
During this period, the injured dog experiences emotional distress and will likely be more prone to agitation which inevitably, increases the risk of biting occurrences.
It is advisable for your dog to wear a muzzle in such instances, to prevent biting.
Aggressive Behavioral Tendencies – Higher Risk Of Biting
Certain breeds are generally more hostile and aggressive in nature as compared to others. This requires proper training and rehabilitation by accredited behaviorists and dog trainers to address the root cause of such temperaments. However, there might be occasions where dog owners are aware of factors that may trigger the aggressive tendencies of their canines to bite, then a muzzle should be used.
After all, prevention is better than cure.
Grooming Session
If it is the first time you are bringing your pooch to the professional dog groomer and/or if it is the first interaction between the groomer and your canine friend, you may consider the usage of a muzzle for added protection.
Your canine friend might feel threatened by the unfamiliar presence of the groomer and could potentially bite them.
Legally Required
There are many municipal governments in the United States that have enforced breed-specific legislation which prohibits and/or regulates the ownership of some breeds labeled as "vicious" breeds.
One of which includes pit bull-type canines.
For these breeds, it is advisable to review the information on the breed-specific laws to understand the requirements for muzzling in public spaces.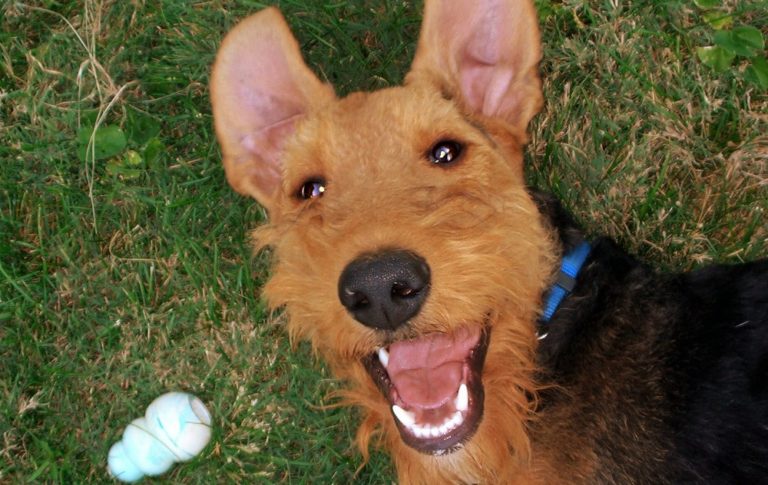 What Are The Types Of Dog Muzzle?
Basket Muzzle
For physically active canines, this type of muzzle would probably be the safest bet.
In our review list above, there are various forms of material used for the basket muzzles, including synthetic polymers, rubber, and metal wire.
Basket muzzles are considered more dog-friendly and provide good ventilation, which allows your furry companion to drink, pant, and effectively cool themselves as they sprint across the lawns.
If your furry friend is of a larger breed, you might want to consider a wire basket muzzle for bite prevention. Plastic and rubber basket muzzles are highly recommended for small and medium breeds.
Soft Muzzle Sleeve/Wrap – Nylon, Mesh, And Leather
Soft muzzles are commonly perceived as the most humane choice of dog muzzles due to their simple aesthetical appearance and material used.
However, the usage of these nylon, mesh, or leather muzzles usually constricts the opening of the dog's mouth, which in turn restricts drinking, eating, and panting.
While your pooch is on these soft muzzles, additional supervision and monitoring are recommended to check on the physical comfort of your dog and, more importantly, to prevent heat exhaustion.
Related: Best Dog Prong Collars
When Should A Dog Muzzle Not Be Used?
As a rule of thumb, muzzles should only be used for very brief periods and should never be used extensively to control incessant barking and chewing situations for extended periods of time.
Such behavioral issues should not be kept under control with a dog muzzle.
Instead, it should be closely examined by dog owners, veterinarians, accredited behaviorists, and dog trainers to identify the underlying root cause. Appropriate training and rehabilitation should be implemented to improve your dog's behavior.
In addition, dog muzzles should never be used as a form of the disciplinary tool as they will cause further discomfort to your dog. The discomfort might bring about other negativities associated with anxiety and fear to arise.
Your dog should probably wear a muzzle if it feels uncomfortable among new dogs and people. It is a well-known fact that dogs with separation anxiety might have the tendency to bark and even bite when faced with an unfamiliar scenario.
Likewise, breeds that are more aggressive in nature, such as German Shepherd, American Pitbull, and Great Dane, should be muzzled up when you are bringing them out to open places. After all, it's better to be safe than sorry!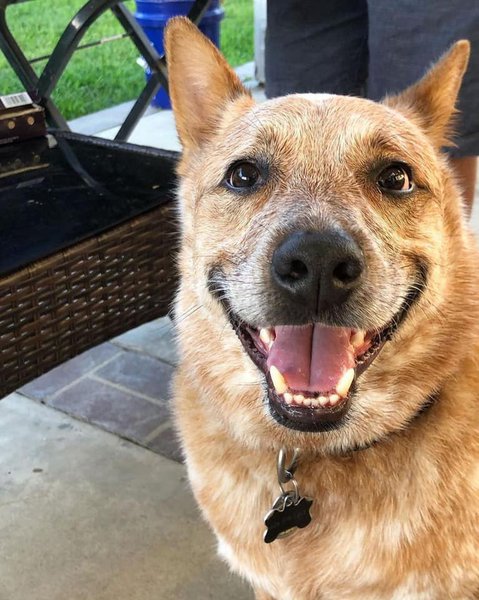 How To Properly Use A Dog Muzzle?
In the proper usage of a canine muzzle, it is essential to get the right size and fit for your lovely pooch.
Getting one that is too loose will be counter-productive as it is easily removed, and having one that is too tight will cause great discomfort and increase the possibility of chafing to occur.
Depending on the type of dog muzzles, some will require you to measure the circumference of your canine's stout and neck, while others require the measurement of the circumference and length of the stout.
In addition, it is recommended to have your pooch accustomed to the dog muzzle and be comfortable putting it on. To achieve that, the dog muzzle must be portrayed as an interesting item for your pooch to develop an interest in wearing. Feeding it some delicious treats may help to facilitate the process.
Dog owners should always watch out and keep their precious pooches under close supervision if they are required to muzzle their pets. To prevent heat injuries and other forms of injuries, ensure that the muzzle is promptly removed at the first sight of any discomfort or abnormality.
Tips On Getting Your Pooch To Wear A Muzzle
It takes time for your pooch to be familiar with a new muzzle.
Like humans, our canine friends need time to adapt and be accustomed to new experiences. It is most ideal to introduce and train them to put on the dog muzzle in a relaxed setting.
Below is a follow-through guide that might be beneficial in accustoming your lovely pooch to having a muzzle on.
Introduce the dog muzzle to your canine friend by allowing him/her to get close to it. Present the dog muzzle and allow him/her to sniff and play with it. Reward them with a little treat to encourage them.
Play with him/her treating the dog muzzle as a new little toy, preferably by having some form of contact of the muzzle with its snout or nose until your pooch is intrigued by it.
Simulate wrapping the dog muzzle around its snout with one hand and having a treat ready with the other hand to encourage your pooch to slip in the muzzle to get their treat.
Slowly and gently attach and remove the dog muzzle to its snout and provide them with the same delicious treats. Conduct a few repetitions of this step.
Next, attach the dog muzzles together with the safety straps/buckles. Again, attach and remove simultaneously. Reward it and conduct a few repetitions of this step as well.
Once your pooch is comfortable with the above steps, progress to the next step by leaving the dog muzzle on for a good 3 to 5 seconds and detach it after that. Repeat this motion 3 to 5 times. Remember to offer some treats for positive reinforcement!
As your pooch gets accustomed to having a dog muzzle on, slowly lengthen the duration each time. While the dog muzzle is on, always remember to monitor and be observant of any signs of distress coming out from your beloved canine companion. Be reminded not to leave them with the dog muzzle on for prolonged periods. Treat them with love – These furry creatures are our lifelong best friends.
Related: Best No-Pull Dog Harness
---
Final Thoughts
---
Our top pick comes out top in terms of quality, functionality, and comfort, and yet attractively priced. With this dog muzzle, you can be well assured of the comfort and safety of your beloved pooch and the people/canines around it. This canine-friendly product will allow your pooch to be healthily active on the lawns without restricting its ability to pant, drink and receive treats.
We hope you have enjoyed reading this article and the reviews have proved to be a fruitful source of information in the choice for your next dog muzzle.