The best portable dog fence is Yaheetech Heavy-Duty Metal Dog Fence.
Most dog owners have a sense of responsibility and love for their pets. They want to make sure that their dogs are safe and secure at all times. The best way to do this is by making sure they stay on the property.
One way to accomplish this is with a portable dog fence, which can be set up in an instant so that your pet can enjoy time outside without risking danger or harm.
The portable dog fence is also essential for pet parents who're always on the go because it's foldable and easy to carry and travel with. You can just set it up wherever you like while giving your dog the space it needs to run around freely, and you can even customize the perimeter to your liking.
Read on for a review list of the best portable dog fences on the market and a short buying guide.
#1 Yaheetech Heavy-Duty Metal Dog Fence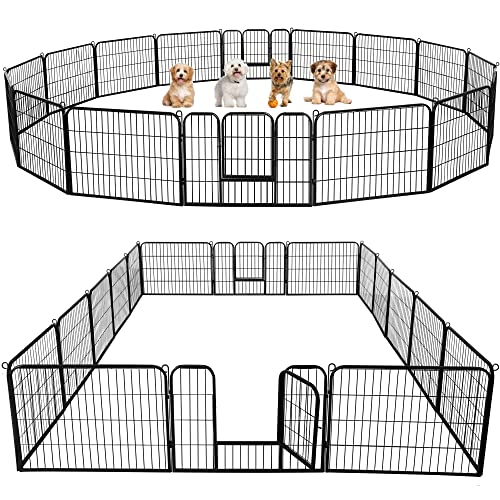 The best portable dog fence you can get is the Yaheetech metal dog fence. It is made from rugged metal with a convenient modular design that allows you to customize the shape to your preferences.
You can use 8 panels for a smaller but decently sized fence or expand it with 16, 24, or up to 32 panels, which can also be used to create two dog fences instead. This dog fence is ideal for pet owners with two or more dogs because it helps to create a spacious perimeter.
It even comes with a "door", or an entry and exit point, with raised sides to prevent smaller dogs from escaping. You can lock the door if you like for extra safety and to keep wild animals out when you're camping out at night.
Most dog owners enjoy the fact that they can change the shape of the portable dog fence, and it can withstand the elements since it's made from heavy-duty metal. You can use stakes to secure the panels in the ground or order additional stakes from the company to create an even sturdier fence. The large space allows you to safely store dog accessories inside the fence too.
The great thing about this portable dog fence is that it folds flat and is highly portable so that you can plonk it to the back of your RV camper, and you're good to go! But you might want to park next to the area where you're going to set it up because it's quite heavy to carry.
This metal dog fence from Yaheetech is made from heavy-duty powder-coated iron panels, and it comes with stakes! Plus, it's versatile enough for indoor and outdoor use.
Pros
---
The premium powder coating on the metal panels and stakes of the Yaheetech metal fence is non-toxic and has anti-rust qualities, thus helping to protect this product from corrosive damage.
The panels of the Yaheetech metal dog fence are connected by metal anchor stakes that provide customers with the flexibility to transform the fence into various shapes, such as squares, rectangles, and octagons.
The rounded edges featured on the stakes and metal panels of this canine fence product prevent pooches from injuring themselves when they come in contact with the fence.
Customers can easily disassemble the panels of this heavy-duty dog fence into a compact size for convenient transportation and storage when the product isn't in use.
The Yaheetech dog fence can be comfortably and quickly set up without having to use equipment, and the package also comes with detailed installation instructions to guide customers.
Cons
---
The metal stakes that pin the panels of the Yaheetech dog fence together aren't sturdy and tend to bend after just a few uses.
Several customers have commented that it was considerably easy for their medium and large-sized pooches to escape this metal fence by simply lifting the gate off its hinge.
#2 BestPet Pet Playpen 8 Panel Portable Dog Fences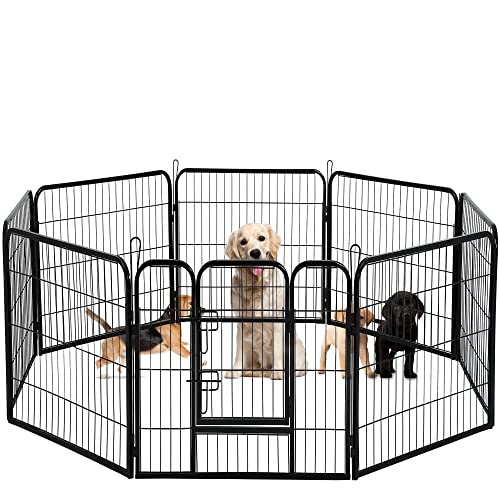 BestPet Heavy Duty Pet Playpen Dog Exercise Pen Cat Fence B, 40-Inch, Black
【A LARGE SECURE AREA】Our puppy playpen is great and keeps your pets safe from others, plenty of room for your pets...
【CHANGE THE SIZE WITHOUT ANY TOOLS】Our puppy playpen design allows for multiple shape configurations to meet your...
【EASY TO SETUP】This dog playpen is a must have for any dog lovers. Quality of our pet playpen constructed with...
With its elevated height and heavy-duty construction, this foldable dog fence from BestPet is made with safety in mind. Small kids won't be able to get through it, and neither will your dog. It comes in a fixed size, which means you can only reduce its size but not expand it. But you can always purchase extra panels to transform them into a larger area.
The great thing about this portable dog fence is that you can shape it in any way you like. You can shape it as a square, a rectangle, or an octagon according to your needs and preferences. It's easy to install within minutes, and it comes with straightforward instructions to help you along.
Not only is it made from antioxidant metal that is strong and durable, but it's safe as well. It's resistant to rust and mold, and your dog won't be able to push its way through it, no matter how strong it is. You can use this fence to keep your dog safe while you're at work. Most dogs can easily jump over a picket fence, so it helps to have something practical and strong to keep them in.
Each panel is lightweight, easy to install, and can be used to customize the size of the fence.
This portable dog fence is a great way to create a sprawling playpen for your dog while on the go. It's constructed from heavy-duty materials, and it's easy to set up. What more could you ask for?
Pros
---
The rust-resistant and waterproof metal material used to craft the BestPet pet playpen makes this product suitable for both indoor and outdoor use.
This 8-panel dog fence product is designed in a way that customers can conveniently modify the shape of the panels into squares, rectangles, or octagons to suit specific needs.
BestPet's canine playpen is available in various size options – 24", 32", and 40" – to enable customers purchase fences that will fit well in existing home space.
The spacing between the metal bars of the BestPet playpen provides ample visibility for customers to keep an eye on the activities of their canine buddies contained within the fence.
The BestPet playpen is easy to set up, within minutes, and customers can also conveniently dismantle and transport the fence from place to place when it isn't in use.
Cons
---
There are multiple reports of puppies getting their paws caught in the fence slats and injuring themselves as a result, which raises questions about the safety of the playpen.
The finish on the playpen's metal components tends to scratch off easily, thereby resulting in corrosion.
#3 ZENY Dog Playpen 24-Inch 16 Panels Metal Dog Fence With Doors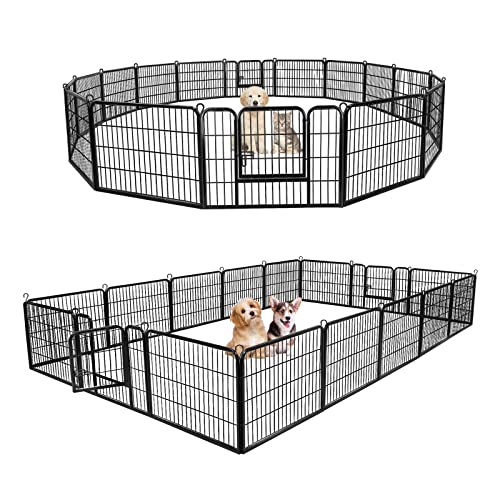 The ZENY Dog Playpen is an excellent option for pet owners looking for a portable and versatile option to keep their furry friend contained and safe. This playpen is made of durable metal and measures 24 inches in height, with 16 panels that can be easily configured to fit any space. The playpen also features two doors that make it easy for your dog to enter and exit.
One of the best features of this playpen is its portability. It can be easily folded and comes with a carrying case, making it perfect for traveling, camping, or even moving around your house for different uses. It's also perfect for pet owners with limited space, as it can be easily stored when not in use.
The ZENY Dog Playpen is not only a great option for containing and training your dog, but it also provides them with a safe and secure space to play and exercise. It's a great option for pet owners who want to provide their dogs with a contained area without the hassle of permanent fencing.
Overall, the ZENY Dog Playpen is a great option for pet owners who are looking for a portable and versatile option to keep their dogs contained and safe. It is durable, easy to use, and equally provides a secure space for your dog to play and exercise.
Pros
---
The ZENY portable dog fence features 16 panels that can be arranged in various configurations to fit different spaces, making it adaptable for use in multiple scenarios
This canine fence product comes with two doors to provide customers with multiple entry and exit points to conveniently access pooches contained in the pen.
Customers can collapse and fold the ZENY playpen for ease of storage, and the bonus carrying case also provides a convenient way of transporting the collapsed pen.
The sturdy metal material used to craft the ZENY playpen is durable and can't be easily destroyed by a pooch's chewing efforts.
The safety slide bolt latches on the doors of the ZENY dog playpen keep the doors firmly closed and make it more difficult for pooches to escape the pen.
Cons
---
Some customers have reported that the panels of the ZENY playpen do not always fit together snugly, leaving gaps that a dog can fit its paws through and potentially get injured.
There have also been reports of this playpen's gate falling off whenever an attempt is made to open the door.
#4 PetProgo Portable Dog Fences
With a portable fence this tough, there's no way your dog will be able to escape. The PetProgo playpen is made from rust-resistant powder-coated metal and comes with stakes that you can ram into the ground for a sturdy frame. Its features include 16 panels with dimensions of 31 inches wide by 32 inches tall.
This provides enough square feet for you to arrange them as you wish, and your pups will have enough space to run around and feel truly free.
This portable dog fence kit is perfect for creating a playpen or a kennel, depending on your needs at the time. It's heavier than regular meal fences, but that's why it's so durable. It folds flat to fit into the back of an RV or a truck without taking up too much space.
You might need some additional pair of hands to set up this portable fence, as it's quite heavy.
Your puppy will have plenty of space to play in this portable dog fence while you whip up breakfast on your tiny propane stove. It's great for use at a camping ground because it comes with stakes for sturdiness, and it's constructed from metal, so you know it can withstand the elements.
Pros
---
PetProgo's portable dog fence product can be configured in multiple shapes to suit different needs, and its versatile design makes it suitable for both indoor and outdoor use.
The latch closure on the door of the PetProgo fence helps to keep dogs secure within the playpen and prevent their escape.
The rounded edges on the metal parts of the PetProgo fence ensure that this product can be used indoors without scratching floors, and they also help to prevent pooches from cutting and injuring themselves.
The panels of the PetProgo dog fence can be disassembled and folded for space-saving storage, and this foldability also makes it convenient for customers to transport the fence after disassembly.
Several customers have commended the fact that it is quite easy to set up and assemble this portable dog fence product from the PetProgo brand.
Cons
---
There have been multiple reports of the metal panels of the PetProgo dog fence rusting after just a few uses of the product.
Some customers have also claimed that their pooches were simply able to scratch at the fence's door to wiggle the latch loose and, subsequently, escape the playpen.
#5 MidWest Exercise Portable Dog Fences
SALE ALERT!!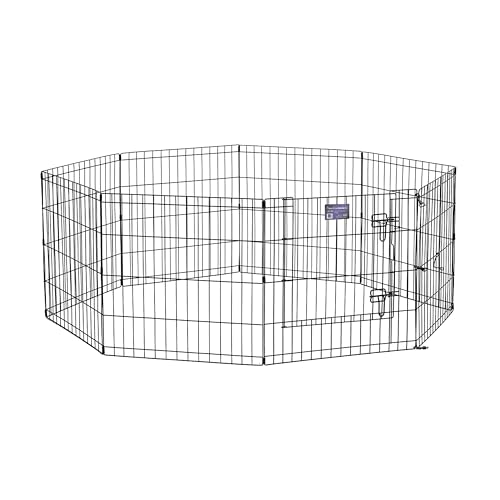 The MidWest Portable Dog Fence might look small, but it certainly packs a punch with its features. It comes with 8 powder-coated steel panels, which are complemented by 8 stabilizations and 8 anchors to make sure your setup can weather any storm.
It's ideal for smaller dogs, but you can always customize it to meet your needs. You can also purchase optional tops from the brand to expand the size further. Plus, adding the tops will come in handy if your dog is a jumper.
This portable dog fence has dimensions of 31.2 x 24.5 x 2.2 inches, but it only weighs 23 pounds, which means it shouldn't be too hard to set it up with a little elbow grease. Once installed, it offers a play area of about 16 square inches, and that's enough for any puppy to run around. Thanks to the added coat finish, this playpen is highly resistant to rust and pests.
With an 8-corner stabilizer, 8 ground anchors, and 4 thumb-snaps, this portable dog fence is not just easy to install but incredibly sturdy as well. It can double up as a crate fence, and it's suitable for puppies too.
Pros
---
The double-latch door of the MidWest fence prevents dogs contained within from escaping, and the step-through design of this door means that customers can conveniently access their canine buddies contained within the playpen.
The corner stabilizers and ground anchors on the MidWest dog fence can be used to keep the playpen stable and prevent it from easily toppling over when it is used outdoors.
The black e-coat finishing on the MidWest fence is intended to provide advanced protection for the product's metal panels against rust and corrosive damage from outdoor elements such as sun, rain, and wind.
The MidWest portable dog fence product comes with a one-year warranty offer that covers product defects that occur due to poor manufacturing.
The Exercise portable dog fence can be folded flat by customers for convenient storage when the product isn't being used.
Cons
---
The welding clamps that connect the metal panels of the MidWest fence usually have some sharp edges that can be injurious to pooches.
The MidWest fence can be easily moved by a dog when used indoors due to the customer's inability to stabilize the product with the ground anchors.
#6 S AFSTAR Dog Pen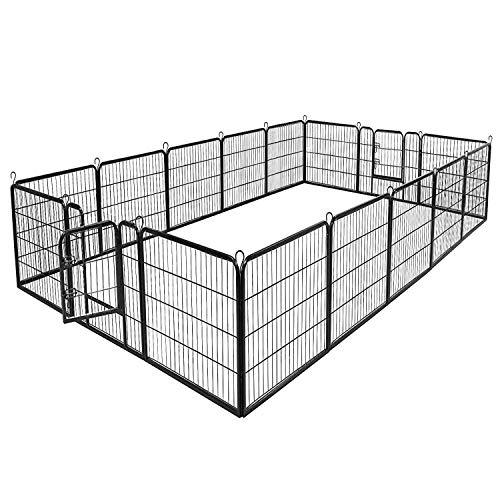 Large breed dogs offer twice the fun and affection, but they can be a handful. That's why you need a playpen to help your dog get the exercise you need without constant supervision. The S AFSTAR dog pen is specifically designed for large breed dogs, as you'll see with its features and dimensions.
It comes with 8 panels, each measuring 40 inches long by 31 inches wide, and 8 ground stakes to keep those panels in place no matter how many times your dog bumps against the surface. You'll love the sleek black look of this portable fence as it stands out from the classic silvery and metallic aesthetics.
It's also worth noting that this is a flexible, portable dog fence that folds flat. You can connect the panels into any shape you want, whether it's a square, rectangle, or octagon. Once assembled, it turns into a 27 square feet playpen, which you can easily expand with the use of additional S AFSTAR products, which are available at an affordable price. You'll be glad to know that it's relatively easy to install and uninstall.
Since this portable dog fence is designed for large breed dogs, it's quite sturdy and durable. It'll not only withstand the elements but can also take the pressure of constant pushing or bumping. That's because it's made from epoxy-coated solid iron, a material that's practically indestructible.
We love the sleek black look of this portable dog fence which is complemented by smooth edges to prevent accidental injury.
Pros
---
The heavy-duty iron construction featured on the S AFSTAR canine pen is sturdy, and its durability ensures that dogs can't easily damage the fence.
The smooth finishing on the panels of this portable fence product for dogs eliminates any rough edges and metal burrs to ensure that pooches can't injure themselves when contained in the playpen.
The 16 metal panels of the S AFSTAR dog pen make it possible for customers to configure the playpen in multiple shapes to suit their needs and purposes.
The dual-swing gates of this dog pen provide customers with multiple access points, and the lockable design of these gates makes it difficult for pooches to escape from the playpen.
This dog pen product can be dismantled and folded flat for space-saving storage and easy transportation when the fence isn't needed for holding dogs.
Cons
---
The stakes used to secure the S AFSTAR dog pen are usually flimsy and tend to bend under pressure.
The gates of this dog pen are considerably narrow, and it may be difficult for some customers to conveniently pass through.
#7 PetPremium Portable Dog Fences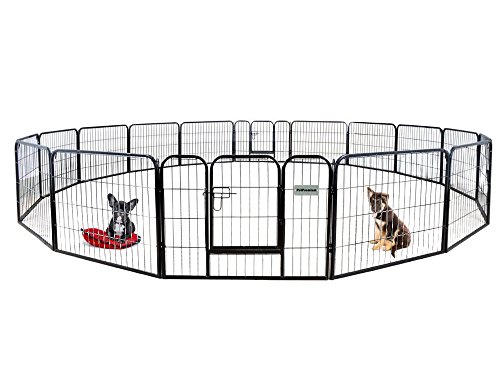 If you're looking for something small, lightweight, and portable to keep your dog in check while you travel, this PetPremium Portable Dog Pen might just be it. It's perfect for setting up on a camping site or a large yard where your dog can feel free and unrestricted.
Similar to all the other options on this list, this portable metal fence can be configured into different shapes. It's made from rust-resistant, durable and weatherproof metal that's sturdy enough to hold its ground and take the abuse of outdoor use.
This is an ideal option for a dog parent that travels to the outdoors often because it enables you to take your entire family with you, including your fur babies! It provides decent square feet of enclosed area for you to store your canine accessories too.
This is a durable and lightweight, portable dog fence that you can set up in different shapes. It's large enough to comfortably accommodate one or more small puppies, and you can arrange it to fit a larger expanse.
Pros
---
The powder-coated black vein finishing on the PetPremium dog fence helps protect the product's metal components from rust damage, thereby improving the product's durability and longevity.
Customers can easily configure the PetPremium dog fence in multiple shapes for a variety of uses, and there's also an option to connect several pens together to provide an even wider play area for pooches.
The PetPremium portable dog fence comes with metal stakes that can be driven into the ground to secure the pen in place, thus making this product ideal for outdoor use.
Assembly of the PetPremium portable fence is straightforward and can be completed within minutes without having to use the equipment.
The PetPremium fence has a walkthrough gate that provides easy access to pooches contained within the playpen.
Cons
---
Despite the rust-proof coating used on this canine fence product, some customers have commented that the metal components of their playpens rusted after exposure to moisture.
#8 Giantex 40″ 16/8 Panel Portable Dog Fence With Door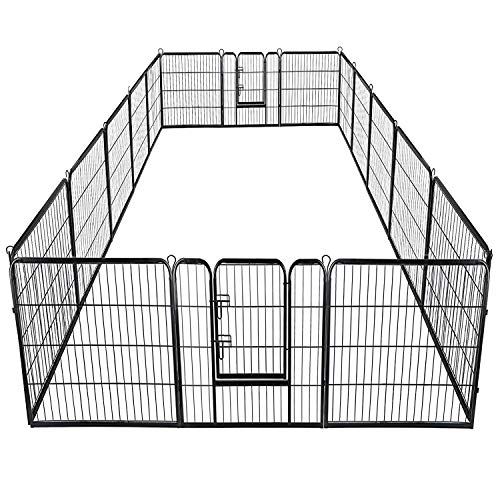 Don't leave your dog's safety to chance. Get your pooch a durable, effective, and reliable portable dog fence that it can call home when you're not around to watch it play outdoors. This Giantex Portable Dog Fence is made from weather-resistant and sturdy metal, with enough square feet to keep your dog busy for hours.
It comes with 16 interconnected panels which are securely planted on the ground with accompanying ground stakes. You can arrange the panels into as many different shapes as you like to give your dog the excitement of walking into a new space each time.
Examples include a rectangle, an octagon, a square, and even two different shapes for two different pets. The latter option can really come in handy if you have more than one dog. You can keep all of them both happy and free, indoors or outdoors.
The double door locks will keep them inside the pen with no chance to escape, while the rounded iron edges add an element of safety.
This is a foldable dog fence, and you may extend it to increase its size if you like as well. The wire design means you'll be able to view your pets from afar, and they'll enjoy the views and fresh air of nature all around them.
This premium quality portable dog fence is easy to set up with no tools required. It's foldable and easy to transport too.
Pros
---
Giantex's 40" dog fence product is crafted with a heavy-duty metal material that is coated with a smooth e-coat finish to increase the product's resistance to rust damage.
The 16 panels of the Giantex portable fence can be rearranged and shaped in various ways to ensure an appropriate fit with the existing space.
The flexible connections featured on the Giantex dog fence have made it possible for customers to purchase and install additional extension sets to create more playing room for their canine buddies.
The door of the Giantex dog fence comes with double lock bolts to make it difficult for clever pooches to open the door and escape from the pen.
The dog-friendly design of the Giantex canine fence is emphasized by rounded edges and a smooth finish that both eliminate sharp and rough spots that can injure a pooch.
Cons
---
The anchors of the Giantex gate aren't long enough, and this results in larger dogs being able to push the pen around due to it not being sturdy enough.
There are multiple reports of the Giantex portable dog fence suffering rust damage due to the poor quality of the surface coating.
#9 FXW Dog Outdoor Playpen
SALE ALERT!!
The FXW playpen is a big, adjustable wire playpen ideal for all sizes of dogs. It's simple to assemble in minutes, thanks to the quick setup. There's also a door panel that allows your dogs to go in and out much easier.
This pet fence is simple to set up and comes in a variety of shapes, allowing you to place it in any part of your home. You can also connect as many parts as you'd like to make a large enough place for your pooch. There are various different sizes and panel options available, so you can choose the one that best suits your dog's and family's needs.
There's no need to be concerned about your doggie unintentionally chewing this playpen because it's made of durable, rust-resistant metal that will last a long time. It can be used both indoors and outdoors; however, because of its size, it appears to be better suited for outdoor use.
We like the FXW playpen's highly-rated durability and versatility, particularly when dogs require more space than the kennels can allow. We believe that this is among the best outdoor dog playpens for playtime or exercise because it is safe and secure while still allowing the dog some freedom.
Pros
---
The FXW outdoor playpen for dogs comes with pointed rods that are driven into the ground to provide the fence with better stability and prevent it from easily toppling over.
The gravity-actioned locking mechanism of this pen's door ensures seamless opening and closing of the door and also makes it more difficult for pooches to escape from the fence.
The stakes of the FXW fence feature a rounded ball-top design that is intended to prevent a dog from injuring itself while playing close to the edges of the pen.
The rod-connected design of this canine playpen provides customers with convenience and straightforward installation of the fence.
Customers can freely add or remove panels from the playpen for flexibility and to customize the amount of space that is available for their canine buddies to play in.
Cons
---
The pointed tips on the poles of the FXW playpen tend to scratch wooden floors and tear carpets, thereby making this product unsuitable for indoor use without purchasing additional rubber caps.
The gate of this portable dog fence comes with two separate latches that customers have to open simultaneously with both hands, and this can be pretty inconvenient.
---
Portable Dog Fence Buyer's Guide
---
But, as with anything, you need to be careful when picking out a portable dog fence because they're not all the same. Some models are more durable, easier to use, and more affordable than others. There are also certain factors you may not be aware of contributing to the safety and effectiveness of a dog fence.
Now that we've shared our reviews of the best portable dog fence on the market, it's time to look at the features you must keep in mind when you are shopping.
Related: Best Wireless Dog Fence
Containing VS Repelling
It's important to decide on the purpose of the portable pet fence before you make a final purchasing decision. If your goal is to keep your dog within the safety of your yard, then you'll have to create identifiable containment zones. These zones can be either indoor or outdoor, depending on your preferences.
Luckily, you have transmitters that are designed specifically to create certain zones while keeping parts of your yard off-limits. When your dog enters the exclusion zone, the fence will emit a deterrent that repels your dog, forcing it to turn back or retreat.
Either way, you definitely have some work to do in training your dog to be accustomed to a containment area.
Related: Best Dog GPS Trackers
Buried Wire
A hybrid wireless fence might take time and effort to erect, but it's well worth it when you consider its benefits. All you have to do is bury the wire according to the barrier you want to create, and the fence will force your pet to stay within those boundaries.
This is a great way to prevent your puppy from running into the streets and getting lost while allowing it to enjoy your yard freely. The only downside here is that this type of buried wire pet fence is labor-intensive because you have to physically dig the barriers up.
Perimeter
The great thing about portable fences is that they're built for easy installation. All you have to do is connect the panels and dig the stakes into the ground to create a sturdy outdoor playpen for your puppy. If your pockets are a little deeper, you may opt for wireless fences that come with a transmitter that "emanates" a barrier fence instead of you having to install it.
All you have to do is pick the range you want the pet fence to cover, and it'll create an invisible circle twice the size of that range. This means you don't have to feel limited in the size of the fence that you want to create. If your pooch is young, you have to train them to understand the boundaries of a portable fence. Start with encouraging them with treats and rewarding them with food when they stay within the enclosed area.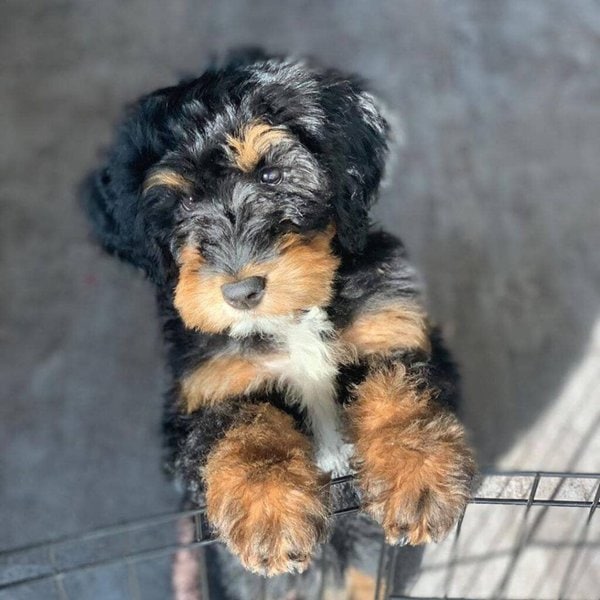 Customized Areas
To design customized areas of access within your yard, or any outdoor space for that matter, you need a fence that can cover a wide space. After all, you should give your puppy enough space to roam about and enjoy itself while staying within the confines of the fence.
A portable fence will be suitable in this scenario, and since it comes with several panels, you can make it as big or as small as you like.
Range
The perimeter range you create for your pets must be large enough to include all of its safe zones while keeping it away from the parts of the yard you don't want it to run off to. As such, you should purchase a fence that covers the amount of space your dog requires.
Training And Containment Combination
In addition to keeping your dog secure, a portable fence is designed for training purposes too. That's why wireless fences come with a behavior e-collar and handheld remote to monitor your pet's behavior and ensure it stays within the determined distance range.
You have to figure out which portable fence is the best suited for your needs.
Related: Best Dog Training Books
---
Final Thoughts
---
Confining your dog to a small amount of space doesn't always sound right, but there's a way to keep your dog comfortable and safe at the same time. Portable dog fences allow you to create a measurable safety perimeter around your pet while leaving it with enough space to play with.
Through this article, we've covered all the features you need to look out for when shopping for a portable fence, as well as a few options for you to choose from.
If you're still at a loss as to which option you should pick, we highly recommend our top pick. This heavy-duty portable fence comes with numerous panels, thereby allowing you to have the flexibility to get creative with the fence size and shape. An exit door with raised sides helps prevent smaller dogs from escaping intentionally.
This dog fence is an all-rounder that'll keep your dog safe and happy while accompanying you on your camping and hunting trips. The best part is that it's foldable and convenient to bring along on all of your road trips.