The best artificial grass for dogs is Pet Pad Artificial Grass Turf.
A dog owner's best friend is their pet, and we know that they love to play outside in the sun. With all of this time spent outdoors, it is important for them to have a safe place where they can play without getting hurt or dirty.
One way to do this is by installing artificial grass, which will provide your pup with a soft surface for playing on and also makes cleanup easy! Artificial grass provides an easy, low-maintenance solution for busy dog parents who don't have time to dedicate hours on end to maintaining a natural lawn.
These are also extremely pet-safe, as artificial turf is made from polypropylene fibers that are safe on paws and also do not contain any harmful chemicals such as fertilizers or pesticides.
Let us go over what you need to know about choosing the best artificial grass for dogs and how the installation can be done yourself at home!
#1 Pet Pad Artificial Grass Turf
SALE ALERT!!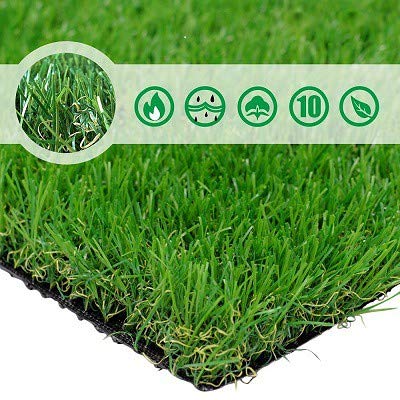 The Pet Pad Artificial Grass Turf is the perfect choice for all the dog parents out there who deal with limited outdoor space. When you have a tiny lawn, it can become almost impossible to keep the grass looking fresh even with one small dog, let alone multiple pets.
This synthetic turf allows you to easily get rid of all of these problems. You just need to install it once and enjoy a beautiful green space with minimal maintenance. The reason we find that the Pet Pad Artificial Grass Turf is so good is because of the well-made draining holes. Thanks to these holes, the pet-friendly synthetic grass drains really well – as good, or even better, than real grass.
It is also super easy to clean your synthetic turf. You just need to spray it with water – the water will drain right through, and you'll have a fresh-looking lawn in a matter of minutes.
We love the Pet Pad Artificial Grass Turf because it looks incredibly realistic! Thanks to the high density of the grass and longer individual grass blades than usual, this turf looks just like a freshly mowed lawn. It doesn't only look natural, but it also feels real, so your dogs will surely love it!
Pros
---
The Pet Pad grass turf is perforated with vertical drainage holes, which ensures that this product can dry quickly when hosed down and cleaned.
The grass turf's 4-tone color design, combined with an appearance and texture similar to that of real grass, gives this product a realistic feel.
The grass turf can be easily cut and trimmed into different shapes and sizes to cover the desired area, thereby making installation easy
This grass turf is constructed from a high-quality synthetic material that can withstand adverse weather conditions, thereby ensuring continuous usage for an extended period.
This grass turf can be used in a variety of ways, such as outdoor décor for the garden, lawn, and patio, or as a mat, carpet, and doormat for indoor use.
Cons
---
Pet Pad Artificial Grass Turf tends to heat up quickly when exposed to direct sun, and this can be hot to touch with a pooch's paw.
Several customers claim that the grass blades are significantly thinner than what is specified in the product description.
#2 GOLDEN MOON Realistic Artificial Grass Mat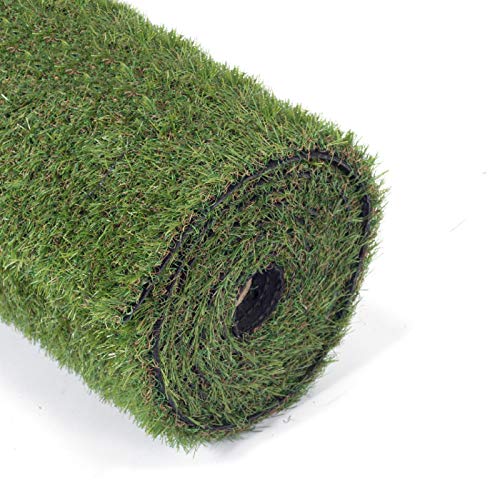 If you are tired of your dogs bringing in the mud from the yard all the time, the GOLDEN MOON Realistic Artificial Grass Mat is the solution you've been looking for. If there is just a little rain, a dog running around the yard and coming back into the house can create an incredible mess. Not to mention that some dogs just can't seem to stop digging up the plants in your yard.
If you often find yourself annoyed by any of these issues, you should definitely consider installing this synthetic turf in your yard. It comes at a very affordable price, so even covering large areas won't be too much of an investment.
At the same time, these grass mats prove that low price doesn't mean low quality. This synthetic turf is very durable and able to withstand all kinds of weather conditions without fading or falling apart. It's perfect for doing dog potty training sessions. Dog urine can be simply left there without cleaning (it will be drained out), while for dog poop, you can easily scoop it up to throw it away.
You can literally feel how well-made the GOLDEN MOON Realistic Artificial Grass Mat is as soon as you touch it with your hands for the first time. At the same time, it's really affordable and incredibly soft to the touch. A splendid choice both for indoor and outdoor spaces!
Pros
---
This grass mat from GOLDEN MOON is constructed with high-quality anti-aging particles that are fire resistant to an extent.
This grass mat's versatility ensures that it can be used in both outdoor and indoor instances.
Installation of this product is easy, as the grass mat can be cut to meet the desired specifications.
The soft texture of the GOLDEN MOON grass mat is comfortable for pooches to play and walk on.
This product's design features drainage holes that ensure that the grass mat doesn't retain water that can be damaging to its texture.
The grass mat is easy to clean and can be maintained by either sweeping or washing with a hose.
Cons
---
This mat from GOLDEN MOON isn't waterproof and can get damaged upon prolonged outdoor exposure to rain.
Customers have indicated that this grass mat tends to develop folds and creases that may ruin its aesthetic.
#3 SMARTLAWN PROFESSIONAL Realistic Artificial Grass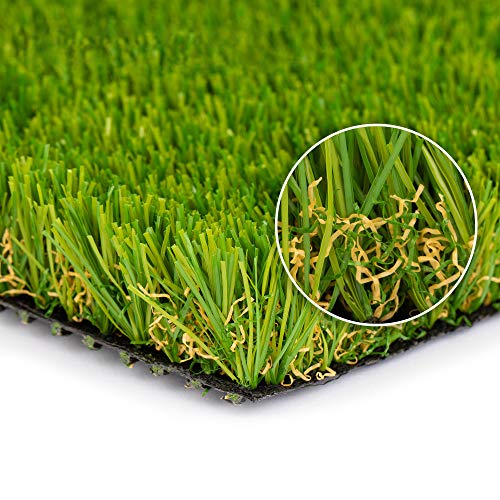 The SMARTLAWN PROFESSIONAL Artificial Grass is another great solution for dog parents finding themselves without enough green space for their furry babies.
This synthetic turf has an especially realistic and lush look, so it looks nice both indoors and outdoors. Thanks to high-quality stitching, this artificial turf works both on flat and on uneven surfaces.
You can use it to turn your balcony into a playing area designed specifically for your dog, but you can also use it to cover the ground in your backyard. Finally, this artificial grass comes with a 10-year warranty, so you can rest assured it's durable and able to withstand high dog traffic.
Pros
---
The high-quality stitching used in constructing this artificial grass product ensures that it can fit well on both even and uneven surfaces.
Customers can easily cut this artificial grass product into the desired sizes and shapes using basic tools, such as box cutters and scissors.
The SMARTLAWN PROFESSIONAL grass can be used in both outdoor and indoor settings as deck covers, patios, and apartment balconies.
The grass design features built-in drain holes at the bottom that make it possible for water to pass through the grass without pooling and causing a mess.
Cons
---
This artificial grass tends to have non-uniform patches, giving the product an overall unattractive look after it is laid out.
The SMARTLAWN PROFESSIONAL grass tends to heat up when exposed to sunlight for a considerable period of time, and this can be uncomfortable when a dog goes potty.
#4 Fas Home Artificial Grass Turf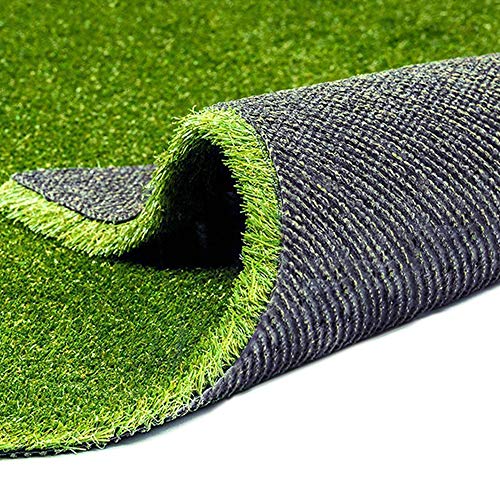 The Fas Home Artificial Grass Turf is made with high-quality polypropylene fibers and is designed to be safe both for dogs and humans.
Safety is something that all dog parents should have in mind, especially those who have young kids too. With the Fas Home Artificial Grass Turf, you can rest assured you are doing the right thing.
Another good thing about this artificial grass is that it's very easy to maintain. This artificial grass is 0.8 inches high. This is a little shorter than some competitors but, at the same time, long enough to look realistic. At the same time, it is much easier to clean.
Pros
---
The Fas Home grass turf has 4-tone coloring and a soft, lush texture that contributes to an overall realistic appearance.
This grass turf features drainage holes to get rid of excess water, especially during heavy rain.
This product comes in a wide variety of sizes and shapes to cater to different floor conditions.
Dirt and dog poop can be easily gotten off this grass turf product either by directly cleaning with a wipe or rinsing the turf with water.
Cons
---
Like most artificial grass products, the Fas Home artificial turf tends to become unbearably hot when exposed to the sun for too long.
Customers have claimed that the Fas grass turf pools water easily and doesn't drain as efficiently as expected.
#5 GL Artificial Grass Mats
GL Artificial Grass Mats Lawn Carpet Customized Sizes, 35MM Thick Faux Grass, Synthetic Rug Indoor...
Materials: made of high quality synthetic material, Superior resilience and durability, Constructed of the highest...
Environmentally friendly and save money: no mowing, no watering, no spraying, just Years Of enjoyment with family,...
Simple installation: laying out our grass is very simple-simply mark and dig out an area, lay out the base, roll out the...
GL Artificial Grass Mat is designed to give your pooch the ultimate outdoor experience. Dogs can play, run around, and even do their business on it, and this artificial grass will not change a bit. No yellow spots and no weird-looking patches.
This grass mat from Goasis Lawn performs really well in both outdoor and indoor areas. Thanks to the high thread count, the grass is so fluffy and comfortable that any dog would love it. It is so comfortable and fluffy that your dog might just want to lounge in the grass all the time.
The great thing about GL Artificial Grass Mats is that it was made to last. Made using high-quality synthetic fiber, the fake grass won't fall apart or fade regardless of the weather. GL doesn't mind standing behind this claim either – this synthetic turf comes with a 10-year warranty, and they have a 60-day return policy.
Pros
---
Installation of this grass mat is straightforward and can be done in 5 steps; marking and digging out an area, laying out the base, rolling out the grass mat, and sealing the matter.
The grass mat from Goasis Lawn features a non-toxic polypropylene construction that is ideal for pooches with grass allergies.
This grass mat comes with drainage holes that make it possible to clean the product with a water hose.
Its soft texture is comfortable for dogs to walk and roll around on.
The GL grass mat features a UV-resistant design that ensures the mat's color doesn't fade, even with continuous exposure to sunlight.
Cons
---
The durability of this grass mat is questionable, as several customers have remarked that the product falls apart after just a few months of outdoor use.
The mat heats up within a few hours under the sun and doesn't dissipate heat quickly to be used under sunny weather conditions.
#6 WMG GRASS Premium Artificial Grass Mat
With individual grass blades in 4 tones of green and a height of 1.4 inches (higher than most competitors), the WMG GRASS Premium Artificial Grass Mat looks just like a real, freshly mowed lawn. The only difference is – it remains like this throughout the year.
This artificial grass turf was designed to withstand daily wear and tear, even if we are talking about multiple humans and dogs. High dog traffic poses no problem at all. And thanks to the built-in drainage holes, they can go potty on this pet-friendly synthetic grass too. No puddles and no smells. Just hose your artificial grass down with water every once in a while, and that's it!
This grass mat from WMG GRASS is perfect for covering large outdoor areas. It drains really well even if it rains heavily, and it's even fire-resistant which is something that will be important to dog parents who live in extremely warm climates.
Pros
---
This product from WMG GRASS features non-slip rubber backing that helps to ensure that the grass stays in place after it has been lain on the ground.
Its texture makes it ideal for use in potty training for dogs.
This artificial grass product is easy to clean thanks to its drain holes designed to let water and dog pee pass through easily.
This product features a durable polyethylene construction that can withstand high traffic from dogs.
Cons
---
Customers have remarked that the green color this mat from WMG GRASS uses is deemed to be too bright and doesn't look very realistic.
The largest size the mat is available in is 7 ft by 13 ft, so pet owners looking to re-lay their lawn will have to look elsewhere.
#7 SunVilla Realistic Indoor/Outdoor Artificial Grass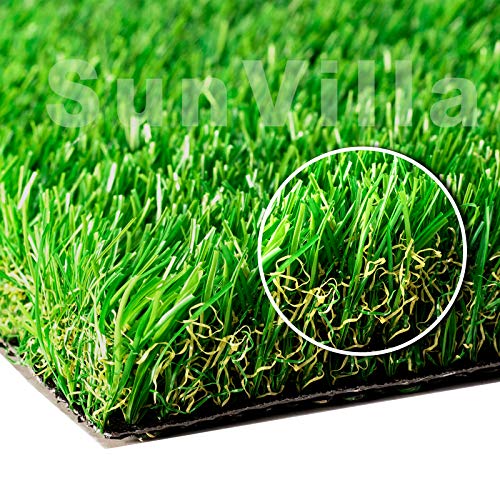 Do your dogs keep destroying your yard? The SunVilla Artificial Grass comes to the rescue. Want to turn your deck or balcony into a play space for your pooch? No problem.
This pet-friendly synthetic grass is designed so that the individual blades stand upright, no matter what kind of surface you place the mat on. This means it will work well placed over concrete, ground, wooden decks, and even indoors if you want it.
The SunVilla Realistic Indoor/Outdoor Artificial Grass is also water permeable, UV-resistant, and fire-resistant, which makes it perfect for the outdoors no matter what kind of weather conditions you are facing.
The SunVilla Realistic Indoor/Outdoor Artificial Grass is a high-quality artificial turf that looks and feels just like real grass. Place this in your yard and say goodbye to muddy paws and constant cleaning!
Pros
---
The artificial grass from SunVilla has a very soft texture that is comfortable for pets to walk on.
This product is easy to install, and its blades don't necessarily need infill to stand straight up like real grass.
The grass turf holds up well with minimal maintenance and doesn't require mowing, watering or fertilizer usage to retain its appearance.
The lead-free material used in constructing this artificial grass product is safe for dogs to play and roll around on.
This artificial grass product comes with sufficient drainage holes that ensure there is no water retention.
Cons
---
The SunVilla Artificial Grass initially comes with an unpleasant smell of plastics, although this smell tends to dissipate after the product has been aired for some days.
When used outdoors under sunny weather conditions, customers claim that this artificial grass is prone to melting and shrinkage, giving rise to the formation of yellowish-green spots or exposed ground lines streaking across the carpeted area.
---
Artificial Grass For Dogs Buyer's Guide
---
Many people who live in areas with harsh winters or hot, humid summers don't have the option to keep their dogs outdoors all day long. Some dogs are better off indoors rather than outside without constant supervision and/or a lot of time and money invested in providing them with adequate space for exercise. Artificial grass provides a safe indoor or outdoor alternative that can be used year-round, regardless of weather conditions.
So you must be wondering – Is artificial grass good for dogs?
Safety is often the first issue that comes to mind of dog parents, considering fake grass, so let's get that question out of the way first.
If you heard that artificial grass can be poisonous for dogs, this might be partly true. In the past, fake grass was sometimes made with paint that contained high levels of lead. However, this is mostly not the case today and there are plenty of modern artificial turfs made of high-quality materials that are completely safe for dogs and humans alike.
Related: Best Wireless Dog Fence
Benefits Of Artificial Turf
Now that we've established that artificial grass is safe for dogs, we can talk about its advantages compared to traditional lawns.
There are many reasons why you might be considering artificial turf. For example, if you have a lawn that is too small and/or more than one dog, yellow patches from too much urine can be really annoying. In this case, synthetic turf is a great solution.
In addition to this, artificial grass allows you to turn areas where real grass can't grow (such as concrete surfaces) into green spaces where your dogs can do their business.
Artificial turf also has some general advantages over regular lawns. First of all, there is much less maintenance required (artificial turf maintenance is estimated at $500 per year for a 1,000-sq-ft lawn), and you can have a green lawn all year.
Everything a dog leaves behind is also much easier to clean. You'll need less water to maintain your artificial lawn, which means you even save money in the long run. All of this while also keeping your pooch happy!
Related: Best Dog GPS Tracker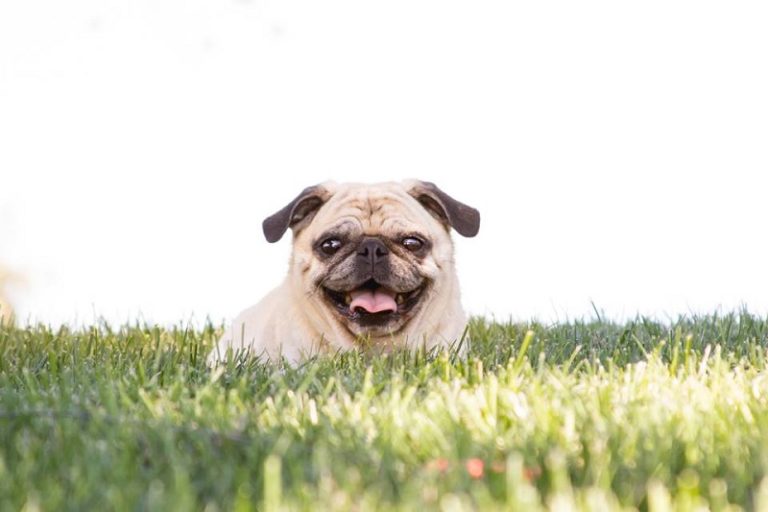 Features To Look For In Artificial Grass For Dogs
As we already mentioned, you'll always want to make sure that the artificial grass you are buying is safe to be used by humans and animals. However, once you get that out of the way, there still remains a huge variety of artificial turfs to choose from.
So how do you choose the right one? These are some of the things to think about:
Aesthetics
Obviously, everyone wants their artificial lawn to look nice. The good news is, this is entirely possible nowadays. While there are still cheap knock-offs that look terrible, plenty of manufacturers today make artificial grass that looks amazingly realistic and natural.
While a uniform green color can also look quite good, if you want a totally realistic effect, you should look for artificial turf with a 4-tone color scheme. Our top pick, the Pet Pad Artificial Grass Turf, has this feature, for example.
Moreover, it's not just the color that determines the look of fake grass. Things like the shape of the individual grass threads, density, and height of the grass mat also play a role. Installing artificial grass is relatively simple too.
Draining
Another thing you should definitely check before buying any artificial turf is whether it drains well. Even if you use your synthetic grass mat indoors, it will be much easier to wash it in case of need.
However, if you plan to put your artificial turf outdoors, as most pet parents do, you'll definitely want to have good drainage. If you plan for your pooch to go potty on the artificial turf, the liquid has to go somewhere, doesn't it?
Luckily, most modern artificial turfs feature good drainage systems. All of those mentioned on our top 7 list certainly do. Since there are little holes in the backing of the artificial turf, water can flow freely.
UV Resistance
This one is important for anyone who plans to install fake grass outdoors. Any kind of exposure to UV light (which happens even if the grass is outside of direct sunlight and on rainy days) can cause the color to fade. If your artificial turf becomes yellow instead of green after a couple of months, that kind of ruins its purpose, doesn't it? If you want to avoid this, always look for pet-friendly synthetic grass that is UV-resistant.
Related: Best Invisible Dog Fence
---
Final Thoughts
---
Artificial turf is a great solution for all dog parents who want their outdoor space to look nice with minimal maintenance. It also comes in handy when you have limited outdoor space that you want to adopt for your pooch.
However, it's important to choose artificial turf that is safe for your pooch and able to withstand constant use. Our top pick definitely checks all the boxes!