If you are looking for a way to make sure your dog is always well-fed, then an automatic dog feeder may be the perfect solution. Automatic dog feeders can be programmed to dispense food at specific times of the day, so you never have to worry about your dog going hungry.
There are a few things you should keep in mind when choosing an automatic dog feeder, such as the capacity of the unit and the type of food it can dispense. You will also want to consider how easy the unit is to clean and if it comes with a warranty.
An automatic dog feeder can be a great way to make sure your dog is always well-fed. With a little research, you can find the perfect unit for your needs.
#1 PetSafe Healthy Pet Simply Feed Automatic Dog Feeder
SALE ALERT!!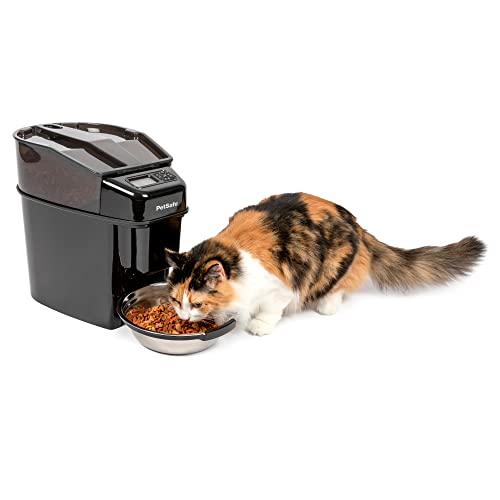 The PetSafe Healthy Pet Automatic Feeder is a reliable dog food dispenser. It can accommodate a large number of cups of dog food and is fully programmable to schedule between ⅛ to 4 cups per meal.
This automatic feeder will not just make your dog's belly full when you are away, but it will also make your life easier.
As compared to other automatic feeders, which are compatible only with dry kibble of a particular shape and size, the PetSafe uses a conveyor-style and near-silent design that fits different kinds of dry kibbles.
This automatic dog feeder is extremely easy to clean. The bowl, bowl holder, lid, and hopper are dishwasher safe for convenient washing. It is made of stainless steel and BPA-free plastic. So, you are assured your dog is safe.
P.S.: If you have a dog and a cat at home, there's also an added 2 Meal Splitter which allows you to dispense kibble for two pets!
The PetSafe Automatic Feeder is one of the best options on the market. It has lots of useful features and provides excellent feeding flexibility. The slow feed option is one of the best features we like as it can dispense food over 15 minutes, which can prevent bloating or vomiting.
Pros
---
Has a large capacity capable of holding 24 cups of dry dog food.
Up to 12 different timings can be scheduled for dispensing food.
Operates with either four D-cell batteries or an AC connector for maximum flexibility.
Its plastic feeder parts are dishwasher safe and BPA-free.
Cons
---
The lightweight device can be easily toppled by a hungry dog searching for food.
#2 Amazon Basics Self-Dispensing Gravity Automatic Dog Feeder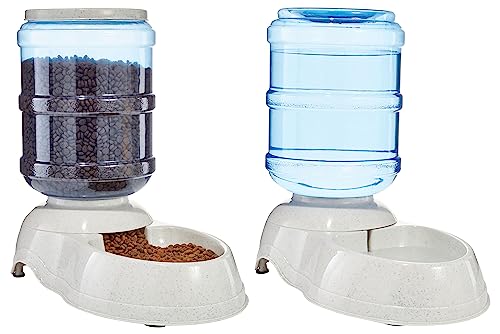 The Amazon Basics Automatic Pet Feeder is an economical option that works well not just for dogs only but for cats too.
You can use it for either a feeder or a water dispenser. This is a gravity pet feeder, which means that you are not able to program the intervals to dispense kibble or water.
It is very versatile since it can be a feeder and water dispenser.
You will be assured that your pet will have a drink and fresh food always.
Dog owners can use this inside or outside their house. The right amount of dry food can be placed on the feeder, and your pets will be well fed. The best thing about Amazon Basics is that it does not require a battery or electricity, and it is run by gravity.
A simple, no-frills dog feeder and water dispenser. You can fill the feeder with the right amount of food and let gravity do the rest. The Amazon Basics Pet Feeder is an affordable option compared to others.
Pros
---
The lightweight dispensers for kibble and water are made entirely out of PP and PET plastics.
It does not require batteries and is operated with the help of gravity.
Comes with an Amazon Basics limited one-year warranty.
Cons
---
The waterer tends to break down easily after some heavy usage, causing an overflow. The fault lies with a poorly-designed spring-loaded stopper.
#3 Arf Pet Automatic Dog Feeder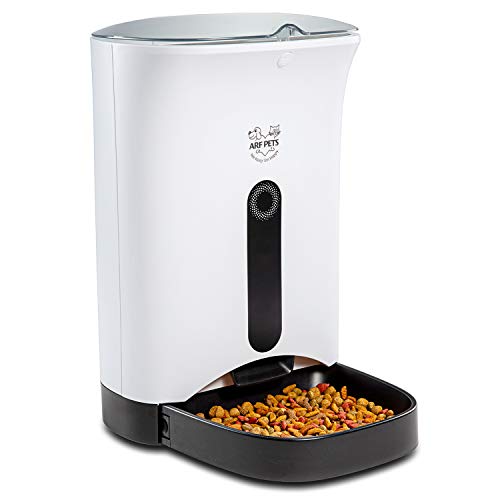 The Arf Pet Automatic Dog Feeder is able to dispense up to 10 portions per meal. Simply set the clock, choose up to 4 different meal timings for your pooch, select the portion size and let Art Pet do the rest!
What we really liked is that this automatic pet feeder comes with an option to record your voice (up to 10 seconds), which it will play during meal times.
The magnetic locking mechanism at the top ensures that even the smartest pooch is not able to pry open this automatic dog feeder.
Pros
---
A high-tech customizable automatic dog feeder power-packed with features such as Magnetic Lock Lid, Blue LCD Display, Personalised Meal Voice Call, and many more.
Magnetic locking lid to prevent access to food.
Up to 4 feeding schedules can be customized in your own voice.
1.14 gallon capacity for up to 10 meals.
Cons
---
The feeder is prone to durability issues and mechanical failures, causing the screen to display an "EE" error. Attempts to fix it by rebooting are futile.
#4 WESTLINK 6L Automatic Dog Feeder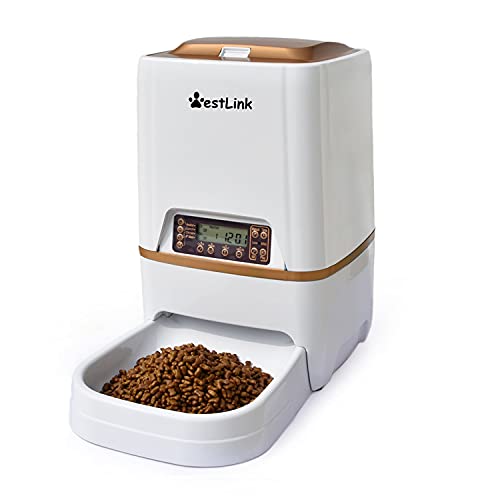 A budget-friendly option, the WESTLINK automatic food dispenser comes with a voice recorder and is programmable. It has a built-in speaker.
You can easily record ten sounds of your voice to call your dogs to their meals. It is recommended for dogs that usually sleep during meal times.
It allows you to program up to four meals a day. This feeder can dispense between 1 to 39 portions per feeding, with each portion weighing around 0.4 ounces.
A word of caution – the feeder is not suitable for handling large kibble. It only accommodates kibble up to 0.39 inches in size (1cm).
The kibble size should not exceed 0.39 inches. Thus, the device is not suitable for feeding dogs that eat large kibble.
Pros
---
Its capability to record ten seconds of your voice is one feature that we like most. Also, you can program up to 4 meals per day, 1 to 39 portions of 0.4 ounces each.
Huge capacity of 6L.
Record your voice up to 10s during meal times.
Uses an infrared sensor to prevent the dispenser from filling the bowl when there is still food left to prevent overflowing.
Is USB powered or powered by three D batteries.
Cons
---
Programming the dispenser can be quite cumbersome due to a less-friendly user interface.
#5 WOPET 7L Automatic Dog Feeder
If you are searching for an automatic dog feeder with whistles and bells, the WOPET Smart Feeder is the one for you. It is compatible with your smartphone, so you can schedule the times when to feed your pet, or you can also do instant feeding using your mobile device.
WOPET Pet Feeder has an HD Camera for video and voice recording, where you can play, see and talk with your dog in real-time. You can also share your special moment on social media via Android/iOS.
You can program up to six meals per day. Set it to dispense up to 39 portions of around 0.4 ounces.
Pros
---
The best thing about WOPET Pet Feeder is that you can play, feed and watch your pet even if you are away. You can easily control the feeding time using your smartphone.
Free Android/iOS app that can be connected to the feeder via your smartphone.
You can monitor, talk, play and feed your dog remotely.
Equipped with an HD Camera and two-way audio so you can stay connected with your pets even if you are away.
Removable hygienic disposable bowl.
Cons
---
The lightweight feeder topples over easily when knocked by a hungry dog.
#6 Little Giant Galvanized Steel Chow Hound Dog Feeder
A low-tech but effective dog feeder by Little Giant. It doesn't come with any programmable features, but it gets the job done.
Simply load the dry dog food inside the Steel Chow Hound dog feeder, and you are good to go.
The Steel Chow Hound comes fully assembled and is made with tough galvanized steel for durability and rust resistance.
Armed with a magnetized flap, this allows your dog to eat whenever it's hungry while keeping pests and rodents out.
This feeder doesn't require any electricity or programming. It's a convenient, low-tech dog feeder that allows your dog to eat whenever it wants. It works perfectly outdoors, and it is weather resistant.
Pros
---
Angled chute to control food flow and promote slow feeding.
Comes fully assembled.
Made from tough galvanized steel – suitable for bigger dogs.
Cons
---
The feeder can generate some level of noise during mealtime as its steel lid is slammed shut when the dog is done with its meal.
#7 Aspen Pet Lebistro Programmable Automatic Pet Feeder
The Aspen Pet Lebistro Automatic Pet Feeder is an automatic feeder that releases the right amount of food for your pet. It is recommended for busy pet owners. You can store food and keep it fresh longer. Refilling is not a problem, as you can conveniently refill it anytime.
If your main concern is the process of cleaning, there is no need to worry. The bowl can be detached from the feeder so you can wash it when needed. With its large LCD, scheduling meals and setting the right amount of dog food is easy.
Pros
---
We find this feeder very convenient since it can store a large amount of pet food, up to 18 cups. It is also easy to refill and program.
Twist-lock lid food storage to keep the dog food crunchy and flavorful.
Easy to program.
The food station is stable and secured, thus preventing the pets from accessing it.
Large capacity up to 18 cups.
The feeder is battery operated using three D-cell alkaline batteries.
Cons
---
The feeder is not entirely dog-proof, as it topples very easily upon knocking.
#8 Petmate Pet Café Automatic Dog Feeder
This automatic pet feeder makes feeding time easy. It is designed using gravity to replenish the food reservoir each time the levels get low. Cleaning and refilling the feeder is not a problem at all since it has an extra-wide mouth with a removable lid.
Petmate has a fashionable base with easy-grab handles making it easy to maneuver and is available in different colors to complement your home interior. You can also choose from a variety of sizes. The food hopper releases food gradually each time the bowl gets empty. This feeder is available in three sizes, from 3 to 12 gallons.
Pros
---
The feeder is safe for your pets as it is made of a BPA-free plastic base and water reservoir. We love the different pearlescent colors that can complement any house interior.
Easy to open lid for ease of refilling. Just remove the cover of the storage feeder and refill.
It is durable and lasts longer.
Spill-free food station.
Available in several pearlescent colors to complement your house interior.
Cons
---
Kibble tends to get stuck at the mouth of the dispenser. The feeder will require a little shake to clear the blockage.
#9 SureFeed Microchip Automatic Pet Feeder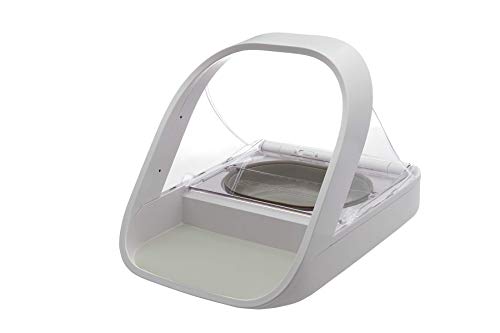 If you have several pets around that love smooching off food from each other, the SureFeed Microchip Automatic Pet Feeder is good for you. The feeder opens for a designated pet with the use of a unique microchip or the RFID collar tag.
It is the best way to prevent pets from getting each other food. This is an excellent feeder for pals on a strict diet or those who need to keep a healthy weight.
The feeder is easy to program by just pressing a button, and the cover will only open for the designated pet. It will remain closed for unauthorized pets. You can pour dry and wet food as it keeps them fresh.
Pros
---
We love its microchip or RFID tag features; you will not have any problem feeding your pets as it will recognize your pet that requires to be fed at a specific time.
Comes with a microchip or RFID collar tag that you can program.
The feeder is equipped with an eOutletDeals Pet Towel.
Sealed bowls keep the food free of flies and fresher.
Bowl capacity 400 ml or equivalent to two pouches of wet food.
Comes with a battery indicator that signals if it needs replacement.
Cons
---
It is not designed for medium-sized dogs as its arch handle does not provide sufficient height clearance for them to access.
#10 Iseebiz Automatic Pet Feeder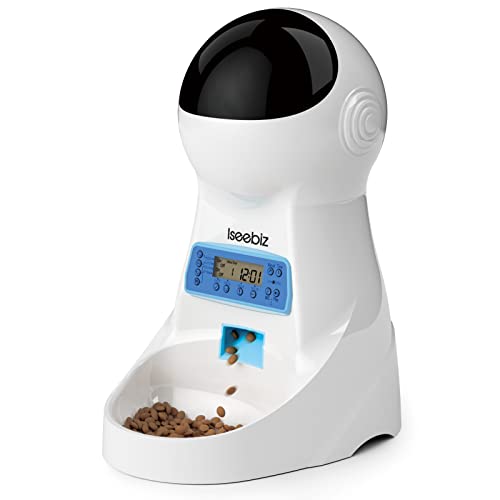 The Iseebiz Automatic Pet Feeder combines voice recording and advanced electronic programming functions. It has an easy-to-operate interface. Compared to other feeders, it takes only a few buttons to program the entire unit. The feeder is labeled clearly for every function so that you can program it easily for your pets each day.
This feeder provides the smallest portion size with only one teaspoon per portion. It is recommended for pets that are on a diet or who have the habit of eating too quickly. The system follows a three-step process of opening the lid to make sure that your pets can't get into the main hopper.
Pros
---
Its dual power setup can feed your pets safely, and you can leave them the whole weekend without thinking about skipping a meal. It makes use of an electrical cord with battery backup.
Voice recorder to record your voice for 10 seconds to get your pet's attention and call them for meals.
Built-in IR Detector for your dog's happy mealtime, it has the right angle to prevent the food from overflowing or clogging.
Dual power supply for low consumption.
Durable and reliable.
Cons
---
The feeder is not entirely dog-proof as its power cable is not chew-proof, and its tall structure can be easily knocked down.
#11 Petcube Bites Pet Camera With Treat
Feed your precious pet when you are not around with the help of Petcube Bites Camera Dispenser. You can easily connect it to your smartphone so you can stay in touch with your dogs from anywhere and reward them with tasty dog treats. The real-time video will enable you to see the bark and pounce as it happens.
The two-way audio lets him know that you miss him, assures him that you will be back soon, and hear his response. The app can toss him a sumptuous treat up to 6 feet. You can also schedule treats to be dispensed at a particular time to get rid of his boredom.
Pros
---
The fact that you can remotely feed your dogs, make this feeder the best choice for busy pet owners. With built-in motion and sound detection to help protect both your home and your pets.
1080p HD Video and night vision so you can check on your pet even if you are miles away.
Two-way audio to talk to your pet and listen to his response.
Cloud-based video storage.
You can connect it easily on your Android, iOS, and Wi-Fi.
Built-in motion and sound detectors.
Cons
---
The built-in camera will not work well if the Wi-Fi signal is weak, especially when the feeder is placed in a location far away from the router.
---
What Is An Automatic Dog Feeder?
---
As the name implies, it is a tool that feeds your dog automatically with the use of either electronic pre-programming or with the help of gravity.
These automatic dog feeders generally have two main parts: the hopper and the bowl. The hopper is made of either plastic or glass, and it houses the food before it is dispensed.
Most containers are made of stainless steel, ceramic plastic, or plastic. It is where your dog's food is distributed and fed.
Here are some benefits of using an automatic dog feeder if you are interested!
What Features You Should Be Looking Into When Buying?
An automatic dog feeder should be something that is secured, made with quality pet-safe materials, and air-tight. When choosing an automatic dog feeder, here are the features you should be looking into.
Security
A poorly made automatic feeder will let your pet break the container and access the food before feeding time. Choose the one that is made of quality materials, mainly if your dog is a heavy chewer. Some reservoir is made of galvanized steel and with secure locking systems that will keep even your most determined away.
Feeding Dish
It is a must that the feeding dish is made of non-toxic, durable, and high-quality material to hold up to your pet's heavy chewing.
Large-Kibble Capacity
Some automatic dog feeders are not designed to dispense a large amount of kibble, which can be an issue for big-breed dogs that eat big pieces of kibble. Choose a feeder that can handle the large pieces if your pet prefers large kibble.
Air-Tight Food Reservoirs
Choose an automatic dog feeder that is sealed tightly and does not allow air to enter the tank. This keeps your food fresh longer, and it will keep it from getting stale.
Battery Life
If you choose a feeder that operates by batteries, make sure that the battery has a longer life. Some fancy automatic dog feeders have lots of amazing features but use up battery life. This could be an issue if you depend on the feeder to open on time. Look for automatic feeders that minimize battery expenditure.
Ease Of Cleaning
It is essential that you choose a feeder that is easy to clean since you need to keep them clean all the time. Some models are easy to detach and can be washed easily.
Dry And Wet Food Compatibility
If your pet eats only wet food, look for a feeder that dispenses just wet food since it includes features that will keep the food wet and fresh, like an ice pack. On the other hand, if your pet dog eats only dry food, then pick the one that is compatible with drying food.
Pre-Recorded Messages
Some dogs, particularly the older ones, like to sleep a lot; They need to be called in when it is time for them to eat. If your pet is one of them, then it is best to choose an automatic dog feeder where you can record messages for your pet. Even if you are not around, you can still get your dog's attention when it is time to feed.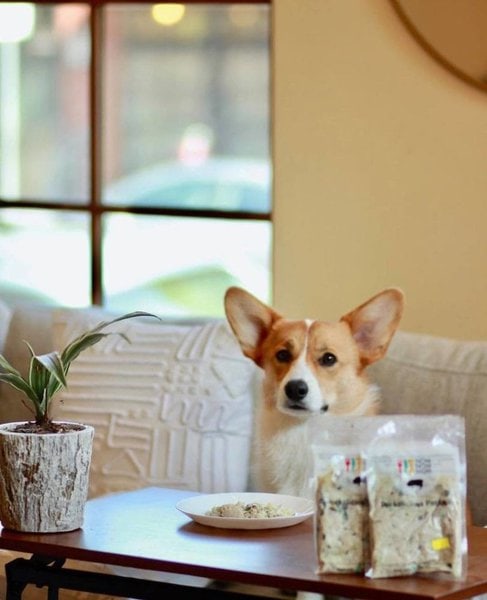 What Are The Types of Automatic Dog Feeders?
If you are looking for an automatic dog feeder, make sure you know how the automatic dog feeders differ from each other:
Gravity Dog Feeders
Gravity dog feeders are the simplest type of automatic feeders. Each time your pet eats, the food will fall instantly from the hopper, replacing what has been consumed. Once the bowl is complete, the dispenser will stop releasing foods.
Electronic Dog Feeders
This type of automatic feeder, like WOPET, is the most commonly used feeding tool since it lets you control how much your dog should be eating and when they should eat. You can pre-program it with feeding times, and you can measure the portion sizes. The food will dispense automatically on time with the right quantity.
5 Tips For Leaving Your Dog Alone At Home
As dog owners, we definitely prefer to spend most of our time each day playing with our pooch. But in this busy modern world that we live in, this might just seem impossible to achieve. We have other things to attend to. Aside from working a full-time job, we also need to spend time with our family and friends!
In as much as we want to dedicate all our time to our beloved pets, there are some cases when we have to leave them at home.
When it comes to this, here are some tips to keep in mind.
Allocate A Place For The Dog Bathroom
You don't want your pet to relieve itself on your sofa or kitchen floor. Therefore, allocate a designated place in your home for this. Make sure you place grass pads on the area where your pet can comfortably relieve itself.
Grass pads are very popular among households with pets, most especially in the urban areas and for those who live in condominiums that don't have a spacious yard. These are available in different sizes, and you can go for real or synthetic grass with these pads.
Keep Your Dog Active
Dogs require mental stimulation to stay occupied. Otherwise, they will end up feeling bored when alone, which is when they will chew your precious things or rummage through the trash.
So to prevent this from happening, give your dog something to keep it entertained before you leave it alone at home. You can maybe turn the TV on, play some good music, give your dog toys, or open the window so that your pet can have a good view of the outdoors.
Tire Your Dog
Before leaving your home, take your dog out for some exercise. That way, your pet will feel tired and would rather spend the rest of the day sleeping while you are away.
Depending on the breed of your dog, health condition, and body type, you can let it exercise for a few minutes up to several hours. Before going to work, take your dog out for a walk or play a game of fetch. This will tire your dog out, and it will end up sleeping when you arrive home.
Get An Automatic Dog Feeder
Before leaving your pet alone, you need to make sure that it has enough food to eat. Therefore, having an automatic dog feeder that will automatically feed your pet on your behalf would be very useful.
The device can be programmed to release food at a certain time of the day, so even if you're not around, your pooch can still be fed regularly.
Get Some Help
If you have a lot of things in your hand and you can't find some time to help your pooch go to the toilet, exercise, and eat, you might as well pay for someone to watch over your pet. This is especially useful if your pet is still a small puppy that requires utmost attention.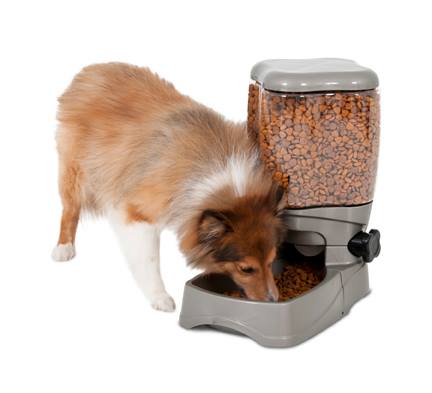 7 Best Low-Maintenance Dog Breeds For People Who Work Full Time
So you're thinking of getting a dog, but you don't have the luxury of time to take care of it. Perhaps, you have your full-time job, and you need to attend to your kids as well. Remember that having a dog requires commitment. You cannot just get a dog and leave it alone to fend for itself! Just like your kids, your pet also needs your time and attention.
Thankfully, there are low-maintenance dogs that won't require much of your time to take care of. So if you're someone who has a lot on your hands, yet you're dying to have your pet, you may want to consider getting one of these breeds.
Below is a list of the best low-maintenance dogs that busy people should consider adopting.
Basset Hound
Basset Hounds are dogs that would prefer to sleep most of the time, which is why you don't need to dedicate a lot of your time to taking care of this dog. Further, these dogs are pet-friendly and kid-loving, so they are great for families with small kids. A Basset Hound would prefer to sit on the couch all day long.
Maltese
For people with allergies, the Maltese would be a great pet to own. It may have a fluffy coat, but this pet is hypoallergenic and will not shed a lot of hair.
Also, this small breed of dog doesn't require a lot of maintenance and can thrive in small spaces, making it a great companion for people who live in tiny apartments.
Chihuahua
Chihuahuas are very tiny dogs that won't require a lot of your time to take care of. Despite their small size, these dogs have a long lifespan of 12 to 20 years! With a height of only 8 inches and a weight of 3 to 6 lbs, these small dogs are fun to cuddle.
They won't mind spending the rest of their day alone. Therefore, it's a great pet for those who need to go to work every single day.
Greyhound
The Greyhound breed comes from Egypt and is known for being gentle and affectionate. In fact, it's a favorite dog among the royalty, such as Queen Elizabeth I.
These dogs are not too difficult to train and are very loyal. They prefer to nap all day long, so they are perfect for people who need to leave home for work.
Shar Pei
Shar Pei is among the most adorable dog breeds, known for its wrinkled skin and black tongue. These pets are ideal for pet owners who need to leave home for work each day since this breed doesn't mind staying all day in solitary. However, this pooch requires proper training before it can be left on its own.
French Bulldog
The French Bulldog is a companion dog that can make for a perfect addition to your family.
This dog is not too big, so it can survive in small homes and apartments. Above all, it doesn't require a lot of attention as it can manage to live on its own.
Whippet
Also known as "poor man's Greyhound," the Whippet has the same characteristics as the racing breeds. They are ideal for families with kids because they are very friendly and sociable.
These dogs are also easy to train, and they wouldn't mind when left alone the whole day.
For the full list of low energy dogs, check out this article.
Why Get An Automatic Dog Feeder To Feed Your Dog?
Busy pet parents should consider getting an automatic dog feeder. This device will feed your dog automatically when you're not around. You can set it to feed your dog at a specific time each day while you are away at work.
With this canine accessory, even busy individuals should be able to raise healthy and active dogs.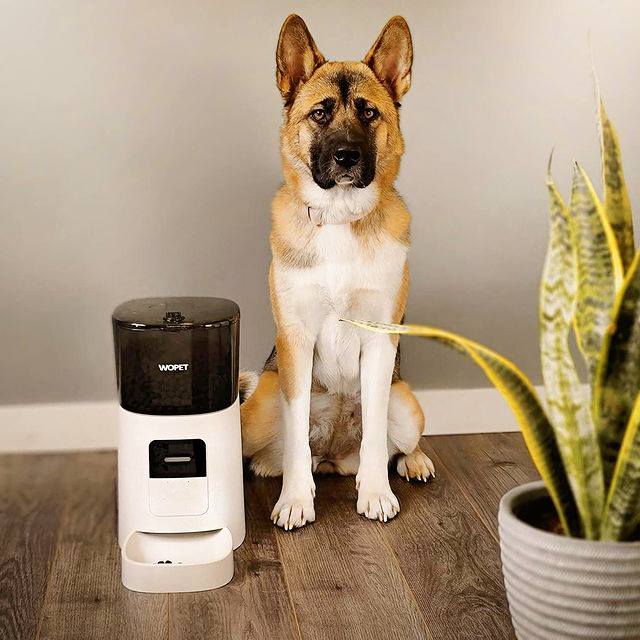 Dog Schedule For Working Dog Owners
In this modern age, people are just so busy that they can rarely find time to take care of their dogs. This is a sad reality because having a pet pooch is just like having kids. It takes time and a whole lot of commitment.
However, it's definitely possible to have a dog despite having a full-time job. The key is to manage your time well.
Ideal Schedule For Working Dog Owners
Here's an ideal schedule to follow when it comes to juggling work and taking care of your dog.
07:00 AM – Dogs normally go to the toilet the moment they wake up, so take your pooch with you in the bathroom as you wake up. After that, leave your dog to play with some toys as you go on with your business. Give it toys that will keep it entertained so you will not be distracted.
07:30 AM – After you take a bath and get dressed, it's time to feed your pooch its breakfast while you prepare your meal. If you're going to feed your pet twice a day, then this would be your dog's first meal.
08:00 AM – After you and your dog finish your meal, it's time to go out for a brisk walk. This is also another opportunity for your pooch to pee. So before going out, take it to the toilet. Dogs normally pee 10 to 30 minutes after eating, although adult dogs are better at holding it in. But this does not apply to small pups.
09:00 AM – After your walk, let your dog settle down. Perhaps, you can place it on a crate with its toys. That way, you will be able to prepare for work as well. If you're confident about leaving your dog in the yard, then put it there so your pet can freely explore while you get some things done.
01:00 PM – Consider going home for lunch so you can spend more time with your pooch. Your pet would love for you to go home at this time so you can bond and play around. Also, take this opportunity to take your pet to the toilet. If you are raising a puppy, then feed your pooch its midday meal.
01:30 PM – Before you leave for work, change the water of your pet. Also, take your dog to the bathroom.
05:00 PM – When you get back from work, give your pet fresh and clean water, along with its evening meal. Right after your pup finishes eating, take it out for a walk. This is also the most suitable time to potty train your dog.
07:00 PM – Make sure to take your dog to relieve itself before bedtime. But avoid playing at this time because if your dog gets too excited, you'll have a hard time getting it to sleep. Always remain calm, so it will be much easier for you to get get your pooch to sleep. Crate training is one of the most effective ways to teach your active dog to stay calm and prepare itself for bedtime.
How Can An Automatic Dog Feeder Help?
For busy pet parents, an automatic dog feeder will surely be a great help. With this device, you don't have to worry about your dog missing a meal. You can set this feeder to a particular time or frequency where it will release food for your pooch to eat.
Even if you're not around, you can be sure that your beloved pet will not be hungry. It's very convenient and a great purchase for pet owners that have to juggle a full-time job and take care of their pooch at the same time.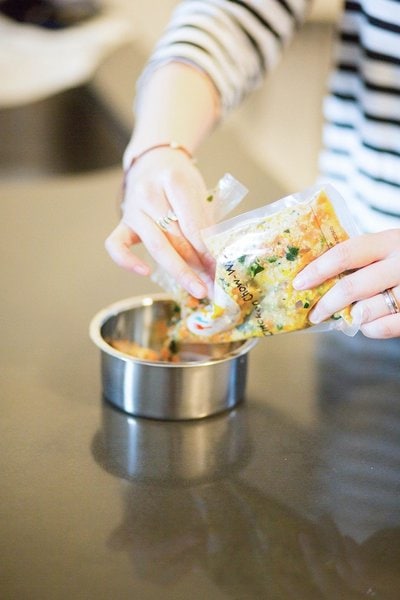 How Long Can You Leave Your Dog At Home?
One of the challenges of raising a dog is having a full-time job that requires you to leave your pet at home most of the time. But leaving your dog for a long period of time alone can be risky. This is especially the case if you are raising a small puppy or a dog that has already reached its senior years and suffers from limited mobility.
Before you leave your pooch on its own at home, there are many things that you need to take into consideration. First of all, you need to consider the breed and age of your pup. The amount of time that you can leave your pet alone will mainly depend on these two factors.
So if you're wondering how long can you leave your dog at home, read on to find out.
How Long Can You Leave Your Dog Alone?
Small puppies aged 8 to 10 weeks must never be left alone for longer than one hour. At this age, the dog still can't control its bladder. When the pup reaches the age of 2 to 3 months, it has to be checked after every two hours when left alone because its bladder is still developing.
A puppy that's around four months old should be able to hold its bladder for up to 4 hours and even longer. But this will also depend on how fast your dog is developing.
The general rule is that adult dogs that are more than 18 months old can be left alone for only a maximum of 6 hours a day. The amount of time can also vary depending on the dog's breed, age, training, and some other factors. It's essential that you observe how the dog behaves when left alone. That way, you can gauge if it's safe to leave the pet on its own or not.
Leaving your dog alone for up to eight hours without knowing how it will react can affect your dog in many ways. It could result in stress, anxiety, and other strange behaviors, such as barking excessively. If you notice that your pet can be left alone for 6 hours without feeling anxious, you can gradually increase that to 7 hours, and eventually 8 hours.
What Factors Affect The Duration Which You Can Leave Your Dog Alone?
Before you decide to leave your dog for a long time alone, you must think real hard about why your pooch could experience difficulties without you. This will mainly depend on the type of pet that you have. For instance, cats prefer to stay alone all day long.
But this is not the case with dogs.
They are pack animals and would rather be part of a pack. As such, they tend to get stressed whenever they are left on their own.
It's okay to leave an adult dog alone, but for only a maximum of six hours a day. However, this can also vary depending on the factors below:
Dog Training
It's possible to train your furry friend not to feel anxious when they see you leave. If your pooch is trained well, you can leave it alone without any issues.
Your dog won't feel anxious or stressed whenever it's time to leave home.
Dog Breed
Certain dog breeds are naturally more anxious than other breeds. Also, some breeds have a smaller bladder, so it's not possible to leave it for longer on their own, or they will pee anywhere.
On the other hand, guard dogs will only need potty breaks after roughly 10 hours. But hounds could suffer from anxiety when left alone for only a few hours. So consider your dog's breed and study its natural behavior before you decide to leave it.
Dog Age
Dogs who are already in their senior years may need to go on a bathroom break more often. Therefore, they cannot be left alone for a long time, not to mention the fact that they may already suffer from limited mobility.
Your Anxiety
For people who rely on their dog for therapy, being away from your pet can take a toll on your health as well. It's not only your dog that will feel anxious but also you as the pet owner whenever you leave your pet home.
If you feel anxious about leaving your pet alone, then look for ways how to avoid this.
How Can Getting An Automatic Dog Feeder Help?
If you're going to leave your dog unattended at home, consider getting an automatic dog feeder. You can set this device to release food for your pet at a certain time each day.
Thus, even if you are not at home, you can be sure that your dog is getting enough food and nutrients.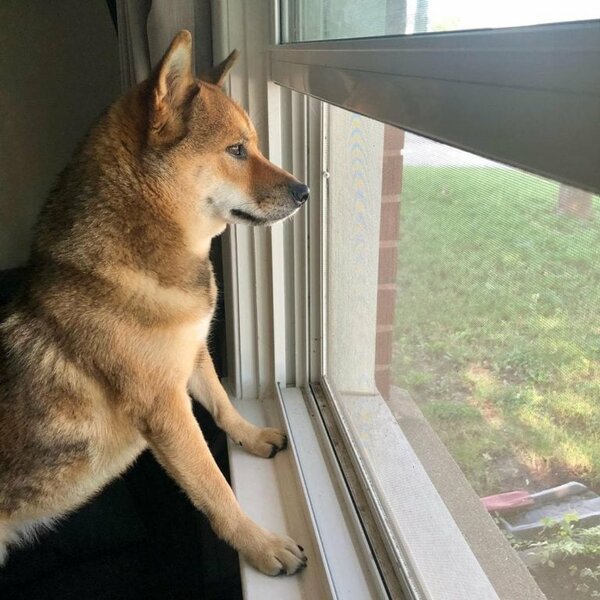 Ultimate Guide to Having a Dog When You Work Full-Time
Everyone wants to own a dog, but not everyone is aware of the fact that it entails lots of responsibilities. Just like having kids, adopting a pet doesn't come easy. You need to find a lot of time to attend to your pet and give it the love, attention, and care that it deserves.
Owning a pet can become even more challenging if you have a full-time job. You will be away from home for most of the day, and you might not find the time to spend some quality time with your pooch. But don't worry because it's possible to own a pet despite having your full-time job. The key is to manage your time well.
Refer below for the ultimate guide to owning a dog when you work full-time.
Keep Your Dogs Entertained While You Are Away
If you need to leave your pet at home, make sure you give it something that will keep it entertained. Dogs get bored too, and if you leave them in a confined space without anything to entertain them, this can affect their mental health.
So before you leave, give your pooch a lot of toys to play with, such as indestructible chew toys.
Consider Bringing Your Pup To The Office
If you're fortunate enough to be able to work in a company that allows pets on the premises, then consider taking your pup with you at work. As a matter of fact, 19% of all pet owners bring their pets to work at least once a month. Luckily, more and more companies are now recognizing the need for their employees to bring pets to the workplace.
According to some research, having a dog at work can boost the employee's health and improve productivity. Being around your furry friend has also been shown to minimize stress and boost immune functions as well. In fact, pet-friendly companies say that their employees' stress level has greatly reduced ever since they started allowing dogs around.
But for those whose offices will not allow bringing pets, you can consider working from home. There are quite a fair number of companies that allow their employees to work from home, so do take advantage of this flexibility.
Try To Prevent Separation Anxiety
Certain dog breeds are prone to separation anxiety. For instance, cocker spaniels, Labradors, and border collies tend to suffer separation anxiety more than other dog breeds. Always research which breed of dog is suitable for your lifestyle.
So, how do you know if your dog suffers from separation anxiety?
If it's pooping or peeing all over even though it's already been potty trained, then that's one of the signs. Other signs include hurting itself through obsessive licking, running away, barking excessively, and chewing on furniture, shoes, and clothes. Consider getting a pet camera that would allow you to observe your dog and detect any unusual behavior.
The best way to address separation anxiety with your pooch is to prevent it from ever happening. Get your dog to exercise regularly and find a few hours each week to walk your dog outdoors.
It is best to make your pet sleep before you leave for work. To make it sleep easily, tire it first by playing ball games or walking around and chasing each other in the house. When it's time for you to leave your home, your dog will feel very tired and will end up sleeping.
Also, consider giving your pet a treat before heading out of your house. That way, every time you leave, your pooch will associate this with a yummy treat and won't feel anxious about it.
Hire A Dog Walker
To ensure the safety of your pet, consider hiring a dog walker while you are away. This is especially important if your dog is already in its senior years and cannot be left alone for a long time. Aside from watching over your pet, the dog walker can also take your dog out for a walk, which is what their main duty is.
They will give your pet the much-needed exercise on your behalf. You can ask any member of your family to be a dog walker while you're away.
If you can't find a dog walker or none of your family members can watch over your dog while you're at work, then be a dog walker yourself! Consider going home during your lunch break so you can take your pup out for a walk. Try to go home early from work so you can still spend some quality time with your pet.
Get An Automatic Dog Feeder
Finally, one of the most important tips to keep in mind is to ensure that your dog is fed well while you are at work. In this case, you need the help of an automatic dog feeder. With this device, you will be able to program the amount of food to feed and the time to give it to your pet.
Before you leave the house, simply set the device to the amount and frequency of feeding that you want for your pooch. That way, your pet will not get hungry even when you're away.
---
Final Thoughts
---
After reviewing the 11 automatic feeders, we highly recommend our top pick. Our decision is influenced by the following factors – the capacity of food it can hold, the design and the material it is made of, easy to clean, and it is battery-operated. With this feeder, you are assured your pet dog is safe, healthy, and will be fed on time. The feeder is also reasonably priced.
Our primary purpose in writing this review is to help you decide, and we hope you find this post helpful. If you find this review informative, feel free to share it with other pet owners.