If you're a dog owner, then you know that training your pet is essential. Whether your pooch needs a little help with basic obedience or you're working on advanced commands, there is the standard shock collar that can help.
The shock collar is the most common type of dog training collar that delivers a brief electric shock to dogs when they misbehave. Are you looking for the best dog training collar? Some people swear by such collars, while others say they're ineffective. So, which is it?
By exploring the pros and cons of various brands of dog training collars, we'll provide some tips on how to choose the right one for your pup and determine whether or not it is worth purchasing.
#1 PATPET Dog Shock Collar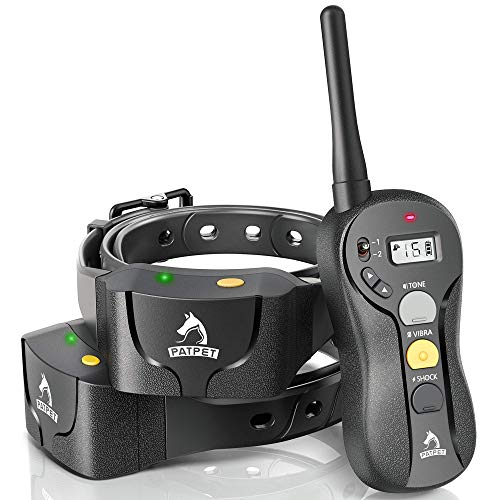 The PATPET dog shock collar is suitable for large dogs weighing between 15 lbs to 140 lbs. It is a wireless control that helps to provide long-range control. This collar is Wireless Control: The wireless remote provides long-range control, with the receiver being IPX7 waterproof and the remote IPX5 rainproof.
A rechargeable lithium-ion battery powers the PATPET collar. This will ensure that you can conduct uninterrupted training for your dog over several days without charging the collar daily. It comes with three training modes and these are beep, vibration, and 16 shock levels. The pack comes with two receivers, and the button on the remote is distinguishable by touch.
The PATPET dog shock collar is great for training larger dogs. All of its training modes work together for a successful training session. You don't have to worry about your controller and receiver getting wet because they are waterproof. The long-range control and rechargeable battery are a great plus.
Pros
---
Customers can choose from 16 different levels of static stimulation and three training modes that can be adjusted according to a dog's temperament.
This RF 434MHz shock collar comes with a wireless remote that provides a long range of control – up to 3,000 feet – with the receiver, thereby making the product effective at longer distances.
This dog shock collar features an IPX7 waterproof receiver and an IPX5 waterproof remote, which makes this product effective under the rain and, to a certain extent, resistant to water damage.
The adjustable design of the PATPET collar ensures that this product can be customized to fit a wide variety of dog neck sizes.
This collar's remote has three intensity-adjusting buttons that can be operated without taking their eyes off the dog, thereby making it easier for dog owners to train their canine buddies to focus on the commands.
Cons
---
Some customers remarked that the collar's battery life is too short for it to be effective for a considerable period.
#2 SportDog SportHunter Family Remote Trainer
SALE ALERT!!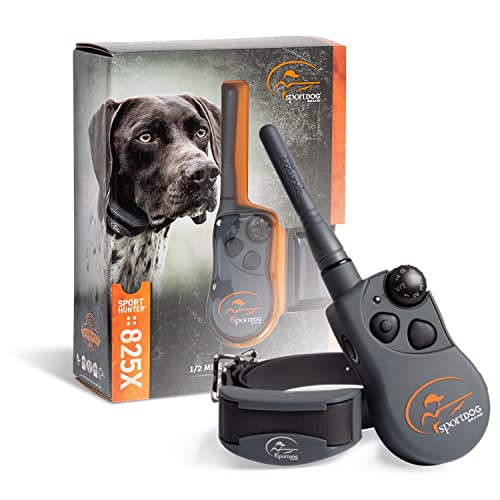 The SportHunter Family Remote Trainer is a rugged but quite versatile dog training collar with the best e-collar technology from the SportDog brand. It is a mid-range e-collar system with up to ½ mile range. You can use it to train up to three dogs using the same handheld remote. You'll naturally need to buy additional collars for the other two dogs.
Each collar is designed to comfortably fit an 8-lb dog with a neck size of 5 to 22 inches. This is a versatile canine training collar that delivers value for money.
The SportHunter Family Remote Trainer allows for remote training, as it comes with a ½ mile range which is sufficient for close and far-ranging dogs. It also comes with a rechargeable battery. A single 2-hour charge will last between 50 to 70 hours of active use.
These dog training collars use the DryTek technology, which makes them 100% waterproof and submersible up to 25 feet. You can use them in any weather or terrain.
The SportHunter Family Remote Trainer can be customized to suit your pooch's temperament with different stimulating levels, including tone, vibration, and seven more static stimulation levels. The gentle stimulation is delivered either as a momentary nick or continuous stimulation. It has all the functions and features you'd want in a durable, waterproof, and budget-conscious canine training collar.
Pros
---
This remote distance trainer is effective for up to half a mile, which makes it suitable for long-distance usage.
The 825X collar has three different ranges of static stimulation – low, medium, and high – with seven levels of static stimulation that users can choose from according to their pooch's temperament.
This product's remote can be used on three collars simultaneously, thereby making it effective for training multiple dogs at once.
The trainer comes with rechargeable lithium-ion batteries that provide up to three days of use on a single charge.
This remote trainer is constructed with DryTek technology, which makes it waterproof for up to 25 feet when submerged.
Cons
---
The functionality of the trainer's remote system can be further improved, as several customers cited that all three buttons perform the same function, rendering the other two buttons redundant.
Some customers remarked that the SportDog trainer's vibration and shock were too weak to elicit a response from their pooches.
#3 Educator E-Collar Remote Dog Training Collar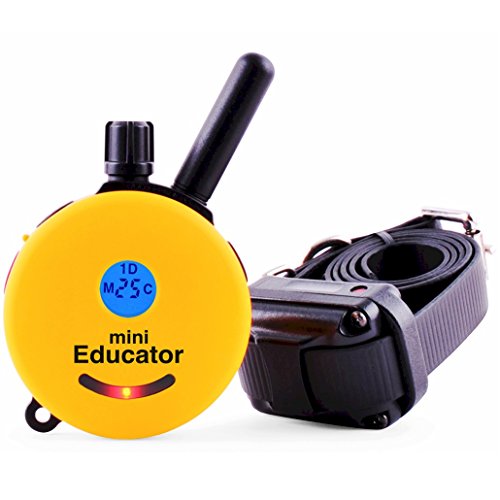 The Educator E-Collar Dog Training Collar features the latest technology to ensure that your dog listens to you and maintains good behavior. With a long ¾ mile range, this is the perfect collar for your dog's outdoor training.
It is also waterproof and has a clear LCD screen that shows you how much battery juice you still have left. You can also adjust the shock level to use on your dog, which is a good feature, especially for dogs that don't respond to lower shock levels. The collar is designed to get your pooch's full attention without hurting the animal.
This is one of the most technologically advanced dog training collars on the market today. It has a long-range and is perfect for outside training, thanks to its waterproof design.
Pros
---
This dog training collar comes with 'lock and set' stimulation levels from 1 to 100 and corresponding boost levels from 1 to 60, such that its design caters to different dog temperaments.
The collar's BioThane construction is extremely durable, easy to clean, and waterproof, thereby making it suitable for use in the rain.
The Educator training collar features a nighttime tracking light that improves visibility under low light conditions and makes it easier to train a pooch at night.
The ergonomic design of this remote, coupled with an intuitive button layout, is well suited for use by hands of different sizes.
The Educator training collar comes with lithium-polymer rechargeable batteries that can be charged and ready for use within two hours.
Cons
---
Some customers claim that the use of this training collar caused burns around their pooch's necks.
Multiple customers have claimed that this training collar stopped working just a few months after purchase.
#4 INVIROX Dog Training Collar [2022 Edition]
SALE ALERT!!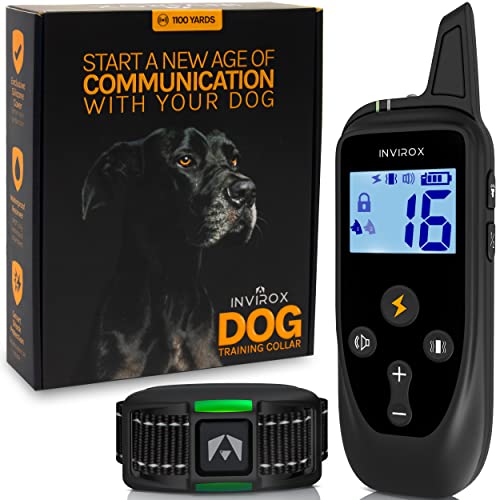 The 2022 Edition dog training collar from INVIROX is a professional shock collar that helps to train dogs six months and older. It is suitable for dogs weighing between 8 lbs to 110 lbs. It comes with a remote design that includes 123 training modes in beep, vibration, and shock modes. You can adjust stimulation levels that will not make your dog uncomfortable.
The INVIROX collar is safe and has a security keypad lock that reduces accidental shock incidents. It works up to a 3,350-ft or 1,100-yard range and lets you train your dog in open spaces without worry.
This compact training collar is easy to store and carry wherever you go. It is waterproof and rechargeable with a remote that operates for up to 45 days and the collar for up to 15 days uninterrupted. It comes with a one-year warranty.
When using a shock collar like the INVIROX dog training collar – the 2022 edition, you worry about shock accidents. This collar comes with a sliding security keypad lock to prevent that. We also love that it works on small and large dogs. The long-range training and rechargeable battery features, as well as 123 training modes, make this device a dog owner's training dream.
Pros
---
The INVIROX collar comes with three training modes – beep, vibration, and shock – with 123 adjustable levels that make it possible for users to tinker and choose a stimulation that is best suited to their dog's temperament.
This collar has a security keypad lock that can be activated to prevent users from accidentally shocking their furry friends.
This collar is effective for up to 3,350 feet, which makes it effective for training pooches under various conditions.
The IP67 waterproof rating of this dog training collar ensures that it is suitable for use in the rain.
This collar is designed to be adjustable, thereby providing a convenient fit for varying dog neck sizes.
Cons
---
The collar's locking system is an elastic cord with a plastic friction lock that easily falls off a pooch's neck.
Several customers have reported that this collar either stopped charging or working within a few months of use.
#5 TBI Pro Dog Training Collar With Remote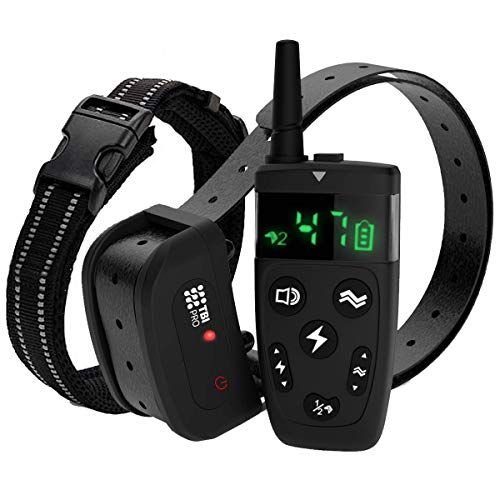 If you are looking for high-quality dog training collars, you may want to check out this all-new multichannel collar from TBI Pro. It is a premium dog collar with an advanced design. Its remote transmitter and receiver are both waterproof and designed to last for many years.
You can even remotely pair the trainer's transmitter with two receivers, making it possible to train two dogs at the same time. It has a vibration mode that's useful for correcting barking and other forms of disobedience as well as a beep mode which helps in walking and leash training. It has a long-lasting battery too.
We recommended this new canine training collar for several reasons such as its durability, long battery life, waterproof design, and ease of use. It also comes with a 1-year replacement warranty.
Pros
---
The TBI Pro dog collar has three training modes – beep, vibration, and flash – with 100 levels of intensity to cater to different dog temperaments.
This training collar comes with an intuitive LCD display that makes information such as the remote's battery status and vibration intensity readily available to users.
This product's remote has a 2-channel transmitter that can be paired with two collars together, thereby making it possible to train two dogs at once.
This product's durable waterproof design ensures that it can be safely used under rainy conditions without damage to either the transmitter or collar.
This TBI product comes with a one-year replacement warranty for customers that encounter issues with the training collar.
Cons
---
Several customers have reported inconsistencies with this training collar as the shock mode sometimes tends to stop working.
Some customers also claim that, contrary to what is advertised, this training collar has a short effective range.
#6 PetTech PT0Z1 Premium Dog Training Shock Collar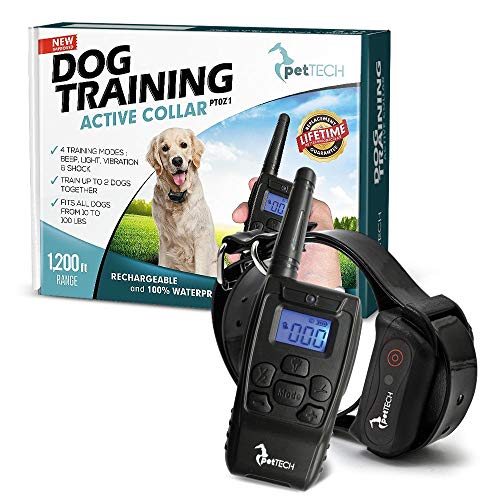 The PetTech Premium Dog Training Shock collar gives you a customizable dog training experience to suit your pooch's unique response. It is a perfect training collar for both expert and beginner dog trainers. It can be used on dogs of different sizes from 10 to 100 lbs. It is a waterproof canine training system with four training modes, namely beep, light, vibration, and shock.
Both vibration and shock modes have intensity levels of 1 to 100 that can be customized to suit your dog's best response. These dog training collars' system remote has an LCD screen and a long range of 1,000 feet. It has a long battery life and an Auto Power Protect Mode to save battery power when not in use.
The PetTech Premium Dog Training Shock collar is designed for both expert and new users. We like the fact that it is waterproof and safe for outdoor use, is fully customizable to suit your pet pooch's response, and has a long-lasting battery.
Pros
---
The PT0Z1 collar comes with 100 adjustable levels of customization for both static stimulation and vibration, as well as shock, vibration, light, and beep modes to provide variety when training pooches.
The PT0Z1's remote can be paired with two collars at once, thereby making it suitable for use in training up to two dogs together.
This product comes with a Power Preserve mode that helps prevent the battery from draining when the collar isn't in use.
This PetTech product comes with a wall charger that can be conveniently used to charge both the remote and the collar at the same time from different parts of the cord.
This dog training collar has an LCD display – with a blue backlit design for day and night use – that provides users with important information such as battery health and stimulation level.
Cons
---
Several disgruntled customers have commented that this training collar's shock setting rarely works.
The collar's remote doesn't come with a safety lock feature, which makes it too easy to change between modes, even with the slightest bump.
#7 PetLevelUp Dog Training Collar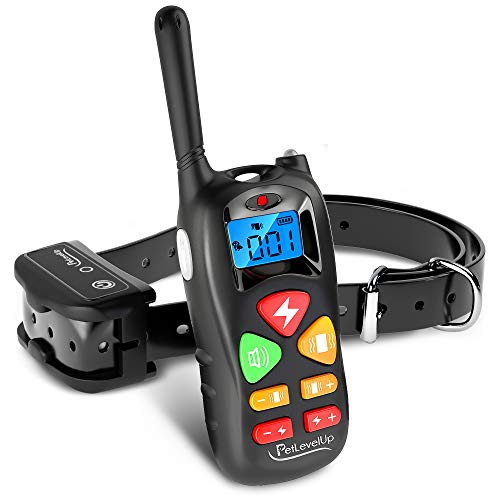 If you are looking for an effective canine training collar to transform disobedient dogs into peaceful disciplined lambs, then you might want to check the PetLevelUp Dog Training Collar. It is a functional dog training collar with three training modes, remote control with a reasonable range of 1,500 feet, a keypad safety lock, and the ability to connect to 9 electric collars at the same time.
You can use the same remote to control up to 9 dogs at the same time. The keypad safety lock ensures that you don't give your canine companion an unnecessary jolt by accident. It is waterproof and immersible in 3 feet of water for up to 10 hours.
The PetLevelUp Dog Training collar is a great option when you want to control more than one dog. Its remote transmitter can be connected to up to 9 electric collars. It has three training modes – beep, vibration, and shock – and is completely waterproof.
Pros
---
The conveniently designed remote has colorful buttons that make it possible for users to switch between training modes at a glance.
This product comes with two channels that can be used for training two dogs at once.
Customers can choose from one of three available training modes – sound, vibration, and static – to suit their dogs' needs.
The PetLevelUp training collar can be used on small, medium, and large-sized dogs with an effective range of up to 1000 feet for training pooches over long distances.
This collar has an IP67 waterproof rating, which makes it suitable for use in wet conditions.
Cons
---
Customer service needs to be improved upon as several customers claim to have reached out to the company's representatives without receiving a response.
Multiple customers claim that their PetLevelUp training collars stopped working within a few weeks to some months after purchase.
#8 PetSpy P620 Dog Training Shock Collar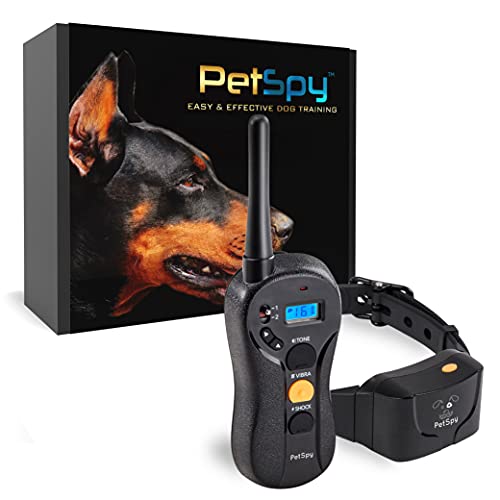 The PetSpy P620 Dog Training collar is designed to give you fast, easy, and effective professional training to help you improve your canine companion's behavior and discipline. It is an easy-to-use dog training system for both professional trainers and first-time users of dog training collars.
It will help you correct unwanted behavior traits such as barking, leash pulling, wandering off, and general disobedience. You can use it to train your pooch remotely from up to 650 yards away. It comes with three training modes and 16 adjustable levels. You can use it on dogs of 10 lbs and larger.
This is a premium dog training collar that you can rely on to improve your dog's behavior in just a few days. It has Touch Distinguishing Buttons that make it extremely easy to use. The PetSpy P620 is designed for both expert and novice dog trainers.
Pros
---
Both the product's receiver and remote are waterproof and can be safely used in moist conditions.
This product's charger features a split cable design for simultaneous charging of both the receiver and the remote.
The shock collar comes with a free training guide that contains tools designed to make it easier for users to train their dogs.
The remote's intuitive button layout makes it convenient for customers to adjust the collar without taking their eyes off the pooch.
The collar has three training modes – electric shock, vibration, and beep – with 16 adjustable levels that provide different training intensities.
Cons
---
There is a huge jump in intensity when adjusting between shock levels, and this can be dangerous for the safety of the pooch.
Several customers have reported that their P620 collar's battery doesn't hold a charge for long and that the battery stops charging after a while.
---
Dog Training Collar Buyer's Guide
---
Buying a dog training collar (also known as a dog shock collar) requires careful consideration and considerable research. This is not only due to the fact that the devices themselves attract a little bit of controversy but also because of the wide-ranging availability of options in the market today.
Dog training devices have come a long way from what they used to be in the past, which is why it is highly imperative to equip yourself with as much knowledge on the topic as possible to ensure you make your purchase knowing that you've made the best, most informed decision you could ever possibly make.
Related: Best Vibrating Dog Collars
Purpose And Mechanism
It is important to know what the point of having the dog training collar is in the first place to make the best decision regarding which collar to choose.
Before we proceed, though, it is worth noting that despite their controversial nature, dog shock collars are actually quite safe and effective in achieving your objectives. This is provided that you are using the training collars appropriately.
They are training devices worn around a pooch's neck to deliver a mild amount of shock for corrective purposes alone. To ensure even more safety, most of the devices only send out vibrations as a means of forewarning your doggie to avoid delivering the mild shock in the end.
Furthermore, the shock delivered by these collars is completely harmless and is more comparable to static shocks, which may be experienced naturally even by human-to-human contacts under certain conditions.
Related: Best Citronella Bark Collars
Things To Consider Before Purchase
Having understood the purpose and mechanism behind the use of a dog training shock collar, the next thing to have in mind are the factors that ensure you're able to achieve your objectives in the best possible manner.
These include going for a collar with the highest quality, flexibility, and durability. Below are the features to be on the lookout for to ensure this.
Signal Modes
One of the most important features you should be on the lookout for in a shock collar is the signal mode, particularly the absence or presence of flexible modes.
A signal mode is the defining form of correction in a collar, which is a static shock. But a proper dog training collar should be capable of administering other forms of correction such as vibrations, light, beeping, and other tone modes.
Having these options will ensure that you're able to make the training a sort of gradual process with a large degree of flexibility.
Stimulation Levels
Thanks to advancements in technology, training collars nowadays are much more flexible in terms of stimulation levels. Sadly, not all training collars are up to par, and some still fall short in this regard.
Ideally, you should go with a collar with a high range of stimulation levels. Luckily, it isn't hard to find these kinds of collars, with most devices now having up to 100 levels of increasing shock intensity.
Furthermore, for devices with multiple signal modes, the other options such as vibration and tone stimulation should also be capable of gradual increase or decrease based on whatever the current situation demands.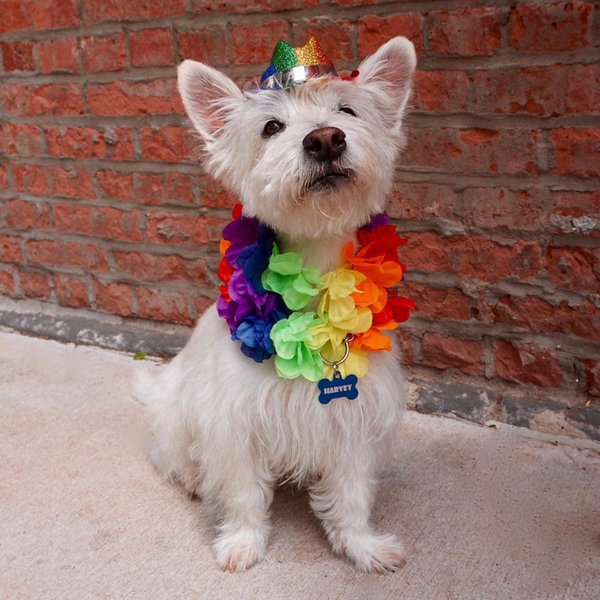 Range
The range might not seem so important at first, seeing as most dog owners assume that they'll always be in close proximity to their doggies. This, however, can never be the case all the time.
There will be certain situations where you will happen to be a long way away from your pooch while having to make use of the collar for corrective purposes.
It is in situations like this that you'll get to appreciate the importance of going with a shock collar with a high range.
The range will also come in handy during visits to parks or outdoor training grounds.
Waterproof
You should go with a waterproof dog training shock collar to ensure durability. This is even more imperative when your furry friend is one who likes to take a dip in water every once in a while.
Or just has a knack for being in unexpected situations that may involve water. Thankfully, the entries in our list fulfill this condition excellently.
Benefits Of A Dog Training Shock Collar
Erases Erratic Behaviors
One of the most effective uses of a shock collar is to correct erratic behaviors in your furry friend. It is not an uncommon occurrence for a dog to get carried away by distractions, such as seeing birds or critters in the distance.
Administering mild doses of the shock collar ensures that bad behaviors are corrected in the most efficient and less harmful way possible.
Quick And Efficient
Compared to other dog training methods, there is no denying the superiority of employing training collars regarding speed and efficiency. It gets the job done impressively, and it gets it done fast.
In a study conducted among dog owners who made use of dog collars for corrective purposes, it was found that 91.8% reported positive improvements in quick time.
Furthermore, the results produced from this method are long-lasting and ensure that your dog continues to behave in a desirable way even when you're not around.
Controls Barking
Another aspect where a dog training collar produces remarkable results is in the area of curbing excessive barking in a pooch. And what's more – a training collar gets it done in a gentle, effective, and most importantly, absolutely safe way that ensures no harm comes to your doggie in the process.
Related: Best Bark Collars For Dogs
---
Final Thoughts
---
Buying a dog training shock collar can be more fulfilling when you know what you want exactly and what features you are looking for.
It also helps to understand the mechanism and principles behind the use of a training collar in the first place.
Among some of the most important features mentioned above, the notable ones you should definitely look out for are the presence of multiple signal modes, range level, stimulation levels, and durability in terms of waterproof ratings. Rest assured that our recommended top pick encompasses these key features.
Putting all of these factors into consideration will ensure you get a collar that you can be proud of and that gets the job done in a very efficient manner.