The best dog urn is Best Friend Services Ottillie Paws Series Pet Urn.
The death of a beloved pet is one of the saddest events in one's life. It's comparable to losing a close friend or a dear family member. After all, your pet greeted you at the door every day from work and showed you nothing but love and affection all of its life.
But pets grow old and they pass away, oftentimes way before their owners. This is not an easy time for any pet owner and it can be difficult to let go. That's why a lot of people opt for urns as the best way to keep their pet's memory alive.
If you're looking for a great pet urn that will help you honor the memory of your beloved pet, read on for some of the best options available on the market.
#1 Best Friend Services Ottillie Paws Series Pet Urn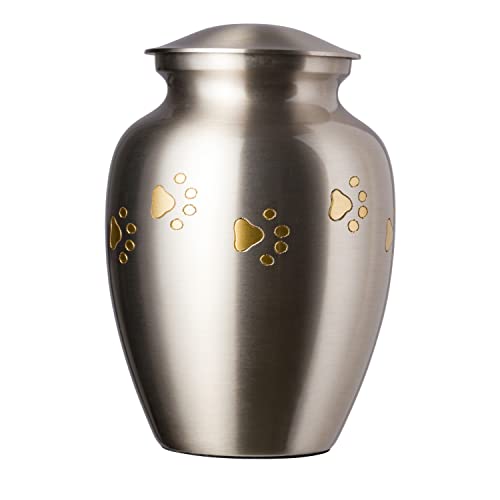 The Best Friend Services Ottillie Paws Series Pet Urn is built to last from solid brass. Not only is it handmade, but it has a distinctly elegant design that provides a dignified last home for your pet's ashes. The brass exterior is hand-etched for a tasteful finish plus this urn is available in three different designs to suit different preferences. We love the hand-carved paw prints that add to the overall personalized feel of this urn.
You'll be glad to know that the Ottillie Paws Series Pet Urn is designed for easy opening with a screw-top lid. It's built to last with heavy-duty materials, and it's available in four different sizes which means it doesn't matter how large or small your pet is, you'll be able to fit its ashes comfortably in this urn.
Your pet deserves to rest with dignity. That's what this hand-crafted pet urn offers with its beautifully engraved paw prints, heavy-duty brass construction and elegant design.
Pros
---
Features cute hand-carved paw prints.
Made from solid brass.
Heavy-duty, elegant design.
Threaded screw top lid.
#2 Trupoint Memorials Gold Large Pet Urn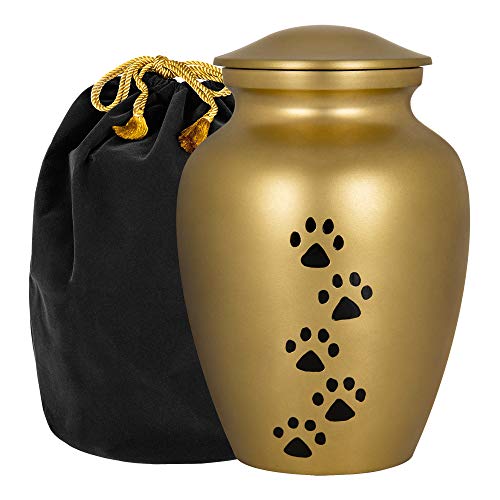 Are you looking for a solidly built and great looking urn for your pet that won't burn a hole in your pocket? Look no further than the Trupoint Memorials pet urn. It's suitable for both cats and dogs of different sizes. It's handmade from solid brass material, and is thoughtfully designed to provide a fitting resting home for your pet.
Think about it; your pet has given you years of its life and it deserves a graceful final resting place like any other loved one in your life. The hand-carved paw prints add a fun element to the urn's design and complement its hand-painted surface beautifully. In our opinion, this is one of the best dog urns on the market, and yet it's available at a very affordable price point.
The best part is the Always Faithful cremation urn is available in three other colors. Besides the default gold color, it is available in black, blue, and white. This 8-inch urn is suitable for the ashes of pets that weigh 122 lbs.
This urn comes with a convenient velvet bag that you can use to keep it safe while on the go, and a screw on treaded lid for easy closing and opening. Plus, you can engrave it with your pet's name if you like and truly keep your furry friend's memory alive.
Pros
---
The surface is beautifully hand painted.
Hand-carved paw prints.
Hand made from durable brass.
Backed by a money-back guarantee.
#3 Best Friend Services Ottillie Paws Series Pet Urn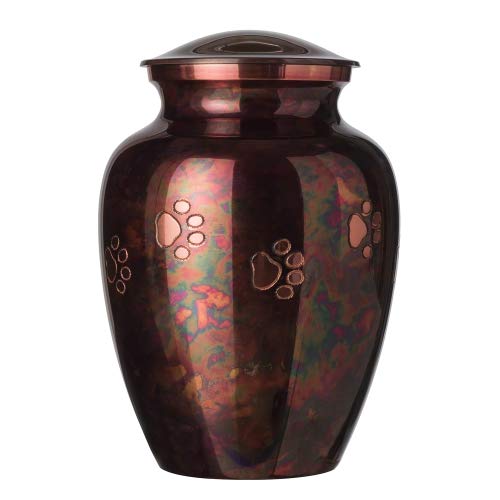 As the name implies, this pet Urn is designed for pet owners that feel as though they've truly lost a best friend. Like the other models, this urn is hand made from solid brass. Why do manufacturers favor this material? Brass is the best material to make an urn from because it's long lasting yet elegant.
Not only that but it's easy to engrave and allows you to preserve the memory of your furry friend by etching its name on the urn. This is in addition to the beautiful paw prints which have been hand-carved to distinguish between your pet's urn and a human urn. The screw-on top lid means it's easy to open and close this urn, and it's available in four different sizes to cater to different dog breeds.
Thanks to the treaded screw-top lid on this urn, you'll find that it's easy to keep the remains of your pet safe and secured. It's made from sturdy brass material, so you won't have to worry about it falling on the floor and breaking.
Pros
---
Made from solid brass.
Stunning hand-carved paw prints.
Available in four sizes.
#4 Perfect Memorials Dog In Basket Urn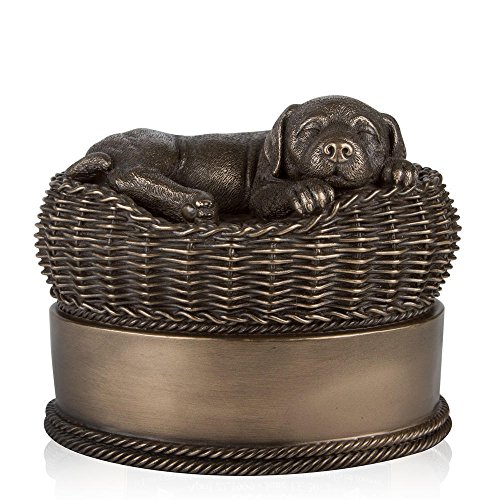 Perfect Memorials is committed to providing pet owners with fitting memorial tributes. Your fur baby was like a real child to you, so it's only fitting that you'd get it a quality urn that'll remind you of your pet for the rest of your life.
This gorgeous urn is made from heavy-duty cold cast resin, and has a bronze colored carving of a sleeping dog. At first glance, this doesn't look like your average urn. It looks more like an elegant vase or a decorative sculpture.
The bronze carving will give you a sense of peace knowing that your furry friend must be lying on a cloud up in heaven looking down on you in pretty much the same way as the pet in the carving. The bottom of this urn is suitable for carving with a screwdriver, which is something you wouldn't normally expect from most delicate urns.
This urn opens at the bottom and can be etched with a screwdriver. Plus, it's available in four different sizes, which is great.
Pros
---
Base panel can open up.
Has a volume of up to 170 cubic inches.
Cold cast resin construction.
#5 Pet Urn Peaceful Pet Memorial Keepsake Urn
First, let's start by stating that this is not a traditional pet urn. It's more of a memorial chest that you can use to store all the things that remind you of your pet. Aside from keeping your pet's ashes safe, this urn can be used to store its old toys or collar, while you can easily store a photograph, measuring 5 inches long by 3.5 inches wide, in the front pocket.
The Pet Urn Peaceful Pet Memorial Keepsake Urn has a fabulous mahogany finish that pretty much fits into any décor scheme. It's quite big, which makes it ideal for storing the ashes of a large dog and much else besides. Since this chest enables you to add plenty of personal touches, there'll be no need to spend extra on engraving an urn.
This chest allows you to create a proper memorial with more than just your pet's ashes. It's ideal for pet owners who want to honor the memory of two or more dogs who were lost in some tragic event, and now you'll have somewhere to store your pet's favorite toys when they're no longer around.
Pros
---
Measuring 7 inches long by 5 inches wide by 5.5 inches tall.
Rich mahogany finish.
Large enough to keep dog collar, toys and photos.
Comes with a photo slot measuring 5 inches long by 3.5 inches wide.
#6 Enshrined Memorials Cremation Urn For Ashes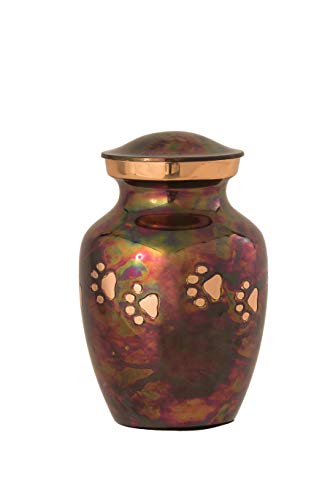 This Enshrined Memorials Cremation Urn is made from brass metal with horizontal gold paw engraving. Your pet's ashes are kept secure with a threaded screw top lid. It even comes with a soft velvet bag that you can use to keep the urn safe and damage-free in case you're storing it in a drawer or cabinet.
This urn is the perfect send-off for your pet and will help you maintain your pet's memory forever.
With its thoughtful features and elegant finish, this pet urn is the perfect way to say goodbye to a pet that has been with you for years.
Pros
---
Beautiful design.
Has a carrying capacity that fits the ashes of pets that weigh up to 40 lbs.
Comes with threaded screw top lid.
Attention to detail on the finish is impressive.
#7 Best Friend Services Mia Paws Series Cremation Ash Urns
The eye-catching design of this urn is a fitting tribute for pets that added color to your life with their vibrant personality. It'll keep your pet's ashes nice and secure thanks to the threaded screw top while the durable construction is a guarantee that this urn won't fall apart to spill your pet's remains.
This is a high-quality product that's designed to help pet owners mourn their beloved pets appropriately. The best part is that this urn is backed by a money back guarantee, which means you can return it at any time if you're not satisfied with it for any reason.
The Best Friend Services Urn is hand made from heavy-duty brass metal. It features beautiful engraving and comes with a secure threaded screw-top lid.
Pros
---
Backed by a money-back guarantee.
Made from high-quality materials.
Unique handcrafting.
Threaded screw top lid.
#8 MMP Living Pet Urn Memorial Keepsake
As a pet owner, you want a pet urn that'll help you express the level of appreciation you have for your pet. This urn enables you to do just that. It's made from smooth ceramic for the distinguished pet owner and is perfect for preserving the memory of a long-time companion that died naturally in the winter of its life. Its capacity is 85 cubic inches and it measures 5 inches long by 5 inches wide by 6 inches tall.
Unlike most other urns, this one is shaped like a box and next to the cure paw print engraving is a 2 inches long by 2.5 inches wide space to place your pet's best photo and a thoughtful inscription. This detailing is further complemented by detailed trimming on the sides, and the opening is kept secure by heavy-duty screw.
This is the ideal resting place for a pet that has been with you for years. It has a gorgeous, functional design and lovely detailing.
Pros
---
Sturdy opening at the top.
Beautifully designed but functional.
Has a 2 inches long by 2.5 inches wide front photo area.
---
Dog Urn Buyer's Guide
---
As with any purchase, there are several considerations you need to make when looking for a fitting resting place for your cremated pet.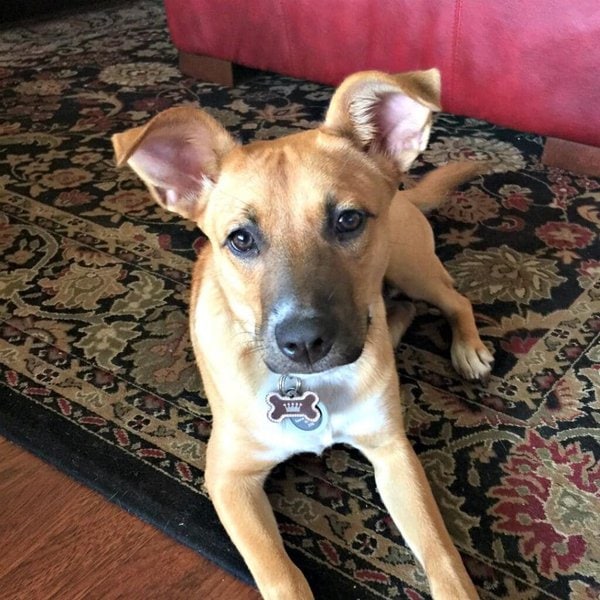 Convenience
Most pet owners source their pet urns from vet clinics or funeral homes. These are the most convenient sources, but not always the most affordable. With overheads and transportation charges to consider, these suppliers add a considerable mark-up to the cost of the urn.
If you're looking for good value for money while still getting an urn that you like, look at a pet crematory or an online retailer like Amazon.
Quality
You want an urn that's going to last for a long time to come, otherwise what's the point? For the best results, look at customer reviews to see what others are saying about the construction and longevity of the urn.
For a more environmentally form of cremation, you can consider HydroCremation. According to the College of Veterinary Medicine in Cornell University, the HydroCremation process uses only one tenth of the energy as compared to a typical cremation service.
Temperature
Consider the type of materials that your urn is made from and how it'll respond to changes in climate. Most pet urns are made from durable materials that can handle different temperature levels, but this isn't always the case.
Price
Your budget will play a huge role in the type of urn that you end up getting. There are different pet urns to suit different budgets and preferences. If you don't mind a simple, no-frills design, then you could always purchase an urn that costs $5 or less.
But if you want something that captures the level of appreciation you have for your pet after years of friendship, then you'll probably end up purchasing an item that costs $100 or more. Of course, there are plenty of pet urns that combine value for money with sturdy design, so you're spoilt for choice.
Price is always a factor when getting dog products.
Size
The size of your departed dog will largely determine the urn size you get. But it may also be a matter of placement, because some pet urns are so large that they may require a whole section of your fireplace, for example.
Consider putting some of your dog's beloved toys and even its leather dog collar right beside the urn, or even a pet memorial stone too.
Heart
Above all else, pick an urn that tugs at the heartstrings. This receptacle is meant to represent the memory of your pet, so it should remind you of it every time you look at the urn.
Consider donating your unused dog accessories such as dog foods to dog shelters, so that the memory of your furry friend can live on forever.
Personalization
You can personalize your pet urn as much as you like. You can engrave its name onto it, or even engrave its photo or likeness onto the exterior surface of the urn.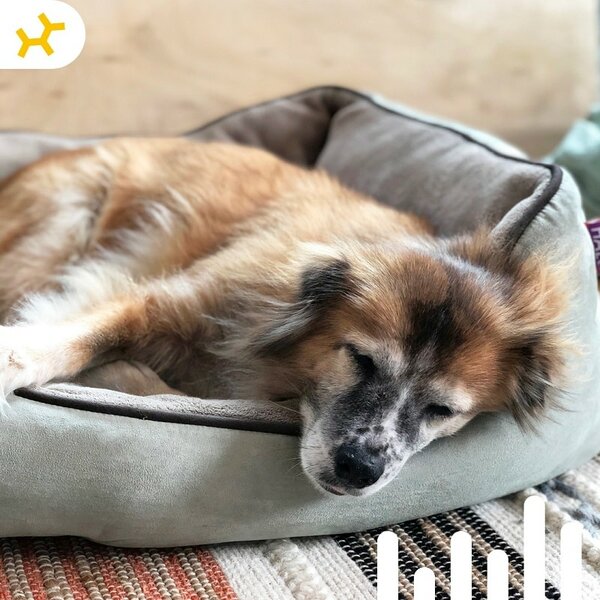 Types Of Dog Urns
A pet urn is a memorial for your deceased pet so it's not a purchase to be taken lightly. It's important to pick a design that you'll enjoy looking at years from now, while remembering your dog's personality.
Here are some of the most popular pet urn designs available for you to choose from:
Personalized Dog Urns
For a truly personal touch, you could opt for an urn that allows you to inscribe your pet's name or death anniversary on the exterior. Putting the personalized dog urn on your dog crate end table is a fitting way to remember your beloved canine companion.
Metal Dog Urns
Metal dog urns are typically constructed from heavy-duty metals like bronze, brass, copper and pewter. They're available in unique designs and they're durable enough to withstand falls and different climate conditions. They're also suitable for engraving your pet's initials or name.
Dog Photo Urns
As implied in the name, this type of urn is designed to specifically showcase a photo of your dog, which gives them a special, personalized touch. This type of urn is usually constructed from materials like wood, marble and metal.
Wooden Dog Urns
Wooden dog urns add a touch of nostalgia and can be found in different shapes and finishes. Most of them feature warm tones and textures, and are suitable for laser engraving.
Cremation Jewelry Urns
This type of urn comes in the form of a specially designed jewelry piece. They usually contain a tiny inner chamber to keep the ashes safe. This type of urn is perfect for you if you want to keep your dog's memory close to your heart at all times.
Natural Stone Dog Urns
Natural stone pet urns are typically constructed from marble, clay, onyx or granite. They often come with unique geometrical shape designs and vase-like shapes, which gives them a decorative element.
Keepsake Cremation Urns
These cremation urns are pet urns that usually measure about 3 cubic inches to 50 cubic inches and are suitable for storing a small amount of ashes. Since they're small, they don't take up much space and they're lightweight and portable too. Here's a great article on saying goodbye to your beloved pooch.
---
Final Thoughts
---
Your pet is your best friend, so it only makes sense that you'd want to honor its memory with a beautiful urn. Now that you know what to look for in a quality urn, you'll hopefully have an easier time finding one that articulates the love and appreciation you have for your deceased pet.
If we were to recommend just one option from the urns we've reviewed in this article, it would be our top pick. Why? Simply because it ticks all the boxes with a durable design, thoughtful personal touches and it's pretty enough for you to display anywhere in the house.